New England Patriots:

Shaun Ellis
January, 15, 2012
1/15/12
12:49
AM ET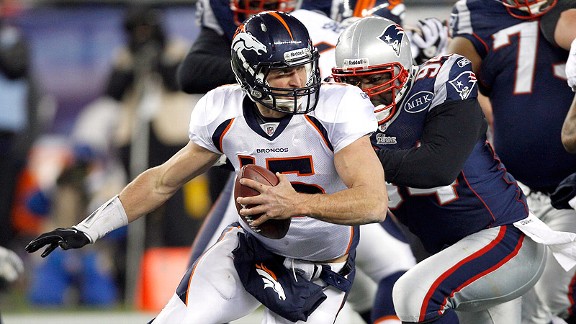 AP Photo/Charles KrupaPatriots defensive lineman Shaun Ellis prepares to sack Denver quarterback Tim Tebow.
FOXBOROUGH, Mass. -- Last week, Broncos quarterback
Tim Tebow
nearly took down Twitter after Denver's overtime victory over the
Pittsburgh Steelers
in the wild card round of the AFC playoffs (the accomplishment produced the
most tweets per second
ever for a sporting event). On Saturday night, Patriots defensive end
Shaun Ellis
found himself trending on the popular social media site after his take down of Tebow during New England's 45-10 thumping at Gillette Stadium.
Ellis laid a rare monster hit on Tebow midway through the third quarter, producing a 5-yard sack that left those watching the game rushing to their phones to comment on the play. For his part, Ellis was disappointed he hadn't corralled Tebow earlier, the elusive quarterback shaking free at the start of the play before Ellis recovered and delivered a blind-side shot.
"It felt good," Ellis admitted. "I should have gotten it at the beginning [of the play]. It shouldn't have even came to that, but [Tebow] kept the play alive, and I was able to finish it after my teammates forced him back my way."
Ellis finished with only that one tackle, but aided the defense in limiting the Broncos to just 252 yards of total offense. After Tebow and the Broncos gouged New England for a similar number in the first half alone last month in Denver, Ellis took great pride in what the defense accomplished Saturday.
"They gave it to us pretty good that first half [in Denver]," Ellis said. "We were able to come out and kind of control them a little bit, and just get it done."
Ellis, who saw his snaps evaporate near the middle of the season, has rebounded to become a more frequent contributor in recent weeks.
"Just waiting my turn, just continuing to get better," he said. "When my number is called, I just go out there and play."
And all it took was one hit to get the world of Twitter to take notice of his presence.
October, 30, 2011
10/30/11
5:17
PM ET
PITTSBURGH -- Patriots defensive end
Shaun Ellis
suffered a rib injury in the first quarter of Sunday's game against the Steelers.
Ellis took himself out of the game after landing awkwardly pursuing Pittsburgh quarterback
Ben Roethlisberger
. After being checked out by trainers on the sideline, he went to the locker room in the second quarter.
The team classified his return as questionable.
September, 22, 2011
9/22/11
3:30
PM ET
AP Photo/Stephan SavoiaPatriots defensive end Shaun Ellis said the defensive line is still finding its chemistry.
FOXBOROUGH, Mass. -- Patriots defensive end
Shaun Ellis
has stressed that the defensive line is a work in progress, particularly after the starters got limited reps together during the preseason together. Even in Week 3, the unit is still meshing and Ellis went so far as to relate it to a pregame basketball routine.
"You gotta get a feel for how [the other defensive linemen] play, where they are going to be, how Vince [Wilfork] or Albert [Haynesworth] like to [play]," said Ellis. "Sometimes you have to read off of that and it's hard to get a feel for. I kind of put it like a jump shooter, who goes out and shoots a whole bunch of jumpers all day long. You're just getting that feel, so when you get into the game it comes naturally."
Ellis has been on the field for 86 of 148 defensive snaps this season. That number could bump up a little more this week with the defensive line battling injuries (
Myron Pryor
went on season-ending injured reserve Wednesday, while
Mike Wright
has been sidelined following a Week 1 concussion). Ellis has generated a few quarterback pressures, but is still looking for that first sack.
It might not be easy to generate in Buffalo. The Bills are tops in the league in both rushing offense and scoring offense. That means the defensive line has to be prepared for a steady mix of run and pass in Sunday's game.
"They get to the run game in different ways," said Ellis, who heaped praise on the likes of
Fred Jackson
and
C.J. Spiller
. "It's not traditional line-up-and-pound-the-ball [attack]. They spread you out, mix in some runs with the passing game."
As for New England's line, Ellis said simply, "We just have to become more consistent throughout the year."
Which means more jump shots.
August, 23, 2011
8/23/11
2:02
PM ET
FOXBOROUGH, Mass. -- There were a couple of fresh red paint marks on the silver helmet of Patriots defensive lineman
Shaun Ellis
, an encouraging sign after the veteran engaged in his first full-pads practice Monday since signing with the team earlier this month.
But while Ellis admitted his first session went "pretty good" and said he was just "getting into the flow," he stressed that it's the meeting room where he's able to make his greatest strides towards being ready for game action.
"For me, it's the meeting room," said Ellis. "I've played a lot of games. For me, it's the meeting room and just getting my mental reps. I think once I practice -- once I start going fully fully, it'll come back to me."
Will Ellis be going "fully fully" enough to participate in Saturday's exhibition battle in Detroit?
"You always want to play the game," Ellis said with a smile, before admitting he's inching closer to full health. "I don't think anyone's 100 percent. Everybody's dealing with something. It's just about getting out there... trying to do the best you can."
In 11 seasons with the rival Jets, Ellis appeared in 170 games, registering 387 tackles and 72.5 sacks. Despite being eased in since joining the Patriots, Ellis stressed the passion is still there at age 34.
"Oh yeah, it's all about winning," said Ellis. "I've been on other side of things for a while. I had a couple chances at it, but didn't come through and I'm still pushing to get that ultimate goal."
Here are some other highlights from Ellis' six-minute Q&A with reporters:
On getting back up to speed
: "I'm just trying to improve everyday. Just going through my routine -- the fundamentals of football. Keeping the emphasis on that."
On the potential for this defense
: "It's definitely a plus. We have a lot of guys that are playmakers, they are good at what they do. We just have to jell together and we'll see what happens."
On monitoring off-the-field incidents with teammates like Albert Haynesworth
: "I don't. I just try to worry about myself, really. I don't pay any attention to that."
August, 8, 2011
8/08/11
5:18
PM ET
FOXBOROUGH, Mass. -- After taking in his first practice as a member of the
New England Patriots
, defensive lineman
Shaun Ellis
did his best to kill his former team with kindness, but admitted that the lack of interest from the
New York Jets
after 11 seasons there left a bitter taste in his mouth.
"If you look at it that way, from an emotional standpoint, yeah, [the lack of Jets' interest left him bitter]," said Ellis, who wore shorts and T-shirts during New England's afternoon session and spent time with the strength and conditioning staff. "But you have to look at is as a business as well. [The Jets] had a choice of going after the guys that they feel like they need, or the guys they want to try to surround their team around. I just wasn't in their plan. Like I said, I'm a Patriot now, I'm part of this family. I'm going to go out there and play my best."
Ellis and the Patriots reached agreement Sunday on a one-year deal, a league source told ESPN NFL Insider Adam Schefter. Ellis will receive $4 million this season with a chance to make another $1 million in performance incentives, a source told ESPN.com senior NFL writer John Clayton.
Asked about Ellis' decision to sign in New England, Jets coach Rex Ryan said Sunday: "The fact that he chose them, and all that, I think said before, there's no way I'm going to wish him well. There's no chance of that. I wish him to be healthy, but I don't want him to play that well."
Word clearly got back to Ellis, who offered nothing but fondness when referencing his time in New York.
"It's Rex. I like to say I wish him well, and wish him all the success, so that's how it is," said Ellis. Pressed on if he really feels that way towards Ryan, he added, "Yes, I do. I have a lot of respect for the guy. Obviously, I feel like it's not mutual, but I respect him."
More from Ellis:
On his decision to join New England
: "Basically, a lot of things went down and the Jets felt like they wanted to go in a different direction. So I made best decision for me and my family to come here... It was [surprising the Jets didn't want Ellis back]. It's a business, the nature of the sport."
On being on the other side of the rivalry
: "Guys change teams all the time. I've just been fortunate to play 11 years with the Jets. I had a great time, a great experience. It's just one of those things. When it's time to move on, you gotta move on. I've found a new home here, the guys have welcomed me in. I was a little hesitant at first; I had a little weird feeling. But once I got here, they made me feel welcome."
On thoughts on the Patriots before joining team
: "It's a team that always was on top of our division -- they still are today. [Ellis and the Jets] trying to catch them for 11 years, of course you feel something, a little kind of hatred towards the Patriots over those 11 years. I understand. They know what it takes to be a champion and they've been doing it. I've wanted to feel that feeling for however long, so hopefully that time will come."