August, 26, 2014
Aug 26
5:28
PM ET
By
Brian O'Connell
| ESPNBoston.com
FOXBOROUGH, Mass. -- If
Jermaine Jones
was trying to make a positive impression right off the bat with his new head coach, he passed with flying colors during Tuesday's introductory press conference.
Jones, who was acquired by the Revolution on Sunday, was asked what he was looking forward to the most about joining his new team. In his distinct German accent, the 32-year-old midfielder spoke about what it means to be part of the group coached by Jay Heaps, and how much he wants to join his teammates both on and off the pitch.
"I just loved the way he answered the question about wanting to be around the group," Heaps said afterward. "He answered it the way in which a coach wants to see, and his presence on the field is going to give us a huge lift."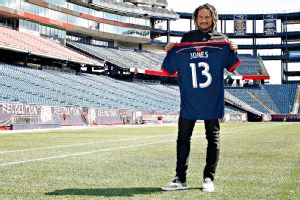 Stew Milne/USA TODAY SportsRevolution midfielder Jermaine Jones, posing for photos with the team jersey following a press conference at Gillette on Tuesday, sounded eager to spend time with his new teammates.
That's certainly what the coaching staff and brain trust are banking on after reportedly cutting a check for $4.7 million over 18 months to secure the services of the U.S. International.

Jones' arrival comes as the Revolution try to pull themselves out of a stretch in which they've won only twice in their last 12 games. And it's been no secret that the team's performance in the middle of the park has been a primary cause of their summertime struggles.

While their possession percentage has risen to nearly 50 percent in recent weeks, it's clear that the Revolution have lacked the physicality to punish their opponents. As a result, talented teams like New York and Salt Lake have run clear through the middle of the field virtually without issue.

That trend should change once Jones dons the Revolution uniform for the first time. While the former Schalke 04 mainstay spoke about his desire to play in Saturday's match at Toronto, he knows that he may have to wait. His last meaningful minutes came nearly two months ago during the World Cup.

"I would be lying if I said I am 100 percent," Jones said. "[But] anyone who knows me knows I will do everything I can to help this team. Maybe I won't start from the beginning; maybe I'll be on the bench. I'm the guy who always wants to be around the team."

Although it appears that Jones' primary responsibility will be to stabilize the defense and thwart the opposition in the middle third, Heaps said he'd also like to see the veteran midfielder contribute across the pitch.

"I think there are a lot of different roles within that center midfield that we see him playing," Heaps said. "Tactically, we can change the way in which we pivot the triangle. He plays a lot of those roles."

Heaps also alluded to the idea that Jones' addition won't mean a change in philosophy as the Revolution approach the final 10 weeks of the regular season.

"He fits exactly what we were looking for in a ball-winning midfielder," Heaps said. "[He has] a great presence in there, and so our philosophy stays the same in how we want to coach the team. Now we feel that we have a really big piece of the puzzle, right down the spine."

The rare combination of world-class technique, tactical sense and toughness that Jones brings to the fledgling squad is, of course, the primary reason why ownership paid a princely sum for him to play in Foxborough. But Jones also expects to take on a leadership role.

"We have a young team, so maybe sometimes I may have to kick a guy in the [butt]," Jones said, with a laugh. "But only in a good way. Anyone who knows me knows I like to win, and I will try everything I can to get some wins."