September, 15, 2014
Sep 15
1:07
AM ET
By
Brian O'Connell
| ESPNBoston.com
FOXBOROUGH, Mass. --
Jermaine Jones
was in a walking boot following Saturday's match against the Impact, and not surprisingly, he was not in the happiest of moods.
Hoping to go the full 90 minutes for the first time in his young Revolution career, the veteran midfielder's evening came to a halt at halftime after he suffered a left foot injury during the first half. But the way in which he suffered the injury left him seething.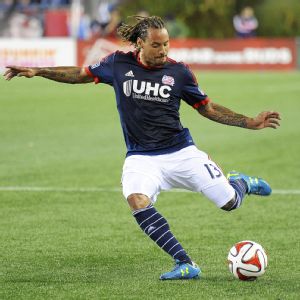 Bob DeChiara/USA TODAY SportsJermaine Jones said Montreal's Calum Mallace went after his leg and not the ball during Saturday's match.
"I don't know the name of that player, but he tried maybe two, three times, without the ball, to kick me," Jones said. "One time he got me, and it's not nice when you feel like you have players that try to hurt you –-- like this guy tried to hurt me."

While Jones professed that he did not know who caused his injury, which he said occurred around the 20th minute, all signs pointed to Impact midfielder Calum Mallace as the guilty party.

The opposing midfielders dueled for a pair of 50/50 balls during the 22nd minute, and on the first one, Mallace was tripped by Jones. On the second occasion, Mallace's intent appeared clear when he barreled into Jones with little regard for playing the ball.

"I'm not the guy normally to say something -- I play hard too so I can take it," Jones said. "But this guy today, he was not nice. I hate people who don't go for a tackle and try to get the ball. If he had tried to get the ball, I wouldn't have said anything."

Although referee Alan Kelly whistled a foul on Mallace, Jones held his hands in the air in disbelief that the Montreal midfielder was not issued a caution.

"He had no chance to get the ball, and he went straight for my bone," Jones said. "I hope the referees will see that the next time."

Jones pressed on from there and played the rest of the half relatively unaffected. But after the training staff examined his left foot, the coaching staff decided to take err on the side of caution.

"He had a little bit of a contusion," Revolution coach Jay Heaps said following the match, "and right now he's being looked at, and we just want to be smart and we took him out."

Jones said that he underwent X-rays, which confirmed that there was no break. The veteran midfielder told the media that it was a bone bruise.

While Jones probably would have preferred to solider on for the second half, he ultimately decided that the best course of action was to heed the advice of the coaching staff.

"It's not so bad," Jones said. "It was swelling at halftime, and I could feel a little bit of pressure on my feet, and we didn't want to take any risks, so I (went) out."

The injury will probably put Jones on the injury report for Saturday's match against Columbus, a game in which the Revolution will hope to extend their six-game unbeaten streak.

But after Saturday's match, the only opponent Jones appeared concerned about is the one on tap for Oct. 11 in Montreal -- the third and final meeting between the Revolution and Impact.

"We've got a second game; we will see what happens there," Jones said. "He hurt me, and I had to go out. I can take it, and I'll see him again."