Guy shines in Revs loss to Fire
September, 27, 2011
9/27/11
4:04
PM ET
By
Brian O'Connell
| ESPNBoston.com
Giving it his all has been a signature of Ryan Guy's game since signing with the team in June. Whether it's in Reserve Division action, or coming on as a late-game substitute with the first team, there is always one constant: Guy never gives up.
And that much was true in the dying minutes of Sunday's match in Chicago. Staring at a self-inflicted 3-0 deficit as full time approached, it appeared that the Revs were about to suffer their second-straight three-goal blowout. That is until Guy took the reins and quickly scored a pair of goals in the 90th and 92nd minutes to make it a one goal game.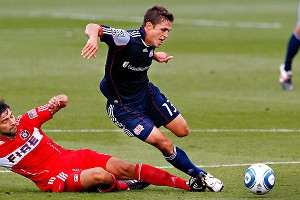 AP Photo/John SmierciakRyan Guy scored twice in Sunday's loss.
But even with only seconds remaining in stoppage time and the chances of uncovering an equalizer all but extinct, Guy only had one concern.

"I was just thinking how many seconds are left," Guy said. "(In order) to see if we could get another one and try to bring it back."

Although time eventually ran out before the equalizer surfaced, it was evident even before his late-game brace that Guy was the team's attacking catalyst on the afternoon.

Positioned on the right wing with starter Monsef Zerka out due to injury, Guy, in only his second career MLS start, linked well with his inside midfielders, allowing the Revs to hold the ball with greater ease. And with the ball at his feet, the high-energy winger opened up the attack with his pace and precision.

"Besides those two goals I think he did really well," Feilhaber said. "He tried to go down the line when he was able to, get really good crosses off, good cutbacks as well, found some good passes into me and Shalrie."

One example of Guy's seamless transition into the starting XI came near the hour mark. Deep in the heart of the midfield, Guy sent it ahead to Feihaber. Then, Joseph took Feilhaber's pass and sent it ahead to Guy down the flank, where the speedy winger ripped it off the crossbar to signal that the Revs hadn't abandoned the attack.

Aside from his breakthrough performance, it was Guy's never-say-die attitude that had his teammates talking after the game. With few opportunities to prove himself on a roster stacked with midfielders, Feilhaber was happy that Guy's hard work had finally translated to the scoresheet on Sunday.

"It's great to see that," Revolution midfielder Benny Feilhaber said. "I'm really happy for him. He hasn't had too many chances to prove himself. I think he's a guy that is always going to give 100%, that's for sure. I think everyone can see that."

While the praise is certainly warranted, Guy couldn't truly savor the fruits of his labor. Although his two goals resuscitated the Revs late, ultimately, his persistence wasn't enough to save the Revs from suffering another loss.

"It was bittersweet to be honest with you," Guy said. "It was nice to get my first couple MLS goals but also to lose like that, on basically three mistakes, really was a shame."