Heaps pleased with progress at midpoint
July, 12, 2012
7/12/12
9:49
AM ET
By
Brian O'Connell
| ESPNBoston.com
FOXBOROUGH, Mass. -- Revolution head coach Jay Heaps likes what he sees midway through his first season on the sidelines.
In the first 17 games of the season, he's watched his team not only employ the attacking style promised during his introductory press conference, but translate that style into results.
But even though the Revolution (6-7-4, 22 points) are a much improved squad this season, Heaps was hesitant to give a mid-season grade after Wednesday's training hesitant.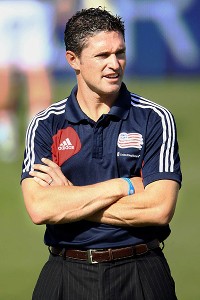 Tom Szczerbowski/US PresswireJay Heaps' Revs team currently sits in sixth place in the Eastern Conference.
"It's hard to say where you are," Heaps said. "We feel we've made progress but I think we want to be a better team than we've shown, at least better in the standings."

The reason why the Revolution aren't better in the standings? Simply put: team defense.

Earlier this season, the Revolution allowed late-game goals to Dallas (Apr. 5), D.C. (Apr. 14) and Houston (May 19) -- thus depriving the side of a potential four point climb. That, combined with poor first half performances in Toronto (Jun. 23) and against Seattle (Jun. 30), have kept the Revolution on the outside of the playoff picture.

Even so, Heaps is encouraged by the way the attack has sharpened. He is encouraged that the mistakes are starting to get cleaned up. In short, Jay Heaps sees the potential. The potential of team that, he believes, will be better in the second half.

"We've shown well," Heaps said. "But we feel we can be higher in the standings. That's a good feeling to have. We know we're leaving points on the field and if we can correct those (mistakes), we should be in a better position."

GOALKEEPER CONTROVERSY?
With Bobby Shuttleworth's 2-0 shutout against New York on Sunday still fresh in the minds of many, Heaps was non-committal about the second-string keeper's short-term future in the first XI.

On Sunday, Heaps said he wanted to give his regular keeper Matt Reis -- who played every minute between the sticks prior to Sunday -- a rest. Thus the door opened for Shuttleworth to get the nod.

But Heaps also mentioned that the timing of the surprise start wasn't unrelated to Reis' struggles against Toronto and Seattle.

"The mistakes we were making in the back were due to air balls," Heaps said. "That happens to be one of Bobby's strengths."

In the interim, Heaps said that Shuttleworth's performance will likely warrant some tough decisions on the goalkeeper front in the coming weeks.

"Bobby got in the game and did a very good job," Heaps said. "Now, I think as we approach game day, we'll start making those hard decisions on who starts in goal."

A FAMILIAR FOE
For the second time in four weeks, the Revolution will play conference bottom-feeders Toronto FC on Saturday.

Although Toronto conceded two late goals in their 2-2 draw to the Revolution on Jun. 23 at BMO Field, they've been unbeaten in four of their last five (2-1-2) and are playing some of their best soccer of the season as of late.

In light of that, Revolution center back A.J. Soares assured the media on Wednesday that he and his teammates won't be sleeping on their conference foe come Saturday.

"Their team is growing," Soares said. "They're becoming better every day. They're not a team to take lightly, by any means."

BUILDING HOME FORM
Since Day 1 of his tenure, Heaps has preached the importance of being strong at home. And it seems like that's a lesson the Revolution are taking to heart.

With Sunday's 2-0 win, the Revolution's home mark went to 5-1-3 -- a record which left back Chris Tierney believes is affecting their opponents' mentality even before stepping onto the Gillette Stadium field.

"We know that a lot of teams don't want to come here, which is a good thing," Tierney said after Wednesday's training. "That's the atmosphere we're trying to create: making it a miserable place for opposing teams to come in and play and I think we've done that so far."