Revs notebook: Heaps takes a seat
April, 10, 2014
Apr 10
1:24
PM ET
By
Brian O'Connell
| ESPNBoston.com
FOXBOROUGH, Mass. -- For the first time in his three seasons as Revolution head coach, Jay Heaps won't be calling the shots from the sidelines on Saturday.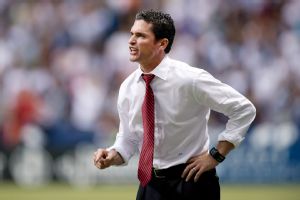 AP Photo/Darryl DyckRevs coach Jay Heaps was ejected from last week's match in D.C. and will be serving a one-game suspension on Saturday.
Heaps, who was ejected in the 90th minute of last week's match against D.C. United, will be serving a one-game suspension this week. And, to no one's surprise, the fiery head coach is not happy about it.

"It's not going to be good," Heaps said. "Taking your medicine is never a good thing, and I think it's one of those situations where it is what it is, and I felt like there was a statement to be made."

While Heaps wasn't specific about what kind of statement he was referring to, he admitted that he got the league's message "loud and clear." With Heaps suspended, assistant Tom Soehn will serve as head coach on Saturday.

Revolution forward Teal Bunbury isn't expecting any major issues come game day.

"I don't think it'll be too different," Bunbury said. "Our assistants are going to do a great job and it's just up to us on the field to be able to execute the plan that we're putting into work all week during training."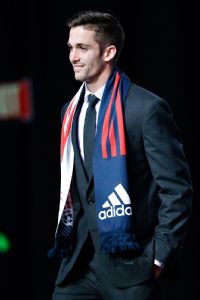 AP Photo/Matt RourkeSteve Neumann, who was selected by the Revs during the 2014 MLS SuperDraft in January, described his debut last Saturday as "beyond a dream for me."
Hello, Neumann: Though the Revolution may have suffered a 2-0 loss and saw its coach ejected during last Saturday's game at RFK Stadium, one bright spot was the MLS debut of first-round pick Steve Neumann. The 22-year-old midfielder/forward came on in the 84th minute to spell Daigo Kobayashi, and while he may not have looked the part of a wild-eyed, energetic rookie, the moment was certainly not lost on him.

"It's always been my goal in life to play professional soccer," Neumann said, "and to finally get that first appearance in the regular season was beyond a dream for me."

Making the occasion even more poignant was the fact that he attended Georgetown University, less than 10 miles away from the scene of his debut, from 2010 to 2013. With friends, family and former college teammates in attendance, Neumann's late-game cameo was greeted with plenty of applause from the stands.

"They were all ecstatic that I got into the game," Neumann said. "I definitely heard a loud cheer when I entered the game, which put a smile on my face. Now I just want to keep building off that and put that behind me and continue on with the season."

Patience, patience, patience: After watching film of last week's game in D.C., Bunbury knows that he and his teammates have to develop a more patient approach going forward -- especially if they find themselves down a goal early again.

But even though he acknowledged that going direct right out of the gate wasn't the best decision, the Revolution striker still can't put his finger on what prompted him and his teammates to press so soon.

"I don't know exactly what it was," Bunbury said. "We were down a goal, and we all thought 'let's go after it.' I think we kind of played right into their hands doing that, but it's just something that we have to work through."