Bengtson hopes goal is first of many
April, 14, 2014
4/14/14
11:31
AM ET
By
Brian O'Connell
| ESPNBoston.com
FOXBOROUGH, Mass. -- More than a full calendar year had passed since
Jerry Bengtson
scored a goal in league play entering Saturday's match. But when he stepped onto the pitch in the 78th minute, he had to like his chances.
With the Revolution up a goal, and the Dynamo pressing for the equalizer, the Honduran forward witnessed what turned out to be the perfect opportunity to put his goal drought to bed.
As the match marched into stoppage time, A.J. Soares lofted a long ball ahead that Bengtson chased down. With Dynamo keeper
Tally Hall
well off his line, Bengtson dribbled around him and slotted his shot between the near post and
A.J. Cochran
to cap a 2-0 Revolution win.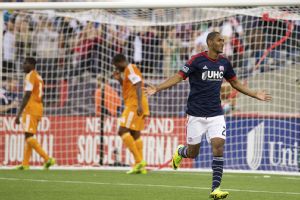 David Butler II/USA TODAY Sports"(The goal) gives me a lot of confidence -- for me, as well as the team," said Honduran forward Jerry Bengtson.
"I knew that (Houston) was losing and they were pushing up their lines," Bengston said through a translator. "When I looked, I knew that was the opportunity and I looked over the shoulder, just took the space and scored."

Two summers ago, the Revolution signed Bengtson to a designated player deal in the hopes that his presence on the pitch would lead to points in the standings. Initially, there was no reason to believe otherwise. In his MLS debut, Bengtson came off the bench to score an 84th-minute goal en route a 2-0 victory for the hosts. At the time, it appeared that the club's newest designated player would be worth every penny of the heady investment made by the front office.

But the sheen on Bengston's signing dulled quickly. He scored only once more in the remaining 12 games of the 2012 season, and his second season in New England proved to be a disaster. In 16 games, he scored only once, and was little more than an afterthought during the Revolution's first postseason run in four years.

Earlier this year, Bengtson did little to change the perception that he was a striker whose confidence at the club level was shot. Sure, he'd scored important goals for Honduras at the international level. But it just wasn't happening for him when he donned a Revolution jersey.
That is, until Saturday arrived.

Although his late appearance may have raised a few eyebrows -- especially with a recently-dangerous Charlie Davies available -- Bengtson would reward the faith placed in him by the coaching staff.

"We were looking to expose them for pace a little bit," Revolution assistant coach Tom Soehn said. "We knew that they were going to press, so there's going to be opportunities in behind. He did a good job when he came in."

Bengston's 91st-minute goal may have put the match out of reach for the Dynamo. But for Bengtson, it was more than just an insurance goal in an early-season game.

"(The goal) gives me a lot of confidence -- for me, as well as the team," Bengtson said. "Hopefully, it's just the first one. Yes, lots of confidence. Hopefully I can do more for the club."