Revs have chances, but can't convert
June, 8, 2014
Jun 8
11:19
PM ET
By
Brian O'Connell
| ESPNBoston.com
FOXBOROUGH, Mass. -- Sometimes, it isn't how many chances a team creates that tilts fortune in its favor. Rather, it's how well those opportunities are taken that determines its fate.
Such was the case for the New England Revolution on Sunday. The Revolution outshot the Red Bulls 22-8, but ended up on the wrong side of the scoreline in a 2-0 loss at Gillette Stadium.
"I don't think it was about effort or energy tonight," Revolution coach Jay Heaps said. "I think it was a little bit about the final ball (and) the class inside the area. We had two or three balls go across, and we had shooting go right at their goalkeeper."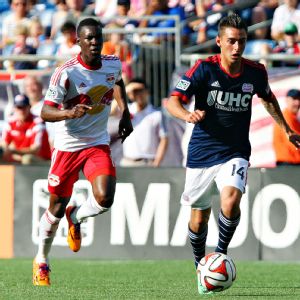 AP Photo/Anthony NesmithIt was an afternoon of frustration for Diego Fagundez and the Revolution, who couldn't beat Red Bulls goalie Luis Robles.
The team's desire couldn't be questioned after it immediately tested Red Bulls keeper Luis Robles less than a minute into the match. Lee Nguyen sent a ball central for Patrick Mullins, who fired a shot from the top of the box to test Robles.

It was a bright start to the match, to be sure, but it would prove to be a troubling omen for the Revolution, who were undermined by a lack of polish on their shots from start to finish.

While the Revolution had no problem reeling off shots on Robles, who finished the evening with 10 saves, the Red Bulls encountered no such issues finding the back of the net. On their first shot on target in the 17th minute, the Red Bulls found paydirt when Eric Alexander nodded through a Lloyd Sam free kick to hand the Revolution their first deficit at home during the 2014 season.

The Revolution responded with a barrage of shots that put the Red Bulls on their heels going into the half. Chris Tierney launched a rising blast from outside the area that Robles pushed over the bar in the 24th minute, while Diego Fagundez actually managed to beat the Red Bulls keeper, but was denied by the far post in the 44th minute.

Sensing the need to make a change, Heaps made a surprise substitution when he removed Mullins at halftime for Kelyn Rowe in the hopes that the shots would finally fall through in the second half.

The move made an immediate impact on the offense, which saw the Revolution collect chances from Fagundez, Nguyen and Andrew Farrell in the opening moments of the second stanza. At the time, it seemed that it wasn't a matter of "if," but "when" the Revolution would find the scoreboard.

"I think in the second half, we came out a bit brighter and created the chances," Dorman said. "We just needed that goal."

That goal, though, would prove to be elusive. The guests continued to test Robles at a variety of different shots, but each chance fell short, much to the dismay of the 23,950 in attendance.

But the Red Bulls offered another reminder that it's quality, no quantity, that often determines a team's fate. In the 76th minute, the Revolution failed to clear a free kick from Alexander, allowing Peguy Luyindula to power a shot past Bobby Shuttleworth to make it a two-goal gap.

"I don't know the exact stats, but I don't think they had a ton (of chances) -- two set piece goals," Heaps said. "We had chances to score goals and we didn't."

The Revolution continued to knock on the door late, as Robles stayed busy until the final whistle. But it was all for naught for the hosts, who'll head into the World Cup break hoping that extended rest will allow them to recharge their batteries once league play resumes at the end of the month.

"I really felt like we were chomping at the bit to the point where we were overdoing things today a little bit," Heaps said. "But that said, I think that when you go into a break, you have to collect and look at what you did well, and what you didn't do so well."