Revs answer deficit, still come up short
July, 27, 2014
Jul 27
12:04
AM ET
By
Brian O'Connell
| ESPNBoston.com
FOXBOROUGH, Mass. -- Conceding a first-half goal wasn't exactly a new development to the Revolution on Saturday. But their response coming out of the half was a sight unseen for the team in recent weeks.
After
Federico Higuain
smashed a 44th-minute free kick into the back of the net, the Revolution had two choices: Let the goal negatively affect them, or regroup and find a way to respond.
Although a late
Ethan Finlay
goal sent the Crew to a 2-1 win, the Revolution managed to fight their way back from Higuain's goal and, at times, contest for the lead in front of the Foxborough faithful.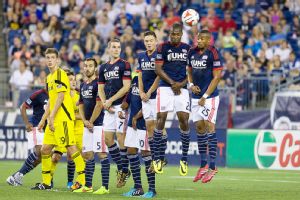 David Butler II/USA TODAY SportsThe Revolution couldn't stop Federico Higuain's free kick for the game's first goal, but did have some positive play after that.
"Obviously, it was a tough way to go in at halftime after we broke the game plan a little bit," Revolution coach Jay Heaps said. "With that being said, I think that we came in with the right energy after halftime."

Higuain's goal marked the eighth straight occasion in which the Revolution conceded the opening goal to their opponent. In recent weeks, those goals put the team on its heels as replies of any kind were hard to find.

But on Saturday, Heaps' team figured out a way to answer back for the first time since a July 4 contest in Salt Lake.

Five minutes after halftime, the Revolution renewed their efforts in the final third. A Patrick Mullins pass found Kelyn Rowe, who cut into the box and fired a shot that Steve Clark managed to get enough of to steer wide of the frame.

At first blush, it appeared that if Rowe couldn't score on such a tempting opportunity, then there would be no chance at all for the Revolution to find the response needed to match wits with the Crew.

But on the subsequent corner kick, Rowe uncorked an outswinger that A.J. Soares met at the near post to score the goal that proved elusive in the first half.

"That goal from A.J. was big time," Revolution midfielder Teal Bunbury said. "It lifted all of our spirits, and I think in our mind we thought, 'Hey we're going to win this game now, no question.'"

The equalizer certainly lifted the Revolution's spirits immediately after. They tipped the possession scale in their favor in the 10 minutes that followed. Their intent to secure another goal was impossible to overlook.

At the forefront of that effort was none other than Diego Fagundez, who's attacking prowess had waned during the Revolution's recent slide. The creative winger found plenty of opportunities to operate in the flank space the Crew left behind by their fullbacks.

"Diego is the type of player that needs service, and he needs to help along the way," Heaps said. "I think guys were looking for him a little more tonight, and he was getting more of the ball."

And when Fagundez wasn't pushing the issue, he was keeping the Crew at bay not once, but twice. Successive corner kicks from Higuian allowed Tony Tchani and Bernardo Anor free headers at the near post. But each one was cleared off the line by Fagundez, who dutifully guarded the post both times.

Despite their best efforts, the Revolution still needed a goal to get their first lead since late May. A lead that, coupled with sound defense, would finally put their losing streak to rest.

But their search put them in a vulnerable position in the 84th minute. Only moments after he entered the match, Justin Meram caught the pressing Revolution flatfooted when he put a pass ahead to Finlay. The Crew midfielder proceeded to beat Darrius Barnes -- the last defender -- before he fired it into the back of the net for the winner.

Although the Revolution's energy and effort was never in question, the one area where the Revolution continued to come up short on Saturday was all too evident: execution.

"We had some chances that we did not finish," Heaps said. "Eventually, it came down to one or two of those chances that could have helped us win the game."