Perovic ready for second season in MLS
February, 10, 2011
2/10/11
1:06
PM ET
By
Gus Martins, special to ESPNBoston.com
FOXBORO, Ma. -- The Revolution are preparing to write a new script for 2011, with the signing so far of two European imports. But they won't be taking for granted the role of second-year attacker Marko Perovic, who they hope will be ready to improve upon last season's team-high six-goal performance.
"Now for me it is a little bit easy because in April I will be here one year,'' said the Serbian native.
"Everything, also, is one year behind me. It was nice for me and the club. It was very nice but I hope this year it will be better for me and the team and we can have a good season.''
Perovic, who will be surrounded this season by his countryman Ilija Stolica, also in his second go-round with the team after signing in mid-season last year and Frenchmen Ousmane Dabo (who reportedly has signed an MLS contract and will join the Revs) and Didier Domi, will still be seen as an offensive spark plug with his ability to score free kicks and to create off his dribbling and passing abilities which helped to earn him team MVP honors.
The left-footer who played in the wide-and-center midfield last season in addition to playing striker, said he's not sure where he'll be slotted this season.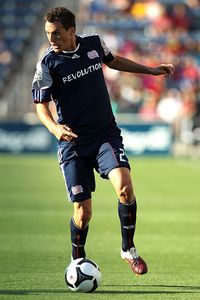 Jonathan Daniel/Getty ImagesMarko Perovic led the Revolution with six goals last season.

"The position you mean,'' he said, when asked about where he'll play. "I don't know. You know the club is looking for more players to try. For me it's not a big problem to play left or in the middle. But I am not the coach. The coach he knows the best position for me. But (preseason) is a short time for me to know what position to play. I'm better for forward. For six years I always play in the middle. Last year I play behind the striker, behind Ilija. But for me it is no problem. I play striker or in the middle. But we see.''

Coach Steve Nicol said he is expecting big things from his 27-year-old now that the player has had more time to adapt to his surroundings. "All those things he did last year, absolutely, and more. I think there's more there,'' the coach said.

Nicol said that it was vitally important for players coming to this country to get the lay of the land and a feel for the expanse that is the United States.

"I think for the guys who came first time last year, especially for Marko and Ilija, and the young guys as well, that it's a different ballgame when you are traveling all day and stepping off a plane and having to play the next day,'' he said.

"It's a different mentality,'' the coach added. "You have to be strong between the ears. Experience helps. Obviously with Ilija and Marko, they have plenty of experience on the field and now they have a whole new appreciation of what the league is about as well off the field.''

Perovic said that there was no way of overstating the importance of adapting to a country as big as this and having gone through it once enables him to anticipate what's ahead.

"For me it can only make things better,'' he said. "Because I am more experienced for MLS because when I came in April last year, everything was new for me. It was a different league with different people. It was the first time I was in America. Now I feel like it is my home. People here are good. They like me and I like everybody so it can only get better for me.''

Perovic said that the reputation of Major League Soccer is growing into something that more and more players are taking notice.

"I played in Switzerland,'' he said. " MLS is not like the (German) Bundesliga, (English) Premier League'' he added. "But I play in Switzerland and it's stronger physically. It's better to play in MLS because every year it is changing. I was in Europe and everyone there was talking to me, saying MLS is good. A lot of good players I know who play in Belgium, Switzerland and France, want to come and play in MLS. Because it is also interesting to play in MLS because we are always traveling and going to play in other cities. There are 18 teams now. It is a big championship.''