Possession remains key issue for Revs
April, 12, 2011
4/12/11
8:57
AM ET
By
Brian O'Connell
| ESPNBoston.com
FOXBOROUGH, Mass. -- It was the name of the game for the Revolution during the preseason: possession.
After the Revolution struggled to keep the ball for better parts of the 2010 season, it was impossible to avoid the idea that the technical staff's first order of business this year was to improve the team's ability to hold the ball.
And yet, nearly a month after the preseason concluded, there's little doubt that the Revolution continue to struggle in the possession department, as exhibited by Saturday night's stunning 2-0 home loss against a second-rate Salt Lake squad.
"It was hard for us to keep the ball and get anything going attacking-wise," said Revolution defender Darrius Barnes. "They got that first goal and it kind of took the air out of our sails."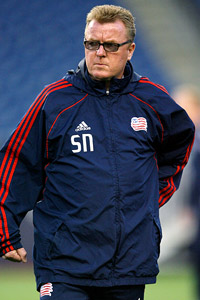 Gail Oskin/Getty ImageSteve Nicol knows the Revs need more possession if they want to be successful.

Not that the Revs had much wind in their sails to begin with. In fact, manager Steve Nicol was especially critical of his team's maddening inability to keep possession.

"(In) the first half, we probably found their men more times than we found our own," said Nicol shortly after his club's disappointing performance. "If you're doing that -- I don't care who you're playing against -- you're going to be in trouble."

Some have said that trouble has been brewing since the start of the regular season when Nicol unveiled an unorthodox, not to mention entirely untested, 4-5-1 formation. The hope was that with three central midfielders -- Shalrie Joseph, Pat Phelan, and Stephen McCarthy -- the Revs would find a way to hold the ball better.

Early on, the results were mixed. They were lucky to escape L.A. with a point after playing a goal-hungry Galaxy in a torrential downpour and fortunate to find a win against a depleted D.C. United a week later. With four points in their first two games, things were beginning to look up for Nicol's lads.

Then, it started crashing down. First came the 1-1 draw to the winless Timbers -- one many felt the Revs should have won easily. That disappointing performance was followed up with a bizarre 1-1 draw at Vancouver that saw them fail to effectively hold the ball despite holding a two-man advantage against a red card-collecting Whitecap club.

The latest embarrassment came Saturday night. Facing a second-choice Salt Lake starting XI, the Revs failed to take any initiative, gave the ball away with alarming regularity, and were ultimately sabotaged by their own inability to maintain possession -- even after they scrapped the 4-5-1 for the customary 4-4-2.

"We made the changes, and then we gave the ball away again at the halfway line and we end up going two down," said Nicol. "It makes it difficult. You give the ball to the opposition as often as we did (and) you're not going to win games."

The first five games of the season has been proof positive of that saying for the Revs. Despite staying unbeaten in four of their first five, their only victory came when the possession scale tilted in their favor.

And after Saturday's defeat, it may have to get worse before it gets better. With Joseph and Phelan unavailable for Sunday's match at Houston after receiving red cards against Salt Lake, the Revs may have to chase the ball one more time before things start to improve.

One glimmer of hope amid their current calamities may the impending arrival of French international Ousmane Dabo. The former Lazio midfielder, who was signed in the team during offseason, has been recovering from a strained quadriceps injury and Nicol believes that Dabo could return to training very soon.

"I would hope that he's going to be joining full training sometime this week," said Nicol. "We'll see what happens."

It certainly will be interesting to watch what happens in the coming weeks. Once Joseph and Dabo are available to feature in the middle, it's likely that Nicol will revert to the familiar 4-4-2, which should allow his team to finally get back on track when it comes to their one-word preseason mantra.

Brian O'Connell is covering the Revolution for ESPNBoston.com. He is the co-founder of New England Soccer Today (www.nesoccertoday.com), which covers professional soccer within New England. He can be reached at BOConnell21@aol.com.