Rapid Reaction: Revs 1, United 0
July, 20, 2011
7/20/11
10:53
PM ET
By
Brian O'Connell
| ESPNBoston.com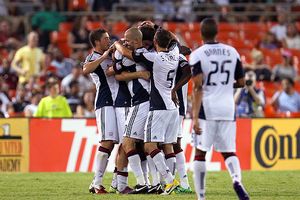 Ned Dishman/Getty ImagesStephen McCarthy's header not only snapped the Revs' winless streak, it got them out of last place.
Stephen McCarthy's 73rd minute goal snapped the Revs' nine-game winless streak with a 1-0 win over D.C. United on Wednesday night at RFK Stadium in Washington, D.C.

The Revs (4-9-7, 19 points), whose last victory came on May 14 against Vancouver, went 0-6-3 between their third and fourth wins of the season. Wednesday night's triumph also marked the first time this season the Revs have won on the road.

With the win, the Revs crawl out of last place and into seventh in the Eastern Conference. D.C.'s loss prevented the United (5-6-8, 23 points) from overtaking Sporting K.C. for sole possession of the fifth spot in the Eastern Conference.

Revs avoid dubious mark: By snapping their club record-tying nine-game winless streak, the Revs successfully averted setting a mark for futility. The Revs' other nine-game winless streak came in 1998, when they went 0-9 between May 13 and July 1.

New England has D.C.'s number: Wednesday night's win extended the Revs unbeaten streak against D.C. to six (5-0-1) -- a run that dates to a 1-1 draw on April 17, 2009.

First series sweep of the season: With their win over D.C., the Revs complete the season series 2-0 against their Eastern Conference nemesis and record their first series sweep against an opponent this season. On March 26, the Revs claimed a 2-1 victory over Ben Olsen's bunch.

Reis pitches a shutout: There's no question the defensive star of the game was Revolution goalkeeper Matt Reis. The veteran keeper elevated his game with a six-save performance that kept D.C.'s potent attack off the scoreboard, earning his fourth clean sheet of the season.

The heat is on in D.C.: With a game-time temperature of 94 degrees and a heat index of over 100, Wednesday night's match was no walk in the park for either team. But it wasn't the hottest game-time temperature the Revs have seen this season. On June 4, the Revs and FC Dallas kicked off their match in Frisco, Texas, with the thermometer reading 97.

Schilawski on the wing: With a 4-3-3 formation, Zack Schilawski saw his first start on the wing in his professional career. Schilawski, a forward by trade, seemed somewhat uncomfortable on the left flank, as he floated a pair of crosses that missed their mark by wide margins.

Feilhaber out: Midfielder Benny Feilhaber was unavailable for the match because of a red-card suspension. Feilhaber picked up two yellow cards and subsequent red-card ejection in the 66th minute of Sunday's 3-0 defeat to Philadelphia.

Joseph in: After sitting out Sunday's match because of yellow-card accumulation on Sunday, captain Shalrie Joseph returned to the lineup and resumed his role in the central midfield.

Cochrane in, then out: Another player returning from yellow-card accumulation was center back Ryan Cochrane. But in the 22nd minute, the veteran defender left the game with a left foot injury and was replaced by defender Darrius Barnes.

Next up: With Wednesday's encouraging win, the Revs will seek their second straight victory against the Colorado Rapids on Saturday at Dick's Sporting Goods Park, with the opening whistle at 9 p.m. ET. In their previous encounter, the Revs settled for a 0-0 draw against the Rapids on May 7 at Gillette Stadium.

Brian O'Connell is covering the Revolution for ESPNBoston.com. He is the co-founder of New England Soccer Today (www.nesoccertoday.com), which covers professional soccer within New England. He can be reached at BOConnell21@aol.com.