New England Revolution:

Andrew Farrell
March, 17, 2014
3/17/14
6:44
PM ET
By
Brian O'Connell
| ESPNBoston.com
A week after a leg injury reduced him to a spectator for the season opener, Revolution right back
Andrew Farrell
received his first taste of regular-season action in Saturday's 1-0 loss to the Union -- albeit at a different position.
Farrell, who was at right back in all of the 32 games he played as a rookie in 2013, made his first professional start at center back after
Jose Goncalves
was not listed on the 18-man game-day roster for the clash at PPL Park.
While the circumstances -- taking over the reigning MLS defender of the year's spot, returning from an injury and facing a dangerous Philadelphia attack -- may have been far from ideal, Farrell more than held his own by recording a game-high 16 clearances on Saturday.
"I felt good," Farrell told the media after the match. "I just think coming into a new spot, playing with guys like A.J. [Soares],
Chris Tierney
and Darius [Barnes] in the back, and they played plenty of times in the back line. They helped me a lot, and you could see that."
The cohesion between Farrell, who saw time at center back in college, and his fellow defenders was evident early. Though the Revolution came into Saturday's clash only a week removed from a 4-0 thumping from the Dynamo, the defense was markedly improved and succeeded in thwarting the Union attack through the first half hour.
But the Union were a determined side in front of the home crowd for the first time this season. Despite New England's best efforts to keep them off the scoresheet, the hosts broke through in the 31st minute. Leo Fernandes grabbed a pass from Fabinho and juked Farrell before feeding
Sebastien Le Toux
inside the six, where the Frenchman tapped through the lone goal of the game.
In a refreshing display of honesty, Farrell not only owned up to the mistake, but acknowledged the implications as well.
"That one play I stepped, when they got the goal off of that -- just that one mental mistake -- it cost us the game," Farrell said.
While the sophomore defender may have put the blame on his shoulders, coach Jay Heaps attributed the goal to intelligent play from the Union rather than Farrell's inability to close on Fernandes prior to the critical pass.
"It was a good smart play from their player," Heaps told the media after the match. "[He] shielded the ball well, and then unfortunately breaks behind our back line and we got to stay with runners. It was a pretty easy pass once they broke into our 18."
Whatever the case may have been, Farrell and his teammates weren't shaken. Although the attack failed to find the back of the net for the second straight week, Farrell and his fellow defenders kept the Revolution in the game by sending a number of balls out of harm's way.
"I thought Andrew did a nice job in the center," Heaps said. "It was his first game back in a little bit, I thought he adapted well and finished the game well."
Even though Farrell won the praise of his coach, he wasn't about to hang his hat on a performance that ultimately failed to yield his team a single point.
"It's tough," Farrell said. "But [we'll] take some positive from the game, and [we're] looking forward to the home opener and getting back on our feet."
September, 12, 2013
9/12/13
11:28
AM ET
By
Brian O'Connell
| ESPNBoston.com
FOXBOROUGH, Mass. -- Down a man, and stuck in a two-goal halftime deficit, the Revolution might have been tempted to play a tentative brand of soccer in the second half of Sunday's contest against Montreal.
Not only had they lost
Matt Reis
to a fifth-minute red card, but two of the three goals they'd given up before the interval had come from the spot. Clearly, it was not their night.
But instead of rolling out a risk-avoidance game plan for the second half, the Revolution examined the situation and reached a different conclusion.
"I think something that was said in the locker room was that 'it couldn't get any worse than this,' " Revolution right back
Andrew Farrell
said. "We were down 3-1 at halftime, and down a man, so there's not much else you can do but lace them up and go out there."
Although
Marco Di Vaio
made it a 4-1 game not long after the interval, the Revolution were far from broken. They pressed on and found a
Kelyn Rowe
goal in the 77th minute, and even managed to outshoot their opponents 6-4 in the final 45.
"I think we did well," Farrell said. "I think we moved the ball a lot better, surprisingly, with 10 men than 11. The effort and intensity were there, and if we can carry that over into the next game (at Chicago), I think we'll be able to take care of business."
With the benefit of 11 men, of course.
Familiar foe, different venue
Six days after battling the Impact for the first time this season, the Revolution will be facing a familiar foe in the Chicago Fire on Saturday.
Four weeks ago, the Revolution staked a 2-0 win over the Fire, and did so by keeping
Mike Magee
and
Dilly Duka
at bay. That, combined with a strong performance from
Juan Agudelo
, kept the Fire from salvaging a point on the road.
But with Agudelo likely out (hamstring), and the venue shifting back to Toyota Park -- where the Fire are 8-4-2 and unbeaten in their last four, the Revolution's challenge will be that much more difficult.
"They play well at home," Revolution coach Jay Heaps said. "We have to be mindful of what they do well at home, what they do different at home than when they're on the road."
Translation: Expect a fiercer Fire attack, as Frank Klopas' club has collected an average of four more shots per game at home (16) than they do on the road (12).
Similar situations
With the Fire (36 points) and Revolution (37 points) separated by a single point, Farrell believes that Saturday's contest may yield a fascinating insight as to who wants a trip to the postseason more.
"They're like us," Farrell said. "They're trying to make the playoffs, and we're going to have to beat them. At the end of the day, it's going to be [a battle] for the final playoff spot."
July, 6, 2013
7/06/13
11:59
PM ET
By
Brian O'Connell, Special to ESPNBoston.com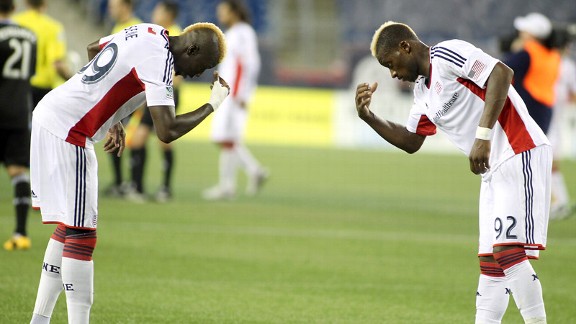 Stew Milne/USA TODAY SportsSaer Sene and Dimitry Imbongo scored a goal apiece as the Revs beat the Earthquakes.
FOXBOROUGH, Mass. -- There's no place like home, and that statement rang especially true for the Revolution on Saturday.

After four weeks away from the friendly confines of Gillette Stadium, the Revolution scored early and late to grab a much-needed 2-0 win over the San Jose Earthquakes.

"For us, we needed to get home and get some points," Revolution head coach Jay Heaps said. "We were defensively sound, but we weren't as good as we can be offensively."

The 13,732 in attendance were promised postgame fireworks in commemoration of the Fourth of the July weekend, but the fans didn't have wait long for the Revolution to launch an early rocket.

In the 13th minute, Saer Sene initially ripped a shot that Jon Busch punched away before it fell to Stephen McCarthy, who quickly played it to Lee Nguyen. From there, Nguyen found Sene for a second opportunity, and the Frenchman didn't disappoint when he unleashed a 25-yard shot that flew past the reach of Busch.

"I like to shoot from far away," Sene said. "I don't like to think too much. When I am on the field, I am trying stuff, and I'm happy that tonight [it] was successful."

With the home crowd behind them and the familiar turf underneath their feet, the Revolution pressed for more as the first frame unfolded.

After a San Jose giveaway near midfield, Scott Caldwell played a keen ball forward to Chad Barrett, who ran onto it, went forward and sent it across for Diego Fagundez, who arrived a step too late to tap it through in the 28th minute.

Six minutes later, Andrew Farrell pushed forward and played a quick game of give-and-go with Kelyn Rowe before the full back's subsequent shot was denied by the shoe top of Busch at the last moment.

"I'm not sure we had our best stuff tonight," Heaps said. "But we still won, [and] if we play as well as we're capable of and [given] how deep our squad is, we know we can compete with any team in this league, especially when we play here at home."

Although the offense was guilty of missing a handful of prime chances to put the game out of reach at halftime, the defense came through to keep the Earthquakes from sneaking back into the match.

McCarthy and fellow center back Jose Goncalves cleared a number of San Jose crosses out of danger and succeeded in keeping the likes of Adam Jahn and Alan Gordon from putting a single shot on frame. Without having to worry about Chris Wondolowski (Gold Cup), Marvin Chavez (Gold Cup) and Steven Lenhart (injured), the Revolution center backs clamped down on the San Jose attack all night.

"If you look at the way the game played out, [McCarthy] and Jose [Goncalves] were the reason we won the game," Revolution left back Chris Tierney said. "The way that [San Jose] plays is that they've got two big, strong forwards, and that's a tough assignment for any defender in this league. [McCarthy] and Jose are the biggest and strongest out there."

It appeared in the latter stages that the onus of squeezing out three points would fall on the defense, until the 78th minute, when another blonde-mohawked striker took center stage.

With the Revolution in search of an insurance goal, Rowe played it ahead to Nguyen, who ran toward the right post searching for a runner inside the area. He found one when Dimitry Imbongo slid into Nguyen's pass and sent it into the net.

"I am really happy that [Imbongo] scored," Sene said. "Maybe, it's special for the people because we both have the mohawks. We are happy because it was a very important game, and we needed these three points."

Imbongo's goal lifted a considerable weight off the Revolution's defense, especially given San Jose's propensity for scoring late. And when referee Carlos Rivera chirped his whistle three times, the Revolution victory -- their first since early June - allowed the home fans to savor the postgame fireworks.

"We're always most comfortable at home," Tierney said. "I think a lot of teams around the league really don't look forward to coming here, which is obviously to our advantage."
March, 11, 2013
3/11/13
1:23
PM ET
By
Brian O'Connell
| ESPNBoston.com
Jerry Bengtson and Matt Reis may get the lion's share of the credit for Saturday's 1-0 win in Chicago, but the Revolution's first victory at Toyota Park in nearly seven years wouldn't have been possible without the efforts of the new and improved defensive unit.

First pick Andrew Farrell and offseason addition Jose Goncalves fit right in with returning defenders A.J. Soares and Kevin Alston, and helped keep Fire forwards Sherjill MacDonald, Maicon Santos and Chris Rolfe from finding the scoresheet.

"It was a hard fought battle," Revolution head coach Jay Heaps told the media after the game. "I thought we did a lot of good things, with a couple of mistakes here and there that led to a lot of their chances. Overall it was pretty solid."

Farrell wasted no time exhibiting the speed and savvy that convinced the club to trade up to select him first overall in January. In the early moments, he outpaced Dilly Duka, and even chased down a long wayward pass from Soares before it crossed the touchline.

Goncalves, an imposing and experienced center back from the Swiss League, lived up to his billing inside the back four. He made a number of quick recoveries and displayed his strength on key challenges inside the defending third.

"They were coming at us and we did a good job of keeping them at zero until halftime when we got the wind (at our backs) a little bit," Revolution captain Clyde Simms told the media following the game. "Then we started to play in the second half and then we got the goal and towards the end they started pushing a lot of numbers. I'm really happy we kept them out of our goal."

While the defense held up its end of the bargain, the central midfield pairing of Simms and Kalifa Cisse also stepped up to give the Revs their first win in the Windy City since a 2-1 victory July 8, 2006.

In fact, the use of two defensive midfielders served the Revs well in the middle of the park on Saturday. Cisse fortified the rear by outmuscling the Fire midfielders, and in the instances where they advanced into the area, Simms provided cover and plugged the passing lanes.

"It was something we sort of set up to do this game with our formation," Simms said. "(Chicago) is very strong in midfield and we wanted to neutralize that and take advantage of that. I think we did a good job of that, especially in the second half."

For Heaps, the waning moments of the match was when his club truly showed its mettle. With the Fire regularly crashing into the New England end, the Revs withstood the pressure thanks to tight marking and timely tackles.

"We were sharp defensively and thought we had a couple more chances, maybe after we scored the first one -- I thought we could have had another one," Heaps said. "I liked the way we finished the game. The guys were fighting for every inch."

March, 7, 2013
3/07/13
1:48
AM ET
By
Brian O'Connell
| ESPNBoston.com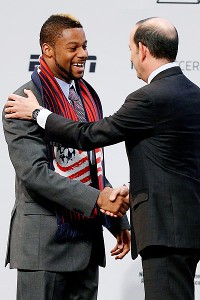 Joe Robbins/Getty ImagesNo. 1 pick Andrew Farrell has hit the ground running in New England.
FOXBOROUGH, Mass. -- As the first overall pick in January's MLS SuperDraft, Andrew Farrell wasn't all that concerned with the heavy expectations that awaited him in New England.

He could deal with the pressure. He could shoulder the demands that come with being the No. 1 pick. The way he looked at it, all he had to do was work hard, and everything else would fall into place.

But there was one thing about becoming a pro that worried the former Louisville defender: How would his new teammates take to the new kid on the block?

"That's something I was kind of scared about coming to MLS," Farrell said. "You don't know how welcoming people are, but it's been a super welcoming (atmosphere) and coaching staff is great."

His apprehension about ingratiating himself with the rest of the Revolution squad is proof positive that the soft-spoken Farrell isn't your typical No. 1 pick.

While some top picks come into camp with their own agenda and expect those around them to cater to their every need, Farrell has adopted the exact opposite approach.

"He's humble, but he's also very smart with the way he carries himself," Revolution head coach Jay Heaps said. "He's the No. 1 pick, but how he was accepted in the locker room was unbelievable. From day one, he took it as a responsibility to come in and work as hard as he could."

There's no questioning Farrell's work ethic. Since his arrival seven weeks ago, Farrell has hit the ground running, quickly trying to adapt to top-flight soccer. He admits that he's made mistakes in the process, but one thing he has fully grasped is the level of play in MLS.

"In college, I used a lot of my athleticism and got away with stuff because I was a pretty decent athlete," Farrell said. "Here, everyone's an athlete. In college, there's only a small crop of players who are pretty good, but here, everybody's good."

Heaps, for his part, isn't concerned with Farrell's learning curve. Yes, the 20-year-old may not have a single minute of MLS experience on his resume. However, the Revolution head coach has come away impressed thus far.

"One of the things he brings is that he's very aware of the game," Heaps said. "He's got a very high soccer IQ. When he receives the ball, he's not just receiving it, he's already (contemplating) the next play as it's coming to him. His preparation on the ball and technical ability is very good."

That acute soccer sense has served Farrell well so far. In five preseason games, Farrell hardly looks like an inexperienced rookie. Rather, his runs, positioning and passing are the trademarks of a seasoned pro.

Nevertheless, Farrell isn't about to call himself a finished product. Instead, he continues to work on improving his game. He seeks out his coaches and teammates whenever possible. So far, so good.

"My positioning's gotten a lot better and my technical ability's gotten a lot better this preseason," Farrell said. "So I think learning that, and going (into practice) day in and day out, has helped me so much."

He's also taken to heart an important piece of advice that's especially pertinent to rookie defenders.

"Don't dwell upon your mistakes," Farrell said. "(If) you make a mistake, you get on with the next play. You don't get caught up on one play, so that's something I always think about."

Of course, Farrell's transition from the college ranks to the pros is far from over. There's still plenty to learn. His first major test will likely come during Saturday's season opener in Chicago.

But Farrell isn't worried about nerves or making mistakes. He's the first to admit that he's got a support system that, no matter the challenge or difficulty, will help him get up to speed.

"Coach Heaps helps me a lot with that, along with the veterans," Farrell said. "It's a good group and we've jelled well and that's something that some teams don't have. I'm just excited for Saturday, and hopefully we get the win."