New England Revolution:

Jermaine Jones
November, 24, 2014
Nov 24
5:41
PM ET
By
Brian O'Connell, Special to ESPNBoston.com
HARRISON, N.J. -- Few would've blamed
Jermaine Jones
for sticking to a defensive stance in the waning stages of a level match against the Red Bulls. But a draw clearly wasn't what Jones had in mind on a late foray in the final third.
Instead of staying back and fortifying the rear to secure a valuable road result for the Revolution, Jones raced alongside
Lee Nguyen
on a counterattack looking for an opportunity to score. He wouldn't have to wait long. Two passes later, he grabbed the game-winning goal in Sunday's 2-1 win in the first leg of the Eastern Conference Final.
"I want to win. This is the point," Jones said. "I didn't score the two chances I had before, so I was still hungry to score a goal and Teal (Bunbury) saw me."
It was a well-executed sequence, no question. With the Red Bulls retreating deep in their own end, Nguyen played a ball wide for Bunbury. Jones trailed the play, ready to make good after missing a pair of early shots. And that is precisely what he did when he toed the offside line and slid into Bunbury's pass to secure the victory.
Sunday's win put the Revolution in command of the two-legged series, which heads to Gillette Stadium on Saturday with the locals owning of a one-goal aggregate advantage and the road-goal tiebreaker. But without Jones, it's hard to say either one of those objectives would've been met.
"I think we saw it, he got the game winner. He's such a presence in the midfield," Revolution striker
Charlie Davies
said. "They never really got comfortable. He was phenomenal again today for us."
The Red Bulls entered Sunday's game intent to shut down MVP candidate Lee Nguyen, who'd scored in back-to-back postseason matches. They succeeded in doing so for the most part: Nguyen was unable find the back of the net.
However, for all the attention paid to the Revolution's leading scorer, the Red Bulls' gaze strayed away from another quite capable of changing the game on his own. And that player made them pay early.
After collecting a ball from Nguyen inside the area, Jones fed it to Bunbury, who ran along the top of the box and fired it true to put the Revolution on top in the 17th minute.
To be fair, the sailing wasn't smooth for the entire 90 for the former Bundesliga pro. He was booked for a reckless challenge on
Dax McCarty
in the 26th minute, and sent a point-blank header over the bar in the 72nd minute.
"It was a tough game and a physical game," Jones said of his caution. "I think everybody in the stadium saw a good MLS game today and in tough games -- it's not a regular season game, it's a playoff game -- you come sometimes into battles where you get the yellow card."
But with the caution and missed shot behind him, Jones saved his best for the 85th minute. It was a moment that not only saw him score his first postseason goal, but one that may have just sent the events in motion for the Revolution's first trip to the MLS Cup final.
"I thought Jermaine did a great job," Revolution coach Jay Heaps said. "He came late, he was able to get forward and you want to attack with three or four, five guys but make sure you're balanced, and I thought we were."
November, 10, 2014
Nov 10
11:39
AM ET
By
Brian O'Connell, Special to ESPNBoston.com
At long last, Revolution midfielder
Lee Nguyen
will finally get the chance to prove himself again at the national team level.
More than seven years after receiving his last cap with the U.S. Men's National Team, Nguyen was among 25 players called by U.S. Men's National Team coach Jurgen Klinsmann for the squad's upcoming friendlies against Colombia (Nov. 14) and Ireland (Nov. 18).
"We want to finish 2014 on a high note and continue to try to meet the top teams eye to eye," said Klinsmann in a statement on Monday. "In these last two games we want our veterans to really become mentors both on and off the field, and we want to see our youngsters take advantage of the opportunity to make their case and grow from the experience. These performances will set the tone for 2015."
Nguyen's last cap with the United States came in Jul. 2007 during the team's Copa America tournament run. The 28-year-old has been capped three times during his career, making his U.S. debut in a June 2, 2007 friendly against China in San Jose, California. Joining Nguyen on the current U.S. roster is fellow Revolution teammate
Jermaine Jones
.
Jones, a national team regular who starred for the United States during its World Cup run earlier this year, spoke about the possibility of Nguyen's candidacy for a call-up following the Revolution's 3-1 second leg win in the conference semifinal on Sunday.
"He works hard, and scores a lot of goals in the league, and gets called into the national team," Jones said after the match. "I'm happy for him. Maybe he's on the field against Colombia."
Nguyen's call-up comes on the heels of a superlative season for the 28-year-old midfielder. In 2014, he scored 18 goals, the most for a pure midfielder in MLS history, and added five assists. His nine game-winning goals were tops in MLS, and further boosted his credentials for league MVP.
His remarkable form has carried over to the postseason, as well, where he's scored in each leg of the Revolution's conference semifinal series against the Crew. The Revolution will play the New York Red Bulls in the conference final series on Nov. 23 and Nov. 29.
Last month, Nguyen spoke about what a national team call-up would mean to him in the midst of his impressive campaign.
"It would be great," said Nguyen. "It would mean that I made a good decision to come back (to MLS) and prove myself, and all you can ask for is a chance."

U.S. MNT ROSTER BY POSITION
GOALKEEPERS (4):
Brad Guzan
(Aston Villa),
Bill Hamid
(D.C. United),
Sean Johnson
(Chicago Fire),
Nick Rimando
(Real Salt Lake).
DEFENDERS (9):
DaMarcus Beasley
(Houston Dynamo),
Matt Besler
(Sporting Kansas City),
John Brooks
(Hertha Berlin),
Geoff Cameron
(Stoke City), Timmy Chandler (Eintracht Frankfurt), Greg Garza (Club Tijuana),
Fabian Johnson
(Borussia Mönchengladbach), Jermaine Jones (New England Revolution),
DeAndre Yedlin
(Seattle Sounders FC).
MIDFIELDERS (6):
Kyle Beckerman
(Real Salt Lake),
Alejandro Bedoya
(Nantes), Mix Diskerud (Rosenborg),
Julian Green
(Hamburg), Alfredo Morales (Ingolstadt), Lee Nguyen (New England Revolution).
FORWARDS (6):
Jozy Altidore
(Sunderland), Miguel Ibarra (Minnesota United FC), Jordan Morris (Stanford), Rubio Rubin (Utrecht), Bobby Wood (1860 Munich),
Chris Wondolowski
(San Jose Earthquakes).
October, 4, 2014
Oct 4
10:31
PM ET
By
Brian O'Connell, Special to ESPNBoston.com
FOXBOROUGH, Mass. --
Jermaine Jones
scored the game-winning goal for the second straight week to send the New England Revolution (15-13-3, 48 points) to a 2-1 victory over the Columbus Crew (11-10-9, 43 points) on Saturday at Gillette Stadium.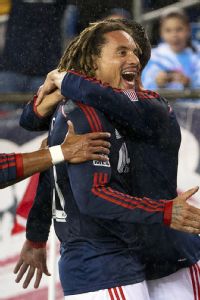 Winslow Townson/USA TODAY SportsJermaine Jones netted the winner for the second consecutive game.
Jones tallied his second goal of the season in the 67th minute, allowing the Revolution to reclaim the lead after Ethan Finlay and Lee Nguyen traded goals in the 25th and 20th minutes, respectively. Bobby Shuttleworth made six saves to thwart an enterprising Crew squad that came close to finding the back of the net during the second half.

Waylon Francis was issued a second caution in the 70th minute, forcing the Crew to finish the match shorthanded.

With the win, the Revolution have now claimed victories in seven of their last eight, while the Crew's four-game unbeaten streak (3-0-1) came to an end.

What it means: Leave it to Jermaine Jones to rescue the day -- again. For the second straight week, Jones rose to the occasion when he pounced on a Kelyn Rowe free kick it to secure another important set of three points down the stretch. It wasn't a pretty victory, by any stretch. Much like last week's win in Kansas City, the Revolution absorbed plenty of pressure from a hungry attack, forcing Bobby Shuttleworth to make a slew of heady saves. But at this juncture of the season, capitalizing on chances is the name of the game, and that's precisely what the Revolution did again on Saturday, taking one step closer to clinching a postseason berth.

Stat of the match: Nguyen's 20th-minute strike was the first time the Revolution held a lead against the Crew since a 1-0 win in last year's season finale in Columbus.

Scoreboard watch: The 2-1 win allowed the 48-point Revolution to reclaim second place after Sporting Kansas City inched a point above them in Friday's 0-0 draw to D.C. United. The victory also allowed the Revolution to pull within four points of 52-point D.C. for the top spot in the conference with three games to go.

Soares returns, Caldwell back in lineup: After missing last week's match due to a calf injury, center back A.J. Soares returned to the lineup. With Soares back, Andrew Farrell returned to his right back spot, while Kevin Alston was back on among the substitutes. In the midfield, Scott Caldwell returned to the six spot, while veteran Daigo Kobayashi, who started last week's match, joined Alston on the bench. Incidentally, Alston and Kobayashi both saw the field as second-half substitutes.

Three to go: With 31 games behind them, the Revolution's remaining schedule includes stops at Montreal (Oct. 11) and Houston (Oct. 16) before they return home to close out the regular season against Toronto (Oct. 25). The Revolution's combined record against their remaining opponents is 4-2-0.

Back on the road: The Revolution head to Stade Saputo next week for their third and final match against the Montreal Impact on Saturday. Kickoff is set for 4 p.m. The Revolution and Impact have split their season series 1-1-0 so far.
August, 9, 2014
Aug 9
5:01
PM ET
By
Brian O'Connell
| ESPNBoston.com
Will the New England Revolution return from their Week 22 bye with a new and expensive addition to their roster?
According to a tweet from ESPN analyst Taylor Twellman on Friday, the Revolution are one of at least two clubs pursuing former Schalke central midfielder and current U.S. Men's National Team regular Jermaine Jones, who has expressed his desire to play in MLS this season.
"We've received approval from our ownership to pursue Jermaine," Revolution general manager Michael Burns told FOXSoccer.com on Friday. "We're interested in Jermaine and we've been in contact with MLS."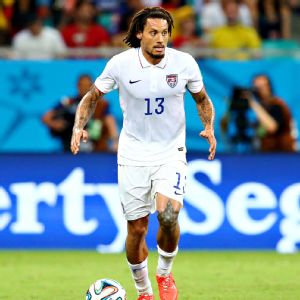 Mark J. Rebilas/USA TODAY SportsAcquiring a player of Jones' pedigree won't be easy -- nor will it come cheap.
There's no doubt that the sixth-place Revolution, in particular, could use the savvy and physical 32-year-old midfielder. Five weeks ago, they lost starting defensive midfielder Andy Dorman to an MCL injury that will sideline him through September. Since then, coach Jay Heaps has used Scott Caldwell and A.J. Soares in Dorman's spot, with varying degrees of success.

Making matters even more urgent: The Revolution have lost nine of their last 10, and have dropped from the top of the conference to below the red playoff line.

Jones is a technically-gifted, box-to-box midfielder who started all four of the United State's matches during the 2014 World Cup. He scored a brilliant goal against Portugal during Group G play, and was one of the team's most consistent attacking players during their tournament run.

Since earning his first national team cap in 2010, Jones has made 46 appearances with the U.S. team, scoring a total of three goals during that span. He originally appeared for his native Germany at various youth team levels before making the FIFA-permitted switch to the United States in 2009.

At the club level, Jones has spent the bulk of his 15-year professional career in Germany's Bundesliga. He kicked off his career at Eintracht Frankfurt in 1999 before making stops at Bayer Leverkusen (2004) and Schalke (2007).

He briefly went on loan to EPL side Blackburn Rovers in 2011, and most recently played with Besiktas during the past season.

But acquiring a player of Jones' pedigree won't be easy -- nor will it come cheap. The Revolution will be bidding against conference rival Chicago Fire -- and possibly an additional unidentified club -- for the former Schalke midfielder's services. Those bids will be submitted directly to the league, which will then meet with Jones and his representatives. From there, the league will presumably point Jones to the highest bidder.

Jones is reportedly seeking an annual salary in the neighborhood of $3 million, which would require the winning bidder to use a designated-player spot to defray the cost of the salary-cap hit. The Revolution currently have three such spots to work with. Should the Revolution acquire Jones, he would become the highest-paid player in club history -- and by a wide margin.

Jones left Besiktas following the 2013-14 season, with MLS as a possible destination. The MLS roster freeze is Sept. 15. With Dorman on the disabled list and striker Jerry Bengtson out on loan, the Revolution currently have 26 players on their active roster, four below the 30-man maximum.