April, 24, 2014
Apr 24
6:01
PM ET
By
Brian O'Connell
| ESPNBoston.com
FOXBOROUGH, Mass. --
Shalrie Joseph
didn't know if he'd ever get the chance to return to the Revolution after his trade to Chivas USA two summers ago. But now that he's back, he couldn't be happier.
A day after the Revolution selected him in the Waiver Draft, Joseph spoke about his return to the club where he not only made his name as a player, but etched his name into the record books.
"I've been practicing with the guys for a couple of days now," Joseph said. "It just feels good to actually wear the uniform again, and finally get out there and practice with the guys."
The story of how Joseph found himself back in a Revolution uniform is one of persistence and humility, with an air of mystery for good measure.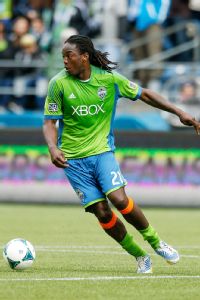 Otto Greule Jr/Getty ImagesJoseph's stay with the Seattle Sounders didn't last long, and after they bought out his contract this winter he considered retirement. But now, he says, he's right where he belongs.
After spending nearly a full decade with the team that drafted him out of St. John's in 2002, the record holder for most games played in a Revolution uniform (261) was abruptly traded to Chivas USA in August 2012. Days after the trade, Joseph told the Los Angeles media he had a "rocky relationship" with coach Jay Heaps, leading some to believe that he'd worn out his welcome in New England.

Joseph's time with Chivas USA was brief. He was traded for the second time in less than seven months when he was jettisoned to the Seattle Sounders in February 2013. Like his tenure in Southern California, his stay in the Pacific Northwest didn't last long.

Following a campaign marred by injuries and struggles with fitness, Sounders coach Sigi Schmid essentially wiped his hands of Joseph, telling the Seattle media in January 2014 that the Grenadian midfielder was "not in our plans for this season."

Though he was still under contract with Seattle at the time of Schmid's comments, the writing was on the wall. Soon, he'd have to find another place to play.

He was invited back to the Revolution for an extended trial that lasted for weeks, but even after the Sounders bought out his contract, league rules prevented New England from outright signing him. With road blocks threatening his hopes of returning, Joseph contemplated retirement.

"Some days, it was frustrating," Joseph said. "I know where I wanted to be, I know where I wanted to play, and if that wasn't possible, then I probably would've thought about hanging them up. But I always wanted to be here, this is my first (choice) once I decided to come back."

Once the front office negotiated its way to getting Joseph -- via the Waiver Draft -- Joseph's return was official on Tuesday. And nobody was more ecstatic about it than Joseph himself.

"My first inclination was to come here, and to have a conversation with Jay and the guys in charge," Joseph said. "Once it was possible, then it was just trying to make sure that (we) dotted our I's and crossed our T's."

Another person who was pleased about Joseph's return was none other than Heaps, the coach Joseph admitted he clashed with during his final days in New England. But nearly two years removed from the trade to Chivas USA, whatever differences there may have been are history.

"I've always loved Shalrie as a teammate," Heaps said. "I loved coaching him. I think he worked too hard -- that was probably the problem. I think he trained too hard and wanted to do too much."

Joseph admits that he's changed since the last time he stepped onto the pitch as a member of the Revolution. And with good reason.

"I'm a lot more mature," Joseph said. "(I have) a lot of mileage on this body. I have to get in shape with our strength and conditioning coach. The guys have been great (and) the coaching staff has been awesome to me."

In an ideal world, Joseph would step right back into the number six role, and lead the charge for the Revolution. However, the reality is that, at 35, Joseph's best days are behind him.

Even so, Heaps believes Joseph's leadership will be an asset to the young Revs squad.

"I think that's the most important (thing) -- what he's going to bring in training, his voice, mentoring some of the younger guys, and (showing them) what they need to do on the field," Heaps said.

Whatever his role may be, whether he's a season-long reserve or he goes on to make a number of important cameos, Joseph is excited about the opportunity before him.

"I'm happy to be back," Joseph said. "I'm happy to be running again and just playing again. I look forward to just practicing and working out and trying to get on the squad."