New England Revolution:

Steve Neumann
June, 19, 2014
Jun 19
12:07
AM ET
By
Brian O'Connell
| ESPNBoston.com
RICHMOND, Va. -- The opportunity to get greater insight into the nuts and bolts of his roster is one that Revolution coach Jay Heaps has always embraced. And Wednesday's fourth-round U.S. Open Cup game afforded him one such chance.
Fielding a lineup comprised of regulars and reserves alike, Heaps watched his hybrid lineup stake a trio of early goals en route to a 3-2 win over the Richmond Kickers at City Stadium.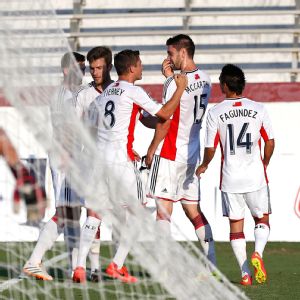 Geoff Burke/USA TODAY SportsStephen McCarthy (15) celebrates with Revolution teammates after scoring a goal.
"You look for these moments," Heaps said. "We wanted to have a strong blended team for this game, (and) put in guys that earned minutes."

Among those whom Heaps alluded to were Stephen McCarthy, who hadn't played a single minute this season, and Steve Neumann, who had yet to earn a start in league action this season. Naturally, both were ready to show their coach why they belonged in the lineup.

Nine minutes into the match, McCarthy, who was voted 2012 Revolution Defender of the Year by the media, thumped a corner kick from Neumann into the back of the net to put the guests in command early.

"I just kind of pushed the marker away and went near post," McCarthy said. "It kind of hit off the top of the mask I was wearing and found my nose so that wasn't too fun, but it was just a great ball."

McCarthy sported the clear mask for the first half due to a broken nose he suffered during a collision with Scott Caldwell that occurred training last week. Not surprisingly the mask was gone during the second half amid the high temperatures at City Stadium, which hovered in the mid-90s.

While the masked man certainly made his presence felt early, he wasn't the only reserve who impacted the match.

Neumann, who provided the service on McCarthy's strike, would get the chance to scribble his name on the scoresheet as well.

On a ball that Diego Fagundez sent along the right channel, it appeared that Patrick Mullins was ready to score a second Revolution goal. But even though he slipped past an onrushing defender, he didn't have the angle to shoot with his preferred left foot.

So he did the next best thing: he sent it ahead of Neumann, who timed his run perfectly to deposit his fellow rookie's pass into the back of the net in the 35th minute.

"Pat did a great job of holding the ball up like he's done all year, and luckily found me right in front of the net, so I didn't have much to do once it got to me," Neumann said with a laugh. "I definitely finished it well."

Neumann may have downplayed the effort and skill that went into his goal -- the first of his pro career -- but Heaps was certainly a fan of the goal, which put the Revolution back on top after George Davis IV leveled it in the 24th minute.

"I loved his goal," Heaps said of Neumann's tally. "I loved the way he connected early in that first half. I thought he drifted a little bit in the second half -- I'd like to see him continue to make an impact."

The second half proved to be a trying time for both Neumann and McCarthy. While Neumann's first-half form may have faded after the break, McCarthy, who last saw game action October 19, 2013 vs. Columbus, saw his night cut short in the 77th minute.

"I haven't played enough minutes to really get fit," McCarthy said. "So I started cramping and I had to step off."

Although their evenings may not have ended the way they wanted, McCarthy and Neumann both earned the praise of their coach, who appreciated their willingness to answer the bell on a steamy Wednesday evening.

"I thought overall, a lot of these guys, Neumann, Scotty, McCarthy and Donnie -- they haven't played a ton of minutes," Heaps said. "So asking them to go 90 (minutes) was a big ask in this heat, and I thought they managed that well."
June, 18, 2014
Jun 18
10:49
PM ET
By
Brian O'Connell
| ESPNBoston.com
RICHMOND, Va. -- Rookie
Steve Neumann
scored his first pro goal,
Stephen McCarthy
grabbed his first in nearly three years, and the New England Revolution secured a 3-2 U.S. Open Cup win over the Richmond Kickers on Wednesday at City Stadium.
Neumann's 35th-minute goal was part of a first-half scoring bonanza that saw McCarthy open it up in the ninth minute and
Patrick Mullins
add one of his own in the 39th minute. McCarthy's goal was his first since a July 20, 2011 league match at D.C. United. The Kickers brought two back from George Davis VI in the 24th minute and Matt Delicate in the 73rd minute.
With the fourth-round win, the Revolution advance to the fifth round of the historic tournament, where they'll host its USL-PRO affiliate Rochester Rhinos at 7:30 p.m. on June 25 at Stevenson Field in Providence, R.I. Last year, the Revolution throttled the Rhinos 5-1 in a third-round meeting on May 28.
What it means:
The Revolution weren't about to take the Kickers lightly after four MLS clubs were knocked out of the fourth round during the last week. McCarthy's ninth-minute strike appeared to set the tone, while subsequent goals from Neumann and Mullins put the Revolution in command. But the Kickers simply refused to lie down. Delicate's late goal was the byproduct of constant pressure exerted by the hosts, who forced the Revolution to hang on by their fingernails in the waning stages. On paper, it probably wasn't the kind of performance Heaps was looking for, to be sure. Then again, Heaps has to be pleased with the opportunity Wednesday's match gave for a number of regulars to stay sharp during the World Cup break.
Rookies and vets get minutes:
Revolution coach Jay Heaps wasn't joking when he said he'd field a "blended" lineup of regulars and reserves. Among the regulars in the lineup:
Lee Nguyen
,
Diego Fagundez
, Mullins,
Jose Goncalves
and
Chris Tierney
. Meanwhile, 2012 Revolution defender of the year McCarthy earned his first action of the 2014 season.
Rowe unavailable:
Midfielder
Kelyn Rowe
, one of the Revolution's best performers in recent Open Cup history, was not among the game-day 18. In the team's latest injury report, Rowe was listed as "questionable" with hamstring tightness.
Vercollone faces former club:
Wednesday's match afforded Kickers midfielder Luke Vercollone, who started in the midfield for the hosts, the chance to face the club he played for in 2004 and 2005. During those years, Vercollone was a teammate of Revolution coach Jay Heaps. A hot one: The temperature at City Stadium for the 7 p.m. kickoff was a balmy 93 degrees, with a feels-like temperature of 96 degrees.
May, 9, 2014
May 9
1:25
AM ET
By
Brian O'Connell
| ESPNBoston.com
For Revolution supporters, Sunday's match is more than just another intra-conference clash as ex-New England midfielder/forward
Clint Dempsey
returns to Gillette Stadium as a member of the Seattle Sounders.
Dempsey, who won Rookie of the Year in 2004 and was named a Best XI selection in 2005 and 2006, spent three years in Foxborough before he was transferred to EPL outfit Fulham in 2007. And after Wednesday night's game against FC Dallas, the former Revolution star was already looking forward to facing his former club.
"It's always great to go back to where you started," Dempsey told the Seattle Times on Wednesday. "I owe a lot to that organization. They picked me up in the draft and gave me the opportunity to jump-start my career, and playing there allowed me to break into the national team and allowed me to go overseas."
The first-round pick scored 25 goals and added 14 assists in 71 career games for the Revolution between 2004 and 2006. His game-changing ability not only boosted the fortunes of the Revolution, but landed him a spot on the U.S. Men's National Team roster for the 2006 World Cup.
And with Sunday's game likely to be his last before he's called in by U.S. coach Jurgen Klinsmann for World Cup duty, it's only fitting that Dempsey will get the opportunity to say hello to the Foxboro faithful before he departs for National Team camp.
"I have good memories there," Dempsey said. "We got to a semifinal and two finals. It'll be great to go back, but we'll still be looking to get points."
Nguyen winning national praise
After a game in which he helped steer the Revolution offense to a pair of unanswered goals on enemy territory, Revolution midfielder
Lee Nguyen
is getting national attention for what's turning into an All-Star caliber campaign.
MLSSoccer.com columnist Matthew Doyle called Nguyen "the best player you're not watching," which of course, turned the national spotlight on the creative midfielder.
While his current form may be a revelation to many outside of New England, teammates have known for quite some time that Nguyen has been an invaluable component of the Revolution's game plan every week.
"He makes us tick as a team going forward and he can control the tempo of the game,"
Andy Dorman
told revolutionsoccer.net on Wednesday. "The main thing is to get him on the ball as much as possible and we did that to a certain extent on Saturday - probably not as well as we have done the rest of the games this season, but it was enough for him to have an effect on the game."
With Dorman installed at defensive midfielder, Nguyen has been given greater freedom to use his inventiveness to unlock opposing defenses. Though he may be a creative player by trade, Nguyen is just as happy to track back and contribute to the team's defensive efforts.
"It's part of the philosophy Jay (Heaps) instilled in all of us," Nguyen told revolutionsoccer.net. "You work as a unit defensively and it's going to turn over to offensive chances. That's been the mindset. If we put in the effort defensively, it's going to create goals and chances for us going forward."
Neumann the game-changer
Rookie striker
Patrick Mullins
received plenty of attention for his performance against Toronto, and deservedly so after scoring his first professional goal and setting up the game-winner in the waning moments.
But even though the 11th overall selection in this year's draft certainly boosted his stock at BMO Field, fellow first-round pick
Steve Neumann
(4th overall) received praise from Heaps after the game.
Although the former Georgetown Hoya has only seen 24 minutes off the bench in the last two games, the Revolution coach said that he's made the most of his playing time. Within the confines of a couple of cameos, Neumann has helped steer the offense toward three late-game goals -- two of them game-winners -- over the last two weeks.
"Steve Neumann is a great example of that," Heaps said of the midfielder's ability to boost the offense. "Last week against Kansas City, he came in and made an excellent improvement. Right now, with goal differential when he's on the field, it's 3-0 in the last two games, and he helped us win this game (last Saturday)."
April, 10, 2014
Apr 10
1:24
PM ET
By
Brian O'Connell
| ESPNBoston.com
FOXBOROUGH, Mass. -- For the first time in his three seasons as Revolution head coach, Jay Heaps won't be calling the shots from the sidelines on Saturday.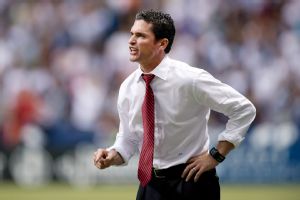 AP Photo/Darryl DyckRevs coach Jay Heaps was ejected from last week's match in D.C. and will be serving a one-game suspension on Saturday.
Heaps, who was ejected in the 90th minute of last week's match against D.C. United, will be serving a one-game suspension this week. And, to no one's surprise, the fiery head coach is not happy about it.

"It's not going to be good," Heaps said. "Taking your medicine is never a good thing, and I think it's one of those situations where it is what it is, and I felt like there was a statement to be made."

While Heaps wasn't specific about what kind of statement he was referring to, he admitted that he got the league's message "loud and clear." With Heaps suspended, assistant Tom Soehn will serve as head coach on Saturday.

Revolution forward Teal Bunbury isn't expecting any major issues come game day.

"I don't think it'll be too different," Bunbury said. "Our assistants are going to do a great job and it's just up to us on the field to be able to execute the plan that we're putting into work all week during training."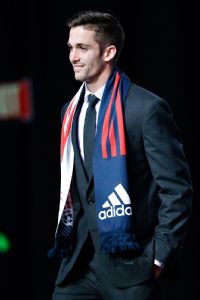 AP Photo/Matt RourkeSteve Neumann, who was selected by the Revs during the 2014 MLS SuperDraft in January, described his debut last Saturday as "beyond a dream for me."
Hello, Neumann: Though the Revolution may have suffered a 2-0 loss and saw its coach ejected during last Saturday's game at RFK Stadium, one bright spot was the MLS debut of first-round pick Steve Neumann. The 22-year-old midfielder/forward came on in the 84th minute to spell Daigo Kobayashi, and while he may not have looked the part of a wild-eyed, energetic rookie, the moment was certainly not lost on him.

"It's always been my goal in life to play professional soccer," Neumann said, "and to finally get that first appearance in the regular season was beyond a dream for me."

Making the occasion even more poignant was the fact that he attended Georgetown University, less than 10 miles away from the scene of his debut, from 2010 to 2013. With friends, family and former college teammates in attendance, Neumann's late-game cameo was greeted with plenty of applause from the stands.

"They were all ecstatic that I got into the game," Neumann said. "I definitely heard a loud cheer when I entered the game, which put a smile on my face. Now I just want to keep building off that and put that behind me and continue on with the season."

Patience, patience, patience: After watching film of last week's game in D.C., Bunbury knows that he and his teammates have to develop a more patient approach going forward -- especially if they find themselves down a goal early again.

But even though he acknowledged that going direct right out of the gate wasn't the best decision, the Revolution striker still can't put his finger on what prompted him and his teammates to press so soon.

"I don't know exactly what it was," Bunbury said. "We were down a goal, and we all thought 'let's go after it.' I think we kind of played right into their hands doing that, but it's just something that we have to work through."