September, 16, 2014
Sep 16
1:15
AM ET
PITTSBURGH -- The Red Sox have a dozen games left to play in 2014, six on the road, then six at home to drop the curtain on their second last-place finish in three years.
Here are a few reasons, beyond force of habit, to stick with the Sox to the bitter end:
•
On deck, Rusney:
Has any Cuban player had a more unusual introduction to the life of a pro ballplayer on the other side of the Straits of Florida than
Rusney Castillo
? In the span of just the last three months, he has been personally welcomed to the U.S. by Jay Z and Beyonce, signed for more money than any Cuban player ever ($72 million) and celebrated championships in the last two weeks with two minor-league teams, the Gulf Coast League Red Sox and the Triple-A Pawtucket Red Sox, during a dress rehearsal for his big-league debut, which could come as soon as Wednesday in Pittsburgh. Oh, and he turned 27 on Sept. 7.
[+] Enlarge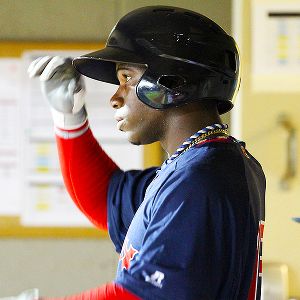 Courtesy Pawtucket Red SoxRusney Castillo could make his Red Sox debut as soon as Wednesday in Pittsburgh.
Castillo's most memorable contribution came in Game 4 of the International League series against Durham, when, with the PawSox a strike away from elimination in the ninth inning, he delivered a game-tying single, the PawSox winning in extra innings. He will play in the Triple-A championship game Tuesday night, then is scheduled to join the Sox here on the next day.
It will be striking to have three center fielders --
Jackie Bradley Jr
.,
Mookie Betts
and Castillo -- on the team at the same time. Feel free to compare and contrast.
•
Spoiler, anyone?:
The Sox were a major aggravation last weekend for the Royals, taking three out of four in Kansas City to drop them behind the Tigers in the AL Central. Now they have a chance to hurt the postseason prospects of another team -- the Pirates of all people. The Pirates are in the weird position of playing stretch-drive games against a team they have played in this century only 13 times, the last time in 2011, when they took two out of three from the Sox. The Pirates begin their series against the Sox trailing the Cardinals in the NL Central by 3 ½ games, while holding a 1 ½ game lead over the Brewers for the final wild-card spot.
•
Koji, redux:
Red Sox closer
Koji Uehara
has pitched just three times since Aug. 25, only once since his epic meltdown Sept. 4 in New York City, when he gave up ninth-inning home runs to
Mark Teixeira
(tied the score) and
Chase Headley
(walk-off). Uehara pitched a scoreless eighth inning Friday night with the Sox ahead by two against the Royals, and manager John Farrell has pledged that he will restore Uehara to the closer's role before it's all over. Uehera's bargaining power on the free-agent market this winter may depend on it.
•
Skipping a party:
The Sox may get lucky on this one. After three games with the Pirates, they will be spending the weekend in Baltimore, where the Orioles are about to win their first division title since 1997. The Sox may avoid having to watch the Orioles party, however, as the Orioles reduced their magic number to one by beating the Blue Jays Monday night and play Toronto on each of the next two nights in Camden Yards.
•
Avoiding an embarrassment:
The Sox helped their cause by beating up on the Royals, and now have to go just 4-8 to finish ahead of the 2012 Sox, who went 69-93. The Sox are currently 66-84.
•
Vazquez, unleashed:
How often does a team introduce two players of such uncommon defensive gifts as Bradley in the outfield and
Christian Vazquez
behind the plate? Bradley should win the Gold Glove, despite his late-August demotion, and Vazquez has deserved accolades as a budding
Yadier Molina
, who is merely the best catcher in the game. Vazquez has cut down 11 of 25 would-be base stealers, a 44 percent success rate, and has picked off four runners. That's the most pickoffs by a Sox catcher since Rich Gedman had four in 1985.
•
Another history lesson from Papi:
With one more RBI,
David Ortiz
will have his eighth season of at least 30 home runs and 100 RBIs, which will be the most in Sox history. He'll pass Ted Williams, who has seven. Ortiz left the club Sunday for what Farrell called a "family emergency" but is expected back in Pittsburgh.
September, 14, 2014
Sep 14
8:24
PM ET
Associated Press
KANSAS CITY, Mo. -- Boston slugger David Ortiz left the ballpark early due to what Red Sox manager John Farrell called a family emergency.
"He got called away from this game," Farrell said. "There was a family emergency that he had to attend to and he jumped on a flight late this afternoon. He should catch up with us in Pittsburgh."
Even without him, Boston was able to rally past Kansas City for an 8-4 victory on Sunday as Daniel Nava hit a grand slam and Xander Bogaerts added a three-run shot.
The loss continued the Royals' slide. When asked if his club could afford to lose three of four to a last-place club, Kansas City manager Ned Yost succinctly replied, "No, no, no."
Yost also abruptly ended his postgame media session with that answer.
The Royals, who blew a four-game lead, fell 1½ games behind Detroit, which beat Cleveland, in the AL Central. Kansas City is in the thick of the wild-card race.
The Red Sox chased Jason Vargas (11-9) with one out in the sixth after Mookie Betts and Bogaerts singled. Reliever Aaron Crow walked Yoenis Cespedes to load the bases and struck out Allen Craig.
Nava hit Crow's next pitch into the Red Sox bullpen for his second career grand slam and a 7-4 lead.
"Do I think this is going to cause us to fade? No," Vargas said. "But we need to play better ball, that's for sure, because we're running out of games."
September, 14, 2014
Sep 14
7:44
PM ET
By
Douglas Tucker, Special to ESPNBoston.com
KANSAS CITY, Mo. --
Daniel Nava
came down with a case of food poisoning shortly after the
Boston Red Sox
hit town Wednesday night.
Now he's made Kansas City sick.
Batting left-handed against
Aaron Crow
in the sixth inning, Nava drove the right-hander's first offering to him into the visitors bullpen behind right field. His second career grand slam and Boston's fifth of the season put the Red Sox up 7-4. They went on to win 8-4, taking three out of four from the frustrated AL Central-contending Royals.
Nava declined to say what exactly made him sick earlier in the series. It was something he ate at a Kansas City hotel.
"Food poisoning is no fun, that's for sure," he said. "But to come out with the win overall in the series is big for us. I wasn't feeling well, but we had a lot of guys who either weren't feeling well or were banged up. We're just trying to get out there and be competitive, and we certainly were a little more than that."
Kansas City fans are not feeling well either. The Royals started this series with a one-game lead over Detroit in the AL Central and ended it with a deficit of a game and a half.
But Red Sox manager John Farrell was blunt when asked if he felt sorry for the long-suffering franchise that's trying to snap a 28-year playoff drought.
[+] Enlarge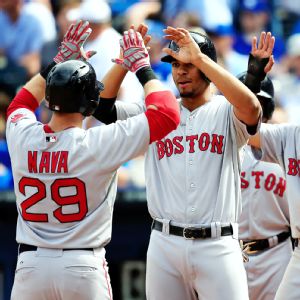 Jamie Squire/Getty ImagesDaniel Nava is congratulated by teammates after hitting a grand slam in the sixth inning.
"No," he said. "I mean, we're all competitors. Everyone in the game knows it's been a long time since they've been in the postseason. They've got a good team. But our season's not over and certainly we're going to play up to our capabilities and with the competitiveness we expect out of our guys."
Several Sox players were competitive in this one.
The Red Sox were trailing 4-0 in the third when red-hot rookie shortstop
Xander Bogaerts
lined a three-run shot off
Jason Vargas
to make it 4-3.
Then in the sixth, Nava, known for taking a cautious approach at the plate, wasted no time going after Crow. In fact, the switch-hitter was happy to see Royals manager Ned Yost not replace his righty reliever with a lefty. Nava's average from the left side of the plate is about 130 points higher than from the right.
"I looked up in the bullpen and if they were going to a lefty, they would have had him up, and they didn't have him up, so I knew I was going to be facing a righty," Nava said. "It was just a matter of whether I was going to get a pitch to hit or not, and fortunately I did."
Farrell does all he can to keep Nava facing right-handers.
"We were fortunate. We got him on the left side of the plate in that situation, having him sandwiched between two right-handers," Farrell said. "They make a move to the bullpen, you get Vargas out of the game, and it kind of set up good for us. In certain situations, he has such a reputation as a patient hitter. He has a willingness to go first pitch and that was the case today."
Farrell did not question his Kansas City counterpart's thinking.
"I don't know what goes into their decisions. But we put him between right-handers to keep him on the left side of the plate, and it worked out," he said.
Bogaerts also had a sacrifice fly for a career-high four RBIs while writing his name into the Kansas City record book, although it is admittedly a very small entry. At 21 years and 348 days, he's now the youngest Red Sox player ever to homer off the Royals in Kansas City.
Bogaerts had three hits in four at-bats while his 21-year-old rookie partner at second base,
Mookie Betts
, was 2-for-4.
Betts has multiple hits in nine of his last 17 games.
"What he and Mookie are doing at the top of the order has been impressive," Farrell said. "For the age that they are, the stage of the career that they are, it's very impressive to see two young guys of that age performing like they are, as consistently as they are. Mookie with some excellent base running. But those two guys are doing an excellent job."
September, 14, 2014
Sep 14
5:59
PM ET
By
Douglas Tucker, Special to ESPNBoston.com
KANSAS CITY, Mo. -- If Kansas City's dreary playoff drought stretches to a 29th consecutive year, Boston take warning: Long-suffering Royals fans may vow vengeance against you above everybody else.


First, immediately after the All-Star break, the Red Sox sweep KC in three at Fenway. Now, with the Royals locked in a desperate fight with Detroit in the AL Central, the Bostonians limp into town on a four-game losing streak and 20 games under .500, and proceed to whack the Royals around and take three out of four.
Sunday's 8-4 comeback win gave the Red Sox a 6-1 advantage in the season series over the hapless franchise that hasn't sniffed the postseason since winning the World Series waaaaay back in 1985. The Royals started this series leading the Tigers by one game and, thanks mainly to Boston, ended it trailing by a game and a half.
Kelly was tough:
Joe Kelly
had a most unusual day while picking up his second win in four decisions. He gave up five straight hits starting in the second inning, including
Eric Hosmer
's three-run homer, and dropped into a 4-0 hole. But he did not allow another hit in the six innings he worked. He got 11 outs on ground balls.
Nava's the man:
Right fielder
Daniel Nava
, who went through a career-long stretch of 245 homerless at-bats, belted his second grand slam to give the Red Sox a 7-4 lead in the sixth, hitting the first pitch
Aaron Crow
offered him into the visitors' bullpen in right. It was grand slam No. five for Boston this year.
Big day for Bogaerts:
Xander Bogaerts
matched Nava's four RBIs with a three-run shot off starter
Jason Vargas
in the third and a sacrifice fly in the seventh. He was 3-for-5 with two singles and now has three home runs in his last six games. Back-to-back homer games earlier in the week against Baltimore made him the first Red Sox player to hit double-digit home runs at age 21 or younger since Dwight Evans in 1973. With Kelly throwing grounder after grounder, Bogaerts also had eight assists and two putouts.
Up next:
The Red Sox are not exactly picking on patsies on this final road trip of the year. Following a day off, they head east for three games in Pittsburgh, which is fighting for a National League wildcard bid, then they're on to Baltimore where the Orioles are about to wrap up the AL East.
Did he or didn't he?:
For a fraction of a second,
Jackie Bradley Jr
. appeared to have caught Hosmer's towering smash in dead center as he jumped at the wall. The runners held up. The crowd was hushed. Then the crowd erupted, the runners began their homeward jog and the Royals were off to their biggest inning since scoring six against the Twins on Aug. 27.
September, 14, 2014
Sep 14
1:44
PM ET
By
Douglas Tucker, Special to ESPNBoston.com
KANSAS CITY, Mo. -- Despair not, Red Sox fans. Help is on the way.
No fewer than five Boston affiliates made the playoffs this season, a jarring contrast to a big league club that tumbled all the way from World Series champs to the AL East basement, 19 games under .500 going into the finale of a four-game set with Kansas City on Sunday.
But Double-A Portland, High-A Salem, rookie-level Gulf Coast and Dominican Summer leagues all played in their postseason, a terrific year for anyone's farm system. Topping it all was Triple-A Pawtucket, which won the 2014 Governors' Cup on Saturday night with a 4-1 victory over Durham in the fifth and deciding game.
Cuban defector
Rusney Castillo
had two doubles, an RBI and a run scored in the title game, and must think American baseball is easy. In 10 minor league games since signing a $72.5 million contract, Castillo helped two affiliates win championships, Pawtucket and the Gulf Coast League Red Sox.
Named MVP of the series was PawSox catcher
Ryan Lavarnway
. The 6-foot-4, 240-pounder, who won the NCAA batting title with a .467 average at Yale, was 10 for 22 with a home run as Pawtucket won their second Governors' Cup in three years.
"Very encouraging," said Red Sox manager John Farrell.
Castillo, in his 10 minor league games, has collected 11 hits in 37 at-bats with four doubles, three RBIs, four walks and two stolen bases. He also scored four runs.
Castillo will join the Red Sox when they're in Pittsburgh this week and probably make his major league debut. In the meantime, the front office is trying to decide winter ball assignments for what appears to be a stable full of prospects.
"The one guy we've talked about extensively has been Castillo," said Farrell. "He's even yet to get here. But we definitely want to get additional at-bats for him in the offseason."
Also encouraging was pitcher
Keith Couch
. Making his first Triple-A start, the right-hander allowed only one hit and two walks in 6 2-3 innings in the title game.
Tasting success bodes well for young, developing players, Farrell said.
"Regardless of the level, when you're the last team standing I think there's significance to it," he said. "To walk away after a long season, a lot of work done, congratulations to them.
While the effect varies from player to player, Farrell says the experience of winning is critical in a young player's development.
"Even at that level there's a sense of teamwork for sure, and a sense of accomplishment by that group. You're going to get a different feel, with a greater sense of urgency because you're playing for something specific. All those things have a benefit. The attitude and the focus that players will bring to the field hopefully when they advance to the next level."
He also figures that playing for minor league championships helps youngsters get a focus on the big picture.
"There's so much debate, depending on who you talk to, that individual development is the priority," he said. "But I think it's important to develop players in a winning environment. And when you're able to strike that balance, hopefully you produce a player that comes to the major leagues that is understanding of the sense of urgency and understanding that it isn't just about them and what they might get out of becoming a major league player."
September, 13, 2014
Sep 13
11:24
PM ET
By
Douglas Tucker, Special to ESPNBoston.com
Rusney Castillo
is expected to make his Red Sox debut next week in Pittsburgh when the Pirates host the Red Sox on Tuesday-Thursday.
If he sticks in the big leagues, he can always say he ended his brief minor league career with a bang. In leading Pawtucket past Durham 4-1 in the finals of the Governors' Cup on Saturday night, the highly touted Cuban was 2-for-4 with two doubles.
He also had a walk, a stolen base and a run scored as the PawSox came out on top in the winner-take-all Game 5 to seize the Triple-A International League championship.
The 5-foot-9, 205-pound outfielder signed a seven-year, $72.5 million contract, the richest ever for a Cuban defector. Red Sox manager John Farrell has said once Castillo joins the Red Sox, he is definitely going into the lineup.
September, 13, 2014
Sep 13
10:59
PM ET
By
Douglas Tucker, Special to ESPNBoston.com
KANSAS CITY, Mo. -- So much for that two-game winning streak over contending Kansas City that put buoyant smiles on Boston faces.
On this cool evening in Western Missouri, a 7-1 loss reminded everyone why the Red Sox hit town on Thursday 20 games under .500.


After
David Ortiz
singled with one out in the third, K.C.'s
Jeremy Guthrie
retired the final 17 batters he faced. Rookie
Brandon Finnegan
then made it 19 in a row when he struck out the first two batters in the ninth before
Allen Craig
snapped an 0-for-13 skid with a pinch single.
Guthrie had been 3-9 against Boston in 20 career starts. But the Red Sox managed just four hits and their only run came in the third when
Yoenis Cespedes
' sacrifice fly scored
Mookie Betts
, who had reached leading off on third baseman
Mike Moustakas
' third error in three games.
The seven runs were the most for the frequently punchless Royals in 22 games.
LEAST ABLE TO SMILE
A bad night was most terrible for starter
Rubby De La Rosa
(4-7), who failed to get a win for the sixth straight start. In fact, the right-hander has only one victory to show for his past 10 starts and only two since June 16. The Royals, who managed only one run off De La Rosa in seven innings in a Boston victory on July 19, got to him for five runs on six hits in just four innings. The first three batters in the fourth inning reached on a double, a single and another double, and all three scored.
"Bad night," said De La Rosa. "I was not pitching like I want to be. So it was not a good night."
The right-hander has now pitched 96 big league innings and another 60 in Triple-A Pawtucket. Nevertheless, with the season winding down, he insists he feels fine physically.
"I feel good. I feel healthy," he said.
Manager John Farrell sensed some good and bad from De La Rosa.
"I saw good stuff, inconsistent location. A couple of times when he had some advantage counts with two strikes, some inability to put some guys away with any kind of breaking ball or changeup that had any kind of depth to it," Farrell said. "But more than anything, inconsistent location, particularly when he was up in the zone."
BALKY
As if his night wasn't already bad enough, De La Rosa was called for a balk in the three-run fourth. He was ready to go into his windup when, it appeared, the ball slipped out of his hand. He grabbed it around knee level. But first-base umpire Fieldin Culbreth immediately signaled balk, sending
Salvador Perez
home from third for K.C.'s fifth run. Farrell argued to no avail.
"It was more the time," said Farrell. "You can't argue a balk. Rubby dropped the ball as he was coming to a set position. But when the home plate umpire doesn't call the balk but had time out, I was just trying to get some clarification on the timing of the whole play."
A GOOD BET AT SECOND
Betts acquitted himself well in his first start in the majors at second base. He flawlessly handled both balls that came toward him. A regular second baseman in the minor leagues, Betts had been playing strictly in the outfield for the Red Sox but made the switch on Saturday.
WRIGHT WAS NOT WRONG
The Red Sox did get three scoreless innings from reliever
Steven Wright
. He struck out two and did not walk a batter after relieving De La Rosa to start the fifth.
September, 13, 2014
Sep 13
6:49
PM ET
By
Douglas Tucker, Special to ESPNBoston.com
KANSAS CITY, Mo. -- Red Sox manager John Farrell made a personnel move Saturday, starting
Mookie Betts
at second base. Betts has not played second in the major leagues yet, logging 38 games in the outfield, but he played second extensively during his minor league days.
"The fact he's had a lot of games played at the minor league level, this should be a position of comfort for him even though it's new at the big league level for him," Farrell said.
Previously, Farrell's thinking was to keep Betts where he was.
"As much as I said before about not moving him out of center field, here we are putting him at second base," Farrell said. "I want to minimize the back-and-forth to him. In fairness to him, that would be the approach. It kind of points at Mookie remaining at second base."
Betts is batting leadoff against the Royals on Friday as regular table setter
Brock Holt
remains sidelined with a concussion.
September, 13, 2014
Sep 13
6:42
PM ET
By
Douglas Tucker, Special to ESPNBoston.com
KANSAS CITY, Mo. -- This was no ordinary knock to the noggin.
Brock Holt
's late-arriving concussion had one of America's foremost specialists scratching, if you will, his own head.
Luckily for the versatile rookie infielder, things are getting better. He's back with the Red Sox, working out and doing daily vision exercises, and he's hoping to get back on the field before the season runs out.
"Just to go get the confirmation makes me feel a little better, knowing now that we know what was going on," Holt said Saturday. "They've got me on a workout routine every day to stay in shape. But the vision exercises are the main thing. Other than that, I feel pretty normal."
As concussion symptoms persisted and seemed to build following a collision in Toronto with
Dustin Pedroia
, Holt was sent to Dr. Micky Collins in Pittsburgh, an expert on concussions. Even the doctor was perplexed at how slowly the effects set in for Holt.
"He was pretty surprised ... because it took so long to kind of kick in," Holt said. "He said his thoughts were I just didn't realize I had it and played through some of the stuff, or there weren't any symptoms until they continued to where I noticed."
The extreme versatility Holt has shown in his rookie season is enough to keep anyone's head swimming. He's the only man in the majors to play every position but pitcher and catcher this year, and he's the only Red Sox player ever to make starts at each of those positions in the same season. In addition, he leads the Red Sox with 12 stolen bases and has a .355 average in day games, which is best in the majors.
Manager John Farrell believes it will be important for him to get back on the field before the season ends so Holt "can go into the offseason with some peace of mind."
But no one is going to rush him back.
"Hopefully I can be back sooner rather than later," Holt said. "It depends on how things pan out, but I think I'm going to get back in there before the season ends."
It was in Toronto in Boston's previous road trip that Holt collided with Pedroia while both were going for a ball.
"We hit, and we hit hard. I didn't feel anything to cause concern for me. But symptoms continued to build, and I ended up saying something. But I'm going to continue to play the same way. Most of us are banged up anyway. Nobody feels 100 percent."
September, 13, 2014
Sep 13
12:55
AM ET
Rusney Castillo
was 1-for-6 with three strikeouts for Pawtucket on Friday night, but his lone hit was a big one, driving in the game-tying run with two outs in the top of the ninth inning and paving the way for the PawSox's eventual 13-inning win over the Durham Bulls in Game 4 of the Governors' Cup finals.
Pawtucket extended its season with the 4-2 victory, evening the series at two games apiece and setting up a winner-take-all Game 5 for the Triple-A International League championship on Saturday.
Boston Red Sox
manager John Farrell said earlier Friday that if Pawtucket were to be eliminated in Game 4, Boston might call up Castillo and others this weekend in Kansas City, Missouri, but after the Red Sox's 4-2 win over the
Royals
on Friday night, Farrell took that option off the table. He indicated the Red Sox would wait until traveling to Pittsburgh, where a three-game series with the Pirates begins Tuesday, before bringing up Castillo.
Once he does arrive, Castillo will likely go right into the outfield, probably center field.
"He'll be on the field. We aren't going to bring him up just to watch," Farrell said. "So what day he gets on the field remains to be seen."
Information from ESPNBoston.com special contributor Douglas Tucker contributed to this report.
September, 13, 2014
Sep 13
12:26
AM ET
By
Douglas Tucker | Special to ESPNBoston.com
KANSAS CITY, Mo. -- The miserable season record can just go jump in the lake. After two games in Kansas City, these
Boston Red Sox
are feeling much better about themselves and their prospects.
Young players are getting key hits and making pitches and keeping their focus. Veteran closer
Koji Uehara
returned after a week off and pitched a crisp, 1-2-3 eighth inning. And following Friday night's
4-2 victory
, the Red Sox, for the first time in team history, have beaten the
Kansas City Royals
the first five times they've met in a season.
[+] Enlarge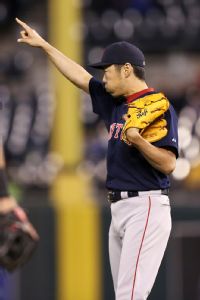 Ed Zurga/Getty ImagesKoji Uehara pitched a 1-2-3 eighth inning in his first appearance since being removed from the closer role.
Maybe the lone sour note belongs to fans hungering to see Cuban defector
Rusney Castillo
make his major league debut. With the Pawtucket Red Sox going deep into extra innings on Friday night in Game 4 of the Governors' Cup finals (eventually winning 4-2 in the 13th to force a winner-take-all Game 5 versus the Durham Bulls), manager John Farrell decided to stick with his original plan and have Castillo, and perhaps others from the Triple-A club, meet the Red Sox in Pittsburgh, where they'll start a three-game series on Tuesday. He had been toying with the idea of bringing Castillo to Kansas City.
Otherwise, it's all been good for the Bostonians these first two games in K.C., where the Royals have kicked the ball around for two nights in a row and dropped half a game behind the
Detroit Tigers
in the AL Central.
"We're getting key hits, playing good defense, pitching the ball well. It's just a collective thing," said right fielder
Mookie Betts
, who had two hits, an RBI and a run scored Friday night. "We're facing some good arms. They [the Royals] are in the hunt, so they're going to try to get their wins. But I think we're battling them really well. The pitching staff, the way they've been throwing these last two games, the clutch hitting, we're running the bases well."
The Royals, trying to break an embarrassing 28-year playoff drought, have made four errors in the two games. Still, beating a contender has special meaning for Red Sox players who tumbled all the way from World Series champs to last place in the AL East.
"I'm sure it does," Betts said. "Since we're not in it, we might as well put everybody else out of it that we can. But I think we're just going out and playing the game and enjoying ourselves."
Allen Webster
, one of the youngsters who hopes to compete for a rotation spot in 2015, went six innings and allowed only four hits and two runs -- on a two-run smash when a changeup drifted too close to the heart of the plate against
Eric Hosmer
.
"I thought he was ahead in the count a little more frequently, and he had a very good changeup against left-handers to slow them down," Farrell said. "With the exception of the one changeup that stayed up to Hosmer, he was efficient, he was powerful, and it was encouraging to see the overall command of the strike zone. The bullpen has been outstanding these two games."
After
Edward Mujica
earned the save for the second night in a row, Farrell said he still plans to ease Uehara slowly back into his closer role.
"It was good to see Koji get back on the mound for us and attack the strike zone, which he's done for a long period of time," Farrell said. "But just to get him back in the flow of things was a positive here tonight."
One of many.
September, 12, 2014
Sep 12
11:10
PM ET
By
Douglas Tucker | Special to ESPNBoston.com
KANSAS CITY, Mo. -- There's something about the
Kansas City Royals
that brings out the best in the
Boston Red Sox
.
Or maybe these 2014 Red Sox possess some innate quality that turns the Royals into mistake-prone losers. Whatever the cause, the injury-riddled Red Sox team that stumbled into the Barbeque Capital on Thursday on the heels of a four-game losing skid has now whipped KC's pennant contenders two in a row.
Going back to a three-game sweep in Boston right after the All-Star break, the Red Sox have beaten the Royals in each of their first five meetings this year, something they'd never done before. Friday night's
4-2 victory
, like the win the night before, was festooned with shoddy mistakes by the home team and also knocked the Royals out of first place in the AL Central.


Koji is back:
One week after being shut down for ineffectiveness, former closer
Koji Uehara
returned with a bang. With the Red Sox winning 4-2, the right-hander started the eighth and got three quick outs on a pair of fly balls and one strikeout. Manager John Farrell had said he would rest the veteran a while, giving him a chance to regroup, and then try to find a spot where the pressure was not great.
Rough-edges Royals:
The Red Sox benefitted from KC's fourth error in two games, two hit batsmen and a wild pitch that scored a Boston run. In the three-run third,
Jemile Weeks
doubled with one out and scored on
Mookie Betts
' single.
Xander Bogaerts
struck out, and then things got interesting.
Yordano Ventura
hit
Daniel Nava
with a pitch, and Nava wound up on third when
Yoenis Cespedes
grounded to third baseman
Mike Moustakas
, who threw wildly to first. Betts scored on what was ruled a single and an error. Nava then scored on Ventura's wild pitch.
Double your fun:
While nobody is calling
Dustin Pedroia
Wally Pipp, Weeks is on quite a hitting tear as the injured second baseman's fill-in. After hitting a two-run double in his final at-bat Thursday night, Weeks doubled in his first at-bat on Friday, then made it three straight doubles the next time he came to the plate. He failed to make it four in a row in the sixth, going out on a foul popup.
Back on track:
After struggling and throwing 26 pitches in the two-run fourth inning, starter
Allen Webster
sat the Royals down on a total of just 15 pitches in the fifth and sixth. He gave up just four hits in six innings, striking out two and allowing a two-run homer to
Eric Hosmer
.
Fanning:
Six of the last seven Boston batters struck out against relievers
Jason Frasor
and
Greg Holland
.
Lefty specialist:
Tommy Layne
knows his role and performs it well. For the second night in a row, the lefty reliever faced one left-handed batter and struck him out. On Thursday, it was
Alex Gordon
; on Friday, he fanned Moustakas before heading for the showers.
September, 12, 2014
Sep 12
7:40
PM ET
ESPN.com news services
[+] Enlarge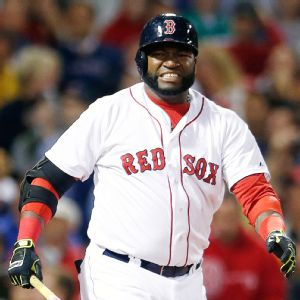 AP Photo/Michael DwyerDavid Ortiz was out of the Red Sox's lineup on Friday due to a bruised right foot that has been bothering him since he fouled a pitch off it last month.
KANSAS CITY, Mo. -- David Ortiz and Mike Napoli were not in Boston's starting lineup at Kansas City on Friday night. The Red Sox went on to win the game 4-2, knocking the Royals out of first place in the AL Central.
Ortiz, who has 32 home runs and 99 RBIs, was sidelined because of a bruised right foot that has been bothering him since he fouled a pitch off it on Aug. 24.
"David's soreness in his foot comes and goes," said Red Sox manager John Farrell. "He felt it [Thursday] night. He's not able to run full speed at times."
Napoli, second on the Red Sox with 17 home runs, had a dislocated left ring finger and a sore toe.
"With Nap, we're nursing him through some things he's been battling all year," Farrell said. "Mostly the finger, but the toe has always been an issue there. We're trying to get him through the year."
Allen Craig replaced Napoli at first base and batted fifth. He finished 0-for-4 with two strikeouts.