September, 21, 2014
Sep 21
12:45
AM ET
BALTIMORE -- He grew up in Corona, California, about 24 miles due east of Anaheim Stadium on Highway 91, and was 14 years old when a rookie named
John Lackey
pitched and won Game 7 of the 2002 World Series for the Angels.
So sure,
Boston Red Sox
pitcher
Joe Kelly
, who was traded by St. Louis for Lackey at the July 31 deadline, knew what his inquisitor was angling for Saturday afternoon.
"I didn't watch much baseball. I played baseball. I could care less about watching baseball when I was younger. I was either on my skateboard or playing baseball."
Not that Kelly was above stretching the truth a bit if it struck his fancy. When he received a scholarship to play baseball at the University of California-Riverside, for example, and was asked by the school's PR department to provide some background information, he helpfully included the nugget that he was related to George "Machine Gun" Kelly, the gangster. The school dutifully included that information in his bio in the team's media guide. They didn't learn anything to the contrary until several years later, when Kelly breezily admitted it would be a futile exercise to try to connect any dots between him and the notorious mobster.
So, if you can't believe a kid's college profile, what can you believe?
"Nothing," Kelly said, dialing up the irreverent meter. "You can't even believe the president. I don't know why you would believe that."
But in the quest for truth about Kelly, there are some verifiable bits of information about the man with the full head of dark hair who will be pitching Sunday afternoon for the Red Sox against the Orioles.
About the hair: He might not have come out of the womb with it, but pretty close. His mother, Andrea Valencia, is Mexican-American, and though Kelly suspects his speed comes from his father, Joe Kelly Sr., who was a wide receiver from Vanderbilt who went to training camp with the NFL's
San Diego Chargers
, there's no doubt from whom he inherited the hair.
Andrea Valencia's involvement in this story doesn't end here. She was the one who posted on her Facebook page a school assignment Kelly wrote when he was in grade school, in which he forecast his future.
"Ten years from now ... I am going to be a baseball player. I am going to be a pitcher, a shortstop and a first baseman. I'm going to be a home run hitter like Babe Ruth. I will probably still be living with my parents, but we will have a bigger house. I will still be a handsome boy. I will still have brown hair. I will invite my parents to my baseball games, and I will get souvenirs, too. When I get too old to play baseball like Cal Ripken's age, I will be a SCUBA diver and find gold under the sea. Then, I will probably see sharks, jellyfish and stingrays. Then when I am 80 years old, I will quit. I will probably have grandkids, too."
What still rankles Kelly is the grade his teacher gave him.
"I got a 'B' on it," he said. "Who gives a kid a B on it?"
It was also Andrea, by the way, who asked Kelly when he was in junior high to take a salsa dance class with him, maybe because he had been so willing to learn some hip-hop steps with his sister and her friends.
"I was embarrassed," he said. Not anymore, as this snippet from Cardinals' batting practice would attest (that's
Edward Mujica
next to him).
"I'm glad I did it," he said. "Yeah, it was fun."
For pleasure, though, nothing yet has come close to skateboarding. He was so good at it, a local board shop sponsored him and gave him boards to ply his high-flying craft. Only a fall off a ramp while leaping over the head of his little brother brought an end to his hobby -- his dad ordered him to stop in deference to playing baseball. But while Kelly no longer haunted the neighborhood skate parks, he still rode his board between classes in college -- when he wasn't squiring around the soccer player who would become his wife, Ashley Parks, on the handlebars of her pink and white beach cruiser.
"When I'm done playing," he said, "I'm skateboarding again."
That day remains in a still-distant future, though Kelly says he did quit baseball once, when he was junior high age, because he threw so much he sustained a stress fracture in his arm.
"I told my dad I'd had enough," he said.
But after taking off a year or so, Kelly elected to give the game another try, this time as a center fielder -- a fitting choice for a kid who was the fastest player on his team and could dunk a basketball, even though he was just 5-foot-10 and weighed 148 pounds when he graduated.
"I hated it," he said. "I wanted to leave. It was boring. Nothing to do."
Nothing to do, that is, except fire fastballs in the high-90s which brought the scouts to Riverside and won him accolades as a freshman All-American. In 2009, after his junior season, he was drafted in the third round by the Cardinals.
"I signed the first day I could," he said.
He started for the Cardinals all through the minors and did some spot starting in the big leagues in 2012, then started the '13 season in the pen before winning a starting job again, this time one he did not relinquish. He made three starts in the postseason, including Game 3 of the World Series against the Red Sox, in which he held the Sox to two hits and two runs in 5 1/3 innings in a game the Cards ultimately won on the
Will Middlebrooks
/
Allen Craig
obstruction play.
On a staff full of good young arms, Kelly retained his job coming out of camp, but everything changed on April 17, when he blew his left hamstring busting down the first-base line. He would miss nearly three months, which is why he gave little thought to the idea that he might be traded.
His leg wasn't fully healed, he wasn't pitching well, and his name wasn't popping up in any rumors.
"When your name's not even in the picture," he said, "you definitely get blindsided."
But seven weeks later, Kelly has gotten through the upheaval that accompanies being traded ("It was harder on my wife than me") and comes into Sunday's start against the Orioles feeling like he is trending in the right direction, even if the results have been just so-so (2-2, 4.21 ERA, 35 hits and an eye-raising 27 walks in 47 innings).
Kelly just turned 26 in June. He is not arbitration-eligible until 2016 and won't reach free agency until 2019. Beyond
Clay Buchholz
, he is the most experienced starter the Sox have and is a much cheaper alternative than Lackey would have offered, presuming Lackey would have pushed for an extension.
The Sox like his big arm and his above-average changeup. They see an improving curveball and command. They hope he settles into the middle of a rotation that is certain to receive upgrades at the top this winter.
And the funny thing about Kelly -- yes, true story -- is he wears glasses when he pitches because he can't see the catcher's signs, not even if the catcher tapes his fingers the way
Jarrod Saltalamacchia
and
David Ross
did for
Jake Peavy
. But when he bats, he takes his glasses off.
"I can see the ball just fine when I hit," he said.
All this time, you thought exceptional eyesight was what separated the greatest hitters, such as Ted Williams, from the mere mortals. And here comes Kelly to say he needs better eyesight when he pitches.
But what are you going to do, argue with him? Probably not the best way to deal with a descendant of ol' Machine Gun himself.
September, 20, 2014
Sep 20
11:17
PM ET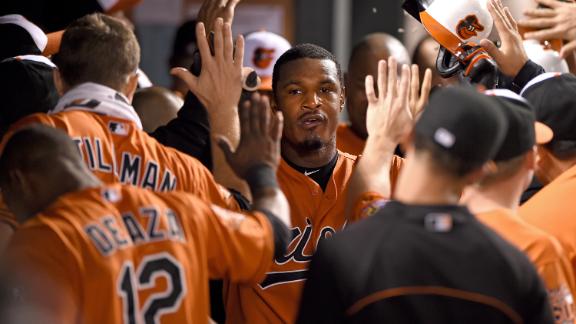 BALTIMORE -- Takeaways from a beautiful Saturday night in Baltimore, where Orioles manager Buck Showalter may take the most bows but general manager Dan Duquette, the 56-year-old Duke of Dalton, Massachusetts, has fashioned an impressive second act far beyond any scale imagined by his detractors in Boston.
• Three seasons into his tenure with the Orioles after a 10-year exile from Major League Baseball, Duquette is the architect of an Orioles team that won its first division title since 1997, and is still within shouting distance of the best record in the American League after Saturday night's 7-2 win over the
Boston Red Sox
.
[+] Enlarge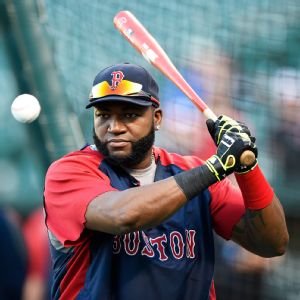 AP Photo/Nick WassDavid Ortiz's nightly power displays are a thing of beauty even with the Red Sox buried in last place.
The Orioles (93-61) began the night 2½ games behind the
Los Angeles Angels
(95-59) for the league's best record, with the Angels playing on the West Coast on Saturday night.
Chris Tillman
shut out the Sox for six innings after
David Ortiz
's first-inning, two-run homer; in their past 18 games, Orioles starters are 10-1 with a 1.83 ERA.
• The Sox, meanwhile, are now 67-88 after
Rubby De La Rosa
lasted just four innings and gave up home runs to
Adam Jones
and rookie
Christian Walker
. Jones also homered off reliever
Heath Hembree
and now has 27 home runs. Walker's home run was the first of his big league career.
De La Rosa has now thrown 100 innings in 18 big league starts, and with the 60 innings he threw in Pawtucket, he is nearly 50 innings beyond his previous largest workload, which came before he underwent Tommy John surgery in August 2011.
The extended labor may be catching up to De La Rosa, Farrell said. The numbers would seem to suggest as much: He is 0-4 with a 7.16 ERA in his past seven starts, with a yield of 49 hits, 13 walks and 26 earned runs in 32⅔ innings. Missing location with his fastball is another culprit, but there may be a cause-and-effect relationship there. Certainly, the Sox are not dismissing De La Rosa's performance through his first 11 starts (4-4, 3.21 ERA) when assessing where he stands in the rotation mix next season.
• Farrell had said before the game that De La Rosa would get one more start, with
Joe Kelly
and
Clay Buchholz
going twice more apiece. He hinted after the game that plans for De La Rosa could change, but went no further.
• Ortiz hit his third home run in two games and second in consecutive at-bats when he took Tillman deep, the night after he hit a game-winning home run in the 10th off
Darren O'Day
. This was the first time Ortiz, who now has 35 home runs on the season, has homered in consecutive games since he hit four home runs in a three-game span July 21-23.
Ortiz's 40 home runs against the Orioles are the most by any Sox player since the franchise moved here in 1954. Ortiz over the past two games passed Jim Rice (38).
• Knuckleballer
Steven Wright
may have earned himself a start by striking out six in a three-inning relief stint. Farrell has been saying he'd like to work in Wright, a dark horse in the rotation competition.
•
Rusney Castillo
lined a base hit in his last at-bat Saturday, giving him hits in all three of the games he has started in center. Castillo played center while
Jackie Bradley Jr
. started in right for the seventh time this season. Bradley had a rare misadventure afield, his feet slipping out from under him after
Nelson Cruz
's liner over his head ate him up. JBJ also had another dreadful night at the plate, his 0-for-4 making him 1 for his past 32 since his return and leaving his overall average at .200, right at the Mendoza Line.
• Rookie catcher
Christian Vazquez
erased another runner,
Alejandro De Aza
, attempting to steal; his caught stealing percentage now stands at 48.1 percent (13 of 27 attempted base stealers caught).
• With seven games left, the Sox's magic number remains at three. They need three wins to finish with a better record than the last-place 2012 team (69-93).
September, 20, 2014
Sep 20
1:27
AM ET
BALTIMORE -- And in his second start in a
Boston Red Sox
uniform, Cuban outfielder
Rusney Castillo
showed what he can do on the other side of the ball.
[+] Enlarge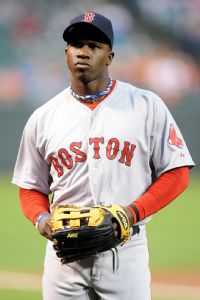 Mitchell Layton/Getty ImageRusney Castillo looked good in center field Friday night, throwing out Alejandro De Aza at the plate.
The center fielder made a sliding catch of
David Lough
's sinking liner in the first inning and threw out
Alejandro De Aza
at the plate after charging Lough's single in the fifth and quickly unloading the ball, catcher
Christian Vazquez
applying the tag.
"Early on he had some quick jumps and reads on balls," Sox manager John Farrell said. "His ability to make reads and take the routes he did was impressive tonight."
Two games in, it is clear that Castillo is no stranger to center field -- unlike, say,
Mookie Betts
, who has made up with raw athleticism what he lacks in training at a new position for him. It's far too soon, of course, to judge just how skilled Castillo is at the position, but the early returns are encouraging. He is faster than
Jackie Bradley Jr
., and while it is unlikely that he will match Bradley's arm strength or his preternatural ability to anticipate where a ball is hit, Sox scouts rated Castillo above average at the position, and there is no reason to believe otherwise.
Castillo also beat out another infield hit, this one a fourth-inning ground ball that third baseman
Jimmy Paredes
was unable to cut off before it was backhanded by shortstop
Ryan Flaherty
. Castillo grounded out in his other three at-bats.
"I think that's a big part of my game," Castillo said through translator Adrian Lorenzo, of using his speed to put pressure on the defense. "That's something I try to do, I pride myself on doing, busting down the line."
Farrell said before the game that after the season, Castillo would continue to play, first for Surprise in the Arizona Fall League, then with Caguas in the Puerto Rico Winter League. The goal is for Castillo to have roughly 200 plate appearances before the start of spring training.
September, 20, 2014
Sep 20
12:54
AM ET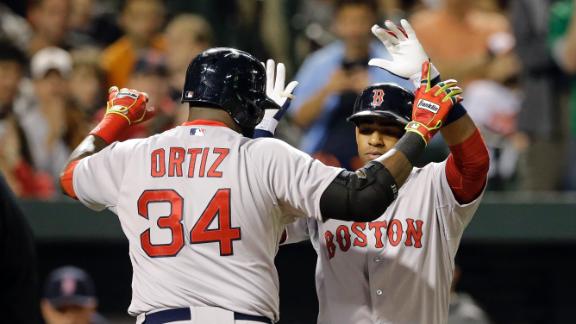 BALTIMORE -- For the first century of what we call modern baseball, Babe Ruth was the only player who had achieved what
David Ortiz
matched Friday night.
In 1934, Ruth hit 34 home runs and drove in 104 runs for the
New York Yankees
at the age of 38. That's the same age as Ortiz, who hit two home runs, his 33rd and 34th of the season, on Friday to give him 102 RBIs with eight games left in the Red Sox season.
Ortiz became the sixth player to hit 30 or more home runs while driving in 100 or more runs at age 38 or older. Four of those golden agers have come since 2002: Barry Bonds and Rafael Palmeiro, both tainted by PEDs, plus Fred McGriff and Hall of Famer Frank Thomas, who was the latest to do so in 2006, when he hit 39 home runs and drove in 114 runs for Oakland at age 38.
[+] Enlarge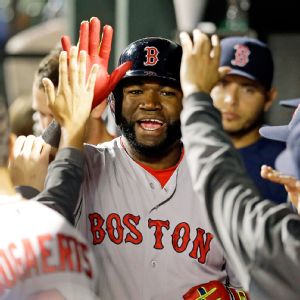 AP Photo/Patrick SemanskyDavid Ortiz high-fives Red Sox teammates after hitting a two-run home run in the 10th inning Friday.
A year after Ruth reached those marks, he hit 22 home runs, drove in 84 runs and was done with the Yankees. A year after that, he was out of baseball. Thomas' career followed the same arc: a drop-off with Toronto the following season and out of the game the next.
Even the greatest hitters come with an expiration date, something Ortiz has alluded to more than once this summer, including one afternoon in the Fenway Park clubhouse, when he said he won't hit 30 home runs when he's 40 because he'll be out of the game by then. Asked if that meant he planned to retire after his contract runs out next season, Ortiz backed off and said he'd let folks know when he was ready to call it a career.
In the meantime, Ortiz, who has consistently and vehemently denied the PED speculation that has occasionally dogged him since his name turned up on a 2003 list of players who tested positive, still enjoys nights like Friday night.
He led off the fourth inning with a home run off a Baltimore rookie right-hander of considerable promise named
Kevin Gausman
, who had allowed just five home runs in 106 1/3 innings this season -- until Ortiz turned one of his fastballs around.
Then, with the score tied in the 10th and facing a deceptive sidewinder named Darren O'Day, Ortiz went deep again, this time with
Xander Bogaerts
aboard on an error. Closer
Edward Mujica
made the lead stand up, and the Red Sox had a 5-3 win over the Orioles, who earlier this week clinched the AL East.
How does Ortiz do it at his age?
"Call me 'Super Papi,'" he said with a laugh. "Put it down like that."
Manager John Farrell said he couldn't imagine where the Sox would be without Ortiz. He surely forgot in the moment that even with Ortiz's slugging, the Sox are in last place in the East and still need three more wins to finish ahead of 2012's 69-93 bust.
Ortiz's exploits played to a much wider audience this past October, when he hit the grand slam that turned around the ALCS against Detroit, then shredded the Cardinals in the World Series.
"Too bad we're in the situation we are in," he said. "I mean, I'm a positive person. I try to come in and get things done. I still have to do my best out there."
This was the eighth time in his career that Ortiz has posted a 30-homer, 100-RBI season. That's the most in franchise history and one more than Ted Williams.
September, 19, 2014
Sep 19
1:47
AM ET
PITTSBURGH -- Her name is Colleen, and she came here with her father. A high school soccer player, Colleen had taken a kicked ball to her face from very close quarters and has been suffering from migraines ever since.
His name is Brandon, and he came here with his mother. He is a high school running back who lowered his head as an onrushing tackler approached and collided helmet to helmet, with such force that he was left with a lump under his helmet.
For Brandon, the headaches were the least of it.
"I felt like I was on another planet," he said. "It was just like a weird feeling. I didn't feel like I was fully there. I felt like a walking zombie all day at school."
On the hallway walls are the jerseys of professional athletes, football players and hockey players and baseball players, including two from the Red Sox, David Ross and Stephen Drew.
There are inscriptions on both of the Sox jerseys. "Mick, you are a man's man," Ross had written. "Thank you for all you did for me."
"Mick, thanks for all your help," was the message left by Drew. "All the best."
All of them -- Colleen and Brandon, Ross and Drew -- have come here, to the University of Pittsburgh Sports Medicine Concussion Program, for the same reason: They were showing concussive symptoms, and they all had been referred to Dr. Micky Collins, a former University of Southern Maine baseball player who fell in love with the study of the brain and now promised his patients that he possessed the tools to control those symptoms -- and in most cases make them go away.
"I always promise my patients four things," Collins said here this week. "No. 1, I'm going to explain why they're feeling what they're feeling and can show that to them. We can reproduce that with the evaluations we do.
September, 19, 2014
Sep 19
1:25
AM ET
By
Tommy Rancel
| ESPNBoston.com
Check out the latest standings, playoff odds and upcoming schedules at the world-famous
Hunt for October
page.
1. The Brewers can't catch a break.
What started out as a solid pitching duel between current
St. Louis Cardinals
right-hander,
Shelby Miller
, and former Cardinal,
Kyle Lohse
, turned into a deflating loss for the
Milwaukee Brewers
in part to a wild eighth inning. The loss, in conjunction with St. Louis' victory, pushed Milwaukee six games behind in the NL Central, and with the Pirates' win (more on that in a bit), the Brewers dropped to 3 1/2 games out of a wild-card spot.
Miller entered the game having given up only three earned runs over his last 27 innings, spanning four starts. The 23-year-old had the hot hand early against the Brewers recording four outs within the first eight pitches he threw. Meanwhile, the young fireballer found himself trailing the veteran Lohse after a pair of errors (one of his own) put the Cardinals in a 2-0 hole.
Lohse carried that shutout into the eighth inning before being lifted for reliever Jonathon Broxton with one on and one out. Broxton promptly induced what looked to be an inning-ending double play. First baseman
Mark Reynolds
fielded the ground ball quickly, but he appeared to lose track of the outs in the inning. Instead of firing to second to start the twin killing, he nonchalantly strolled to first base for what he may have thought was the final out. In actuality, it was the second out of the inning and
Kolten Wong
advanced into scoring position. Broxton walked
Matt Carpenter
before surrendering an RBI-single to
Jon Jay
. It looked as if Broxton would escape without further damage when
Matt Holliday
was called out at first following a head-first slide, but the play was reversed after a lengthy replay. In a bit of controversy, Carpenter, who crossed home plate during the play, was ordered back to third. What happened next was finally the fault of Broxton. The burly right-hander walked the equally burly
Matt Adams
, bringing the tying run across the plate.
The Brewers had a chance to jump ahead in the top of the 11th, but Cards' reliever
Carlos Martinez
struck out
Carlos Gomez
with the bases loaded to end threat. After trading zeroes, the Cardinals finally completed the comeback when
Tony Cruz
singled home Adams for the walk-off win in the bottom of the 13th inning.
2. The A's situation keeps getting worse.
Even with their recent free fall, the
Oakland Athletics
still hold the envious position of "controlling their own destiny." As a current holder of a wild-card spot, they simply need to win as many games as the team(s) chasing them. A three-game series at home against the
Texas Rangers
-- the worst team in the league -- seemed like just the thing Oakland needed to right the ship. Nope.
The Rangers, led by an interim manager, came to town with a record of 57-92. Naturally, Texas won the first two games of the series. After opening the set with a 6-3 victory, Texas pulled of a wild rally Wednesday. Down 1-0 in the ninth inning, the Rangers scored six in the top half of the inning to clinch the series.
Oakland sent All-Star
Sonny Gray
to the hill in the finale looking to avoid the sweep. But before the A's took their turn at bat, the Rangers put together five singles against Gray -- including four straight with two outs -- taking advantage of a passed ball en route to a four-run first inning. The A's briefly cut the lead in half before watching Texas run away with the 7-2 win to complete the sweep.
The loss dropped Oakland from their perch atop the wild-card race and into the second slot, a half-game behind the idle
Kansas City Royals
. With 10 games to go, the A's hold a one-game lead over the
Seattle Mariners
for the final spot after Seattle's victory over the Angels.
3. Pirates provide something unusual in win.
The
Pittsburgh Pirates
opened play Thursday trailing the division leading St. Louis Cardinals by 2 1/2 games. They held the same lead over another division rival, the Milwaukee Brewers, in the race for a National League wild card. The Bucs sent
Gerrit Cole
to the mound against the
Boston Red Sox
hoping to advance -- or at least maintain -- their position in the standings.
Cole delivered his third straight win. The former first-round pick tossed seven strong innings, striking out seven and walking none. He is in firm control right now with 21 strikeouts and only one walk over his last three outings (19 innings).
The young right-hander received help from outfielder
Starling Marte
, who belted his 13th home run of the season and has been one of the league's best hitters in the second half. In fact, he is the only player with an OPS greater than 1.000 in the second half (minimum 150 plate appearances).
Closer
Mark Melancon
, facing his former team, made things interesting after a hit batter and a single set up first and third with no outs in a 3-2 game. What happened next is a "can't predict baseball" moment. With pinch-runner,
Jemile Weeks
, 90 feet from tying the game,
Will Middlebrooks
grounded a ball down the third-base line. The ball hit Weeks in fair territory -- resulting in an automatic out. Melancon struck out the next batter before inducing another ground ball out to seal the deal.
4. The Dodgers' offense showed some life.
The
Los Angeles Dodgers
are clinging to a slim lead in the NL West. With the status of Hyun-Jin Ryu uncertain, and his fill-in (
Carlos Frias
) getting wacked, the Dodgers need strong a performance from the rest of their rotation. Zach Greinke did not have one of those against the
Chicago Cubs
, but his teammates let him off the hook. Greinke's evening got off to a rough start. Chicago started the game with a single, error, walk, single, and another single resulting in two runs before registering their first out. There would be a three-inning reprieve before the Cubs tacked on two more in the fifth on the strength of four consecutive base hits.
Luckily for Greinke and the Dodgers' faithful, the offense would soon wake up. Using five hits -- including two doubles -- and benefiting from an error, Los Angeles pushed five runs across the plate in the top of the seventh inning to take a 6-4 lead. A quartet of relievers worked the final four innings to cap off the 8-4 win that gives the Dodgers a 2 1/2 lead over the
San Francisco Giants
.
5. The D-Backs are playing their way down toward the top pick.
Addison Reed
is doing his best to improve the
Arizona Diamondbacks
' draft standing. The erstwhile closer gave up two runs to the San Francisco Giants in the top of the ninth Wednesday before serving up a two-run, two-out, walk-off home run to
Wilin Rosario
of the
Colorado Rockies
in the ninth inning Thursday night. The pair of losses dropped the Diamondbacks into a tie with the Rockies for the worst record in the NL, and they're now just a game behind the Rangers for the top spot in next year's draft.
Tommy Rancel blogs about the Tampa Bay Rays at the SweetSpot network affiliate The Process Report. You can follow him on Twitter at @TRancel.
September, 18, 2014
Sep 18
11:01
PM ET
BOSTON -- The magic number remains stalled at four, and the way the
Boston Red Sox
lost Thursday night, you wonder if a certain former Sox manager has a John Farrell voodoo doll on his athletic director's desk.
There are nine games left in Boston's misbegotten season. They need to win four to finish with a better record than Bobby Valentine's 69-93 2012 team, which featured, in Bobby V's words, "the weakest roster we've ever had in September in the history of baseball."
[+] Enlarge
AP Photo/Gene J. PuskarStruck by a fair ball while sliding back into third base, Jemile Weeks was called out for runner's interference.
Don't expect Farrell to issue a similar pronouncement should the Class of 2014 finish with a worse failing grade than the Class of '12; World Series champions or dregs of the AL East, Farrell has accorded his players the same degree of respect.
But after the Sox fell 3-2 to the Pirates and former Sox reliever
Mark Melancon
on Thursday night in PNC Park, Farrell may wonder what pitfalls may yet await the Sox before the season mercifully draws to a close a week from Sunday.
The Sox have been miserable with runners in scoring position all season, but they invented a novel way to sabotage a budding rally in the ninth inning Thursday.
The Sox were on the verge of tying the score after
Allen Craig
led off the ninth by being grazed by a pitch and pinch-runner
Jemile Weeks
bolted to third on a single by
Daniel Nava
. The next batter,
Will Middlebrooks
, chopped a ball down the third-base line that struck Weeks as he tried diving back to the bag. He was called out on runner's interference, Farrell failing to persuade plate umpire Mike Muchlinski that Weeks was not in fair territory when the ball struck him.
Even if Weeks was on the bag and in fair territory, he would have been out. Crew chief Mike Winters said the play was not reviewable.
Melancon, with runners on first and second and one out, then snuffed out Sox hopes by striking out
Jackie Bradley Jr
. and retiring
Christian Vazquez
on a ground ball to second.


It was another galling night for Bradley, who went 0-for-4, left six runners on base, and is just 1-for-27 since his recall from Pawtucket on Sept. 5. The rookie center fielder is batting .203, which would be the lowest average ever for a Sox rookie with at least 350 plate appearances, breaking a record that has stood for 107 seasons (Heinie Wagner, .213, 1907).
Bradley is starting to tilt precariously close to the mythical Mendoza line (.200 average). Only six rookies in big league history with 350 or more plate appearances have finished with a batting average under .200. The last was shortstop Dick Schofield, who batted .193 for the Angels in 1984.
If it's any consolation to Bradley, Schofield lasted 14 seasons in the big leagues, mostly because of his glove, which is also Bradley's greatest asset.
There was little comforting Sox rookie
Brandon Workman
, who walked in an unearned run in the first, gave up three straight hits for a second run in the fourth, and coughed up a home run to
Starling Marte
in the fifth. Workman is now 1-10.
The Pirates, winners of four straight and seven of eight in trying to lock down a playoff spot, outhomered the Sox in this series, 6-to-0. The Sox were 2-for-23 in the series with runners in scoring position.
September, 18, 2014
Sep 18
5:55
PM ET
PITTSBURGH -- Quick hits from PNC Park, where the Red Sox will attempt to avoid being swept in a series for the 11th time this season.
• Last season, the Sox were swept just once, a three-game set in Texas Oct. 3-5. That was their fewest multi-game sweeps in a season since 1955, and it was the first time the Sox had played an entire season at home without being swept.
The Sox have been swept at home eight times this season; they have been swept twice on the road: the Rays took three straight in the Trop May 23-25, and the Indians took three straight June 2-4 in Cleveland.
• The Sox are 9-10 in interleague play. A loss Thursday, and the Sox will finish with a losing record against National League teams for the first time since they went 5-13 in 2002. Since then, they have led the majors in interleague winning percentage (139-80, .635).
• The "magic number" remains four: The Sox must win four of their remaining 10 games to finish ahead of the Bobby Sox of 2012, who went 69-93.
•
Brock Holt
, who was examined by concussion specialist Dr. Micky Collins on Thursday, showed improvement, but it's still uncertain whether he will return to the Sox lineup before the end of the season, manager John Farrell said. If he is unable to do so, Farrell said, the Sox may ask him to play in a couple of games in the Florida Instructional League just to satisfy any lingering concerns that he is fully recovered.
Holt has not played since Sept. 5.
• Cuban outfielder
Rusney Castillo
, who went 1-for-4 in his major league debut Wednesday, was not in the lineup Thursday, Castillo giving way to
Jackie Bradley Jr
. in center field. Bradley is 1-for-23 since his recall from Pawtucket 13 days ago. Farrell said the club will spread out Castillo's days of rest over the last 10 games; he will continue to play after the season is over, with the Arizona Fall League appearing to be the most likely destination.
Red Sox CEO Larry Lucchino, who was in town for pregame ceremonies in which his brother Frank, a Pittsburgh judge threw the ceremonial first pitch with LL catching, was among the first to greet Castillo upon his arrival in the team's hotel Wednesday.
• Farrell said Steven Wright's knockabout inning in relief Wednesday will have no effect on whether the club finds a way to give him a start before the end of the season. Farrell said
Joe Kelly
and
Clay Buchholz
will each get two more starts, and will fill in around them.
•
David Ortiz
was back in the starting lineup Thursday after sitting out the first two games of the series. Ortiz needs one RBI for his eighth 30-HR, 100-RBI season, the most in club history, one more than Ted Williams.
September, 18, 2014
Sep 18
4:55
PM ET
A day after going 1-for-4 in his major league debut, Cuban outfielder
Rusney Castillo
has the night off Thursday against the Pirates.
Jackie Bradley Jr
. is taking his place in center field.
Here is the rest of the Red Sox lineup:
1.
Mookie Betts
, 2B
2.
Xander Bogaerts
, SS
3.
David Ortiz
, 1B
4.
Allen Craig
, RF
5.
Daniel Nava
, LF
6.
Will Middlebrooks
, 3B
7. Jackie Bradley Jr., CF
8.
Christian Vazquez
, C
9.
Brandon Workman
, RHP
September, 18, 2014
Sep 18
2:41
PM ET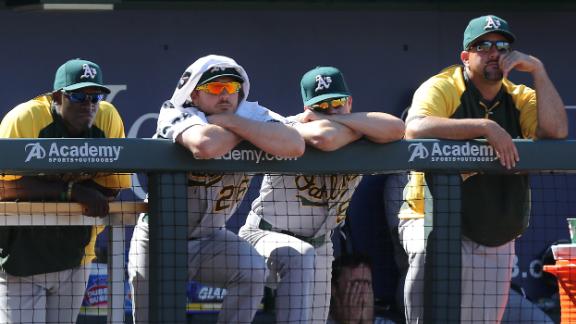 I can remember when it used to be a compliment to be called "the best team in baseball." Ha. Not anymore.
Now, all of a sudden, it's an indication you're about to roar off a cliff -- in about the next 20 minutes.
Which brings us to the latest edition of our ever-popular September History Watch. Our subjects: The A's and Red Sox -- two teams we were referring to, not so long ago, as "the best team in baseball," but now cause us to ask:
What the heck happened?
Where do their unbelievable falls rank among the most historic in baseball? Take a look.
The collapse of the mighty A's
On Aug. 10, with just 45 games to play, the A's still led the Angels by four games in the AL West. You can
look it up
. Boy, those were the days.
But we woke up Thursday morning to video montages of the Angels spraying champagne -- and the A's trying to figure out how they managed to drop 15.5 games in the standings sooooo quickly.
[+] Enlarge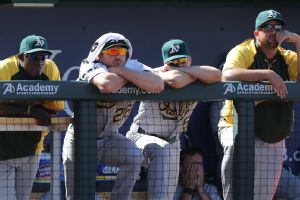 AP Photo/Ed ZurgaThe tumbling A's lost 17 of 29 games last month.
So how rare is it for a first-place team to plummet that far in the standings in the final weeks of the season? I ran that topic past the Elias Sports Bureau. Here's what it reported:
• Just eight other first-place teams since 1900 have lost 15 games or more in the standings at any point in August. They include three of the most infamous collapsers in history: the 1969 and '77 Cubs, and the 1914
New York Giants
.
• Three of those teams actually dropped by at least 18 games in the standings once they began tumbling: the '77 Cubs (22.5, in the final 58 games), the 1905 Cleveland Naps (19.5, in the final 65 games) and the 1977 Twins (18.0, in the final 42 games).
• But wait. Only three of those teams held an August lead, at any point, that was as large as Oakland's, or larger -- the 1969 Cubs (9.0 ahead), the 1914 Giants (up 6.5) and a 1977 White Sox team (led by 4.5 on Aug. 1) that crumbled in sync with those '77 Twins, in the most historic parallel swan dives in history. So we've just narrowed the field dramatically.
• And when we look at just those teams' final 45 games, it turns out there's really only one team that parallels the fall of these A's. And anybody who was (A) alive in the '60s and (B) living in Chicago could tell you all about it. Only those '69 Cubs went into the final 45 games with a hefty lead (plus-9.0) -- and then dropped 17 games in the standings, finished 8 behind the Mets and broke 4 million hearts.
None of the other teams on this list led by more than half a game with 45 games left in the season. So if the A's lose a couple of more games in the standings in the next week and a half, uh-ohhhhh. That means they'd actually
surpass
the collapse of the '69 Cubs, a team that scarred its fans for life. Hard to do.
But as my buddy Buster Olney has argued, if this Oakland team not only loses its division but misses out on
both
wild-card slots, that would be the worst collapse in history, by pretty much any standard.
We wouldn't wish that on anybody. But it's still scary. And now here's something that's just as scary:
The 111-loss team that zoomed by the World Series champs
A mere 11 months ago, the 2013 baseball season ended with the
Boston Red Sox
partying in Fenway Park -- and the
Houston Astros
gearing up to make the first pick in the draft.
The Red Sox were (ahem) "the best team in baseball." The Astros had just lost 111 games -- a loss total matched or exceeded by only 12 other teams in the World Series era (1903-present).
But then "next year" arrived. By which we actually mean "this year." And a funny thing happened. It was shrewdly detected by my friend Gar Ryness (aka The Batting Stance Guy) in a tweet a few days ago:
"Told you Astros would have more wins than RedSox."
--liars

— Batting Stance Guy (@BattingStanceG) September 12, 2014
And that got me to thinking, which is always a dangerous development:
Has there ever been a team that lost 111 games or more one year and then won more games than the defending World Series champs the next?
Well, here's your answer: No. Not even close.
If we exempt the 1904 Senators team that lost 113 in a season when there was no World Series, there have been 11 other teams that lost at least 111 times in a season when a World Series was played. Here's how they fared the next year:
• Eight of them finished more than 20 games behind the defending champs.
• Four of them finished at least 35 games behind the defending champs.
• Two of them -- Pinky May's 1942 Phillies (61 back of the Yankees) and Choo-Choo Coleman's 1963 Mets (53 behind the Yankees) -- actually finished more than 50 games behind the defending champs.
• Their average finish was 31 games back of the champs.
• And the closest any of them came to catching, let alone outwinning, the reigning champs was 11 games, the margin that Dmitri Young's 2004 Tigers finished behind the Marlins.
But now let's check our handy-dandy
ESPN standings page
for this season. And what do we find? We find this amazing news:
The Red Sox have won 66 games.
The Astros have won 67 games.
And they each have 10 to play.
Wow.
I've chronicled many wild and crazy developments over the years in the September History Watch. But I'm pretty sure I've never been more riveted by any of them than I am by the thought of how this one will turn out.
A 111-loss team outwinning the team that just finished parading through the confetti? This might be the best race in baseball.
September, 18, 2014
Sep 18
2:33
AM ET
PITTSBURGH -- Brian Butterfield admits that he can't be certain what the future holds for second baseman
Dustin Pedroia
, who recently underwent wrist surgery, the second consecutive year he has had a major procedure done on his left hand. Last year, it was surgery to repair a torn ulnar collateral ligament in his thumb.
In 2012, Pedroia also had a pin inserted to repair a torn ligament in his right pinky finger.
But Butterfield, the Red Sox third-base coach and infield instructor, says before anyone speculates about Pedroia's future, they should acknowledge what they have witnessed over the last two seasons. Wednesday, Butterfield did it for them.
[+] Enlarge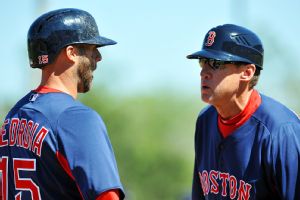 Steve Mitchell/USA TODAY SportsBrian Butterfield said no one comes close to Dustin Pedroia in terms of relentlessness and mental and physical toughness.
"He's been playing with one hand for two years, and it's amazing," Butterfield said. "I've been telling people in my own family, he's the toughest guy I've ever seen in my life.
"If he was able to play with two hands, he'd be dominant. It's unbelievable what he can do with 160 pounds, and the injuries he's been playing with in his hands."
Can the Sox expect a full recovery from Pedroia?
"I'm very optimistic about what he's going to be," general manager Ben Cherington said here Wednesday afternoon. "If I was going to bet on one player in Major League Baseball, he'd certainly be in the very small group of guys I'd bet on."
Pedroia's last full season in which he was healthy was 2011, and it shows. His production has been in steady decline, culminating in a career-low .712 OPS this season. That is not an encouraging track for a player still owed $96.5 million over the next seven years.
But Cherington explained why he is bullish about a Pedroia recovery.
"Because he's been banged up, I don't think we've seen everything he's capable of doing on the field," Cherington said. "Despite that, he's still been a very valuable player, including this year. In aggregate, he's clearly one of the better second basemen in the game.
"So my bet is, based on the information I have anyway, [these injuries] are not things that are chronic or lasting things; [they are] things he'll recover from. I think his ability to be productive playing through stuff is pretty remarkable.
"If he can get past the issues he's been fighting, which we think he will, I don't have any reason to think he's not going to be one of the very best second basemen in the game for a long time."
If past is prologue, Butterfield said, Pedroia will be a Sox mainstay for a long time to come.
"Just about everybody I've read about who had the same type of injury [torn thumb ligament] shut it down, had it operated on and missed most of the season," Butterfield said. "How many games did [Pedroia] play last season? One hundred sixty? He fought through it and never complained once. The most noble athlete I've ever come across.
"He's reached unattainable heights in my eyes. That's toughness beyond toughness. That's one of the things I admire about him so much, his relentlessness and physical and mental toughness. No one comes close. Whoever is second, I can't even see with binoculars."
And while his injuries affected his performance at the plate, Pedroia still played splendid defense, committing just two errors this season.
"Maybe the best performance at that position this year I've ever seen," Butterfield said. "Some of the [defensive metrics] I pay attention to, some I don't because I don't understand them that well.
"But what I do understand is his ability to take away a hit, his ability to rip some skin to take away a hit, his ability to hang in and pivot and make the double play with a guy breathing on him. He's got tremendous courage."
September, 18, 2014
Sep 18
1:03
AM ET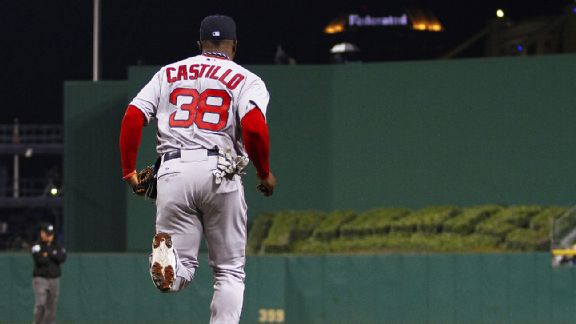 Justin K. Aller/Getty ImagesIn his big league debut, Rusney Castillo joined fellow Cuban Yoenis Cespedes in the Red Sox outfield.
PITTSBURGH -- At El Oriental de Cuba, the popular Cuban restaurant on Centre Street in Jamaica Plain, the owner had the night off Wednesday. The TVs were tuned not to Red Sox baseball, but vintage Spanish-language travelogues describing the enticements of the island.
Ah, Juan Seoane says, but come back before lunchtime, when the fanáticos, with creased faces, gather for conversation and café con leche, and you will discover that what took place here Wednesday night in PNC Park in Pittsburgh did not pass unnoticed.
Two sons of the island, Yoenis Cespedes and Rusney Castillo, made history here. This was the first time the Red Sox have ever had two Cubans sharing the same outfield. Cespedes, who played left field, has been here since Aug. 1. Castillo, who played center field, made his major league debut and collected his first big league hit, an infield single in the fourth inning off Pirates left-hander Francisco Liriano.
September, 18, 2014
Sep 18
12:19
AM ET
[+] Enlarge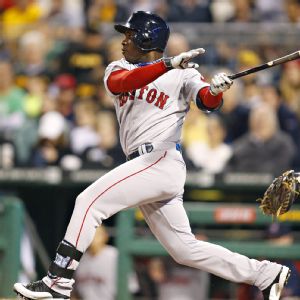 Charles LeClaire/USA TODAY SportsRusney Castillo's first major league hit came on an infield hit in the fourth inning.
PITTSBURGH -- Rusney Castillo, the 27-year-old center fielder from Ciego de Avila, Cuba, who last month signed a seven-year, $72.5 million contract with the Boston Red Sox, went 1-for-4 in his major league debut Wednesday night, a 9-1 loss to the Pirates at PNC Park.
Batting seventh in the lineup, Castillo tapped out in front of the plate in the second inning in his first at-bat. Then in the fourth, he beat out a ground ball that struck the heel of second baseman Neil Walker's glove, Walker unable to pick up the ball cleanly fast enough to make a play.
Castillo's first two at-bats came against Pirates veteran left-hander Francisco Liriano. In the seventh, batting against left-hander Justin Wilson, Castillo flied to center. His final at-bat came in the ninth, when he grounded to short on the first pitch he saw from right-hander Jeanmar Gomez.
"I'm pretty satisfied with that being my first game; obviously you would like a better outcome in terms of winning the game, but I was pretty satisfied with my overall approach and the way I stepped in today and had some results," Castillo said through translator Adrian Lorenzo.
Castillo signed the largest contract ever awarded to an international amateur on Aug. 23, then completed a three-week apprenticeship in the Sox minor league system. Before that, he hadn't played a game in 14 months, since he participated in a provincial tournament near his hometown in Cuba. Even so, he said he didn't feel nervous on baseball's biggest stage.
"Not really. Approach it like another game," he said.
He also didn't quibble over his first hit being a squibber.
"You'd always like to hit the ball hard and be a line drive, but a hit's a hit," he said. "Glad I got one."
The speedy Castillo wasn't really tested in center field, although he made a nice running catch on a drive to left-center by Liriano in the fifth.
"That's a play a major league center fielder has to make," he said. "I thought got pretty good bead on it."
Castillo seemed just as comfortable before the game, when he was the center of attention for a team long out of the pennant race.
"I actually feel in a pretty good place, baseball-wise," Castillo said. "Yes, yes, I've been pretty happy with the way things have worked out, not just with the success on the field but the relationships I've been able to develop with the coaching staff and clubhouse staff and teammates."
Red Sox general manager Ben Cherington was on hand for Castillo's debut. Asked what the team can discover about Castillo over the last 11 games of the regular season, Cherington said, "I don't think it's the results that you learn from. It's just watching him around the team, pregame, interacting with people, questions he asks, all that stuff has been positive so far.
"Even if you just start with the time he was in Miami, and the showcase and go from there, the signing, the minors, being in Fort Myers, Portland, Pawtucket, he's met a lot of people and played games in a lot of different places, and he's handled it all well."
Castillo wasn't the only Red Sox rookie to take home a souvenir ball from his first big league hit. Bryce Brentz, promoted with Castillo after Tuesday night's Triple-A championship game, pinch hit for Sox starter Clay Buchholz