March, 14, 2014
Mar 14
6:42
PM ET
By
Chris Girandola
| ESPNBoston.com
DUNEDIN, Fla. -- Takeaways from Dunedin, where
Mike Napoli
was a late addition to the road trip to face the
Toronto Blue Jays
,
Rich Hill
was back on the mound, and
Clay Buchholz
posted zeroes once again in the only meeting of the spring between the division rivals.
[+] Enlarge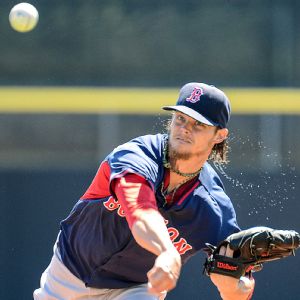 Jonathan Dyer/USA TODAY SportsClay Buchholz looked sharp in four shutout innings but said his changeup still needs work.
The result:
Buoyed by another impressive start by Buchholz, the Red Sox defeated the Blue Jays, 3-1, before a Florida Auto Exchange Stadium crowd of 5,519 -- the venue's fourth sellout of the spring. The Sox are now 7-8-1 after winning for the fifth time in the past six contests. The Red Sox broke through first with a run in the fifth inning after Blue Jays starter
Drew Hutchison
held them at bay through his first four frames.
Jonny Gomes
singled to left off Hutchison to start the inning and made like The Flash in rounding the bases to score on
Corey Brown
's double to right center on the next pitch. The Sox scored the eventual winning run in the eighth with most of the reserves in to finish the day. One of the starters, though,
Brock Holt
, who is competing for a utility role, singled off Toronto reliever
Kyle Drabek
to start the inning. After Matty Johnson pinch ran for Holt, he eventually scored on a single by Deven Marrero, who then scored on a double by Sean Coyle.
Becoming Buchholz:
It's still the middle of March, but Red Sox pitching is shaping into a mirror of the 2013 campaign. A day after
Jake Peavy
registered a solid appearance in his first spring outing, Buchholz breezed through his scheduled four innings of work with hardly a scratch.
"From the first time out until now, I've been able to get better as far as the innings progression," said Buchholz, who tossed one inning in his first appearance and three innings on March 9 against the Pirates. "I think I was efficient with the command of the two-seam and four-seam fastball today. I was able, a couple times when I fell behind, to come back and pound the strike zone."
After surrendering two consecutive singles to start the first inning, Buchholz kept the sheet clean the rest of his 55-pitch outing. One of the singles resulted in
Jose Reyes
being thrown out at second as he tried to stretch his line drive to right fielder Corey Brown into a double.
"From there on out, I felt pretty comfortable about moving the fastball around the strike zone," said Buchholz, who threw 35 strikes. "Going through some [trouble] and giving up some hard contact and being able to pitch around and get through it, it's a good step."
While Buchholz said he was pleased with where his velocity is at this point in the spring, the righty would like to refine his changeup.
"The changeup's the one pitch I haven't quite got a grasp on," said Buchholz, who threw four of them against the Blue Jays. "It's better that it's down than up, but I haven't really gotten a feel for it yet and that's a pitch I use a lot. I wanted to work on it a little bit more today, but when you spike it in the dirt, it's a pitch you don't want to keep throwing up there. As long as I'm throwing my fastballs over, I can work on [the changeup] and it's something I will improve on the side."
John Farrell said Buchholz is in line to make four more spring starts before the team breaks camp. The Red Sox skipper is pleased with Buchholz's overall foundation.
"He had three very good pitches working for him: his curveball, cutter and fastball," Farrell said. "I thought he had better stuff than he did five days ago. His velocity is starting to climb a bit, later action to his secondary pitches. Overall, he looks very comfortable with good stuff."
In terms of his righty's velocity, Farrell said he is pleased with how it's progressing.
"I'm not going to say I'm surprised, but it's very encouraging," Farrell said. "The last time out, it was 89, 91 mph. Today, he was 91, 92 mph pretty consistently. It shows the arm strength is building. In a matter of five days, there's been a sizable step forward to the action of all his pitches. More than anything, he's comfortable in his delivery. He's moving in the right direction."
Shane sits, then takes BP:
Following Friday's contest, Farrell confirmed the fact that
Shane Victorino
did not play in a minor league game back in Fort Myers after "feeling discomfort" in his surgically repaired thumb. According to Red Sox media relations, though, the training staff said Victorino participated in batting practice in the cage back at the Fort.
Farrell anticipates Victorino being back in the lineup against the
Philadelphia Phillies
in Saturday night's game at JetBlue Park. This is the first issue with the right thumb for Victorino, who Farrell said exited the game against the
Minnesota Twins
on Thursday and mentioned some pain.
"He came out of the game the other day, and he felt a zinger in there," Farrell said. "It's hard for me to say what it is."
[+] Enlarge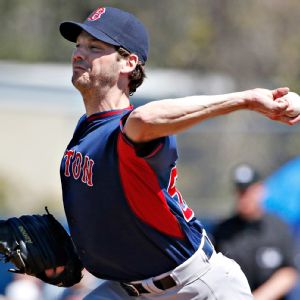 AP Photo/Kathy WillensRich Hill made his spring game debut in the fifth inning against the Blue Jays.
Staying strong:
Rich Hill teared up when discussing his first official spring appearance since the death of his infant son, Brooks. The 34-year-old left-hander said it was emotional being back out on the mound, but he is strengthened through the spirit of his son.
"It was tough, but it was good," said Hill, who tossed a perfect inning with one strikeout.
Hill, who threw 25 pitches in a simulated game a few days ago, was visibly emotional when discussing his outing Friday.
"At one point, you're out there -- I remember it was a 3-2 count -- and before it was like, you have to make a pitch here, you have to make a pitch," Hill said. "Then it just comes to you where you're just, you're playing baseball. This isn't something you were dealing with ... a few weeks ago. So, it was kind of a sense of ease to go out there and play the game the way we were meant to play it as kids. The emotions and the feelings out there today, that was really in that one sense. You see a black and white line there, where in years past, instead of just going out there and having fun, there would sometimes be overwhelming pressure to perform. That's where a lot of the emotions came through. The core level of the game."
Farrell was happy to see the southpaw back on the mound, more so from an emotional first step than anything. But the Red Sox manager knows both he and Hill have a job to do. "He's done everything he can to get back in the game," Farrell said. "We're going to reserve any type of judgment on him in terms of a game until he gets out there a bit more."
Hill, who allowed 27 earned runs in 38 ⅔ relief innings with the
Cleveland Indians
last year, is considered a solid option for a relief spot. Before the 2013 campaign, Hill posted a 1.14 ERA in 31 ⅔ innings in parts of three seasons with the Sox.
JBJ report:
Jackie Bradley Jr
., starting in center field, went 0-for-3 and is now batting .167 for the spring.
X file:
Xander Bogaerts
did not make the trip to Dunedin.
The dot, dot, dots:
Jon Lester
starts Saturday night against the Phillies at JetBlue Park. Other pitchers scheduled to make an appearance include
Chris Capuano
,
Burke Badenhop
,
Andrew Miller
and
Edward Mujica
. ... The Red Sox finished fifth in the latest rankings of fan involvement by TicketCity, a website that uses several different variables to identify fan involvement from data measured off the 2013 season before July 30. The algorithm is designed based on average total attendance, average home attendance, average home game ticket price, percentage of stadium capacity filled at home, Facebook likes and "talking about," and Twitter following. The
San Francisco Giants
ranked first.
March, 14, 2014
Mar 14
5:40
PM ET
ESPNBoston.com
Boston Red Sox minor leaguer Jonathan Denney was arrested early Thursday in Fort Myers, Fla., on the misdemeanor charge of driving with a suspended license.
The 19-year-old catcher was booked after being pulled over twice by police in a span of just over two hours in the Fort Myers Beach area, according to the arrest report obtained from Lee County Sheriff's Office.
Denney was first cited at 11:57 p.m., after his black Ford Raptor fishtailed as he sped away from a stop sign. At that time, he gave the officer his passport along with a paper license from his home state of Arkansas that indicated he was restricted to driving only for business and in case of emergency due to a previous DUI.
When asked by the officer what he was doing in the area, Denney replied that he was "partying and looking to get some p----," the report stated. A criminal citation was issued and Denney called for a friend to drive him home.
About two hours later, Denney was spotted getting into his truck and was pulled over shortly after. When police asked him why he was driving, he said he was giving a female in the truck a ride. According to the report, Denney then "became belligerent and started cussing" at police.
He told police "he was a Boston Red Sox player" and "made more money than we would ever see," the officer wrote in the report. After being handcuffed, Denney said he would be "out in no time because of who he played for and that he made $3 million a year," according to the report.
Denney posted $500 bail and was released Thursday. He is due in court on March 31.
March, 14, 2014
Mar 14
2:26
PM ET
In the aftermath of pitcher Ervin Santana and outfielder Nelson Cruz signing one-year contracts to get to spring training camps, agent Scott Boras said that shortstop Stephen Drew and Kendrys Morales -- the only qualifying-offer free agents left on the market -- do not plan to lower their sights to sign quick deals and are willing to wait until June to find homes if necessary.
Drew, the starting shortstop on Boston's 2013 championship team, and Morales, who hit 23 homers and drove in 80 runs as Seattle's main designated hitter last season, remain unemployed four months after rejecting $14.1 million qualifying offers from their teams. Both players continue to work out six days a week at Boras' sports training institute in South Florida, where they are conducting what Boras calls an "intense spring training" under the guidance of former big leaguer Alex Ochoa.
Boras said he continues to have active dialogue with teams on both players, including discussions about potential multiyear contracts. One scenario under consideration, he said, is for Drew and Morales to sign after the June draft, when they will no longer be burdened by draft-pick compensation.
"The system they've been dealt has basically prevented them from free agency," Boras said. "They want to make sure about their next step, whatever that will be. It means either signing a long-term contract now -- and we're still taking offers on those -- or a number of other prospects that could occur after the season starts or in June, after the draft happens.
March, 14, 2014
Mar 14
1:44
PM ET
By
Chris Girandola, Special to ESPNBoston.com
DUNEDIN, Fla. -- Greetings from Dunedin, where
Clay Buchholz
makes his third start of the Grapefruit League season, his first against the
Toronto Blue Jays
this spring. Buchholz hopes to continue where he left off in Bradenton against the Pirates five days ago, when he tossed three scoreless innings.
Victorino sends caution up I-75:
Reverberations rumbled through Dunedin when word got passed on to the media contingent that
Shane Victorino
did not play in the scheduled minor league game back in Fort Myers due to "feeling something in his thumb," according to Red Sox media relations. Victorino did take batting practice, though.
The Red Sox media relations staff said Farrell would make a comment on Victorino's health following the contest against the Blue Jays.
Surprise, surprise:
Mike Napoli
was a last-minute addition to the seemingly days-long trip from Fort Myers to Dunedin as spring baseball starts to ramp up toward Opening Day. John Farrell said Napoli wanted to start getting in consecutive days of work at first base.
"He felt like he wanted a little more regular repetition," Farrell said. "Tomorrow, he'll be off and be able to go back-to-back again."
When asked if there were any health issues regarding his hip, Farrell emphasized there is no "extra attention" to it for health reasons. Last January, Napoli was diagnosed with avascular necrosis (AVN) -- a degenerative hip condition that the 32-year-old has been able to manage with osteoporosis medication.
"Physically, he feels great," Farrell said.
While the health discovery played a role in his contract with the Sox before the start of the 2013 campaign (dropped from the original three-year, $39 million deal into a one-year deal worth $5 million plus incentives that boosted it to $13 million), the condition had no ill effect on his game. Napoli finished the regular season with 23 home runs and 92 RBIs with a .259 average and a .482 slugging percentage.
Better yet, he started a career-high 123 games at first and played a total of 131 contests there, committing just six errors.
"I think he will be better," Farrell said. "Now, how that plays out in some of those measurements. But the work that [Sox infield and third-base coach Brian Butterfield] has done with him, the athleticism that Mike shows. He's got soft hands. And I think just another year under his belt at the position just adds for greater comfort and he's turned himself into a hell of a first baseman."
March, 14, 2014
Mar 14
1:31
PM ET
By
Chris Girandola, Special to ESPNBoston.com
Red Sox
1.
Jackie Bradley Jr
., CF
2.
Jonathan Herrera
, 3B
3.
Mike Carp
, DH
4.
Mike Napoli
, 1B
5.
Jonny Gomes
, LF
6.
Corey Brown
, Rf
7.
Ryan Lavarnway
, C
8.
Brock Holt
, SS
9.
Mike McCoy
, 2B
SP --
Clay Buchholz
, SP
Also scheduled to pitch: RHP
Rubby De La Rosa
, LHP
Tommy Layne
, LHP
Jose Mijares
, RHP
Brayan Villarreal
, LHP Rich HIll
Blue Jays
1.
Jose Reyes
, SS
2.
Melky Cabrera
, LF
3.
Jose Bautista
, RF
4.
Colby Rasmus
, CF
5.
Dioner Navarro
, C
6.
Dan Johnson
, 1B
7.
Ryan Goins
, SS
8.
Chris Getz
, 2B
9.
Munenori Kawasaki
, 3B
SP --
Drew Hutchison
, RHP
March, 14, 2014
Mar 14
10:10
AM ET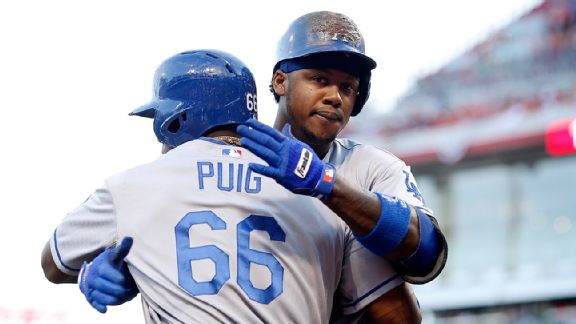 Joe Robbins/Getty ImagesWatch out, NL: The Dodgers will be getting a full season from Puig and Ramirez.
Are star players important?
You're an idiot, Schoenfield. Of course they're important. Go back to your day job.
OK, maybe there's a better way to rephrase that question. Which team has the best five core players? And is that a good indicator for reaching the postseason?
Let's do this. Using Baseball-Reference WAR as our baseline for determining a team's five best players, here are the top 10 teams in 2013 ranked by the combined WAR of their core five:
1. Detroit Tigers: 28.9
Miguel Cabrera
,
Max Scherzer
,
Anibal Sanchez
,
Justin Verlander
,
Doug Fister
2. Boston Red Sox: 27.2
Dustin Pedroia
,
Shane Victorino
,
Jacoby Ellsbury
,
David Ortiz
,
Clay Buchholz
3. Los Angeles Dodgers: 26.3
Clayton Kershaw
,
Hanley Ramirez
,
Yasiel Puig
,
Juan Uribe
,
Adrian Gonzalez
4. Pittsburgh Pirates: 25.1
Andrew McCutchen
,
Starling Marte
,
Russell Martin
,
Neil Walker
,
Pedro Alvarez
5. St. Louis Cardinals: 24.6
Matt Carpenter
,
Adam Wainwright
,
Yadier Molina
,
Shelby Miller
,
Matt Holliday
6. Colorado Rockies: 24.2
Jhoulys Chacin
,
Troy Tulowitzki
,
Carlos Gonzalez
,
Jorge De La Rosa
,
Nolan Arenado
7. Texas Rangers: 24.1
Yu Darvish
,
Adrian Beltre
,
Ian Kinsler
,
Elvis Andrus
,
Craig Gentry
8. Cincinnati Reds: 22.6
Joey Votto
,
Jay Bruce
,
Shin-Soo Choo
,
Mat Latos
,
Homer Bailey
9. Atlanta Braves: 22.4
Andrelton Simmons
,
Freddie Freeman
,
Jason Heyward
,
Craig Kimbrel
,
Kris Medlen
10. Oakland Athletics: 22.2
Josh Donaldson
,
Bartolo Colon
,
Coco Crisp
,
Josh Reddick
,
Jed Lowrie
Maybe it's not too surprising that eight of those 10 teams made the playoffs. You don't make the playoffs without a solid core of excellent players. The two playoff teams not in the top 10 were the Rays, with 21.6 WAR from their top five guys (13th), and the Indians with 21.5 (14th). So, yes, stars are important.
However, it's also worth noting that most teams rated very similarly in the combined WAR from their best five players, at least in 2013: 17 teams ranked between the 22.6 WAR of the Reds and the 18.8 of the Orioles. That's less than a four-win difference, not that four wins isn't important, but also a signal that roster spots six through 25 are often the difference between making the playoffs or heading on a fishing trip in October.
Another way to spin that is to look at the teams that received highest percentage of their overall team WAR from their five best players:
1. Astros: 153 percent
2. Phillies: 110 percent
3. Mets: 95 percent
4. Mariners: 90 percent
5. White Sox: 86 percent
6. Marlins: 84 percent
7. Brewers: 78 percent
8. Twins: 74 percent
9. Diamondbacks: 73 percent
10. Rockies: 72 percent
Yes, you're reading that correctly: The Astros and Phillies received more value from their top five players than they did from their entire rosters -- meaning, the rest of their rosters behind their core five were below replacement.
The main thing to take away from these "imbalanced" teams: None of them had a winning record (the Diamondbacks finished .500). The rest of the roster matters. Take a team like the Mariners. Led by
Hisashi Iwakuma
and
Felix Hernandez
, the 21.1 WAR from their top five players was on par with Rays, Indians; the rest of the roster was, collectively, horrible.
Robinson Cano
brings more star power to Seattle but doesn't solve the team's biggest issue, the lack of quality depth.
What about 2014? Here are my top 10 core fives heading into the season:
1. Los Angeles Dodgers
Clayton Kershaw, Hanley Ramirez, Yasiel Puig, Zack Greinke, Adrian Gonzalez
This group could be even better than it was in 2013 with full seasons from Ramirez and Puig. Greinke was so dominant over his final 16 starts (1.57 ERA) that he's a reasonable Cy Young candidate behind his best-starter-in-baseball teammate. The fifth player on the list could be Gonzalez or
Matt Kemp
or even third starter
Hyun-Jin Ryu
.
2. Detroit Tigers
Miguel Cabrera, Max Scherzer, Justin Verlander, Anibal Sanchez, Ian Kinsler
You have the reigning two-time MVP and then two Cy Young winners and
then
last year's American League ERA champ in Sanchez. Kinsler will have to prove that his offensive game translates from Texas to Detroit, but his all-around game has been valuable in recent seasons.
3. Texas Rangers
Yu Darvish, Adrian Beltre, Shin-Soo Choo, Elvis Andrus, Prince Fielder
A little bit of everything: An ace pitcher, power and defense from Beltre, slick defense and speed from Andrus and two left-handed batters who get on base. The additions of Choo and Fielder help bring some lefty balance to the Rangers lineup and lead to more runs for a lineup that slipped a bit last season.
4. Pittsburgh Pirates
Andrew McCutchen, Starling Marte, Gerrit Cole, Russell Martin, Pedro Alvarez
My underrated core five. I like McCutchen to repeat his MVP season (in numbers, at least, if not in hardware), Marte and Martin to excel on defense and do just enough at the plate, Alvarez to slam 30-something homers again and Cole to become a breakout star in his sophomore season.
5. St. Louis Cardinals
Adam Wainwright, Matt Carpenter, Yadier Molina, Michael Wacha, Matt Holliday
What makes the Cardinals impressive is that this core could also include Shelby Miller or
Allen Craig
.
6. Tampa Bay Rays
Evan Longoria, David Price, Wil Myers, Ben Zobrist, Alex Cobb
Price, Myers and Cobb didn't spend the entire season on the active roster (Price and Cobb missed time with minor injuries while Myers began the year in Triple-A), so odds are strong this group could outperform last year, especially if Myers blossoms in his sophomore campaign.
7. Washington Nationals
Bryce Harper, Jordan Zimmerman, Stephen Strasburg, Ian Desmond, Ryan Zimmerman
If you want slightly off-the-radar awards picks, how about Harper for MVP and Zimmermann for Cy Young?
8. Atlanta Braves
Andrelton Simmons, Freddie Freeman, Jason Heyward, Julio Teheran, Craig Kimbrel
Kimbrel, who turns 26 in May, is the oldest player in the group.
9. Milwaukee Brewers
Ryan Braun, Carlos Gomez, Jonathan Lucroy, Jean Segura, Yovani Gallardo
A little weak in the pitching department, but Braun should return to his MVP-caliber play and Gomez was MVP-caliber in 2013. Lucroy produces at the plate and is one of the best pitch-framers in the business. Segura is an exciting plug who has to prove his second-half slump in 2013 was simply fatigue.
10. Boston Red Sox
Dustin Pedroia, David Ortiz, Jon Lester, Clay Buchholz, Shane Victorino
A good bet to regress, as a large portion of Victorino's value came from his outstanding defense and Big Papi will get old one of these years.
March, 13, 2014
Mar 13
5:25
PM ET
By
Rick Weber, Special to ESPNBoston.com
FORT MYERS, Fla. -- Takeaways from the Fort, where the day got off to a lumbering start with a tuba-solo national anthem and
Jake Peavy
was justifiably pleased enough with his spring training debut to toot his own horn.
[+] Enlarge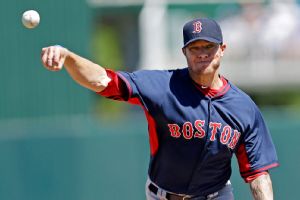 AP Photo/Gerald HerbertJake Peavy gave up two hits and one run over three innings in his Grapefruit League debut.
The result:
The Red Sox, playing with their probable Opening Day lineup, defeated the
Minnesota Twins
, 4-3, before a Hammond Stadium record crowd of 9,256 to improve their record to 6-8-1. The Red Sox opened the scoring in the third when a pickoff throw from
Phil Hughes
got away from
Joe Mauer
at first base, allowing
Xander Bogaerts
to saunter in. Two outs later,
Shane Victorino
rifled a shot off the glove of shortstop
Danny Santana
to drive in
Will Middlebrooks
. In the fifth,
Daniel Nava
reached on an error, Victorino bunted for a single and
Dustin Pedroia
doubled them in.
Jake's journey:
Peavy, who cut his left index finger with a fishing knife on March 1, gave up two hits and one run in three innings, walking two and striking out two.
Peavy got off to a rough start, surrendering a single to leadoff hitter
Aaron Hicks
and then a one-out, line-drive hit-and-run single to Joe Mauer that sent Hicks to third. But he struck out
Josh Willingham
and then retired
Oswaldo Arcia
on a lazy fly ball to right fielder Victorino.
And after that, he allowed just two baserunners -- on walks to
Jason Kubel
in the second and Willingham to lead off the fourth, after which he exited the game.
"I've been battling my finger issue," Peavy said, "so early in camp, I hadn't been able to use all my pitches as maybe the other guys had. So to get to my first start, get in a game and be able to use everything game speed and to have really the feel I had for my off-speed pitches, I was pleasantly surprised. Good first step. Got a long way to go, though."
Peavy seemed particularly pleased with his split-finger fastball, which he had never used before coming to camp this spring. He had a pretty accomplished teacher -- closer
Koji Uehara
.
"He showed me how he holds it," Peavy said. "Other than that, not much he can do. He can try to tell me some things he thinks about. It's not going to be a Koji Uehara split-finger. Don't get me wrong, by any means. But why would you not try to see if you can expand your game? It's something I feel like we're going to use a good bit and have as a weapon. If you can't work on it here, where are you going to work on it? So we certainly did that today."
When he got ahead in the count on Willingham in the fourth, he experimented with five splitters. He ended up walking Willingham, but wasn't deterred.
"I was working on a little bit of everything," he said. "There's a lot I've got to work on, but I feel today was an encouraging first step -- a step in the right direction."
Asked if Peavy's split-finger is viable, manager John Farrell said, "It's viable because he's using it. To what effectiveness remains to be seen, but he's such a good athlete. He can manipulate the baseball well. If it's another weapon for him against some left-handers, I know it's something he'll use."
The Red Sox are excited to see what Peavy can do in an entire season for them. Acquired before the non-waiver trade deadline last July, the 32-year-old Peavy pitched just 10 games in the regular season, going 4-1 with a 4.04 ERA -- well above his career 3.51 ERA.
"Jake Peavy's been in the big leagues a long time," Farrell said. "And yet, because he broke in at age 20, this is a guy who is still relatively young. You would anticipate a lot of pitching life left in him. Because of the number of innings pitched over long career, sure, there's going to be adjustments required as they get deeper into their career. But this is a smart guy. He's very athletic. We are going to need him to be a main contributor in the rotation."
Peavy, asked if he has a big year left in him, said, "Absolutely. I expect to be as good as I've ever been. I expect a lot out of myself. I understand I go about things a tad bit differently, but it's not that I feel like I'm to the point where I think some people may think I am. I certainly have some time in the big leagues. There's some wear and tear in my body. I'm not blind to that fact.
"At the same time, I'm 32 years old, and I feel like I can be a big part of a championship club and win games on a consistent basis. That's what it comes down to. Really, I'm not worried about anything else other than staying on the field and seeing how many games I can win for the
Boston Red Sox
."
Peavy said he's made up all the lost time and is not behind in any aspect.
"I'm going to stay away from knives," he said, "and I'll see you on Opening Day."
Breakout:
Pedroia went 2-for-3, including a liner up the middle in the third inning.
"He stayed behind the ball little bit better today," Farrell said. "Wasn't as jumpy. Used his hands much more freely. That's more reminiscent of what we're used to seeing with Dustin."
Pedroia had been scuffling a bit at the plate -- with just two hits in 19 at-bats going into the game -- but Farrell said he has seen better bat speed than he saw last year, when Pedroia played with a torn ulnar collateral ligament in his left thumb.
"You see the bat travel through the zone much more aggressively," Farrell said. "There's more freedom. Even in his BP, you see the ability to get to his pull side more readily. So yeah, you see the freedom in the swing pretty clear. He's just trying to get his timing down."
Farrell said the there is "nothing of concern" about Pedroia's recovery from November surgery, saying there has been no delay in his progress and he's "just getting back in the flow of things."
Flyin' Hawaiian:
Victorino, who had played in just one game and had just one at-bat as he worked on core issues with his body, was 2-for-3 with an RBI. "He came through today fine," Farrell said. "He's going to get some at-bats tomorrow. He's responding to the volume of work we're gradually ramping up, so it's good to have him back in the lineup."
Not Miller time:
Andrew Miller
replaced Peavy in the fourth and managed to get just one out, surrendering a double, a single and a walk. He was charged with two runs. "Just erratic command again," Farrell said. "He had been making really steady progress. The last three times out, you could see the timing and delivery becoming more consistent. Today, he yanked a couple of balls and just didn't settle into the inning to execute consistent strikes."
JBJ report:
Jackie Bradley Jr
., starting in center field while
Grady Sizemore
played in a minor league game against the Twins, went 0-for-3 and left runners on first and third in the third inning with a flyout to right field. Sizemore, meanwhile, started in center field, played five innings and went 1-for-2 with a walk.
X file:
Bogaerts was 0-for-2 with a walk and a run scored.
The dot, dot, dots:
Clay Buchholz
starts for the Red Sox Friday in Dunedin against the Blue Jays, backed up by
Rubby De La Rosa
,
Tommy Layne
,
Jose Mijares
,
Rich Hill
and Bryan Villareal.
Jon Lester
goes Saturday night against the Phillies at JetBlue Park ... Thursday's game was Boston's fourth with the use of instant replay. After a review, Mike Napoli's sixth-inning shot was ruled a foul ball. Future replay games are Sunday at the Rays, Wednesday vs. the Pirates and March 13 vs. the Rays. ... Going into the game, the Red Sox led the Grapefruit League with 18 home runs -- one more than they had in their 35-game schedule last spring. Of their 53 runs, 24 had come via homers. ... The Red Sox are now 1-2 in the Chairman's Cup series with the Twins.
March, 13, 2014
Mar 13
2:36
PM ET
By
Mike Andrews, SoxProspects.com
| ESPNBoston.com
Editor's note: This is the second of a five-part series on depth in the Red Sox farm system.
Boston's minor league depth at catcher improved in 2013, and some of the team's possible future backstops have already impressed even more so far this spring. Given that both
A.J. Pierzynski
and
David Ross
are both 37 years old and on one-year deals, the future for Boston's catching prospects may come sooner than later. While it's never a slam dunk, the door for the starting and/or backup catching jobs for 2015 is open for these prospects to earn.
For more prospect news and analysis, check out SoxProspects.com.
POTENTIAL MAJOR LEAGUE STARTERS
Blake Swihart
, 21, was in camp with the big club (he was sent down Thursday), and is expected to start the 2014 season with Double-A Portland. Drafted in the first round of the 2011 draft, the Red Sox gave Swihart a $2.5 million bonus to buy him out of his commitment to the University of Texas. In his first full pro season in 2012, he hit .262/.307/.395 with Low-A Greenville. In 2013, the switch hitter batted .298/.366/.428 for High-A Salem. An athletic backstop, Swihart projects as a good contact hitter with average power, good instincts and decent speed. He has very impressive all-around defensive tools, and was named the Red Sox Minor League Defensive Player of the Year in 2013. However, due to his smaller frame, it's unclear whether he'll be able to endure the rigors of catching every day over the long term. He's athletic enough to move to second base or third base if need be. Overall, he has the skills to develop into an All-Star catcher, but he's still a year or two away from being major league ready.
Vazquez
Christian Vazquez
, 23, could develop into a gold glove catcher if he hits well enough to play every day. A ninth-round pick in 2008, Vazquez spent the majority of the 2013 season with Portland, hitting .289/.376/.395 with 5 home runs. With the exception of average ball-blocking skills, he has plus defensive skills across the board -- including an elite arm, impressive agility, and solid game-calling skills. He's adequate offensively, showing gap power and average bat speed. Vazquez has had struggles against high-velocity fastballs and advanced breaking pitches in the past, but made some nice offensive adjustments in 2013 while still improving defensively. He still might get exposed offensively at the Triple-A level. At the very least, he possesses the skills to be an excellent backup catcher or solid platoon backstop. But he's looking more and more like a future starter as time goes on. Vazquez is expected to start this season in Triple-A Pawtucket. If one of the major league catchers gets injured, it seems likely that
Ryan Lavarnway
or
Dan Butler
might be a short-term solution, while Vazquez might be called on to fill in if a longer-term injury happened in the second half of the season.
POTENTIAL MAJOR LEAGUE BACKUPS
Lavarnway
Ryan Lavarnway
, 26, will likely be the odd man out off the 25-man roster again, starting the season back in Pawtucket. However, given the presence of Vazquez and Butler on the PawSox roster, Lavarnway might be relegated to spend a majority of his time at first base and designated hitter. Until 2013, he showed himself to be a more-than-capable hitter at the minor league level, posting a career line of .286/.376/.439 with 85 home runs in 1,691 at-bats. But his production dropped off in 2013 and he continued to struggle in limited major league opportunities. Lavarnway is a slightly below-average defensive catcher, with limited range, reaction time and agility. At first base, he's shown more ability than was expected early on, but he's also not going to be an above-average defensive first baseman. If he can re-adjust and get back to his previous offensive form and prove himself to be adequate at first base, Lavarnway could have a spot on the Red Sox in the future as a backup C/1B/DH. If the Red Sox front office see those roles as filled with other options for the foreseeable future, which is a distinct possibility, Lavarnway might get a better opportunity in another organization.
Dan Butler
, 27, is expected to split time with Vazquez behind the dish in Pawtucket to start the year. An undrafted free agent out of the University of Arizona in 2009, Butler made substantial strides over the past five seasons. Already on Boston's 40-man roster, he may be the leading backup catching option for the big club if a short-term injury arises, which in and of itself is a remarkable accomplishment for an undrafted free agent. An above-average defensive catcher, Butler has made some improvements in the area of game calling, and at this point seemingly just needs to familiarize himself better with the major league staff. On offense, he has a patient approach and fringe-average power. He should have a solid career as a backup at the major league level, although he might get a better chance with a second-division club over the long term, especially if Swihart and Vazquez continue to develop as expected.
Jon Denney
, 19, was selected in the third round (No. 81 overall) of the 2013 draft, after initially being projected as a first-round pick. The Red Sox gave him an $875,000 signing bonus to buy him out of his commitment to the University of Arkansas. An athletic catcher with solid power potential, Denney projects to be an average hitter, but his defense lags behind at this point. He has a strong arm and adequate agility. He made his professional debut with the Rookie-Level GCL Red Sox in 2013, hitting just .203/.379/.243 in 26 games. He should start 2014 in either Low-A Greenville or Short-A Lowell. Overall, Denney is still several years away, and has lots of development time ahead of him.
Others to Watch:
Two other young catchers to keep an eye on are Jhon Nunez, a 19-year-old Venezuelan switch-hitting backstop who is expected to play for the GCL Red Sox in 2014, and Samuel Miranda, another Venezuelan prospect who signed on his 16th birthday this past August. He'll play for the Rookie-Level DSL Red Sox in 2014.
March, 13, 2014
Mar 13
12:00
PM ET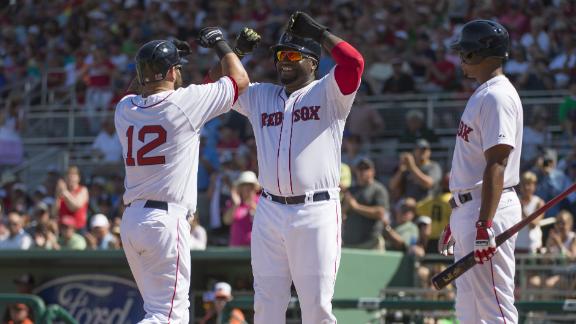 Which franchise will be the one to beat in five years? We published our
Future Power Rankings
today, and while Eric Karabell weren't on the committee for those rankings, we do have something to say about them, including which team should be No. 1, wondering if the Cubs should have been ranked higher than the Red Sox and whether our beloved Phillies and Mariners are properly ranked.
March, 13, 2014
Mar 13
11:52
AM ET
March, 13, 2014
Mar 13
11:20
AM ET
By
Rick Weber, Special to ESPNBoston.com
FORT MYERS, Fla. --- Greetings from the Fort, where
Jake Peavy
makes his much-anticipated Grapefruit League debut today against the Twins -- if he doesn't get hurt on the grueling eight-minute bus ride to Hammond Stadium.
It's been that kind of spring for Peavy. Early in camp, he injured his right ring finger when he was struck by a ball, delaying his throwing program. Then, on March 1, he cut his left index finger with a fishing knife just two days before he was scheduled to make his first start against the Pirates in Bradenton.
"We fully expect him to go three innings," manager John Farrell said. "It's going to be 55-60 pitches that he has comfortably built up to so far. Making sure he catches ball in the webbing. He was using an outfielder's glove other day. It just gave him more room to catch them. Whether he uses that today remains to be seen. But the wound is healing up fine and shouldn't hinder his ability to pitch today."
Size-ing it up:
Jackie Bradley Jr
. will start in center field while
Grady Sizemore
gets three at-bats in a Triple-A game today. "We just wanted to get Jackie with our regular lineup and get him in the mix there," Farrell said. "With yesterday's off day and tomorrow's long trip [to Dunedin], that's why Grady's getting his at-bats at the Triple-A level today."
Roster moves:
The Red Sox optioned/reassigned 12 players out of camp: pitchers Matt Barnes,
Anthony Ranaudo
,
Henry Owens
, Miguel Celestino,
Alex Wilson
and Noe Ramirez, catcher Blake Swihart, outfielders
Bryce Brentz
and
Alex Hassan
, shortstop Heiker Meneses, third baseman
Garin Cecchini
and first baseman Travis Shaw.
"I will say this as a whole: Maybe with the exception of Barnes, because he was slowed with shoulder stiffness, I thought the guys showed very well," Farrell said. "I think it speaks of the unity that the major and minor leagues have. I thought the guys came in and handled themselves well. They handled the environment well.
[+] Enlarge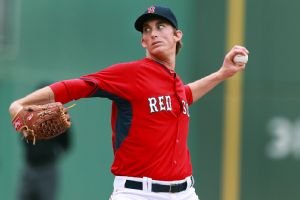 Jim Davis/The Boston Globe/Getty ImagesJohn Farrell was impressed with Henry Owens' poise in his limited time in big league camp.
"On the field, there were a lot of positive signs, whether it was the consistency of at-bats by Hassan to Brentz to the way a young guy like Blake Swihart showed behind the plate. Not that we're overvaluing or over-evaluating our own players, but there's a lot of talent that was just sent out of camp."
Farrell on Brentz: "One of the things he had hoped to display here was the all-field approach he showed more of in winter ball. That was the case. Equal to all the power he shows, when he was in two-strike situations, there was more of a pronounced two-strike approach where he looked to go the other way. His defense was more consistent. Those are attributes that make him a strong prospect."
On Owens:
"The thing that stands out to me is the other day up in Sarasota. Things were not going his way, but it was the mound presence and poise. He didn't get rattled. As we mention to every first-year pitcher who comes in here, that to me is one of the tell-tale signs more than anything. How do they respond when situations aren't going well on the mound? I thought he passed it with flying colors. For a young guy facing an 'A' lineup, he didn't back away from the challenge. He didn't start walking people. They hit him, but he controlled his emotions very, very well. That is something I thought was impressive."
Road trip:
When the Red Sox go to Dunedin on Friday, they will take Bradley,
Jonny Gomes
,
Mike Carp
,
Ryan Lavarnway
and
Clay Buchholz
.
Shane Victorino
and
David Ross
will get at-bats in a minor-league game.
Here are today's lineups:
Red Sox
1.
Daniel Nava
, LF
2. Shane Victorino, RF
3.
Dustin Pedroia
, 2B
4.
David Ortiz
, DH
5.
Mike Napoli
, 1B
6.
A.J. Pierzynski
, C
7.
Xander Bogaerts
, SS
8.
Will Middlebrooks
, 3B
9. Jackie Bradley Jr., CF
SP -- Jake Peavy, RHP
Also scheduled to pitch: RHP
Brandon Workman
, RHP Dalier Hinojosa, LHP
Andrew Miller
, RHP
Francisco Cordero
.
Twins
1.
Aaron Hicks
, CF
2.
Brian Dozier
, 2B
3.
Joe Mauer
, 1B
4.
Josh Willingham
, LF
5.
Oswaldo Arcia
, RF
6. Travor Plouffe, 3B
7.
Jason Kubel
, DH
8.
Kurt Suzuki
, C
9.
Danny Santana
, SS
SP --
Phil Hughes
, RHP
Also scheduled to pitch: RHP
Samuel Deduno
March, 12, 2014
Mar 12
2:21
PM ET
OK, boys and girls, it's time to sit down and listen to a tale from yesteryear. …
Once upon a time, in a land far, far away (well, Cleveland), an outfielder named
Grady Sizemore
was one of fantasy's most spectacular players, a superstar across all the relevant categories and a top-10 (overall) option. Then his knees and other body parts (back, elbow) began to betray him and -- poof! -- he was no longer held in, well, much of any regard at all. It was a shame, too. The guy was terrific. But now Mr. Sizemore is back in baseball, and it's starting to sound like he could be the actual starting center fielder for the defending champion
Boston Red Sox
. Yes, kids, dreams really do come true if you wish hard enough!
[+] Enlarge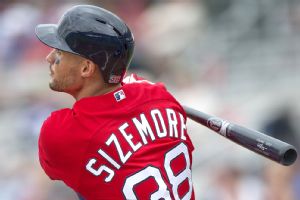 Michael Ivins/Boston Red Sox/Getty ImagesThe Red Sox are taking a chance on Grady Sizemore, and it's paying off so far.
It's close to mid-March, and Sizemore, who hasn't gotten a regular-season big league at-bat since 2011 and last mattered in fantasy in 2009, is playing in baseball games on consecutive days. Hey, baby steps, right? He spent the past two seasons recovering from microfracture surgery on both of his knees, so even the most optimistic among us would have to be realistic about expectations. This is not a durable player. But the Red Sox certainly appear open to giving the sweet-swinging Sizemore the chance to earn a starting role, and that's something. Don't look at the statistics, though a .308 batting average (in brief time) is fine; the Red Sox are impressed with Sizemore's swing, his athletic ability, his movement in center field … this could
really
happen.
To continue reading this article you must be an Insider
March, 12, 2014
Mar 12
1:48
PM ET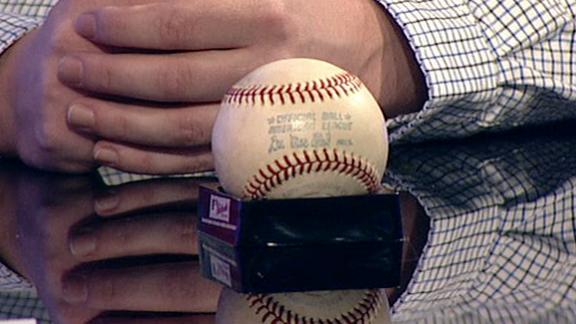 The home run ball hit by Boston Red Sox catcher Carlton Fisk off Cincinnati Reds pitcher Pat Darcy in Game 6 of the 1975 World Series -- considered one of the most iconic moments in baseball history -- is being sold by Robert Edward Auctions as part of its April catalog. The reserve price is $100,000.
Fisk got his wish that day and the ball stayed fair, hitting the foul pole and giving the Red Sox a 7-6 victory. As fans celebrated, the ball actually conveniently dropped into the glove of Reds outfielder George Foster.
Foster kept the ball, marked with a facsimile signature of then-American League president Lee MacPhail, until 1999, when it was sold in an auction for $113,273.
Red Sox fan Rich Elfman, who was at the game, bought the ball, but because his children don't have any interest in it, he's decided to sell it, according to Brian Dwyer, consignment director for the auction house.
Although the Red Sox went on to lose Game 7 -- and have won three titles in the past decade -- Dwyer said the Fisk ball might be the most memorable piece of Red Sox memorabilia.
"There really isn't a moment like this, one really memorable play, when the Red Sox have won in recent years," Dwyer said.
That doesn't mean that the Red Sox winning so many times hasn't affected the marketplace.
"Now is as good as ever to sell Red Sox memorabilia," Dwyer said. "Winning so much has really rejuvenated the fan base."
The most expensive ball sold at auction in Red Sox history comes from a negative moment. The ball that dribbled through first baseman Bill Buckner's legs against the New York Mets in Game 6 of the 1986 World Series last sold for $418,250 in May 2012.
March, 12, 2014
Mar 12
1:10
PM ET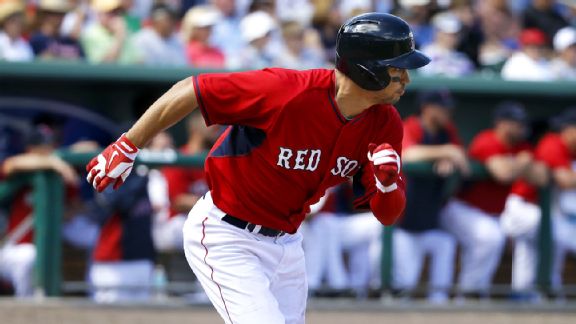 AP Photo/Steven SenneHave the Red Sox found their next leadoff hitter in Grady Sizemore?
FORT MYERS, Fla. -- And on the 20th day, they rested.
It has been 20 days since John Farrell assembled the Red Sox for their first full-squad workout here. Nineteen days remain before the Sox open the regular season March 31 against Baltimore in Oriole Park at Camden Yards.
Here are 10 things to note at the midpoint of camp, as Sox players (with the exception of Felix Doubront, throwing in a minor league game) enjoy a scheduled day off, their only one of spring.
1. The team is mostly healthy