November, 27, 2014
Nov 27
12:30
AM ET
BOSTON -- A few thoughts in the aftermath of Tuesday's day-night news conference doubleheader with
Pablo Sandoval
and
Hanley Ramirez
:
•
Boston Red Sox
pitcher
Joe Kelly
was responsible for one of the worst days of Ramirez's career, when he drilled Ramirez with a 95 mph fastball while pitching for the Cardinals in the first inning of Game 1 of the 2013 National League Championship Series. Turns out that the pitch fractured a rib, even as Ramirez remained in the game and played all 13 innings. He was a late scratch for Game 2, but played the final four games of the series, which the Cardinals won in six games. Ramirez, the Dodgers' best offensive player when he was on the field in 2013, had just two singles in 15 at-bats in the series and did not drive in a run.
[+] Enlarge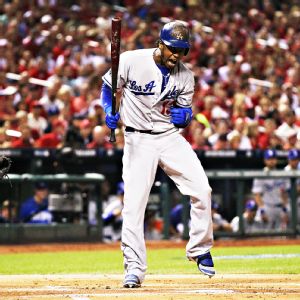 Dilip Vishwanat/Getty ImagesHanley Ramirez fractured a rib in 2013 when he got hit by a pitch from Joe Kelly, but the Red Sox are banking on his ability to stay healthy.
Ramirez impressed the Dodgers by his determination to play through that injury, though all the injuries that sidelined him over the past two years (elbow, thumb, shoulder, calf, hamstring, oblique, back, ribs) didn't exactly earn him iron-man status in Los Angeles. More than one Sox fan has read of how much time Ramirez spent in the trainer's room and was reminded of J.D. Drew.
This was an important year for Ramirez, his walk season, and he came into camp determined to prove to the Dodgers that he was deserving of an extension and should remain at shortstop. But even his admirers admit that when Ramirez played day-in and day-out, you could see the toll that took on him physically, especially in the field, where his .961 fielding percentage was the lowest among everyday shortstops.
By the end of the season, talent evaluators were questioning whether he could even handle a move to third, and with Ramirez turning 31 in December, it's reasonable to wonder if he can give the Sox 1,300 innings in the field. For all the talk about Sandoval eventually becoming a DH, Ramirez might wind up the more likely candidate to eventually become a bat-only regular. A talent evaluator for another club said he thought Ramirez would sign a two- or three-year deal to be a DH already.
Red Sox general manager Ben Cherington said that the topic of DH was not brought up to either Sandoval or Ramirez in the course of negotiations. Having just placed an $88 million wager on Ramirez holding up physically, Cherington said he wasn't concerned.
"We're confident he can play a lot," Cherington said. "We made a significant investment. We went through everything with him, we had access to his history, we spent time with him. Actually mostly in his time with the Dodgers he was very in tune with what he has to do. We think we have a staff that maybe can improve on some of the things he's done that helps him stay out there. We wouldn't have entered this if we didn't think he'd be on the field."

Have to think that Dan Dyrek, the team's director of sports medicine service, is already on the job. And by the way, even though
Grady Sizemore
washed out here, he did manage to make it through a full season with the Phillies, a tribute to Sizemore's incredible will but also Dyrek's healing touch. If Ramirez can stay in the lineup, he is eminently capable of hitting 25 home runs and 40 doubles.
• Ramirez left his history of being a clubhouse malcontent back in Florida; he did not clash with Don Mattingly the way he did with then-Marlins manager Fredi Gonzalez, and enjoyed a good relationship with the team's front office. But there also was a sense that things weren't quite right in the Dodgers' clubhouse between Ramirez and some of his teammates. Maybe with
David Ortiz
, his "big brother," running interference for him, that won't be the case in Boston.
• What does it bode for Ramirez in Boston that midway through last season, he stopped talking to the Los Angeles media, which doesn't exactly have a reputation of going for the jugular? Cherington, who has admitted to being a strong advocate for signing
Carl Crawford
, who turned out to be a terrible fit here, said you can never be certain how a player will adapt to this environment.
"You never know for sure," he said. "We do the homework. ... The one thing that keeps bubbling in your head, does a guy want to be here or not. Are we talking a guy into being here or does he really want to be here?
"In Pablo's case, this is not someone coming from a bad situation. He was with a good organization, he had a good relationship with the organization, he was a popular player, but he wanted to be here. All the [bidding] teams in the end were roughly in the same area [contractually] but he's a guy who wanted to be here. That's appealing. It gives us some comfort.
"Hanley reaches out, says I want to be there, I'll play anywhere, I want a chance to do what I didn't get a chance to do after the trade. We were able to work out a contract that makes sense. It doesn't guarantee anything, but when I think back on what works or doesn't work, that's one thing that has made a little difference."
• Sandoval's agent, Gustavo Vasquez, said that Sandoval did not elect to sign with the Red Sox until Sunday, and echoed Sandoval's assertion that accepting a new challenge was the deciding factor. The
San Diego Padres
actually offered a longer deal, Vasquez said. He also insisted the Red Sox did not bring up Sandoval's weight issues during negotiations.
Sandoval could not have been more unequivocal in stating he intends to play third base for the rest of his career. A key figure in making sure that happens? Rafael Alvarez, Sandoval's personal trainer, who in the past had Sandoval running up Camelback Mountain in Arizona as part of his offseason training. That won't be the case this winter, as Sandoval has relocated his offseason home from Arizona to Florida.
• Not buying that the Sox are seriously considering
Yoenis Cespedes
to play center field next season. He may play center in 2015, but it won't be for Boston.
November, 26, 2014
Nov 26
2:00
PM ET
Baltimore Orioles:
If
Nick Markakis
really wanted to return to Baltimore, wouldn't he have signed by now? ... Remember that year he had a .406 OBP? Yeah, that was a long time ago. ... Markakis won the Gold Glove, but that was as much by default as anything. There were only seven full-time right fielders in the American League and none of them were outstanding defenders. ...
Nelson Cruz
or Markakis? If I could only have one, I'd probably take the chance on Cruz and the potential that he'll have a couple more big seasons in him over Markakis' OK-but-nothing-special numbers. ... The Orioles could turn their attention to
Melky Cabrera
if they don't sign Markakis. ... If
Jonathan Schoop
can add 50 points of OBP, he's going be a very good player. He may already turn the double play as well as any second baseman in the game. ...
Kevin Gausman
should get 30 starts this year and -- while he projects as a solid mid-rotation guy -- imagine how dominant he could be as a multi-inning relief weapon, as we saw during the postseason. Still, he has more value as a rotation guy. ... One rumor has the Marlins asking about
Chris Davis
, but without Cruz and Markakis for now, the O's can't afford to punt on Davis, as bad as he was in 2014. ... Get healthy, Manny.
New York Yankees:
Right now, I'd pick the Yankees to finish last in the division, with their first under-.500 record since 1992. But we can assume the current roster isn't close to their final roster. ... It wouldn't surprise me if
Max Scherzer
ends up being their big splash. How about a rotation of Scherzer,
Masahiro Tanaka
,
Michael Pineda
,
CC Sabathia
,
Hiroki Kuroda
and
Brandon McCarthy
(have to re-sign the last two)? ... Joel Sherman of the New York Post reported that the Yankees are pushing harder to acquire a shortstop than a third baseman, which could indicate lukewarm interest in bringing
Chase Headley
back. Or, in other words, enjoy
Alex Rodriguez
, Yankees fans! ... Could see the Yankees going after one of the Seattle shortstops,
Brad Miller
or
Chris Taylor
. Mariners could use some rotation depth, so maybe
Shane Greene
for Taylor makes sense, especially if the Yankees sign McCarthy and/or Kuroda. ... How many years left on that
Mark Teixeira
contract? ... Any chance for a
Carlos Beltran
comeback at 38? Steamer projects a .261/.325/.440 line with 23 home runs. ... Steamer also foresees a similar improvement from
Brian McCann
, from a 92 wRC+ to 111. That would certainly help an offense that ranked 13th in the AL in runs scored. ... The last time the Yankees offense ranked that bad was 1990, when they were last in the league in runs. Jesse Barfield and Roberto Kelly were the only guys to drive in 50 runs that year. ... In the end, I think
David Robertson
returns to pinstripes.
Toronto Blue Jays:
With
Jose Bautista
and
Edwin Encarnacion
still providing top-level offense, it makes sense for the Jays to go in all-in with Bautista still under contract for two more seasons. Remember when many thought the Jays overpaid for Bautista at $14 million per season? ... I think the Jays need to bring Melky Cabrera back, in part to get a left-handed batter alongside Bautista, Encarnacion and
Russell Martin
. ... It's asking a lot to expect
Dalton Pompey
to be the starting center fielder, considering his lack of experience above Class A. Steamer projects Pompey to hit .238/.296/.353. ... Dalton Pompey: That has to be a top-five name. Do the Jays play the Dodgers this year? Vin Scully would make that name sing. ... I'm buying big-time on
Marcus Stroman
and also expect
Drew Hutchison
to have a better season. Hutchison's strikeout rate was good so, so if he can cut out a few home runs, he looks like a solid mid-rotation starter. ... I'd be tempted to leave
Aaron Sanchez
in the bullpen. He dominated there when called u, while when he started in the minors his control problems were a big issue. But he walked just nine in 33 innings (and allowed only 14 hits) pitching in relief with Toronto. He could be a huge weapon as a middle-innings reliever, or a potential closer to replace Casey Janssen. ... The Jays have reportedly discussed
Jay Bruce
, or thought about going after Bruce, but Bruce apparently has a no-trade clause that includes Toronto. ... Good luck with
Justin Smoak
. ... What about Chase Headley at third base? They could slide
Brett Lawrie
over to second, although Devon Travis may be ready to take over there at midseason. ... Toronto may shop
Dioner Navarro
now; I have to think a team like the Dodgers would be interested. ... It still feels like the Jays have one more big move coming, whether it's Melky, a pitcher or another bat.
Tampa Bay Rays:
Don't count out a bounce-back into contention from the Rays, although I do think losing Joe Maddon was a significant blow. ... They need
Evan Longoria
to be Evan Longoria after he dipped to a career-worst .253/.320/.404 line. Steamer sees some improvement but not back to his previous level of performance. ... The Rays scored 612 runs, lowest in the AL, but here's one reason to expect improvement: Their component statistics indicate an offense that should have scored 650 runs. ... In various splits, Tampa Bay's worst OPS figures came with runners at second and third and with the bases loaded. ... Goodbye,
Jose Molina
, your pitch framing will be missed but not your "bat." ... Don't sleep on
Drew Smyly
, who had a 1.70 ERA in seven starts after coming over from Detroit. He's not THAT good, of course, but he should line up nicely in the rotation behind
Alex Cobb
and
Chris Archer
. ...
Brad Boxberger
and
Jake McGee
ranked third and 12th in the majors in strikeout rate for relievers (minimum 40 innings), giving Tampa a dominant 1-2 punch out of the pen. ... The Rays could trade
Matt Joyce
, slide
Ben Zobrist
back to the outfield and give
Nick Franklin
a chance at second base. ... Remember Wil Myers? The more I look at the Rays, I believe they can get back in the playoff hunt, especially if
Matt Moore
can return and help out and Myers forgets about a lost 2014 and has a big season. ... Kevin Cash, Don Wakamatsu or
Raul Ibanez
for manager? No doubt that Ibanez would be the gutsy choice, but sounds like Cash is the favorite. He was on Terry Francona's staff in Cleveland the past two years.
Boston Red Sox:
Think the Red Sox will do anything interesting this offseason? ... While it seems a foregone conclusion that
Yoenis Cespedes
will be traded, I guess you could keep him to play right field and use
Mookie Betts
as a super-utility guy. ... That would still leave
Mike Napoli
,
Allen Craig
and/or
Daniel Nava
as potential trade bait. ... Cespedes would bring the most back, although I can't see Seattle giving
Hisashi Iwakuma
for him. ... Are the Red Sox the best team in the East if they sign
Jon Lester
and trade for
Cole Hamels
? Not so sure about that. Boston won 71 games; if
Pablo Sandoval
,
Hanley Ramirez
, Lester and Hamels are all five-win upgrades, that's 91 wins. Except that Lester is, in part, replacing himself, so that's not a five-win upgrade. Plus, they've lost John Lackey's starts, and Hamels would be changing leagues and out of the weak NL East, where he faced several subpar offensive teams. And Sandoval is more like a three-win player. ... In other words, I still think there is work to do even if they land both Lester and Hamels. And that's not counting on any regression from
David Ortiz
, who is going to get old one of these years. ...
Clay Buchholz
did have a 4.01 FIP compared to his 5.34 ERA, so maybe he's a good bet to do better than 8-11. Or he may not make anything close to 28 starts again. ... Love Mookie. Kid is going to be a star. No, they're not including him in a trade for Hamels, so stop dreaming, Phillies fans. ... Have to think they'll get a lefty reliever. Maybe
Andrew Miller
returns? ...
Rusney Castillo
, can't wait to see what you can do with 500 at-bats. ... Yes, I still believe in
Xander Bogaerts
. No, I don't think he'd be included in a Hamels trade either.
November, 26, 2014
Nov 26
12:12
AM ET
By
Kyle Brasseur
| ESPNBoston.com
At his introductory news conference after signing with the
Boston Red Sox
,
Hanley Ramirez
expressed excitement about rejoining the organization he began his pro career with.
[+] Enlarge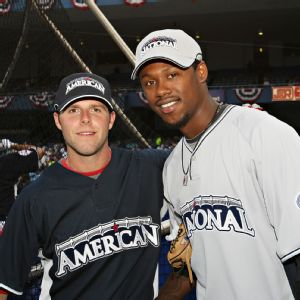 Rich Pilling/MLB Photos/Getty ImagesDustin Pedroia and Hanley Ramirez, then with the Marlins, were opponents at the 2008 All-Star Game.
"It's been a while," Ramirez said Tuesday. "I remember '05 when I got traded I was really upset. ... [But] it worked out for both of us -- you guys won a couple of world championships. I haven't won any, but that's what I'm here for. I'm a new player, I'm a new person."
Ramirez added that his desire to return to Boston contributed to his willingness to change positions and play left field at Fenway, saying, "This is home for me."
The former Marlins and Dodgers shortstop added, "[Monday] was the ninth anniversary of the day that I got traded. I wanted to post something so bad but I couldn't do it. But I'm really happy to be back in Boston and hopefully I can finish my career here."
Ramirez also said he appreciated Red Sox second baseman
Dustin Pedroia
reaching out to welcome him to Boston.
"I've got this guy today calling me," Ramirez said. "I don't know if you guys know him, his name is Dustin Pedroia. He called me and he was all over me. He just said, 'Congratulations and get everything together. I've got two rings, you don't have any and I want some more.' Those little things pump you up and you try to be better every day."
Ramirez also joked about his relationship with Sox DH
David Ortiz
.
"I don't know that guy," he said. "David, he's like my big brother. He's texting me pretty much every day and telling me what I've got to do, what I've got to change. I think he's part of my success in the big leagues. ... I can't wait to be on the same team with him. It's going to be great."
November, 25, 2014
Nov 25
11:25
PM ET
BOSTON -- Others may look at the $183 million in guaranteed money the Red Sox invested Tuesday in free agents Pablo Sandoval and Hanley Ramirez and fret about the risk.
Red Sox principal owner John W. Henry, whose own money is on the line, is not among them.
"I think the risk of doing nothing was much larger," said Henry, who attended both ends of the matinee/evening news conferences the Sox held Tuesday to introduce their newest additions.
[+] Enlarge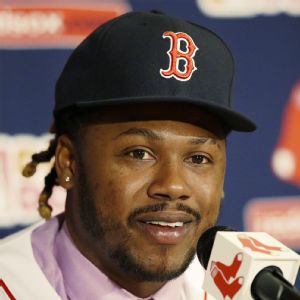 AP Photo/Stephan SavoiaHanley Ramirez's average annual salary of $22 million matches the highest ever handed out by the Red Sox organization.
"The risk is avoiding free agency. You can't put together a winning ballclub just through the minor league system. To me that would be really risky."
Henry was asked about the worst-to-first-worst odyssey the club has been on in the past three seasons.
"If we can win the World Series every other year and finish last every other year, I'd take that," he said. "It has been a roller coaster, I can't deny that, but when you have a bad year, like you did this year, just like in 2012, you're determined to rebuild quickly, and I think Ben [Cherington] has taken tremendous steps to do that."
Henry took exception to framing the signings of Sandoval (five years, $95 million, with a $17 million club option for a sixth year) and Ramirez (four years, $88 million, with a vesting option of $22 million for a fifth year) as the Sox embarking on a different financial course than he had articulated earlier this year. In an interview with Business Week that enjoyed wide circulation, Henry had spoken of the Sox not having participated in a "feeding frenzy of bidding up stars" and the way teams "extravagantly overpay for players above the age of 30."
And yet on Tuesday, the Sox awarded the third- and fourth-largest free-agent contracts in their history (total dollars) and are paying Ramirez, who turns 31 on Dec. 23, an average of $22 million, matching Adrian Gonzalez for the highest average salary in club history.
"That was really overblown because of one comment quoting a study that says more about the structure of major league compensation," Henry said Tuesday. "Players aren't compensated that well in their 20s. They have to get to free agency. Almost by definition, you're going to get more bang for your buck when a player is in his 20s. That's just the way the structure is set up.

"That doesn't mean you're not going to go out and sign 30-year-old players. You can't win unless you engage in free agency. We've always engaged in free agency, and after the '12 season and '14 season we had such flexibility during the offseason, we went into the free-agent market both times, I think, for 30-year-olds.
"I don't see it as a departure. I understand, because so much was made out of it, as if we were never going to have a long-term contract, we're never going to go sign a 30-year-old. I thought that was a little much to assume."
Henry seemed to draw a distinction between these signings and the 2010 deal for Carl Crawford (seven years, $142 million) and the trade for Gonzalez, who subsequently signed a seven-year, $154 million contract.
"You don't necessarily want to go crazy in free agency with long-term huge contracts," he said. "We've gotten burned doing that. These deals made sense to us, especially at this point. It gives us tremendous flexibility."
Henry lauded general manager Cherington for doing a "tremendous job" landing the players considered the top two bats on the free-agent market, especially this early in the offseason. That will enable Cherington, he said, to focus on pitching.
Asked what assurances he had that the new players will perform up to expectations, he said:
"I don't get any assurances. I thought today, in listening to both and talking to both one-on-one, they were really happy to be here. I think they really have respect for the organization, have talked to players in the organization and are looking forward to the clubhouse dynamics."
November, 25, 2014
Nov 25
10:45
PM ET
By
Kyle Brasseur
| ESPNBoston.com
BOSTON -- After the signing of third baseman
Pablo Sandoval
and left fielder
Hanley Ramirez
,
Boston Red Sox
general manager Ben Cherington said Tuesday that the team will shift the majority of its offseason attention to adding more pitching help.
Cherington also noted that the team is still looking for a backup catcher, with
David Ross
vacating that role as a free agent.
[+] Enlarge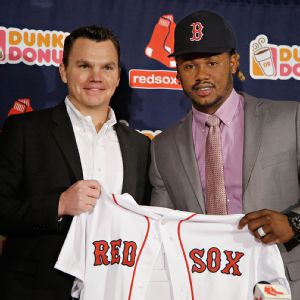 AP Photo/Stephan SavoiaAfter Ben Cherington introduced Hanley Ramirez on Tuesday, the Red Sox GM said he will now turn his attention to addressing the team's need for pitching.
"We're looking to add to the rotation and we're still working on that," Cherington said. "We're confident we'll be able to, we don't know yet what form that will take, but we're now probably more focused on that side of the ball than we are on the position player side of the ball so we'll see what comes to us."
As it stands, the Red Sox's rotation is anchored by
Clay Buchholz
and
Joe Kelly
, with younger options in
Rubby De La Rosa
,
Anthony Ranaudo
,
Allen Webster
and
Brandon Workman
as possibilities to fill out the back end. Each of those four pitchers spent significant time in the major leagues last season, but without truly proving deserving of a rotation spot heading into next year.
In addition, Buchholz and Kelly each endured rough patches last season as well, leaving the entire composition of the rotation seemingly up in the air. The bullpen, while possessing several strong options, is also expected to see some additions during the offseason.
"I think we felt like we could look at a pretty broad array of options on the pitching end even before today," Cherington said. "I think we feel we're in a strong position to pursue all sorts of pitching options, either through trade or free agency. We have a little better idea than we did at the GM meetings as to what those possibilities are but we're also not on the doorstep of anything. I'm sure we'll spend a lot of time over the next couple of days and into the winter meetings working on that."
Since the start of the offseason, the Red Sox have been most often linked to a reunion with free agent pitcher
Jon Lester
, who spent nine years in Boston before being traded to the
Oakland Athletics
at the July 31 deadline last season. While reports have many teams in the mix for Lester's services, the Red Sox are believed to be one of his top suitors.

"I can't really add any more substance," Cherington said when asked of the status of the team's pursuit of Lester. "We're interested. We have great respect for him. He's in free agency, he's got an opportunity to hear what other teams have to say too and he's going through that process. We're going to be respectful of that process and hope to continue to be involved in that process. Other than that, that's really all I can say."
Red Sox manager John Farrell was also asked Tuesday about the pursuit of their former ace.
"I'm sure there's a lot of teams that have a lot of interest in him, and deservedly so," Farrell said. "Confident that we're making every attempt internally here. The hope would be to get him back here. We'll get a better read on that in the coming weeks."
Even if the Sox were to add Lester or another starter, Cherington didn't shy away from the idea of adding more arms to the rotation via free agency or a trade. Other possibilities include top free agents
James Shields
and
Max Scherzer
, and/or a trade for the
Philadelphia Phillies
'
Cole Hamels
, a popular name being tossed around the trading block.
"We know we have to add to the rotation and we're looking at all sorts of ways to do that," Cherington said. "Probably depends a little bit on who the first guy is and how it comes together. We've got to build a rotation and sometimes you can do it different ways. We've got to get into it and see what the first domino is to fall."
The addition of Sandoval and Ramirez indicates that a trade could be on the way for the Red Sox, most likely involving outfielder
Yoenis Cespedes
. While Cherington said he feels the team doesn't necessarily have to make a trade, he acknowledged that more changes could still be coming this offseason, regardless of the team's nearly $200 million investment in their two offensive additions.
"I think [the signings] increases the likelihood that we will [make a trade]," Cherington said. "There's a way to make it all fit but it probably increases the likelihood that we do. We'll just see what's available to us. We've had a lot of interest in our guys already, we'll see what comes now that these moves have been made.
"Part of our offseason planning in October, we had a good sense of where we were, what we needed [and] what we were going to be able to do. The payroll is something that is not a static thing. Whatever it looks like on Thanksgiving is not necessarily where it ends up and it can go either way. A lot can happen this offseason, a lot can happen during a season to move that in either direction. We feel that we are in good position and not restricted in pursing the things that we need to pursue to add to the pitching staff and put together hopefully a complete team, or a much more complete team, by the time we get to spring training."
November, 25, 2014
Nov 25
9:28
PM ET
[+] Enlarge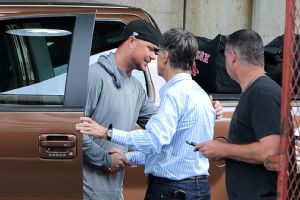 Barry Chin/The Boston Globe/Getty ImagesRed Sox owner John Henry, seen here saying goodbye after Jon Lester was traded to the A's, said a large part of the team's presentation to the free agent focused on "finishing that legacy he started."
BOSTON -- Boston Red Sox principal owner John W. Henry said Tuesday that the team remains "hopeful" of re-signing pitcher Jon Lester and indicated a willingness to exceed the $189 million luxury tax threshold as part of that pursuit.
"The way it's structured, you can blow through [the threshold] one year,'' Henry said. "Again, for next year we have tremendous flexibility, so we could go through for one year. It would not overly affect us [trying to re-sign Lester], but we're hopeful.''
The Sox owner left no doubt that the homegrown Lester remains the team's No. 1 target.
"Obviously we're doing everything we can to sign a top-tier pitcher, Jon Lester,'' he said. "And hopefully he'll come back.''
Lester has already met with three teams-the Sox, Cubs and Atlanta Braves, and had trips planned to other clubs. ESPN.com's Jim Bowden said the San Francisco Giants, who lost out on Sandoval, are arranging a meeting with the left-hander.
November, 25, 2014
Nov 25
4:44
PM ET
BOSTON -- Red Sox manager John Farrell raised the possibility that
Yoenis Cespedes
could open the 2015 season as the team's center fielder, even as Cespedes looms as a potentially valuable trading chip in Boston's efforts to acquire starting pitching.

Cespedes played left field after his July trade from Oakland, the Sox quickly abandoning their stated intentions of shifting him to right. But with the Sox adding
Hanley Ramirez
with the intention of moving him to left field, shifting Cespedes is back on the table, according to Farrell, who said he spoke with the Cuban slugger by phone on Monday.
Cespedes played center field in Cuba, and of the 102 games he played for Oakland in his first season in the major leagues, he started 46 in center field. In all, he has made 65 starts in center, three in 2014 with the Athletics. Cespedes, who has one of the strongest outfield arms in the game, had problems adjusting to the Fenway Park wall, and some talent evaluators have said he is a better center fielder than a corner outfielder.
However, the Red Sox already have two plus defenders in center field:
Rusney Castillo
, who like Cespedes played center field for the Cuban national team, and
Jackie Bradley Jr
., who was a finalist for the Gold Glove. Another strong candidate to play center is
Mookie Betts
, even though he was exclusively an infielder until last season. Betts made a pretty seamless transition to the outfield, though his lack of experience is obvious compared to Bradley and Castillo, but was an offensive force after his call-up from Pawtucket, posting an .812 OPS in 52 games.
"What remains throughout the offseason is an interesting proposition,'' said Farrell, who sat in the background during the press conference announcing
Pablo Sandoval
's signing. "But when you consider Hanley in left, Yoenis in either center or right, you begin look at a number of power bats at a number of different positions. This is an outstanding lineup.''
Farrell said that he was encouraged by Ramirez's willingness to move from short to left field, even though his only outfield experience is limited to a handful of games in winter ball. His athleticism should make it an easy transition, he said. Cespedes expressed a similar willingness to move, he said.
"I had a chance speak to him yesterday,'' Farrell said. "He's just eager to do whatever is needed by the team. He's showing he's a complete team player. We're excited to have his versatility at our disposal, whether it's center or right.''
The team's right-fielder in 2013,
Shane Victorino
, is back for the final year of his contract after undergoing back surgery. The Sox also have
Allen Craig
and
Daniel Nava
in the outfield mix.
When asked how the Sox would address their pitching needs, Farrell noted that the Sox are only in the early stages of the offseason, and reiterated his hopes that the Sox are able to re-sign free agent left-hander
Jon Lester
.
November, 25, 2014
Nov 25
3:51
PM ET
Associated Press
SAN FRANCISCO -- Tim Flannery is ready to leave the baseball grind and play a little more music.
On the day Pablo Sandoval finalized his contract with the Boston Red Sox, Flannery announced he is retiring from the San Francisco Giants, who lost their third base coach in addition to their third baseman.
"The grueling grind, the schedule, the demands have taken a toll, and I feel it is the time to step off the highway and heal. This baseball life is a blessing, but collateral damage comes with it," Flannery wrote, noting he looks forward to increased family time.
Flannery wrote on his band's Facebook page, Tim Flannery and Lunatic Fringe, that he spoke with general manager Brian Sabean and manager Bruce Bochy on Tuesday and they "shared some tears together."
Flannery was an animated coach who danced along the baseline and emphatically twirled his arm to send runners
"With a heavy heart I want to say something. I left everything nine years ago to chase a dream," Flannery said. "I left my home, my family, to follow my leader, and friend Bruce Bochy, to fight another battle, to try and bring a world championship to San Francisco."
Flannery noted, "I have no dreams of managing."
The 57-year-old Flannery had been on Bochy's coaching staff dating to their San Diego days, and they moved to San Francisco together in 2007.
"After 30 years of playing and coaching with Flan, I certainly am going to miss him," Bochy said. "We've gone down a lot of roads together. I'm sure he's making the right decision for himself and his family. I know he influenced and impacted a lot of players with his knowledge and enthusiasm. I'm grateful for his contribution and friendship. I wish him all the best."
November, 25, 2014
Nov 25
2:34
PM ET
The Red Sox rolled out the red carpet -- and the panda paraphernalia -- for
Pablo Sandoval's introduction at Fenway Park
on Tuesday afternoon.
The team welcomed the man (and third baseman) known as Kung Fu Panda with a message on the Fenway JumboTron, a locker with a panda poster, and the ultimate photo op: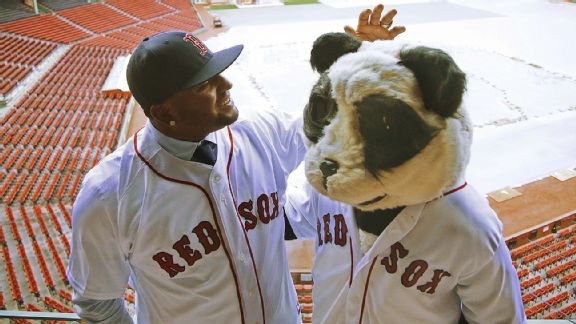 AP Photo/Stephan Savoia
At his introductory news conference, Sandoval was (of course) asked whether he would keep his moniker even though he switched teams. His answer was a marketer's dream:
"Ben [Cherington] knew when he signed me it's a two-for-one deal," he said with a smile. "The Panda is with me. He came to Boston."
The scene at Fenway pic.twitter.com/tADejhqGhu

— Kyle Brasseur (@KyleBrasseur) November 25, 2014
New addition to the clubhouse =<. Yup, this locker works. Welcome @KFP48! pic.twitter.com/NbyAJPAdix

— Boston Red Sox (@RedSox) November 25, 2014
November, 25, 2014
Nov 25
11:47
AM ET
BOSTON --
Boston Red Sox
fans are crying foul over an innocuous tweet that the team acknowledges was ill-timed.
The Red Sox tweeted: "So how was everyone's Monday?" The tweet went out a minute after a Missouri prosecutor announced a grand jury decided not to indict a white Ferguson police officer in the death of Michael Brown, an unarmed black 18-year-old.
Hundreds of people pounced, accusing the Sox of being out of touch with a seminal national event.
The franchise deleted the tweet immediately. On Tuesday, Red Sox spokeswoman Zineb Curran said the team's "hearts go out to all who are suffering."
Earlier this month, the New England Patriots apologized after sending out a tweet that thanked a follower with a racist Twitter handle.
November, 25, 2014
Nov 25
12:45
PM ET
ESPN.com news services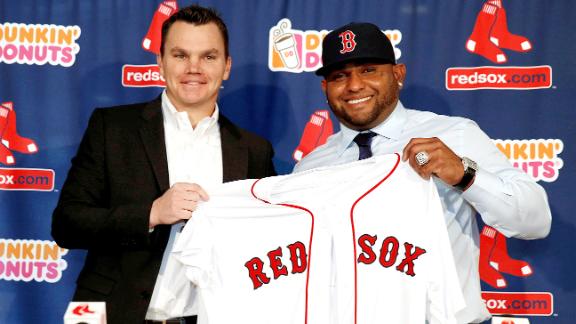 BOSTON -- Pablo Sandoval and Hanley Ramirez spent the past two seasons as NL West rivals. Now they're teammates, signing with the Boston Red Sox as free agents to try to boost Boston out of the AL East cellar.
"It's exciting for me to be with Hanley and David Ortiz," Sandoval said Tuesday, adding that the trio has already been dubbed the "Three Amigos."
Sandoval's deal -- a five-year pact for $95 million with a $17 million club option for a sixth year (or a $5 million buyout), a major league source told ESPNBoston.com -- was finalized Tuesday morning.
The Red Sox announced Ramirez's four-year deal later Tuesday.
"David, he's like my big brother," Ramirez said. "He's texting me pretty much every day and telling me what I've got to do, what I've got to change. I think he's part of my success in the big leagues ... I can't wait to be on the same team with him. It's going to be great."
Sandoval helped the Giants win three championships, earning the World Series MVP in 2012 and the nickname "Kung Fu Panda" that helped cement him as a fan favorite.
"I want a new challenge. I need a new challenge," he said Tuesday during a Fenway Park news conference. "I know that I had a great career in San Francisco. But I'm going to have a new one here."
Sandoval helps fill a hole in the Red Sox's lineup for a third baseman and a left-handed bat. Ramirez, who played shortstop and a little third base with the Marlins and Los Angeles Dodgers, will be the team's left fielder.
November, 24, 2014
Nov 24
10:09
PM ET
While the Red Sox will introduce Hanley Ramirez and Pablo Sandoval at a press conference Tuesday at 1 p.m., David Ortiz sent out a tweet Monday night welcoming the pair to Red Sox Nation:
Welcome to #RedSoxNation @HanleyRamirez @KFP48.....bout to give pitcher nightmares!!!! pic.twitter.com/nVmpMlvyyH

— David Ortiz (@davidortiz) November 25, 2014
And Sandoval himself checked in on his future teammate on Instagram:
November, 24, 2014
Nov 24
8:10
PM ET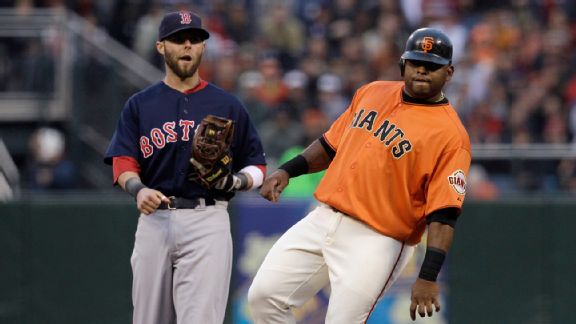 AP Photo/Jeff ChiuPablo Sandoval will be joining Dustin Pedroia this coming season in Boston.
The
Boston Red Sox
produced all these position-player prospects, and the moment most of them were ready for the majors they have now gone and signed two of the best free-agent position players on the market,
Hanley Ramirez
and now
Pablo Sandoval
. I'm not even sure it's a bad move, but it is awfully strange.
Too much
coverage of Sandoval
focuses on his weight, when his skill set, while uncommon today, makes him a valuable player most of the time. He has great bat speed and plate coverage, rarely striking out and using the whole field well, just not hitting for the power we expect from most third basemen. He's an average to slightly above-average third baseman, with fringy range but good hands and a plus arm.
The difference between him and a star-caliber player