December, 4, 2013
Dec 4
9:15
PM ET
BOSTON -- During a media conference call in which new Sox catcher
A.J. Pierzynski
was introduced, Red Sox general manager Ben Cherington said that while the team would have "loved" to have kept
Jacoby Ellsbury
, "we felt there was an area, a range we were willing to go to. The market just got past that."
Which raised an interesting question: Sources on both sides of the Ellsbury negotiations said the club was willing to go to six years for Ellsbury at a figure less than $120 million. Assuming that is accurate, would the Sox then be willing to go six years for, say, Dodgers outfielder
Matt Kemp
, the former MVP who has six years and $128 million left on his contract but has been hurt each of the past two years? Especially if the Dodgers took back some money?

The Sox and the Dodgers already have one megadeal under their belts, the August 2012 trade that sent
Adrian Gonzalez
,
Carl Crawford
and
Josh Beckett
to the Dodgers and allowed the Sox to reboot their franchise. The lines of communication between ownership and general managers on both sides are excellent. The Red Sox have made inquiries, and if they are convinced that Kemp can approach the talent level he displayed when healthy, they might try to find another match with Kemp. Just as they
haven't ruled out
taking a run at free-agent outfielder
Curtis Granderson
, even as the Mets loom as the prime contender for his services.
For now, Cherington said, he doesn't feel any obligation to discuss what the team will look like in 2014 because he is still in the process of assembling that team. At the moment, sure, he said, rookie
Jackie Bradley Jr.
could succeed Ellsbury in center field.
"Certainly, we feel really good that we have some in-house alternatives," Cherington said. "One is Jackie Bradley Jr. That doesn't mean we wouldn't add an outfielder. It doesn't mean we wouldn't add a player at another spot.
"We're not going to talk about what the team will look like on Opening Day, because we don't have to. There's still time. We're going to continue to work through options, pursue ways to make the team better. We feel fortunate Jackie is in our organization. We'd feel very good if he's playing center field if that's the way it works out."
Those decisions are still to come, as well as dealing with the club's No. 1 priority of re-signing
Mike Napoli
and possibly welcoming back
Stephen Drew
if he doesn't find the multiyear riches that seemed a given a month ago, leading one baseball source to say the Sox were out of the Drew picture.
[+] Enlarge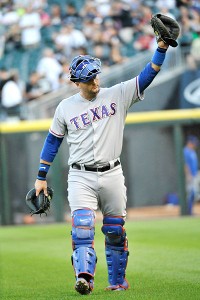 David Banks/Getty ImagesThe Red Sox are the fifth team for A.J. Pierzynski, who has also played for the Rangers, White Sox, Giants and Twins.
What is already a reality, though, is the fact that the Sox have a new catcher in Pierzynski, who spent this past October in a Fox broadcast booth but at 37 said he was drawn to Boston for the chance to win another World Series, an experience he has known once in his career, back in 2005 with the White Sox.
Pierzynski said he had multiyear offers from other clubs. The Twins, a team on which he was teammates with
David Ortiz
, were reported to have taken a run at him. There were other clubs, too, he said.
"In the end, it came down to wanting to come to Boston," he said. "Obviously, it's not every day you get a chance to play for the defending World Series champion, and looking at the organization and looking at what they've got coming back, they definitely have a chance to win again. I've won once, and once you've won, you want to try and do it again."
Cherington said Pierzynski, besides being a "very good everyday catcher," also shared the kind of qualities the Sox had sought in last year's free-agent class -- guys who can handle this environment, love to play and are winners.
Pierzynski said he canvassed former teammates, including Ortiz and
Jake Peavy
, about playing here. During a recent family vacation in Hawaii, he ran into another former teammate,
Mark Kotsay
, who urged him to sign with the Red Sox.
"Look, I'm just trying to fit in," said Pierzynski. "Last year, going to Texas, I thought I felt I fit in pretty well. The clubhouse [here] is great. There are guys I've known. I know [Shane] Victorino. I've known
Jonny Gomes
for a long time. Everything says they want to win. That's what I want to do. It shouldn't be that hard to fit in.
"This isn't my team. This is David Ortiz's team,
Dustin Pedroia
's. I'm just a piece trying to help them win again."
December, 4, 2013
Dec 4
5:14
PM ET
ESPNBoston.com
Newly signed Boston Red Sox catcher A.J. Pierzynski said Wednesday he passed up multiyear offers to sign a one-year deal with the World Series champs because he thought it afforded him his best chance at another ring.
"It was impossible to say no," Pierzynski told reporters on a conference call to announce his deal. "In end, winning won out over everything."
The deal, which was first reported Tuesday, is worth $8.25 million.
"In the end it came down to wanting to come to Boston," he said. "Obviously, it's not every day you get a chance to play for the defending World Series champion, and looking at the organization and looking at what they've got coming back, they definitely have a chance to win again. I've won once, and once you've won, you want to try and do it again."
A two-time All-Star, Pierzynski will take over for switch-hitting Jarrod Saltalamacchia, who agreed to a three-year, $21 million deal with the Miami Marlins on Tuesday at about the same time the New York Yankees pried outfielder Jacoby Ellsbury away from their rivals with a seven-year, $153 million deal. Saltalamacchia had been a solid catcher in Boston, but his last play in a Red Sox uniform was the ill-advised throw to third base that led to the obstruction call against Will Middlebrooks, which gave the St. Louis Cardinals a victory in Game 3 of the World Series.
December, 4, 2013
Dec 4
2:47
PM ET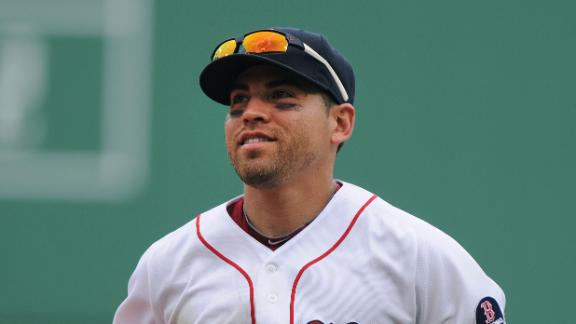 Looking for a free agent who fits the profile the Red Sox found so appealing last winter when they signed veterans Shane Victorino, Mike Napoli, Stephen Drew and Ryan Dempster?
Ben Cherington doesn't have to invent a player who fits that bill: winning background, strong skill set, looking to rebound from an off-year, big-market tested, outstanding clubhouse presence, perhaps open to taking shorter years for more dollars per year. There's already one on the market.
While a free agent such as Shin Soo-Choo will get the long-term deal he is seeking, which eliminates him from the mix, and Carlos Beltran's age (37 in April) makes him a high risk for a three-year deal, Curtis Granderson satisfies all of the criteria that topped Cherington's shopping list last season.
"You can't rule him out,'' one Red Sox source said of Granderson on Wednesday in the aftermath of Jacoby Ellsbury's departure to the New York Yankees.
Before anyone gets too excited, if Granderson gets a guaranteed fourth year from another club, such as the New York Mets, who appear to be making a strong push to sign him, then the Sox probably will be out on him.
December, 4, 2013
Dec 4
2:40
PM ET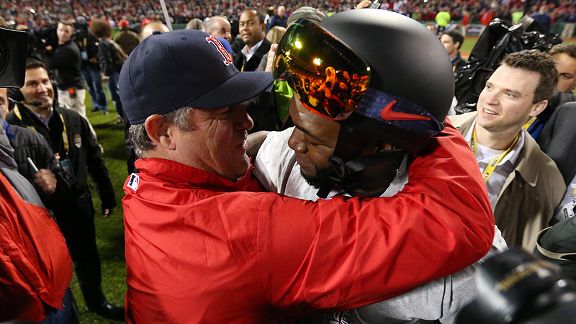 Rob Carr/Getty ImagesThe goggles and helmet worn here by David Ortiz could be yours -- if you're willing to splurge.
Just days after the shavings from his beard sold for charity for almost $11,000, World Series MVP David Ortiz is auctioning off the goggles and helmet he wore during the Red Sox championship celebration.
Both items, which are signed by Big Papi, are included in the David Ortiz Children's Fund auction, which is part of his annual Charity Golf Event in the Dominican Republic. The online bidding started at 12 a.m. Monday and will run to 7:30 p.m. Dec. 14, when the highest online bidders for each item will become the starting bidders at a live auction at the golf event.
The starting online bid for each item? Only $1,000.
For more information, click
HERE
.
December, 4, 2013
Dec 4
2:31
PM ET

Talks between the
New York Mets
and
Curtis Granderson
have been ongoing
since the free agent met with general manager Sandy Alderson over the weekend. One of the potential hurdles to an agreement for Granderson, thus far, appears to be the outfielder's desire for a four-year deal, rather than the three years that most teams seem to be willing to offer.
To continue reading this article you must be an Insider
December, 4, 2013
Dec 4
1:30
PM ET
After a slow start to the hot stove season, the moves have been fast and furious over the past few days. The annual winter meetings, where many deals are traditionally struck, begins Monday in Orlando. Before flying south this weekend, ESPNBoston.com Red Sox reporter Gordon Edes will answer your Red Sox questions in a winter meetings mailbag on Friday.
Submit your questions now
and check back Friday for the mailbag.
December, 4, 2013
Dec 4
10:30
AM ET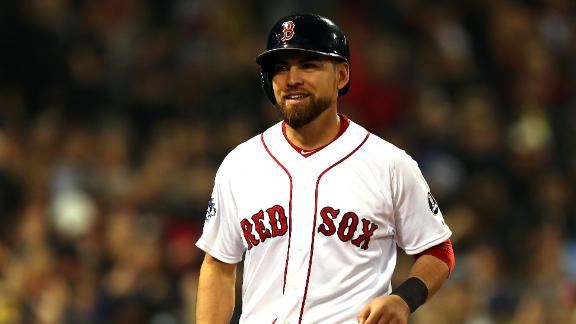 The Yankees are back, as glorious and evil as ever! What writers are writing about the Yanks signing
Jacoby Ellsbury
away from the Red Sox:
Ian O'Connor, ESPN New York
:
So the Yankees made two monster deals, with more to come, after scaring their fan base to death with so much talk about payroll restraint this offseason. "People forgot," the source said, "that $189 million would be the second-highest payroll in baseball."

It's good to be a Yankees fan, even in bad times. They missed the playoffs last year for only the second time since the players' strike of 1994, and attendance and TV ratings took a significant hit when A-Rod and Derek Jeter were nowhere to be found. Worse yet, the Red Sox won it all for the third time since they humiliated their blood rivals with their deferred sweep in the 2004 American League Championship Series, putting the parade count at 3-1 in favor of Boston since that historic series.

The Yankees responded the only way they know how: the Steinbrenner way. With George gone, son Hal had to show he has some of the old man's fire in his own belly.
Ken Davidoff, New York Post
:
Could one brain-melting deal beget another?

Or to put it another way: Many baseball folks began November thinking Robinson Cano would remain a Yankee and Jacoby Ellsbury would wind up a Mariner. Did some wires cross somewhere over the mainland?

For with Ellsbury set to arrive in New York on Wednesday for his physical, after essentially agreeing to bolt the Red Sox for a stunning, seven-year, $153-million contract with the Yankees, Cano departing The Bronx for the Pacific Northwest seems like more of a possibility than it did 24 hours ago.

After all, if there's one subject on which we're most certain the Yankees aren't bluffing, it's that they intend to get their 2014 payroll under $189 million. And with Ellsbury set to draw such a huge paycheck and the Yankees still in need of two starting pitchers, their threat to stick at seven years and $170-ish million for Cano seems more legitimate.
Gordon Edes, ESPN Boston
:
The Red Sox, according to sources close to negotiations, were willing to offer Ellsbury a six-year deal, with the dollars somewhere in the vicinity of $120 million. At one point in talks, they proposed a five-year, $100 million package.

Both proposals fell well short of what Ellsbury took from the Yankees, a deal reportedly worth seven years and $153 million that could expand to $169 million with a vesting eighth year. But the Sox are adamant they learned their lesson with Carl Crawford and Adrian Gonzalez and are adhering to limits, both in dollars and years.

They have known for some time that the market for Ellsbury would spin beyond where they would be willing to go and were prepared to face the consequences. They just wish those consequences had landed somewhere other than just 200 miles south, where the Yankees, in addition to adding Ellsbury, have a new catcher in Brian McCann ($85 million guaranteed) and still have designs on bringing back second baseman Robinson Cano and pitcher Hiroki Kuroda. Somehow, they're supposed to fit that all under the $189 million luxury tax threshold? On Yawkey Way, skeptics wait to see what kind of alchemy can pull that off.
Joe Sheehan,
from his newsletter
:
(B)ut the conclusions are consistent with what we've observed: the best players in baseball used to hit free agency in their primes more frequently than they do today. ...

You see the effects of modern front office strategies beginning with the 1981 cohort. Of that year's best players, only Carl Crawford was ever a free agent in his prime. Players like Curtis Granderson, Ben Zobrist and Carlos Zambrano were signed to long-term deals before they hit the market. For '82, you have only Robinson Cano. David Wright, Ian Kinsler, Adrian Gonzalez and Jered Weaver have never been free agents, nor will in their primes. None of the best players born in 1983 -- a monster group that includes Braun, Miguel Cabrera, Joe Mauer and Justin Verlander -- will be prime free agents. The top 1984 babies -- Ryan Zimmermann, Troy Tulowitzki and Jon Lester -- have all been locked up.

Let's run at this from one last direction. Eighty-three players have been worth at least 15 wins from 2009-13, inclusive. Of those, just 22 had reached free agency in their prime, with another 11 -- including Kershaw, Heyward, Trout, Max Scherzer and others -- possibly doing so in the next few years. That's about four to five players a season, and many of those aren't superstars. Raise the bar to 20 bWAR, and you get 33 players, just nine of whom were prime free agents, plus two (Kershaw and Trout) who might be. You can't build a team this way any longer -- you don't have access to the raw materials. (I'll reiterate my point about the 2013 Red Sox: their success was much, much more about the holdovers than the imports.)

Dave Cameron, FanGraphs
:

Carl Crawford's production is not Jacoby Ellsbury's fait accompli; it's one possible path of many. Every player's future is a probability distribution, bottoming out at completely and utterly useless. Every single player could turn into a total dud tomorrow. And every single player could actually play better in the future than they have in the past. There is no single example that represents the expected outcome for any other player, no matter how similar they might appear to be.

So, we have two options. We can either throw our hands in the air and say "who knows what the future will bring, sign anyone for whatever you want and hope for the best" or we can try to make educated guesses based on reasonable assumptions and decent amounts of data. Those decent amounts of data suggest that players like Ellsbury age well, even if Carl Crawford did not. That data does not support the idea that speed-and-defense players fall apart after they turn 30. If anything, the data suggests just the opposite, and says that big boned first basemen are the ones you should be really afraid of.
Michael Eder of It's About the Money takes a
detailed look at the Yankees' budget
and the likelihood the club will remain under the $189 million luxury tax threshold:
Current Budget Owed: $151.964MM

Current Budget Remaining: $37.036MM

So the Yankees still have $37 million left to figure out second base, third base, and the rest of their pitching staff. This obviously doesn't include Rodriguez. I don't think $189 million is happening.
Ben Lindbergh, Baseball Prospectus
:
When the Ellsbury contract is over, it's not going to look good, dollars-per-win-wise. Let's just note that up front, accept it, and move on, because you can bet than Brian Cashman already has.

When we rank general managers by how well they've deployed their dollars, the Yankees' GM consistently ranks near the bottom. But even if Cashman cares that his "Payroll Efficiency Rating" places him alongside front-office failures like Bill Bavasi and Steve Phillips, the sight of his five World Series rings (four earned as GM) probably eases the sting. For all we know, he daydreams about giving it all up for a team with an eight-figure payroll and making shrewd moves that people write books about, but he likes life as a Yankee enough to have suckled at the Steinbrenner teat for close to 30 years. In New York, there's no need to, say, sign a 38-year-old Jose Molina to catch because he offers the best bang for the buck, or to trade for Craig Gentry because he's more valuable than his traditional stats would suggest, and perhaps could even start someday. Cashman knows these things, but he doesn't have to settle for players with warts. He can throw money at the players who do all the positive things the ones with warts do, but also have perfect complexions.
Peter Gammons, Gammons Daily
:
Now, again, the Yankees stayed home and watched the Red Sox somehow beat the Tigers, then overcome the Cardinals and win their third World Series in a decade. They won 85 games, the fewest they'd won in a full season since 1992, or since George Herbert Walker Bush was president. All the while, they were in the news for every plot shift in NCIS ARod, and, $189M luxury tax threshold or no threshold, they realized this is not what the greatest franchise in sports is about, not when you are a Steinbrenner, not when your $2500 a seat fans and TV audience are used to something better than Jayson Nix, Luis Cruz and Chris Nelson.
December, 4, 2013
Dec 4
10:26
AM ET
By
ESPN Stats & Information
Jacoby Ellsbury
becomes the first major free agent to sign with the Yankees immediately after playing with the Red Sox since
Johnny Damon
following the 2005 season. Below is a list of notable Red Sox players to become Yankees, either via free agency or trade ... or purchase.
Babe Ruth: Purchased by Yankees from Red Sox (1919)
In December 1919, the Red Sox sold Babe Ruth to the Yankees for $100,000 after he hit a league-leading 29 homers. Over the next 15 seasons, he hit 659 homers with the Yankees, winning four World Series. The Red Sox would not win another title after the trade until 2004.
Sparky Lyle traded to Yankees (1972)
After five seasons as a reliever in Boston, Lyle was dealt to the Yankees prior to the 1972 season for two players. In seven seasons with the Yankees, he turned into a dominant closer and was the American League MVP in 1977.
Luis Tiant signs with Yankees (1978)
In the offseason following 1978, Tiant signed as a free agent with the Yankees after registering 122 wins and three 20-win seasons with the Red Sox. He pitched just two years with the Yankees, winning 21 games total.
Wade Boggs signs with Yankees (1992)

After spending his first 11 seasons with the Red Sox, including eight straight in which he was an All-Star, Boggs joined the Yankees after 1992. He spent five seasons with the Bombers, hitting .313 and helping them win the 1996 World Series.
Roger Clemens traded to Yankees (1999)
After 13 years with Boston and two with the Blue Jays, which included back-to-back Cy Young wins, Clemens was traded to the Yankees in a deal for
David Wells
. Clemens helped New York win the World Series in 1999 and 2000.
Johnny Damon signs with Yankees (2006)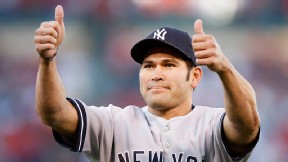 William Perlman/USA TODAY SportsThe Red Sox made him an offer, but Johnny Damon signed a more lucrative deal with the Yankees following the 2005 season.
One year after helping the Red Sox "break the curse" in 2004, Damon signed with the Yankees as a free agent for $52 million. Damon hit .285 and helped them win the 2009 World Series.
Kevin Youkilis signs with Yankees (2013)
After breaking into the majors with the Red Sox in 2004 and spending nine seasons with Boston, Youkilis was dealt to the White Sox during the 2012 season. The following winter, he signed a one-year deal with the Yankees. He played a career-low 28 games in 2013, hitting .219.
December, 3, 2013
Dec 3
11:58
PM ET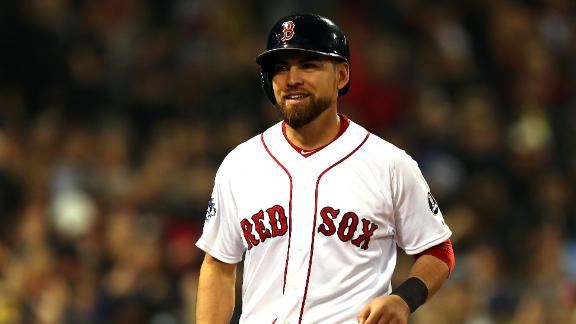 BOSTON -- Before you rummage through your closet in search of the "Looks like Jesus, Throws like Mary, Acts like Judas" T-shirts that were so the rage when Johnny Damon decamped for the Bronx seven years ago, take a deep breath and remember this: Jacoby Ellsbury will be wearing pinstripes next season because the Red Sox decided he wasn't worth what the market was willing to pay.
Nothing personal on the player's part. It's always about business. It was for Damon, too. But Ellsbury will have seven years -- and 19 times a season face-to-face -- to prove the Sox were wrong not to abandon the business model that worked so well for them last winter, and should have anted up the years and dollars it would have taken to keep him.
The Red Sox, according to sources close to negotiations, were willing to offer Ellsbury a six-year deal, with the dollars somewhere in the vicinity of $120 million. At one point in talks, they proposed a five-year, $100 million package.
Both proposals fell well short of what Ellsbury took from the Yankees, a deal reportedly worth seven years and $153 million that could expand to $169 million with a vesting eighth year. But the Sox are adamant they learned their lesson with Carl Crawford and Adrian Gonzalez and are adhering to limits, both in dollars and years.
December, 3, 2013
Dec 3
11:14
PM ET
Appearing on ESPN Radio's
"Sedano & Stink" show
,
Johnny Damon
, who preceded
Jacoby Ellsbury
as a big-name center fielder leaving the Red Sox to sign with the hated Yankees, said he's sure it was a tough move for Ellsbury, but that folks in Boston should be happy with Ellsbury since he helped bring two World Series titles to the city.
Asked about making the move from Boston to New York, Damon said, "When I was a free agent, I did not want to leave Boston, I left my heart and soul on the field, but unfortunately us players aren't the ones making those decisions. The owners are the ones who are paying us. They're running their team and they're running it the way that they want.
"Boston wasn't going to give [Ellsbury] more than four years, maybe. It's just the way they do things now.
"I think Jacoby's going to be great for New York. That porch is going to be very inviting for him."
In comparing playing in the two cities, Damon said, "New York's a little bit easier to play in because there's so much going on. New York always wants to try to get better and now I feel like New York has a chance to win.
"This kind of tells people they're trying to win right now."
December, 3, 2013
Dec 3
10:37
PM ET
By
ESPN Stats & Information
Anthony Gruppuso/USA TODAY SportsJacoby Ellsbury will be wearing a different jersey the next time he swings a bat in the Bronx.
The
New York Yankees
would not be left out of a busy Tuesday of baseball transactions.
Media reports have them signing center fielder
Jacoby Ellsbury
to a
seven-year, $153 million deal
.
What Ellsbury brings
Ellsbury's top attribute is his speed. He's led the American League in stolen bases three times, including in 2013 when he stole 52 in 56 attempts.
Ellsbury has only hit 10 or more home runs in a season once, but when he did so, he did in a big way, hitting 32 in 2011.
He should find the short porch of Yankee Stadium to be tempting. Of his 53 home runs in the last five seasons, 48 were hit to right or right center.
Ellsbury also rates as a high-caliber defensive player. The Yankees will have to decide between playing him or
Brett Gardner
in center field.
Last season, the two played almost the same number of innings at the position.
Ellsbury finished with 13 Defensive Runs Saved, sixth-best in the majors and seven more than Gardner.
Gardner has also shown that he can handle left field well. From 2010 to 2012, he led all leftfielders with 50 Defensive Runs Saved.
Yankees needed to bolster their offense
The Yankees posted a .683 OPS as a team in 2013. That ranked fifth-worst in the majors, barely ahead of the cross-town rival Mets (.672).
The Yankees had ranked in the top three in the majors in OPS in every season from 2009 to 2012.
Ellsbury had a .781 OPS in 2013. Fellow free agent signee
Brian McCann
was slightly better with a .796 OPS.
Primary concern: Injury risk
The key for the Yankees will be in keeping Ellsbury on the field.
Ellsbury finished with 8.1 Wins Above Replacement in 2011 and 5.8 WAR in 2013, but he missed nearly all of 2010 and more than half of 2012 due to injuries.
That's a lot of money
Ellsbury's seven-year deal would net him an average of $21.86 million per season. That's about a million dollars more than he made in total from 2008 to 2013.
He would be the fourth player to sign a free-agent deal with the Yankees that was worth more than $150 million, joining
CC Sabathia
,
Mark Teixeira
and
Alex Rodriguez
.
The only outfielders to get larger contracts than the total value of Ellsbury's are
Manny Ramirez
and
Matt Kemp
, each of whom signed eight-year deals worth $160 million.
Did You Know?
There are nine active players with at least 200 stolen bases and an 80 percent success rate on their steal attempts.
The signing of Ellsbury would give the Yankees, at least for the moment, three of them- Ellsbury,
Ichiro Suzuki
and Rodriguez. Brett Gardner could join that mix this coming season, as he enters with 161 steals and an 81 percent success rate.
December, 3, 2013
Dec 3
10:13
PM ET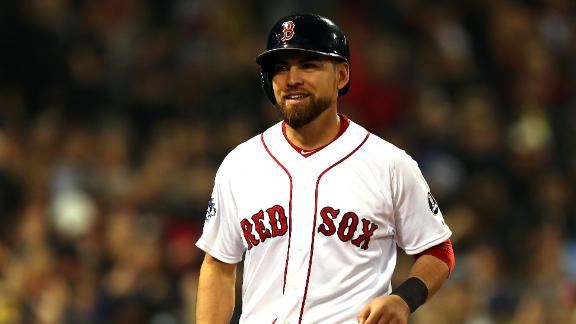 The
New York Yankees
'
seven-year, $153 million contract
with
Jacoby Ellsbury
, the second-best free agent available this offseason, seems shocking for its sheer size and for the fact that the Yankees already had a viable center fielder (
Brett Gardner
) on their roster.
But if Ellsbury can stay healthy even for most of the deal, it's actually quite reasonable, especially for a team on the verge of playoff status with the game's biggest revenue base.
Ellsbury has been good when he's been able to get and stay on the field, with an 8-WAR season in 2011 when he should have won the AL MVP award and a 5.8 WAR season (per both versions of the stat) in 2013.
To continue reading this article you must be an Insider