December, 9, 2013
Dec 9
10:30
PM ET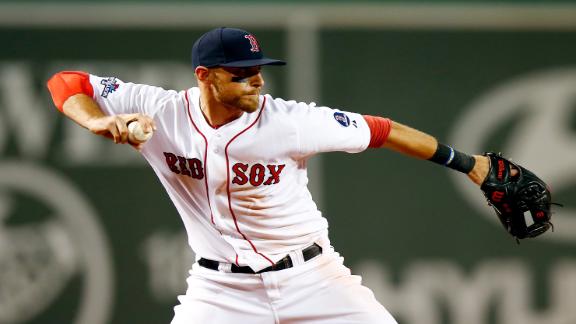 ORLANDO, Fla. -- Takeaways from the first official day of baseball's winter meetings in Disney World, where Red Sox general manager Ben Cherington wondered Monday if the whole industry was entering a period of a little "calm" after the frenzy of signings and trades last week:
•
As noted here
, talks have not advanced beyond the exploratory stage with the Dodgers on
Matt Kemp
, with one team source advising they're not likely to. Still, Kemp's agent, Dave Stewart, said "something's brewing" regarding his client.
Manager John Farrell said he has no qualms opening the season with rookie
Jackie Bradley Jr
. in center field, replacing
Jacoby Ellsbury
.
"Defensively, no question," Farrell said of Bradley's readiness to step in. "He showed us that every time he was on the field.''
With
David Ortiz
opening last season on the disabled list, Bradley Jr. made the club out of camp, only the second Sox rookie in the last 32 years to make the big leagues straight from Double-A. Seventeen days before his 23rd birthday, he became the youngest Sox outfielder to start on Opening Day since 21-year-old Dwight Evans in 1973, 40 years earlier.
Bradley, after walking three times, scoring twice and making a good catch in his big-league debut, struggled in his first big-league go-round, with just three hits in his first 31 at-bats, and when Ortiz came off the DL on April 18, Bradley was sent to Pawtucket. He would be recalled three more times, batting .189 in 37 games with the Red Sox.
[+] Enlarge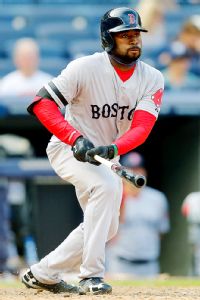 Jim McIsaac/Getty ImagesJohn Farrell said Jackie Bradley Jr. had made significant strides at the plate by his September call-up.
Farrell said he saw improvement in September and thinks the experience, while difficult, was beneficial. "If that's the way we go, we're more than willing to have him in center field," Farrell said. "He's a good player."
To expect Bradley to replace Ellsbury's production next season is unrealistic, Farrell said.
"How we replace him is more about our team's capability of scoring runs than one individual coming in to compare directly against Jacoby," Farrell said. "I know that's a natural comparison, but we're going to miss Jacoby. He's a very good player."
• Farrell named
Daniel Nava
and
Shane Victorino
as the most likely candidates to bat leadoff entering camp, citing their high on-base percentages (Nava .369, Victorino .342). The league average for leadoff hitters in the American League in 2013 was .324, with the Sox leading the way at .348 and Ellsbury leading all AL qualifiers at .355. Bradley could figure into the mix as well, Farrell said, citing his on-base percentage in the minors (.404 in 218 games).
The corollary to that, Farrell said, is his preference to leave
Dustin Pedroia
in the No. 2 hole, with David Ortiz batting third and
Mike Napoli
fourth (though Farrell, mindful that the Sox have not officially announced Napoli's return, did not mention him by name).
• Cherington said that Napoli still has to complete portions of his physical before the deal becomes official, which he expects to happen soon. He does not anticipate Napoli coming here for the official announcement.
• Cherington, who said on Saturday that the Sox can't expect to replace Ellsbury's 52 stolen bases, said the team still hopes to continue an emphasis on aggressive base running. The Sox stole 123 bases last season, just three shy of the 126 stolen by the Sox in 2009 (led by Ellsbury's club-record 70 steals), and second most since 1920. They led the majors with an 86.6 stolen base percentage, a record since MLB began tracking caught stealing attempts (1914, 1920 in the AL). They also were at the league-average (39 percent) in taking an extra base on hits. (In 2012, they ranked fourth in the league at 42 percent.)
"In a perfect world, you'd like a guy that can run a little bit," Cherington said, returning to the topic of a leadoff hitter. "But there have been a lot of good teams, teams that have gone very deep into October, with guys in the leadoff spot who aren't
Rickey Henderson
and didn't do everything that the prototype leadoff guy does."
• Cherington said the number of calls he has fielded regarding his veteran starting pitchers has not spiked since the start of the offseason. The same handful of clubs continues to make inquiries, he said. Farrell said he would have no problem keeping all six starters the Sox currently have, and Cherington has reiterated he feels no obligation to move a starter.
• Farrell said both
Clay Buchholz
and
Andrew Miller
are expected to be healthy at the start of camp.
• Cherington said the Sox still like
Ryan Lavarnway
as a potential piece of their catching plans, and said there would be a way to split playing time among three catchers in Pawtucket with Lavarnway, Dan Butler and
Christian Vazquez
. But the time may come, Farrell acknowledged, that the Sox look for another position for Lavarnway to give him a chance to contribute with his bat.
• The Sox expect to name an internal candidate to succeed Gary DiSarcina as Pawtucket manager. DiSarcina, who was named Baseball America's Minor League Manager of the Year, left the Sox last month to become the Angels' third-base coach.
• Departed catcher
Jarrod Saltalamacchia
, who was introduced here Monday by his new team, the
Miami Marlins
, had a bylined column in the Boston Globe thanking Red Sox fans.
"I was going to say that I've made the decision to take my talents to South Beach but I heard that someone took that line already," Saltalamacchia wrote. "Seriously, I wanted to take this opportunity to sincerely thank the city of Boston, its fans, the Red Sox and especially my teammates for providing me the best three-plus years of my baseball life."
December, 9, 2013
Dec 9
8:09
PM ET
ORLANDO, Fla. -- While Dodgers general manager Ned Colletti has said publicly that he will listen to offers on his outfielders, two baseball sources said that talks with the Red Sox regarding
Matt Kemp
had not advanced to the serious stage and appear unlikely to do so.
Exploratory talks had occurred on both the baseball operations and ownership levels between the two sides, the same teams who a year ago August pulled off a megatrade for
Carl Crawford
,
Adrian Gonzalez
and
Josh Beckett
. Kemp is still owed six years and $128 million on his current deal, which makes any trade with Boston problematic, and he also underwent shoulder and ankle surgery in October.
Still, Kemp's agent, Dave Stewart, said Monday night he believed "something was brewing," even if it didn't involve the Red Sox.
Both general manager Ben Cherington and manager John Farrell reiterated Monday that they are comfortable with the team's outfield as presently constituted, with rookie
Jackie Bradley Jr
. penciled in as the Opening Day center fielder, replacing
Jacoby Ellsbury
, and right fielder
Shane Victorino
available to play center if the need arises.
"We're very comfortable with Victorino as the other option in center,'' Cherington said. "The way our roster is constructed right now, unless it changed, I'm not sure we're really set up to have another platoon at a position. If we had two center fielders on the team, for example, we'd have to take a player from somewhere else. Unless the shape of the roster changed, I think there will be an everyday center fielder.''
If the Red Sox don't add to their current alignment,
Daniel Nava
would platoon in left with
Jonny Gomes
and be available to play right if needed, with
Mike Carp
getting playing time in left.
The Dodgers have a surplus of outfielders in Crawford, newcomer
Yasiel Puig
,
Andre Ethier
and Kemp, who led the National League in home runs with 39 in 2011, falling one homer short of being a 40-40 man (he had 40 stolen bases), and was second in the MVP voting to the later-discredited
Ryan Braun
. They also have an up-and-coming center fielder in 21-year-old Joc Pederson.
Kemp undoubtedly would be untouchable if he had stayed healthy and replicated that performance, but the past two seasons have been cut short by injuries, with Kemp having surgery on his left (non-throwing) shoulder after each of the last two seasons, and also undergoing surgery on his left ankle in October, 13 days after his second shoulder surgery.
Stewart said that Kemp just recently began weight-bearing exercises on the ankle, will start hitting in January, and expects to be ready for the start of spring training.
"There have been a lot of questions about his health, but he'll be ready to play," Stewart said. "He's worked hard to get in shape and get over these offseason surgeries."
December, 9, 2013
Dec 9
5:37
PM ET
Associated Press
LAKE BUENA VISTA, Fla. -- Jarrod Saltalamacchia hopes to stick around with the Miami Marlins.
Miami went on a spending spree after the 2011 season and added All-Stars Jose Reyes, Mark Buehrle and Heath Bell. When that didn't lead to success, the Marlins jettisoned most of their stars and cut payroll to about $42 million this year.
Now Miami is in addition mode again, agreeing last week to a $21 million, three-year contract with the catcher, who helped Boston win the World Series title. The Marlins don't give no-trade clauses, so another sell-off always is a possibility if Miami fails to improve on this year's 62-100 record and last-place finish in the NL East.
"I was never really worried about anything but things that I can control," Saltalamacchia said Monday when he was introduced at the winter meetings. "I can control the way I go out there and prepare for a game. I can control my preparation and my plan of attack of every hitter, every at-bat. So I was never really focused on anything other than what I can control and my teammates."
In his third and final season with the Red Sox, Saltalamacchia hit a career-best .273 with 15 homers, 40 doubles and 65 RBIs. But he slumped to .188 in the postseason and was benched for the final three games of the World Series.
December, 9, 2013
Dec 9
5:24
PM ET

Who might the World Series champion Red Sox be willing to deal at the winter meetings? As for some non-marquee players, expect the name of catcher
Ryan Lavarnway
, among others, to surface in discussions this week in Orlando,
writes Gordon Edes
of ESPNBoston.com.
To continue reading this article you must be an Insider
December, 9, 2013
Dec 9
4:34
PM ET
ORLANDO -- A few quick hits before back-to-back media sessions with Red Sox manager John Farrell and GM Ben Cherington:
[+] Enlarge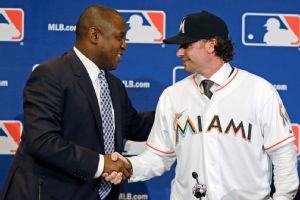 AP Photo/John RaouxThe Marlins introduced Jarrod Saltalamacchia at the winter meetings Monday.
* Catcher
Jarrod Saltalamacchia
, accompanied by his wife Ashley, three daughters, and agent Jim Munsey, was introduced formally by the
Miami Marlins
, who signed the former Sox catcher to a three-year, $21 deal. That was significantly better than the offer made by the Sox, who presented Saltalamacchia with a two-year package that would have maxed out at $18 million, but only if he met all the performance incentives in his contract.
In the end, the Marlins were the only team to offer the 28-year-old Saltalamacchia a three-year deal.
"I think all the players, everybody wanted the group of guys to stay together,'' Saltalamacchia said when asked how many of his Sox teammates reached out to him to urge him to remain in Boston. "We had such a good chemistry, we had so much going on, I think they all wanted us to stay together. But they've all been there. They understand the situation. They don't make the calls, just like I don't make the calls.
"All I can do is put myself in a situation to have a chance to have a job and go play baseball. The Marlins put me in a perfect situation to go ahead and do that in my hometown.''
Saltalamacchia grew up in West Palm Beach, Fla., about a 90-minute drive from Marlins Park. Marlins GM
Dan Jennings
described Saltalamacchia as a "proven winner" and a "leader."
Among the people the Marlins talked to privately while weighing whether to pursue Saltalamacchia was
David Ross
, who had played with Marlins executive
Jeff Conine
.
* Rays manager Joe Maddon, asked about how
Jacoby Ellsbury
going from the Red Sox to the Yankees impacted the dynamics of the AL East, said it had a "push" feel for him.
"The Yankees lost a pretty good player [
Robinson Cano
], they gained a pretty good player. Boston lost a good player in Ellsbury but they have some nice people in his place also. I don't know, it kind of has a 'push' feel to it. Both of them are going to be really good again. A lot of it is going to speak to the inner dynamic of the clubhouse situation in Boston, and how that's going to be impacted. I don't even know how Ellsbury impacts that clubhouse. I have no idea. Losing Cano, and then [Ellsbury] comes in to New York.
"A lot of the behind the scenes stuff is the most interesting part to me. You know what they're like as players. You know pretty much what to expect when you put them on the field. I don't know what the dynamic is inside the building, and that's really important, too. Ellsbury, I think he's going to show more power in New York, obviously. He can pull the ball, and given that right-center spot, so his home runs will come back up again.
"But I'm curious -- and again, we've talked about this -- I don't really worry about these things. I'm just curious about it.''
* The
Pittsburgh Pirates
were mentioned by Pittsburgh-based reporter John Perrotto as having interest in
Mike Carp
to play first base.
December, 9, 2013
Dec 9
4:17
PM ET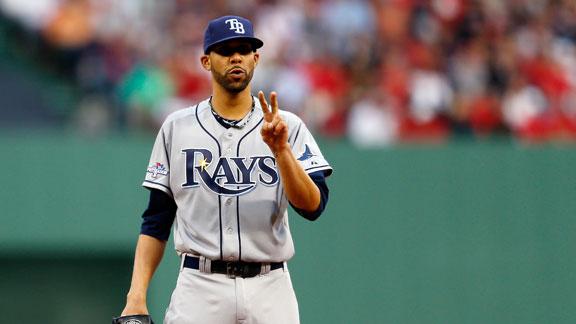 LAKE BUENA VISTA, Fla. -- You can still find David Price's name listed on the roster of the Tampa Bay Rays.
But as the trade rumors swirled Monday, Price's manager, Joe Maddon, said that dealing players like Price is simply "how we have to operate."
Asked what he knew about where the Price trade talks stand, Maddon replied: "What I've heard is, obviously, what everybody else is hearing. There is a lot of conjecture and talk about it. When you lose a player of that magnitude, not just the fact that he's such a good pitcher, but this guy ... matters a lot to the clubhouse and to the team. (But) having said all those things ... this is how we have to operate within our little world.
"So if it were to happen, it's one of those that's almost the word 'devastating' in a sense. But we have to recover from those kind of moments if it does actually occur."
Speaking with a large group of reporters on the first day of the winter meetings, Maddon said it's "probably less likely" that the Rays would wait to trade Price during next season, "but nevertheless it could happen. But right now that is part of the war-room scenario ... talking about all these potential things.
"Guys like him are rare," Maddon went on. "David is a rare person and a rare pitcher, and from a managerial perspective, we like to keep those kind of guys."
But Maddon said he'd been through enough similar situations that he didn't have to prepare himself emotionally for the trade of his ace.
December, 8, 2013
Dec 8
11:06
PM ET
ORLANDO, Fla. -- On the eve of Monday's official start of the baseball winter meetings, here's a checklist of Red Sox players whose names are expected to come up in trade talks this week:
• John Lackey, Jake Peavy, Ryan Dempster.
Starting pitching is at a premium, and with the Sox believing that they have plenty of depth behind the top six, with
Brandon Workman
the closest at this stage to claiming a rotation spot, odds are pretty good that one of these guys will not be in camp at the start of spring training. Moving a salary for prospects definitely has some appeal to Ben Cherington.
• Matt Barnes, Brandon Workman, Anthony Ranaudo, Rubby de la Rosa, Allen Webster, Drake Britton, Henry Owens.
Of course teams are asking about the young arms in the Red Sox system, but all you have to do is see the prices pitchers are commanding on the free-agent market to understand why the Sox are reluctant to part with their promising kids. Of this group, the left-handed Owens is probably the most untouchable, with Barnes not far behind. Only a major deal will result in one of these guys leaving.
[+] Enlarge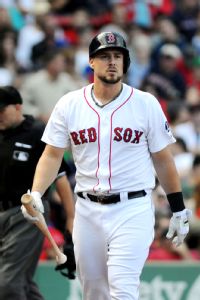 Darren McCollester/Getty ImagesRyan Lavarnway would seem a likely candidate to part of a deal.
• Ryan Lavarnway.
Lavarnway is only 26, still relatively young for an apprentice catcher.
Jason Varitek
was 27 when he became Boston's everyday catcher. But even with
David Ross
missing significant time because of multiple concussions, Lavarnway made just 18 starts for the Sox last season, which hardly suggests they view Lavarnway as their catcher of the future. He has only five home runs in 291 big league plate appearances scattered over three seasons, which raises questions of whether he will ever develop into the power bat the Sox envisioned. Granted, there are few tasks harder than hitting as an irregular, but with
Christian Vazquez
and Blake Swihart rising rapidly, Lavarnway may well be a piece in a package deal.
• Will Middlebrooks.
Teams are asking about the third baseman, but the Sox are unlikely to move Middlebrooks when his value is low, and there is still a strong conviction among the Sox baseball ops folks to hold onto his power bat -- they don't want to see him blossom into a 25-30 home run hitter in another uniform.
• Mike Carp.
The unheralded Carp, a late pickup by the Sox last offseason, was a key piece off the bench and hit well enough to be considered for a role as an everyday player moving forward. Carp posted an .885 OPS with nine home runs in just 243 plate appearances, and 45 percent of his hits went for extra bases. Had the Sox not re-signed
Mike Napoli
, Carp likely would have seen more at-bats in left field as Jonny Gomes's platoon partner, with
Daniel Nava
moving to first base. Now he's stalled in the same position he was last season, although the Sox may be reluctant to part with him because of the depth he provides.
• Franklin Morales.
His health issues make him a risky proposition for prospective buyers, but Morales is just a year away from free agency, and with
Andrew Miller
returning from injury,
Craig Breslow
coming off a very productive season, and Britton gaining some big-league experience, Morales should have some appeal to a team looking for a starter or reliever. He could go.
• Garin Cecchini, Mookie Betts, Deven Marrero, Blake Swihart.
These are the top position prospects in the Sox system -- Cecchini a third baseman, Betts a second baseman, Marrero a shortstop and Swihart a catcher. Because he is stuck behind
Dustin Pedroia
, Betts appears to be the player the Sox would be most willing to deal, albeit reluctantly; the other three are valued as future regulars in the Sox lineup and probably would be dealt only for an all-star caliber player.
December, 7, 2013
Dec 7
6:48
PM ET
BOSTON --
Boston Red Sox
general manager Ben Cherington, in a conference call Saturday to officially announce the signing of setup man
Edward Mujica
, said that the team is entering Monday's winter meetings from a position of strength and "it could be that we've done most of our heavy lifting for the winter."
Cherington added the caveat that the club, having addressed its most obvious needs -- signing free-agent catcher
A.J. Pierzynski
, adding bullpen pieces in Mujica and
Burke Badenhop
, and retaining first baseman
Mike Napoli
in a deal that the club has not yet announced -- will be in "opportunistic" mode, sifting through a variety of scenarios that could bear fruit in Orlando.
Asked if that could include a significant roster move -- there have been, for example, at least some exploratory talks between the Sox and
Los Angeles Dodgers
regarding a potential deal for outfielder
Matt Kemp
-- Cherington, who was not asked about Kemp specifically, said:
[+] Enlarge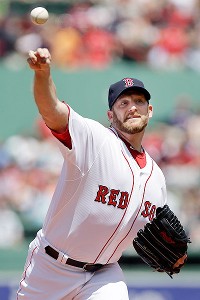 AP Photo/Mary SchwalmThere's a chance Ryan Dempster could be dangled as trade bait.
"I don't rule anything out. Certainly, we're not close to doing anything like that. We're certainly exploring things. We've had -- aside from the moves we've actually made and finished -- had talks about a lot of other stuff. I'm sure we'll follow up on some of that when we get to Orlando and meet with teams, so I wouldn't rule it out. But we're not close to anything."
Including Napoli, who came to terms on a two-year, $32 million deal Friday night, the Sox have 15 players under contract for a guaranteed $149 million, a figure slightly higher ($151 million) when used to calculate payroll for luxury tax purposes. An additional five players are eligible for salary arbitration:
Junichi Tazawa
,
Franklin Morales
,
Mike Carp
,
Andrew Miller
and Badenhop.
That means the Sox, as presently constituted, don't have a great deal of room under the tax threshold ($189 million), when you factor in the arbitration-eligible salaries (figure around $10 million-plus) and medical benefits costs, usually calculated about another $10 million. However, the Sox could gain room to maneuver by trading one of their big league pitchers. They have received varying degrees of interest on all three veteran starters they might be willing to move:
Ryan Dempster
,
Jake Peavy
and
John Lackey
.
Lackey has drawn the most attention, especially since his salary drops to the major league minimum in 2015 because he missed the 2012 season with Tommy John surgery. That was a provision of the five-year, $82.5 million deal he signed with the club as a hedge against future elbow issues.
One major league source said that Boston's preference, in order, would be to deal one of these three: Dempster, Peavy and then Lackey. With the scarcity in starting pitching and the deals that have been given to free-agent starters, it should be a sellers' market, although the Sox would likely have to eat salary in the case of Dempster, who is owed $13.25 million in 2014.
The Sox have six veteran starters in
Jon Lester
,
Clay Buchholz
,
Felix Doubront
, Lackey, Dempster and Peavy, and a host of young arms who are big league ready or very close to being so.
Brandon Workman
, according to one team source, would be the first in line to claim a starting spot should one open, given his strong showing last season. But the Sox also have
Rubby De La Rosa
,
Allen Webster
, Matt Barnes and
Anthony Ranaudo
in the wings, with prized prospect
Henry Owens
rapidly climbing up the ladder as well.
The Sox thus have the pieces to make a deal for prospects (one of the veteran pitchers) or package some young talent in a bigger deal, with position prospects like third baseman
Garin Cecchini
, second baseman Mookie Betts and catcher Blake Swihart also looked upon favorably by other clubs.
"I think we go into the winter meetings in a position of strength," Cherington said. "A very strong roster. We'd feel good about going into the season if not much changes."
Cherington said he would still like to add an infielder on the left side of the infield, but has yet to decide if that player will be more of a "prominent player or complementary player." With Napoli re-signed, that ends any talk of moving
Will Middlebrooks
to first base, and lessens the chance that the Sox will make a strong push to bring back shortstop
Stephen Drew
, especially if he has multiyear offers on the table.
Cherington seemed to suggest as much when he described talks with Drew's agent as "off-and-on ... nothing too recent."
"The way the team stacks up right now, we've gotten some stuff done," he said. "We think that if Opening Day was tomorrow, we'd be in pretty good shape. But again, like I've said before, it's not. So we'll keep working. There are things we could do, things that we'd like to do, and there's still flexibility and means to do that. But certainly, the team is much more filled out than it was at the beginning of the offseason."
December, 7, 2013
Dec 7
6:03
PM ET
Associated Press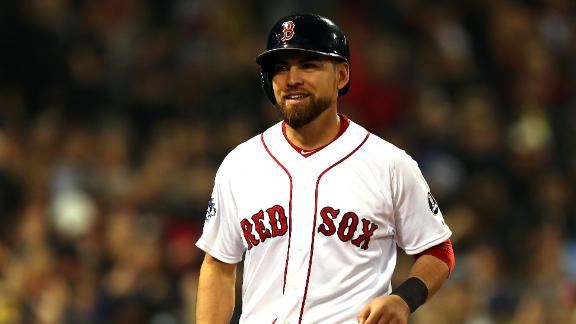 NEW YORK -- The New York Yankees made it official Saturday, announcing the completion of a seven-year deal with free-agent outfielder Jacoby Ellsbury and a one-year contract for returning starter Hiroki Kuroda.
The busy Bronx Bombers have been undergoing a pricey roster overhaul after missing the playoffs for only the second time in 19 years.
Ellsbury, fresh off winning the World Series with Boston, agreed to a $153 million deal with New York on Tuesday. The contract includes a $21 million team option for the 2021 season, with a $5 million buyout. If the option is exercised, the deal would be worth $169 million over eight years.
The Yankees will hold an introductory news conference for Ellsbury at Yankee Stadium on Friday.
Ellsbury, who turned 30 in September, led the majors with 52 stolen bases despite being hobbled late in the season by a broken right foot. The lefty-hitting leadoff man batted .298 with nine homers and 53 RBIs, and the short right-field porch at Yankee Stadium should boost his power numbers.
He joins a crowded outfield that will include Carlos Beltran, who agreed to a three-year, $45 million contract, according to two people familiar with the deal, on Friday. Beltran's agreement came hours after All-Star second baseman Robinson Cano decided to leave for Seattle.
December, 7, 2013
Dec 7
2:47
PM ET
ESPNBoston.com
Boston Red Sox general manager Ben Cherington announced the signing of right-handed relief pitcher Edward Mujica to a two-year contract Saturday.
The deal is worth $9.5 million over the two years, a baseball source told ESPNBoston.com on Thursday, when the agreement was first reported.
The 29-year-old Mujica was the closer for a time with the St. Louis Cardinals this past season but lost the job in September and was not a factor in the postseason, making just two appearances.
Over his eight-year career, which has spanned four teams, Mujica has struck out 350 and has walked just 68 in 381 innings.
Mujica joins a strong Red Sox bullpen that's already in good shape at closer (Koji Uehara) and in setup roles (Junichi Tazawa, Craig Breslow), though he could join the late-innings mix.
Information from ESPNBoston.com's Gordon Edes was used in this report.
December, 7, 2013
Dec 7
11:32
AM ET
ESPN.com news services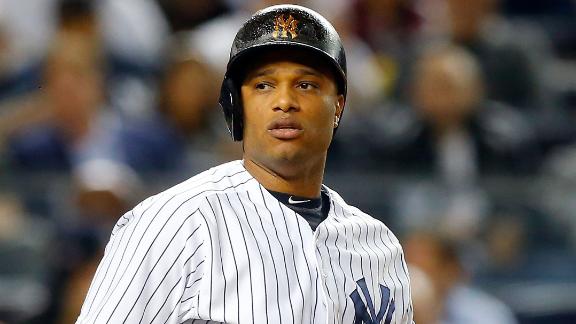 David Ortiz says he thinks his Boston Red Sox will benefit from Robinson Cano joining the Seattle Mariners, calling it "great news for us" but a blow to the rival New York Yankees.
Ortiz, speaking in an interview with WEEI Radio in Boston, said the Yankees lost "the face" of the team when they failed to re-sign the free agent second baseman, who has reportedly agreed to a 10-year, $240 million contract with Seattle.
"This guy hurt us," Ortiz said. "He is the guy that, you're never going to forget about him because he puts up some monster numbers. He puts up some monster numbers. Now let's see how everything goes with him on the West Coast."
Ortiz said he wasn't surprised by the length or amount of the deal. It was the fact the Yankees didn't retain Cano that caught Ortiz off guard, he said.
"That's what the players are getting -- young, talented players with the skills that he has, that's what they're getting," Ortiz told WEEI Radio. "I couldn't believe the Yankees let that walk away. He's the face, as long as he played for the Yankees, he was the face of that ballclub. He was backing up everybody."
According to ESPN sources, Cano, 31, will return to Seattle on Sunday before undergoing a physical Monday to complete what would be the third-largest contract in baseball history, tied with the one Albert Pujols signed with Los Angeles Angels three years ago.
December, 7, 2013
Dec 7
8:57
AM ET
Things have happened sooner than normal this offseason, but several of the top free agents are still out there and some big names -- led by
David Price
-- may be available in trade. Here are three questions for each team heading into the winter meetings. We'll cover the American League today and the National League on Sunday.
Boston Red Sox
What do they need?
They filled their biggest hole at first base when they re-signed
Mike Napoli
on Friday night. The Red Sox also have to decide if they want to hand center field over to
Jackie Bradley Jr
., a plus defender with a good eye at the plate but who is still working on developing his hit tool. They could slide
Shane Victorino
over to center field and sign another outfielder, but Victorino was so good defensively in right that he provided excellent value with his glove there.
What will they do at the winter meetings?
They could end up being pretty quiet. They've signed
Edward Mujica
but could be looking for more bullpen help.
Will they trade a starting pitcher?
The current five-man rotation wouldn't include
Ryan Dempster
or
Brandon Workman
, but you need more than five starters to get through a season and Dempster's contract makes him difficult to trade unless the Red Sox picked up a chunk of his $13.25 million salary.
Tampa Bay Rays
What do they need?
The right return for Price. Andrew Friedman will probably talk with 25 other general managers at some point (sorry, he's not going to an AL East rival) to see what he can get for the former Cy Young winner. The Rays will want a major-league ready prospect like they got last year in
Wil Myers
. That may have been a once-in-a-lifetime kind of deal, however, so the Rays may have to weigh taking lower-level prospects -- but more of them -- this time around.
What about first base?
James Loney
gave them a good one-year return last year, so now they need to find the next Loney. Trouble is, the first-base market isn't good other than Loney. They could move
Matt Joyce
there or look to acquire somebody like
Ike Davis
from the Mets. A Joyce-Davis trade seems like a perfect match of needs.
Who's in the rotation if they trade Price?
Without Price, it shapes up as
Matt Moore
,
Alex Cobb
,
Chris Archer
,
Jeremy Hellickson
and
Jake Odorizzi
. That's why any trade involving Price may require a starting pitcher as part of the bounty (say,
Taijuan Walker
from the Mariners).
Baltimore Orioles
What do they need?
The Orioles were 12th in the AL in rotation ERA, so that's an obvious place to upgrade. The top five on paper isn't horrible --
Chris Tillman
,
Wei-Yin Chen
,
Miguel Gonzalez
,
Bud Norris
and
Kevin Gausman
-- but that's mostly a group of No. 3s. They need an ace, but good luck getting one.
What about left field and DH?
Nate McLouth
just signed with the Nationals, so they need to do something there. A big hole was DH, where the Orioles hit .234 with a .289 OBP. Orioles second basemen weren't great either, hitting .236 with a .300 OBP, but they'll likely let
Jemile Weeks
and
Ryan Flaherty
battle it out.
Nelson Cruz
is a free-agent possibility for left field or DH, but the Orioles may not want to lose their draft pick to sign a guy with a mediocre OBP and durability issues. A gamble and somebody like
Franklin Gutierrez
may make sense.
Do they go after a closer?
Possibly. Trading
Jim Johnson
leaves a void in the ninth -- although not a
big
void considering Johnson blew nine saves in 2013. They have options in
Tommy Hunter
and
Darren O'Day
, but both have sizable platoon splits. They're both best in setup roles where Buck Showalter can get matchups, so don't be surprised if the O's sign
Fernando Rodney
or
Joaquin Benoit
(they also signed
Ryan Webb
on Friday).
New York Yankees
What do they need?
How about an MVP-caliber second baseman who hit .300 with power and never misses a game? Anybody like that available? OK, the Yankees have to move on from
Robinson Cano
and they did that by signing
Carlos Beltran
and re-signing
Hiroki Kuroda
. They may still have a little money left over to go after one more veteran starter like
Bronson Arroyo
or, better yet, Japanese right-hander Masahiro Tanaka (if he gets posted).
What about third base?
At some point, they'll need a backup plan if
Alex Rodriguez
's suspension is upheld. Stone-gloved
Eduardo Nunez
is not the answer, but the free-agent market is weak.
Juan Uribe
? Maybe.
Michael Young
is a defensive liability. They tried the
Kevin Youkilis
experiment last year. You have to think the Yankees will be discussing third-base options with other teams. They could possibly shop
Brett Gardner
or
Ichiro Suzuki
, although Ichiro wouldn't bring a quality starter in return.
Who replaces Mariano Rivera?
The Yankees could slide
David Robertson
into the role. He's been a dominant eighth-inning guy with a 1.91 ERA over the past three seasons. But that just opens up another hole. Free agent
Grant Balfour
has been rumored.
Toronto Blue Jays
What do they need?
Starting pitching and more starting pitching. The Blue Jays entered last season as World Series favorites, expecting to have two aces in
R.A. Dickey
and
Josh Johnson
. But Dickey couldn't repeat his Cy Young season, Johnson imploded,
Brandon Morrow
got hurt, and
Ricky Romero
spent most of the season in the minors. The Jays ended up with a 4.81 rotation ERA, worse even than the Astros.
Who could they go after?
The Jays' estimated 2014 payroll is already above what it was in 2013, so there doesn't appear to be room to do much here. So it looks quantity over quality, with the likes of
Esmil Rogers
,
Todd Redmond
,
Kyle Drabek
,
Drew Hutchison
and
J.A. Happ
battling for spots behind Dickey,
Mark Buehrle
and Morrow.
Could they trade Jose Bautista?
Sure, they could trade Bautista, signed for two more years at the now-bargain rate of $14 million, and use that money to sign a pitcher. Do they trust
Anthony Gose
or Moses Sierra to deliver on an everyday basis?
December, 6, 2013
Dec 6
9:43
PM ET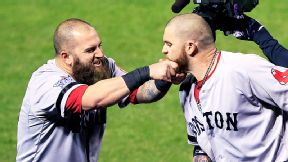 Jamie Squire/Getty ImagesMike Napoli, left, agreed to a two-year deal to return to the Red Sox, then proclaimed on Twitter, "The beard is coming back to Boston!"
BOSTON -- Mike Napoli came to terms with the Red Sox on a two-year, $32 million deal, agent Brian Grieper said Friday night, allowing the team to breathe a collective sigh of relief after the power-hitting first baseman left money on the table in order to return to Boston.
"Mike's really pumped," Grieper said Friday night. "He loves Boston."
Napoli tweeted the news himself, in a fashion that left little doubt about his affection for the city and a team for which he played an integral part in a World Series title.
The beard is coming back to Boston!!! Couldn't be happier!! #Bstrong #beards #Ilovethiscity pic.twitter.com/mb2pDxq4tL

— Mike Napoli (@MikeNapoli25) December 7, 2013
December, 6, 2013
Dec 6
9:35
PM ET