October, 21, 2014
Oct 21
12:21
PM ET
By
Kyle Brasseur
| Special to ESPNBoston.com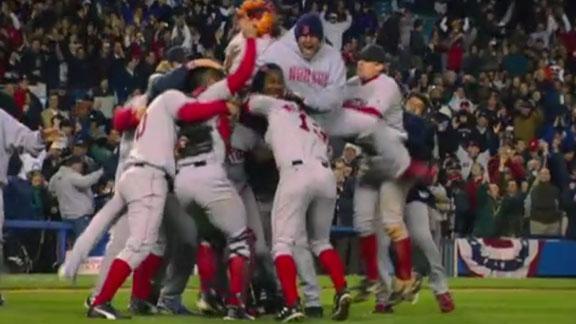 In its sum, it was a postseason that begged the question, "Can you believe it?"
Against all odds, the 2004 Red Sox would become the first major league team to rally from a 3-0 deficit in a seven-game series, beating the Yankees in an epic American League Championship Series on their way to their first World Series title since 1918.
Ten years later, ESPNBoston.com looks back to determine the moment from that magical run that stands out the most. Narrowed down to 16 moments presented in a bracket-style showdown that will last four rounds, you can vote to help us determine the most memorable moment of an unforgettable season.
Here are our top 16, along with predictions on how we see it playing out.
---
Title-Clinching Moment (1) vs. Sox Win Wild Card (8)
World Series Game 4 -- Foulke fields the final out: It was as if everything was aligned for the Red Sox to put an end to their string of 86 winless years. Quite literally. High above the sky that October night, a lunar eclipse was in full effect, the result of Earth perfectly aligning with the sun and the moon. Underneath a radiant red glow, the Red Sox took the field one win away from the championship. Nine innings later, closer Keith Foulke sealed the deal. A ground ball back to the mound, an underhand flip to Doug Mientkiewicz at first and the Red Sox finally were world champions. Catcher Jason Varitek jumped into the Foulke's arms and the entire team came onto the field to mob them at the center of the diamond. The curse was lifted. Indeed, it seems the stars were aligned for it to happen.
October, 20, 2014
Oct 20
2:40
PM ET
Associated Press
BOSTON -- Lou Lucier, who was the oldest surviving former Red Sox player, has died at the age of 96.
The team says Lucier had a stroke earlier this month and died on Saturday.
A right-handed pitcher, Lucier played parts of three major league seasons during World War II with the Red Sox and Philadelphia Phillies. In all, he was 3-5 with a 3.81 ERA in 33 games.
A native of Northbridge, Massachusetts, he is survived by two daughters, five grandchildren, 13 great grandchildren, and one great-great granddaughter.
Lucier was 15 days older than Hall of Famer Bobby Doerr, who is now the oldest living former Red Sox player.
October, 19, 2014
Oct 19
9:03
PM ET
ESPN.com news services
The Boston Red Sox are on the verge of a deal with Chili Davis to be their hitting coach, sources told ESPN The Magazine's Buster Olney.
Davis, who was the hitting coach for the Oakland Athletics during the past three seasons, interviewed on Friday.
A source told ESPNBoston.com's Gordon Edes that Davis and the Red Sox have reached an agreement pending an official announcement.
Davis would replace Greg Colbrunn, who had a serious health scare earlier this season and chose not to return for the 2015 season. Colbrunn cited a desire to spend more time with his family -- he has two teenage daughters -- as a reason he elected not to return next season.
Boston went from having the majors' most prolific offense in 2013 -- Colbrunn's first season as a big league hitting coach -- to having one of the worst in 2014. The Red Sox finished tied for 12th in runs scored with 634. They were 14th in slugging percentage (.369), 12th in home runs (123), eighth in on-base percentage (.316) and 14th in OPS+ (92), which is on-base plus slugging adjusted to a team's home park.
ESPNBoston.com's Gordon Edes contributed to this report.
October, 18, 2014
Oct 18
11:30
PM ET
BOSTON -- Beyond introductions when he first arrived, I had not spoken with
Boston Red Sox
outfielder/first baseman
Allen Craig
, other than in a group, until the early September night in New York when he struck out four times against the Yankees.
He was on his way out when I stopped him in the middle of the clubhouse. He had every right to brush me off and might have been inclined to do so, but instead he hung in there for a few brief responses after what had to be one of his most disheartening nights in the big leagues.
[+] Enlarge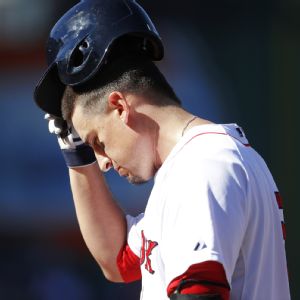 AP Photo/Steven SenneAllen Craig had a rough go of it in 2014, especially after he got traded to the Red Sox.
I thought of that night after the last game of the season, when I stopped by Craig's locker and asked if he was happy to close the book on 2014 -- by far the worst season of his career.
"I don't know if those are the right words for it," he said. "I didn't go into the year thinking it would be like this. Sometimes things just turn out not how you want them to, and you just have to deal with it. That's kind of where I'm at."
Based on his .128 average in 29 games played for the Sox after they acquired him and pitcher
Joe Kelly
in a deadline deal with St. Louis for
John Lackey
, Craig would seem to have a tenuous place at best in Boston's future plans.
But that would be ignore that Craig finished seventh in the National League batting race in 2012 with a .307 average, was eighth with a .315 average in 2013 and hit a remarkable .454 with runners in scoring position for a Cardinals team that went to the World Series in '13.
It also doesn't take into account that both the player and team insist the Lisfranc fracture in his left foot, which hobbled him this past fall and wrecked his offseason workout regimen the past winter, does not require further attention, or that Craig is signed to an extremely team-friendly contract that pays him $25.5 million over the next three years, with a club option of $13 million in 2018.
Maybe it's unclear now, with the Sox outfield as crowded as it is and first base and designated hitter both spoken for in 2015, but Craig might yet be regarded as something more than a poor return for Lackey. He is still only 30, and with
Mike Napoli
's ongoing health issues and
David Ortiz
turning 39, the Sox have reason to not dispose of Craig's bat too readily.
Craig has consistently refused to blame his foot injury for his subpar performance in '14, which started well before his arrival in Boston, as he batted just .237 in 97 games for the Cardinals. But it's a "huge positive," he said, that he won't have to address the foot medically this winter.
"I feel that this will be the first time in a little while I haven't had an offseason dealing with something," he said.
"I've been extremely lucky to be part of very good teams the last few years. I've had some injuries and battled and continued to battle this year. The numbers aren't where I would like them to be, obviously, but I know I'm a better player than that. I still know what I'm capable of, and [I'm] glad to have this offseason to do what I need to do.
"I've always been able to hit. I've been productive in my time in the big leagues and have gone deep into the playoffs. I definitely have that to fall back on. Every year is a new year. I learned a lot this year from my struggles and know what I have to do."
[+] Enlarge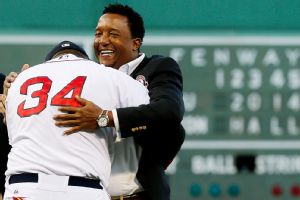 Jim Rogash/Getty ImagesWill David Ortiz, set to try his hand at broadcasting, be able to match Pedro Martinez's gift for gab?
•
Pedro at the mike
The star of the 2014 postseason? That's easy, according to Matthew Leach on SportsonEarth.com, who said he'll miss Pedro Martinez on TBS now that the World Series is switching over to Fox Sports.
"Pedro is as good as it gets in the broadcast booth, much as he was as good as it gets on the mound,"
Leach raved
. "As funny and honest as Charles Barkley, as insightful as Cris Collinsworth, as accomplished in his playing career as Shaquille O'Neal, Pedro is practically the perfect broadcaster.
"I would like to be as good at one thing in my life as Pedro is at his second career -- a career, by the way, which he practices in his second language. He is, simply, must-watch."
Possibly in hopes of something like that Martinez magic, FOX is adding David Ortiz to its Series coverage. Big Papi, who will be making his broadcast debut, will be on the pregame and postgame shows starting Tuesday night.
Ortiz with a live mike also invites some anticipation, as noted by @PollyfromBoston when she tweeted:
@Bagodonuts76 @GordonEdes Yeah, they may regret it when he says, "This is our f*cking World Series show." LOL #BigPapi

— Paulette Darcey (@PollyfromBoston) October 16, 2014
•
Plotting the future
Don't miss Kiley McDaniel's exhaustive and illuminating breakdown of the Sox farm system
on FanGraphs
. McDaniel ranks left-hander Edwin Rodriguez as the second best prospect in the system, which might ease the sting for Sox fans lamenting the departure of
Andrew Miller
, given his phenomenal postseason run with the Orioles. Rodriguez was the pitcher the Sox received from Baltimore in exchange for Miller.
McDaniel writes of Rodriguez:
"Rodriguez was a projection lefty with inconsistent but above average stuff his whole career; he sat 90-93 and would hit 95 mph with a slider and changeup that would both flash above average at times. A couple months into the season, the projectable lefty's velocity spiked, sitting 93-96 mph with his slider and changeup both flashing plus. The slider and changeup never flashed plus in the same game, but the changeup got higher peak grades (one scout put a 70 on it), so both of those pitch grades could be conservative."
Adds FanGraphs editor Dave Cameron: "The Red Sox have been on a roller coaster over the last few years, sandwiching two last-place finishes around a World Series title. From here, though, 2015 looks like it should bring a strong rebound, as the team has positioned themselves to be hyper-aggressive in player acquisition this winter. Their significant financial resources, combined with an enviable depth of valuable trade chips, give the Red Sox the ability to add multiple impact pieces this winter.
"With most of the roster projecting to improve on mediocre 2014 performances, adding in a few more established stars should be enough to return the Red Sox to the top of the hill, and as long as they don't overreact to the struggles of a few key young players, they should maintain a strong base of talent to build around for the foreseeable future."
October, 17, 2014
Oct 17
12:52
PM ET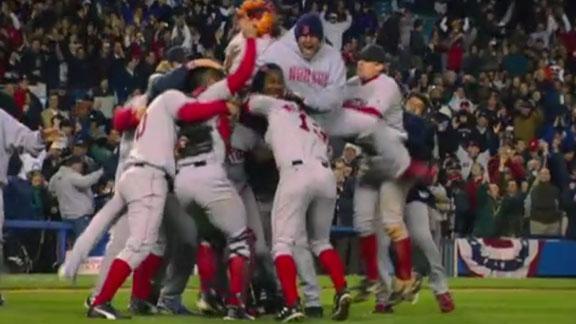 We'll have more goodies for you next week as we get closer to the 10-year anniversary of the storybook 2004 Red Sox championship, but we'd be remiss if we didn't pause to recognize perhaps the most important date in that fairy tale run: Oct. 17, 2004 -- the night of Game 4 of the ALCS.
Exactly 10 years ago tonight, the Red Sox -- trailing three games to none -- rallied off Yankees legend Mariano Rivera to tie Game 4 and won it in the 12th inning on a walk-off homer by David Ortiz. The victory was the first of four straight for the Red Sox, who became the first team in baseball history to win a seven-game series after trailing three games to none.
Want to relive the best four days in Red Sox history? Of course you do.
We've reposted "Four Days in October," the ESPN 30 for 30 documentary that immortalizes those four historic games, in which were included The Steal, The Walk-Off, The Other Walk-Off, The Bloody Sock, The Slap, The Grand Slam and, finally, The Celebration In The Bronx.
Check out this 51-minute walk down memory lane and get goosebumps all over again.
October, 16, 2014
Oct 16
5:15
PM ET
The
Boston Red Sox
endured a dismal first-to-worst campaign in 2014 after winning the World Series last season, but at least reigning World Series MVP
David Ortiz
will make a return appearance in the Fall Classic, albeit as a member of the media.
Ortiz will serve as a pregame and postgame guest analyst for Fox Sports' television broadcast at Kansas City's Kauffman Stadium for Games 1 and 2 of the World Series, which is set to begin Tuesday.
"There is nothing more special than playing in the World Series and if I can't be in the batter's box, this is the next best place in the ballpark," Ortiz said in a press release.
October, 16, 2014
Oct 16
2:51
PM ET
BOSTON -- The hard part is not coming to the plate four times a night.
David Ortiz
still can hit.
The hard part is coming soon, in the offseason, pushing himself one more time to do the work necessary to be the player he is. The disciplined diet. The training regimen that becomes more punishing the older he gets. The mental commitment to go all-in, at age 39, ignoring the temptations of the comforts that become more difficult to resist after 21 seasons of playing professional baseball, 18 in the big leagues.
[+] Enlarge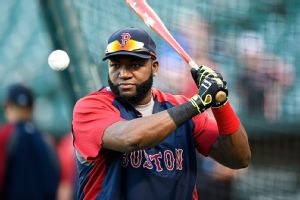 AP Photo/Nick WassOrtiz has hinted that the 2015 season might be his last. But what if he hits 35 home runs again?
David Ortiz sees the end at hand. He is entering the last season of his contract, one that will expire just short of his 40th birthday. He has hinted that next season will be his last, then just as quickly added a rebuttal, saying he'll let everyone know when his time has come.
Ortiz hit a team-leading 35 home runs last season, 34 of them coming while serving as Red Sox designated hitter. The last time he hit as many as 35 home runs was 2007, when he also hit 35. Only five players in the major leagues hit more home runs than Ortiz did in 2014.
He was lethal with runners in scoring position (a .922 OPS), even more so in high-leverage situations, when a hit might make the difference between winning and losing (1.057 OPS). He was intentionally walked 22 times, a total exceeded only by
Victor Martinez
and
Giancarlo Stanton
, testament to the peril he still represented to opposing pitchers, as well as the holes in the lineup around him.
Still, there were signs of slippage. After batting .300 or better in each of the last three seasons, Ortiz batted .263 overall, a drop of 46 percentage points from 2013. His .873 OPS was his lowest since coming to the Red Sox in 2003; the 11 home runs he hit in Fenway Park were the fewest he has ever hit in a season in Boston.
But in an era in which power has become a scarce commodity, the Sox still need Ortiz to anchor the middle of their lineup in 2015. They are surely plotting a future without him, but for the coming season, at least, he remains a vital piece.
Performance this season (major league rankings):
Batting average: .264, 3d
On-base percentage: .351, 2d
Slugging percentage: .511, 2d
Home runs: 38, 1st
Extra-base hits: 70, 1st
Walks: 77, 1st
Offensive WAR: 2.9, 4th
Wins Above Replacement: 3.0, 3d
Designated hitters used:
14
Offensive stats (5 games or more, as DH only):
David Ortiz 131 G, .269/.361/.529/.890, 34 HRs, 99 RBIs;
Mike Napoli
7, .233/.303/.600/.903 3, 7;
Yoenis Cespedes
6, .269/.269/.308/.577; A.J. Pierzynski 5, .200/.238/.350/.588 1, 3.
Potential free-agent signings:
Sox won't be targeting a DH in free agency.

Potential trade targets:
Sox won't be looking for a DH in a trade.
Prospects in the system:
Sox don't groom players in the minor leagues with the intention of making them a DH.
Scout's take:
This might be Boston's easiest decision. Plan on one more year of Ortiz hitting, and accept all the BS (talk about a new contract, etc.) that might come with it.
October, 16, 2014
Oct 16
2:20
AM ET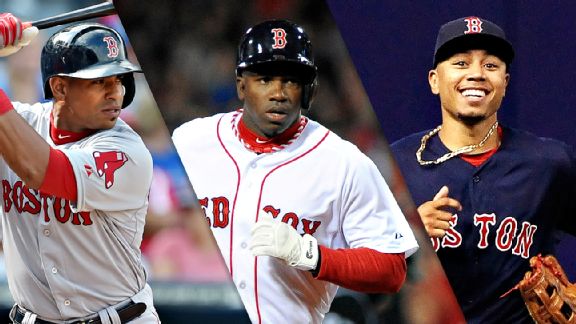 USA TODAY SportsYoenis Cespedes, Rusney Castillo and Mookie Betts might end up as Boston's 2015 Opening Day outfielders, though a lot could change between now and then.
BOSTON -- How unsettled was the
Boston Red Sox
outfield last season? Manager John Farrell used nine left fielders, five center fielders and 10 right fielders.
The outfield Farrell envisioned he'd have to open the season --
Grady Sizemore
in center, flanked by a platoon of Daniel Nava and Jonny Gomes in left and Shane Victorino in right -- played exactly one game together, and that didn't come until late May.
Victorino blew out a hamstring in the last exhibition game of spring, ultimately had back surgery and played in just 30 games. Nava was sent down to Pawtucket after opening the season in a severe slump. Sizemore was overmatched by center field, his bat was slow to come around and ultimately was released.
Gomes was dealt at the trading deadline.
Jackie Bradley Jr
., whose subpar performance in spring training had him ticketed to return to Pawtucket, instead was rushed to the big leagues and kept there, long after his bat proved incapable of hitting major league pitching even as he played peerless defense. The Sox traded for two outfielders,
Yoenis Cespedes
and
Allen Craig
, spent $72.5 million on a Cuban import,
Rusney Castillo
, and gave long looks in the outfield to two converted infielders,
Brock Holt
and
Mookie Betts
.
[+] Enlarge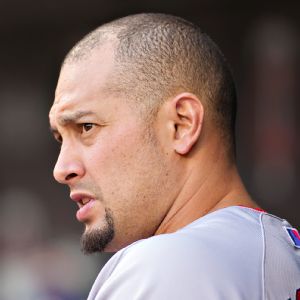 Brad Rempel/USA TODAY SportsWill Shane Victorino reclaim right field in 2015?
All those machinations mean that the Sox are certain to have a different look in the outfield by next spring, and the uncertainty invites all kinds of speculation about which direction the Sox will proceed. An early guess, based on the way the season ended, would be Castillo in center, with Cespedes in left and Betts in right, with Nava and Craig on the bench and Bradley back in Pawtucket working on his swing, but that alignment raises as many questions as it answers:
• What do the Sox do with Victorino if he comes back healthy, as he vows to do, with $13 million and one year left on his contract? Even if the Sox had plans to trade him, they won't be able to do so before he shows he's healthy in spring.
• What if Cespedes, eligible to become a free agent after 2015, signals his intention to leave after the season?
• What if the Sox have to surrender Betts as the price of acquiring a top-of-the-rotation starting pitcher?
• What if the Sox make a run at Miami's
Giancarlo Stanton
, even though the Marlins insist he's going nowhere, or Atlanta's
Jason Heyward
, who is a year away from free agency but would offer the Sox left-handed balance and play outstanding corner defense?
• What if Bradley, arguably the best defensive center fielder the Sox have had in 40 years, has a great spring? Does he force himself back into the picture?
This much is clear: GM Ben Cherington will not go into the 2015 season with an outfield that combined to hit 26 home runs, the fewest in the majors, and languished near the bottom of most of the other key offensive categories as well. But how he gets there should be fascinating to watch.
Red Sox outfielders' performance this season (major league rankings):
Batting average: .249, 27th
On-base percentage: .313, 23rd
Slugging percentage: .356, 28th
Home runs: 26, 30th
Extra-base hits: LF 44, 20th; CF 37, 24th; RF 49, 17th
Offensive WAR: LF 1.4, 17th; CF 0.8, 26th; RF 1.7, 16th
Errors: LF 6, 18th; CF 1, 1st (tied); RF 4, 9th
Total Zone Fielding Runs Above Average: LF -7, 23rd; CF -3, 20th; RF 10, 6th
Left fielders used: 9
Offensive stats:
Jonny Gomes 54 G, .224/.311/.321/.632 3 HR, 24 RBIs; Yoenis Cespedes 43, .266/.297/.439/.737 5, 30; Daniel Nava 35, .316/.397/.351/.748 0, 5; Grady Sizemore 22, .277/.330/.422/.751 1, 13;
Mike Carp
10, .207/.258/.241/.499 0, 3; Brock Holt 7, .333/.375/.400/.775 0,0;
Bryce Brentz
5, .300/.300/.350/.650 0, 2; Allen Craig 1, .250/.250/.500/.750 0, 0;
Kelly Johnson
1, .000/.000/.000/.000 0, 0.
Center fielders used: 5
Offensive stats:
Jackie Bradley Jr. 107 G, .198/.270/.267/.537 1 HR, 26 RBIs; Mookie Betts 28, .272/.353/.447/.800 4, 11; Grady Sizemore 16, .191/.309/.298/.607 1, 1; Rusney Castillo 10, .333/.400/.528/.928 2, 6; Brock Holt 9, .143/.200/.179/379 0, 0.
Right fielders used: 10
Offensive stats:
Daniel Nava 65 G, .267/.329/.390/.719 4 HR, 27 RBIs; Brock Holt 32, .311/.356/.475/.831 2, 9; Shane Victorino 30, .268/.303/.382/.685 2, 12; Grady Sizemore 14, .148/.207/.204/.411 0, 1; Allen Craig 10, .160/.323/.200/.523 0, 0; Mookie Betts 9, .355/.412/.484/.896 0, 1; Jackie Bradley Jr. 8, .217/.217/.261/.478 0, 4; Jonny Gomes .241/.333/.345/.678 1, 3;
Alex Hassan
2, .143/.250/.143/.393 0, 0; Bryce Brentz 1, .250/.250/.250/.500 0, 0.

Best performance:
All the preseason attention was focused on two other rookies, Bradley and
Xander Bogaerts
, but the 21-year-old Betts may have stamped himself as the team's leadoff hitter of the future with his coming-out party. He handled the transition to the outfield, which he had barely played before arriving here, with aplomb, brought speed and athleticism to the lineup, and showed that he can drive the ball as well.
Biggest disappointment:
Bradley was historically bad at the plate, his .198 average the lowest ever of any Sox rookie who had 300 or more plate appearances. The depths to which he fell were puzzling, given his history of being able to hit going back to his college stardom at South Carolina and throughout the minor leagues. Bradley expresses confidence he will hit, and former big leaguers like Mike Cameron recalled fighting similar slumps early in their career, but it's an open question whether Bradley gets another chance here.
Biggest surprise:
A strong case could be made for either of the converted infielders, Betts or Holt, thriving in the outfield, but did anyone really foresee Gomes going from such a key role player in 2013 to non-factor so quickly?
Outlook for 2015:
We've touched on it above, but the outfield situation is so fluid the Sox could go in any number of directions.
Potential free-agent signings:
The Sox won't be targeting an outfielder in free agency.
Potential trade targets:
If they make a trade, it will only be in a megadeal (Stanton or Heyward).
[+] Enlarge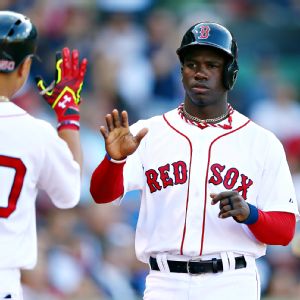 Elsa/Getty ImagesWill Rusney Castillo live up to his $72.5 million contract?
Prospects in the system:
He's only 20 and hasn't played above Class A Salem, but
Manuel Margot
is already ranked the third-best prospect in the Sox system by SoxProspects.com, which cites his plus-plus speed, his plus-defensive skills and potential impact bat as the tools of a potential future All-Star.
Scout's take:
Castillo has way more upside in center field than Bradley. He has tremendous actions in center field, he's faster than Bradley though the arm isn't as strong, and he looks like he will hit. That's saying a lot, since Bradley's defense was Gold Glove stellar. I think Bradley will mature, but his bat has a long way to go, and you can't start in a major league outfield if you can't hit. I think he has trade value, for a team that takes a chance that his bat will come along, knowing that he may end up no more than an extra outfielder. The problem for the Red Sox is his bat has already been exposed on the major league level. Unlike Castillo or Betts, there was never any spark or surge. The people I talk to about Betts love his athleticism and versatility.
I expect Cespedes to test free agency. I've seen a little regression in his game since he first came over from Cuba, and I don't think he's a good corner outfielder. A lot of his highlight plays came out of misplays. His whole effort level, to me, was greater when he first came here. He'll produce offense in real good spurts, but I'm not buying the total package. I guarantee you there will be no hometown discounts. For me, a lot of yellow flags.
I've never been a Craig guy, and now his injury history comes into play. The Sox have a real jigsaw puzzle to solve in their outfield.
October, 14, 2014
Oct 14
10:32
PM ET
BOSTON -- At various times in 2014, the
Boston Red Sox
had black holes throughout their lineup, but none as consistently nonproductive as third base, where another injury-filled season for
Will Middlebrooks
created a void the Sox never filled.
[+] Enlarge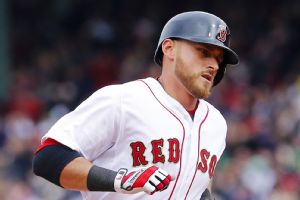 David Butler II/USA TODAY SportsIt was another frustrating season for Will Middlebrooks, who played in just 60 games for the Red Sox and didn't hit a home run after April 26.
The Sox ranked last in the majors in batting average at third base, 29th in on-base, last in slugging. Middlebrooks hit two home runs in 234 plate appearances, none after April 26.
Xander Bogaerts
, shifted to third after Middlebrooks was hurt, went into a three-month funk at the plate and made 10 errors in just 44 starts at third.
Brock Holt
performed ably as a fill-in, but was never more than a temporary solution.
The Sox took a brief look at another rookie,
Garin Cecchini
, in September, but they head into the offseason with perhaps even more uncertainty than they did a year ago, when they bet on a healthy Middlebrooks establishing himself as an everyday player. Outside of starting pitching and another bullpen arm or two, third base would appear to be the position most likely for the Sox to seek an external solution.
Here's the seventh in our series of position-by-position breakdowns:
Performance this season (major league rankings):
Batting average: .211, 30th
On-base percentage: .271, 29th
Slugging percentage: .308, 30th
Home runs: 10, 25th
Extra-base hits: 38, 27th
Offensive WAR: 0.5, 27th
Wins Above Replacement: -0.5, 27th
Errors: 24, 26th
Total Zone Fielding Runs Above Average: -11, 28th
Third basemen used: 8
Offensive stats:
Will Middlebrooks 60 G, .194/.261/.270/.531 2 HR, 19 RBI; Xander Bogaerts 44, .217/.300/.517 5, 13; Brock Holt 38, .281/.335/.370/.705 1, 14;
Jonathan Herrera
9, .125/.276/.125/.401 0, 1; Garin Cecchini 9, .222/.323/.444/.767 1, 4;
Ryan Roberts
7, .111/.238./111/.349 0, 0;
Kelly Johnson
2, .200/.200/.200/.400 0, 0;
Carlos Rivero
2, .500/.500/1.167/1.667

Defensive stats:
Middlebrooks 57 GS, 4 E, total zone fielding runs above average 3; Bogaerts 44, 10 E, -3; Holt 37, 6, -7.
Best performance:
Holt gets the nod here by default, posting a .705 OPS and holding his own defensively, although the defensive metrics suggest otherwise (-7 total zone fielding runs above average). Until he sustained a concussion in late August, Holt was one of the team's most reliable performers, regardless of where he played on the diamond. He didn't play after Sept. 5 because of concussive symptoms, but the club is confident he will make a full recovery.
Biggest disappointment:
Middlebrooks turned 26 in September and should be entering the prime of his career. Instead, he has had one physical setback after another and hasn't performed with any consistency even in those windows when he has been healthy. The Sox wanted him to play winter ball, but he opted to stay in Texas and work out at home; getting healthy, he insisted, took priority over getting more at-bats. It's hard for a team to move on from the kind of raw power Middlebrooks showed as a rookie, but that will be one of the bigger decisions general manager Ben Cherington will have to make in the coming weeks.
Biggest surprise:
It certainly came as a shock to the Sox that Bogaerts' offensive game would collapse after his shift to third base, although the move only further complicated what was already a daunting challenge for the 21-year-old rookie.
Outlook for 2015:
The Sox have signaled a need for another left-handed bat to balance their lineup; this is a position that obviously would lend itself to adding that bat from the outside. Perhaps Cecchini eventually grow will into that role, but he probably needs more time in Pawtucket. The other option is to give Middlebrooks one last chance to fulfill his abundant promise, but the Sox may not have the luxury to wait. The switch-hitting
Pablo Sandoval
, 28, is a particularly attractive target, but a lower-cost alternative could be the left-handed hitting
Luis Valbuena
, who hit 16 home runs for the Cubs last season. Looking for a big deal? Should the Athletics elect to move
Josh Donaldson
, the Sox surely would be interested.
Potential free agent signings:
Pablo Sandoval,
Chase Headley
,
Alberto Callaspo
Potential trade targets:
Luis Valbuena, Josh Donaldson,
Pedro Alvarez
,
Trevor Plouffe
,
Aramis Ramirez
,
Juan Uribe
Prospects in the system:
Cecchini
Scout's take:
Middlebrooks' health has been an issue ever since he fractured his wrist in 2012. Hands are delicate.
Jayson Werth
, for example, took a long time to recover from multiple injuries to his hands. He was a guy who always had potential when he was with the Toronto Blue Jays and Los Angeles Dodgers, but had issues staying healthy, much like Middlebrooks. Will's swing has gotten longer since he got hurt, but do you wait to see what happens if he gets beyond his health issues? I wouldn't count on him for anything. Sure, he still has trade value. A lesser team might be more willing to roll the dice on him in a trade for a middle reliever, say. Boston can't guarantee him 500 at-bats, but a team that's not going anywhere could, such as the San Diego Padres. The other option Boston has is to run him out there and let him sink or swim.
A team has to make a list of its question marks going into a season, and if that list is too long, it's in trouble. Are the Sox putting their neck on the line for Bogaerts, Vazquez, Castillo? Then Middlebrooks is pretty far down that list. And Cecchini is still too raw.
October, 14, 2014
Oct 14
3:01
AM ET
ESPN.com news services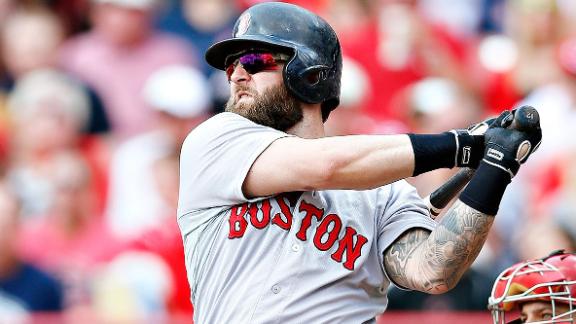 Mike Napoli escaped surgery after injuries at various points this season to a finger, a toe, a knee and his back.
The Boston Red Sox first baseman won't be so fortunate with regard to his sleep disorder.
Napoli told sports radio station 93.7 WEEI in Boston that he will undergo a facial-reconstruction operation in hopes of resolving his sleep apnea, a condition in which a person's airway becomes obstructed.
The procedure, called bimaxillary advancement surgery, separates the front portions of the lower and upper jaw and moves them forward to allow more room behind the tongue, reducing the chances of obstruction.
Napoli said he will have the surgery Nov. 4.
"I've been dealing with sleep apnea for a long time, my whole career," Napoli told WEEI.com in a text message. "I've tried numerous things and none of them worked. Dental mouth piece, CPAP machine, medicines ... It's just gotten to the point where I have to get this done."
Napoli previously brought the issue to the Red Sox's attention, prompting them to take advantage of the full offseason to further examine his options.
"It's affected him, so because we have a longer offseason we may look to work with him on some different ways to manage that going forward," Red Sox general manager Ben Cherington said last month. "We don't know what that's going to mean yet but just so you guys know it's something we're working with him on."
October, 13, 2014
Oct 13
9:31
PM ET
BOSTON -- How close did
Xander Bogaerts
come to matching all the preseason hype? Depends when you were watching. Through Memorial Day, the Sox brain trust was taking bows for its shortstop prodigy, who went into June batting .304 and with a .397 on-base average that ranked fourth in the American League.
Check back in September, and you saw almost the same: a .313/.317/.490/.807 slash line, with the dropoff in on-base percentage due to Bogaerts' drawing just two walks in his final 102 plate appearances.
[+] Enlarge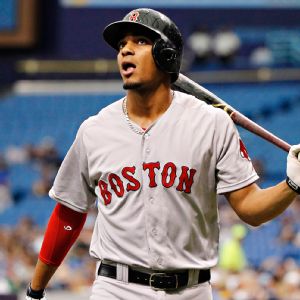 Kim Klement/USA TODAY SportsXander Bogaerts's brutal three-month stretch at the plate and his inconsistency in the field leave some questions about his reliability for 2015.
But had you been watching only during the three months in between, you would have concluded the Sox badly overplayed their hand. In a 67-game span from June 1 to Aug. 31, Bogaerts posted a .161/.206/.254/.460 slash line. The batting average and slugging percentage were the lowest of any big leaguer with at least 125 at-bats in that span. The on-base average was the lowest for any player with at least 160 at-bats.
Bogaerts hit poorly on the road (.223). He was awful with runners in scoring position (19-for-124, .153) and not much better with men on base (43-for-223, .193).
It hardly helped, of course, that the Sox wrenched Bogaerts out of the position they had groomed him to play (shortstop), re-signed
Stephen Drew
and moved Bogaerts to third base after
Will Middlebrooks
went down with a fractured finger. Some would argue the position shift was the cause of Bogaerts' prolonged slump, and the pressure to perform rose even further when Drew's return was disastrous, with the 2013 incumbent never finding his offensive stride after sitting out the first two months for contractual reasons.
Given that Bogaerts went on a tear when the news of Drew's re-signing was first announced and hit home runs in each of his first two starts at third base, it seems more a matter of convenience than fact that the position change caused him to lose his way. A more likely explanation: Major league pitchers discovered the holes in the 21-year-old's plate approach and exposed them mercilessly until he finally was able to make the necessary adjustments, especially to the steady diet of sliders that had Bogaerts striking out at an alarming rate.
That's the backdrop to the sixth in our series of position-by-position breakdowns:
Red Sox shortstop performance this season (major league rankings):
Batting average: .250, 19th
On-base percentage: .316, 11th
Slugging percentage: .369, 18th
Home runs: 11, 11th
Extra-base hits: 46, tied for 13th
Offensive WAR: 1.4, 22nd
Wins Above Replacement: 0.7, 25th
Errors: 12, 4th
Total Zone Runs Above Average: -6, 21st
Shortstops used: 5

Offensive stats:
Xander Bogaerts 98 G, .266/.333/.391/.724, 7 HR, 33 RBI; Stephen Drew 38, .176/.255/.328/.583, 4, 11;
Jonathan Herrera
14, .234/.265/.340/.606, 0, 3; Brock Holt 12, .314/.352/.333/.685, 0, 1;
Jemile Weeks
3, .429/.595/.429/.974, 0, 1.
Defensive stats:
Bogaerts 10 E, -6 Total Zone Runs Above Average; Drew 2 E, 0 TZRAA. Herrera, Holt, Weeks 0 E.
Best performance:
"Best" is a relative term here. Bogaerts had his moments early and ended on an upswing, but the Sox expected his transition to the big leagues to go more smoothly than it did.
Biggest disappointment:
Drew's decision to turn down Boston's qualifying offer might have been admirable on principle, but it had a devastating impact on his performance and leaves him with little leverage in negotiating a multi-year deal with a club going forward.
Biggest surprise:
Brock Holt might not have the tools to play short every day, but he certainly demonstrated he can be a more-than-adequate fill-in at the position.
Outlook for 2015:
Bogaerts is far from a finished product at short, especially defensively, but he certainly has shown enough promise for the Sox to remain confident he will evolve into an impact player at the position. The Sox might elect to add a veteran glove as insurance, perhaps as a nonroster invitee.
Potential free agent/trade targets:
Not applicable. The Sox are not looking for an upgrade here.
Prospects in the system:
Deven Marrero
was named the organization's best defensive player, but the No. 1 pick in the 2012 draft needs to show improvement at the plate before he can be regarded as a top prospect. He'll begin the season in Pawtucket but could gain his first big-league exposure in 2015.
Scout's take:
There still are questions about Bogaerts' defense and reliability at shortstop, which might be just a case of growing pains. He has had strong flashes of success, especially offensively, at such a young age and at a premium position. To me, he still has strong value.
People might say Holt will never have more trade value than he has now, but if I'm the Red Sox, I keep him. He offers an answer at so many positions, and that versatility means a lot on a winning team.
October, 13, 2014
Oct 13
8:30
PM ET
BOSTON -- The Red Sox are assembling their list of candidates for a new hitting coach, according to a club source, and will commence their search by interviewing two in-house candidates, Tim Hyers and Rich Gedman, while bringing in Paul Sorrento from the Angels this week.

There could be an additional in-house candidate, the source said, as well as others from outside the organization.

The Sox are looking to replace Greg Colbrunn, who served as hitting coach the last two seasons but expressed an interest in spending more time with his family when informing the Sox he would not return next season. Colbrunn experienced a major health scare last season when he had bleeding on his brain, sidelining him for six weeks.

Hyers, who was beginning his second season as the team's minor league hitting coordinator, was pressed into service on the big-league level when Colbrunn was incapacitated, working with assistant hitting coach Victor Rodriguez.

Gedman, meanwhile, has been hitting coach for Double-A Portland the last two seasons. He could become the fifth former Sox player of the mid '80s to become the team's hitting coach, joining Rick Burleson, Jim Rice, Dwight Evans and Mike Easler.

Sorrento, who posted a .797 OPS in an 11-year big-league career in which he played for the Indians, Twins, Devil Rays and Mariners, served as an interim batting coach for the Angels when Don Baylor took a leave to undergo surgery.

The Sox have had six hitting coaches since the start of the 2000 season: Rice, Rick Down, Evans, Ron Jackson, Dave Magadan and Colbrunn. Magadan had the longest tenure, six seasons from 2007-12.