December, 5, 2013
Dec 5
11:21
PM ET
Ben Cherington had a vision of building a power bullpen when he first became Red Sox general manager after the 2011 season, when one of his first acts was to trade for closer
Andrew Bailey
even though he had
Daniel Bard
, who at the time was still considered a closer in waiting.
That blew up when Bailey went down with an injury and Bard lost his way, but Cherington took another crack at it last winter, when he traded for another power closer in
Joel Hanrahan
and signed free agent
Koji Uehara
, even though Bailey was back. Uehara proved a season-saver when Bailey and Hanrahan both sustained season-ending injuries, turning in what statistically ranks as one of the most dominant seasons ever as a closer.
[+] Enlarge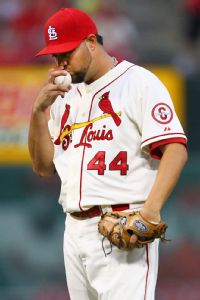 Dilip Vishwanat/Getty ImagesEdward Mujica saved 37 games for the Cardinals last season before fading and losing the closer's job.
Now, Cherington is back at it, coming to terms Thursday with 29-year-old reliever
Edward Mujica
on a two-year, $9.5 million deal that at first blush looks like a Uehara-like bargain, given Mujica's age, his 37 saves last season for the Cardinals, and the three-year deals given to relievers
Javier Lopez
and
Joe Smith
.
Like Uehara, Mujica is a fastball-splitter pitcher with impeccable control -- implausibly enough, even better than Uehara last season, when Mujica walked just five batters in 64 2/3 innings, a major-league best (for relievers) 0.70 walks per nine innings. Uehara was third, with 1.09 walks per nine, while
Junichi Tazawa
(1.58) was eighth, giving the Sox three of the top strike-throwers in big league bullpens.
Mujica doesn't strike out batters at the same rate as Koji -- his K-per-nine rate dropped to 6.4 this season -- but like Uehara, he was pressed into service as St. Louis closer when incumbent
Jason Motte
had Tommy John surgery and
Mitchell Boggs
fared poorly in the role.
By now, we suspect, you're wondering, where was Mujica in the World Series? Answer: He didn't pitch. Mujica came into September with 35 saves and a 1.72 ERA in 50 appearances, walking just two. The season's last month was a nightmare, however, as he gave up 9 earned runs in 7 1/3 innings, allowed an opponents' batting average of .514, and struck out just 3 of the last 38 batters he faced.
He lost his closer's job to rookie phenom
Trevor Rosenthal
, and the confidence of Cardinals manager
Mike Matheny
, who used him just twice in the postseason -- an inning against the Pirates in the NLDS, an inning against the Dodgers in the NLCS in which he gave up a home run to L.A. catcher
A.J. Ellis
. He never got out of the bullpen against the Red Sox.
Even in that regard, a parallel to Uehara can be seen. The Japanese reliever was shelled in the 2011 AL playoffs while pitching for the Rangers, and was left off the Series roster.
Make no mistake: No one is suggesting Mujica is the second coming of Uehara, but according to a Red Sox source, Boston attributed his late-season drop-off to fatigue issues, and they are highly confident he will bounce back. The right-hander from Venezuela is no stranger to John Farrell, who was the Indians' farm director when Mujica, originally signed by Cleveland, made his way up the Indians' system.
Mujica becomes the second reliever acquired so far this winter by Cherington, who also traded for Brewers' sinker-baller
Burke Badenhop
, another strike thrower (12 walks in 62 1/3 innings pitched). And with so many relievers still on the market, it's possible Cherington isn't done, even though the Sox appear well set in the pen with their current corps, which includes the return of power lefty
Andrew Miller
to team with
Franklin Morales
and
Craig Breslow
from the left side, and Tazawa, along with a host of aspirants, including
Alex Wilson
and
Brayan Villarreal
, who came from Detroit in July's three-way deal that netted Boston
Jake Peavy
.
But Uehara threw 74 1/3 innings in the regular season, eighth most among AL relievers, and an additional 13 2/3 innings in the playoffs, the total of 88 innings by far his heaviest workload since he came to the U.S. in 2009. Uehara turns 39 on April 3, and it remains to be seen how much he has left. Mujica, in addition to joining the setup mix, gives Farrell another closer alternative, and invites speculation about whether the Sox would even contemplate returning Uehara to the role for which he was initially acquired -- pitching in high-leverage situations, regardless of the inning.
Given Uehara's spectacular success as closer, that would seem extremely unlikely. But the Sox pen has taken some unexpected turns already during Cherington's tenure, so it can't be ruled out.
December, 5, 2013
Dec 5
4:39
PM ET
Gary DiSarcina, who managed the Pawtucket Red Sox to the 2013 Governors' Cup Finals before taking a job with the Los Angeles Angels in November, was named Baseball America's 2013 Minor League Manager of the Year.

DiSarcina, a native of Billerica, Mass., managed the PawSox for just one season and led them to the International League North division title with an 80-63 record. Throughout the regular season, DiSarcina juggled 64 different players -- with 23 promoted to Boston during the course of the year.

DiSarcina will be the Angels' third-base coach. The All-Star shortstop played his entire 12-year major league career with the Angels organization (1989-2000).


December, 5, 2013
Dec 5
2:30
PM ET
A follow-up to yesterday's post titled
"One thing Hall of Fame voters get wrong."
The premise of that piece was that voters haven't properly adjusted for the increasing number of teams since expansion first began in 1961 -- from 16 teams to the 30 we have now. I pointed out that the 1950s and '60s have a combined 39 Hall of Famers (for an average of 36 teams) while the 1970s and '80s have just 36 Hall of Famers for 50 teams.
Personally, I think the one-to-one ratio of Hall of Famer per team sounds about right. It's fewer than the overrepresented 1920s and 1930s, about what we have for the '50s and '60s but fewer than what we have for the '70s and '80s.
So, who is missing from the '70s and '80s? Here are 10 guys I would put in. WAR totals and rankings from Baseball-Reference.com.
Tim Raines (69.1 WAR, 105th all time)
Ballot history: After starting out with just 24 percent of the vote in 2008 he's started climbing in recent years and was up to 52 percent last year.
This will be Raines' seventh year on the ballot, and while he'll probably stagnate in the next couple years with some big names on the ballot, he looks like he'll eventually get in before his 15 years is up.
Alan Trammell (70.4 WAR, 94th)
Ballot history: After 12 years on the ballot, he was at 33 percent last year. He won't get elected via the BBWAA.
I've never understood why Trammell was never able to build a case. His career numbers are very similar to Barry Larkin's, minus a few steals, and Larkin made it in on his third year. Even if you think Larkin was a
little
better, if Larkin's case is 100 percent then Trammell's should be about 98 percent. Two differences: Larkin won an MVP and Trammell finished second when he should have won; Larkin didn't have Cal Ripken in his league.
Lou Whitaker (74.8, 77th)
Ballot history: Got 3 percent his first year and fell off.
Whitaker's career numbers are pretty similar to Roberto Alomar's: .276/.363/.426 with a 117 OPS+ versus .300/.371/.443 with a 116 OPS+. Alomar had more steals and the better defensive reputation although Whitaker was very good and won three Gold Gloves. It's not necessarily that Whitaker was as good as Alomar but that he compares very favorably. The case against him is that his peak wasn't as high -- his five best seasons were worth 28.9 WAR compared to Alomar's five best at 33.0 -- but he was very good even up to his final season. You know what hurt him? He hit the ballot in 2001, when even middle infielders were putting up huge offensive numbers. Whitaker's good seasons looked less impressive at the time.
Dwight Evans (66.7, 125th)
Ballot history: First came on in 1997, lasted three years before getting booted.
Evans had received 10 percent his second year, which while not great at least gave him some momentum from his first year. Maybe his case would have exploded like Bert Blyleven's. But the 1999 ballot added Nolan Ryan, George Brett and Robin Yount and everybody else suffered as a result. Evans, of course, is a sabermetric darling. He did things well that Jim Rice, his Hall of Fame teammate on the Red Sox, didn't: draw walks, play superb defense. The walks meant that Evans posted a higher on-base percentage even though Rice had the higher average. You'd think a guy who won eight Gold Gloves, hit 385 home runs in the pre-steroid era, drove in 1384 runs and scored 1470 would have been more appreciated. Part of his problem was that he was better in his 30s than his 20s. He wasn't a Hall of Famer for the first half his career so not enough people thought of him as one.
Bobby Grich (71.0, 90th)
Ballot history: One and done.
Yes, another sabermetric favorite. He had good power for a second baseman for his era, drew a ton of walks and won four Gold Gloves. An enormously valuable player in his time -- Baseball-Reference ranks him as one of the top seven position players in the AL in seven different seasons, including first in 1973.
Orel Hershiser (56.8, 209th)
Ballot history: Received 11 percent his first year and then fell off in his second. Odd.
Hershiser won "only" 204 games and thus his early exit from the ballot. I'm not saying he's a lock candidate, but why has Jack Morris' case taken off while Hershiser was dumped so quickly? At his peak, Hershiser was more dominant and his 1988 postseason heroics certainly are the equal of Morris' Game 7. OK, Morris won more games. Maybe a better comparison is another former Dodgers pitcher, Don Drysdale, who made it in with 209 career wins. Hershiser's career ERA isn't as good but he also had to pitch in the high-scoring late '90s during the decline phase of his career. Like Drysdale, he was famous during his peak (not mention Hershiser broke Drysdale's scoreless-inning record). Postseason career: 8-3, 2.59 ERA in 22 games (18 starts).
Keith Hernandez (60.1, 177th)
Ballot history: Stayed on for nine years, peaking at 11 percent.
As a first baseman, you make the Hall of Fame for your bat, thus Hernandez never drew much support. Still, he was a .296 career hitter, drew walks, played on two World Series champs and is regarded as maybe the best defensive first baseman ever. His career WAR is Hall of Fame borderline but Hernandez was also one of the most iconic players of the '80s, if you want to put stock into that. (And, yes, Hernandez over Don Mattingly, who simply had too short of a peak.)
Luis Tiant (66.7, 125th)
Ballot history: Stayed on for 15 years.
Here's what's interesting about Tiant: He received 30 percent of the vote his first year on the ballot, 1988. People have been elected with worse starting positions -- Rice, Blyleven, Bruce Sutter. Drysdale received just 21 percent his first year. So initially there was a strong belief in Tiant as a possible Hall of Famer, with his 229 career wins and popular personality. He to fell 11 percent his second year. What happened? Gaylord Perry and Fergie Jenkins entered the ballot in 1989. Then Jim Palmer. Then Tom Seaver in 1992, Phil Niekro in 1993, Steve Carlton in 1994. He wasn't as good as those guys so everyone forgot about him.
Ted Simmons (50.2, 289th)
Ballot history: One and done. He's on the Veterans Committee ballot this year.
I'm on the fence with Simmons, but he does rank 10th all time in catcher WAR and I'd argue that the top 10 at each position are strong Hall of Fame candidates. He wasn't Johnny Bench, but who was? From 1971 to 1980 he hit .301 and averaged 90 RBIs per season.
And ...
Pete Rose (79.4, 64th)
Ballot history: Actually received 9.5 percent of the vote in 1992.
OK, maybe including Rose is cheating a bit.
* * * *
So that's 10 players. Others you could argue for: Jack Morris, Dale Murphy, Willie Randolph; Graig Nettles isn't that dissimilar from Brooks Robinson; Rick Reuschel's career WAR is higher than Palmer, Drysdale, Sutton or Juan Marichal; Lee Smith has done pretty well in the BBWAA voting and is still on the ballot. Tommy John, Dave Concepcion, Dave Parker, Steve Garvey and Dan Quisenberry are on the Veterans Committee ballot this year, which makes them all candidates, although I think only John has a strong case. (Quisenberry is no different from Sutter, however, so there's that.) Dave Stieb was dominant in the '80s; with a little more luck he could have won three Cy Young Awards and been a stronger choice.
Part of the problem voters face is that as the quality of talent improves over time it becomes harder for the great players to separate themselves. So Stieb looks like Hershiser who looks like Bret Saberhagen who looks like Dwight Gooden and none of them were Tom Seaver so nobody gets in.
I know many (most?) of you believe electing guys like those above would weaken the Hall of Fame. That's sort of my ultimate point; if your Hall of Fame is Willie Mays and Hank Aaron and Cal Ripken, then your bar is way above the established level of actual Hall of Famers. Let's just give guys from recent decades their fair due.
December, 5, 2013
Dec 5
12:26
PM ET
The Boston Red Sox on Thursday agreed to terms on a two-year, $9.5 million deal with right-handed reliever Edward Mujica, according to a baseball source.
The deal is pending a physical.
The 29-year-old was the closer for a time with the St. Louis Cardinals this past season but lost the job in September and was not a factor in the postseason, making just two appearances.
For the season, Mujica put up impressive numbers -- a 2.78 ERA, 37 saves, 46 strikeouts and just five walks in 64 2/3 innings -- but lost the team's confidence down the stretch and was replaced by Trevor Rosenthal as closer after blowing his fourth save Sept. 19.
Mujica, who was scored upon in six of his final 10 regular-season appearances and had an 11.05 ERA in September, had a groin injury and shoulder soreness that might have contributed to his decline down the stretch.
He took over as closer in April after the Cardinals lost Jason Motte to Tommy John surgery and thrived, converting his first 21 saves in a dominant run through the first three months of the season.
Over his eight-year career, which has spanned four teams, Mujica has struck out 350 and has walked just 68 in 381 innings.
Mujica joins a strong Red Sox bullpen that's already in good shape at closer (Koji Uehara) and in setup roles (Junichi Tazawa, Craig Breslow & Co.), though he could join the late-innings mix.
December, 5, 2013
Dec 5
10:47
AM ET

The
Boston Red Sox
know that
Jacoby Ellsbury
is out of the equation, as the free agent is now in the enemy uniform of the
New York Yankees
. While they could decide to simply insert
Jackie Bradley Jr
. in center, there's no reason to think that the team wouldn't pursue more established options to fill the opening in their outfield.
To continue reading this article you must be an Insider
December, 5, 2013
Dec 5
8:24
AM ET
How will Jacoby Ellsbury do with the Yankees in 2014? Let's play a little over/under with odds from Bovada.lv.
Batting average: .299
Ellsbury hit .298 in 2013 and is a career .297 hitter. He hit .300 on the road, .296 in Fenway in 2013, and is career .288 on the road, .308 at home.
One thing that could come into play is the number of left-handed starters the Yankees see. Ellsbury hit .246 against lefties in 2013. The Yankees struggled against left-handed pitching in 2013 and teams don't like to start righties at Yankee Stadium, but the Yankees actually only faced one more lefty starter than the Red Sox (55 versus 54). The over/under seems about right. I'll go with the under, however.
Home runs: 15 1/2
In the four full seasons that Ellsbury has played he's hit 9, 8, 32 and 9 home runs. The question isn't really whether he'll reach 30 home runs again -- that seems like a clear aberration -- but how much moving to Yankee Stadium with its short right-field porch will help his power game.
Here's an
overlay of Fenway Park and Yankee Stadium
. Ellsbury did pull all nine of his home runs in 2013; but he didn't really pull the ball that often. Most of his fly balls went to left field and center field and looking at his hit chart I see maybe four fly balls that may have cleared the fences at Yankee Stadium. So unless he alters his approach a bit, which is possible, I'd probably take the under.
Stolen bases: 39 1/2
Ellsbury had one of the great stolen base seasons in history percentage-wise in 2013, becoming just the fifth player to steal at least 50 bases while getting caught five or fewer times.
He stole 52 bases while playing 134 games and has swiped as many as 70, although that came in 2009. Where he hits in the order could factor into how often he steals. I would assume he'd hit leadoff with Derek Jeter batting second, although you could argue that, at least against right-handers, Joe Girardi should hit Brett Gardner and Ellsbury 1-2 with Jeter sliding down.
Still, I'll take the over.
Games played: 129 1/2
Even when he was relatively healthy last season, Ellsbury played in just 134 games. He played in 74 in 2012 and missed nearly all of 2010.
This is the big wild card, of course. The Yankees are betting on good health. I will, too, at least in the first season. I'll take the over.
December, 4, 2013
Dec 4
9:15
PM ET
During a media conference call in which new Sox catcher
A.J. Pierzynski
was introduced, Red Sox general manager Ben Cherington said that while the team would have "loved" to have kept
Jacoby Ellsbury
, "we felt there was an area, a range we were willing to go to. The market just got past that."
Which raised an interesting question: Sources on both sides of the Ellsbury negotiations said the club was willing to go to six years for Ellsbury at a figure less than $120 million. Assuming that is accurate, would the Sox then be willing to go six years for, say, Dodgers outfielder
Matt Kemp
, the former MVP who has six years and $128 million left on his contract but has been hurt each of the past two years? Especially if the Dodgers took back some money?

The Sox and the Dodgers already have one megadeal under their belts, the August 2012 trade that sent
Adrian Gonzalez
,
Carl Crawford
and
Josh Beckett
to the Dodgers and allowed the Sox to reboot their franchise. The lines of communication between ownership and general managers on both sides are excellent. The Red Sox have made inquiries, and if they are convinced that Kemp can approach the talent level he displayed when healthy, they might try to find another match with Kemp. Just as they
haven't ruled out
taking a run at free-agent outfielder
Curtis Granderson
, even as the Mets loom as the prime contender for his services.
For now, Cherington said, he doesn't feel any obligation to discuss what the team will look like in 2014 because he is still in the process of assembling that team. At the moment, sure, he said, rookie
Jackie Bradley Jr.
could succeed Ellsbury in center field.
"Certainly, we feel really good that we have some in-house alternatives," Cherington said. "One is Jackie Bradley Jr. That doesn't mean we wouldn't add an outfielder. It doesn't mean we wouldn't add a player at another spot.
"We're not going to talk about what the team will look like on Opening Day, because we don't have to. There's still time. We're going to continue to work through options, pursue ways to make the team better. We feel fortunate Jackie is in our organization. We'd feel very good if he's playing center field if that's the way it works out."
Those decisions are still to come, as well as dealing with the club's No. 1 priority of re-signing
Mike Napoli
and possibly welcoming back
Stephen Drew
if he doesn't find the multiyear riches that seemed a given a month ago, leading one baseball source to say the Sox were out of the Drew picture.
[+] Enlarge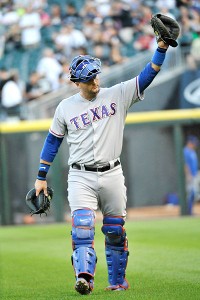 David Banks/Getty ImagesThe Red Sox are the fifth team for A.J. Pierzynski, who has also played for the Rangers, White Sox, Giants and Twins.
What is already a reality, though, is the fact that the Sox have a new catcher in Pierzynski, who spent this past October in a Fox broadcast booth but at 37 said he was drawn to Boston for the chance to win another World Series, an experience he has known once in his career, back in 2005 with the White Sox.
Pierzynski said he had multiyear offers from other clubs. The Twins, a team on which he was teammates with
David Ortiz
, were reported to have taken a run at him. There were other clubs, too, he said.
"In the end, it came down to wanting to come to Boston," he said. "Obviously, it's not every day you get a chance to play for the defending World Series champion, and looking at the organization and looking at what they've got coming back, they definitely have a chance to win again. I've won once, and once you've won, you want to try and do it again."
Cherington said Pierzynski, besides being a "very good everyday catcher," also shared the kind of qualities the Sox had sought in last year's free-agent class -- guys who can handle this environment, love to play and are winners.
Pierzynski said he canvassed former teammates, including Ortiz and
Jake Peavy
, about playing here. During a recent family vacation in Hawaii, he ran into another former teammate,
Mark Kotsay
, who urged him to sign with the Red Sox.
"Look, I'm just trying to fit in," said Pierzynski. "Last year, going to Texas, I thought I felt I fit in pretty well. The clubhouse [here] is great. There are guys I've known. I know [Shane] Victorino. I've known
Jonny Gomes
for a long time. Everything says they want to win. That's what I want to do. It shouldn't be that hard to fit in.
"This isn't my team. This is David Ortiz's team,
Dustin Pedroia
's. I'm just a piece trying to help them win again."
December, 4, 2013
Dec 4
5:15
PM ET
ESPNBoston.com
Newly signed Boston Red Sox catcher A.J. Pierzynski said Wednesday he passed up multiyear offers to sign a one-year deal with the World Series champs because he thought it afforded him his best chance at another ring.
"It was impossible to say no," Pierzynski told reporters on a conference call to announce his deal. "In end, winning won out over everything."
The deal, which was first reported Tuesday, is worth $8.25 million.
"In the end it came down to wanting to come to Boston," he said. "Obviously, it's not every day you get a chance to play for the defending World Series champion, and looking at the organization and looking at what they've got coming back, they definitely have a chance to win again. I've won once, and once you've won, you want to try and do it again."
A two-time All-Star, Pierzynski will take over for switch-hitting Jarrod Saltalamacchia, who agreed to a three-year, $21 million deal with the Miami Marlins on Tuesday at about the same time the New York Yankees pried outfielder Jacoby Ellsbury away from their rivals with a seven-year, $153 million deal. Saltalamacchia had been a solid catcher in Boston, but his last play in a Red Sox uniform was the ill-advised throw to third base that led to the obstruction call against Will Middlebrooks, which gave the St. Louis Cardinals a victory in Game 3 of the World Series.
December, 4, 2013
Dec 4
3:19
PM ET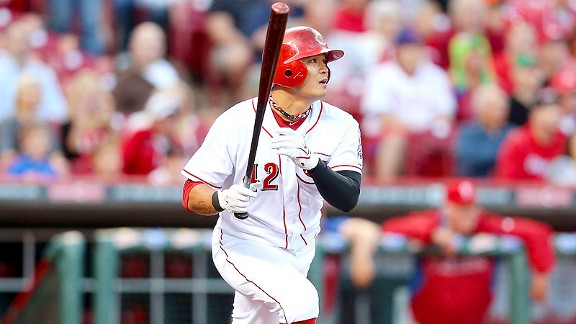 nullThe fact that Shin-Soo Choo struggles against lefties doesn't take away from his overall production.
Three of the most coveted free agents on this year's market share a common weakness. Shin-Soo Choo, Curtis Granderson and Stephen Drew simply can't hit left-handed pitching, a weakness that, it has been suggested, will limit their market value. The question is how much a team should spend on a player who can contribute only about seven days out of every 10.
After all, players with huge platoon splits aren't typically considered to be in the same class as regulars, never mind stars. How should we view players who, although they may find their way into the lineup every day, have little to offer whenever a lefty steps on the mound? As it turns out, it doesn't really matter if a player has a big platoon split, which should be great news for Choo, Granderson and Drew.
First, let's backtrack. How can we forecast how well these players will perform against left-handed pitching?
Last year, Choo hit .317/.457/.554 with 21 home runs against righties, but only .215/.347/.265 without a single home run against lefties. Stat-savvy fans and readers will quickly point out that while the ability to hit lefties is demonstrably a skill, we should never take one year's worth of platoon splits at face value.
Instead, we could look at his strikeout, walk, hit and home run rates against left- and right-handed pitching from each season, weigh more recent statistics more heavily and regress all of his platoon splits to those of a typical left-handed hitter. When we do this we end up with two projections for Choo's 2014 season:
December, 4, 2013
Dec 4
2:49
PM ET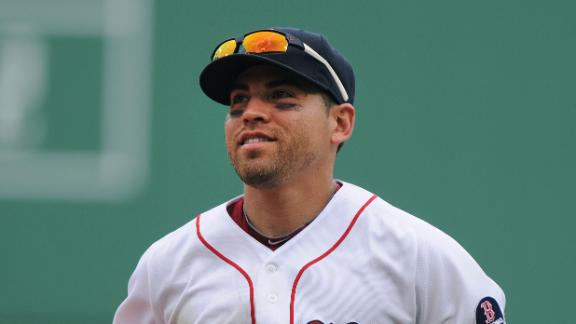 Looking for a free agent who fits the profile the Red Sox found so appealing last winter when they signed veterans Shane Victorino, Mike Napoli, Stephen Drew and Ryan Dempster?
Ben Cherington doesn't have to invent a player who fits that bill: winning background, strong skill set, looking to rebound from an off-year, big-market tested, outstanding clubhouse presence, perhaps open to taking shorter years for more dollars per year. There's already one on the market.
While a free agent such as Shin Soo-Choo will get the long-term deal he is seeking, which eliminates him from the mix, and Carlos Beltran's age (37 in April) makes him a high risk for a three-year deal, Curtis Granderson satisfies all of the criteria that topped Cherington's shopping list last season.
"You can't rule him out,'' one Red Sox source said of Granderson on Wednesday in the aftermath of Jacoby Ellsbury's departure to the New York Yankees.
Before anyone gets too excited, if Granderson gets a guaranteed fourth year from another club, such as the New York Mets, who appear to be making a strong push to sign him, then the Sox probably will be out on him.
December, 4, 2013
Dec 4
2:40
PM ET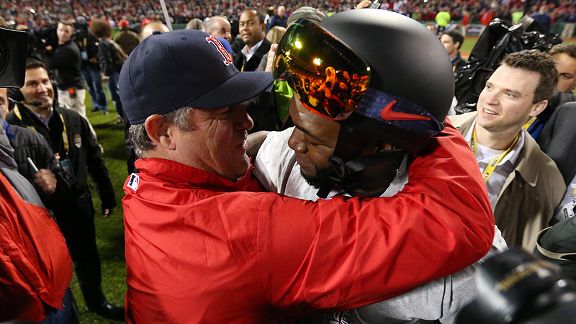 Rob Carr/Getty ImagesThe goggles and helmet worn here by David Ortiz could be yours -- if you're willing to splurge.
Just days after the shavings from his beard sold for charity for almost $11,000, World Series MVP David Ortiz is auctioning off the goggles and helmet he wore during the Red Sox championship celebration.
Both items, which are signed by Big Papi, are included in the David Ortiz Children's Fund auction, which is part of his annual Charity Golf Event in the Dominican Republic. The online bidding started at 12:01 a.m. ET Monday and will run to 7:30 p.m. ET Dec. 14, when the highest online bidders for each item will become the starting bidders at a live auction at the golf event.
The starting online bid for each item? Only $1,000.
For more information, click
HERE
.
December, 4, 2013
Dec 4
2:31
PM ET

Talks between the
New York Mets
and
Curtis Granderson
have been ongoing
since the free agent met with general manager Sandy Alderson over the weekend. One of the potential hurdles to an agreement for Granderson, thus far, appears to be the outfielder's desire for a four-year deal, rather than the three years that most teams seem to be willing to offer.
To continue reading this article you must be an Insider
December, 4, 2013
Dec 4
1:30
PM ET
After a slow start to the hot stove season, the moves have been fast and furious over the past few days. The annual winter meetings, where many deals are traditionally struck, begins Monday in Orlando. Before flying south this weekend, ESPNBoston.com Red Sox reporter Gordon Edes will answer your Red Sox questions in a winter meetings mailbag on Friday.
Submit your questions now
and check back Friday for the mailbag.