December, 13, 2013
Dec 13
12:25
PM ET
Associated Press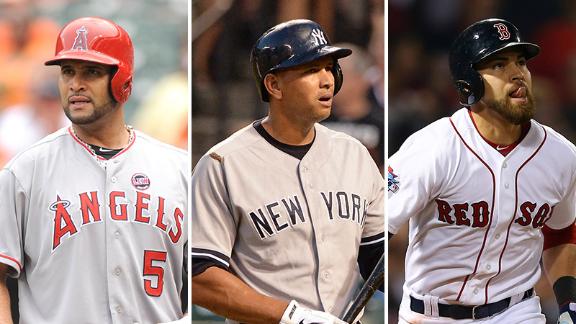 NEW YORK -- Jacoby Ellsbury will wear No. 22 with the Yankees, taking over the number of Roger Clemens, another Boston Red Sox star who moved south to New York.
Ellsbury wore No. 2 with the Red Sox, but that belongs to Yankees captain Derek Jeter.
The outfielder agreed to a $153 million, seven-year contract Dec. 3, and the deal was completed four days later. He appeared at a Yankee Stadium news conference Friday.
A lefty-hitting leadoff man, the 30-year-old led the majors with 52 steals despite a broken foot late in the season. He finished with a .298 average, nine homers and 53 RBIs.
Ellsbury is part of a rebuilding plan by the Yankees, who lost All-Star second baseman to Seattle. New York also agreed to deals with catcher Brian McCann and outfielder Carlos Beltran.
December, 13, 2013
Dec 13
9:49
AM ET
ESPNBoston.com
[+] Enlarge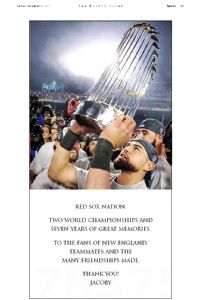 Courtesy of the Boston Globe
On the day he will be introduced as the newest New York Yankee, outfielder Jacoby Ellsbury took out a full-page ad in the Boston Globe to thank Red Sox fans for seven years of "great memories."
Ellsbury, fresh off winning his second World Series ring with the Red Sox, agreed to a $153 million deal with New York last week. The contract includes a $21 million team option for the 2021 season, with a $5 million buyout. If the option is exercised, the deal would be worth $169 million over eight years.
The ad shows Ellsbury hoisting the World Series trophy and is addressed to "Red Sox Nation."
"Two World Championships and seven years of great memories," the ad reads. "To the fans of New England, teammates and the many friendships made. Thank you!"
Ellsbury, who turned 30 in September, led the majors with 52 stolen bases despite being hobbled late in the season by a broken right foot. The lefty-hitting leadoff man batted .298 with nine homers and 53 RBIs, and the short right-field porch at Yankee Stadium should boost his power numbers.
Information from the Associated Press was used in this report.
December, 12, 2013
Dec 12
7:07
PM ET
Mike Napoli
is officially returning to Boston. The Red Sox announced in a team release that they had agreed to terms with the free agent first baseman, who contributed to a World Series championship in his first year with Boston.
The Sox reached agreement on a two-year, $32 million contract last Friday, when Napoli
tweeted the news himself
.
In order to clear room to add Napoli to the 40-man roster, Boston designated outfielder
Alex Castellanos
for assignment.
Red Sox general manager Ben Cherington and Napoli are scheduled to speak with the media Friday afternoon. We'll have it all covered here, so check back again tomorrow.
December, 12, 2013
Dec 12
6:28
PM ET
LAKE BUENA VISTA, Fla. -- Normally in this space, you'd be reading the annual, ever-popular Winter Meetings Winners and Losers recap you look forward to all offseason.
Sorry. Not this year.
Can't do it. Only because so much happened the week before the winter meetings, it wouldn't be fair to grade just the goings-on of the past four days.
"Last week was so nuts," said one National League executive, "we couldn't possibly top it."
So this is the annual winners and losers recap. Although this year, we're also including the deals and signings that led up to the winter meetings. So everyone got that? Cool. Now heeeeeere we go:
WINNERS
Feldman
• Fourth starters -- It has been a terrific winter to be Scott Feldman (three years, $30 million from the Astros, even though he has never had an ERA less than 3.86 in his career). ... Or Jason Vargas (four years, $32 million from the Royals, even though he has run off four straight seasons with an ERA-Plus of less than 100). ... Or Scott Kazmir (two years, $22 million from the A's, even though he hasn't pitched enough innings to qualify for the ERA title since 2007). With all the new national-TV money flowing into the sport, much of it has ended up in the pockets of pitchers whose names don't figure to be appearing on any Cy Young ballots near you. Not that there's anything wrong with that.
December, 12, 2013
Dec 12
3:32
PM ET
LAKE BUENA VISTA, Fla. -- The winter meetings are over. We return you to your regularly scheduled programming, the Red Sox having done nothing here to warrant your attention for four days.
[+] Enlarge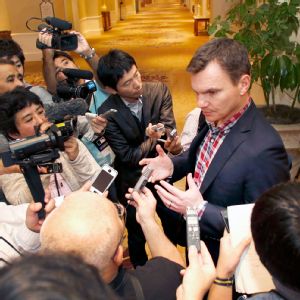 AP Photo/Reinhold MatayWith the Red Sox quiet, Ben Cherington didn't have much to say at the winter meetings.
But just because Sox general manager Ben Cherington did not make an appearance in the hotel ballroom where trades and signings were announced this week does not mean he has checked off all the items on his to-do list. There is unfinished business that he will address in the 58 days until the equipment truck departs Yawkey Way for spring training on Feb. 8, with pitchers and catchers due to report a week later.
There are two items that lead his agenda:
Determining whether Stephen Drew will be part of the Red Sox future. That may take a while, but there remains mutual interest, and if agent Scott Boras isn't able to conjure the right multi-year deal, Drew could well be headed back to the Sox. If not, a backup shortstop will be sought.
Sifting through the trade proposals Cherington is likely to receive from the teams who will become increasingly desperate for a starting pitcher after they whiff on signing some of the free agents that are available. The pitching market has been slow to develop, especially at the upper end, where teams are still trying to determine whether Japanese star Masahiro Tanaka will be posted, and Matt Garza, Ervin Santana and Bronson Arroyo remain unsigned.

So far, at least a dozen starting pitchers have either signed a new deal, come to terms on a new deal, or are reported to have come to terms with a club on a new deal. Hiroki Kuroda returned to the Yankees. Bartolo Colon signed with the Mets. Phil Hughes and Ricky Nolasco went to the Twins. Scott Kazmir was signed by the Athletics. Tim Hudson signed with the Giants. Dan Haren signed with the Dodgers. Jason Vargas signed with the Royals.



That hardly exhausts the list of teams looking for pitchers. Potential trading partners abound: The Angels, Diamondbacks, Cubs, Dodgers, Giants, Indians are among the many teams in need of more pitching. Those teams left out on Garza, Santana and (maybe) Tanaka, as well as others looking to upgrade their rotations, will be motivated to engage Cherington in conversations about three veteran Sox starters: John Lackey, Jake Peavy and Ryan Dempster. Lackey would bring the greatest return and has the most team-friendly contract. Dempster, who was dropped from the rotation, is the pitcher the Sox would probably be most willing to move.

"I wouldn't say it's definite the Sox will move a pitcher,'' said one baseball source with direct knowledge of the Sox's thinking, "but I would bet they will.''

The Red Sox could trade one of those three and still have a rotation of five veterans, with Jon Lester, Clay Buchholz and Felix Doubront filling three of the spots. Promising rookies Brandon Workman and Allen Webster both started games for the Sox last season, and head a group of young pitchers that could pitch at the big-league level next season.

Cherington has played down the likelihood of trading a starter, but the guess here is that eventually he will, for two reasons: greater financial flexibility should the Sox elect to make another move, and a chance to pick up a decent prospect or two.
The Sox could still patch and fill with another outfielder, preferably one who could play center, but unless they choose to revisit the
Matt Kemp
scenario in the spring after the Dodgers outfielder proves he is healthy, Cherington might be content to add big-league depth on the Triple-A level.
Daniel Nava
proved that he could handle right field when
Shane Victorino
was unavailable, so that makes it easier to stand pat in the outfield, with
Mike Carp
also in line to get more playing time after proving to be a valuable bench piece.
The Sox are expected to make the
Mike Napoli
signing official, perhaps as soon as Thursday night, and soon Cherington and his staff will be turning their attention to signing their arbitration-eligible players. The Sox have five such players, and according to projections made by the reliable Matt Swartz of MLBTradeRumors.com, they can expect to pay around $8.3 million to sign newcomer
Burke Badenhop
($2.1 million),
Andrew Miller
($1.9 million),
Franklin Morales
($1.8 million), Carp ($1.3 million), and
Junichi Tazawa
($1.1 million).
Counting Napoli ($16 million in 2014), the Sox have committed to around $151 million in guaranteed salaries to 15 players. Factor in the arb-eligible players, the payroll is around $160 million. Add another $4 to $5 million to sign the rest of the players on the 40-man roster, the $3.9 million the Sox are paying the Dodgers as part of the 2012 megatrade, and the nearly $11 million in medical benefits that are calculated for luxury tax purposes, and the Sox are approaching $180 million.
That's still under the $189 million luxury-tax threshold, but if the Sox intend to add Drew and stay under the threshold, moving one of their eight-figure starters becomes more pressing.
December, 11, 2013
Dec 11
10:19
PM ET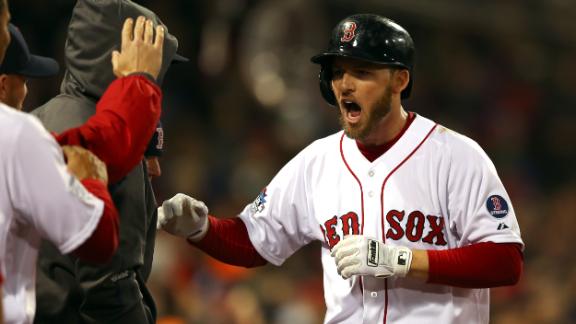 LAKE BUENA VISTA, Fla. -- Takeaways from the winter meetings, where news of the new sled run at Fenway Park during Frozen Fenway trumped anything that the Red Sox did here Wednesday, which may be why general manager Ben Cherington expects to be on one of the first planes out of town Thursday morning.
Oh, the Sox did have their session Wednesday with agent Scott Boras, an annual exercise during the winter meetings, regardless of whether the team is engaged with a given Boras client at the time. There have been plenty of winters where that has been the case --
Johnny Damon
,
J.D. Drew
,
Daisuke Matsuzaka
,
Mark Teixeira
, just to name a few -- and that is the case again this go-round, with free agent shortstop
Stephen Drew
still on the table.
Drew turned down a $14.1 million qualifying offer from the Sox last month, and the Boras camp was confident a month ago that he would land a multiyear deal from another team that would trump the short terms the Sox were willing to give. That hasn't happened yet, and one reason the Red Sox have remained in neutral here this week is their belief that it may not.

"We've kept that door open," Cherington said Wednesday afternoon. "We think we have a pretty good situation at shortstop if Stephen's not here. We like Stephen and the job he did; because of that, we kept the door open. We'll continue to listen and talk and see where it ends up."
The Sox can afford to wait. Finding a backup shortstop should not pose a challenge, even if this stretches deep into January, which it could. Obviously, the Sox don't envision Drew as a backup; if he's on board, you can expect a sharing of short and third by three players: Drew,
Xander Bogaerts
, who can play third and short, and
Will Middlebrooks
.
If Drew doesn't sign, the Sox would look to sign your more typical utility player -- Cherington even has mentioned the possibility of re-signing
John McDonald
, who was not tendered a contract last month. They also have an in-house candidate in
Brock Holt
.
Boras's contention that Drew has teams to choose from does not line up with the radio silence that apparently has descended here on that topic, because even the folks who like to pass on the flimsiest rumors have barely floated Drew's name. The Mets have been mentioned, but they signed outfielder
Curtis Granderson
and came to terms Wednesday with pitcher
Bartolo Colon
, and there is considerable doubt they'd be willing to spend the money required to sign Drew.
Beyond that? Anyone's guess, which is why it remains a possibility that Drew comes back to Boston, although it may take some creativity to fashion a face-saving deal after the qualifying offer was rejected. But the Sox obviously would be a stronger team with Drew on board.
Other bits:
• Cherington said he hopes the club will be able to make the
Mike Napoli
deal official by the end of the week. They're in the "i dotting and t's crossing" stage, Cherington said.
[+] Enlarge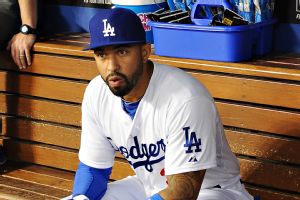 Jayne Kamin-Oncea/USA TODAY SportsIt seems Matt Kemp is staying with the Dodgers at least for the time being.
• Matt Kemp's agent, Dave Stewart, told ESPN.com's Jayson Stark that he was told by the Dodgers that they were not planning to trade Kemp. Don't be shocked if teams approach the Dodgers in spring if Kemp demonstrates he is recovered from shoulder and ankle surgeries.
• Cherington would not confirm a report in Japanese media that the Red Sox had come to terms with Japanese pitcher Shunsuke Watanabe on a minor-league deal. Watanabe, 37, pitched for the Chiba Lotte Marines, played for Bobby Valentine in Japan, has an exaggerated submarine delivery that makes
Chad Bradford
look like he's throwing overhand, and according to his Wikipedia entry, holds the Japanese record for skipping stones. OK, then.
• Cherington said it is unlikely the Sox will take a player in the major league phase of the Rule 5 draft.
• Nick Francona, the former Marine lieutenant and son of Indians manager Terry Francona, recently took a job with the
Los Angeles Angels
as coordinator, major league player information. It's an entry-level position that he hopes will lead to bigger and better things in baseball operations.
Francona was a former Marine Corps Ground Intelligence Officer with 3rd Battalion, 4th Marines. He served as a scout sniper platoon commander in Helmand Province, Afghanistan, in 2011.
December, 11, 2013
Dec 11
4:56
PM ET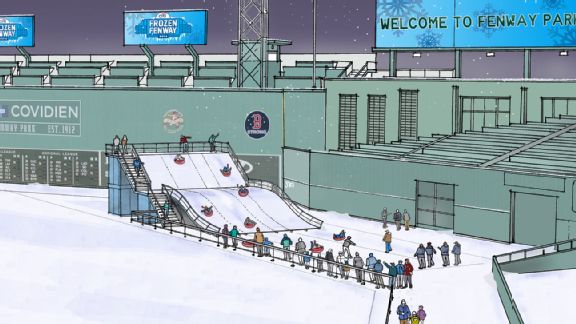 Courtesy Red Sox The Red Sox passed along an artist's rendition of what the sledding track will look like.
There will be another first for Fenway Park this winter: A 20-foot high sledding and tubing ramp that will be constructed in center field as part of "Frozen Fenway 2014" festivities.
From Dec. 28-Jan. 13, the 75-foot sledding run will feature five paths and will stretch from the center field section of the Green Monster all the way to the Sox bullpen. Dubbed the "Monster Sled," the ramp will be available for rentals for groups of up to 100 people (call 617-226-6791 or email events@redsox.com for more information).
"Frozen Fenway" will also feature a hockey rink that will host 12 games on the collegiate and high school levels from Dec. 28-Jan. 9.
December, 11, 2013
Dec 11
4:19
PM ET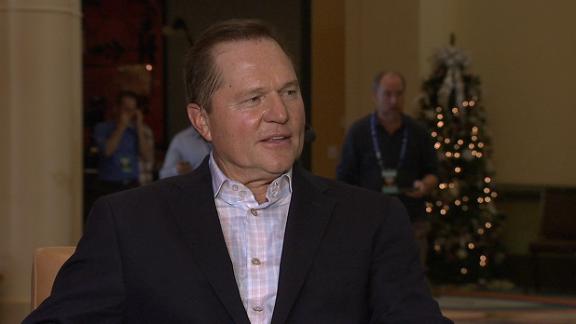 LAKE BUENA VISTA, Fla. -- Scott Boras, the agent for free agent shortstop
Stephen Drew
, said Wednesday that Drew will have "numerous options to choose from, options from a variety of teams," but the Red Sox remain in play for his services.
[+] Enlarge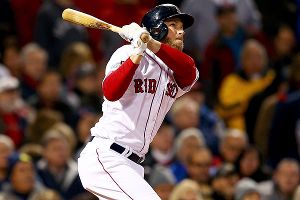 Elsa/Getty ImagesScott Boras did not rule out a return to the Red Sox for free-agent shortstop Stephen Drew, whose market has yet to develop.
"I think everybody agrees it worked well for everybody,'' Boras said, referring to the year Drew just spent in Boston as the team's every-day shortstop. "He's certainly a candidate for them.''
In November, the Red Sox offered a $14.1 million qualifying offer for Drew, but he turned it down, evidently confident that he would receive more lucrative multiyear offers.
Last month, a baseball source said Drew would not be returning to the Red Sox because a number of teams are willing to make multiyear offers beyond anything Boston would do.
To date, no team willing to give him such a deal has surfaced publicly, and Boras acknowledged that the compensatory draft choice attached to Drew -- and any free agent who received a qualifying offer from his 2013 team -- has a dampening effect on that player's market.
But when asked if Drew would have any problem receiving multiyear offers, Boras smiled and said, "No, not a problem.''

He acknowledged that some of those offers have yet to materialize and will do so only if clubs are able to make other moves. If Drew does indeed have multiyear offers in hand, does that make it less likely that he'll return to the Sox?
"That's not a decision Stephen has made yet,'' Boras said. "We have to look at the totality of what's available to him. Some of the offers are -- the positions teams are taking -- are somewhat contingent on another move. To have a full slate of what's available to him is not yet something that is ripe.''
That being the case, it appears that Drew will remain in a holding pattern until he has a clearer sense of what might be available. And the Red Sox, who have rookie shortstop
Xander Bogaerts
penciled into the lineup, are willing to wait along with Drew before widening their search for another shortstop, who would probably serve as a backup.
Drew, who made $9.5 million on a one-year deal last season, hit .253 with 13 homers and 67 RBIs in the regular season. His .777 OPS was second among American League shortstops with more than 500 at-bats. He played excellent defense during the postseason but struggled mightily at the plate, going 6-for-54 (.111).
December, 11, 2013
Dec 11
2:14
PM ET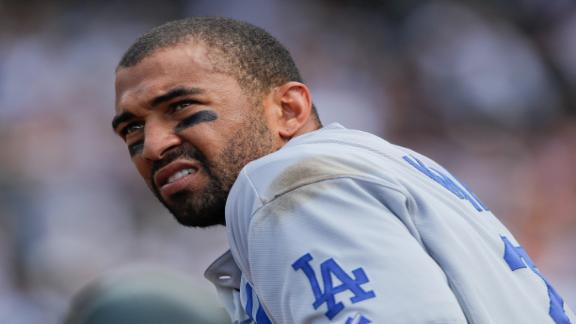 LAKE BUENA VISTA, Fla. -- Matt Kemp's agent, Dave Stewart, met with the Los Angeles Dodgers on Wednesday and said he was told the team plans to keep the star outfielder rather than trade him.
"They said they have no plans to move him -- bottom line," Stewart told ESPN.com.
Stewart said both he and Kemp considered that to be good news because the two-time All-Star doesn't want to leave Los Angeles.
"We're both happy about it," he said.
The Dodgers have talked to several teams about Kemp during the winter meetings, as well as earlier in this offseason, and had even said they would take on some of the $128 million remaining on the center fielder's contract over the next six seasons.
But clubs that spoke about Kemp with Los Angeles said the Dodgers never appeared anxious to trade the 29-year-old even though his health is in question and his trade value is at a low ebb.
Kemp is recovering from surgeries on his shoulder and ankle this winter, after a season in which he spent three lengthy stays on the disabled list. He played in a career-low 73 games, hit just six home runs and slugged a career-low .395 -- more than 100 points lower than his career slugging percentage going into the season.
The Seattle Mariners and Boston Red Sox were among the clubs that talked seriously about acquiring Kemp.
December, 11, 2013
Dec 11
1:38
PM ET

Will
Stephen Drew
end up back in a
Boston Red Sox
uniform for the 2014 season? Given the lack of offers headed the free agent shortstop's way so far, that may well end up being the case.
To continue reading this article you must be an Insider
December, 11, 2013
Dec 11
10:46
AM ET
Earlier this week, we heard reports out of Boston indicating that the Red Sox would "wait out" the market on shortstop Stephen Drew, with the intention of jumping back in if the terms were right. That's probably an improvement over what they figured would happen at the beginning of the offseason, since a solid player represented by Scott Boras in a very weak field for left-side infield help would have been thought to be an appealing item.
But more than a month into the winter, Drew's market has been relatively soft. The St. Louis Cardinals, the team most desperately in need of a shortstop, instead signed Jhonny Peralta. Other potential fits such as the New York Mets have spent their money elsewhere first, and rumored trade targets such as Elvis Andrus and Asdrubal Cabrera further complicate the market.
Considering Drew's rocky health history and the qualifying offer/draft-pick compensation that hangs over his head, he might not be finding a home as easily as we may have thought he would.
For the Red Sox, this presents the perfect scenario, one that they can use to their advantage: They need to bring Drew back.
To continue reading this article you must be an Insider
December, 10, 2013
Dec 10
11:43
PM ET
LAKE BUENA VISTA, Fla. -- Takeaways on a day in which new Red Sox catcher
A.J. Pierzynski
stopped by to have lunch with two of his former bosses, White Sox owner Jerry Reinsdorf and top aide Dennis Gilbert, and Red Sox general manager Ben Cherington playfully recounted the time the Sox staged a simulation of contract negotiations and the role of powerful agent Scott Boras was played by scouting director Amiel Sawdaye.
In other words, a day of no breaking developments on the news front. Sure, another report, this one from Fox Sports, surfaced Tuesday night identifying the Red Sox as one of several clubs talking to the Dodgers about outfielder
Matt Kemp
, which the Red Sox have done, but a Sox source reiterated moments later that it was "highly unlikely" Boston would move on Kemp.
Indeed, the biggest winner of these winter meetings for the Sox may well be rookie
Jackie Bradley Jr
., whose path to center field in Fenway Park was cleared last week when
Jacoby Ellsbury
signed with the Yankees and may not face a challenger in spring training for the position.
Cherington and manager John Farrell repeatedly have expressed their satisfaction with that scenario should it come to pass, and while it doesn't seem to be reflective of the "deep depth" the team made a priority a year ago, the Sox have yet to find a reason to upgrade on the five outfielders that would be on the 25-man roster if the season started tomorrow: Bradley Jr.,
Shane Victorino
,
Jonny Gomes
,
Daniel Nava
and
Mike Carp
.
[+] Enlarge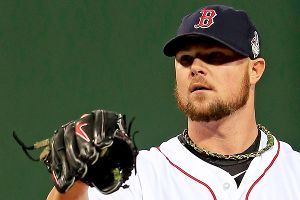 Jamie Squire/Getty ImagesWith one year at $13 million left on his contract, Jon Lester would seem to be in line for a big raise soon.
Could that change? The "never say never" card comes into the conversation here, but while the Sox may consider adding another outfielder, it clearly is not a pressing concern.
That may well describe whatever other business the Sox elect to transact between now and when camp opens in February. The pitching market here has yet to move in any significant way, which leaves the Red Sox in something of a holding pattern in regard to the proposals they may field for any of their starting pitchers.
"Every time we think about potentially moving a starter, something in the back of our head reminds us, don't do it unless it really makes sense," Cherington said.
They also are in no rush to add a shortstop/utility type until they see whether a market develops for
Stephen Drew
-- the compensatory draft pick required is a hindrance -- or if he comes back to them. Cherington said he had yet to speak to Boras, Drew's agent, at the meetings but expected he would do so soon.

In sum, Cherington said the Sox are unlikely to make a deal of the "higher profile" variety here. And the smaller deals, the ones "in the depth-type variety or bench roles," he predicted won't come until later in the offseason.
Inevitably, the Red Sox will turn to another matter of considerable significance -- negotiating with pitcher
Jon Lester
on a contract extension before he becomes eligible for free agency after the 2014 season. But that, Cherington said, is a conversation for another day. Typically, he said, extensions are discussed later in the winter or during spring training.
Lester is due to be paid $13 million in 2014, the last year of a six-year, $42.75 million deal. Six pitchers already are being paid salaries that top $24 million in average annual value --
Justin Verlander
,
Felix Hernandez
,
Zack Greinke
,
CC Sabathia
,
Cliff Lee
and
Cole Hamels
-- and there is speculation that Dodgers lefty
Clayton Kershaw
could command a total package of $300 million when he signs an extension. The floor for Lester probably will start at $20 million per season, and if he repeats his 2013 performance, there's no telling what the ceiling will be.
That's another reason why teams are placing such a premium on their homegrown pitchers.
"He's a key guy," Cherington said of Lester. "He's been a horse for us for a long time and didn't show any signs of slowing down this October. Obviously, he's a guy we would like to keep. The timing of those conversations, usually it's a later-in-the-winter or a spring training thing, or after the contract [runs out]. We'll see. I think there will certainly be a willingness to have a conversation, so we'll see where it goes, but we haven't done that yet."
• Pierzynski, who lives in the Orlando area, conducted an impromptu media session after his lunch and told reporters that one of his goals next season is to hit a home run in Fenway Park. Pierzynski has played in 39 ballparks in his big-league career and homered in 28 of them. Fenway is one of the 11 in which he hasn't gone deep. In 121 plate appearances on Yawkey Way, Pierzynski has 12 extra-base hits, all doubles. He also joked that the Sox told him that with Ellsbury gone, he would bat leadoff.
Hitting leadoff, in truth, is the only place in the batting order that Pierzynski has not started a big-league game. Most of his starts have come in the fifth through seventh spots in the order.
[+] Enlarge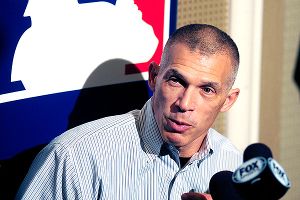 David Manning/USA TODAY SportsJoe Girardi said he's happy to have Jacoby Ellsbury -- "a great player" -- on his side.
Pierzynski also said that having faced so many of the Red Sox pitchers gives him a head start on learning the staff. Left-handed reliever
Craig Breslow
has had the most success of all Sox pitchers against Pierzynski, holding him hitless in eight at-bats while striking him out three times. Pierzynski had his greatest success against
Ryan Dempster
(10-for-28, 2 HRs).
• Cherington said it was a couple of years ago that Sawdaye made his acting debut, playing Boras in a simulation of negotiations.
"A good exercise," Cherington said. "You should know something about Amiel. Obviously, he is very good at his job, we think. But he was a hustler. He had a T-shirt empire in high school, growing up in Maryland. He made big profits selling T-shirts. Kind of a hustler."
• Yankees manager Joe Girardi was noncommittal when asked whether Ellsbury or
Brett Gardner
would play center field for the Yankees, but it's likely he was just being polite. The Yankees didn't pay Ellsbury $153 million to play a corner spot.
"I think we've acquired a great player," Girardi said of Ellsbury. "We've seen the damage he can do against us. We first-hand witnessed how he can change a game. I've seen him hit home runs to beat us. I've seen him steal home to beat us. I've seen him do it all, make great catches. So we added a great player."
• Former Red Sox reliever
Manny Delcarmen
has signed a minor-league deal with the Nationals and has an invitation to big-league camp, according to his Amherst-based agent, Jim Masteralexis, with whom Delcarmen has reunited. Masteralexis said Delcarmen hit 97 mph pitching for Licey in the Dominican winter league. Delcarmen, who last pitched for the Sox in 2010, when he was traded to the Rockies, turns 32 in February. Delcarmen spent last season in Triple-A Norfolk, a Baltimore affiliate, posting a 2.83 ERA and opponents batting average of .229 while striking out 46 in 54 innings.
December, 10, 2013
Dec 10
5:58
PM ET
It may not be baseball season, but the Red Sox are still out and about, and proudly showing off their 2013 World Series trophy (2004 and 2007 hardware, too).

And in the spirit of the holiday season, they're reaching out to fans and businesses.

Besides a Holiday Trophy Caravan on Wednesday through Friday that will visit area schools and hospitals, the Sox are holding a "Holiday Pop Up Party" contest. Businesses are invited to tweet @red sox using the hashtag #WeWantTheTrophies explaining why their office should be visited by the Red Sox caravan (which they're calling -- what else? -- the "One Duck Open Sleigh").

On Thursday, the three winning businesses will get a "Red Sox Pop Up Holiday Party," which will include an office-wide photo with the World Series trophies, a visit from Wally the Green Monster, team merchandise and 20 free tickets to a 2014 Red Sox game.

The Holiday Trophy Caravan leads up to Christmas at Fenway on Saturday, which is the first chance to purchase Red Sox tickets for the 2014 regular season.