July, 29, 2014
Jul 29
1:06
AM ET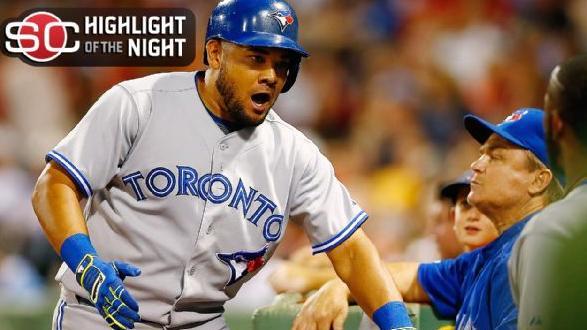 BOSTON -- If
Felix Doubront
wants to return to the
Boston Red Sox
's starting rotation, he did not do himself any favors against the
Toronto Blue Jays
on Monday night at Fenway Park.
Even though starter
Clay Buchholz
suffered the loss after allowing seven runs on seven hits and four walks as Toronto cruised to a 14-1 win, Doubront seemed disinterested when he was handed the ball with two on and no outs in the sixth inning.
The starter-turned-reliever faced 10 Toronto batters, recording just two outs and allowing six runs on six hits, including a three-run homer by the Blue Jays'
Melky Cabrera
.
In the clubhouse after the game, Buchholz answered questions about his poor start, but Doubront simply answered "no" when asked to talk about his performance.
"I don't think that he's disinterested. He's capable of more. We've seen that. Three of the last four outings out of the bullpen have been very good," Red Sox manager John Farrell said of Doubront. "Tonight, obviously not the case. On a night when you're hopeful that you've got an opportunity to stretch him out a little bit, get multiple innings, that wasn't the case."
Doubront was 2-4 with a 5.19 ERA as a starter before Farrell decided to move the left-hander to the bullpen on June 24. Doubront wasn't happy with the decision, and even suggested a trade could be the right move, but the Red Sox told Doubront they needed him in the bullpen, especially after the club designated fellow lefty
Chris Capuano
for assignment.
[+] Enlarge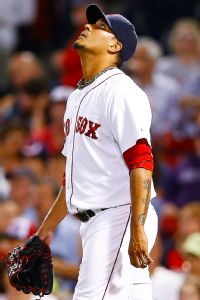 Jared Wickerham/Getty ImagesFelix Doubront gave up six runs on six hits and two walks while recording only two outs.
Farrell told Doubront at the time that in order to return to the rotation he needed to pitch his way back there.
He certainly didn't take a step in that direction on Monday.
"No matter what role you are, you're accountable to pick up your team, as a starter, as a reliever or whenever that phone rings, you're accountable for it," pitching coach Juan Nieves said. "I think he tried really hard, unfortunately the cards were not dealt his way."
Asked if a possible trade scenario was affecting Doubront's pitching, Farrell said he hopes that's not the case.
"Because if you're a pitcher, regardless of the role that you're in, you're asked to go out and execute pitches," Farrell said. "This is still a staff that's got competition within it. There are others that have moved ahead of him in the rotation and opportunities present themselves coming out of the bullpen. He's been effective in the past coming out of the bullpen, but if the role is not sitting well and effecting his pitching then there needs to be a different focus to realizing his potential and his capabilities."
During that horrific sixth inning, Nieves visited the mound and told Doubront to attack the strike zone and mix in all of his pitches.
"It's key to stop the fire right away and execute, execute, execute," Nieves said. "We always talk about making one pitch at a time and executing that pitch.
"It has nothing to do with where you pitch or when you pitch, if you're healthy your teammates need you in those situations and we all are accountable for every pitch we make."
Last week, the Red Sox traded starter
Jake Peavy
to the
San Francisco Giants
.
Rubby De La Rosa
continues to pitch well as a starter for the Red Sox, and
Allen Webster
, who was recalled from Triple-A Pawtucket and made his 2014 season debut in a win over the
Tampa Bay Rays
on Sunday, is scheduled to make his next start against the
New York Yankees
on Saturday at Fenway.
If Red Sox general manager Ben Cherington decides to deal ace
Jon Lester
prior to Thursday's trade deadline, Doubront likely moved further down the pecking order of potential starters on Monday.
"He's been told there are some guys who have pitched better than he has and he's had enough chances, so right now there are other guys who have surpassed him in that starter role and he has to prove himself back," Nieves said. "This is a game that you're always competing. You're always competing for who the best guy is out there. No matter what position you're in, you're always trying to pick up your teammates and pitch the best you can. Everything else will fall in place."
As for Buchholz, he allowed a season-high seven runs in five-plus innings, which was the most he has allowed in an outing since Oct. 1, 2012 against the Yankees in New York. The right-hander issued four walks for the second consecutive game, following a span of 35 2/3 innings when he allowed only one walk.
"Overall I felt pretty good," Buchholz said. "Command, location of a couple pitches that got hit. Got a couple of ground balls that would have done us some good, just out of reach of a couple of guys. They hit the pitches that I missed with."
With the loss, the Red Sox continue to fall deeper into the AL East cellar. The players continue to say all the right things, but it has to be tough not knowing what your roster will look like come Thursday afternoon.
"I think when it comes to that everybody thinks of it as a business and there's nothing you could do -- or if you express your feelings any differently -- rather than just come to the field and try and win that day," Buchholz said. "Everybody hears about it, it's everywhere we're at. Obviously we know."
July, 29, 2014
Jul 29
12:23
AM ET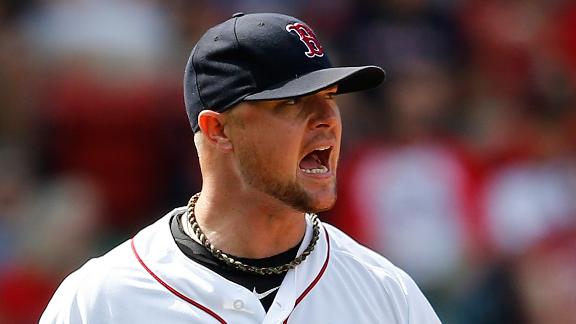 BOSTON -- Well,
Jon Lester
said it would be a "crazy few days," and as predicted, the Red Sox left-hander has now leaped to the front of the list of elite pitchers who may be traded by the July 31 deadline.
A major league source with knowledge of Boston's discussions said Monday night it is still "less than 50-50" that the Red Sox trade Lester, based on discussions to date. The same holds true, the source said, for lefty reliever
Andrew Miller
, although he expects that the offers for both pitchers will be sweetened as Thursday's trade deadline draws closer.
The Red Sox are now actively engaged in determining what kind of return they could get in a Lester deal. They have had discussions with the
Los Angeles Dodgers
, they have been in contact with the
St. Louis Cardinals
and
Seattle Mariners
, and there was a report that they fielded an inquiry from the
Baltimore Orioles
, though it's highly unlikely they'd move Lester within the division.
[+] Enlarge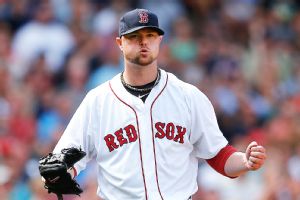 Jim Rogash/Getty ImagesJon Lester has moved to the head of the class in terms of elite pitchers available at the deadline.
There were mixed signals Monday on whether outfielder
Matt Kemp
could be part of a deal with the Dodgers. The Sox had interest in Kemp last winter but were deterred by his shoulder and ankle injuries. Kemp has gotten progressively healthier this season and has posted a .282/.348/.440/.788 slash line, with 21 doubles and eight home runs.
That's a far cry from his 2011 season when he was MVP runner-up, and he is owed $118 million over the next five seasons, but he is not yet 30 and could still be a force when fully healthy. Red Sox sources said over the weekend that the Sox would consider him, but there would have to be a lot of money coming back to Boston in a deal, and they would have to have an informed sense of how healthy he will remain going forward.
Talks with the Dodgers, according to sources, have not advanced to the point of swapping names. The Dodgers, who are coming off a sweep of the Giants, are telling at least some inquisitors they plan to keep Kemp, though one source insisted Monday his name remains in play.
The Dodgers so far have indicated they would not part with top prospects Joc Pederson and Corey Seager, but their resistance to doing so, measured against not having gone to the World Series since 1988, might lessen by Thursday's deadline. One source indicated the Dodgers could be in on Miller as well.
The unusual wrinkle in trade talks regarding both Lester and Miller is that the Red Sox have expressed an interest in re-signing both as free agents, even if they are traded. Neither Lester nor Miller has ruled that out, though it is a risky game for a club to play.
There was a report Monday night that the Red Sox would be willing to trade
John Lackey
. Teams have made inquiries, including the
Kansas City Royals
, according to one source, but with Lackey due to make the major league minimum next season, the Sox are more inclined to keep him. But it bears repeating every year: Things are very fluid at the deadline, and surprises often abound.

David Price
? The
Tampa Bay Rays
have won 10 of their past 11 games and are now two games under .500 after opening the season at 24-42; over the past six weeks they've had the best record in baseball, which has the Rays reassessing whether they want to move their ace. There are those within the game who say the Rays will move Price regardless, but it's far from being a sure thing.
Cole Hamels
? Reports surfaced Monday that the Phillies intend to make the 30-year-old left-hander available, which flies in the face of what a National League source said emphatically Sunday: that the Phillies have no intention of trading him.
That leaves Lester, who said on Friday he wouldn't be surprised if he was traded and has reached the point where he would be more surprised if he wasn't.
While Red Sox fans debate the merits of a Lester trade, the pitcher has succeeded in avoiding what, for him, would have been a far more divisive debate: whether a midseason offer from Boston was sufficient to sign him. That's why he insisted on tabling negotiations until after the season, even when the Red Sox made overtures to his agents around the All-Star break that they wanted to reopen talks.
Could the Red Sox have overridden his objections and made an offer so enticing Lester would have had no choice but to listen? Sure, but it is also reasonable to believe Lester's price has climbed significantly since spring training because of how well he has pitched, and only an above-market offer would have been a conversation starter.
Another factor that has some bearing on the Lester negotiations is the behind-the-scenes role played by the Major League Players Association, and what impact it may have on Lester's thinking. The union, while endorsing a player's autonomy in making his own decision, has always counseled its players to bear in mind the impact a signing might have on other players' market value.
July, 28, 2014
Jul 28
10:37
PM ET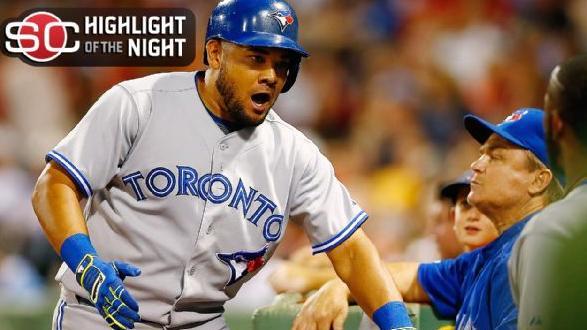 BOSTON -- Monday was a horrible night for the
Boston Red Sox
.
When it finally came to an end, the
Toronto Blue Jays
finished with a 14-1 win at Fenway Park. It's the third time this season the Red Sox have allowed at least 14 runs in a game, with the worst coming on July 2 in a 16-9 loss to the
Chicago Cubs
at Fenway. The
New York Yankees
beat Boston 14-5 on April 24 at Fenway.


Returning home after a 2-5 road trip, the Red Sox didn't do anything well. Blue Jays starter R.A. Dickey limited Boston to one run on three hits in seven innings of work. The knuckleballer walked one and struck out 10. Toronto's
Melky Cabrera
hit a pair of home runs and drove in a total of five runs.
Red Sox starter
Clay Buchholz
struggled and allowed seven runs on seven hits, with four walks and four strikeouts in five innings (plus three batters in the sixth). The right-hander tossed 100 pitches (56 strikes).
The Blue Jays took advantage of Buchholz's miscues early and gained a 2-0 lead in the top of the first inning. After the Red Sox starter issued a leadoff walk to
Jose Reyes
, Cabrera hit his first of two homers, crushing Buchholz's first offering for a two-run homer.
As Dickey kept the Red Sox at bay with his dancing dandy, Toronto pushed across two more runs in the fourth inning until things completely unraveled in the top of the sixth, when the Blue Jays scored nine runs.
Believe it or not, Buchholz wasn't the worst pitcher for the Red Sox on Monday. He was lifted after three batters in the sixth in favor of starter-turned-reliever
Felix Doubront
, who appeared completely disinterested. Even his warmup pitches were all over the place, and it didn't get any better once the game resumed.
The left-hander worked only 2/3 of an inning and allowed six runs on six hits with two walks and zero strikeouts. He allowed Cabrera's second homer of the game, a three-run shot. At one point, pitching coach Juan Nieves visited the mound for a quick chat with Doubront, but his performance didn't get any better.
Finally, after the Blue Jays batted around the order on Doubront, Red Sox manager John Farrell gave the left-hander the hook. Red Sox reliever
Burke Badenhop
struck out pinch hitter
Steve Tolleson
to end the inning, with Toronto leading, 13-0.
Boston scored its lone run in the bottom of the sixth on an RBI single by
David Ortiz
. The Blue Jays added to their lead with a run in the top of the seventh.
July, 28, 2014
Jul 28
7:36
PM ET
ESPN.com news services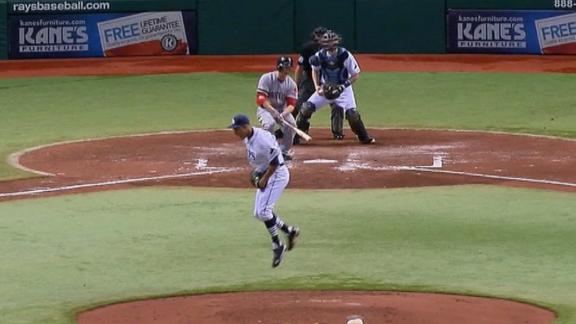 ST. PETERSBURG, Fla. -- Tampa Bay Rays pitcher Chris Archer insists he isn't mad at David Ortiz.
A day after Ortiz slung his bat and leisurely trotted around the bases following a home run off him, Archer had more thoughts about Ortiz's style.
"I never saw Hank Aaron flip his bat," Archer said Monday. "I'm not comparing the two, but they're obviously in the same class of players as far what they accomplished. I guess different people have different ways of reacting. That's just who he is."
After the Rays' 3-2 loss, Archer reiterated remarks made earlier this year by teammate David Price that the Boston slugger thinks he is bigger than the game.
"Do I regret saying the truth? No," Archer said. "Agitated is not the right word. Angry is not the right word. He pimped a home run off me. Not mad, just speak the truth."
Archer watched the flight of the ball and didn't see Ortiz's reaction until later on video. While talking with reporters before Monday night's game against Milwaukee, Archer saw a report about the Ortiz homer on a nearby clubhouse TV and jokingly yelled he was mad.
Ortiz's response when asked about the incident?
"That's what happens when you're good, man," he said with a laugh. "I don't know what to tell you about it. I've been doing this for years. If you don't like it, stay away. You're not going to stop me doing what I do. I try not to stop anyone from doing what they do. ... It's part of the game. It is what it is."
Rays manager Joe Maddon also had some thoughts on the Ortiz show.
July, 28, 2014
Jul 28
7:32
PM ET
The star-studded Red Sox Hall of Fame Class of 2014 -- Roger Clemens, Nomar Garciaparra, Pedro Martinez and Joe Castiglione -- will be inducted Aug. 14 at a luncheon at Fenway Park from 11 a.m. to 2 p.m. The honorees then will participate in a ceremony before the 7:10 p.m. Red Sox-Astros game.

The luncheon is open to the public and tickets are available by emailing hof@redsox.com. The event benefits a new historical non-profit, the Fenway Park Living Museum Fund, a 501(c)3 that helps preserve and display historic elements and artifacts at the park.

All four inductees are confirmed to attend the luncheon. Tables start at $2,500 each, but fans also can purchase individual tickets for $250. The event will feature a silent auction, a museum display of items from all four honorees and the Red Sox's three World Series trophies.

In addition to the enshrinement of the inductees, Martinez's 1999 one-hit, 17-strikeout complete game against the New York Yankees at Yankee Stadium will be recognized as the "Great Red Sox Moment." During the 3-1 game, Martinez had 17 strikeouts, the most ever by an opposing pitcher in Yankee Stadium, and retired the final 22 Yankees, 15 by strikeout.
July, 28, 2014
Jul 28
6:04
PM ET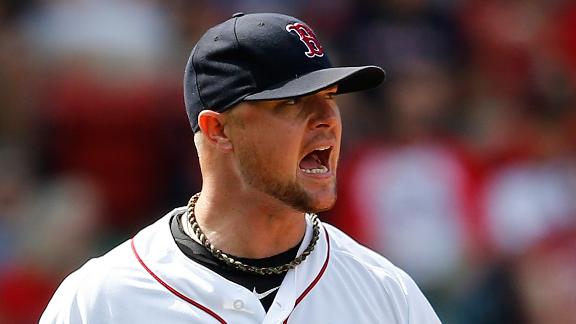 BOSTON -- David Ortiz believes teammate Jon Lester and the Red Sox should agree on a contract extension to keep the left-handed pitcher in Boston for a long time.
Amid speculation that the Red Sox are listening to trade offers for the ace of their pitching staff, whose contract expires at the end of the season, Ortiz hopes the reports are only rumors. The Red Sox begin a six-game homestand with a three-game set against the Toronto Blue Jays on Monday at Fenway Park; the Red Sox are in last place in the AL East, 10½ games out of first.
"They should [come to an agreement]," Ortiz said. "He's one of the best pitchers in the game. You definitely want to rebuild around a guy like him. He brings everything to the table every time he takes the mound. He takes his job very seriously. He's one of the best in the game.
"He's in the top three in the league. This is a guy who is very valuable to this ballclub. He's young. He's very talented. He's won a couple of World Series and you can't ask a guy for no more than what he's done. He's in his prime."
Red Sox manager John Farrell understands all the talk is to be expected as the trade deadline nears.
"I can tell you there's nothing imminent as it relates to the rumors you mentioned," Farrell said. "Rumors are being circulated in every clubhouse around the game right now, it's just where we are with the deadline coming up on Thursday. We try to do the best we can with keeping an open line of communication with each player that might be in a situation or attached to a situation, just to put their thoughts at rest as best we can. It's about going out and looking to win a game tonight."
July, 28, 2014
Jul 28
1:01
PM ET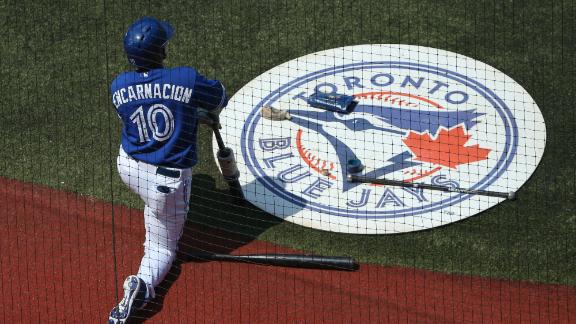 So who would have guessed last October that the central figure of Trade Deadline Week 2014 would be . . . Jon Lester?
But that's where Lester and the Red Sox find themselves all of a sudden. And even though they're likely to wait until the last 24 to 36 hours before Thursday's deadline to make a final call on where (and whether) to deal their ace, multiple teams report the Red Sox have the auction blocks in place.
And, at this point, why wouldn't they? All these factors are telling them they'd be insane not to see what somebody might be willing to offer for a proven 30-year-old warrior who has given up a total of seven earned runs in his past eight starts:
• The starting-pitcher market is a wasteland. With the Rays unlikely to move David Price, with the Phillies' inflated asking price for Cole Hamels and with Cliff Lee's elbow and money issues, there's no available starter even close to Lester in either stature or impact.
So the Red Sox have contacted every contender that's looking for a starter and let all of them know Lester could be available for a two- or three-player package fronted by at least one upper-echelon prospect. So just take all those Price-to-the-Dodgers/Mariners/Cardinals rumors and substitute Lester's name, and you'll be right on target. But while the asking price remains monstrous, it isn't quite what the Rays were asking for Price, either. "In the end, it has to be less," one rival executive said, "just because he's a free agent, and the other guy [Price] is not."
July, 28, 2014
Jul 28
12:32
PM ET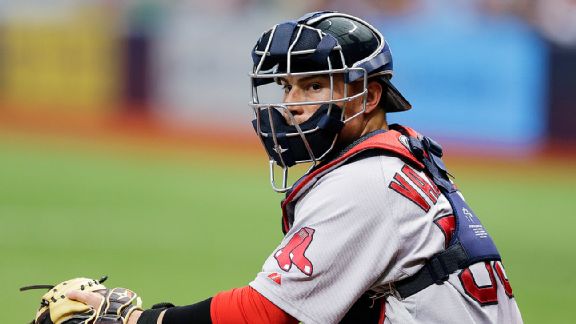 AP Images/Chris O'Meara
BOSTON -- He has been here less than three weeks, but Red Sox rookie catcher
Christian Vazquez
already received this stunning endorsement from former Sox outfielder
Gabe Kapler
, now a contributor for Fox Sports.
Kapler tweeted this during Sunday's 3-2 Red Sox win over the
Tampa Bay Rays
:
No exaggeration, Vasquez is as good a receiver as anyone in baseball. Has been the highlight of this game.

— gabe kapler (@gabekapler) July 27, 2014
Kapler is not one for spouting opinions idly. He is a dedicated student of the game (remember, he managed one summer in the minors for the Sox), is well versed in the new analytics and is in a small class of former players (ESPN's
Doug Glanville
is another) who write with considerable insight and skill.
For Kapler to direct such praise toward Vazquez when
Yadier Molina
, though injured, is still employed by the
St. Louis Cardinals
, speaks to the regard in which he holds the 23-year-old native of Bayamon, Puerto Rico.
Vazquez's powerful throwing arm is as good as advertised -- his first-inning peg to second base obliterated
Ben Zobrist
on an attempted steal Sunday -- but he also has impressed manager John Farrell and others with his receiving, pitch framing, game-calling and supremely confident interaction with the team's pitchers.
"What's been most impressive to me is Christian's willingness to take trips to the mound, regardless of who's on the mound," manager John Farrell said last week in Toronto, where he cited the way Vazquez worked with veteran
John Lackey
, an imposing personality.
"He's been very impressive on the receiving end of things."
Vazquez has arrived ahead of schedule -- the Sox had signed
A.J. Pierzynski
to serve as a one-year bridge to next season -- and creates a fascinating decision in the very near future. Rising rapidly in the system is Blake Swihart, a switch-hitting catcher and former No. 1 draft pick who has drawn raves from every scout who has tracked him on his rise to Double-A Portland. Swihart is a terrific athlete, is regarded as a better hitter than Vazquez, and considered on a par, or very close to it, defensively.
It should make for great competition for no later than the 2016 season, and Swihart could well accelerate the timeline on that.
Veteran catcher
David Ross
has been bothered by plantar fasciitis in his right foot, aggravated by playing on turf in Toronto. He felt much better after sitting out a game against the Blue Jays and caught
Jon Lester
on Friday night, but with the Sox playing again on turf, sat out the rest of the series in Tropicana Field.
Ross is expected to be back in the lineup against the Blue Jays on Monday night, but Vazquez will see plenty of playing time during this week's homestand.
July, 28, 2014
Jul 28
9:12
AM ET
Associated Press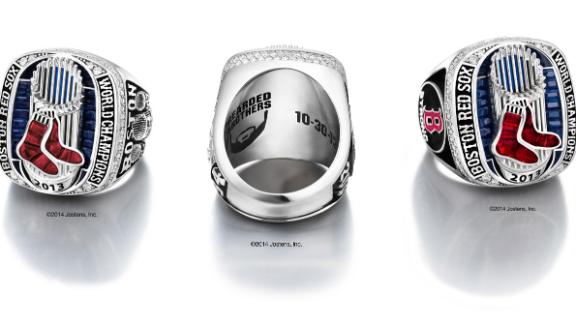 NEW YORK -- A lost Red Sox World Series ring is back on the finger of its owner, thanks to a nifty pickup by an ardent Yankees fan.
Manhattan restaurant owner Luigi Militello could hardly believe it when he found the shiny 2013 championship ring on a restroom sink at his Luke's Bar and Grill on Thursday night.
It was the real thing, with diamonds and sapphires and rubies, set in 14-carat white gold, with the Red Sox emblem, a Boston Strong logo and an image of the team's bearded ballplayers.
"I was like, geez, it's big. Who would leave this here?" Militello told The Associated Press. "I'm a big Yankee fan. What are the chances of this happening?"
Drew Weber had dined at the restaurant earlier; it's one of his favorite spots. He's a New York businessman and also owns the Lowell Spinners, a thriving Red Sox Class A minor league team in Massachusetts.
Big league teams often reward executives throughout their organization with World Series rings. The Red Sox haven't put a value on these pieces of jewelry -- the rings they presented for winning the 2004 crown were worth about $30,000.
Weber said this was the first time he'd worn the ring outside.
"I went looking around my apartment and started having palpitations. Sweat was pouring off my forehead," he told the AP. "I'm looking at my finger and it's not there."
Hoping against hope, Weber called Luke's after midnight. Militello answered the phone and said, yep, he had the ring.
"But this being Yankees-Red Sox, I started razzing him. I told him he wasn't getting it so easily. I was playing with him, a lot," Militello said.
Said Weber: "I was like, 'Who am I dealing with?'"
July, 27, 2014
Jul 27
8:23
PM ET
ESPN.com news services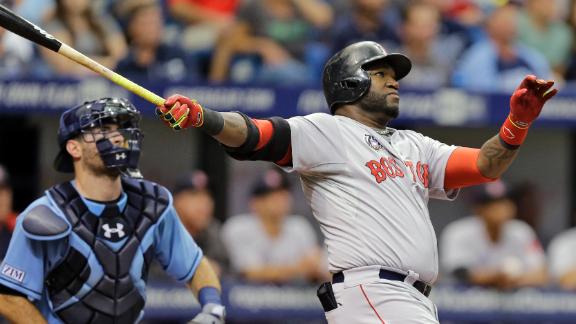 The Boston Red Sox and Tampa Bay Rays have already both brawled and traded barbs this season, and after Sunday's game the two AL East rivals show no signs of calling a truce.
Red Sox slugger David Ortiz hit a three-run, third-inning home run Sunday and punctuated the blast with an impressive bat flip -- a move that didn't sit well with the man who allowed the blast, Rays pitcher Chris Archer.
"I don't know what makes him think that he can showboat the way he does, and then nobody retaliates," Archer said. "Nobody looks at him in a funny way or pitches him inside. I don't know why he feels like that, but, obviously, he feels the way [teammate] David [Price] said he does -- he feels like he's bigger than the game. He feels like the show is all about him."
When informed of Archer's critique, Ortiz, a 17-year veteran, called into question the young right-hander's credentials at this stage in his career.
"He's not the right guy to be saying that, I don't think," Ortiz said.
"He's got two days in the league."
Despite that, Ortiz said he does respect the second-year pitcher's talent.
"Maybe they get too sensitive about things, just leave it like that," the 38-year-old Ortiz said. "I think [Archer] is a good pitcher. I think he's got great stuff. He's a guy that I think he's going to be pretty good, but it's going to take some time to get to that level."
Tampa Bay manager Joe Maddon says he has an admiration for Ortiz as well, but the continuing issues between the two teams have given him pause.