July, 28, 2014
Jul 28
9:11
AM ET
Associated Press
[+] Enlarge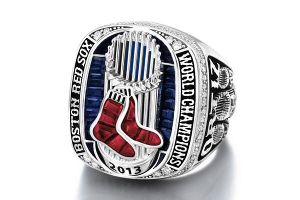 Courtesy of Red SoxDrew Weber had his Red Sox title ring returned by an understanding Yankees fan.
NEW YORK -- A lost Red Sox World Series ring is back on the finger of its owner, thanks to a nifty pickup by an ardent Yankees fan.
Manhattan restaurant owner Luigi Militello could hardly believe it when he found the shiny 2013 championship ring on a restroom sink at his Luke's Bar and Grill on Thursday night.
It was the real thing, with diamonds and sapphires and rubies, set in 14-carat white gold, with the Red Sox emblem, a Boston Strong logo and an image of the team's bearded ballplayers.
"I was like, geez, it's big. Who would leave this here?" Militello told The Associated Press. "I'm a big Yankee fan. What are the chances of this happening?"
Drew Weber had dined at the restaurant earlier; it's one of his favorite spots. He's a New York businessman and also owns the Lowell Spinners, a thriving Red Sox Class A minor league team in Massachusetts.
Big league teams often reward executives throughout their organization with World Series rings. The Red Sox haven't put a value on these pieces of jewelry -- the rings they presented for winning the 2004 crown were worth about $30,000.
Weber said this was the first time he'd worn the ring outside.
July, 27, 2014
Jul 27
8:20
PM ET
ESPN.com news services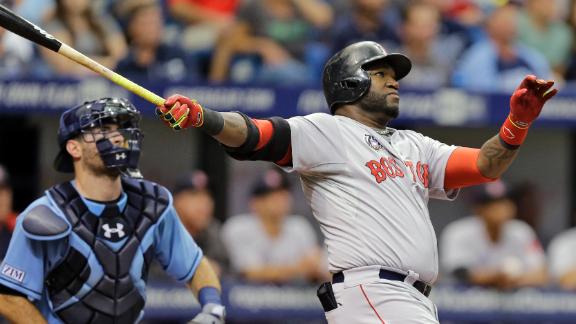 The Boston Red Sox and Tampa Bay Rays have already both brawled and traded barbs this season, and after Sunday's game the two AL East rivals show no signs of calling a truce.
Red Sox slugger David Ortiz hit a three-run, third-inning home run Sunday and punctuated the blast with an impressive bat flip -- a move that didn't sit well with the man who allowed the blast, Rays pitcher Chris Archer.
"I don't know what makes him think that he can showboat the way he does, and then nobody retaliates," Archer said. "Nobody looks at him in a funny way or pitches him inside. I don't know why he feels like that, but, obviously, he feels the way [teammate] David [Price] said he does -- he feels like he's bigger than the game. He feels like the show is all about him."
When informed of Archer's critique, Ortiz, a 17-year veteran, called into question the young right-hander's credentials at this stage in his career.
"He's not the right guy to be saying that, I don't think," Ortiz said.
"He's got two days in the league."
Despite that, Ortiz said he does respect the second-year pitcher's talent.
"Maybe they get too sensitive about things, just leave it like that," the 38-year-old Ortiz said. "I think [Archer] is a good pitcher. I think he's got great stuff. He's a guy that I think he's going to be pretty good, but it's going to take some time to get to that level."
Tampa Bay manager Joe Maddon says he has an admiration for Ortiz as well, but the continuing issues between the two teams have given him pause.
July, 27, 2014
Jul 27
7:40
PM ET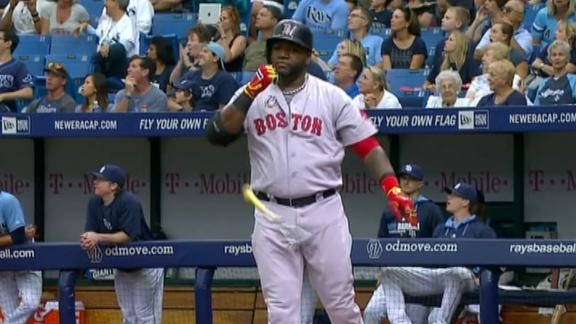 ST. PETERSBURG, Fla. -- With Christmas carols playing weirdly in the background for what the
Tampa Bay Rays
called "Christmas in July," leave it to
David Ortiz
to play bad Santa.
Not only did Ortiz hit a three-run home run off Rays pitcher
Chris Archer
that accounted for all of the
Boston Red Sox
's runs in a 3-2 win Sunday afternoon that ended Tampa Bay's nine-game winning streak, he made the Rays cry foul, too.
Archer was offended by Ortiz's exaggerated bat flip and leisurely stroll around the bases, which broke a scoreless tie in the third. He referenced
David Price
's "he thinks he's bigger than the game" verbal takedown of Ortiz back in May, after the Sox slugger raged at the Rays' ace for drilling him with a first-pitch fastball.

Price had taken aim at Ortiz in apparent retaliation for showing too much admiration for one of the two home runs Ortiz hit off him in Game 2 of the AL Division Series last October. Price had called Ortiz on his cellphone after the game to complain on that occasion, called back the next day -- according to Ortiz -- to apologize, then hit Ortiz with a pitch the first time he faced him in 2014.
"I think it was a perfect example of what Price said," Archer told reporters after Sunday's game. "All of my interactions ... off the field have been good but when it comes to him on the field, I don't know what makes him think that he can showboat the way he does and then nobody retaliate, nobody look at him a funny way or nobody pitch him inside.
"I don't know why he feels like that but obviously he feels the way David [Price] said he does. He feels like he's bigger than the game. He feels like the show is all about him when in reality, if I don't walk
Daniel Nava
, if I don't give up an infield single to
[Dustin] Pedroia
, his one home run means nothing.
"I hope he realizes that there's more that goes into it than just him. I don't know. I feel like you can't say that your true character is defined by one action, but multiple actions speak to who you are. That's all I have to say."
Ortiz seemed more bemused than angered by Archer's comments when they were relayed to him in the Sox's clubhouse.
"Whatever, dude. There's always going to be comments out there," Ortiz said. "He's not the right guy to be saying that, I don't think. He's got two days in the league.
"What can I tell you, man? Players these days are too sensitive about things. Just leave it at that. I think he's a good pitcher, I think he has great stuff. He's a guy I think is going to be pretty good, but it takes some time to get to that level."
[+] Enlarge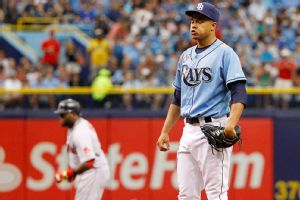 Kim Klement/USA TODAY SportsAfter giving up a home run to David Ortiz, Chris Archer took exception to the Red Sox slugger's celebratory antics.
Archer, 26, is in his third season with the Rays, and obviously doesn't enjoy the same stature in the game as Price does.
Does Ortiz flip his bat? With regularity. Does he take his time circling the bases after a home run? No doubt. There's a website called "Tater Trot Tracker" that has been timing home run trots since the start of the 2010 season. Ortiz was the first big leaguer by the site's calculations to crack the 30-second barrier, had seven of the 10 slowest trots last season, and has six of the slowest 10 trots this season, including the slowest in four years: It took Ortiz 33.9 seconds to circle the bases after a home run down the right-field line in Fenway Park on April 9.
That came not against Rays, but the
Texas Rangers
. But other than the occasional grumbled aside, no one else has made an issue of it the way the Rays have.
"He played it up pretty good," Rays manager Joe Maddon told reporters afterward. "Again, you'd have to talk to him about that. I've had so much respect for that guy over the years. He's an iconic figure in that city, and I've always thought of him as a very classy person."
Asked if he has lost any respect for Ortiz, Maddon said: "The man has meant so much for the game and also back in his country [Dominican Republic]. Then there's those moments that occur like that. I'm not saying that my respect diminished, it's just something that makes you think a little bit more."
Before the start of the series Friday night, Maddon had acknowledged that he didn't mind having some friction exist between the teams. When it was suggested to him that perhaps, given their place in the game, it might be better for Ortiz and Price to stop lobbing verbal grenades at each other, Maddon said:
"What did Don Drysdale say to the last guy he knocked down on his butt back in 1963? Nothing. He didn't say anything. I think with social media, there's a tendency to want to be politically correct these days. Those kind of thoughts are kind of insinuated, put in play. Play the game. Just play the game."
Ortiz and Price faced each other without incident Friday night, in a game won by the Rays.
Is it a bad thing to have a little bad blood between teams?
"I just yelled at the starting pitcher of the Cardinals a couple days ago," Maddon said. "I think it's good. I think it's good for the game, I think it's good for barroom conversation, it's good to read online. It's good to read in newspapers, I still pick up a newspaper once in a while.
"It's good for all that stuff. It's good. It's only bad when people get hurt, and I don't want anyone to get hurt. But I think if we can create conversation and make it interesting for people to show up, I think it's a good thing."
July, 27, 2014
Jul 27
6:17
PM ET
ST. PETERSBURG, Fla. -- With four days before Thursday's trade deadline, left-handed reliever
Andrew Miller
remains high on the lists of contenders seeking bullpen help. The Braves and Pirates have been tracking him for some time, the Royals have interest, and there were a host of other clubs here for Sunday's finale against the
Tampa Bay Rays
.
Miller pitched the seventh inning Sunday. He issued a leadoff walk to
Curt Casali
, then
Kevin Kiermaier
laid down a sacrifice bunt in self-defense, with Miller coming high and inside with a fastball. The left-hander then retired
Desmond Jennings
with a called third strike, a fastball at the bottom of the zone, and retired
Ben Zobrist
on a ground ball to short.
There's a chance that was Miller's last appearance of 2014 in a Sox uniform. A trade could happen at any time.
"I've heard the rumors growing -- I guess they seem to be growing," Miller said. "We're surrounded by distractions [and] trying to filter them out. As professionals, we have distractions every day, all over the place. Find a way to keep them far enough away they don't affect your performance."
Atlanta's only lefty in the pen is rookie Chase Shreve, so Miller is an obvious fit. What could the Braves offer in return? Their top prospect is a pitcher, right-hander Lucas Sims, who is undoubtedly out of bounds in a rental, and they have a 19-year-old left-handed-hitting outfielder in Victor Reyes, who's making his full-season debut this year. They also have a speedy center fielder in
Jordan Schafer
, who is stuck on the Braves' roster as a fourth outfielder.
The Pirates might make an intriguing match. They have two outfielders, slugging switch-hitter
Josh Bell
and 2013 No. 1 pick Austin Meadows, who is ranked among Baseball America's top 50 prospects. He is probably too good to include in a trade for a left-handed rental but worth making an inquiry about.
The Royals, who also are interested in
Jonny Gomes
, have two outfielders, Jorge Bonifacio and Elier Hernandez, ranked among their top 10 prospects by Baseball America.
The Sox might well seek more than outfielders in return; they netted two pitchers for
Jake Peavy
from the Giants and presumably are happy to stockpile talent anywhere on the diamond.
July, 27, 2014
Jul 27
5:15
PM ET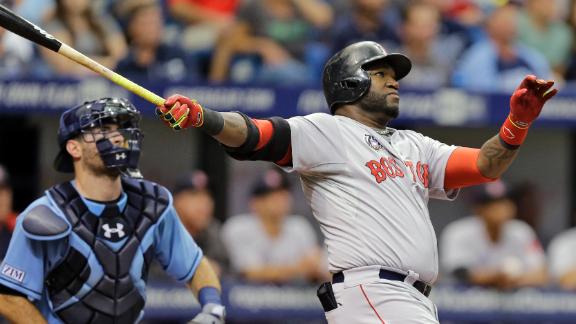 ST. PETERSBURG, Fla. -- The flaws have received most of the focus, which is what happens when you win a World Series one year and occupy last place the next.
But for a moment, consider Boston's one slice of hardball perfection. When the Red Sox take a lead into the ninth inning, they do not lose. Having
Koji Uehara
on their side, of course, gives them a huge advantage.
The Sox are now 37-0 in games in which they led after eight innings, after they held on to beat the
Tampa Bay Rays
3-2 before the crowd of 25,221 that witnessed Tampa Bay's winning streak end at nine.
One swing from
David Ortiz
accounted for all of Boston's offense -- his three-run home run after a walk and infield hit gave the Sox a 3-0 lead in the third.
Rookie
Allen Webster
, who parachuted in to start in place of the traded
Jake Peavy
, made his 2014 debut a winning one, as he went 5 1/3 innings and allowed three hits, including a two-run double by
Desmond Jennings
in the third.
The Sox bullpen then went into shutdown mode.
Edward Mujica
registered two outs,
Andrew Miller
pitched a scoreless seventh,
Junichi Tazawa
overwhelmed the Rays in a powerful eighth, and Uehara finished off Tampa Bay in the ninth.
Uehara teased the Rays momentarily when
Yunel Escobar
led off with a single, but he struck out
Sean Rodriguez
,
Curt Casali
and
Kevin Kiermaier
in succession. The save was the 21st of the season for Uehara, which matched his total for the past season.
The Sox flashed some great defense, with
Jackie Bradley Jr
. making a spectacular leaping catch to take extra bases from
Evan Longoria
in the sixth and catcher
Christian Vazquez
gunning down
Ben Zobrist
on a stolen base attempt in the first.
In the past two seasons (not including postseason), Uehara has held the Rays to a .118 batting average (6-for-51) with 20 strikeouts.
The win was the first in six tries at Tropicana Field this season for the Sox, who return home Monday to face Toronto.
July, 27, 2014
Jul 27
2:56
PM ET
ST. PETERSBURG, Fla. -- He has had debilitating ankle and shoulder injuries that have limited his play the last two seasons, is still owed roughly $118 million on a contract that runs through 2019, and has a mixed reputation as a clubhouse presence, but the Red Sox are considering making a move for Dodgers outfielder
Matt Kemp
, according to a club source.
[+] Enlarge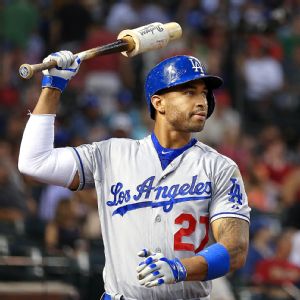 Christian Petersen/Getty ImagesMatt Kemp would represent an upgrade to Boston's crop of outfielders.
With the Sox in need of more offensive production in the outfield, the right-handed-hitting Kemp could be the major piece in a trade for Red Sox left-hander
Jon Lester
, especially with the Dodgers reluctant to part with top outfield prospect Joc Pederson.
"If he's healthy," one top talent evaluator said of Kemp, who turns 30 on Sept. 23, "he would absolutely destroy that ballpark [Fenway Park]."
Kemp has had two operations on his left shoulder since 2012 and another on his left ankle in October. He was limited to 73 games in 2013, and the Dodgers determined that the loss of mobility due to his ankle injury limits him to playing one of the corner outfield positions instead of center field. Center field was the position he played in 2010, when he finished runner-up in the National League MVP voting by hitting .324 with a .399 OBP, .586 slugging percentage, 39 home runs and 40 stolen bases.
He has put up much more modest numbers this season, posting a .273/.339/.429/.768 slash line, with 8 home runs and 5 stolen bases in 10 attempts. The Dodgers already have five outfielders for three spots, with Pederson knocking on the door, so it makes sense they would consider moving Kemp.

Making a trade problematic is Kemp's contract; the Dodgers would have to be willing to eat a considerable sum for the deal to make any sense for Boston to make it. They might be willing to do so for a pitcher of Lester's magnitude, though again, with no assurances that Lester would be no more than a two-month rental, that also would seem to limit how much the Dodgers would give. The Sox would almost certainly prefer a package built around Pederson.
On Saturday, Dodgers general manager
Ned Colletti addressed speculation
that the Dodgers have some interest in Lester.
"You know what? We may not do anything," Colletti said, according to Mark Saxon of ESPNLosAngeles.com. "We've still got a club that's solid, that still has upside to it, so I think there's still more in this club. Have we won four in a row yet? I think there's still a strong run in this club as it's currently constituted. That said, we've been historically active in July and August, sometimes, and we'll continue to see what else we can do."
As for the Red Sox?
"It's going to be a crazy few days," Lester said.
• The Red Sox will not be making a trade for Phillies left-hander
Cole Hamels
. He is not available, a major league source confirmed. And the Sox have not made any inquiries on
Cliff Lee
.
July, 27, 2014
Jul 27
10:11
AM ET
ESPN.com news services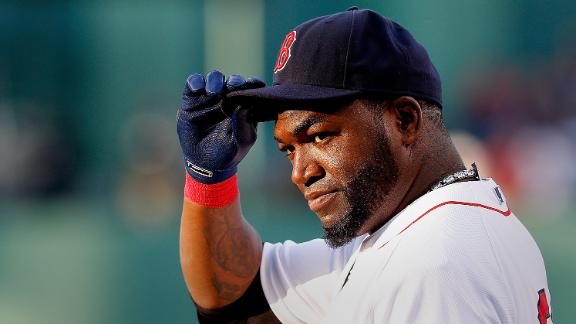 Aside from Ted Williams, David Ortiz is the best hitter in Boston Red Sox history, according to Carl Yastrzemski.
A Hall of Famer and one of the most revered players in Red Sox history, Yastrzemski recently told the Boston Globe that he believes Ortiz is a better hitter than he was.
"I think so, yeah. I would put [Ortiz] ahead of me," Yastrzemski told the Globe. "He had more power than I had."
Ortiz's name has been connected with Yastrzemski's this past week after the Dominican slugger passed the Hall of Famer on Major League Baseball's all-time home run list.
Yastrzemski spent his entire 23-year career in Boston, helping the Red Sox win two American League pennants. An 18-time All-Star and seven-time Gold Glove-winning left fielder, he also won the Triple Crown and was named MVP in 1967.
But despite being Boston's all-time franchise leader in numerous offensive categories, including hits (3,419), runs and RBIs, Yastrzemski put himself behind Ortiz when ranking the best Red Sox hitters.
"I would say as a hitter, I would say he's next to Ted [Williams]," Yastrzemski told the Globe.
Ortiz was deferential when told about Yastrzemski's comment Sunday.
"Yeah, right," he told ESPNBoston.com's Gordon Edes. "I'll tell you one thing: I'm not playing any 23 years."
The 38-year-old Ortiz has 455 career home runs, tied with Adam Dunn for 35th-most in MLB history. The nine-time All-Star homered twice against the Toronto Blue Jays on Monday to pass Yastrzemski for 36th place.
July, 27, 2014
Jul 27
12:23
AM ET
ST. PETERSBURG, Fla. -- Red Sox general manager Ben Cherington said that the two minor-league pitchers the Red Sox acquired from San Francisco Saturday for veteran
Jake Peavy
will be assigned to Triple-A Pawtucket.
Left-hander
Edwin Escobar
, 22, will join the PawSox rotation, Cherington said, after going 3-8 with a 5.11 ERA for Fresno in the Pacific Coast League, striking out 96 and walking 37 in 111 innings. Escobar pitched in the All-Star Futures Game.
Right-hander
Heath Hembree
, 25, who was 1-3 with 18 saves and a 3.89 ERA for Fresno, with 46 strikeouts in 41 innings, will go to the PawSox bullpen. Hembree pitched in the Triple-A All-Star Game.
Here were Cherington's comments on both:
On Escobar:
"A physical left-handed pitcher with three pitches, he's risen pretty quickly through their system. He's performed really well as a young pitcher in the PCL. A couple of bumps in the road this year, not atypical for a young pitcher in the PCL. We like his physicality, we like he's left-handed with three pitches. Good peripherals, even though his ERA is higher. He can pitch with his fastball and get misses. We like his chances to be a good major-league pitcher. He probably needs a little more time in Triple-A. He gets added to a group of young starting pitching prospects.''
On Hembree:
"A little older, a little further along on development. He's had a little major-league experience. He's a reliever. We see him as a reliever. A heavy fastball, sinker. Sort of a classic reliever look, a big physical guy with a high strikeout rate throughout his minor league career, which we value, the ability to miss bats. He'll go to Triple A initially and go into the bullpen there. He's a guy we see competing for a spot in our bullpen at some point in the future.''
July, 27, 2014
Jul 27
12:21
AM ET
ST. PETERSBURG, Fla. -- It was a coin-flip decision earlier this season, manager John Farrell said, between calling up
Rubby De La Rosa
and
Allen Webster
from Pawtucket when the Red Sox needed a starter. Webster lost.
Webster's luck improved considerably on Saturday. Scheduled to pitch Saturday night for Pawtucket in Scranton-Wilkes Barre, Pennsylvania, Webster instead received a summons here, where he will start in place of the traded
Jake Peavy
. Ordinarily,
Brandon Workman
probably would have gotten the call, but he just pitched Thursday, so the timing of Peavy's trade broke right for Webster.
"We'll kind of see where we go after this turn through the rotation," Sox manager John Farrell said. "There's been nothing set going forward from there."
This will be the first appearance in Boston for the 24-year-old Webster in 2014; he was 1-2 with an 8.60 ERA in eight appearances (seven starts) in 2013, though he pitched well in Pawtucket last season: 8-4, 3.60 ERA in 21 starts, with 116 strikeouts and 43 walks (and 16 hit batsmen) in 105 innings.
This season, Webster has made 21 appearances (20 starts) and is 4-4 with a 3.10 ERA, with 100 strikeouts and 44 walks in 122 innings.
"He has been able to maintain the overall command of his stuff better than a year ago," Farrell said. "He's in the process of transitioning to our level here."
In addition to Workman, young right-hander
Anthony Ranaudo
and knuckleballer
Steven Wright
figure to get looks before the end of the season.
"Workman has been up a couple of times and done a good job," general manager Ben Cherington said. "I think it's fair to say we'd like to find an opportunity to get him back at some point. We don't know when that will be exactly, but we'd like to do that.
"There may be other guys we'd look to get opportunities for, but we're not quite there yet and I'd rather not speculate on specific names."
July, 26, 2014
Jul 26
11:59
PM ET
ST. PETERSBURG, Fla. -- For
John Lackey
, the worst part about the Red Sox trading
Jake Peavy
was losing a friend in the clubhouse.
Five days before the trading deadline, Lackey has reason to wonder how many other friends (paging
Jon Lester
) will be absent from the Sox clubhouse by the end of the week.
[+] Enlarge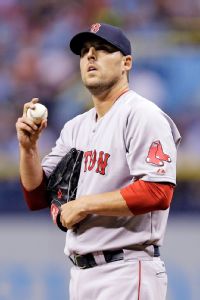 AP Photo/Chris O'MearaJohn Lackey, who took the loss Saturday, admitted seeing Jake Peavy dealt made for a weird day.
"It's a weird day when you lose a buddy, for sure,'' Lackey said after losing, 3-0, to the
Tampa Bay Rays
Saturday night. "I talked to him at the hotel when he was about to leave. He's going to a great situation, with a guy he's played for before [Giants manager Bruce Bochy], a division he knows really well.
"I wish him all the luck. Mostly going to miss a buddy more than anything.''
Peavy pitched just shy of a year for the Red Sox (acquired July 30, 2013, traded July 26, 2014), but he will be remembered with great fondness in the Sox clubhouse. He was embraced by teammates from the moment he walked in, asked
Ryan Dempster
how it was going, and Dempster replied with, "Welcome to the 2013 World Series champions.''
"His personality, the type of person he is, he came in here and fit in, not just on the field but off,'' first baseman
Mike Napoli
said. "We hung out. He has a great family, a genuine person who cares about everybody. A good friend.''
Despite a 1-9 record this season, Peavy was praised for how he solidified a Sox rotation that was missing
Clay Buchholz
at the time he was acquired last season.
"I trusted him with the ball in his hand that he would keep the game under control,'' manager John Farrell said. "He pitched better than his won-lost record.
"The fire he has was infectious in some ways, and he pitched some big games for us down the stretch. There's a lot of pitching left for Jake Peavy.''
Farrell said he spoke briefly with Peavy when he came to the clubhouse Saturday morning to gather his belongings.
"He'll miss Boston for sure,'' Farrell said. "His time here he felt was an extremely positive one, a memory certainly to last forever in winning the World Series last year. He wished it had worked out differently and didn't lead to a trade to San Francisco.''
Buchholz said that he had a chance to spend some time with Peavy after Friday night's game; by then, Peavy had heard a deal was imminent.
"Just a competitor,'' Buchholz said when asked what endeared Peavy to his teammates so quickly. "He sort of molded himself to be a different pitcher than he was eight years ago, but he found a way to do it to help the team. Not a whole lot of people throw it 98 with sink, and a wipeout slider, then figure it out.
"The flip side, he was just a good guy, fun to have around, easy to talk to, could turn some negatives into positives just with his outlook on life in general.''
And, Buchholz said, he was the best guitar player in a clubhouse full of them.
Buchholz was asked whether he was braced for other departures before the deadline.
"I don't read too much into it,'' he said, "but obviously you hear about everything going on. There's nothing you can do about it but sit back and wait for the minute hand to pass.''