August, 27, 2014
Aug 27
11:56
PM ET
By
Mark Polishuk, Special to ESPNBoston.com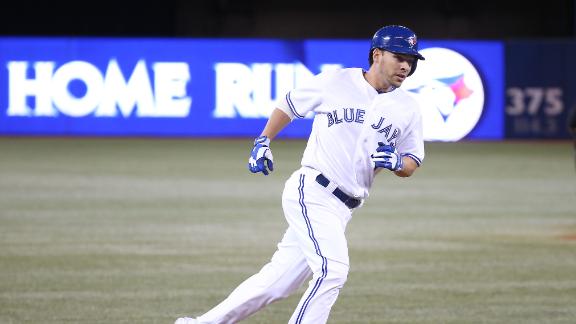 TORONTO -- The minor shoulder twinge that caused
Joe Kelly
to be removed from his prior start didn't prevent the
Boston Red Sox
right-hander from pitching on Wednesday, nor did it seemingly affect his performance, as Kelly looked good through six-plus innings of work. What the injury did do, however, was keep Kelly on a short leash, which proved to be Boston's undoing in the 5-2 loss to the
Toronto Blue Jays
.
With the Red Sox up 2-1 heading into the bottom of the seventh, Kelly's 86th pitch of the game resulted in a leadoff double to
Edwin Encarnacion
. That was enough for manager John Farrell to go to the bullpen, ending Kelly's night when it seemed as if the starter still had some gas in the tank.
[+] Enlarge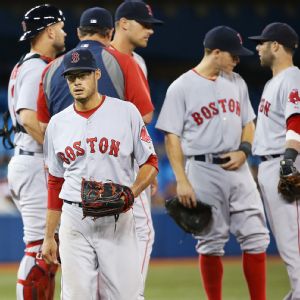 Tom Szczerbowski/Getty ImagesJoe Kelly left with a 2-1 lead in the seventh inning despite having thrown only 86 pitches.
"After he came out of the last game, we had every intention to hold his pitch count down in that 85-pitch range," Farrell said. "He pitched exceptional tonight, he was very good, he had powerful stuff ... but it felt like in light of five days ago, we were going to hold him shorter than normal and then match up to the bottom part of the order. It didn't work out the way it looked we could match up."
Tommy Layne
was the first reliever in, and he seemingly had
Dioner Navarro
retired on a foul pop behind the plate except catcher
David Ross
dropped the ball. Navarro singled to put runners on the corners, and that's when Farrell made the call for
Junichi Tazawa
.
While Tazawa has been a reliable arm out of the Sox bullpen over the past three seasons, it was his fourth outing in five days, and he has historically struggled against Toronto. Tazawa took a 6.52 ERA in 19 1/3 career innings against the Jays into Wednesday's appearance; of the 19 home runs he'd allowed in the majors, seven of them had come off Blue Jays bats.
After Wednesday, it was eight of 20 homers. Pinch hitter
Danny Valencia
cracked a 2-0 fastball from Tazawa over the left-field wall to put Toronto ahead 4-2, and
Kevin Pillar
then doubled and later scored to add an insurance run in the inning.
Farrell pointed out that most of Tazawa's past struggles had come against the Jays' most notable hitters, and the reliever had thrown a scoreless inning against those same batters (Valencia, Pillar,
Munenori Kawasaki
and leadoff man
Jose Reyes
) on Tuesday.
[+] Enlarge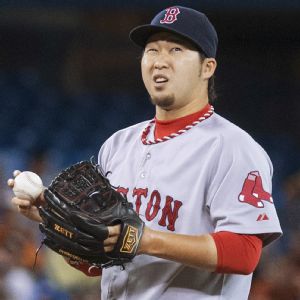 The Canadian Pres/Chris Young/AP PhotosJunichi Tazawa's struggles against the Blue Jays continued Wednesday.
The manager felt fine with using Tazawa "given where we were in the order and given his histories against the guys he was scheduled to face. ... Last night he pitched in the same part of the order and he was exceptional."
Farrell believed that Tazawa's past issues against the Jays might have stemmed from tipped pitches, though the Japanese righty felt he had worked to solve the problem.
"That was a fact in the past, it was mentioned in the past when I had some meetings with my coaches, but I think I've already eradicated that," Tazawa said through an interpreter. "I'm using my breaking balls a little more, sidestepping ... those are the things I'm incorporating into my pitching. I think I'm doing a better job, obviously I didn't pitch as well [today] but I'm making some improvements."
Though Tazawa said he wasn't feeling tired at this point in the season, it was his 63rd appearance in 2014. Tazawa's well-used arm was called upon to preserve Kelly's, who said his shoulder felt fine both before and during his start.
"It's always in the back of your mind every time [an injury] happens, but it's something you don't really want to focus on," Kelly said. "When I'm on the mound, I want to block things out as best I can. It wasn't really bothering me at all, it was good."
Farrell repeated that Kelly's removal in his prior start was only precautionary, and Kelly downplayed his shoulder issue to the point that he hesitated to call it an actual "injury." He suspected that he was going to be on a pitch count on Wednesday, though he had no issue with being taken out of the game.
"It's the manager's decision. I have no right to say anything, I respect everything," Kelly said. He finished with two runs allowed on three hits and two walks over six innings (plus one batter) and said he was mostly satisfied with his performance.
"I'd like to get rid of those walks. My fastball tonight was a little bit better. ... Overall, I think I had pretty decent command of my stuff and was throwing every pitch," Kelly said.
August, 27, 2014
Aug 27
11:41
PM ET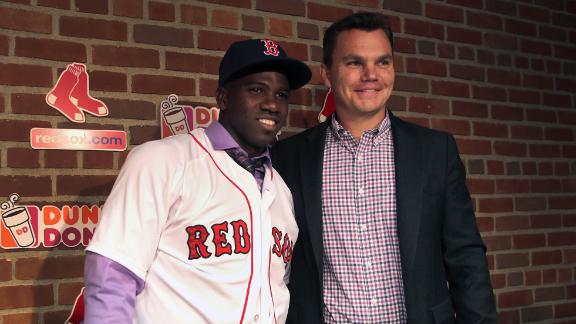 Newly signed Boston Red Sox outfielder Rusney Castillo has successfully obtained his work visa from the U.S. government and is immediately eligible to play in games, according to Juan Perez, the president and CEO of Roc Nation Sports, which is representing the Cuban native.
The 27-year-old Castillo -- who on Saturday signed a seven-year, $72.5 million contract with the Red Sox, the largest contract ever granted an amateur -- arrived at the team's facility in Fort Myers, Florida, on Wednesday to begin workouts. He is scheduled to work out again Thursday morning.
Boston's rookie league affiliate in the Gulf Coast League ends its regular season with a game Thursday. As winners of the GCL's South Division, the Sox rookie entry has qualified for the playoffs: a one-game semifinal Friday, with the winners meeting in a best-of-three final beginning Saturday.
On Wednesday, according to Perez, Castillo was granted a P-1A work visa from the U.S. Customs and Immigration Services for "internationally recognized athletes." The process required paperwork (including proof of residency) from the player, as well as from the Red Sox (including the player contract). A P-1A visa is initially granted for a period of five years, renewable once for a second five-year period. As a holder of a P-1A visa, Castillo also will be able to apply for permanent residency in the U.S.
The issuing of the work visa is the final hurdle for Castillo, who left Cuba under undisclosed circumstances last winter (believed to be in December), established residency in Haiti, and came to the U.S. with his wife and 5-year-old daughter on June 25, the same day Jay-Z and his wife Beyonce brought their "On the Run" tour to a sold-out Sun-Life Stadium in Miami. Castillo spent his first night in the U.S. at the concert.
Shawn "Jay-Z" Carter is the founder of the entertainment company Roc Nation, LLC; Roc Nation Sports is its sports management division, with Castillo joining Robinson Cano
August, 27, 2014
Aug 27
9:57
PM ET
By
Mark Polishuk, Special to ESPNBoston.com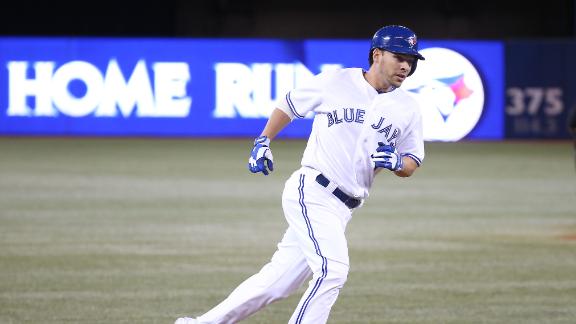 TORONTO -- An error from
David Ross
and a shaky relief outing from
Junichi Tazawa
sunk the Red Sox during a rough seventh inning in Wednesday's 5-2 loss to the Blue Jays.
When
Dioner Navarro
popped a foul ball in front of his own dugout, Ross was in position to make the play but the catcher muffed the catch. Navarro made Ross and the Sox pay by singling to put runners on the corners with none out, as Boston clung to a 2-1 lead.


Tazawa, who had held right-handed batters to a .243 average in 2014, came out of the bullpen to face pinch hitter
Danny Valencia
, who had only a .212 average against righty pitching this season. The statistics couldn't help Tazawa, however, as Valencia deposited his 2-0 fastball over the left-field wall for a three-run homer. Tazawa allowed another run in the inning, albeit an unearned one, when
Kevin Pillar
scored on a fielder's choice.
Swell Kelly:
Joe Kelly
still is looking for his first win in a Red Sox uniform, though the right-hander delivered a quality start on Wednesday. Kelly allowed two runs on three hits and two walks over six-plus innings, as he was pulled after allowing a leadoff double to
Edwin Encarnacion
in the seventh. The only run Kelly was completely repsonsible for was a first-inning solo home run by
Jose Bautista
.
Defense:
Ross' error spoiled an otherwise superb defensive outing from the Red Sox. The solid glovework began early when
Dustin Pedroia
and
Mike Napoli
each made diving plays that led to outs in the first inning.
In the fifth, Jays second baseman
Munenori Kawasaki
hit a chopper that shortstop
Brock Holt
grabbed with his bare hand and quickly snapped to first, with Napoli making a nice pickup for the putout. Napoli was at it again an inning later, stretching to corral a throw from third baseman
Will Middlebrooks
, who made a tremendous snag of a sharply-hit grounder from
Adam Lind
.
Big inning:
The Red Sox lineup didn't muster much against Toronto rookie starter
Marcus Stroman
save for two runs in the sixth inning. With one out, Ross reached base on an error from third baseman
Juan Francisco
, then scored after consecutive singles from Holt, Pedroia and
David Ortiz
. Holt scored on another Toronto miscue, racing home from third after Stroman threw a wild pitch.
Debut:
Edwin Escobar
made his major league debut by throwing a perfect relief inning. The left-hander, acquired last month from the Giants as part of the
Jake Peavy
trade, was recalled from Triple-A Pawtucket earlier in the day.
Brief encounter:
Wednesday's game was wrapped up in 2 hours 38 minutes, the first of 25 Boston games in the month of August to clock in under the three-hour mark.
Coming up:
The Red Sox have an off-day Thursday, then continue their road trip by kicking off a four-game series in Tampa. The Sox have yet to name a starter for Friday; they'll face Rays right-hander
Chris Archer
.
August, 27, 2014
Aug 27
6:30
PM ET
By
Mark Polishuk, Special to ESPNBoston.com
TORONTO -- After missing two games due to an injured foot,
David Ortiz
is back in the Red Sox lineup on Wednesday, hitting third and in his customary DH position.
Ortiz fouled a ball off his right foot in the fourth inning of Sunday's game against the Mariners. He had to be removed for a pinch runner two innings later when the clearly hobbled slugger could only make it to first base on a deep drive to the outfield.
Once the swelling began to subside on Monday, however, Ortiz felt confident that he wouldn't be sidelined for long.
"I spoke to him this morning and he felt better," manager John Farrell said Wednesday. "We made sure he went through some treatment and some running here today and he's good to go."
It may be no surprise that Ortiz wanted a chance to hit at the Rogers Centre, where he has 37 homers and 96 RBIs over 416 career at-bats. Those 37 homers are the most Ortiz has hit at any ballpark over his career except for Fenway Park.
* Left-hander
Edwin Escobar
has been called up by the Red Sox to replace righty
Heath Hembree
, who was optioned to Triple-A Pawtucket in a corresponding move.
Escobar had a two-day stint on the Red Sox roster earlier this month, though he has yet to appear in a major league game. He has a 4.28 ERA in five starts with Pawtucket, a step up from the 5.11 ERA he posted in 20 starts for the Giants' Triple-A affiliate (in the very hitter-friendly Pacific Coast League) earlier this season. Escobar and Hembree both were acquired from the Giants last month in the trade that sent
Jake Peavy
to San Francisco.
Though Escobar has pitched almost exclusively as a starter throughout his career, Farrell said that the southpaw will be used in a relief role and isn't a candidate for the open starting spot on Friday against the Rays.
Escobar is "bullpen depth -- we've got to cover ourselves," Farrell said, noting how often the relief corps has been used recently.
Hembree was recalled on Sunday and pitched in two games during his brief call-up. He had a tough outing in mop-up duty on Tuesday, allowing three 11th-inning runs in Boston's 11-7 victory over the Blue Jays.
*
Yoenis Cespedes
is getting the day off and is out of the starting lineup for just the second time since joining the Red Sox earlier this month.
"We're just rotating guys through," Farrell said. "[It's] a chance to get him off his feet for a day and he'll be available at any point in time during the game."
* Xander Bogaerts has passed his concussion tests and looks set to be activated from the seven-day concussion DL as soon as he's eligible on Friday, Farrell said. The infielder should be ready to rejoin the Sox lineup on Saturday in Tampa, with minimal training required to get him back into game shape.
"He's been doing some running and throwing, he's on his way to Florida right now," Farrell said. "He'll do a full workday on Friday and he'll be ready for Saturday."
August, 27, 2014
Aug 27
2:15
PM ET
By
Brock Holt
| ESPNBoston.com
ESPNBoston.com is asking 20 questions to some of the new faces on the Red Sox. In this edition, utilityman Brock Holt discusses what the "Legend of Brock Holt" is all about, reveals which teammates bought him suits, and considers which of the seven positions he's played this season was most challenging. --As told to Louise K. Cornetta
I don't really have a nickname but some people call me Brock Star.
When I was in Pittsburgh and first got called up, someone had a T-shirt made that said "Party like a Brock Star." It kind of stuck. My buddy who I came up in the system with together,
Tony Sanchez
, and who still plays for the Pirates, made my twitter handle @brockstar4lyf for Brock Star for Life.
[+] Enlarge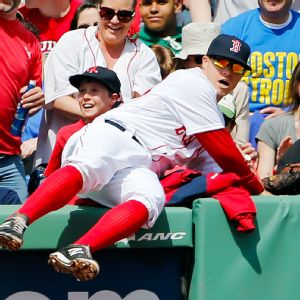 AP Photo/Winslow TownsonHolt has become a fan favorite largely due to his versatility and style of play. "I think people are kind of gravitating towards me because I play the game hard," he says.
Jay Rogers, who is in the Marlins organization, and Tony Sanchez, whom I mentioned, are my best friends in baseball.
They were both in my wedding.
John Lackey before he was traded, Mike Napoli and Dustin Pedroia are the ones who have shown me the ropes in the big leagues.
Lackey was a good buddy who helped me out. He's a Texas boy as well. So he kind of takes all of us Texas boys under his wing. With Napoli and Pedroia, they are guys you want to hang around and be like.
I will keep the ball from my first homer in the new house my wife and I just bought.
I'll find a nice spot on the mantle for it where I can look at it from time to time.
The minor league game I am most proud of is the Double-A All-Star Game where I hit a home run.
It was my first year in Double-A and I hit a three-run homer and was MVP of the game. But I'd say my best minor league story is from last year in Pawtucket. We were trying to get to Louisville. We flew to Philly and our flight to Louisville was canceled. We sat in the airport for six to eight hours as they looked for another flight. They couldn't find one. So we flew to Charlotte instead and then got off the plane there and ran to another plane to take us to Louisville. The game was at 7 that night and we got to the stadium at 7. Louisville was nice enough to give us 30 minutes to put on our uniform before going out and playing the game. We lost 10-0.
The best part of playing in the major leagues is the competition.
You get to play against the best every day. Every day you get to go out and compete with really good athletes.
My worst fear is being stuck in the middle of the ocean.
Hopefully I never have to experience that. But being out in open waters where you can't see anything and you're out there by yourself would be kind of creepy.
My pet peeve is traffic.
It's the worst. My wife will agree that as soon as I even sniff traffic, I get pretty flustered.
My must-have music in my playlist is Texas Country.
Guys like Randy Rogers, Wade Bowen, and Reckless Kelly. Cody Johnson is my walk-up song. I like guys like that and have to have Texas Country to listen to.
I have more suits now because of my teammates.
I've been fortunate enough to have guys around me who have bought me a few. Lackey bought me some last year. Pedroia bought me some this year. I hope to someday return the favor to some young kid.
[+] Enlarge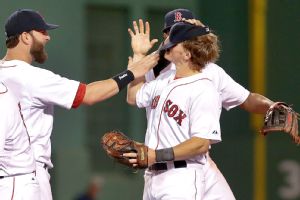 Barry Chin/The Boston Globe/Getty ImagesMike Napoli is one of the Sox players who has helped show Holt the ropes.
Some of my favorites are ...
My favorite sport to watch is college football. I grew up rooting for the Aggies of Texas A&M. A lot of my family went there. I grew up watching them. But I like to watch any good college football game. Favorite item I ever purchased since becoming a big-leaguer is probably going to be my new house, but I haven't seen it yet. My wife flew down to see it. I'd say other than that it's my Chevy Tahoe I bought a couple years ago. The Tahoe is the biggest purchase I've made, besides the house, and I still love it. My favorite dessert is fresh cookies right out of the oven. Chocolate chip cookies, you can't really beat that. I like the really big cookies. I think they're called Bazooki. You have that with a scoop of ice cream on top. It's good. My favorite sports movie is Rudy. It's an inspirational movie. As a kid, growing up I watched "Sandlot" a lot. So those two would be my favorite sports movies. My favorite season of the year is fall. I love the summer but we don't really have summer because we're busy playing.
I've played a lot of positions this season, everything but pitcher and catcher.
I came up as an infielder. I still feel a little bit more comfortable in the infield, but I'm starting to like outfield more than I had imagined. Playing the outfield is something I wasn't used to. The first time I played outfield was left field in Detroit. I felt like I was on an island by myself. It was pretty big. Right field at Fenway is pretty big too, but I've played right field here multiple times now and I'm feeling more comfortable out there. Really, I'm just happy when I'm in the lineup and get the chance to play. I won't be lobbying to play pitcher or catcher, as I don't think there is an instance where anyone will want to see me do either. But if it comes up, it comes up, and if not my feelings won't be hurt if I don't get to play those two positions.
My hobby is I'm starting to get into fishing.
This past spring training, I lived with
Brandon Snyder
. He got me hooked. We went bass fishing. Over the All-Star break, I went fishing with Napoli on one of the days. Fishing is one and the other thing I like to do is being around people I care about like family and friends. As long as I'm around good people, it's cool with me.
The chick flick my wife made me watch but I secretly liked was the "Twilight" movies with the vampires and werewolves.
She made me watch those with her. I watched those and did secretly kind of enjoy them.
If I could be on any reality show it would be "Amazing Race."
I think it would be fun to travel around.
[+] Enlarge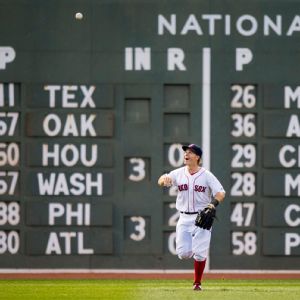 Michael Ivins/Boston Red Sox/Getty Images Holt has played every position this season except pitcher and catcher. "I still feel a little bit more comfortable in the infield, but I'm starting to like outfield more than I had imagined," he says.
The three best candy bars are Snickers, Reese's Peanut Butter Cups, and Reese's Nutrageous,
which is a combination of them all with peanut butter, caramel, and some peanuts.
The best advice I ever received is from my grandpa, who always tells me the same thing. He says, "Don't strike at balls. Only strike at the strikes."
We always joke about that but it was pretty good advice. Go up to the plate and swing at the ones you can hit. My dad always tells me how he talked to my grandpa and he will say not to swing at the balls because your percentages of getting a hit goes way down. It may be obvious advice, but it's kind of funny when he tells me that every time we talk.
My most unique fan encounter is when I saw a poster a fan had made.
It said something like 'Brock's our hero at Fenway.' She drew me and I had a cape on like a super hero. She had taken it to the game, and the Red Sox and MLB had taken a picture of it and put it on Instagram. My wife went up to the Green Monster looking for her but couldn't find her. Then I did an appearance the other day and the lady brought the sign to give it to me. I'll probably hang it up in my house.
I have a chocolate lab named Tank.
My wife liked the name. She kept insisting we call him Tank and I finally gave in. I don't think the dog even knows his name yet. I think it fits him pretty well, as he's getting pretty big.
I don't know how to explain what the "Legend of Brock Holt" is all about.
I didn't even know there was one until people started saying it. I think people are kind of gravitating towards me because I play the game hard. I try to play the game right by going out there to help the team win every day. I think people like the way I play. I've played just about every position. I think people kind of like that as well.
August, 27, 2014
Aug 27
1:29
AM ET
By
Mark Polishuk, Special to ESPNBoston.com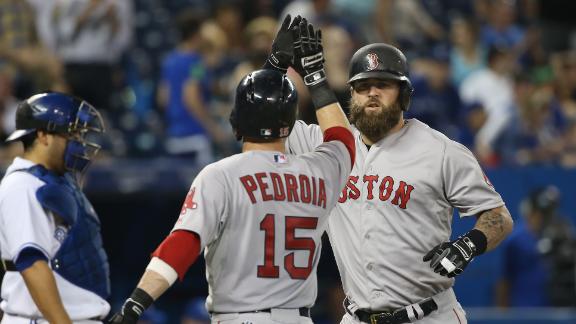 TORONTO -- As only the 17th player to smash a home run into the Rogers Centre's upper deck, one would have thought
Mike Napoli
would have trouble containing his excitement in the aftermath of his epic long ball.
"I was just trying to get a hit. ... It doesn't really matter if it goes far or into the first row for me," Napoli said. "I guess it's pretty cool."
Well, perhaps Napoli could have been a little more fired up in the wake of his game-winning shot. While his homer was the most memorable blow, he was hardly the only one to deliver an important hit during a seven-run outburst in the 11th inning of the Boston Red Sox's 11-7 win over the Blue Jays on Tuesday.
The Red Sox used a well-rounded offensive attack to overwhelm Toronto in the inning.
Mookie Betts
led off with a single and then beat out a close play at second base on a sacrifice bunt; Betts originally was called out but the decision was reversed on replay. After
Brock Holt
reached on an error from Jays pitcher
Casey Janssen
,
Dustin Pedroia
broke the 4-4 tie with a hard ground ball single up the middle.
"I'm just trying to stay in the middle of the field and drive the ball, trying to hit it hard so I get it by him," Pedroia said. "I'm just trying to find a pitch to drive it into the middle of the ballpark and get the runners [in]."
[+] Enlarge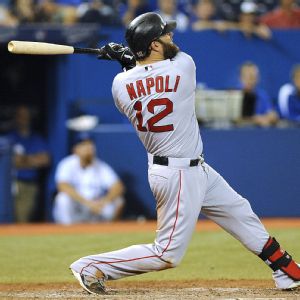 Peter Llewellyn/USA TODAY SportsMike Napoli unloads for his long three-run homer that highlighted a seven-run 11th.
While Napoli was blasÚ about his homer, he was far more excited about how the Red Sox's lineup was clicking before he even came to the plate.
"We're playing some fundamental baseball right there," Napoli said. "Mookie hustling, getting the bunt down to get guys in scoring position. Pedey up there with the bases loaded and the infield in, you feel good about that situation. It's all about the team working together to score runs and getting that timely hit when you need it."
Because the Jays scored three times in the bottom of the 11th, Pedroia's hit wouldn't have been enough on its own for the Sox to win. But Napoli was there for some insurance.
The designated hitter sat on an 0-2 fastball from
Sergio Santos
and sent the pitch far above the left-field wall to a place where few hitters have reached since the stadium opened in 1989.
Manny Ramirez
was the only other Red Sox player to hit an upper-deck homer at the Rogers Centre, mashing a 491-foot blast on June 3, 2001.
In addition to Napoli's moon shot,
Allen Craig
followed two batters later with another home run, a two-run blast to right-center field. Given that the Jays had erased two Boston leads earlier in the game and scored three times in the bottom of the 11th, it was clear that the Sox needed all the offense they could get to finally put the game away.
"You get into extra frames on the road and given where our bullpen is, the ability to score multiple runs is key for us to give us some breathing room," manager John Farrell said.
The seven runs in an inning matched Boston's season high, and it was as if the Red Sox were trying to erase a game's worth (or maybe a season's worth) of failure in clutch situations in a single frame. Despite the 11 runs, the Sox stranded nine runners in the game and were only 3-for-12 with runners in scoring position entering the 11th inning.
"That's basically our offense this year, not coming up with that big hit with runners in scoring position," Napoli said. "It's tough. You've got to get those key two-out hits. It's been a rough year with that, and we've got to get better with it."
While this season is a lost cause for the Red Sox, the composition of the 11th-inning rally bodes well for 2015. Youngsters Betts,
Christian Vazquez
and Brock Holt loaded the bases, roster mainstays Pedroia and Napoli drove them all in, and then new addition Craig added the finishing touch.
Boston's ability to regain its offensive touch could be the key factor in a turnaround next season. If the Red Sox had a few more wins this year, perhaps Napoli would be more energetic about a once-in-a-lifetime home run.
"It feels nice to mess around with your teammates and everyone's just going crazy in the dugout but I don't know, it's just a homer," Napoli said.
August, 26, 2014
Aug 26
11:49
PM ET
By
Mark Polishuk, Special to ESPNBoston.com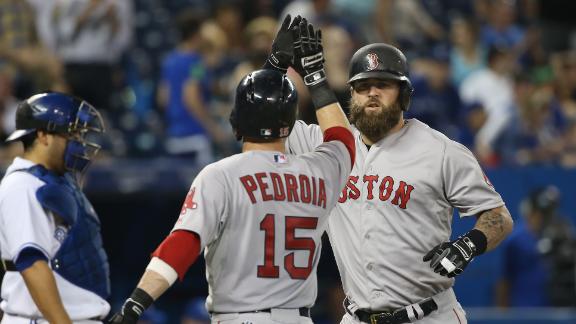 TORONTO -- An 11-7 score doesn't usually hint at extra innings, yet the Red Sox indeed needed a bit of overtime to put the Blue Jays away on Tuesday night.
With the bases loaded in the top of the 11th,
Dustin Pedroia
broke a 4-4 tie with a sharp grounder through the drawn-in Toronto infield to score two runs. The hit capped a big night for Pedroia, who went 2-for-5 with a homer and matched a season high with four RBIs.


Two batters later,
Mike Napoli
then crushed an 0-2 fastball from
Sergio Santos
into the Rogers Centre's upper deck for a three-run homer. It was the 17th time a player has homered into the upper deck in the stadium's 26-year history.
Allen Craig
added a two-run blast in the frame to make it an even 11 runs for 11 innings played for the Sox.
Napoli's homer ended up being the game-winning hit as the Jays rebounded for three runs in the bottom half of the inning.
The outburst put Boston ahead for good after they blew leads of 3-0 and 4-3 earlier in the game. It was the second night in a row that the Red Sox frittered away a three-run lead to the Jays before winning in extra innings.
Early lead:
A passed ball from Jays catcher
Josh Thole
helped the Red Sox score two unearned runs as part of a three-run first inning. Leadoff batter
Brock Holt
struck out swinging but advanced to first on Thole's miscue, and Pedroia capitalized with a two-run homer into the second deck in left.
Napoli singled and Craig walked later in the inning, leading to another run when
Will Middlebrooks
blasted a double to deep center field. The Sox nearly extended their lead to 4-0 but Craig was thrown out at the plate; the call stood after a replay review from umpiring crew chief Tom Hallion.
Pedey power:
Pedroia also homered in Monday's 4-3 win over the Jays, marking the first time the second baseman has gone deep in consecutive games since July 30-31, 2013.
Rubby's rough night:
Right-hander
Rubby De La Rosa
labored through 99 pitches over just 4 2/3 innings on Tuesday night. Despite all those pitches, De La Rosa didn't record any strikeouts, and all of that contact resulted in three runs allowed on seven hits and two walks.
The lack of punchouts continues a troubling pattern for De La Rosa, as he now has only 64 strikeouts over 94 innings (6.13 K/9) with Boston. This is a drop from not only his career 7.18 K/9 but a significant step down from his minor league totals, when De La Rosa averaged almost a strikeout per inning (370 K's in 373 1/3 IP). De La Rosa struck out eight batters in his previous start, tying a season high.
On tap:
The Red Sox will look for the sweep when they wrap up their series in Toronto on Wednesday.
Joe Kelly
will make his fifth start in a Boston uniform while rookie
Marcus Stroman
starts for the Jays.
August, 26, 2014
Aug 26
6:59
PM ET
By
Mark Polishuk, Special to ESPNBoston.com
TORONTO -- Between the regular season and the Red Sox's postseason run in 2013,
Koji Uehara
appeared in 86 games and threw 88 innings last year. That's a heavy workload for any reliever, especially one who turned 39 in April. Uehara pitched more in 2013 than he'd ever thrown in any season as a full-time reliever, either in Japan or in MLB.
Given that Uehara also has thrown 60 innings over 59 appearances in 2014, fatigue could be a factor for Uehara's recent struggles.
[+] Enlarge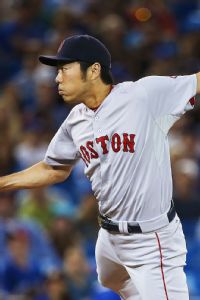 Tom Szczerbowski/Getty ImagesAfter allowing seven runs over his last 2 2/3 innings, Koji Uehara let three inherited runners score in blowing the save Monday.
"We're realistic that he's thrown a lot for us," Red Sox manager John Farrell said. "We're not going to apologize for pitching him for a full month extra last year so if there's some residual effect, it's possible. And he's thrown some high-leverage innings for us this year as well."
Uehara entered Monday night's game facing a bases-loaded jam and allowed all three inherited runners to score, turning a 3-0 Boston lead into a tie game. While Uehara wasn't charged with any of those runs, it marked another poor outing for the closer, as he had allowed seven runs in his previous 2 2/3 innings.
With the Sox playing out the string on 2014, there has been some speculation that the club could shut Uehara down in order to give some other relievers a look going into next season. Farrell, however, said that for now Uehara is just being used more sparingly.
"We've cut back [on usage] already," Farrell said. "We have not gotten to the point of shutting him down for the rest of the season and yet we're careful to make sure there's ample rest. In the last three outings, there's been two days off prior to each outing."
Shutting Uehara down would be an option if he were injured, but the reliever hasn't complained of any ailments.
"If there was something physical that was obvious, certainly we'd keep his health in the forefront of our thoughts," Farrell said. "But he claims that he's fit, healthy and not dealing with anything physical so we have to use that information as well."
Any hint of a fading arm would naturally weigh into Boston's decision about Uehara's future, as the closer will be a free agent this winter. The Sox could be wary about giving a big contract to a closer entering his age-40 season, despite Uehara's spectacular performance since joining the team.
Of course Uehara could simply be in a rare slump, as he had shown no signs of wear and tear prior to his last four outings. Uehara posted a 1.27 ERA over his first 56 2/3 IP this season.
*
Xander Bogaerts
' concussion symptoms have begun to clear up, Farrell said, and Bogaerts will now undergo the usual battery of tests required to clear him for play when his seven-day stint on the concussion DL is up.
Bogaerts hasn't played since Friday, when he was beaned by
Felix Hernandez
. He would be eligible to be activated Saturday, when the Red Sox are in Tampa Bay.
The infielder has been resting during the recovery process and hasn't been participating in any baseball activities, though those "will start to ramp up now that his symptoms have cleared up," Farrell said.
August, 26, 2014
Aug 26
6:47
PM ET
By
Mark Polishuk, Special to ESPNBoston.com
TORONTO --
David Ortiz
's injured right foot will keep him out of the Red Sox lineup for a second straight game Tuesday.
Manager John Farrell said the foot has "improved, but he still needs another day."
Ortiz fouled a ball off his foot during Sunday's game against the Mariners, an injury that eventually forced him from the game and kept him out of Monday night's win over the Blue Jays.
Farrell said that whether Ortiz would be able to take batting practice wouldn't be a factor as to whether Ortiz would be available as a pinch hitter.
"After he reported to the ballpark yesterday he felt it was likely going to be two days and hopefully he's back in the lineup for us tomorrow," Farrell said.
Mike Napoli
will fill Ortiz's usual DH role, while
Allen Craig
will be back at first base, as he was Monday.
Here's the full lineup:
1.
Brock Holt
, SS
2.
Dustin Pedroia
, 2B
3.
Yoenis Cespedes
, LF
4. Mike Napoli, DH
5.
Daniel Nava
, RF
6. Allen Craig, 1B
7.
Will Middlebrooks
, 3B
8.
Mookie Betts
, CF
9.
Christian Vazquez
, C
SP --
Rubby De La Rosa
, RHP
Information from Toronto-based contributor Mark Polishuk was used in this report.
August, 26, 2014
Aug 26
5:25
PM ET
We might have gotten our first hint Tuesday on what the Red Sox plan to do with newly signed Cuban outfielder Rusney Castillo this winter.

Rosters for the Arizona Fall League were announced this afternoon, and listed among the outfielders on the Surprise Saguaros -- the team on which the Sox will have six players -- is a "TBA" placeholder for someone in the Boston organization.

The guess here is that spot will go to Castillo, who will be headed to Fort Myers on Wednesday and could work out at the Sox spring training facility there as soon as Thursday as he continues to try to obtain a work visa. He cannot appear in any games until that hurdle is cleared.

Castillo has not played in a game in nearly a year and a half, but the Sox hope to promote him to the big club at some point in September for an audition.

Sox prospects confirmed on the Surprise roster are pitchers Keith Couch (Double-A), Aaron Kurcz (Double-A) and Madison Younginer (Single-A) and infielders
Sean Coyle (Double-A) and Devin Marrero (Triple-A).

The Saguaros' roster also includes players from the Mariners, Padres, Rangers and Reds. They play 32 games over the span of October and early November.
August, 26, 2014
Aug 26
12:42
AM ET
By
Mark Polishuk, Special to ESPNBoston.com
TORONTO -- Both
Yoenis Cespedes
and
Brock Holt
were a few inches away from being ninth-inning defensive heroes for the Red Sox rather than suffering costly collisions -- Cespedes with the left field wall and Holt with teammate
Dustin Pedroia
.
As it happened, these were only temporary obstacles. Both men came up big an inning later, as Holt's 10th-inning single and two steals paved the way for Cespedes to deliver the game-winning hit in Boston's 4-3 win over the Blue Jays.
It was the kind of station-to-station, grind-it-out type of run that the Sox seemed to score at will during their World Series run last year, yet runs of any kind have been in short supply for the club during this difficult season. Given how Cespedes has been producing since joining the team, however, Boston fans should have hope that he can help turn the offense around in 2015.
[+] Enlarge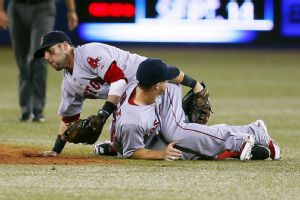 John E. Sokolowski/USA TODAY SportsShortstop Brock Holt and second baseman Dustin Pedroia had a nasty (and costly) collision in the ninth, but Holt bounced back in the 10th with a single and two stolen bases.
"Cespy has been so good since coming over to us, getting RBIs in key moments, late-inning situations," manager John Farrell said. "Once again, today, with a game-winner. Whether it's been with a base hit or a long ball, he's been big for us late in games."
Cespedes now has 22 RBIs in 19 games with the Sox, and over all three of his major league seasons with Boston and Oakland, the outfielder has thrived in run-producing situations. Entering Monday's action, Cespedes had a career .868 OPS with runners in scoring position, and an .831 OPS with any type of runners on base.
Sure enough, he delivered again in the clutch against the Jays, an especially big hit given his team's circumstances. Already in the throes of an eight-game losing streak, it would've been easy for the Red Sox to mentally pack it in after blowing a 3-0 lead in the ninth.
Holt's one-out single in the 10th, however, gave the team new life, and he further capitalized by stealing both second and third base. Holt's aggressiveness in taking third clearly caught the Jays off-guard, and even left Cespedes a bit surprised in the batter's box.
"To be honest I was a little uncomfortable on that steal attempt at third, it kind of threw me off a little bit," Cespedes said via translator. "After that next pitch [a ball], I took a step back, readjusted, refocused myself and got a good pitch to hit right after that."
Cespedes' line drive to center field probably would've scored Holt even from second, yet the extra 90 feet made the run academic. Holt figured the extra base was his for the taking after a lack of attention from Jays reliever
Aaron Sanchez
.
"He wasn't keeping a close eye on me so I figured I'd take third too, maybe get a passed ball or something and score a run," Holt said.
His steal of second was challenged by Jays manager John Gibbons, but the call was upheld after review. Holt is now an impressive 10-for-12 in stolen-base attempts in his rookie season, not to mention going 7-for-8 on steals at Triple-A Pawtucket.
[+] Enlarge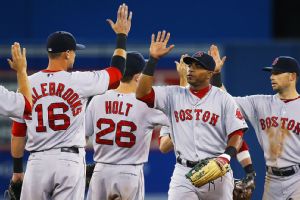 Tom Szczerbowski/Getty ImagesYoenis Cespedes, who has 22 RBIs in 19 games with the Sox, seems to thrive in pressure situations.
"It's kind of a confidence thing, base running. The more you're successful at it, the more confident you feel," Holt said. "I'm not the fastest guy but I can run a little bit. You've just got to trust your speed and if you can take it, take it."
An inning earlier, it wasn't clear if Holt would remain in the game after he and Pedroia ran into each other while both chased a
Jose Reyes
grounder up the middle. Trainers came out to check on Holt, but the shortstop was able to remain in the game and obviously wasn't much the worse for wear.
"I was playing a bit up the middle and he was playing a little to pull, so it's the second baseman's ball on that side normally but where we were playing I thought I could get to it," Holt said. "He had a tough angle and he was kind of cutting in as opposed to going straight out towards the outfield so he couldn't really see me coming. I tried to say something but it was too late. The ball was hit right between us so neither of us had time to stop."
Holt said he was fine after the collision, though he joked that Pedroia was now "1-0 against me... My ear hit his chest, so maybe I'll have one of those cauliflower ears like the fighters, make me look tougher than I am."
Cespedes' encounter with the wall wasn't quite as painful physically, yet it was more costly baseball-wise. With two outs in the ninth,
Edwin Encarnacion
blasted a long fly ball that nearly left the ballpark and Cespedes jumped to try and make the play. The ball eluded him and bounced away as the game-tying runs crossed the plate on what ended up as a double for Encarnacion.
It was a difficult fly ball that the confident left fielder felt was uncatchable.
"If I would've had a chance [at it], I would've caught it," Cespedes said.
Holt fared better against Encarnacion in the second, as the shortstop made a nice diving play to his left on a hard grounder and then threw out the Jays slugger at first.
Holt was making his eighth start of the season at shortstop (his natural position), though his calling card has been his ability to play all over the diamond.
August, 25, 2014
Aug 25
10:39
PM ET
By
Mark Polishuk, Special to ESPNBoston.com
TORONTO -- It took a bit longer than the Boston Red Sox would've liked, yet an extra inning of work was a small price to pay in order to snap the club's eight-game losing streak.


Yoenis Cespedes
' line-drive single in the 10th inning scored
Brock Holt
and put Boston ahead for good in a dramatic 4-3 win over the Blue Jays. Holt delivered a one-out single and then stole both second and third to set up Cespedes' big hit. Since being dealt to the Sox from the A's on July 31, Cespedes is hitting .267 (23-for-86) with 19 RBIs in 22 games.
The Red Sox held a 3-0 lead with one out in the ninth inning, yet after the Jays loaded the bases,
Koji Uehara
couldn't hold the lead. Uehara traded an out for a run on an
Adam Lind
fielder's choice, and then allowed a two-run double to
Edwin Encarnacion
that tied the game.
Koji Concerns:
Uehara recorded both the win and a blown save, and though he wasn't credited with any of Toronto's runs, it was another shaky outing from the closer. Prior to Monday, Uehara had allowed seven runs over his previous 2 2/3 innings of work. By comparison, Uehara allowed only nine earned runs total over 74 1/3 IP during his dominant 2013 season.
Clay was close:
Clay Buchholz
was dominant for much of the game but was chased after 8 1/3 IP after allowing two singles and a walk. Buchholz finished with three runs allowed on four hits and two walks over 103 pitches. While Buchholz recorded only four strikeouts, he did a solid job of limiting contact, retiring 15 Jays on ground-ball outs.
Despite the tough ending, Buchholz now has three quality starts from his last four outings, as the right-hander continues to show signs that he's coming out of his season-long funk.
Big inning:
The Red Sox delivered their sixth multi-homer inning of the season when
Mookie Betts
and Pedroia both went deep in the fifth off Blue Jays starter
J.A. Happ
. Betts hit a one-out blast into the second deck of the Rogers Centre for his second homer of the season.
With
Christian Vazquez
on first base later in the inning, Pedroia added to the power parade. The second baseman connected on the first pitch he saw from Happ, a 78-mph curveball that curved right into Pedroia's zone, and the ball ended up sailing over the left-field wall.
Challenge accepted:
The Red Sox were on the winning end of three replay challenges in the game. Manager John Farrell was quick to call for a review when Betts was called out on a stolen-base attempt in the seventh, and replays showed that Betts indeed beat the tag.
The Blue Jays challenged two plays (a
Munenori Kawasaki
grounder in the ninth and Holt's steal of second in the 10th) but both calls stood after further review.
Up next:
The Red Sox continue their series in Toronto as
Rubby De La Rosa
takes the hill on Tuesday against Jays knuckleballer
R.A. Dickey
.
August, 25, 2014
Aug 25
7:11
PM ET
By
Mark Polishuk, Special to ESPNBoston.com
TORONTO --
David Ortiz
's injured right foot will keep him out of the Red Sox lineup on Monday, but Ortiz is hopeful he'll be available Tuesday if he continues to heal at the same rate.

"It's better than what it was last night or this morning," Ortiz said Monday afternoon. "[There's] nothing broken or anything, so once the inflammation goes away it should be fine."


Ortiz suffered the injury when he fouled a ball off his foot in the fourth inning of Sunday's 8-6 loss to the Mariners, describing it as "the worst" pain he'd ever felt from such an incident. He was able to finish that at-bat (a strikeout), but during his next plate appearance Ortiz had to be removed for a pinch-runner after hitting a long single that would've been a double had the slugger been fully healthy.


It appears as though Ortiz isn't a pinch-hitting option on Monday either, as Ortiz said he "can't put much weight on [the foot] yet." Ortiz is second to only Dustin Pedroia for games played this season, as Ortiz has appeared in 123 of Boston's 130 contests.

Mike Napoli will fill Ortiz's usual DH role on Monday, while Allen Craig will play first base for the first time since he was dealt to the Red Sox on July 31.

Other notes:

* The shoulder tweak that caused Joe Kelly to be removed early from his last outing appears to no longer be a problem for the right-hander. Manager John Farrell said Kelly is on pace to make his scheduled start on Wednesday against the Blue Jays.


"[Kelly] came through his bullpen yesterday in good shape, and at this point we don't anticipate any issues," Farrell said.


Kelly felt the discomfort during the fifth inning of his start last Friday, and he was removed for precautionary reasons. It was a sour end to an otherwise tremendous outing for Kelly, who allowed only one hit over his five shutout frames.


* After nine seasons in professional baseball, Carlos Rivero is finally a major leaguer. Xander Bogaerts was officially placed on the seven-day concussion DL on Monday, and the Sox filled the 25-man roster spot by purchasing Rivero's contract from Triple-A Pawtucket.


Rivero, a 26-year-old Venezuela native, hit .262/.320/.379 over 4092 minor league plate appearances in the Indians, Phillies, Nationals and Red Sox organizations. The utilityman saw time at third base, shortstop and left field in Pawtucket and he's also played first base and right in his career, making him a versatile bench option.


"I wasn't expecting it. It was a big surprise, a really happy surprise," Rivero said via an interpreter. "I'm very happy for the opportunity. It's been a long time. I'm going to keep working and see if I can stay as long as I can."