July, 23, 2014
Jul 23
4:01
PM ET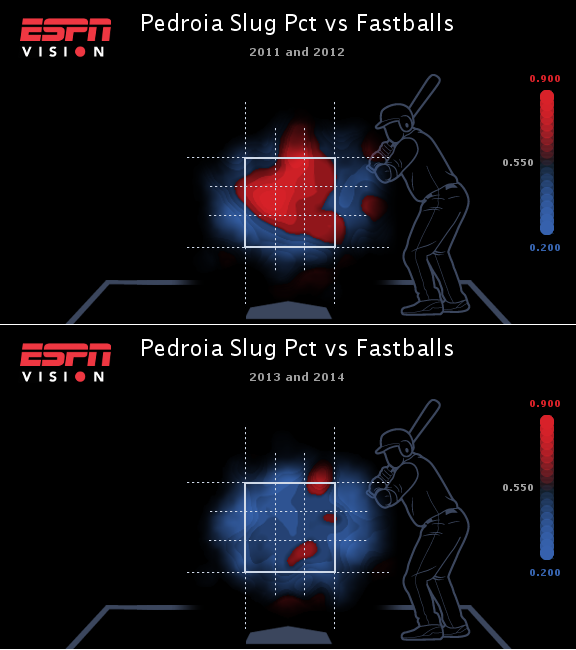 ESPN Stats & Information
TORONTO -- He is a highly regarded talent evaluator for a major league club, and the day after watching
Dustin Pedroia
play earlier this month, he offered this theory on why the Red Sox second baseman is struggling.
"Just like last year, something must be physically wrong,'' the evaluator said. "He'll never admit it, nor will the team. [But] the statistical drop-off is too drastic to ignore, given his history.''
This much is certain: Pedroia has been given lots of chances to say injuries are responsible for the decline in his performance, and has rebuffed every one of them. Surprised? You shouldn't be. Last year, weeks passed before he admitted that he had torn the ulnar collateral ligament in his left thumb in the season's first game in Yankee Stadium, and only after a Boston Herald report of the injury. He recovered to have a strong second half, but had surgery on the thumb in November.
So, the question was put to him in a different way Wednesday: How much better would he be playing with a healthy left hand?
"I'll be OK,'' he said. "It's part of playing, being an everyday player. I didn't say anything last season because I was playing every day.''
It's no different this season: Pedroia has played in 98 of the team's first 100 games. And when he was told of the talent evaluator's comments, he didn't make any effort to rebut them.
"I'll be OK,'' he said. "I'll find a way. It's part of the game.''
In this season's home opener, Pedroia landed badly on his left wrist when upended on a double play relay against the
Milwaukee Brewers
, but went from fears that he might have fractured the wrist to a diagnosis of "some inflammation," allowing him to persist with his "I'm fine" mantra. He was given a cortisone injection, but otherwise has played in 98 of the team's first 100 games. The ballclub also has maintained that Pedroia is not limited physically.
[+] Enlarge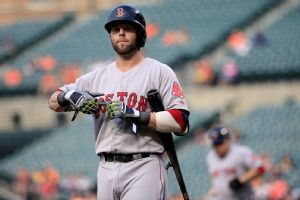 Rob Carr/Getty ImagesDustin Pedroia has just a .723 OPS in a full season since signing a long-term extension.
But there is nothing fine about his performance at the plate, although he continues to play exceptional defense. After going 0 for 4 in Tuesday night's 7-3 loss to the
Toronto Blue Jays
, Pedroia enters Wednesday night's game against the Blue Jays hitless in his last 17 at-bats. He is 1 for 20 since the All-Star break, and in his last dozen games, he is batting .163 (8 for 49), with a slash line of .222/.204/.426. Only two of those eight hits have been for extra bases, both doubles.
Over the first three months of this season, Pedroia posted an OPS of .676 in April, .787 in May, and .699 in June. May was consistent with his career numbers (.788), but the other two months were more than 100 percentage points lower. The drop-off has been even worse in July. Pedroia has a .612 OPS this month, compared to a career OPS of .838, a dropoff of 226 percentage points.
In late June, Pedroia vowed he was about to start hitting.
"I haven't got hot yet," he said. "I plan on getting hot -- hotter than Tent City.''
And for a brief time, he backed up his words. In an eight-game span (June 28-July 6), Pedroia went on a tear, batting .500 (16 for 32) with a 1.072 OPS. But even that came with a qualifier -- 15 of the 16 hits were singles, which is not representative of Pedroia at his best -- and since then, he has gone into a funk.
"I was swinging the bat good before the break," Pedroia said Tuesday night, "but when we got back, I hit some balls hard and did not have much to show for it.
"I don't know, I'm trying to do too much instead of letting the ball come to me. I've got to figure it out. I've got to try and get better and help us.''
The Sox have been winning during his dry spell, which has made his slump more tolerable. But in his last dozen games, his batting average has dropped 15 percentage points and his OPS has slipped from .741 to .702. His production the past two seasons has taken the steam out of the debate over who is the better-hitting second baseman,
Robinson Cano
or Pedroia. While Cano has maintained his production in Seattle, Pedroia comes into play Wednesday night ranked just 14th among major-league second basemen in batting average, 13th in OPS, tied for eighth in extra-base hits, and seventh in WAR (2.7).
Pedroia is too young -- he turns 31 on Aug. 17 -- to be experiencing such a significant decline. But this is not the performance expected of a player who a year ago to the day came to terms on an eight-year, $110 million contract extension that will take him through his 38th birthday. That contract was designed to make Pedroia a foundational piece of the franchise for the remainder of his career. But that foundation is showing cracks.
In 157 games since the announcement of his extension, the equivalent of a full season, Pedroia has posted a .278/.343/.380/.723 slash line, with 7 home runs, 82 runs and 63 RBIs. His career slash line before last year's thumb injury: .303/.369/.461/.830. That's a big difference.
Tuesday night, Pedroia said his timing was off.
"I'm a little out front on off-speed stuff, and late on the fastball,'' he said. "That stuff happens. I got to find a way to fix that and produce.''
What he didn't say was that it would help to have a healthy left hand.
July, 23, 2014
Jul 23
12:37
AM ET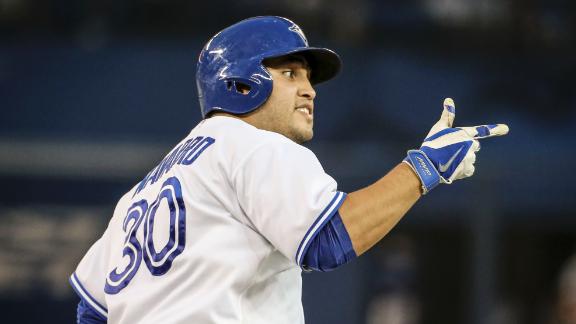 TORONTO -- We have gone beyond explanations, imprecations, lamentations. They are of no use.
Boston Red Sox pitcher Jake Peavy has taken the ball every five days 20 times this season and has as many wins as he has duck boats, World Series rings and Cy Young Awards: one, and that came 88 days before he went to the mound Tuesday night in Rogers Centre and lost again, 7-3 to the Toronto Blue Jays.
You say wins and losses don't define a pitcher? Peavy isn't wired that way. He's too old fashioned for that. ERA, FIP, WAR, K's per 9? He knows all that stuff, but for him, what matters is whether your team is shaking hands at the end of the night, or whether they've carried you off on your shield. Jon Lester is the same way. John Lackey, too.
Twenty times Peavy has taken the ball this season, and he has one win to his name. No other pitcher in the big leagues has made as many starts with as little to show for them.
The Sox have won only five times when Peavy has thrown their first pitch of the night. He has lost nine straight decisions (with six no-decisions). The team has lost his past nine outings, Tuesday's defeat ending a five-game winning streak and interrupting, at least temporarily, talk about a miracle run to October. The other four teams in the AL East won Tuesday night, dropping the Red Sox back into last place.
"It's frustrating to lose," Peavy said. "I'm so sick of sitting here. Sorry, I don't have the best attitude in the world. I try. I promise you, I try. Run support or no run support, it's not fun to lose. The only way to stop that from happening is for me to get better."
July, 22, 2014
Jul 22
10:17
PM ET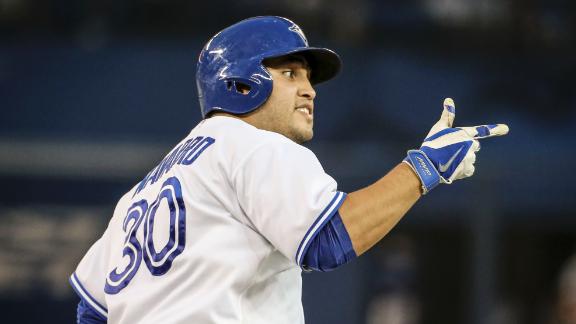 TORONTO -- This is the parallel universe in which
Jake Peavy
finds himself.
Tuesday night in St. Louis, Tampa Bay's 39-year-old catcher
Jose Molina
, who could have a 20-yard head start on Toronto mayor Rob Ford and still lose a 50-yard race to the Chris Farley-lookalike, stole his third base of the season.


Meanwhile in Ontario, Peavy, a former Cy Young Award winner whose best days admittedly are behind him, made his 20th start of the season for the Red Sox, and at the end of the night still has just one win to his name.
Where is the logic? Where is the humanity?
Certainly not in the Rogers Centre, as it is now 88 days since Peavy last tucked a "W" inside his cowboy boot, the Sox falling, 7-3, to the Blue Jays, ending their five-game winning streak. A night after posting season highs in runs (14), hits (18) and home runs (4), the Sox were held scoreless until
David Ortiz
hit his 23rd home run of the season with one out in the eighth.
Stephen Drew
hit his fourth homer, and second in two nights, with a man aboard in the ninth.
Peavy, meanwhile, was saddled with his ninth straight loss (six no-decisions) since recording his lone win here on April 25. Peavy, who came into the game with the lowest run support among all AL pitching qualifiers (2.91), kept the Sox within a run until cracking in the sixth, when he gave up a leadoff home run to
Jose Reyes
after a seven-pitch at-bat and a two-run home run to
Dioner Navarro
, who didn't miss when a Peavy fastball tailed right into his swing path.
A fifth run was charged to Peavy when
Melky Cabrera
hit a cue shot that caromed off the foot of reliever Burke Badenhop to third baseman
Xander Bogaerts
, who hesitated long enough to ensure everybody was safe. For good measure, the Jays tacked on two more against accidental reliever
Felix Doubront
, who didn't endear himself to anyone when his inattention allowed
Colby Rasmus
to steal second unchallenged.
Peavy's only positive takeaway of the night? He didn't get a call from the ranch hands in Alabama telling him someone had made off with his duck boat. He's had just about everything else taken away from him this season.
Peavy luck?
Shane Victorino
lined three hits Tuesday night. The one time the Jays got him out came in the sixth, when the score was still, 1-0, Jays, and
Mike Napoli
and
Jonny Gomes
had opened the inning with singles off Jays starter J.A. Happ. Victorino rolled into a double play.
The Sox loaded the bases in the fourth, and Drew flied out to left. Ortiz came to the plate with two on and two out in the fifth and flied out.
Peavy is now 1-9. The Cardinals remain interested, according to a big-league source, but nothing is imminent. He has one more start scheduled before the July 31 trading deadline.
July, 22, 2014
Jul 22
4:56
PM ET
TORONTO -- Nearly two months have passed since Tampa Bay's
David Price
drilled Boston DH
David Ortiz
with a 94-mph first-pitch fastball, touching off a nasty exchange in which Ortiz declared "war" on the Rays left-hander and Price accused Ortiz of thinking he is "bigger than the game."
Tuesday afternoon, the Rays announced that Price will pitch the opener of this weekend's series against the Red Sox in Tropicana Field, which should provide an intriguing subtext to a series already important to two teams trying to climb back into the American League East race.
Ortiz had little reaction to the news Price was pitching the opener. "So?" he said.
Asked if he anticipated any fallout from the last meeting, he said: "Why should I? I'm not the one who's pitching."
On June 10, the Rays were 24-42, 18 games under .500 and 15 games out of first place in the AL East. Since that date, they are tied with the Angels for the best record in the league (23-11, .676), have won five in a row going into play Tuesday night, and began the night a half-game behind the Sox at 47-53, eight games behind the first-place Orioles in the division.
The Sox, meanwhile, began play Tuesday night as winners of eight of their last nine, and since the end of play June 8 have shaved three games off a 10 ½-game deficit in the division.
So this weekend's series already promised to be an intense one. The added Ortiz-Price reunion could ratchet up that intensity.
Ortiz was incensed that Price escaped ejection and a suspension for hitting him, while Red Sox pitcher
Brandon Workman
, who threw a pitch behind Evan Longoria, was suspended six games.
"[The Rays] started everything and we've got to pay for it, basically," Ortiz said when Workman's suspension was announced. "That's the message I'm getting. I don't have any answer for it. But like I say, man, there's way too much evidence now that he hit me on purpose and the funny thing is we're the ones getting fines and suspensions, all that kind of stuff.
"I guess the rules are not for everyone."
Ortiz also said he would not tolerate getting hit again by Price.
"I mean, it's a war," Ortiz said. "It's on. Next time he hits me, he better bring the gloves. I have no respect for him no more."
Price was unrepentant.
"Sometimes, the way [Ortiz] acts out there, he kind of looks like he's bigger than the game," Price said. "That's not the way it is, not the way it goes. ... Nobody's bigger than the game of baseball. You ask pitchers from 10, 15, 20 years ago -- that's normal, part of the game."
Sox ace
Jon Lester
is in line to start against Price.
The Red Sox won that May 30 meeting. Since that game, Price is 6-3 with a 1.64 ERA, striking out 83 batters in 71 1/3 innings while walking just 12.
Meanwhile, Lester is 5-1 with a 1.41 ERA, striking out 64 and walking just 10 in 59 innings in his last nine starts.
July, 22, 2014
Jul 22
1:40
PM ET
TORONTO -- The final version of the 2015 major league schedule is still at least a couple of weeks away, but according to the version currently being reviewed by all 30 teams and subject to revision, the Red Sox will open next season in Philadelphia on April 6 against the National League's Phillies.

After playing three games against the Phillies, the Sox are scheduled to play three games against the Yankees in New York before heading to Fenway Park to face the Washington Nationals, another National League East team, in their home opener. That game is tentatively scheduled for April 13.

The Sox home opener this season also was against a National League team, the Milwaukee Brewers, who swept three straight from the Sox.

The Sox interleague opponents in 2015 are scheduled to be from the NL East. In June, they are scheduled to have back-to-back home-and-home series against the Braves (two in Boston, two in Atlanta). They are scheduled to play two games at Fenway against the Marlins in July, then go to Miami for two more games (tentatively scheduled for Aug. 11-12).

The Sox are scheduled to go to New York's CitiField to play the Mets Aug. 28-30, then the Phillies are scheduled for a three-game visit to Boston in early September, which would be the last interleague action of the season for the Sox.

The Yankees' first visit to Boston is tentatively scheduled for May 1-3. The Orioles are scheduled to be the Marathon weekend opponent in April, while the Sox are tentatively scheduled to end the season Oct. 4 in Cleveland against the Indians.
July, 22, 2014
Jul 22
12:33
PM ET
TORONTO -- Score 14 runs, win valuable prizes?
Well, maybe not. But by scoring 14 runs against the Blue Jays here Monday night, the most runs they've scored in a game all season, the Red Sox have shed the label of the league's weakest offense.
The Sox, in fact, leapfrogged five other teams to rank 10th in runs scored in the American League, ahead of the Mariners, Rays, Yankees, Royals and Astros.
Since the Sox began their current hot streak on July 9, after losing seven of the first eight games of a 10-game homestand, here is how they rank among the American League's five hottest teams.
During that time, the club has scored five or more runs six times, and have posted a batting slash line of .307/.374/.486/.860. They've also hit 10 home runs, all in the past six games, four on Monday night.
But while the delayed arrival of the Sox offense is drawing most of the attention, the team's pitching performance should not be overlooked. Yes, the Sox have scored 57 runs in that time, but they've allowed just 19, a run differential of plus-38.
The staff ERA is 2.11 over the past nine games, with 78 strikeouts and 15 walks. Sox starters are 6-1 with a 2.18 ERA in that span, with six starts of seven innings or more.
And the team's glovework has also been strong in that span, as opponents have not scored an unearned run.
"Guys are playing loose, guys are playing confident," manager John Farrell said, "and we're playing to the capabilities that we felt we had ... over the course of the year."
Whether any of that translates into success for Tuesday's starter,
Jake Peavy
, remains to be seen. Peavy has made 19 starts this season and has just one win, which came 88 days ago here, when he beat the Blue Jays, 8-1, on April 25. Peavy has the fewest wins of any big-league pitcher this season with at least 19 starts; perhaps he will take comfort in knowing only six pitchers in big-league history with at least 19 starts have finished a season with just one win.
July, 22, 2014
Jul 22
12:59
AM ET
TORONTO --
David Ortiz
had struggled mightily over the weekend, going 1-for-11 against the Royals, and blamed the All-Star break for messing up his timing.
[+] Enlarge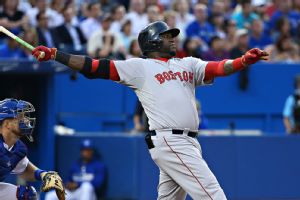 Tom Szczerbowski/Getty ImagesDavid Ortiz launched a pair of homers Monday, passing Carl Yastrzemski on the all-time list.
But he also predicted after Sunday's win, "I'm about to get hotter than Jamaica in the middle of August."
Ortiz brought the heat north of the border Monday, setting the Sox record book on fire in the process.
Ortiz hit a pair of majestic home runs in a 14-1 rout of the Blue Jays at Rogers Centre. His first on the night and 21st of the season, a two-run shot off
Brad Mills
into the hitters' background in dead center field in the fourth inning, tied him with Sox Hall of Famer Carl Yastrzemski for 36th on the all-time list. Then he mashed another Mills offering for a two-run home run in the fifth, the 453rd of his career putting him ahead of Yaz.
On this night, Ortiz preferred to let his bat speak for itself.
"Put it down, I'm on my way to Jamaica," he said as he headed for the door.
July, 21, 2014
Jul 21
8:05
PM ET
TORONTO -- A few quick topics to note while watching the Sox in Toronto:
* The
Cole Hamels
-to-the-Sox rumors, while making some modicum of sense, shouldn't be taken too seriously, one major league source said Monday. The Phillies are actively shopping Cliff Lee, who came off the disabled list Monday night to start against the Giants, and are much more apt to keep Hamels.
* The
Kansas City Royals
had a scout here Monday. The Royals were reported last week to have some interest in
Jonny Gomes
.
* If the Red Sox are shopping
Koji Uehara
, they're being very quiet about it. One big-league scout said he has heard no chatter regarding the Sox closer.
* So far, no takers on A.J. Pierzynski, who was released July 16 by the Sox and is free to sign with any team for the big-league minimum. A source close to Pierzynski had said when he was designated that the 37-year-old catcher wanted to keep playing.
*
Shane Victorino
, having played in four straight games (two in Pawtucket, two in Boston), was given the night off. The Sox are playing their next seven games on artificial surfaces, so manager John Farrell said the club will be prudent in monitoring Victorino's use.
* Ryan Lavarnway, on the disabled list since May 30 with a fractured hamate bone in his left wrist, began a rehab assignment Monday with Double-A Portland. One small measure of comfort for Lavarnway; during his time on the DL, he has been paid his big-league salary, not at a minor-league rate. Lavarnway started at first base for the Sea Dogs.
* One striking aspect of the recent Sox streak is the limited impact
David Ortiz
and
Dustin Pedroia
have made. Ortiz was 1-for-13 in the Royals series, was batting .182 since July 9 (when the Sox began their run) and was hitless in 11 at-bats after his first two trips to the plate Monday. He had driven in nine runs since that date before hitting a two-run homer in the fourth inning. Pedroia, meanwhile, was batting .188 (6-for-32) since July 9.
Daniel Nava
(8-for-17, .471) and
Brock Holt
(15-for-37, .405) have been the hitting stars, while
Jackie Bradley Jr
. and
Stephen Drew
were both hitting .333.
* Drew's last three-run home run before Monday night: Aug. 21 in San Francisco, off Mike Kickham
July, 21, 2014
Jul 21
5:29
PM ET
By
Greg Sukiennik
| ESPN.com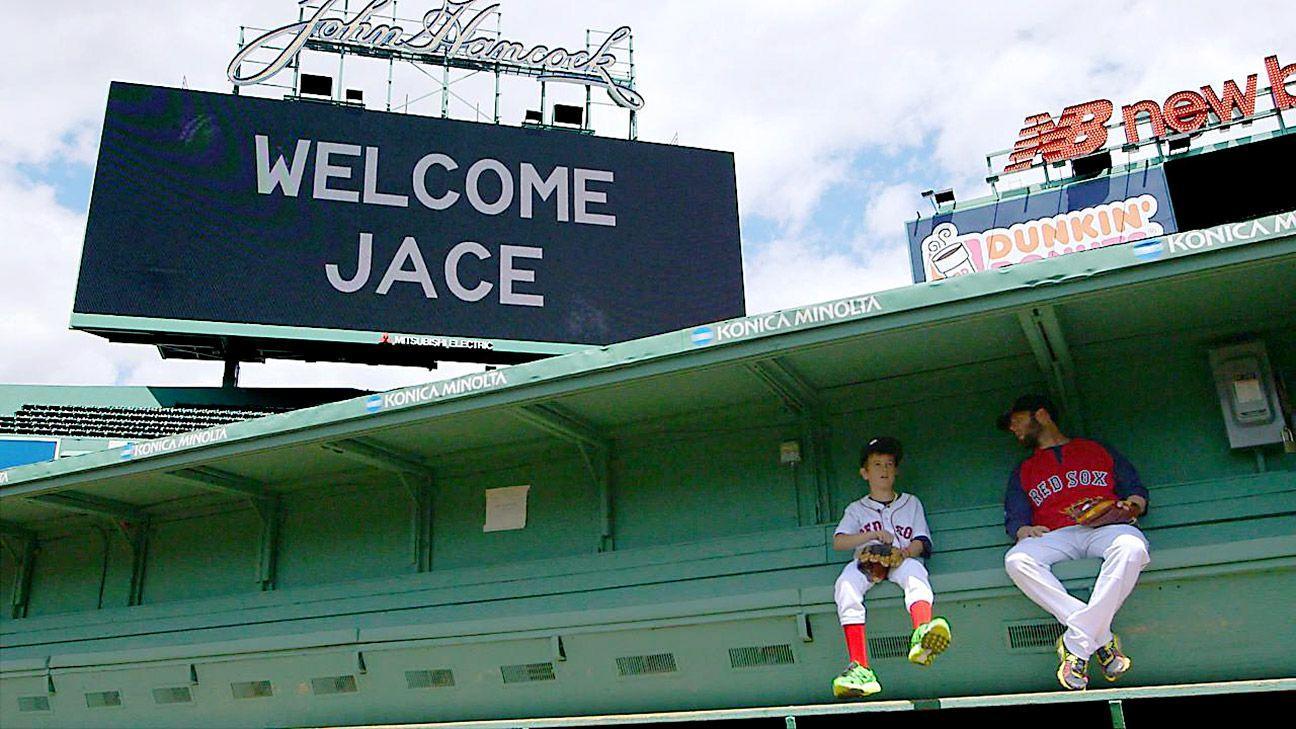 Lots of young baseball players would feel intimidated when making a first entrance into the Red Sox clubhouse at Fenway Park.
But Jace Andrews of Montgomery, Texas, felt right at home, building a rapport with Dustin Pedroia and Jonny Gomes right away when he had his wish granted at Fenway earlier this season. Jace even played a bit of a joke on Pedroia, pointing out how he had barely missed home runs over the Green Monster in consecutive games this season and presenting him with a box of Wheaties to give him the extra lift he needed to turn wall-ball singles and doubles into homers.
What did Pedroia think of that? "He went all around the clubhouse telling his teammates 'He gave me a Wheaties box,'" said Jace, 12.
"He's a jokester. He likes to give people a hard time and joke around with people," explained Julie Andrews, Jace's mother. "He's a fun-loving kind of kid, which is why he and Pedey had a great time together."
Jace, whose family includes parents John and Julie Andrews and brothers Jordan, 7, and Justin, 19, got his Red Sox fandom from his dad, who was born in Boston. He quickly latched on to Pedroia as his favorite player. Like Pedroia, who had to overcome questions about his size to become a major leaguer, Jace is short and has been battling obstacles his whole life.
"I feel like I'm Dustin Pedroia," Jace said. "He inspires me."
So it was natural that Jace's wish was to spend a day at Fenway with Pedroia and the Red Sox, throw out the first pitch and watch a game from the Green Monster seats. "I love Fenway Park, and I figured Pedey would be the best guy," he said.
July, 21, 2014
Jul 21
3:55
PM ET
Check out the 6 p.m. ET SportsCenter for a touching #MyWish segment with Dustin Pedroia and 12-year-old Jace Andrews. The clips below show Jace as Pedroia invites him to Fenway and as he takes on the Green Monster.



We'll post the full segment after it airs.
July, 21, 2014
Jul 21
1:47
PM ET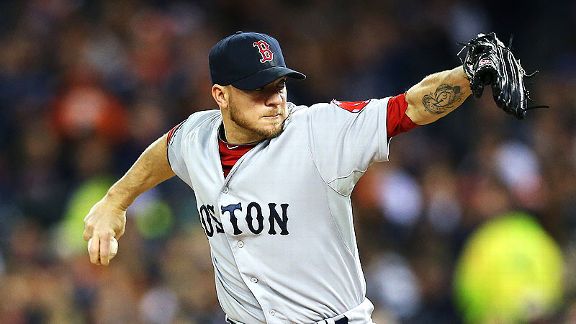 Ronald Martinez/Getty ImagesJake Peavy could provide a boost on the back end of a contender's rotation.
Throughout July, Jim Bowden will look at a number of high-profile trade candidates and explain what it would take for certain clubs to acquire each player.
Player:
Jake Peavy
| SP |
Boston Red Sox
Possible destinations:
Milwaukee Brewers
,
Seattle Mariners
,
St. Louis Cardinals
Peavy was traded July 30, 2013, in a three-team trade that sent
Avisail Garcia
from the Tigers to the White Sox,
Jose Iglesias
from the Red Sox to the Tigers, and Peavy to the Red Sox. Peavy's value has since dipped, and not just because he's another year older. His ERA is a full run higher than his career mark, and his WHIP is the highest it has been since his 2002 rookie campaign. His average fastball velocity has dropped from 90 to 89 mph, and the rest of his offerings have diminished as well.
His 1-8 record in 19 starts can be partly explained by a lack of run support and a defense that has been poor at times. But the bottom line is it has been a subpar year by Peavy's standards.
However, because of his competitiveness and winning attitude, Peavy could rebound in the second half and help a contending team at the back of their rotation. To acquire Peavy, the trade cost will be significantly less than it was this time last year, but the Red Sox should still be able to land a solid, albeit not top, prospect.
---

Milwaukee Brewers
Why?
The Brewers are pleased with the top four in their starting rotation,
Kyle Lohse
,
Yovani Gallardo
,
Wily Peralta
and
Matt Garza
. However, their fifth starter has struggled mightily;
Marco Estrada
was demoted to the bullpen, and rookie
Jimmy Nelson
has not looked good after two starts. Peavy would provide an immediate upgrade there.
Who?
The Red Sox will probably start by asking for one of their top outfield prospects in Mitch Haniger or Tyrone Taylor, an offer I expect GM Doug Melvin to politely decline. However, power-hitting outfielder Victor Roache, the Brewers' first-round pick in the 2012 draft, might be enough to get it done. Roache has hit 33 home runs and driven in 107 runs in his first two years of professional ball, but he has struggled to get on base consistently (.307 career OBP). He's a project, but he's worth taking a chance on, given his power potential.
Will it happen?
There's a good chance this could happen, especially because the Braves seem to have lost interest and the Cardinals and Mariners appear to be chasing a higher-level starter.
July, 20, 2014
Jul 20
8:38
PM ET
BOSTON -- After a brief three-game homestand to begin the second half of the season, the Red Sox head out for a seven-game road trip through Toronto and Tampa.
Boston swept the
Kansas City Royals
this weekend at Fenway Park, as the Red Sox have won seven of their last eight games. But they remain in the basement of the AL East. If they can continue to play well against divisional opponents, there's still a chance they could sneak back into contention.
[+] Enlarge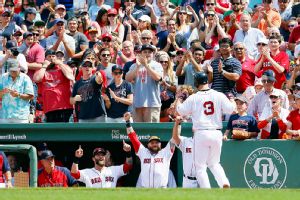 David Butler II/USA TODAY SportsThere's a bit of a jump in the step of the Red Sox, including David Ross, who homered Sunday.
"I think we're having a little bit of fun. We have been for a while," said Red Sox veteran catcher
David Ross
, who hit a two-run homer in Sunday's 6-0 win. "Before the break we played some good baseball and we've got a good atmosphere going. We're having some fun. We're getting good pitching as we have been, but guys are putting together solid at-bats, guys are rooting each other on. Guys are into the game, some young guys are starting to play a lot better."
On this upcoming road trip, Boston will face the Blue Jays four times and the Rays three times.
"I feel like if we can just do what we've been doing and play well -- I know we've been playing against some teams that maybe aren't up to par -- but if we can get the confidence that we have in that way we're playing right now, I think that's very important," Ross said.
As manager John Farrell walks around the clubhouse, he's seeing a different atmosphere than he did only a few weeks back.
"There's a lot of confidence going on right now. Just hearing some of the conversation in and around our team -- it's not anything beyond today, which has been the trademark of this group all last year," Farrell said. "We know the position we're in. To think beyond today doesn't really do us much good. I'm confident we'll continue that approach as we start up in Toronto tomorrow."