April, 17, 2014
Apr 17
3:39
PM ET
The Red Sox plan to mark the anniversary of last year's marathon bombings in two ways. First, they will hold a pregame ceremony on Sunday night, when they host the Baltimore Orioles. And then for Monday's game, they will wear special jerseys that will become an annual tradition.

The Sunday ceremony, scheduled to begin around 6:30 p.m., will include a remembrance of Krystle Campbell, Martin Richard, Lingzi Lu, and Officer Sean Collier.

The club will acknowledge the support that has come to Boston from across the country as well as honor civic and business leaders who started the One Fund Boston.

Also, the University of Massachusetts Marching Band and the Boston Pipers Society will participate, as will members of the Boston Police Department, Watertown Police Department, and Massachusetts
State Police.

A series of canvases bearing messages from all 50 state, all MLB teams and members of Congress will line the outfield warning track at Fenway.

ESPN is scheduled to televise the game.

On Monday, Patriots Day, the Sox will launch their new jersey tradition for their annual 11:05 a.m. game. Their home jersey will have "Boston" on the front -- as it did for the first time during last year's marathon tribute at Fenway Park on April 20, 2013.

The four-game series against Baltimore begins Friday.
April, 17, 2014
Apr 17
2:59
PM ET
BOSTON -- The Red Sox, having walked off the Fenway Park diamond as winners less than an hour before, were in the process of making final preparations for their trip to Cleveland when the bombs went off. They heard the myriad sirens screaming as their buses took them to Logan Airport, followed the reports on their cellphones and iPads, exchanged text messages with anxious family members, some of whom lived only a short distance from the Marathon finish line.
When they landed in Cleveland, they went out to dinner as a team, the horror of the day enfolding their conversations. And the next day, they began to craft their response.
[+] Enlarge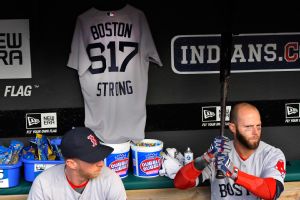 David Richard/USA TODAY SportsThe "Boston Strong 617" jersey that hung in the Red Sox dugout was the brainchild of Jonny Gomes and Jarrod Saltalamacchia.
Hours before that night's game, clubhouse manager Tom McLaughlin was approached by Jarrod Saltalamacchia and Jonny Gomes.
"Salty and Jonny came up to me with an idea to get a jersey to hang in the dugout," McLaughlin said. "I said, 'What do you guys want to put on it?'"
Gomes plays with the 707 area code of his northern California home, Petaluma, etched on his glove and cleats. "I know I get lot of positive feedback back home for doing that,'' he said, "so I kind of went coattails on that idea. I said, 'The first thing we need is '617' as the number."
By then, the "B Strong" logo was everywhere. Someone sent a "B Strong" poster to the clubhouse for all the players to sign. McLaughlin was told the team would be wearing a "B strong" patch on their uniforms when they returned home that weekend. The three men decided that they would frame the "617" on the back of the jersey with the word "Boston" on top, "Strong" on the bottom.
That night, they hung the jersey in their dugout, and did so for every game that followed in 2013. McLaughlin instructed equipment manager Edward "Pookie" Jackson to make a similar home white jersey for the dugout at Fenway.
The team arrived back home from Cleveland in the early hours of Friday morning, plans already hatched for the players to split up into groups of five and visit victims in area hospitals without fanfare. When they turned on their phones upon landing, they learned that a police officer on the MIT campus had just been shot.
"By the time we got to Fenway," Gomes said, "we found out that shooting was attached to the bombers, and Boston was on lockdown."
The Sox had commissioned special home jerseys with "Boston" stitched across the front to wear for their first game back. Andy Davis, who coordinates Sox equipment issues for MLB, drove through the night from Easton, Pa., to make sure they had arrived by Friday morning. But there would be no game that night, as the manhunt for the bombers continued and the city was on lockdown.
The next day, the Red Sox and Kansas City Royals played. This was the first public gathering in Boston since the apprehension of one of the alleged bombers and the death of the other Friday night.
"I just remember everybody in the clubhouse was anxious to play," McLaughlin said. "It was like, 'Let's go out and do this.'"
David Ortiz doesn't remember who asked him to address the crowd before the game, someone in the front office, but a year later, the passion he felt that day remains fresh. "This is our f------ city," he had said, and the crowd roared at the defiance.
"I was mad," he said. "I was upset. Devastated. I wanted to say more."
On Tuesday in Chicago, he glanced at a TV set that was showing the anniversary ceremonies of commemoration taking place on Boylston Street. "Even when I watch it now," he said, "I'm on fire."
[+] Enlarge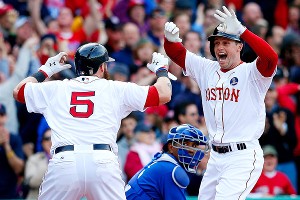 Jim Rogash/Getty ImagesDaniel Nava's three-run homer in the eighth brought a lot of smiles in the Sox's return to Fenway.
The Red Sox were losing by a run in the eighth inning. Gomes, who had doubled, was on third base. Ortiz had just hit into a double play. Mike Napoli had drawn a four-pitch walk. Up to the plate came Daniel Nava. His pregnant wife, Rachel, was in the stands. Rachel's brother, a Marine, was awaiting deployment overseas. Neil Diamond, who had flown in unannounced, had just sung "Sweet Caroline."
Nava swung and drove a ball toward the Red Sox bullpen. Rachel, watching, prayed. Prayed for the city, prayed that in some small way, a home run -- and victory -- would ease some pain, even for a moment. The ball landed in the pen. The Sox had a 4-2 lead, but the game was not yet over.
Lorenzo Cain of the Royals homered to lead off the ninth against Sox closer Andrew Bailey. Jeff Francouer singled. Salvador Perez, the Kansas City catcher, crushed a ball down the right-field line.
"What stands out in my mind," Gomes said, "is that some weird stuff went our way that game. Their catcher hit one right down the line, just torched it. That ball's gone. Then that thing took a right-hand turn and woof, foul."
Perez struck out, and Bailey induced a ground ball to short from Alex Gordon to end it. The Red Sox had won. So had a city.
"I think it's critical that we never forget the victims that have fallen," Farrell said Tuesday, on the anniversary of the bombings. "I think we're all proud to be part of the healing process, how small it might have been, and (it) makes us further proud to be part of an incredible city, a very strong community that I think became even stronger when we unified in response to it."
Jonny Gomes looked a visitor in the eye. "The things that happened in that game," he said, "I'm not trying to get all spiritual on you, but if you're not a believer, that game made you a believer."
April, 17, 2014
Apr 17
3:15
AM ET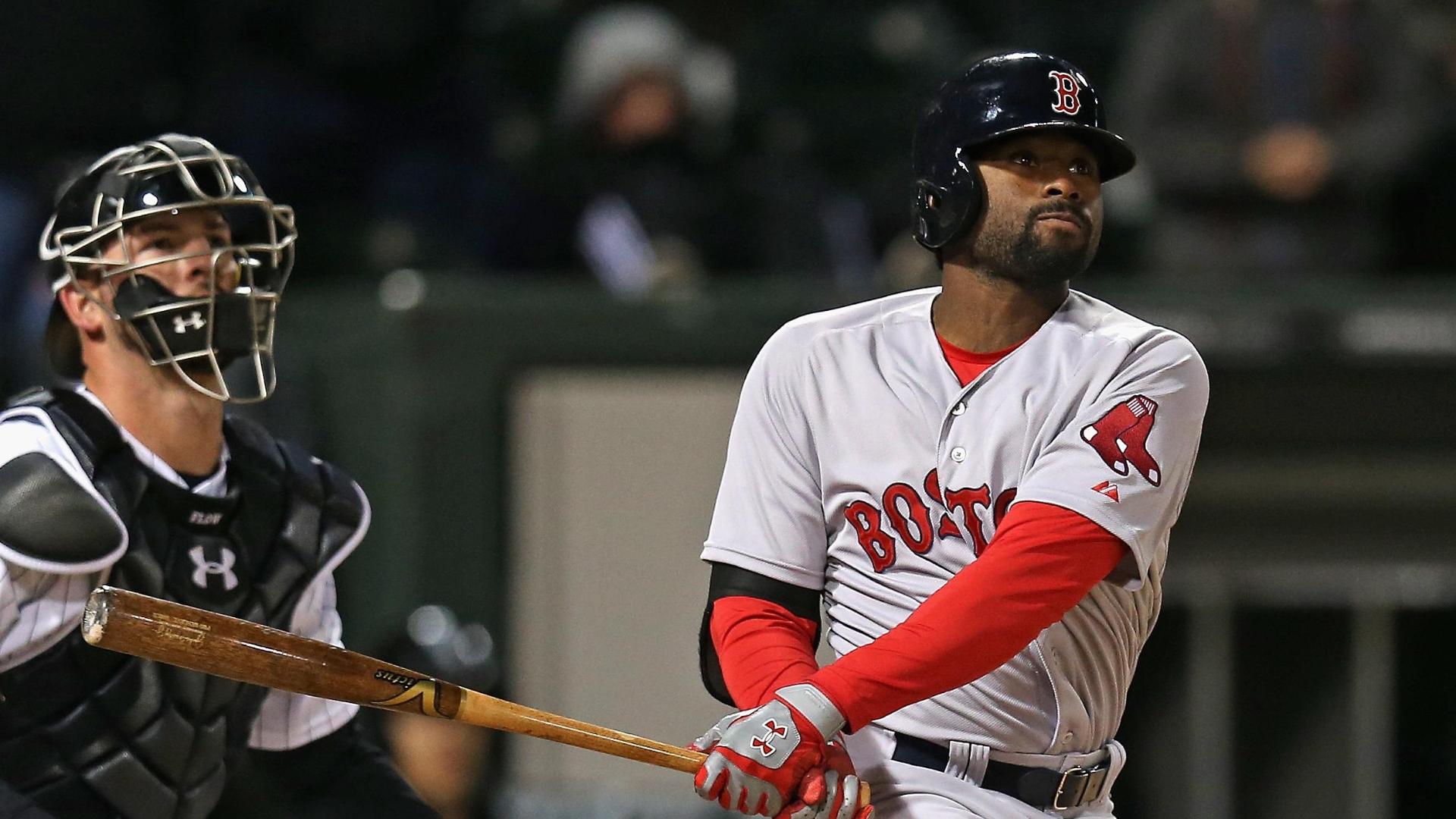 CHICAGO -- You will likely wait a long time to see another game like this one, a 6-4, 14-inning Red Sox win over the White Sox in which Chicago pitchers issued 15 walks but Boston didn't win until
Jackie Bradley Jr
. cashed in the last two of those walks with a double off utility infielder
Leury Garcia
. Be glad of it.
Consider:
• The Red Sox became the first team since at least 1920 to reach base safely at least 23 times in a game in which they had six or fewer hits, according to the Elias Sports Bureau. Fifteen walks, two hit batsmen, six hits.
• The last time the Sox had at least 15 walks in a game and six or fewer hits also came against the White Sox: May 7, 1992, when the Sons of Butch Hobson blew a 6-0 lead and lost, 7-6, at Comiskey Park. The Sox only had one other such game in their history, and that one took place on July 7, 1949, an 8-4 win over the Washington Senators. That game was played over two days: suspended in the seventh inning on July 7, completed Aug. 20.
[+] Enlarge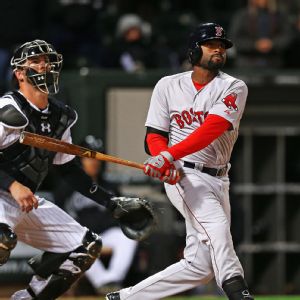 Jonathan Daniel/Getty ImagesJackie Bradley Jr. connects on his game-winning double in the 14th inning.
• The last team to walk at least 15 batters in a game while striking out five or fewer batters was the
Toronto Blue Jays
, on May 19, 2002, against Seattle.
• This was the eighth time in club history the Red Sox have received 15 or more walks in a game. The club record is 18, in a 14-13, 12-inning loss to the Tigers on Sept. 17, 1920.
• This was the sixth time in White Sox history that they have walked 15 or more in a game. The club record is 16, set on May 2, 1952, against the Philadelphia Athletics.
• The 275 pitches thrown by eight White Sox pitchers, including utility infielder Leury Garcia, are the most ever thrown by a White Sox team in a game of 14 innings or fewer. They've had games of 310 pitches (18 2/3 IP), 299 (19 IP) and 289 (16 IP).
Of those 275 pitches thrown by the White Sox, only 144 were strikes, or 52 percent.
John Farrell's reaction?
"We had multiple, multiple opportunities with men on base, and we're still grinding away, and we didn't come out of our approach. We took base on balls when they were issued, which was a lot. Thankfully, we walked away with a win.
"When they're putting up the probable pitchers for tomorrow on the board, we know we're deep into the night but we came out with a win. We started out with three straight hits and thought maybe it was a night we would break out.
"Bottom line is, we came away with a win."
• Facing a position player was hardly a guarantee that the Red Sox would emerge with a win. On May 6, 2012,
Chris Davis
pitched a scoreless 16th and 17th against the Red Sox, and the Orioles scored three runs off
Darnell McDonald
to win it.
April, 17, 2014
Apr 17
1:32
AM ET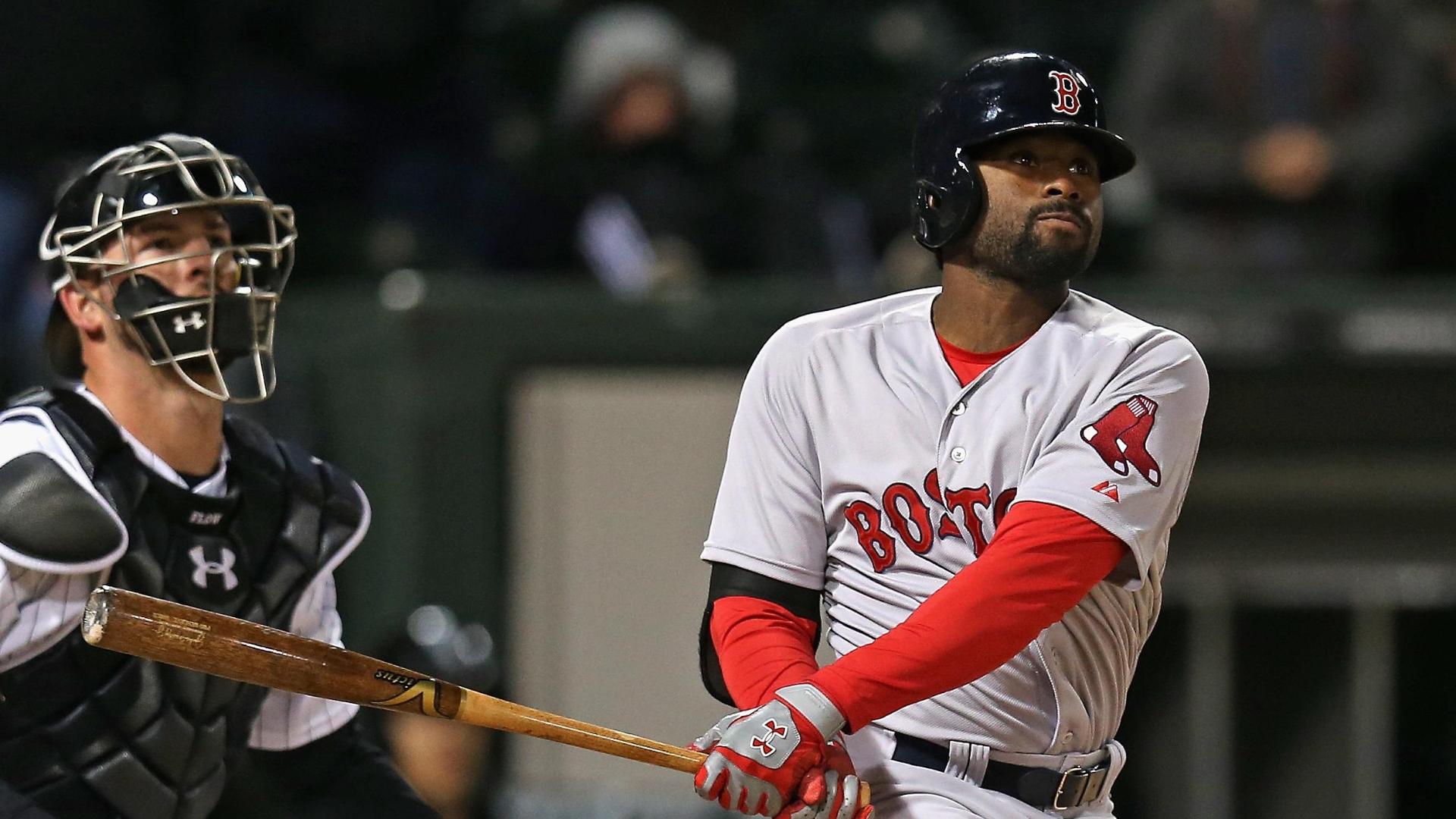 CHICAGO -- Takeaways from the Cell, which was as cold and miserable Wednesday night as the name implies, and where the sporting world has truly spun off its axis when John W. Henry's soccer team has scored more goals in its last half-dozen games than his baseball team has scored runs.
For those keeping score at home, it's the Liverpool Reds 20, the
Boston Red Sox
18, as good an explanation as any why Henry's lads in short pants are in first place in the English Premier League, while Henry's World Series ring-bearers are languishing at the bottom of the AL East.


But due to the generosity of the
Chicago White Sox
pitching staff, which walked 15 batters and hit two others, and White Sox manager Robin Ventura, who ran out of pitchers and ended the game with a utility infielder on the mound, the Red Sox managed to salvage face on a night they scratched out just two infield hits and
Jackie Bradley Jr
.'s double in the last 13 innings.
Bradley's double came off 23-year-old Dominican utilityman
Leury Garcia
, who was pitching for the first time professionally. Garcia got two quick outs,
Grady Sizemore
grounding to first and
A.J. Pierzynski
lined out to right, then walked two in a row before Bradley doubled just inside the right-field foul line, scoring both runners.
The result:
The Red Sox beat the White Sox, 6-4, in 14 innings before an announced crowd of 13,302, with only scores of fans still left at the finish of the 5-hour, 17-minute game. The Red Sox scored a run without a hit in the eighth, scored the tying run in the ninth with the help of two walks, Jonny Gomes's infield hit, and Grady Sizemore's sacrifice fly, and scored the go-ahead run in the 11th on a walk, a hit batsman and Gomes's sacrifice fly.
The White Sox, down to their last strike, tied the score in the bottom of the 11th against
Edward Mujica
when
Tyler Flowers
singled home
Jordan Danks
, who had walked and stolen second. That was the only run allowed by six Sox relievers over the last seven innings, the White Sox managing just three singles.
Chris Capuano
, who was on the mound Tuesday night when the White Sox won on a walk-off error by
Xander Bogaerts
with two out in the ninth, pitched 2 2/3 innings, allowing only a single by Flowers with one out in the 14th. He retired
Adam Eaton
on a fly ball for the second out, which is when John Farrell went to his bullpen for
Burke Badenhop
, Boston's seventh pitcher of the night.
Badenhop retired
Marcus Semien
to end it, giving Capuano his first win in a Sox uniform and Badenhop his first save.
Take this game, please:
The White Sox tried to give the game away in the eighth, when four White Sox relievers walked four Red Sox batters, and Boston scored without the benefit of a hit, A.J. Pierzynski bringing home
David Ortiz
with the team's second run on a sacrifice fly. But Bradley, who was 1-for-20 on this trip, popped out to shortstop
Alexei Ramirez
in short left to end the threat.
The White Sox were at it again in the ninth when the sixth White Sox pitcher,
Maikel Cleto
, walked
Dustin Pedroia
to open the ninth and Pedroia stole second on the first pitch to Bogaerts, sliding headfirst into second base despite an inflamed left wrist. Cleto then walked Bogaerts, the 10th Chicago walk of the game, prompting White Sox manager Robin Ventura to summon his seventh pitcher of the night,
Matt Lindstrom
.
Lindstrom retired Ortiz on a first-pitch fly ball to left, but Gomes then hit a slow roller down the third-base line for an infield hit, loading the bases. That brought up Sizemore, hitless in his previous nine appearances. Sizemore lifted a fly ball deep enough to left to score Pedroia with the tying run.
The generosity overflowed in the 11th, when
Daniel Webb
, the eight Chicago pitcher and last live body in the White Sox pen, walked Pedroia and hit Bogaerts. A strong takeout slide by Bogaerts spared Ortiz from hitting into a double play, and Gomes lined a 2-and-0 pitch to left, deep enough to score Pedroia.
Welcome return:
Pedroia, who was out of the starting lineup the last two games with inflammation in his left wrist, doubled and walked twice. He scored three runs and stole a base, with a headfirst slide into second base, which probably is not the way trainers advise players to do it when their wrist is throbbing.
My kingdom for a hit:
The first three Red Sox batters reached safely on hits. Pedroia doubled and scored on Bogaerts' single, and Ortiz followed with a base hit. The Sox would not get another hit until Gomes's infield hit in the ninth, going 1-for-34 over 10 innings. Pedroia's infield hit to short in the 13th was Boston's fifth hit of the night, Bradley's double the first extra-base hit since Pedroia's leadoff double. The team is batting a collective .172 (35-for-204) on this trip.
RISP is not a four-letter word:
Boston's season-long woes with hits with runners in scoring position continued. They were 2-for-15 with two sacrifice flies Wednesday and are 6-for-44 with RISP on this trip, a .136 average.
Quality:
Clay Buchholz
held the White Sox to three runs, two earned, on six hits through six innings, striking out six while walking two. It's the 11th quality start by Sox starters this season -- they came into the game tied for the major league lead. But Buchholz left the game trailing, 3-1, after Ramirez hit a two-run, two-out home run in the sixth. Ramirez has a 15-game hitting streak.
Not so much:
With
Mike Napoli
out with a dislocated ring finger on his glove hand,
Daniel Nava
played first base and had a rough first inning. He was charged with an error when he was unable to glove Buchholz's low pickoff throw, and he was unable to keep third baseman Ryan Roberts's throw from skipping past him for a two-base error, a run scoring on the play.
April, 16, 2014
Apr 16
9:03
PM ET
[+] Enlarge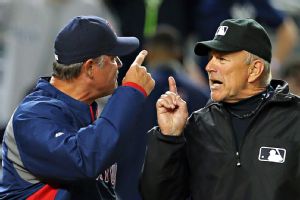 Adam Hunger/USA TODAY SportsJohn Farrell was the first manager to be ejected for arguing a replay decision.
CHICAGO -- Boston Red Sox manager John Farrell said before Wednesday's game that he was fined in excess of $1,000 by the commissioner's office for his comments critical of MLB's replay system. A major league source said the amount was $2,500.
Farrell said he was given the option of making a donation for that amount to the Baseball Assistance Team and planned to do so.
Farrell said of the new replay system following Sunday's game in New York that "it's hard to have any faith in the system, to be honest with you."
Farrell became the first manager in the major leagues to be ejected for disputing a play that was reviewed on replay Sunday in New York after umpires reversed their call on what would have been an inning-ending double play in the fourth inning of a 3-2 Red Sox loss to the Yankees. Once the call was reversed, the Yankees were credited with a run that would not have counted had the original call stood.
April, 16, 2014
Apr 16
8:17
PM ET
CHICAGO -- Red Sox first baseman Mike Napoli took ground balls at first base before Wednesday night's game against the Chicago White Sox, one day after dislocating the ring finger on his left hand on a headfirst slide into second base.
Napoli had shed the splint he was wearing after the finger was reset following the game, his ring finger and pinkie taped together. Daniel Nava was in the lineup, playing first base, the first game Napoli has missed this season.
"As soon as I got here, the lineup was already up,'' Napoli said. "I've got to be smart about it. If it was crunch time and I really had to go, I would have done anything to play. It's feeling better and better as I go. I'm going to play catch and see how it feels, see if I can get in there late on defense.
"I'm going to try gripping a bat, throw in the cage, take a few swings, see how it feels. If I'm not going to play, I might as well take the day.''
Second baseman Dustin Pedroia was back in the Red Sox lineup Wednesday. He had a cortisone injection for inflammation in his left wrist on Monday in Boston, which typically requires 24 to 48 hours to take full effect, but was inserted as a pinch runner when Napoli came out of the game. Sox manager John Farrell said the team felt it could use Pedroia as a runner and also play in the field.
The Sox had contingency plans to hit for Pedroia if his turn had come up in extra innings, Farrell said. The Red Sox lost, 2-1, with two outs in the bottom of the ninth on a throwing error by shortstop Xander Bogaerts.
April, 16, 2014
Apr 16
4:54
PM ET
April, 16, 2014
Apr 16
1:41
AM ET
CHICAGO -- Add another to the list of things that have happened to the Red Sox this season that did not happen in 2013: losing a regular-season game on a walk-off error.
Rookie shortstop
Xander Bogaerts
cleanly fielded a ground ball by Marcus Siemens with two outs in the ninth, but bounced his throw past first baseman
Mike Carp
, who had just entered the game for an injured
Mike Napoli
. Instead of the game heading into extra innings,
Alexei Ramirez
came home with the winning run, and the White Sox beat the Red Sox 2-1 on Tuesday night.
[+] Enlarge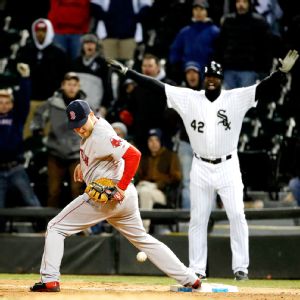 Jon Durr/USA TODAY SportsMike Carp can't come up with a low throw by Xander Bogaerts, allowing the winning run to score.
The Red Sox have lost four of five games to fall to 5-9, leaving them in last place in the AL East. The game-deciding error came on a night that the Red Sox were held to a season-low three hits, one of the hits a home run by
Daniel Nava
that accounted for Boston's only run.
"I don't know if he rushed it,'' manager John Farrell said of Bogaerts' throw. "I don't know if he got a full grip on it, either. Typically he has plenty of arm strength to make that throw, but he comes up a little short and we can't pick it.''
Bogaerts, who struck out three times in an 0-for-4 night, took responsibility for the error.
"Yeah, cold weather,'' he said, "but it's a ball I should have thrown right into the chest for him.''
Bogaerts remained kneeling on the field for a few moments after his throw went awry, but he said he would try to turn the moment into a positive.
"You can use it two ways,'' he said. "I could be down and keep going down from there, or I could use it as a turning point, something to move on, turn my season around from that play.''
Bogaerts has yet to drive in a run this season. He is 0-for-12 with runners in scoring position; on Tuesday, he struck out with runners on the corners to end the third inning.
He had four hits in the Yankees series, and even after his hitless game Tuesday, he is batting .260. Of his 13 hits, only two have been extra-base hits, both doubles.
"It's just one swing away,'' Bogaerts said. "Leaving New York I was feeling good. I'm not feeling good right now, but I know I'll turn it around.''
April, 15, 2014
Apr 15
11:56
PM ET
[+] Enlarge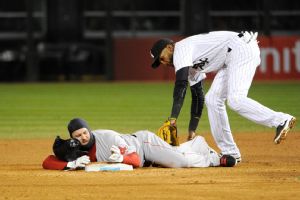 David Banks/Getty ImagesMike Napoli checks his finger after dislocating it on a slide into second.
CHICAGO -- It took only a moment for Mike Napoli to realize he was in trouble.
"I look at my finger," the Boston Red Sox first baseman said, "and it's sideways."
The ring finger on Napoli's left hand was sticking out at an unnatural angle after he dove headfirst into second base while advancing on a wild pitch in the ninth inning against the Chicago White Sox.
From Napoli's retelling, second-base umpire Jim Joyce was even more distressed than Napoli by what he saw.
"Jim Joyce was going, 'Oh my God,' calling for the trainer," said Napoli, who was able to smile while describing the umpire's reaction, perhaps because by that time X-rays had returned negative, indicating no fracture.
The finger was dislocated, the Red Sox said, and reset by a White Sox team doctor. Napoli wore a splint on the finger as he spoke with reporters.
"It's not broke," he said. "I can play with some soreness. I guess we'll see how it goes tomorrow."
April, 15, 2014
Apr 15
11:52
PM ET
CHICAGO -- Takeaways from a frigid U.S. Cellular Field, where under a blood red moon the Red Sox may have lost another player while dropping a 2-1 game to the
Chicago White Sox
in excruciating fashion, rookie shortstop
Xander Bogaerts
bouncing a throw with two outs in the bottom of the ninth to let the winning run score.
Alexei Ramirez
scored from second as first baseman
Mike Carp
was unable to field Bogaerts's throw on the hop.


Regular first baseman
Mike Napoli
left the game in the top of the ninth with what the team said was a dislocated finger. He sustained the injury when he slid headfirst into second base trying to advance on a wild pitch. Replays showed Napoli's left ring finger bent at an unnatural angle. X-rays on the finger were negative.
The Sox already have two regulars on the disabled list in outfielder
Shane Victorino
and third baseman
Will Middlebrooks
, while second baseman
Dustin Pedroia
was diagnosed with inflammation in his left wrist after missing Sunday's game. Pedroia did not start Tuesday but replaced Napoli as a pinch runner in the ninth.
The weather:
The White Sox announced that the game-time temperature was 40 degrees, which must have had a plus-or-minus five degrees of accuracy, as even hardened scouts who always sit outside sought shelter in a closed-in pressbox. Batting practice on the field was cancelled, the upper deck was closed, and the only position player on either team to wear short sleeves was White Sox center fielder
Adam Eaton
. Most Red Sox players wore ski masks.
The home runs:
White Sox strongman
Adam Dunn
took
Jake Peavy
deep in the second inning for his third home run to give Chicago a 1-0 lead.
Daniel Nava
answered two innings later with his second home of the season, and second in five days, a solo drive deep into the right-field seats to tie the score at 1.
The whiffs:
Returning to the ballpark he called home for the better part of five seasons, Peavy struck out eight in six innings, the second straight start in which he registered eight whiffs. White Sox right-hander
Erik Johnson
, rated the No. 2 White Sox prospect by Baseball America, struck out nine in 6 2/3 innings.
The frozen pipes:
The Red Sox had three hits through the first eight innings, singles by
Jonathan Herrera
in the third and by Napoli to open the seventh in addition to Nava's homer. Nava was the only Sox batter to touch third base.
The workhorse:
The first time Sox reliever
Burke Badenhop
got up to warm up was the second inning, when Peavy was laboring through a 40-pitch inning that included a 12-pitch at-bat with Chicago strongman
Jose Abreu
. Abreu warmed up a second time in the sixth, then a third time in the eighth, when he was summoned to face
Dayan Viciedo
after
Andrew Miller
issued a two-out walk to Dunn. Badenhop knocked down a comebacker by Viciedo, then threw him out to end the inning.
The replay review:
For the third straight game, the Red Sox were involved in a replay review. White Sox manager Robin Ventura challenged a call at first base in the second inning in which Abreu was called out.
April, 15, 2014
Apr 15
11:48
PM ET
CHICAGO -- Red Sox first baseman
Mike Napoli
was removed from Tuesday's game in the top of the ninth inning after he injured his left hand sliding into second base on a wild pitch.
After the game, the team said Napoli suffered a dislocated finger and that X-rays were negative.
Napoli remained prone until trainer Rick Jameyson and manager John Farrell came out to attend to him. Replays showed his left ring finger bent at an unnatural angle.
Napoli had walked with one out and was advancing to second on a wild pitch uncorked by reliever
Donnie Veal
.
Last April, Sox second baseman
Dustin Pedroia
tore a ligament in his left thumb sliding headfirst into first base.
Two Red Sox regulars -- outfielder
Shane Victorino
and third baseman
Will Middlebrooks
-- are already on the disabled list, while Pedroia had missed Sunday's game with inflammation in his left wrist and did not start Tuesday. He entered the game as a pinch runner for Napoli.
April, 15, 2014
Apr 15
7:28
PM ET
CHICAGO -- Some quick hits from U.S. Cellular Field, where batting practice on the field was called off for both teams because of the cold, but when folks do emerge from inside everyone will be wearing No. 42 in honor of Jackie Robinson, 67 years after he broke baseball's color barrier.
* Manager John Farrell said he has not been informed that he has been fined by MLB for his remarks Sunday regarding the new replay system, but he expects to have his wallet lightened. Farrell said he spoke with Tony La Russa, who works for the commissioner's office and helped to devise the replay system.
"I can't say there are going to be changes based on what we experienced over the weekend, but overall it was a good conversation," Farrell said.
Farrell was ejected by first-base umpire Bob Davidson after erupting in anger when umpires reversed an out call at first base on what would have been an inning-ending double play.
"Somebody asked me, did I ask him to go to Fuddruckers?" Farrell said. "Somebody actually asked me that.''
* Farrell said reliever
Koji Uehara
will throw a bullpen session Wednesday and should be available to pitch in the series finale here Thursday. Uehara threw at a greater intensity Tuesday while long-tossing with teammate
Junichi Tazawa
than he did on Sunday, more indication that the stiffness in his right shoulder has ceased to be an issue. The team said no structural damage was found when Uehara was examined by the club's medical staff on Monday.
* Farrell said that once the original inflammation subsides in Dustin Pedroia's left wrist, the club will monitor how much extra work he does -- early hitting and the like -- to make sure he does not aggravate the condition. Pedroia was administered a cortisone ejection on Monday and said he hopes to play on Wednesday.
* Shane Victorino's rehab assignment has been delayed by inclement weather in the Northeast, Farrell said. Victorino has been working out at Fenway Park, Farrell said. The idea is for the outfielder to work through a progression that gets him back to nine innings (first playing four or five innings, then six or seven), and then back-to-back games, before he is activated.
* Tweet from
Jackie Bradley Jr.
: "Thank you, Jackie Robinson."
David Ortiz
tweeted: "Would not be where I am today if it wasn't for Jackie Robinson ... a true hero.''
* Farrell on Robinson and MLB honoring him again: "A great day for baseball ... personally I could never fathom what he went through, the challenges he faced.''
* The Cubs announced that former Red Sox outfielder
Darnell McDonald
, who had announced his retirement after not making the club this spring, has been hired as an assistant in baseball operations.
April, 15, 2014
Apr 15
6:27
PM ET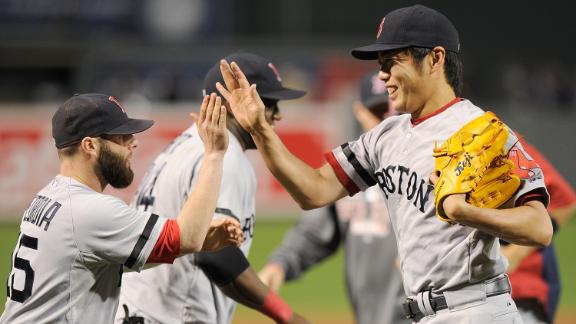 CHICAGO -- Red Sox second baseman Dustin Pedroia said Tuesday he was given a cortisone shot to stem the inflammation in his left wrist, in an area close to where he tore the ulnar collateral ligament in his left thumb a year ago.
And while Pedroia expressed relief that tests showed the wrist wasn't fractured -- "If it was broke, I'd have been out a long time" -- the condition sounds like one that could be troublesome throughout the year.
Pedroia underwent surgery to repair the UCL in his left thumb last November, after electing to play through his injury, which occurred on the first day of the 2013 season. He continues to undergo therapy on the thumb, and while he maintains that the thumb ligament has healed, he mentioned that "everything is connected."
Manager John Farrell said it was his understanding that the wrist injury was unrelated to the thumb ligament. There is no additional ligament damage, Farrell said, and once the inflammation has subsided, the Sox will monitor Pedroia's activity -- early hitting and such -- to limit the chances that he will aggravate the condition.
Pedroia sustained the wrist injury in the ninth inning of the home opener April 4, when Brewers OF Carlos Gomez upended him with a takeout slide on a force play.
"I just got caught in a weird angle when I was taken out," he said. "Everything was inflamed, and you keep swinging and playing it just adds up until you think something is really wrong.
"I landed kind of awkwardly. I thought it was general soreness from the rehab, but the more I swung I kept feeling weaker and aching, things like that."
April, 15, 2014
Apr 15
2:59
PM ET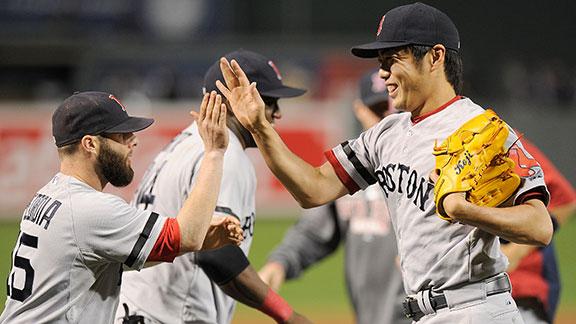 Stephania Bell and Eric Karabell discuss injury concerns with the
Boston Red Sox
's
Dustin Pedroia
and
Koji Uehara
.