Boston Red Sox:

Baltimore Orioles
September, 29, 2013
9/29/13
5:23
PM ET
BALTIMORE -- If this was Felix Doubront's audition for a spot on Boston's postseason roster, it looks like he's headed for New Haven instead of Broadway.
The left-hander gave up five runs on five hits and three walks while retiring just four batters in Boston's 7-5 loss to the
Baltimore Orioles
. Doubront, who had made 27 starts for the Sox this season but posted a 7.53 ERA in three September starts, was instrumental in Boston losing a game in which they led by five runs for the first time this season.


Doubront had a long conversation on the field with GM Ben Cherington on Saturday, and manager John Farrell had indicated that the club had not yet decided how it was going to proceed in October with the reluctant reliever.
"Felix's situation, Felix believes in himself, he feels worthy of being a starter," Farrell said before the game, "which is warranted. He's had a solid year for us. We want to be sure if he's in the bullpen in the postseason, not only is he into the role, but this is about the team, which is what we try to stress all year long, [but] even more importantly in the postseason. Whatever role you're in, you've got to buy in and contribute what you can to win 11 more games starting Friday."
And how had Doubront bought in?
"Solid, but I think he sees himself as a starting pitcher. I admire that."
Doubront went 11-6 with a 4.08 ERA this season, which did not begin in promising fashion, as the Sox were upset that Doubront had not reported in prime physical shape in spring training. After he lasted just 3 2/3 innings in back-to-back starts in September, the Sox shut him down for 15 days before sending him back to the mound.
"He needed some down time, yeah," Farrell said. "It did catch up to him. For the second year in a row he's had to take that breather late in the season. That's where adjustments are already in place and planned for this off-season to avoid that.
"We've got to look at other things to adjust and that's in the off-season. Like we talked about
John Lackey
, Felix has got to go through something similar. Not to say a reshaping of the body, but there's got to be a greater foundation laid before spring training starts.
"The talent is there. We talked about it after the start in Toronto; you see more in there. He's an extremely talented guy. We want to make sure we get the most out of him, for both him and us."
Lackey was originally scheduled to start Sunday, but with the best overall record in the league already cinched, Lackey was scratched in favor of rookie
Allen Webster
.
The Sox staked him to a 4-0 lead in the first two innings, the game beginning with a leadoff home run by
Jacoby Ellsbury
.
Quintin Berry
, starting in right field, hit a two-run home run in the second, and the Sox added another run in the fourth on a throwing error by Orioles catcher
Steve Clevenger
, who hit Ellsbury in the back with his throw after a swinging bunt. Ellsbury ran into Orioles first baseman
Chris Davis
on the play; the major-league leader in home runs with 53 had to leave the game with a sprained left wrist.
But the Orioles answered with a five-spot in the fifth off Doubront and
Rubby De La Rosa
, and went ahead for good with two runs in the sixth -- one charged to De La Rosa, the other to lefty
Matt Thornton
.
The Sox scored in the ninth on a single by
David Ortiz
, a wild pitch, and single by
Mike Napoli
, but
Will Middlebrooks
grounded into a game-ending double play against Baltimore closer
Jim Johnson
, who was credited with his 50th save.
The Sox finish the regular season with a 97-65 record, the second Sox team in the last 35 years to win at least 97. The '04 world champions won 98.
September, 19, 2013
9/19/13
1:11
AM ET
BOSTON -- The word has another meaning, you know, beyond the stuff that grows on a man's chin, or, on "Dollar Beard Night" at Fenway Park, all the reasonable and fanciful facsimiles that adorned the faces of the 4,000-plus fans who took advantage of a
Boston Red Sox
promotion inspired by the bewhiskered lads in the home dugout.
The word can also be used as a verb, too, which is what happens so often when Buck Showalter and his clean-shaven
Baltimore Orioles
are in the opposite dugout.
To beard: to confront and oppose with boldness, resolution and often effrontery.
It's archaic, to be sure, but as a definition of how tough the Orioles play the Red Sox -- and have done so since the last weeks of the 2011 season -- it fits as snugly as the growth on
Mike Napoli
's visage.


Chris Davis
' two-run single in the 12th inning, just out of the reach of a diving
Dustin Pedroia
, gave Baltimore a 5-3 win over Boston, the Orioles' second straight win in this series and ninth in 15 meetings in 2013.
The
Tampa Bay Rays
also won in 12, after tying the
Texas Rangers
in the 11th, beating them 4-3. The Boston loss and the Tampa Bay win kept the Sox's magic number for winning the AL East at 3; they had not lost back-to-back games since mid-August (three in a row, 8/14-16).
"There ain't nobody here down, there's nobody here upset," said Sox pitcher
Jake Peavy
, who gave the Sox seven strong innings but left with the score tied at 3-3. "We just lost a couple of tough ballgames here. I'll tell you, it's almost nice, when you see how easy the tide can change and you lose these one-run ballgames and you see how important attention to detail is.
"We're going to stay positive here. We have a nice lead in the division. That's our ultimate goal. We believe we're going to get it done, we know we're going to get it done. Like I said, you never want to lose, but you can always learn in losing, sometimes more in losing."
There's a party brewing on Yawkey Way -- the Sox are closing in on their first AL East division title since 2007 and can clinch a playoff spot with a win or an Indians loss on Thursday. But the Orioles, who are desperately trying to keep their own October plans alive, have no interest in the corks being popped at their expense.
"They never do, they always play us well, they play us tough," Sox outfielder
Daniel Nava
said. "It's a good team. Pitching, hitting, defense. A lot of those guys have been around for a while and they're not out of it yet, either, so every game matters to them just as it matters to us."
[+] Enlarge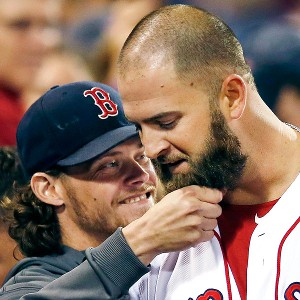 AP Photo/Elise AmendolaMike Napoli got a celebratory beard pull from Clay Buchholz after his game-tying homer, but the Orioles ultimately got the upper hand.
The Orioles are the only AL East team to have a winning record against the Sox this season, a year after winning 13 of 18 from the Sox, and two Septembers removed from knocking the Sox out of the playoffs on the regular season's final day.
"We end up with a W at the end of a long, challenging night," said Showalter, whose team is within a game of a wild-card spot, a half-game behind Cleveland. "So proud of everybody, they're competitive. You can see why Boston's had such a great year, they're in the same boat. Try to step back so you enjoy two really good groups of people competing at a high level.
"It's that time of year where things can snowball and they can really take off from a positive standpoint. That wasn't an easy jaunt there. We all know that, you watched it. Probably the key spot was Wei-Yin getting the double play there with the bases loaded, and J.J. [Hardy] made a heck of a play. That tips off his glove, [Chen] probably doesn't finish the inning."
The first three spots in the Baltimore order had been hitless in 17 plate appearances until Davis, the major leagues' home run leader with 51, squirted a ground ball up the middle to score Hardy and
Brian Roberts
, both of whom also had reached on ground-ball singles and moved up on a wild pitch by
Franklin Morales
, Boston's fifth pitcher of the night. Morales intentionally walked pinch-hitter
Steve Pearce
to load the bases and retired
Manny Machado
on an infield fly before Davis delivered.
"They're a good team," Davis said of the Sox. "This is a tough place to play, everybody knows that. They're not backing down for anything, they're not sitting there with their roster for the postseason yet. They're out there grinding, trying to get as many wins as they can. You have to respect that."
Jim Johnson
closed out the Sox in the 12th for his 47th save, most in the AL. The Orioles' bullpen held the Sox to four hits, all singles, over the last 6 1/3 scoreless innings, and the Sox hit into four double plays, none more devastating than in the third, when they started the inning with the bases loaded and none out but failed to score. Hardy made a leaping catch of Napoli's liner, and
Jonny Gomes
tapped back to Chen, who threw home to start the inning-ending double play.
The Sox also tried to play small ball in the 11th after
Mike Carp
reached on a slow roller to second that was generously scored a hit instead of an error on second baseman Brian Roberts.
Quintin Berry
came in to run for Carp, and with a left-hander,
T.J. McFarland
, on the mound and Wieters behind the plate, Sox manager John Farrell said he preferred to bunt the runner over rather than attempt a steal.
Nava got the bunt down, but that took the bat out of the hands of
Will Middlebrooks
, who had singled three times previously. He was walked intentionally, and
Stephen Drew
grounded to Roberts, who started the Orioles' fourth double play.
"We put a number of guys on base, but they made a key pitch in a key moment," Farrell said. "The number of ground-ball double plays speak to that. They get a ground ball straight to the guy, and we get a ground ball that's just past the outstretched arm of [Pedroia]."
For the second straight night, the Orioles took the Sox into the ninth inning with a tie score, the games mirror images of each other: stingy starting pitching, a couple of long balls, a battle of bullpens.
History abounds with examples of how hard it can be for a playoff-bound team to finish the job. Here's one: On Sept. 16, 2000, the Yankees held a 7½-game lead on the Red Sox. The Yanks lost 13 of their past 15 games, and didn't clinch the division until there were just four days left in the season.
P.S.: The Yankees went on to win the World Series in five games over Bobby Valentine's Mets.
September, 11, 2013
9/11/13
8:31
PM ET
ST. PETERSBURG, Fla. -- Red Sox first baseman
Mike Carp
knew all about the hoohah that erupted Monday night in Baltimore, after the Yankees accused Orioles third-base coach Bobby Dickerson of stealing signs, leading to a heated confrontation between Baltimore manager Buck Showalter and New York manager Joe Girardi.
"They did the same thing to me the day before," said Carp, who played first base for the Sox on Sunday afternoon in the Bronx, where the Sox lost 4-3 to the Yankees.
Carp could be seen barking back and forth with the Yankees' dugout early in the game, and he said Wednesday that they were accusing him of stealing signs.
"Pretty much their whole dugout," Carp said when asked who was making the accusation. "But it was their pitching coach [Larry Rothschild], I think, who came to the top step."
Carp laughed at the suggestion that he was guilty as charged.
"I'm not even an every-day player," he said. "I wasn't stealing signs. I couldn't take that from them."
August, 30, 2013
8/30/13
12:53
AM ET
By
Kyle Brasseur, Special to ESPNBoston.com
BOSTON -- It's a word that
Baltimore Orioles
manager Buck Showalter has tried to avoid as the calendar starts to creep toward September: need.
The Orioles, currently 6 ½ games behind the Red Sox in the American League East and within four games of claiming a wild-card spot, came to Boston this week with a chance to gain ground in the division.
After salvaging the final game of a three-game series Thursday night, has Showalter changed his stance on the word?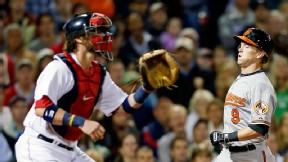 AP Photo/Michael DwyerNate McLouth scores one of Baltimore's three runs, which were enough for Chris Tillman to get his 15th win.
"I don't think we really needed it. Certain situations I feel [like we need to win]," Showalter said. "It's not something … the season doesn't end [if we didn't win Thursday]."
However, the Orioles did win, riding a strong performance from starting pitcher
Chris Tillman
to a 3-2 victory. With the wild-card-leading Rays and Athletics both losing Thursday afternoon, Showalter spoke of how important gaining ground was.
"We've got 30 games left and September's an eternity," he said. "A lot of people have been in the war, it's a long [stretch] that starts here shortly and it'll edge by and that'll be good for us if we're trying to catch up."
Tillman paced the Orioles from the start, stranding Red Sox leadoff man
Jacoby Ellsbury
on second after a single and wild pitch in the first inning and never looking back from there. The 25-year-old All-Star went seven innings, allowing only two runs and striking out eight on his way to his 15th win of the season.
"He's been unbelievable for us, he's been a horse," said reliever
Brian Matusz
, who preserved Baltimore's one-run lead by striking out
David Ortiz
swinging with Ellsbury on third and two outs in the bottom of the eighth inning. "It's great to see him get his 15th. He's pitched so well in his last few outings and we weren't able to finish it out for him so it's great to see Tilly get a win.
"A guy who goes out there and goes seven, eight innings every outing. Fifteen wins at this point in the season against the American League East. There's no doubt to say that he's an ace."
Although it took five starts for Tillman to get his 15th win, he's pitched well. The Orioles are 14-4 in his last 18 starts.
However, catcher
Matt Wieters
preferred to stay away from singling out anyone on the staff as its ace.
"I think, especially for us to get in the playoffs, we need everybody who goes out there to be an ace for us," Wieters said. "At times, everybody on this staff has been able to carry the team and be able to help this team out. Tillman's just really put together a consistent year for us, which is huge and what we needed."
Need. A word that Wieters wasn't afraid to use.
"We needed it," Wieters said of the win. "Boston was really starting to stretch out their lead, especially when you play them head-to-head, you lose a couple of games and the lead gets stretched out a little bit. We needed it more than anything and we're going to need a lot of games in New York and moving forward."
What they need, the Orioles still believe they can get.
"Like I've said all along," Showalter said, "don't sell us short."
July, 26, 2013
7/26/13
9:56
PM ET
BALTIMORE -- Dr. Charles Steinberg, the Red Sox maestro of special occasions, was in the house Friday night, exactly a year to the day after the Valentine's day massacre of 2012, when Sox players aired their grievances about manager Bobby Valentine to team ownership in a New York hotel.
The Good Doctor's presence here was purely coincidental. There would be no formal observance of that transformative moment in the team's annals -- less than a month later, the Sox unloaded
Adrian Gonzalez
,
Carl Crawford
and
Josh Beckett
, and Valentine was clearly on borrowed time.


And there was nothing that took place Friday night worth celebrating, the Sox tumbling out of first place in the American League East, losing to the
Baltimore Orioles
, 6-0, while the Tampa Bays were routing
CC Sabathia
and the Yankees in New York.
The Rays' win moved them a half-game ahead of the Sox, who had led the division for the last 60 days, while the Orioles closed to within three games of the lead. The Orioles have taken six of eight from the Red Sox this season.
John Lackey
gave up three home runs, two to
Adam Jones
, and
J.J. Hardy
took reliever
Jose De La Torre
deep for Baltimore's fourth home run in the eighth.
Meanwhile, the Boston bats remained on the endangered list, right-hander
Chris Tillman
shutting out the Sox on two hits through seven innings to run his record to 13-3.
David Ortiz
singled in the ninth off
Jim Johnson
for Boston's last hit.
The Sox, who have been the majors' most prolific run machine this season, are in the midst of a prolonged dry spell, failing to score more than two runs for the sixth time in the last nine games. That stretch, not surprisingly, has coincided with facing some of the most formidable pitching in the league:
Bartolo Colon
of the Athletics,
Hiroki Kuroda
of the Yankees,
Matt Moore
and
David Price
of the Rays, and on Friday night, Tillman, an American League All-Star who improved his record against the Sox to 3-1 with a 2.08 ERA in eight career starts.
Boston's best chance to get to Tillman came in the first, when they loaded the bases on Dustin Pedroia's two-out single and walks to Ortiz and
Mike Napoli
. But Tillman struck out
Daniel Nava
on three pitches to end the inning, and allowed just two baserunners thereafter. He walked Nava with two outs in the fourth and gave up a two-out double to
Jacoby Ellsbury
in the fifth.
Lackey gave up a two-out single to
Nick Markakis
before Jones hit his first home run of the night, an opposite-field drive that just cleared the scoreboard in right. The Orioles made it 3-0 when Ellsbury, after a long run, failed to hold onto Nate McLouth's gapper to right-center, the play ruled a triple.
Manny Machado
then rolled a grounder over the mound for an RBI single.
Jones hit his second homer of the night and 22nd of the season almost to the same spot as his first HR in the fifth, and Machado lined a homer to left with one out in the seventh, finishing Lackey for the night.
It was the first time this season that Lackey has given up four or more earned runs in back-to-back starts.
June, 15, 2013
6/15/13
10:29
PM ET
BALTIMORE -- A few takeaways from the
Boston Red Sox
's 5-4 win in Camden Yards, a.k.a. the House That Lucchino Built, although we suspect a few
Baltimore Orioles
fans would beg to differ and say that if Babe Ruth gets credit for Yankee Stadium,
Cal Ripken
Jr. deserves the same for this jewel:
* If all else fails for
Dustin Pedroia
, there is always his power of persuasion. The Red Sox second baseman succeeded in convincing plate umpire
Jeff Nelson
that he had foul-tipped what would have been strike three from Orioles pitcher
Freddy Garcia
to open the fourth. Given a reprieve, Pedroia hit the next pitch for a single, and one out later
Mike Carp
ended a streak of 18 consecutive scoreless innings here for the Red Sox with a two-run home run.
"I've got to be honest with you, the last four, five games, the ball has looked like a baby aspirin coming in," said Pedroia, who had just three hits in 20 at-bats on this trip before his single. "I actually thought I did hit it. I swung and felt something.
[+] Enlarge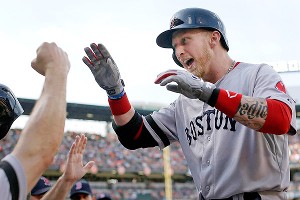 AP Photo/Patrick SemanskyMike Carp celebrates after his two-run homer.
"I'm like, 'I swore that ball off.' I didn't; that's how locked in I am at the plate right now. It was a break for us. I just said, 'I thought I fouled that,'" he said of the foul ball.
"I thought I hit something. It was probably the ground, I don't know."
* The last time Pedroia made an error,
John Lackey
was still on the disabled list, recovering from Tommy John surgery. That was Aug. 29, 2012.
"That's one of the more surprising things I've ever seen on the field," Lackey said of the ground ball hit by
Nate McLouth
that passed under Pedroia's glove and through his legs in the fifth inning. "I told him I probably won't have to worry about seeing that again. I'll be gone before that happens again."
The error was the first made by Pedroia this season in 70 games, and his first in 97 games, one short of his club record for second basemen.
"It was weird," Pedroia said. "He hit it with a little topspin on it. It hit the lip [of the grass] and stayed down. I thought it would come up, but it sped up. I was in close, trying to turn two. [Lackey] picked me up and pitched great."
* Pedroia's error was preceded by an infield hit that handcuffed third baseman
Jose Iglesias
, a play that could have easily been called an error, and left Lackey in a first-and-third, no-out predicament. But he kept his composure and got out of it with the help of a terrific throw by
Jarrod Saltalamacchia
, who nailed McLouth at second attempting to steal with the dangerous
Manny Machado
at the plate.
Saltalamacchia also made another strong throw to nail Machado trying to steal in the third.
At first blush, it might appear odd that the Orioles were running in that fifth-inning situation, down by two runs, but Baltimore has the highest success rate of steals in the league this season, having stolen 50 of 60 coming into Saturday's game, an 83.3 percent success rate.
And Lackey in his past two seasons (2011 and this one) has proven to be eminently easy to run on, opponents succeeding on 44 of 48 attempts, including 11 of 12 this season.
Given that Saltalamacchia came into the game having thrown out just 5 of 38 attempted base-stealers this season, it's no surprise that the Orioles felt like they had a license to run.
Instead, Saltalamacchia became the first catcher this season to throw out two would-be Orioles thiefs in the same game.
"Two tremendous throws," manager John Farrell said. "Salty had such clean exchanges on two occasions."
[+] Enlarge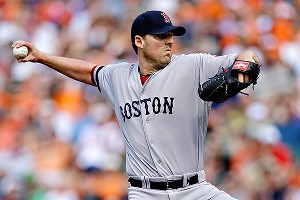 AP Photo/Patrick SemanskyJohn Lackey has allowed three runs or fewer in nine of 11 starts this season.
Saltalamacchia gave Lackey some credit.
"I thought he was a lot quicker [to the plate]," the catcher said. "He made good pitches for me to throw on, a cutter away and a fastball up and away that I was able get a feel for. He was moving pretty quick."
* The Sox, conversely, stole three bases, the first team to steal more than two against the Orioles this season. Pedroia,
Jacoby Ellsbury
and
Shane Victorino
all stole safely, with Ellsbury now at 31 in 34 attempts.
It helped, of course, that Balitmore's catcher was backup
Taylor Teagarden
, who had caught 1 of 3 baserunners coming in and nabbed Iglesias on Saturday. No. 1 catcher
Matt Wieters
leads the league throwing out attempted base-stealers, having caught 13 of 25, a 52 percent rate.
* Farrell thought Lackey's shutting down the Orioles after the first four batters had reached, two of them scoring, was key to the game.
"I didn't let the game speed up on me, minimized the damage, settled in a little bit," said Lackey, who went seven innings Saturday and has now allowed three runs or fewer (two Saturday) in nine of his 11 starts this season.
Farrell said Lackey did a good job of going to his breaking balls earlier in the count to neutralize the Orioles' aggressive approach.
"We've seen John in middle, later innings unravel a little bit," Farrell said. "He didn't let innings speed up, especially after the first four base hits."
* Closer
Andrew Bailey
, who blew a two-run lead in The Trop on Monday before bouncing back with a save Wednesday, was shaky again Saturday, giving up a leadoff single to
Adam Jones
and a two-run home run to Wieters.
Bailey has had a habit this season of giving up hits to the first batter he faces; they're hitting .350 (7-for-20) against him. That was not the case in 2011, his last season in Oakland. The first batters he faced that season were only 5-for-40, a .125 average.
"I don't know, I get ahead of a guy, try to put him away, maybe waste one too many pitches," Bailey said of the Jones at-bat. "I end up with an even count, then fall behind 3-and-2, have to throw a strike, have to throw a fastball.
"I've got to put a halt to this little bad spell I'm having. I'm missing in bad spots. I've got to focus on the glove more, throw better pitches."
Farrell's take?
"A little jumpy, much like in Tampa," he said. "When he comes to the plate too quick, it takes away the second gear on his fastball that he's known for."
[+] Enlarge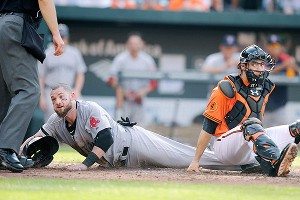 Mitchell Layton/Getty ImagJonny Gomes energized the Sox by scoring from first on a double and later hitting a solo home run.
*
Jonny Gomes
made only his seventh start this season against a right-handed pitcher, in part, Farrell said, because he had homered in his only at-bat against Garcia. Small sample size? After Gomes fouled out in his first at-bat, he singled and scored from first on a double by
Stephen Drew
, and homered in the sixth, his fourth of the season.
Gomes started in left in place of
Daniel Nava
.
"I wanted to give us some energy in the lineup," Farrell said, "not so much at the expense of Daniel. Energy was needed a day game after a night game."
Gomes had a tremendous jump on Drew's double, though the Sox could have done without the head-first slide into home plate. Too easy to get hurt that way.
"I don't think people give Jonny Gomes enough credit for the baseball player he is and the intelligence he has," Farrell said. "He's on the move from the get-go. He makes a good read, and as we look back, that was a key baserunning move in the game."
* Finally, there is Carp, who now has hit five home runs in his past 10 games, and eight in just 103 at-bats. Ellsbury, by contrast, has 1 in 271 at-bats. Baltimore's
Chris Davis
, who has 22 home runs, began the day leading the league in home run ratio with one every 11 at-bats. Carp is averaging one every 12.8 at-bats.
April, 12, 2013
4/12/13
12:25
AM ET
By
Tony Lee, Special to ESPNBoston.com
[+] Enlarge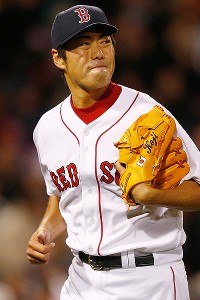 Jim Rogash/Getty ImagesKoji Uehara grimaces after giving up the go-ahead run to the O's.
BOSTON -- The Boston Red Sox's first series loss in 2013 largely came down to one crucial factor. Simply put, their bullpen was not on par with that of the
Baltimore Orioles
, a scenario that played out again in Thursday's 3-2 loss at Fenway Park.
The Boston bullpen was considered to be a strength entering the season and sparkled in the Opening Day win at New York, but has become a slight issue. Thursday's results by five Red Sox relievers (one run in four innings) do not scream for changes, but the pen as a whole was outdueled by Baltimore's and now has an ERA of 5.47 since that season-opening victory.
The Orioles, meanwhile, have a bullpen ERA of 2.79, and looked much more capable over the last two cold, dreary nights in Boston.
Alfredo Aceves
gave the Sox enough to be satisfied in a spot start, giving up two runs in five innings.
Clayton Mortensen
gave up a hit with two outs in the seventh and
Andrew Miller
-- the lone left-hander at manager John Farrell's disposal -- entered to do one thing, that being to retire
Nick Markakis
.
However, Miller walked Markakis, continuing a troubling trend that has seen him allow the first man he faces to reach in three of four outings (the one time he retired the batter was when he was cleaning up
Joel Hanrahan
's mess Wednesday night, the most notable of the bullpen woes thus far). Farrell has to choose wisely when using Miller, and when the lanky southpaw struggles immediately, it can hurt.
"That's the life of a situational left-hander. He's pressed into action right away," Farrell said.
The skipper insisted there is no reason to panic, but it hurts to make that call for Miller and see things go sour.
"We're in the first 10 games of the season so I'm not going to rush to judgment," Farrell said. "Certainly you'd like to see the effectiveness be there but I'm sure in time it will be. He's a valuable guy for us right now. We have to pick our spots with that one left-hander out there, even though [
Koji Uehara
] and [Junichi Tazama] have been fairly successful against lefties, but that's the situation he's in right now."
Uehara had a chance to pick up his teammate, but it took just one of his pitches, a split-finger fastball that lacked bite, for
Adam Jones
to rip a tiebreaking RBI double, plating the decisive run for the O's.
The Boston bats managed two singles in 3 2/3 innings against four Orioles relievers, the first of whom --
Brian Matusz
-- struck out
Jarrod Saltalamacchia
and
Stephen Drew
with two men on to end the sixth.
After the game, Saltalamacchia was asked about the Baltimore bullpen.
"They're good," he said.
Then, Drew was asked the same question.
"They're great," he said.
Whether they are good or great is a matter of semantics. What is clear is nobody can look at the Boston relief corps as it is currently performing and use either term to describe it. And because relievers and starters are so intertwined, that could become more of an issue.
Indeed, the Red Sox have a pair of dynamos at the top of the rotation right now in
Jon Lester
and
Clay Buchholz
. In part due to one injury and one rain delay, the other four men who have started for Boston this year have failed to last beyond five innings in five separate starts. That puts more emphasis on winning those late wars, something Boston could not do Wednesday when Hanrahan imploded and failed to do on Thursday, even if it was just a matter of a pitch here or there.
The Orioles have won 21 of their past 30 games against the Red Sox, including 15 of 21 over the past two seasons, when their pen has been exceptional and Boston's has been a mess. It's too early to tell if that trend will last, but the Sox are keen on the fact that tight games with Baltimore are not going to be easy.
"We just have to keep going after those guys, we're going to see them a lot more," Saltalamacchia said.
April, 11, 2013
4/11/13
10:47
PM ET
By
Tony Lee, Special to ESPNBoston.com
BOSTON -- The 2013 Red Sox have lost their luster. At least for now.


In front of many empty seats (more on that in a bit) on a chilly night that ended in a steady rain, five Baltimore Orioles pitchers scattered eight singles and got just enough offense to take a lackluster game by a 3-2 score and hand the Boston Red Sox their first series loss in 2013.
Here's some of what we saw along the way:
A roller-coaster ride:
That's what
Alfredo Aceves
' Red Sox career has felt like. Some ups (most of 2011), some downs (most of 2012), a whole mess of head-scratching moments. There have been arguments to make him a full-time starter, and others to flat-out release him. In giving up five runs in his first 4 2/3 innings out of the pen to begin the year, there was another dip in the ride and many detractors lined up to slam his mere presence.
Then there was Thursday, a reminder as to why an organization somewhat thin on pitching depth absolutely has to have a guy like Aceves around. The day after a rain-delayed affair saw Boston use five relievers, and with the other team limiting Boston's offense, Aceves did his part to get this one to the latter portions with the Sox in fine shape, tied 2-2. He didn't clinch the Cy Young Award yet, but five solid innings (two runs on six hits and three walks with four strikeouts) is just about the best the home team could hope for.
And they'll likely hope for it again in Cleveland next week.
Perfect no more:
Koji Uehara
has drawn rave reviews in his short time as a Red Sox reliever, and likely will continue to do so -- he has been one of the American League's top relievers over the past few seasons. He will, however, make mistakes.
After breezing through his first three innings with Boston in a total of only 26 pitches, Uehara's first offering out of the pen Thursday night was a splitter with little dip whatsoever, and
Adam Jones
ripped it into the left-field corner for an RBI double that snapped the 2-2 tie.
There's no mistaking that the Red Sox bullpen has potential and, at times, has looked rather dominant this season. It's also clear that some guys are still getting their feet wet out there. The Jones hit came after
Andrew Miller
came on to face lefty
Nick Markakis
(and lefty Nick Markakis only), and promptly walked him. Miller has walked three and hit a batter in 1 1/3 innings this season. And we all know about closer
Joel Hanrahan
's recent issues.
No new streak:
A day after the vaunted sellout streak came to an end with a crowd just above 30,000, the Red Sox announced an attendance of 27,704. The game itself did not have a lot of pizzazz, with
Chris Davis
' mammoth shot off Aceves in the second the only real eye-popping moment. Group that with the empty seats and you have a rather staid evening in Fenway. Overheard in the press box during the sixth inning: "When's first pitch?"
That kinda night.
Till we meet again, man:
Chris Tillman
was a highly regarded prospect who came into his own with a strong showing for Baltimore in the second half last year. So there may be a day when we say, "Of course the Red Sox never homered off Tillman." Still, I can't be the only one who finds it rather amazing that the right-hander has thrown 30 1/3 innings against the Sox (more than he has thrown against all but one other team) and has yet to allow a homer.
Overall, Tillman -- who turns 25 on Monday -- has given up 42 home runs in 275 2/3 career innings, not a bad rate, but he has a lifetime ERA of 4.80. The Yankees have hit five homers off of him, the Blue Jays eight and the Rays nine.
Boston got six singles and two walks against Tillman to keep him busy enough. Still, no power on a night when just one big fly would've been the difference.
First time for everything:
Without glancing at every box score through the years, it's safe to say that there have been very few 3-5-3 putouts in baseball history. In the modern era when more third basemen are lingering on the right side of the infield in defensive shifts, it is a possibility, but hard to imagine in the mind's eye until the Orioles hit into one to end the top of the fifth.
Chris Davis ripped a shot at first baseman
Mike Napoli
, who had it carom off of him sharply toward third baseman
Will Middlebrooks
playing on the right side. Middlebrooks easily made the scoop and assist to first and official scorer Mike Shalin ever-so-calmly called out over the press box microphone, "That putout goes 3-5-3."
Like they drew it up.
First time for everything (again):
Alex Wilson
made his major league debut for Boston by pitching the ninth. The former second-round pick, who was brought up when
John Lackey
hit the disabled list, faced an imposing trio in
Manny Machado
, Nick Markakis and Adam Jones. Wilson initially struggled, throwing six of his first seven pitches outside the zone. But after walking Machado he got Markakis to hit into a 6-4-3 double play and then whiffed Jones on three pitches, the last a rising heater that sent the game into the bottom of the ninth very much up in the air.
Up next:
The
Tampa Bay Rays
come to town Friday for the first of four straight games, capped by the traditional 11:05 a.m. start on Patriots' Day.
December, 20, 2012
12/20/12
12:53
PM ET
In sizing up the major league landscape at the offseason's midway point, ESPN.com senior baseball writer
Jayson Stark polled executives around the league
, asking them to identify the five teams that improved themselves most and the five that have done the least to help their chances in 2013.

Not surprisingly, the Blue Jays topped the first list after trading for three starting pitchers who averaged 209 innings apiece last season (
R.A. Dickey
,
Mark Buehrle
,
Josh Johnson
), a dynamic leadoff man (
Jose Reyes
), a guy who hit .346/.390/.516 (
Melky Cabrera
) before testing positive for a banned substance and two players (
Emilio Bonifacio
and
Maicer Izturis
) who give them the depth and versatility they lacked in 2012.
"I give them a lot of credit," one NL executive told Stark. "They recognized that right now, the Red Sox and Yankees aren't the Red Sox and Yankees. The AL East isn't the AL East like it used to be. They saw a window of opportunity, and they're going for it. A lot of teams never take that swing. At least they took it."
Perhaps more surprising was the team that executives think improved itself the second-most in baseball: The
Boston Red Sox
.

The Sox have added eight free agents (assuming they come to terms with
Mike Napoli
), for the most part because they had more holes to fill than almost any other team in baseball after their worst season in more than four decades.
Nevertheless, executives on the whole were bullish on Boston's acquisitions, though there were divided opinions as to how much better the Red Sox would be in 2013. This from Stark:
They're deeper. Our panel agreed on that. Their clubhouse should be much more harmonious. They've added more of Keith Law's top 50 free agents (six) than any other team in either league. And "they've brought in a bunch of guys who can play in Boston," said one AL executive. But on the other hand ...

"They've added a lot," said one AL exec. "But remember, they had to add a lot, because they had so many holes."

And another AL exec gave this scathing review: "To me, they've spent a lot of money to be mediocre."
On the other end of the spectrum are the Orioles, who executives ranked fourth among the teams that have improved the least this offseason.

So far this offseason, the wild-card Orioles have added
Trayvon Robinson
,
Danny Valencia
and
Alexi Casilla
(plus Rule 5 draft pick T.J. McFarland).
Eh.
"I'm really surprised by what they've done, or haven't done," one AL executive told Stark. "With the momentum they had going into the offseason and the resources I thought they had financially, I don't think anybody would have been surprised if they'd gotten in on something big."
Missing from either list are the
New York Yankees
, who re-signed
Hiroki Kuroda
,
Andy Pettitte
,
Mariano Rivera
and
Ichiro Suzuki
and added
Kevin Youkilis
to help shore up the left side of the infield in Alex Rodriguez's absence.
Your turn:
Which AL East team do you think has improved itself most? Which has improved itself least? And remember, there's still nearly two months before pitchers and catchers report, so there is still work to be done. Vote in the polls above and share your thoughts in the comments section.