Boston Red Sox:

Jonny Gomes diary
October, 22, 2013
10/22/13
4:20
PM ET
By
Jonny Gomes
| ESPNBoston.com

Red Sox outfielder Red Sox outfielder Jonny Gomes has kept a diary for ESPNBoston.com. In this World Series edition, Gomes discusses one of the most special plays of the postseason, the Red Sox celebrations, and the one thing that would upset him in the World Series. -- As told to Louise K. Cornetta)
I don't think anyone even knows how we beat the Tigers' good pitching. We didn't have a lot of hits and there were a lot of strikeouts. But at the end of the day it's not about hitting, it's about touching the plate more than the opposing team. We found a way to do it more than them. It took us a while. It took us the second time of facing
Anibal Sanchez
and the second time of facing
Max Scherzer
. But with the success they had the first two starts, it shows a lot about how this team can make adjustments on the fly and we can make adjustments quickly. What I mean by quickly is we didn't have months to figure it out, we had just a few days. This is a pretty special team.
Someone asked me why are the Red Sox 6-0 in playoff games that I start. I don't know if there is a right or wrong answer to that question. I guess I have just been fortunate to be on this team and in the lineup in games we scored more runs than them. There really is no method to the madness right now. It's not about going 4-4 or 0-4. It's just about touching the plate or having someone touch the plate. John Farrell said something about me bringing baseball intangibles. I don't know what those are he's referring to, but I just try to bring my baseball knowledge and play the game right. I do what I can to help the team win and try to manufacture a run on my own or have someone drive me in.
[+] Enlarge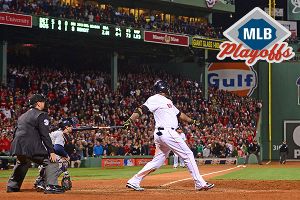 Michael Ivins/Boston Red Sox/Getty ImagesDavid Ortiz's grand slam in the eighth inning of Game 2 was a turning point in the ALCS, says Gomes.
You could argue that a big turning point in the Tigers series was Big Papi's grand slam in Game 2. Throughout that whole game, that was really the only pitch that was a mistake. They did a good job of pitching. They had a veteran pitcher on the mound in
Joaquin Benoit
and we had a veteran at the plate in
David Ortiz
. He was able to hit that one out, but then the next game in Detroit, Benoit got us to pop out to end the game. So I guess you could say they exchanged wins there. Fortunately for us, there were three guys on base when Papi hit that ball.
I think a grand slam in the playoffs is pretty special. When it's a grand slam like Shane Victorino's in Game 6 was to take the lead after being behind, it obviously has that much more magic to it. I don't think there is a single moment from this ALCS I will forget. After Game 6 we got to celebrate going to the World Series. I put on the army helmet again and this time I put a small video camera onto it. I wanted to record some footage for myself. I also had on a red robe with my number and my nickname "Ironsides" written on the back that I wore. I've had robes pretty much everywhere I've been. That one was a gift and I felt it was appropriate to wear for the occasion. I don't think there is a right or wrong way to celebrate. I've obviously had some antics up my sleeve and you saw it again.
Also during the celebration, I thought it was cool that Papi brought out a giant cardboard cutout of my head wearing the army helmet to celebrate with us. Just more props for us to party with. In case you're wondering, Ortiz did have another cookout at his house after this round too with the entire team like he has done after we clinched something.
So we have a 2004 World Series rematch with the Cardinals. They had the best record in the National League, so they have lots of strengths. They're fundamentally correct. They do all the right things. They obviously have some young, talented arms. I think we have our work cut out for us.
[+] Enlarge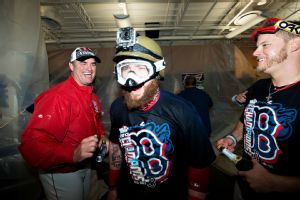 Rob Tringali/Getty ImagesGomes wore a video camera on his army helmet while celebrating Boston's Game 6 victory on Saturday night.
They have strong pitching with
Adam Wainwright
and
Michael Wacha
, and I don't think it stops there as they have a pretty good bullpen too. Then they have
Matt Holliday
with his bat always seeming to come through in the clutch, which kind of sums him up. His accolades he's been able to rack up and his resume that he's been able to build fits right into the middle of that lineup. He definitely drives the bus in helping their team get to the World Series.
The best approach our team can take in facing the Cardinals? I don't think we have to change anything. We'd be 100 percent happy winning this thing with the 2013 approach that we've had. I think we'd be very upset if we changed things in the World Series. We just have to continue doing what we're doing. I see the Red Sox are 8-0 in the last two World Series. That would be nice to keep that streak going, but any way to get a win is what we're working toward.
Being in the World Series with this group of guys is pretty special because of what we stand for, how we play the game, and for the relationships we have inside our team. I think it's something that not only we want to work by winning a World Series, but we want to start a trend with other organizations and general managers. We want them to see that building a team with players who are hungry to win and work hard and who have each others' backs is what they should pay attention to because it's worked for us.
October, 11, 2013
10/11/13
3:20
PM ET
By
Jonny Gomes
| ESPNBoston.com

Red Sox outfielder Jonny Gomes is keeping a diary for ESPNBoston.com. In this playoff edition, he reveals the memory he will keep from the ALDS, where the team watched the Tigers-A's game together, and how do they beat the Tigers? -- As told to Louise K. Cornetta
How did we beat the Rays? Pretty simple, we scored more than they did. We did it with some big hits in the first two games and then really had to grind in Game 4. Those games in Tampa weren't easy. If you make the playoffs, you're a good ball club. You can't make the playoffs by accident in this league after a 162 game season. We knew we had our work cut out for us as they did. It's not getting any easier with Detroit coming to town.
[+] Enlarge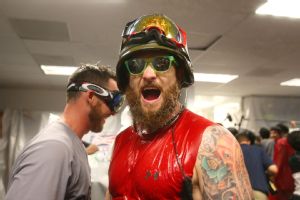 Tom DiPace/Getty ImagesCelebrating following the ALDS win over the Rays.
I can't say there is one person who is the unsung hero in the ALDS to tell you the truth. I think our starting pitching as whole did an unbelievable job, our bullpen did an unbelievable job too. We had some timely hitting with Big Papi [
David Ortiz
] going deep twice. We've done things as a team the whole year. It's never been about one person carrying the load. That's why while it was good to get my first postseason hit, I wasn't too worried about myself or personal stats. I really just want to help this team win. Which is why the memory I will take with me from the Rays series is really the team celebration. It was a team win. It was a great opportunity to share everything with my teammates.
We enjoyed celebrating advancing to the ALCS. You may have seen the Army helmet I wore when we won the AL East and punting beers are still my thing. I guess you have to have a trademark one way or another. It was a fun time. It was something special to get all our guys together. When you see other teams and the way they celebrate, the harder the celebration relates to the hard work that went into this. For us, going from worst to first in a single season to turn things around with a lot of sleepless nights and a lot of baseball grinding all went into our celebration.
We like to play our music during the celebration. Some old Drake gets played a lot but we have music junkies in this clubhouse. We have a nice little mix of different genres going on. It's pretty wild. We also like t-shirts with catchphrases on this team. There's always t-shirts getting thrown around whether it's someone making them up or someone sending them. There has been so many awesome moments that it's always good to try and capture them on a t-shirt.
Our good luck charm, the cigar-store Indian that
Jake Peavy
got us in August, has gotten into the spirit of things as he wears a beard now. He also now wears an Air Force baseball cap which was a gift from a soldier. He doesn't have a name yet though. He hasn't told us yet what his name is, and yes, he does speak to us.
Speaking of names, my beard has a name: Ironsides. All the beards have names which you may have seen on a poster or on twitter with the hashtag #GetBeard. Ironsides has been my nickname for a while since I came over here. It's a tribute to the USS Constitution that's parked over in Boston Harbor.
The long layoff we had before the Tampa series didn't hurt us and I expect the same going into the Tigers series. This is a veteran ball club. The work we have to get done, will get done. We have some opportunities during our workouts to get some live at-bats from pitchers who throw live innings. I think we will be alright.
David Ortiz had the team over to his house on Thursday night. This was the third one that he had after we clinched something. It's become a tradition that we go over there after we win a big series. We all watched the Tigers-A's game together from there and saw that we'll be facing Detroit in the ALCS.
With Detroit, you can't get to the American League Championship Series without good hitting, good pitching, and good defense. They're built for the playoffs. They're strong. They have a Triple Crown and MVP winner on their team in
Miguel Cabrera
. They have a Cy Young Award winner and MVP in
Justin Verlander
. They have a lot of dangerous hitters on this team. We have our work cut out. We have to continue to play the baseball we have.
[+] Enlarge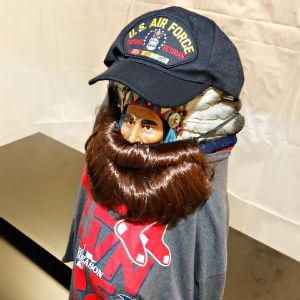 AP Photo/Mike CarlsonThis cigar store Indian that Jake Peavy brought into the clubhouse has become a good-luck charm.
As I mentioned, the Tigers have good pitching.
Max Scherzer
is someone whose work speaks for itself. He's throwing upwards in the nineties. He can throw a sinker, a cutter and has a slider to go along with everything else. He just pounds the strike zone. I'd say it's pretty self-explanatory why he has the numbers he has this year. Verlander came up big for Detroit in Game 5. But that's not the first time he's done that, so it's kind of expected. He's always a battle facing him.
When you make it to the American League Championship, all your starting positions are going to be strong as well as having a big bench. The Tigers have all that. They also have our former teammate Iggy [
Jose Iglesias
] over there. He played with us for a while. That's one storyline to look for because I'm sure that's going to get a lot of press.
So I'm sure you want to know how do we beat Detroit? Just like Tampa I guess, we're going to have to score more runs than them in the ninth, that's what we've got going. We just have to continue to play 2013 Red Sox baseball with pitching, defense and timely hitting of course. We're able to apply some pressure on the basepaths too. We need to continue to do that.
If you've paid attention to this team all the way back to when we were in Fort Myers in spring training, we've been having fun. Whether it's team meetings, team get-togethers or high fives. Obviously, everyone growing the beards together because it's fun. There's a lot of chemistry and unique personalities on this team. We're rolling with it and having fun in the playoffs.
It's always great to have homefield advantage in the playoffs. Fenway is great in October. But I'll tell you what, it's pretty much special all year round. I tell people I work in a museum. It's always special.
September, 21, 2013
9/21/13
11:11
PM ET
By
Jonny Gomes
| ESPNBoston.com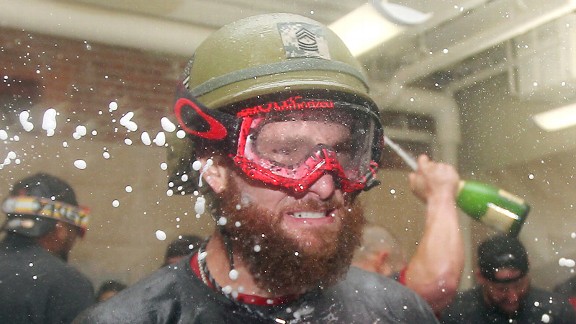 AP Photo/Charles KrupaJonny Gomes knows all about baseball celebrations and wearing a hard hat to work.
Jonny Gomes is keeping a Red Sox diary. In this installment, Gomes talks about the celebration after winning the AL East, who has an "invisi-ball" pitch and the key to a long postseason run. (--As told to Louise K. Cornetta)
I'll tell you what, if we hadn't made the playoffs, there would have been a lot of upset faces in this clubhouse. It's not about having media outlets pick or not pick you before the season. It definitely starts with the guys wearing the uniform believing, not the guys in the suits and ties or holding the microphones. It's all about the guys in uniform. We set the goal in spring training to win our division, which would allow us to get in the postseason and go on to hopefully win the World Series. So far we've been able to check off one goal.
I felt good about this club from pretty much day one of spring training and I'll tell you why. If you were to walk into a clubhouse and not see anyone's contract or awards, what's the one thing you would look for? Personally, I would look for guys who have playoff experience. With that being said, out of our starting nine, eight have playoff experience. The only person who doesn't is
Will Middlebrooks
, and he has eight guys to lean on. The playoffs truly are a different game. So If I'm starting a season, I want to start with guys that are pressure-tested, and that's what we have.
I remember having no idea what the postseason was like in 2008 when I was with Tampa Bay and we went all the way to the World Series. I remember at the trade and waiver deadlines all these teams picking up veterans. As players, we were such a young team that we didn't want any veterans. We felt like we had all the pieces right here. After that first pitch in the playoffs in Chicago, I was like, "Whoa, this is a whole different game." The atmosphere and pressure and going from goat to hero really quickly or the other way around, hero to goat, all happens. It's very exciting.
Truly, we have 25 pure baseball junkies on this team, which is such a breath of fresh air and makes things fun for me. I love coming to work every day because I love talking baseball. I love the history of this game. There's so much just on this team, like a 2002 champ in
John Lackey
. You've got
Jake Peavy
, who won the pitching Triple Crown and the Cy Young. You've got Nap [
Mike Napoli
] with Anaheim and Texas playoff experience.
Shane Victorino
going to the World Series with the Phillies. I could go on and on.
Our manager, John Farrell, deserves a lot of credit. As a position player, we don't have win-loss records on our stats. The way you play the game, the way you hustle, the way you grind resembles your manager. At the end of the day, you do it for your manager. Any job in America, you are busting your butt for your boss, right? He's the captain of this ship and definitely a huge part of it.
[+] Enlarge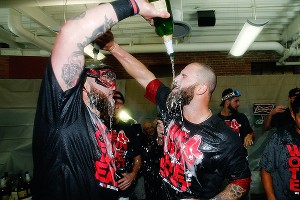 Jim Rogash/Getty ImagesJonny Gomes and Mike Napoli enjoy some champagne after winning the AL East.
We didn't want to celebrate on Thursday when we made the playoffs because it wasn't our goal. We had been working toward winning the AL East. Once we did that, then it was time to celebrate. We had been eyeing that title. We saw it in our future and wanted to wait to go all in for that.
The next goal we have our eyes set on is having the best record in the American League. Playing at home would be a huge benefit to us throughout the playoffs. Then with
Dustin Pedroia
, Buch [
Clay Buchholz
],
David Ortiz
and Peavy helping us win the All-Star Game for the American League, we'll have home field for that if we make it to the World Series. Hopefully we can reward them for their hard work in the All-Star Game.
To have a lot of home games in the playoffs would be great because Fenway is a place we play well at. There are a few reasons why that is. One, the atmosphere that the fans bring here. There's a lot of accountability when you play in Boston. If you don't run hard to first or if you make a mental error, you're not just letting 24 guys on your team down, you're letting down 40,000 sets of eyes here. Two, our fans are very knowledgeable. You don't have to go 4-for-4, but you have to play the game right and respect the game. I was on the other side of the fence at one time. I paid money for tickets. The last thing I wanted to see is some people dogging it. So I think the fans help us pick up our game. Then three, with the unique setting of the Green Monster, that helps us too.
Is winning 100 games important? To tell you the truth, we wanted to win 162. But 100 wins is a pretty special mark these days because I think Major League Baseball as a whole is really strong these days. It's hard to win 100. Not that it hasn't been in the past, but especially in the AL East there aren't any gimmes or teams in a rebuilding phase. There are five horses in this division. I guess to get an extra digit in the win column would be pretty cool.
While I've played for a few teams that are in the wild-card race, I don't care who makes it. I don't have any more energy outside of what I put in this clubhouse to be rooting for any other team. I don't really care at all who else is in the playoffs.
One of the reasons we are in this position to go to the postseason is because we have one heckuva closer in
Koji Uehara
. What makes him so good is when the ball comes out of his hand, it disappears. That's about the only way I can explain him because I've faced him before and have been in the box against him and you truly can't put your finger on it. TV doesn't do Koji justice. Whether you're watching TV or watching tape on him to scout him, he throws 90 mph and has an 82 mph split; that's it. He's a two-pitch pitcher, not a flame thrower. So you think you have a chance. Then you get up there and as a hitter we call it the "invisi-ball." It's like you swing right through because it's deceptive. He definitely has it figured out.
The only thing Koji's doing differently this year is he's doing this all in the ninth. He has been the best reliever in baseball since 2010. Those are the hardest three outs in the game to get, because the ninth is the only inning that you play for a run. You don't play for a run in the first. You try to tack them on by playing for two, three or four runs, which means you don't have to bunt or hit-and-run like you do in the ninth. With that being said, what he's doing is unbelievable.
He's also a great person with a lot of energy. What I like to see from guys who are good in the game and good at their craft is I really enjoy watching those guys work. Believe it or not, there are some Hall of Famers in this game who didn't work out or watch tape, who just had the best God-given ability and ran it out there. That's awesome and good for them but I like to see guys who really have to work hard for their craft. He's here early and out on the field late. He's got sweat on his forehead all day long from working.
With the regular season winding to an end and the postseason right around the corner, the simple answer to having a long postseason run is to score more points than our opponent. But I'll tell you what, where we are right now, I think we have created an identity with this team and how we play, how we pitch, and how we play defense. Fortunately for us, we don't need to come up with any tricks or have to reinvent the wheel. We just truly have to play the same game that we've been playing.
All right, on to talking about our celebrating being the AL East champs. Fortunately for me, I would never say I'm getting used to it, but I've done this with a couple teams. To do it here in Boston with the history here and the fans is fun, and to be able to prove all the experts wrong that had the Red Sox as the underdog. What we did this year, in turning the whole ship around so fast, really makes this season magical. There were definitely a lot of emotions that went into that celebration versus just winning the AL East.
Champagne is good in a beard. I don't want it out. I'm going to keep it in there for a while. Hopefully I get some more. Maybe it will be good conditioner for it. Champagne is not good for the eyes, which is why I got the ski goggles for everybody. As I mentioned, I've been fortunate enough to do this a few times, so goggles are a good thing to have when you're celebrating.
You may have noticed me wearing an Army helmet during the celebration. A friend gave it to me who wore it overseas. So it's battle-tested. He's in the Army Special Forces. He gave it to me and I was very honored to get it. It was a good little touch because it's time to put the hard hats on and go to work.
We all got T-shirts last night for reaching our goal of winning the AL East that said, "We own the East." We put one on our cigar store Indian that we still have in the clubhouse. [Editor's note: The cigar store Indian was brought in by Jake Peavy while the team was in San Francisco in August and has remained as a good luck charm ever since.] He's been good for us. So we had to dress him up.
I think people remember me doing the helmet punt when I had a walk-off homer this season. So I think everybody needs a little trademark throughout the year, which is why you may have seen me punt some beverages into the stands while we celebrated. Hopefully we can be punting some more things all the way to the end of the World Series.
For me, the moment I will remember most from the celebration is something I find cool and is kind of something I've done everywhere -- that's getting a group photo on the mound. It's some pictures I've kind of collected. To be able to arrange that and do that again with everyone on board to take that snapshot was something I'll remember.
When I look back on my first season in Boston, it's a lot that went on this year. Fort Myers seems like years ago. I think back on the start of the "Boston Strong" slogan and everything that happened on Marathon Monday. I have individual memories throughout this season too. The true brotherhood and friendships that have started with the guys on this team. I wouldn't say my expectations have been exceeded though, because my expectation is to win the World Series. If we didn't go to the playoffs and win the East, I would have been mad. With that being said, I'm happy where we are.
September, 1, 2013
9/01/13
11:40
PM ET
By
Jonny Gomes
| ESPNBoston.com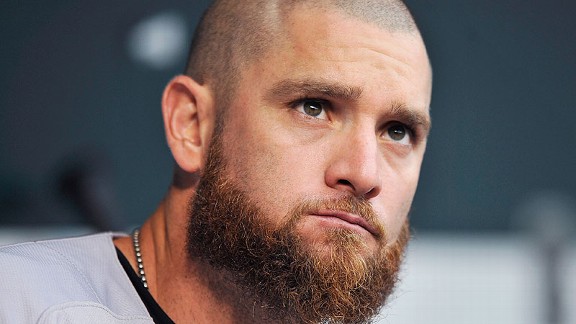 AP Photo/Gail BurtonJonny Gomes takes over as our Red Sox diary writer.
Jonny Gomes is keeping the Red Sox diary for the rest of the season. In this installment he explains how to hit in the clutch, what he's seen in Xander Bogarts off the field that has impressed him, what the Red Sox need to do to get to October baseball, and sheds some light on the mystery around the Red Sox beards. (--As told to Louise K. Cornetta)
I'm taking over the diary for the rest of the season from
Will Middlebrooks
. Good to see Will back up with us and helping the team win.
With me, I have to be ready to play at all times. I guess everything for me starts with living and dying with every pitch, even when I'm not in the game. I truly care what Middlebrooks does or [Dustin] Pedroia does or [Mike] Napoli does. By watching the game, if I see them doing something that is mechanically incorrect that they might not see, then I will say something. It's something I can bring to the team by being able to help them.
With that said, I'm in tune to every single pitch in the game. So when my turn or my number is called, it's like I've played all seven, eight or nine innings. So nothing can catch me off guard this way.
I've had this role for many years. With playing time comes the numbers, but the fans really just see the numbers. I never worry about my numbers. It's more about the production and how my role is with the team. I know people like to say I hit well in the clutch. But it's funny because I could go 0-for-10 next year and then I'm not good hitting in the clutch. That's just how this game is.
I guess clutch/pressure is what you put on it. There is actually more pressure on the pitcher. If he fails, he gets a loss. If I fail, well, we get another crack at it. Pressure is just what you put on it. Obviously there is some but that's why we were hitting on a tee in our backyards as we were growing up, getting ready for that exact situation. You just have to stay calm and do what the situation calls for.
My experience as a member of the Red Sox has been very positive. If you're in first place and your experience is not positive, I don't know what else you're looking for. I might be a little biased this year compared to other guy's first years, but with a new manager coming in and a cleaning of the slate, you could argue this is everyone's first year. It's not a rebuilding year but you're rebuilding the tradition of the Sox. Rebuilding the winning attitude. Along with that was Boston Strong being born and that was very intense and something I will always remember about this first year here.
Jake Peavy
picked up a good luck charm for us in San Francisco with a three-foot tall cigar store Indian. He went with us to Los Angeles and is home here with us. He brought that guy into our lives. So far he's been good luck and has had some wins in him.
[+] Enlarge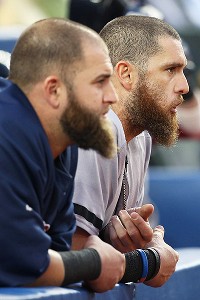 Tom Szczerbowski/Getty ImagesMike Napoli and Jonny Gomes, or is it Jonny Gomes and Mike Napoli?
Another thing that happened on the West Coast trip was I was honored with Jonny Gomes Day in my hometown of Petaluma, Calif. The original Jonny Gomes Day was Feb. 11, 2006. I stick to my roots. I remember where I came from and what got me to where I am today. Petaluma is a small town in Northern California. I remember being a kid and there was no one famous around or any big athletes in that area. I just do what I can to give back to the community. Where I am now also allows me to have a louder voice as far as media outlets to help people out. It's just cool to see people back home and the mayor appreciate it.
I remember leaving spring training and being like, "Look at August, that's going to be tough." But we made it through and now we can look to September where we have some days off. We put ourselves in a situation where we don't have to scoreboard watch. We control our own destiny. If we play our game, we'll finish out where we want. If we hit some bumps, we'll cross that bridge when we get to it. The main thing in September is health, health over performance. If you're healthy, you'll continue to do what you have been doing. I think we've been on a roll and good health will hopefully get us into some October baseball.
This time of year is fun too, seeing guys get called up like
Xander Bogaerts
. Most people look at tools when it comes to a player, you know speed, power, etc. I look at it if you're in the big leagues, you're good. So we can put the tools aside. I need to know what kind of person you are, if you have the will to win, the will to learn, to be a good teammate. I could go on and on about characteristics outside of just baseball tools. I look at Xander and he's out taking ground balls at 3:40 for a 7 o'clock game. That says something about his work ethic and also he asks questions and wants answers. He's really plugged in. He's off to a good start. He's way ahead of the curve with how young he is, but it's good to get him up here.
All right, I know you want to know what's up with the beard I have. I've been keeping it trim. Believe it or not, you would think a long beard is low maintenance but it's actually high maintenance. Everyone is trying to dig up what's going on with it. These beards haven't gotten a hit or thrown a strike all year, it's still us behind them. We're just having fun with it. It's more a team chemistry thing.
And yes, I am aware everyone thinks me and Napoli are twins. If you're looking for a difference between us, I'm an outfielder and he's an infielder. It kind of happened on accident. My kids think Daddy is on TV when he's hitting. Even my kids are getting tricked. Since we have been kind of blending together, we keep running with it. We purposely sit next to each other and get our haircuts together so we look trim. We've definitely been having fun with it.
We like to have fun on this team. Take the other day, I did a player appearance. The guy who put on the appearance was a big cricket fan. He gave me a cricket bat and ball for talking to his clients. So I brought it to the yard. I took some soft tosses with it behind second base during batting practice. I threw one up and got it over the Monster one time. I plan on sticking to baseball though.
Football is starting up. I like college and would say I'm more into college as a whole. But with the NFL, I'm tuned into the Niners. College, I'm all over the board. Now that I'm in New England, I am getting immersed in what the Patriots are doing, like Tim Tebow being cut. Our third base coach, Brian Butterfield, is a diehard Patriots fan. He keeps me updated to everything that's going on. You don't have to go too far around here to get some Patriots news.
No Fantasy Football for me this year. I did it last year and won. I have house money now. So I think I'm just going to sit on it.
Well, the season is going to be filled with peaks and valleys. I'd say we've been playing pretty good baseball. I think we've done a really good job of picking each other up and just passing the torch. We've been able to hide guys' struggles or injuries. Like
David Ortiz
started the season off on the DL and
Mike Napoli
has a record-breaking month. Some guys kind of slowed down of late and then
Shane Victorino
steps up. Before the break, Pedey was hitting upward of .330. It seems we're all taking turns of getting hot and in a 162-game season that's what you need.