Boston Red Sox:

Kevin Youkilis diary
September, 20, 2010
9/20/10
12:35
PM ET
By
Kevin Youkilis
| ESPNBoston.com

Red Sox first baseman Kevin Youkilis has kept a diary for ESPNBoston.com all season. In his final installment, he talks football, why he didn't tell anyone about the Manny apology, whether it will be first or third base next season for him, which of the young guys has impressed him and what he thinks about this injury-shortened season. -- As told to Louise K. Cornetta
Let's get to the important issues ...The Mac and Youk Fantasy Football Team is doing great. I have a team with
Darnell McDonald
. Big win in Week 1 for us. We got Aaron Rodgers, so that was a good pick. But I was excited we picked Matt Forte [Bears RB] and he played well. I was excited to get him because I thought he was going to have a good year.
Week 1 in the NFL, the Patriots and Bengals played. Everyone knows I am a Bengals fan always. No other team for me. It was a bad game and that was unfortunate. The Patriots played well. They looked good on defense. The Bengals kind of turned it up in the second half and were able to throw the ball a little bit better and went downfield. For the Patriots, the secondary is their question mark right now. But their secondary played well enough in the first half to get them ahead that it was hard for the Bengals to get back.
Around here, by now everyone has heard the news
Mike Lowell
is retiring at the end of the season. For all of us, we had an indication that this was probably his last year. He's had some rough times with some injuries. That hip is such a tough thing for him to deal with. It's not easy for him because he can't play at that high level. As players and athletes, you all want to play at that high level. Then you get to a point where an injury puts you were you can't. It's not as fun. I can't speak for him, but I think he had a great career. He won three World Series, counting the one with the Yankees. He's had a great career and done a lot of great things. He's probably going to be sad that he can't play baseball anymore. Like we always say, there's always a good thing that comes out of retirement and there's always a bad thing. You've just got to take it in strides. Mike will do something down the road in business or something. He might join his brother in finance. He's big into that. He'll probably fish a lot and do good things down the road.
My favorite Mike Lowell memory is when he came back this year. His first at-bat he went deep, that was pretty cool and pretty special. Throw out the obvious where he was the World Series MVP for us in 2007. But I think that was pretty amazing when he went deep in his first at-bat back, that was cool.
You want to know why I didn't tell everyone
Manny Ramirez
apologized to me? Nobody asked me. I don't just come out and talk to the media anyway. When Manny came here he told the media about the apology. I couldn't tell you what Manny was thinking. He doesn't really talk to the media. Maybe that day he felt like he wanted to tell people something good that he did. Manny is a human being. Sometimes he's in his own world. I had no problems with Manny after the incident happened ever [Ramirez slapped Youkilis in the dugout on June 5, 2008]. The incident happened. We talked about it. It was over and then he apologized for it again this year. I told him, "No worries Manny. We're cool. It's not a big deal. It's water under the bridge." But papers have to sell and websites need to keep running, so people ran with it.
August, 22, 2010
8/22/10
6:01
PM ET
By
Kevin Youkilis
| ESPNBoston.com

Kevin Youkilis' season may be over because of his right thumb surgery, but he's still around the team and has plenty to say in his player diary. This time, he talks about how Dustin Pedroia is taking being on the disabled list worse than he is, how he turned into a power hitter, why seeing his personal life in the gossip columns is a part of the package of being an athlete nowadays, and the launch of his music career. (As told to Louise K. Cornetta)
Can I just say not having the use of one of your hands is not fun?! I can't do anything, practically. My right hand is my dominant hand, so I have to learn to do everything with my left. Eating, brushing your teeth, even putting on deodorant when you can't grab with your dominant hand is tough. I'm getting better at it. When you're dominant on one hand, you take for granted a lot in life.
I would love to talk to Shaq and compare our thumb injuries. Can someone please make that happen? The Diesel! It's going to be great having him on the Celtics this season. I don't even care what he does on the court. He's a great player, but it's more about what he brings and how funny he is. It's an honor to have that guy in your city where you can make jokes and hear all the funny things that he does.
I noticed the thumb wasn't feeling great when we were on the West Coast. That's when I started to feel it, but it kept getting worse and worse, and I played through it. The first game against Cleveland after the Detroit series at home is when it just hurt more than ever. When I came out of the game and my hand was really, really swollen and blue is when I knew things were really bad. So I played with it for about a week. Now it's done.
I flew to Cleveland for a final diagnosis. I remember wondering if this doctor was going to agree with one of the other doctors that I had seen that I would need surgery. He agreed, and the next day I had surgery. I wanted to get the surgery out of the way. The surgery took an hour and a half. I was out for it, but I've seen the photos of my surgery. The photos are pretty gross. But I will say it was also kind of cool with all this technology to be able to see that and see how the procedure went. You see the MRI, but you can't really get a visual. Now I really got to see how this thing came off the bone, but I definitely was out cold under anesthesia for it.
When I realized my season was over, of course it was upsetting knowing that I couldn't play anymore, but you also have to worry about the rest of your career too. You want to be able to play every day, but for me it was more about trying to get myself better so I could play and have a long career. I did what I had to do for me to be able to play the next five or six years.
It's ironic, the last diary I talked about how if you aren't playing because you're injured you can be a cheerleader for the team. Here I am now a cheerleader. I give a lot of high-fives, just now with my left hand. You find ways to help out with the young guys like [Ryan] Kalish. He'll ask me questions here and there. I try and show these guys the right way to go about things. We've got some young players who are going to be really good. You want to teach them the right way to play the game. They do a great job and are playing the right way, but there are little things you can point out to them that will help them along the way.
What I've noticed now that I'm not playing in the games is the guys filling in are doing well. It's not the same team because we have a lot of guys hurt. But these guys are fighting hard and their everyday work ethic is a great thing to watch. Guys really care. No one is making any excuses. They're just going out there trying to win ballgames.
We're not out of the wild card or division race and we're still playing those teams ahead of us. You have to have some luck in that the Yankees and Rays will lose to some other teams. But if you can beat these teams straight up, that's the key. So for us, if we can sweep a series here or there, that will put us in contention to make the playoffs.
I heard about this SportsNation on ESPN.com poll that had 75 percent of voters saying the Red Sox wouldn't make the playoffs because I was hurt. I don't think one player is the difference. There's not one player that can make or break a season. I've always been a very big believer that you have 25 guys on a roster. The reason teams are successful is the whole team. You take one guy off your team, it shouldn't effect the team because you'll have someone come and fill that role. But when you exclude three or four guys that are key players then that could be a problem.
It stinks that Pedey [Dustin Pedroia] had to go back on the DL. Dustin puts a lot of time and effort into this game. Not being able to play really stinks and it kills him. I've been in pretty good spirits compared to him. He's definitely really upset about it. You've got to look on the bright side sometimes and realize that we're really fortunate where we're at in life and playing this game. Things in life happen. Hopefully it comes and goes and that is the only problem you have for the rest of your career.
I had to watch the games against Texas on TV. It's kind of hard to watch a game on television. You can't really see the pitcher. The game looks a lot easier on TV. When a guy takes a pitch right down the middle and you think, why didn't he swing at that pitch? Well, he might have been looking for another pitch and got something else. For me, watching on TV is tough. It's frustrating as a player because you're like, "Oh my God, how did I not hit that pitch?" But when you get out there and pitches are going at different speeds, it's not as easy. Watching on TV might be the worst. Go in person to see a Red Sox game. All sports are better in person, especially hockey.
They tell me I will finish for a second straight year hitting .300/.400/.500 [.307 batting average, .411 on-base percentage, .564 slugging percentage]. I have no idea how I turned into a power hitter. I think it's just maturing and learning myself, and learning and watching the game and also having fun. Watching other players that are really good and seeing how they go about it and then trying to put it into my game. It's not easy. You've got to really practice a lot, work hard, and do as much as you can to better yourself each day. I try every day to get better. Now I have a better sense when I'm up at the plate about what I want to do. Other than that, I don't think the pitches that I look for are different. People say I walk more or I walk less, there are all kinds of stats out there. For me, I go out there and try to be aggressive, yet still be selective and not swing at pitcher's pitches.
Manny Ramirez
influenced me as a hitter. I think all those guys in 2004 and 2005 did. I watched all of them hit, but being right-handed, Manny was one of the best hitters to watch. You just really have to watch him. Watch how he pulls his hands inside the ball -- the way he can keep his hands inside and drive the ball. He'd do little things like that. You can't go up and hit and be a model of what one guy does because maybe your body doesn't allow you to do that. I just watched him over and over, how he'd turn on pitches, how he'd hit the ball to right field, how to get your hands in the right spot. Watching that and then, for me, trying to implement it in my daily routine and try to do what he did. I'm never going to be able to completely do what he did. Manny is one of the best hitters to ever play the game. He taught me a lot.
I don't have much to comment on how my personal life has been in the gossip pages lately. Athletes being a part of gossip now seems to be everywhere. TMZ following athletes, it's a whole other world we're now in. I have no choice but to deal with it. We all have no choice anymore. Our personal lives are never going to be the same with technology today and the way people are interested. It's just the way of the world now.
A lot of the way word spreads on the Internet now is just the beginning of the wave of the future for better or worse. There's a lot of positives and negatives about the Internet. You've just got to deal with it. Guys have to be aware now that the things they do like getting arrested, it is going to be out there. You've just got to try and stay out of trouble as much as you can. You know that any little thing you do now is going to be under a microscope.
Since I have some time now that I'm not playing, let me think of a few things you might not know about me. You may not know that I do a Harry Caray impersonation. It started in college when I would impersonate Will Ferrell. I do more of a Will Ferrell impersonation than Harry Caray. Actually, it's more like me doing Will Ferrell impersonating Harry Caray.
What else can I tell you about me? I'm a big fan of the band O.A.R., which means Of A Revolution. I'm definitely a fan of them because in Ohio they were a huge band out of Ohio State. They were big when I was in college and we're the same age pretty much. They were getting big in Ohio because of Ohio State. So I found out about them through friends of friends and we'd all help get their CDs out there. I went to that concert this summer. They put on a good show. I'm not really a critic though.
I love music and going to watch bands. My buddy Will Dailey is a musician with his own band. We hang out a lot. He's really good about teaching me about music. He has a new album that's coming out that I was at the studios for like three days with him just watching. It's amazing how much time and effort they put into making one song, let alone a whole CD. Getting to see that other side is pretty cool. If you get the album, you can try and listen for me on it. I did snaps and claps in the background.
This is not my first album. My former teammate,
Bronson Arroyo
, did a CD and I sang in the background of that and had a little fun. I'm not musically talented with the singing, so the snaps and claps were a little bit better. This was way before the injury. There will be no snaps and claps from me for a while now.
August, 1, 2010
8/01/10
11:33
PM ET
By
Kevin Youkilis
| ESPNBoston.com

Red Sox first baseman Kevin Youkilis continues with his ESPNBoston.com season long diary. He talks trade deadline, clarifies the Jacoby comments, explains why he keeps knocking out pitchers and takes on Bill Simmons calling the Red Sox boring. (As told to Louise K. Cornetta)
At the trade deadline, I can't speak for anyone else, but I wasn't nervous. I have never really been nervous about the trade deadline because you can't control it. I've been very fortunate. Look, anyone can get traded, but you can't worry about it. You just have to play baseball.
I'm trying to think back if there were any teammates traded who I was bummed to see go. We haven't had too many big trades, more so seeing friends leave through free agency. When some of the young guys get traded, it's a better opportunity for them. Instead of being upset, you're kind of happy for them because they'll get a chance to play. Here, we haven't had too many crazy trades of position players.
We have a bunch of guys we should be getting back off the disabled list soon. Pedey [Dustin Pedroia] is someone who wants to play really badly. He's doing a lot more stuff like hitting and drills. When he's ready -- and hopefully he doesn't try to come back too early where he can hurt his foot more, but I know the doctors are on top of that -- for us it will be great to have him back in the line up. Victor [Martinez] coming back was huge, and now with Pedey it's going to be really big.
OK, Jacoby. I said I wished he was here supporting the team and what did I mean? I meant exactly that. People asked and I said, "If guys are hurt, you want them to be here to support you." That was it. I think it got taken out of context, like always. I've heard I was questioning him. I've heard that I called him soft. I didn't say anything like that. People have said a lot of stuff that I said and you can't believe it all. All I said was it would be good for him to be here because there are others guys here supporting the team.
That's the whole thing -- when you're hurt, it sucks. It terrible for Jacoby, when you can't play. It's not fun. A lot of times the mental part of it is a lot tougher because you want to be out there. But at the same time, you have to also be there for your teammates and cheer them on because you'd want the same thing from the person next to you, to cheer you on.
Cheering sounds strange to say because we don't need cheerleaders here, but it's a respect thing. That's the biggest thing, it's about being a good teammate. I'm not saying he's not a good teammate, nothing like that. It's all about being there to support your teammates because when it's all said and done at the end of the year, if you can't help the team out by playing, you're there to support them. Maybe you'll see something and help out a guy like, "Hey, you're kind of jumping at the ball when you're hitting." Jacoby is good at stealing bases, maybe he can help a guy do that. That's all I'm saying, is a lot of guys can help out even while not playing.
Also, you can learn a lot. He's still at a very valuable part of his career when being at the games is a good thing for him to watch players and develop. Sometimes you can just sit and watch the game and it will help develop you as a player. He's my lockermate in Boston, sitting next to me. I haven't talked to him since those comments because I think it's pretty self-explanatory. He knows. I've told him before. It's one of those things that I think was taken way out of context. Everything I say gets taken to seem like the biggest deal ever. What I've found is you can't win. No matter what you say, you're going to be the villain. Some guys say something and they're the hero, but for some reason if I say a word, it's kind of taken a little differently.
Okie [Hideki Okajima] caught some flak recently for not talking to reporters after a rough outing. My philosophy in Boston is if you talk every day, you're going to be respected a little bit more. But there's nothing in any part that says we have to talk to the media. You don't have to say a word. Manny [Ramirez] didn't say much to the media ever and he was a great player who did his thing.
I think there comes a time when some guys just don't want to talk because of things that get written. They say something and the quote might not be written down the same way it was said. Some guys don't feel comfortable talking to the media because they don't like their words put in a different context. That becomes a big deal a lot of times to guys. Some guys just don't like the attention either. So they don't like to talk to the media.
It's not part of the game -- except here in Boston, where it really is a part of the game. I think we'll take players who will go out there every day and hit .300 or have a 2.00 ERA rather than guys who are going to speak to the media and be very personable.
What else has been going on? Well, I'll admit, it was definitely disappointing to not make the All-Star team. I had a couple of opportunities to make it. The fans voted well and did a good job. I just came up a little short. Then
Paul Konerko
got chosen by
Joe Girardi
, which is a good thing for Paulie. He was certainly deserving. You can't be too mad because everyone who is on the All-Star team is deserving of being there. It's one of those things where it's just how the All-Star Game works; some people are going to be left off. It's part of the gig. So instead, I just hung out and rested. It was nice to just do nothing.
Now what's this I hear about Bill Simmons called the Red Sox a boring team? I don't think so. There are a lot of guys working hard, playing hard. Maybe we are boring. Maybe that's why the fan voting was down. I don't know, but what I do know is that we're a good ballclub that plays hard. Next time I see Bill, I'll tell him his writing stinks! Nah, just kidding. He's a good guy. The team has had a lot of injuries, so it's not the normal players you see out there and some people don't like that. People like normal and don't like change.
We feel good coming off the West Coast road trip. Thursday, I had a good game and was able to tie things up in the ninth. Last time we were home, I was able to tie up a game and then get the winning hit against the Rangers. It feels good when you do that. A lot of time, you just want to be the hero so that the game ends. That's the best part about it because no one wants to play extra innings and play on for an extra hour. It's good to be the guy walking off but it's really all about winning, that's the key. Whether you were the guy at the plate or the guy on base who scores the run, it's great. It's great just to finish the game up and get the W out of it.
You've got to want to be in that situation. You can't be scared of getting out. You're going to be the final out in some of those situations and you're going to be the hero sometimes. You've just got to hope for the best and try to be the hero as much as possible.
After that Rangers game, I heard their manager, Ron Washington, said something nice about me always rising to the occasion; that's a very good compliment. The reason I play this game -- and fans will say what they want and media will say what they want -- but for a lot of us players here, it's about the opposition across the way having respect for you. They don't have to like you, but they respect your game. If you go out and play the game hard and get good compliments like that, it's what you play for. You play the game to earn the respect of a guy who's going to see you go out there and play hard every day, and you hope to do it well.
Kind of weird that in the course of a week, I ended up taking out two pitchers when hitting: Dan Haren in Anaheim and [Armando] Galarraga. You don't want to hurt guys at all. You're hoping the best for them when it does happen because you don't want a serious injury. We get hit by pitches too. I certainly do. Hitters, we kind of always joke around that if you get hit, you might as well hit a line drive right back at them. That's not your intent, and to do that is very hard. Just so happened that I did it two times in a week. You can't really do anything about it because your whole goal is to try and stay up the middle and hit the ball. Sometimes it hits the pitcher and sometimes it doesn't. You just hope it doesn't hurt him.
They're making a movie out of Micheal Lewis' book "Moneyball: The Art of Winning an Unfair Game." Everyone knows by now that's the book where [Athletics GM] Bill Beane refers to me as the "Greek God of Walks." Let me say, I don't care about the movie "Moneyball." I won't be going to see it. First of all, I don't see how that book could be made into a movie. The book is kind of telling the story of the A's drafting techniques and I don't know how that's going to be put into a movie. I don't see this being the same as say, "The Blind Side." I just don't see this book being a movie, especially one with Brad Pitt starring in it. They must be readjusting that book in a lot of different ways for that to be a movie. I bet it will be more about the story of the life of a general manager. If Billy really wants to do that, good for him. If someone plays me, I don't care who.
We're home through Thursday before heading to New York. How do I think we'll do this homestand? Your guess is as good as mine. Hopefully a bunch of W's, that's all I hope for any way and any how. Could be 1-0, 12-1, 13-12 -- whatever it is, I just hope they're W's. This time of year, that's all you want. It doesn't matter how you get them, just try and find a way to do it. We just need to play some good baseball.
Even a game like Friday night against the Tigers, we came up just short but almost won. As long as we keep playing like that and give ourselves the chance and put ourselves in a good position every day to win, then we'll be all right.
The goal now is to get into the playoffs. The way it works now, we pretty much have the same ground to make up whether it's for the division or the wild card. We definitely have a shot and have to keep trucking away and hope for good things in August. I know the Rays have been on a hot streak; we do see the scoreboard. All we can do is worry about ourselves and winning ballgames. We go up against the Yankees and Rays a few more times and we have to be ready to play and do our thing. For us, it's about us winning rather than worrying about other teams. You can only control what you can control, and that is trying to win a ballgame.
July, 4, 2010
7/04/10
6:28
PM ET
By
Kevin Youkilis
| ESPNBoston.com

Red Sox first baseman Kevin Youkilis, who has been keeping a diary for ESPNBoston.com throughout the season, talks about -- what else? -- all of the team's injuries including his own, as well as leadership and why he's frustrated for Adrian Beltre. (as told to Louise K. Cornetta)
Our team has been really taking on its own personality. I'd describe this bunch as a good group of guys that love to go out and play the game. We play hard but still have fun playing the game, especially when you're winning -- that helps. That's one of the things that has been going well. We have a lot of guys that really care about winning. It's all you really need.
I've been hitting behind Papi a lot lately. I think it's good to know that I don't ever change the way I approach an at-bat no matter who is hitting in front or behind me. I go up there and try to do the same thing and stick to my strengths and stay away from the weaknesses. To me, it doesn't matter how hot or cold a guy is because I try and go up there with the same approach every time.
The injury bug has certainly bitten this team. Let's start with how I had to miss a few games after being hit in the elbow, right on the nerve. Did it hurt? Yeah, but the reason I stayed off the field was more because of the swelling. There was a lot of swelling from the elbow all the way down. That was pretty rough. It still lingers a little bit, but it's not too bad. You get over it and have to play through some pain, that's part of the game. You're going to have pain and you're not going to be 100 percent healthy. So you've got to try the best you can to play through some stuff. But look, there are times you simply can't play and that's happened to a lot, and I mean
a lot
of my teammates. Where do I even begin? Dustin breaking his foot is a big loss. Losing anyone who is in our starting lineup is tough. Pedey is definitely one of our players who can pick up the team on a daily basis. He helps out both offensively and defensively. It's tough to lose him. But Billy [Hall] came in and, it's funny, I think it was the next day, he had a great game in San Francisco. We have some good guys here who can hold down the fort.
So we get through Pedey's injury and then both our catchers (Victor Martinez and Jason Varitek) are out and it's a domino effect. I was shocked. We definitely have had to face a lot of adversity but that doesn't mean we have to give up. There are a lot of guys who will step in and enjoy playing. It's one of those times you have to step in and battle and go out and play the game. You can't mope around because guys are hurt. You've got to pick up the slack. For those guys coming off the bench and now starting, they've got to pick up where those other guys left off. But yes, we were all shocked about what was going on with guys going down. It stinks. But like I said, you've got to go out there and play the game still.
I want to talk a little more about Dustin. If I were to describe my teammate, I'd say he's nuts. Nah, really he's 24/7 baseball. It's his life. He probably thinks about the game while he's sleeping. He probably dreams about the game. He's driven by the game and loves it. He goes out and plays it hard. Being a leader, I think he leads by the way he goes out and plays the game. There are certain leaders who lead in different ways: Some lead by example, some lead by the way the handle themselves. With Pedey he talks a lot of crap. Then you call him out and he'll admit, yeah, I'd probably never say that. That's part of his gig. That's what makes him good, makes him funny because he does stuff like that.
If I had to describe my leadership style, I'd say I lead by example on the field. Playing the game hard, trying to get the guys up and get them excited. I try and lead on the field, that's the best way I can do it. Tito, I guess, recently said I throw my helmet less lately. As you get older you realize more stuff in life, but I think sometimes you need to do it. Some guys may need to blow off steam by going down the tunnel and breaking a bat to get it off their chest. I don't really do that but other guys will do that at times. There are things you need to do, while some guys can remain calm and collected, others need to scream at the top of their lungs or slam a helmet. I release it and get it out because if I were to bottle it all in, it doesn't help me. So I let it all out and then go out and play the field.
Anyone can be a leader. A pitcher can be a leader. A pitcher can lead by example with their work ethic and how they carry themselves on the mound. There is so many different ways to be a leader and to be respected. There are endless amounts of ways. I think our starters do a good job of leading the way. Tim and Josh and both John and Jon do a really good job. Clay is young, so maybe down the road when he gets older, he can take over for those guys.
I've got to say, with all the good players and good guys we have on this team I am surprised we didn't have anyone voted into the All-Star Game by our fans. I think we had low voting turnout. It's one of those things that I was really frustrated for
Adrian Beltre
because he never made an All-Star team. It doesn't matter about me getting fans' votes because I've been voted onto All-Star teams. But for him to be as low as fourth at his position in the voting while he's having such a great year, definitely hurts. He's done a lot for Red Sox Nation and deserves to be an All-Star. He plays the right way and plays hard. Maybe next year, we'll have better voter turnout by our fans.
As for me, I'd love to make the All-Star team. It would be great, but it's out of my power. You just try and go out and play the game. The way the All-Star voting works, you just have to go out and play the game and hope that people vote for you and go out and have a good time.
Editor's note: Youkilis is one of five players in the running for the final spot on the AL All-Star team, to be determined by fan voting on mlb.com. Vote for Youk here!
June, 16, 2010
6/16/10
10:36
AM ET
By
Kevin Youkilis
| ESPNBoston.com

Red Sox first baseman Kevin Youkilis checks in with his latest diary for ESPNBoston.com. In this edition, he gets into the Celtics, Manny's return to Boston, his memories of the draft and more (as told to Louise K. Cornetta). Note: This diary was done this past weekend during the Red Sox's series with the Phillies.
While I'm from Ohio, I'm not a Cavs fan. Cincinnati and Cleveland really don't get along too well. I root for the Celtics. I've been following them. Loved seeing that huge Game 4 win over the Lakers. Doc Rivers did a great job managing his bench and letting those guys that were doing well stay in the game. We were in Cleveland and got to see the end of the fourth quarter. We lost, but something positive happened with the Celtics winning. I like watching Ray Allen play. Rondo is fun to watch too. But I'd have to say, Allen is my top player that I like the most. I like his overall persona on the court. He's an unbelievable shooter and seems like a great leader. Also, he and I have the same number, so I have to root for him in that sense. As I said, the bench really won it for them on Thursday.
In baseball it's different for us, especially in the American League, because you don't really use the bench. Maybe the bullpen, if you call that a bench, is used a little bit and can be huge. In basketball, you have to rest guys, whereas in the playoffs for us there's the nine starters that you throw out there and just play. In the National League it's probably different with double switches and all that. I don't really know anyone personally on the Celtics. I mean, not on a text message or call level. But I've certainly ran into them at events … like Ray Allen's wife is a great lady that I've gotten to know through our charity work with diabetes.
I can't talk about the Lakers without mentioning Kobe. He's a great player. He's probably one of the best players to play the game and is pretty phenomenal to watch. He'll be a Hall of Famer easily because he's such a special player. My prediction stays the same because I had the Celtics in seven before the Finals even began and I am sticking with that. Celtics in seven.
So everyone knows, my back is fine. Do not worry about me. Instead let's talk some baseball. In baseball, there's a lot of talk about stats. I'm not really that into them because they all play themselves out at the end of the year. You can't really worry about them. I don't set goals at the beginning of the year like I want to hit a certain average or something. My goal is to stay healthy and play. I mean, everyone wants to hit .300. I think that's the biggest stat that most guys look at. If you hit .300, it's a good year. But you can't really control that, you've just got to go out there and play. If you're in the lineup every day and you feel healthy, then most players are going to do alright.
I've had a good start to the season. At times everything is clicking on all cylinders, but at times they're not. It's a long season. Some days you're going to be good and some days you're going to be bad. You never really know what you're going to get. So you've got to go out there each day and hope for the best, try to put together as many good bats as possible. If you do that, you're going to put yourself in the best position to have things click more than not.
I get asked why I hit so well against lefties. The honest answer is, I don't know. Maybe it's the angle that they throw at, the way they pitch, but I don't really have a secret to it. With lefties, it could be the way the ball comes out of their hand. I try to hit righties just as well. There's no secret to it. Some days there are lefties you face that are just filthy and you don't get any hits. I don't know overall if there is a reason why I've been hitting them so well. Maybe it's one of those stats that just is in my favor.
We're coming off a road trip where we lost two games that we probably should have won, but you can't really control that except for going out like we did on Friday and winning 12-2, that was huge. To come back home and get a big win like that and let the bullpen rest up a little bit with good starting pitching with what Lackey did, it's just good to have a win like that. We have a nine game homestand, which is big and that's a good way to start it off. We'll need to put together some more big wins this week.
This weekend, Manny returns to Boston. I don't know, what do you think the reaction will be? That's a good one. This is tough. I'd say the fan reaction will be mixed. There will be a lot of mixed emotions for that. I think he's one of the best right-handed hitters to play the game. He's a phenom in the game of baseball who has done some amazing things. There's not going to be too many hitters like him. He's probably a Hall of Famer in that sense. Everyone has their favorite Manny being Manny moment. For me, it was in Baltimore when he high-fived the fan. That was unbelievable and I couldn't believe he did that. High fiving the fan is number one and then we got a double-play at first. Pedey and I were yelling at him, but he couldn't hear us because it was so loud. He did throw the ball to first, so we got the double-play. That was pretty funny. I'd say definitely the funniest one.
There's been a lot of baseball in the news lately. I'll give you my take on some of the stories. Lots of talk on
Stephen Strasburg
's debut. I only saw the highlights, but pretty impressive. He throws well. My own debut game was special to me because I hit a homer. It's a pretty good memory and I hit it in my second at-bat. It was a long time ago now. It's always special for anyone who gets to play at the Major League level to play in their first game. Hopefully it's a good one where you get a hit or pitch well. They always say it's easier to get to the Major Leagues then it is to stay. You're hoping the debut is good, but it's all about what happens after the debut and trying to stay up here.
Another story was Jim Joyce's safe call to end [Armando] Galarraga's perfect game. Jim is a nice guy and he manned up to it. It's unfortunate but he did everything in his power to apologize. Galarraga handled everything really well too. It's just one of those unfortunate things for Galarraga and Jim Joyce. I think everyone has kind of moved on. Hopefully we're not still trying to beat a dead horse here because you can see by his emotions he felt really badly about it and did the right thing in saying it was a blown call. Bad calls are tough. In the playoffs last year against the Angels, I was at first base and there were two calls that the guy was easily out and the umpire called him safe. I was pretty upset the first time. But Tito came out and argued both times, so I didn't have to argue anymore. The second time, I was just over it because the call was so bad again. It happens.
Draft day also happened in baseball. My memory of being drafted is I was in college taking a final then came home and about an hour after my final my agent called me to tell me I've been drafted by the Red Sox. It was a stressful day of not knowing what was going to happen. I was a senior and that was it, either I was getting drafted or I wasn't. It was good that I got drafted and have gotten to be a Red Sox. My parents were the first people I called to tell the good news.
All-Star voting is still going on and I am not going to be a self-promoter. Not my style. If the fans vote for me, they'll vote me in. It's a great feeling to be voted in by the fans. But I am not here to self-promote, I'm just here to play baseball.
April, 19, 2010
4/19/10
12:56
AM ET
By
Kevin Youkilis
| ESPNBoston.com

Red Sox first baseman Kevin Youkilis checks in with his latest diary for ESPNBoston.com. In this edition, he gets into what he's said to a struggling David Ortiz, why pitchers and hitters don't interact very often, why he prefers hits to home runs, and the craziest place the "Youk" chant ever broke out. (as told to Louise K. Cornetta)
It's nice to be back home after our road trip. I thought it was a good trip. There were a couple of games we should have won that we didn't. Other than that, we have a good team with solid guys, good characters.
We've had some early injuries here. When that collision happened to Jacoby Ellsbury and Adrian Beltre, I thought he just got the wind knocked out of him. I couldn't tell because I was over at first base. But I was worried about both of them. It looked like Adrian could have gotten his knee taken out and hit Jacoby's face down on the ground. Jacoby looked like he was hurting. As I said, I couldn't tell if he got the wind knocked out of him, but that would have been better than getting a knee to the ribs. He's probably got some bruising and swelling in there. Once he feels a hundred percent, he'll be ready to help this team win.
On the road trip, we got to see Minnesota's new ballpark, which is very nice. Definitely one of these new parks that just looks gorgeous when you go out there. The stadium plays a little deep in center field. We realized the ball doesn't really travel that well like it did to left field. That might not be as good for some of those big lefty hitters. I don't know if it will travel well to right-center. But overall, it was a pretty cool stadium.
We have some new faces on our team this year. Let me describe some of the new guys. Marco Scutaro is an Italian stallion. Adrian Beltre is the goofiest guy in all of baseball. Mike Cameron is a great teammate and a born leader. John Lackey works quick on the mound, which is a delight. Scott Atchison is another guy that works fast. He's simply quick. Boof Bonser, the only word to describe him is in his name -- Boof.
Pitchers and hitters don't interact a lot. I mean, we'll go to team dinners and interact. But pitchers kind of stay with pitchers, the bullpen guys go out to do their own things. Position players hang out with position players. It's just kind of how it always is. It's kind of like having little cliques. Because starting pitchers will talk about pitching and position players will talk about hitting, so I think we kind of stick together. Every once in a while, as a team, guys go out together.
Umpire Joe West said the Red Sox-Yankees games are too long. For me, depends on the day. About the only way I see to speed them up is to get rid of the broadcasts, but then we'd all lose all our money and our contracts. No, there's too much blame going around. People just need to stop complaining about the length of games and just play the game of baseball. It's a game of outs, not a game of time.
And here we go with another Yankee series I get hit, this time in the head. I don't know why I always get hit. Maybe I deserve it. Maybe bad things I've done are coming back to haunt me. No, I'd say a lot of times when you get hit it's on purpose, but that wasn't the case this time. Guys try and throw inside. They're trying to get me out.
On Opening Day, rapper Dr. Dre was in the hitting cage. I was trying to help him out. I get asked a lot for hitting tips. What I usually tell kids is, first off, have fun. Play baseball and have some fun. Don't put too much pressure on yourself and don't let your parents put all that pressure on you. You've just got to go out and enjoy it. I tell them to keep their hands up high and swing down at the ball. Too many people think it's a flat swing when really you have to tell yourself to swing down and that's how you flatten out your swing.
When I'm up at the plate, I'm trying to get hits rather than home runs. Just percentage-wise you're going to have more hits than you do home runs. If you go up to the plate and try to get hits, that's what you're trying to do. Home runs just happen. When you try to hit home runs, you're trying to hit the ball really hard. You roll over the ball and have bad swings. When you just go up there and try and do little things, that's when big things happen. For me, if I try and just do the small things and not try to do too much, that's when you find yourself actually hitting home runs. It's kind of a mindset. Just going up there and seeing the ball and reacting rather than envisioning hitting a home run.
People have been getting on David Ortiz for not being the Papi who always hits a homer. I try to not say anything to him because everyone else is. Too many people are in his ear right now. For me, I've been staying away. Only thing I've told him is to stay away from the videos. Not just him, but too many guys nowadays watch too much video of themselves and break it down way too much that they want to be perfect, when you're not going to be. You play 162 games a year. You're going to have days when you feel like crap and you have great games. You're going to have games when you feel great and you have an 0-for-4 game. Overanalysis is always a negative in my mind. Other than that, I don't really try to tell him what to do because he already has enough people telling him what to do.
OK, let me leave you with some tips on getting autographs. Tip number one, the worst place to ask for an autograph is at dinner. Don't do it when I'm eating. Never ask an athlete when they're eating dinner for an autograph. It's very disrespectful. The best place to get an autograph is in spring training. If you're at a game at Fenway, I try my best to sign when I can. But it's very hard for me during the year because I'm getting ready for the game. Off the field, I do signings and stuff like that. I'll sign any time I'm out doing stuff. Fan mail is one way to get autographs. But there's so much of it that I'll sign if I get around to opening up the mail.
Just so you know, during a game you will not get my attention. The 'Youk' chant works at Fenway, but when I hear it when I'm out, it makes me feel like I want to run away. Look, you know it's not a bad thing and you understand it, but it just depends where and when it happens. Sometimes you don't want to be called it because you deal with it enough at the stadium that you don't want to deal with it outside the stadium. The strangest place I've ever gotten the 'Youk' chant was at the Patriots' Super Bowl against the Giants in the restroom and the guy took a picture! Some guy got really mad at him though. That guy did not get an autograph.
On Marathon Monday, I have 15 runners running for my charity, Youks Hits for Kids. We had a party here at La Verdad's to raise money for them and the charity. Each runner is raising $5,000. So that will be $75,000 for the charity, which is cool. We'll have some more fun stuff to tell you about as the year goes on. Right now, I'm just getting settled back here in Boston.
March, 19, 2010
3/19/10
3:24
PM ET
By
Kevin Youkilis
| ESPNBoston.com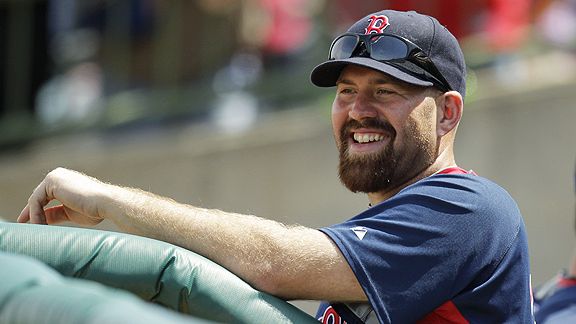 AP Photo/Charlie Riedel

Red Sox first baseman Kevin Youkilis continues his player diary for ESPNBoston.com. In the second installment, he discusses being an All-Star at age four, why he's not a big fan of the new stats baseball keeps, and how he's doing in the team's NCAA tournament pool. (As told to Louise K. Cornetta)
Spring training gets old when there's about a week left. The thing is just stretching every day, the long stretches and stuff like that can get old. I think when the last week hits, you're just excited and ready to play the season. The guys are excited and know where they are going to be whether in Triple-A or on the ball team. I think that helps out with your mindset. It allows the team to know what guys are going to be there. You come together. Then you go to an exhibition game and then home to play. It will happen real fast. You try and enjoy it while you can. Some parts are good, like you get to go out to dinner. During the season, you never get to go out to dinner. That's the best part. But about this time, you're ready for meaningful games.
For St. Patrick's Day, that's what I did. I went out to dinner with the family. It was also my buddy's 40th birthday. So we hung out with him a little bit. Pretty good to have your birthday on St. Patrick's Day. He has some fun with that. For the game, we wear green hats and a green jersey. I still have the hat in my locker. The jerseys they donate. I've got all kinds of things I've kept over the years back at the house. Some day all the green hats will be put somewhere there.
While I'm thinking about home, I got started playing baseball in our backyard with my older brother and my dad. My dad played fastpitch softball. When we were younger, we just played baseball all the time in the backyard. It went from there to playing organized baseball when I was four -- playing Tee Ball. The league needed more players and I was a year younger than everyone else. My dad thought I was good enough to play and threw me out there. I think I did well because I made the All-Star team, which is funny at age four. So, maybe there wasn't very good talent that year.
Nah, it was just one of those things where they needed extra kids to play and my dad signed me up. That is the first time I ever played organized baseball. I was always good at baseball at a younger age, but you never know how far it's going to take you in life. For me, I just went year to year playing the game and practicing as much as I could.
My dad built a batting cage in our backyard. I used to wear him out and make him throw like a hundred baseballs until the jug of balls was empty. It was a lot of hitting and a lot of time and effort on his part. It was a little tiresome for him going out there, but he always says the whole cage paid off in the end.
He always had a passion for baseball growing up. When he became a father and had three boys that was always his passion and he's always been a huge baseball fan. He kind of steered us in that direction. My younger brother didn't play as much as my older brother and I. He never was very hard on us to get better or anything like that. He just loved watching us play the game.
Last time, I told you guys to be on the lookout for something funny I was going to do with my charity, Kevin Youkilis Hits for Kids. I came up with an idea for the fans to have fun with and something to vote on to raise money for my charity. You have four choices for what kind of facial hair you want me to have: Fu Manchu, clean shaven or goatee. You go online at
Youkskids.org
and follow the directions to vote by writing which facial hair you want me to have. It's a dollar a vote. One of the things we find is that there are a lot of people out there that want to help out some way, but can't afford it in hard times. Maybe they can only afford a little bit and this is one way. We also have good sponsors who are going to step in and put in good amounts of money. My teammates, well a couple, want the mustache to win. A few want the Fu Manchu and a few want the goatee, so it's kind of neck and neck right now. We'll see how it all plays out.
Speaking of my teammates, we did an NCAA tournament pool. My teams are still in it. I have Kansas and Kentucky in different brackets. Some of the other ones weren't too good. Ohio beating Georgetown, that really hurt me. I'm from Ohio, I know, but there are too many Ohio teams that are always in the tournament between Xavier, Ohio State and Ohio. That's too many teams. But we don't have any pride with Xavier, so we never try and root for them.
The biggest smack talker in our pool is Jonathan Papelbon. It's always Papelbon. He always thinks he's going to win. Somehow he's always talking smack about getting the best bracket. Dustin Pedroia is another one talking a little smack. It's just in their nature, so why not? In baseball or in the NCAA tournament brackets that's when they talk the most smack.
Another thing we like to have fun talking smack about is the Mayor's Cup. Ah, the Mayor's Cup. In case you don't know, we play the Twins a lot because they are based in Fort Myers, too. Whoever wins the most games against each other wins this trophy called the Mayor's Cup, which we have sitting in our locker room right now because we won last year. I think it's been a running joke around here for a long time. For us, we just go out there and play the game.
I mean, we play to win every day in spring training. People ask me all the time if we won today and I'm always like I have no idea. Usually we're out of here by the sixth inning, so we don't know the final score. We just go out there and try and work on things to get ourselves better for the season.
For me, the Mayor's Cup is fun. We joke around with the Minnesota players. We have a pretty good bond with a couple of guys over there. I guess it makes it exciting and fun and brings a little enjoyment to spring training when you play each other seven times. You've got to have something that livens up the game.
Here's my scouting report on how I see us. We're a great team from top to bottom. A lot of bench, a lot of depth in the pitching, so I think we're a really good team. Our front office and coaching staff have done a good job of allowing us to fight for an American League Championship.
I am not a fan of these new stats like UZR [Ultimate Zone Rating] because it's baseball and it's not a formula. You've got to hit the ball. It's like the Bull Durham line when the coach gets mad at the team, "It's a simple game. You throw the ball. You hit the ball. You catch the ball." When you try to dissect and break it down scientifically and philosophically, there's too much out there that people try and focus on and put on their computer. The game was played a different way back in the day.
I thought it was great Nomar retired a Red Sox player. When you think of Nomar, you think of the Red Sox. You don't think of any other teams. When you think of Nomar Garciaparra, you think of number five and shortstop and those amazing years he had with the Red Sox and the numbers and stats he put up. Just the overall excitement he brought to the fans of Boston was pretty special and unique.
He's an ESPN analyst now. It will probably be a little tough for him at first sitting back and analyzing players. I think a lot of guys that go into that have a hard time too because they don't want to step on toes and say the wrong things because they remember how hard the game was. I was talking to Sean Casey. He says it's a whole different world now that he's a broadcaster. I think Nomar will be good. He's smart. He's very intelligent. He's a guy that's going to take the player's side. He might get yelled at by ESPN sometimes to go the other way, but he'll probably stand his ground.
We open with the Yankees. At least we get our Sunday Night Baseball game out of the way. We only get five of those on ESPN. So let's get them out of the way real soon so we don't have to do it down the road. We did it after the 2004 season too in '05 we started with the Yankees at home. Maybe get the rivalry games out of the way early, so it doesn't get too crazy and congested in the clubhouse with all the media. So maybe get those out of the way and then focus on a daily basis on just playing ball.
February, 21, 2010
2/21/10
6:00
PM ET
By
Kevin Youkilis
| ESPNBoston.com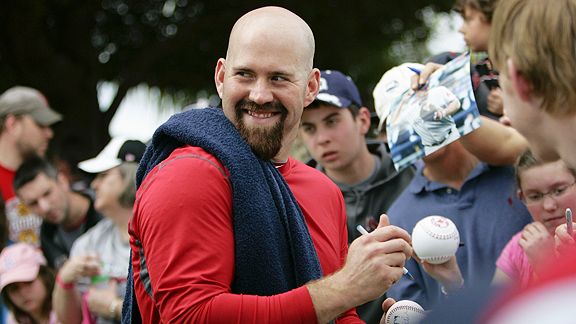 AP Photo/Nati HarnikKevin Youkilis visits with some fans at Red Sox training camp at Fort Myers, Fla.
Red Sox first basemen Kevin Youkilis will be keeping a player diary for ESPNBoston.com this season. In this first installment, he discusses his goal for the season, the best and worst parts of spring training, and why he is never going to a Patriots playoff game again. (As told to Louise K. Cornetta)
I'm a curse. In this offseason, I went to the Patriots playoff game. I'm officially 0-2. They win every regular-season game I go to and lose every postseason game I go to. I am no longer going to a Patriots postseason game.
Let's see, what else did I do this winter? I went to the UC [University of Cincinnati] bowl game, which was fun, a good time. That was the most fun I had going to that game, hanging out with some old friends from college, which I don't get to do too much during the baseball season.
I had some charity events. Everything is going good with the "Kevin Youkilis Hits for Kids," which is my charity. You can go to
Youkskids.org
if you want some more info. We like to do things in the community with underfunded programs and try and raise them up. We're still working on things to raise money. We have 20 runners running in the upcoming marathon for us to raise money. Hopefully they all make it unless they get weaned down with injuries and stuff like that. After the season we're looking to have a big event. We like to have one big blowout each year for the charity. I'm hoping to announce this week something really funny we'll be doing, but I don't want to jinx it until everything is in place.
We've got a lot of depth on this team. A lot of good players we picked up. Guys we have on our bench that are everyday players in the major leagues that are now bench players here. With injuries and stuff, they're guys that can step in and be everyday players, which is really key. We have some great pitching. As long as everyone stays healthy, I think we'll contend to try and win the AL East. For myself, I just want to win a World Series. I think that's the biggest accomplishment. Everything else just plays itself out.
For me, I just want to stay healthy and not go on the DL. I went on the DL one time last year and hopefully I never have to do that again. It's a good thing knowing that I'm at one position this year at first base. Though I'll probably play third base a few times to give Adrian [Beltre] a breather and Victor [Martinez] will probably play first to get a breather from catching. It will be good not having to switch back every other day or two days on, two days off. It's mentally easier to go out there and know I'm playing one position.
I kept in shape by working out with Eric Cressey at Cressey's Performance in Hudson, Mass. He got me on a routine and kicked me into shape. He got me stronger than I was last year. He's done a lot of good for me. But the most grueling thing he'd have me do is sled pulls, where I had to push a sled; that was the worst. Those stink. After you got done lifting, you had to do that. Yup, not fun.
Let me tell you what also isn't fun. The worst part of spring training has got to be ground balls because you've got to take so many ground balls. It's endless. These fields are a little choppy, so you get some bad hops. You know, ground ball after ground ball after ground ball, it just gets boring. A lot of us, we just like to hit and we play a position so we can hit. So I'd have to say ground balls are probably the worst part of spring training.
The best part of spring training is getting back in the swing of things and being with your teammates. You may be surprised, but I try not to call my teammates that much in the offseason. I try and get away from them a little bit just for the fact that you're with each other for eight months. So I was trying to spend more time with my friends back home. I talked to Pedy [Dustin Pedroia] a few times. I talked to Jason Bay, who is no longer here. I text message with a few guys here and there, but, like I said, we're with each other for eight or nine months. It's good to get that little separation. But I'd say Pedy was who I texted the most. So seeing everyone again is a lot of fun. The loose atmosphere is always a good time. Only playing like four or five innings and then going home, it's always a little bit more relaxing. Everyone is always in pretty good spirits in spring training, that's the best thing about it.
My favorite spring training memory is the first year I made the team out of spring training in 2005. That was my best memory when they told me I made the team. I called my mom and dad and told them and then called my buddies after that. My mom and dad are always the first ones to hear what happens. A week later, I got sent back down! But it was still a good spring training memory because it was in spring training that I got told I was going to make the team.