Boston Red Sox:

Los Angeles Dodgers
August, 24, 2013
8/24/13
10:22
PM ET
LOS ANGELES -- This getting mad, then getting even business is starting to wear on the Red Sox.
Last Sunday night in Boston, it was the Yankees rising up in anger after
Alex Rodriguez
was hit by a pitch. Friday night at Dodger Stadium, it was
Carl Crawford
, breaking bad against the Red Sox, the city of Boston, the commonwealth of Massachusetts and the six-state New England region -- all of which had apparently earned his everlasting contempt -- with two hits and two stolen bases.


And Saturday afternoon, it threatened to be more of the same, with Crawford pinch hitting and drawing a walk off starter
Jon Lester
to set up a two-run double off reliever
Craig Breslow
by
Adrian Gonzalez
, who doesn't appear to harbor as deep a grudge as CC but clearly prefers life far from Yawkey Way.
Fortunately for the Sox, closer
Koji Uehara
put an end to the blood-letting in the name of revenge. Uehara entered with two on and two out in the eighth, struck out
A.J. Ellis
to end the eighth, then set down the Dodgers in order for his 13th save of the season.
"Given the momentum they had created, fourth pitcher of the inning, we needed a big out there, and he got it for us," Sox manager John Farrell said. "A good day for him, a good day for us, a much-needed win."
Uehera's work preserved the win for Lester, who allowed just three hits and four walks over 7 1/3 innings, and made the Dodgers' four-run first off
Hyun-Jin Ryu
stand up.
Mike Napoli
, making his first start in eight days, singled in a run with the first of his three hits, and
Jonny Gomes
followed with a three-run home run, his 11th of the season.
[+] Enlarge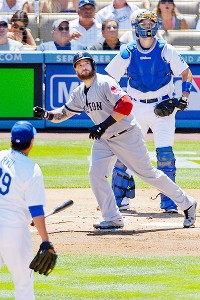 AP Photo/Mark J. TerrillJonny Gomes watches his three-run homer off Hyun-Jin Ryu.
Gomes had never faced Ryu before Saturday, though he had watched some tape.
"I didn't know how he was going to approach me, so I decided to go with the flow of what the game was calling for," Gomes said. "He threw four first-pitch fastballs. I knew he had good off-speed and secondary pitches. The majority of pitches he'd thrown were fastballs, so I was looking fastball."
Lester, who has now won four of his past five decisions, took a three-hit shutout into the eighth, but issued a one-out walk to Crawford with one out in the eighth.
Junichi Tazawa
entered and gave up a single to
Yasiel Puig
, which brought the crowd of 48,165 into it. Tazawa struck out
Mark Ellis
for the second out, then Farrell went to lefty
Craig Breslow
to face Gonzalez, who crossed up the strategy by lining a double into left-center, scoring two. Tazawa missed badly on a full-count fastball to
Hanley Ramirez
, and Farrell went to Uehara.
Moments later, Uehara was walking off the mound, slapping his glove three times, then disappearing into the usual forest of high-fives in the dugout. His 13th save matches the career-high number he posted in 2010 with Baltimore, and it was his first multi-inning save since Aug. 31, 2010.
He didn't even wait for the translation when asked if he could pitch Sunday.
"No thank you," he said with a laugh.
The Dodgers are advised not to take him at his word.
Lester was helped by three unusual double plays. Puig was doubled off first when Gonzalez lined out to Napoli in the first. Puig was doubled off again in the sixth when he tore off for second on Mark Ellis's liner to right,
Shane Victorino
lobbing the ball into Napoli. And
Stephen Drew
bailed Lester out of a two-on jam in the seventh when he caught
Juan Uribe
's liner and beat Hanley Ramirez to the bag in second.
Jacoby Ellsbury
, hitless in nine at-bats in L.A., experienced an embarrassing moment in the ninth when he forced
Xander Bogaerts
at second, then strayed off first base toward the dugout, helmet in hand, believing there were three out. There were two, until he was called out for abandonment of the bag.
August, 24, 2013
8/24/13
2:27
AM ET
LOS ANGELES -- Tim McCarver, the former catcher and long-time Fox broadcast analyst, once said wryly of Hall of Famer Bob Gibson, whom he caught numerous times when they both played with the Cardinals:
"Bob Gibson is the luckiest pitcher I ever saw. He always pitches when the other team doesn't score any runs."
Gibson's luck didn't always hold: In his greatest season, 1968, he lost five games by the score of 1-0.
[+] Enlarge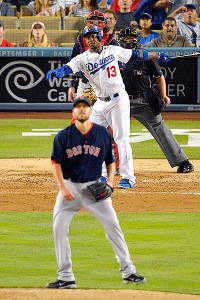 AP Photo/Mark J. TerrillJohn Lackey watches Hanley Ramirez's homer, which accounted for the game's only two runs.
Luck doesn't qualify for inclusion in any conversation about
John Lackey
's career with the Red Sox, the notable exception being the massive good fortune that comes with signing a five-year, $82.5 million deal as a free agent upon his arrival.
For three seasons after that, a lot of hard knocks: bad pitching, worse elbow, an entire season lost to surgery and a fan base inclined to hold him at arm's length.
Now this season, one in which Lackey in reshaped form and focus has reverted to the pitcher who was revered as a big-game pitcher in his previous incarnation with the Angels. Once every five days, he has taken the mound as Boston's most dependable pitcher. In 18 of his 23 starts, he has held the opposition to three runs or fewer. On merit, he should rank as one of baseball's big winners this season.
But after Friday night's 2-0 loss to the
Los Angeles Dodgers
, Lackey is 8-11, a loser of five of his past six decisions. He gave up three hits and did not walk a batter in his first complete game since Sept. 10, 2009. But one of those hits was a two-run home run by
Hanley Ramirez
, the former Sox shortstop batting cleanup in the midst of one of history's greatest runs -- the Dodgers 46-10 since June 22 and 29-5 since the All-Star break.
The Sox have been shut out 10 times this season. Lackey has been the losing pitcher in five of them, in games started by
J.A. Happ
,
Jered Weaver
,
Chris Tillman
,
Brett Oberholtzer
and now
Ricky Nolasco
. Four of those shutout defeats have come in the past six weeks.
This has become old hat for the Dodgers. This was their 18th shutout win this season. It has also become part of a distressingly familiar pattern for Lackey: pitch well, lose, endure questions about how well you pitched and lost, while trying not to bite your tongue in half as you resist the temptation to vent.
"It's frustrating, you know, when one pitch can decide a game -- it's true," he said.
Lackey not only maintained his equilibrium, he even managed a small joke when asked about Nolasco, who limited the Sox to singles by
Dustin Pedroia
with two out in the first and
Stephen Drew
with one out in the fifth.
"He did great, obviously," Lackey said. "Punched me out a couple of times."
Lackey could swing the bat growing up in Abilene, Texas; in the American League, not so much. He has four hits in 41 career at-bats with 13 whiffs. As a barometer of Nolasco's effectiveness, there are probably more telling measures, like
Jacoby Ellsbury
, who came into Friday night's game having hit safely in all 15 of Boston's interleague games this season -- batting .438 -- but failed to get the ball out of the infield against Nolasco, who, like Lackey, did not walk a batter and struck out six.
Lackey finished the night with a 3.17 ERA, which ranks 11th best in the American League and a far cry from the 6.41 he posted in 28 starts in 2011 before shutting it down for postseason elbow surgery.
"I want to win the game," he said. "I didn't come here for ERA. I came here to try to win a championship."
The Dodgers' other hits off Lackey were singles by former teammate
Carl Crawford
, who had lined a hit to right and stolen second during Ramirez's at-bat.
"He was trying to quick-pitch me," Ramirez said of the 1-and-2 pitch Lackey threw him. "I made a good swing, and I was lucky the ball went out."
The ball cleared the center-field fence. Lackey luck. The worst kind.
August, 24, 2013
8/24/13
12:32
AM ET
LOS ANGELES -- Nothing has changed.
Carl Crawford
is still better at losing games for the Red Sox than winning them.


Crawford, who tormented the Sox for eight seasons with the
Tampa Bay Rays
, then tortured them with his subpar performance during two injury-filled seasons in Boston, made good Friday night on his vow to make the Sox as miserable as he was during the Sox chapter of his career.
Crawford, who said he was pointing to this series ever since he was shipped out as damaged goods (surgically repaired elbow) in last August's megatrade to the
Los Angeles Dodgers
, singled twice, stole two bases and scored ahead of
Hanley Ramirez
's fourth-inning home run in L.A.'s 2-0 win over the Sox before a crowd of 50,240 at Dodger Stadium.
If this was a potential World Series preview -- the Dodgers are winning at an ungodly rate (46-10 since June 22, 29-5 since the All-Star break), while the Red Sox lead the AL East -- then the prevailing theme became pretty obvious: It's all about the pitching. And right now, no one is pitching better than the Dodgers.
Right-hander
Ricky Nolasco
, who began the season as the Opening Day pitcher for the
Miami Marlins
and was acquired only after the Dodgers' supposedly deep rotation was decimated by injuries -- including season-ending surgery for former Sox right-hander
Josh Beckett
-- shut out the Sox on two singles over eight innings.
Only one Sox batter reached second base. That was in the fifth, when
Daniel Nava
was hit by a pitch and
Stephen Drew
singled to right with one out. But the next batter,
Will Middlebrooks
, grounded sharply into an around-the-horn double play started by third baseman
Juan Uribe
, and Nolasco set down the last nine Sox batters he faced in order.
Closer
Kenley Jansen
pitched the ninth, struck out pinch hitter
Mike Carp
and
Jacoby Ellsbury
and retired
Shane Victorino
on a popup for his 22nd save.
"I'd be lying if I said I didn't want to beat those guys," Crawford said in a postgame interview conducted on the field.
Nolasco did not walk a batter and struck out six to outduel
John Lackey
, who gave the Sox eight innings of three-hit, no-walk pitching but was beaten by Ramirez's two-out drive that cleared the center-field fence.
Ramirez, of course, also played for the Red Sox and was traded to the Marlins in a circuitous bit of business in which the Sox acquired Beckett, who, in his second season with Boston, pitched the Red Sox to the World Series title in 2007.
The night abounded with cross-pollination, beginning with the ceremonial first pitch, which was thrown by Reggie Smith, who broke in with the Red Sox, starred for the Dodgers and lives in Southern California.
Crawford hit leadoff for the Dodgers, with
Adrian Gonzalez
in the 3-hole and Ramirez cleanup.
Tim Federowicz
was the Dodgers catcher; he was a Sox prospect who wound up with the Dodgers in a three-way deal that netted the Red Sox the useless
Erik Bedard
. Victorino was originally drafted by the Dodgers, was then traded to Philadelphia and played last season with the Dodgers before the Crawford deal made him expendable. He signed as a free agent with the Sox.
The Dodgers' assistant hitting coach, meanwhile, is
John Valentin
, one of the most popular Sox players of the '90s. "Carl's played great here," Valentin said of Crawford. "Boston is a tough place to play."
August, 23, 2013
8/23/13
12:41
PM ET
By
ESPN Stats & Information
AP Photo/Mark J. TerrillAdrian Gonzalez (center) and Nick Punto (left) have helped the Dodgers get to their current position.
On August 25, 2012, the
Dodgers
and
Red Sox
completed a 9-player deal which sent
Adrian Gonzalez
,
Carl Crawford
,
Josh Beckett
, and
Nick Punto
to Los Angeles for
James Loney
and four minor leaguers.
Entering 2013, Gonzalez had $127 million remaining on his contract and Crawford had $102.5 million remaining. This was the first time in MLB history in which two players were involved in a trade with $100 million remaining on their contracts.
The Red Sox are 84-80 since the deal, the Dodgers 91-70, with each in playoff position at the moment.
Let's take a look at some of the other statistical aspects of the trade, a year later.
The financial impact
The Dodgers had a 2013 Opening Day payroll of $216.6M, the second-highest in MLB behind the
Yankees
($228.8M). That was a significant increase from their 2012 Opening Day Payroll of $95.1M, which was 12th-highest in MLB.
The $121.5 million opening day payroll increase was easily the largest in baseball between the 2012 and 2013 seasons. Next on the list is the
Toronto Blue Jays
, who increased their payroll by $42 million.
There's still quite a bit of money left over on the contracts of the players the Dodgers acquired. Gonzalez, Crawford and Beckett will be owed a combined $213 million
after
the 2013 season ends.
With those savings, the Red Sox were able to re-load in the offseason, spending more than $125M on impact free agents such as
Shane Victorino
,
Mike Napoli
,
Ryan Dempster
,
David Ortiz
,
Jonny Gomes
,
Stephen Drew
,
David Ross
and
Koji Uehara
.
Victorino has posted 4.4 WAR this season, better than any player the Red Sox sent to the Dodgers has performed this season.
The star: Adrian Gonzalez
Of the five major-leaguers involved in the trade, Gonzalez has been the most valuable for his team this year, with 3.3 Wins Above Replacement.
Gonzalez's value has come in the form of big hits. He has six game-tying or go-ahead hits in the seventh inning or later, the most of anyone on the team.
Gonzalez rates fourth in the majors and second in the National League in Win Probability Added, a stat that sums the value of every plate appearance (and stolen base/caught stealing, based on how much it adds to that team's chance of winning). The only players who rate higher than Gonzalez are
Chris Davis
,
Miguel Cabrera
and
Paul Goldschmidt
.
Though Gonzalez has provided value, his power numbers are still not to the level that they were from 2009 to 2011. Gonzalez had a .536 slugging percentage and .231 isolated power (extra-bases per at-bat) over those three seasons. The last two seasons, those numbers are .460 and .162.
The surprise: Nick Punto
Both Crawford and Beckett have dealt with significant injuries that have been hindrances to their value. But another player has been a surprise contributor.
Punto has been worth 1.9 Wins Above Replacement for the Dodgers this season. If that holds up, it would be the third-highest single-season total of his 13-year career, his highest since posting a 2.4 WAR in 2008.
Punto's value stems from that he can play a pair of positions adequately. He's contributed five Defensive Runs Saved at both shortstop and third base, two spots where he's had to fill in due to injuries.
Punto may not be an imposing hitter, but he's an annoying one for pitchers to face. His 4.29 pitches per plate appearance rank tied for fourth in the majors, among those with at least 250 plate appearances this season.
In addition, in 13 games this month, Punto has a .475 on-base percentage (fifth in the NL among players with at least 30 plate appearances) and eight RBI.
August, 23, 2013
8/23/13
9:18
AM ET
Sunday marks the one-year anniversary of the mega trade that allowed the Red Sox to essentially hit the resent button, sending
Josh Beckett
,
Adrian Gonzalez
,
Carl Crawford
and
Nick Punto
(along with more than $260 million in guaranteed contracts) to the Dodgers.
Coincidentally, the Red Sox are in Los Angeles today to kick off a three-game series. Here's what the former Sox are saying about meeting their former team and reflect on their time in Boston:
* Carl Crawford (via ESPNLA.com):
"That was one of the toughest times in my life, ever, from when I was a little kid, 1 year old. It definitely was one of the best things that ever happened to me in my life to be traded over here.
"You make $20 million, but it's not like they're begging me to hit a home run every time I go up there, you know what I'm saying? It's not like I need to go 5-for-5 every at-bat and, if I don't, I'm considered the worst player on the planet."
* Adrian Gonzalez (via ESPNLA.com):
"For the most part, we underperformed last year in Boston and we didn't win. The year before, we won. We just didn't make it to the postseason at the end. I had a good time. The only things I had there weren't really a big deal."
* Josh Beckett (via WEEI.com):
"It just got way too personal for me," he said while rehabbing in the Dallas area. "It wasn't just like, 'Hey, you suck on the baseball field.' It was now, 'Hey, you're a bad person.' It was getting personal. It wasn't even about baseball anymore. It was definitely time to make a change. I think everybody from the front office to the players recognized that, we've moved on and now here I am."
* Nick Punto (via ESPNLA.com):
"Pedroia is the heartbeat of that club, and when he's not happy, it's not a good thing. He was definitely not very happy."