Boston Red Sox:

MLB draft
June, 9, 2013
6/09/13
2:19
AM ET
By
Christopher Hatfield, SoxProspects.com
| ESPNBoston.com
The Red Sox completed the 2013 MLB draft by taking a number of high school players who could be tough to sign, highlighted by a couple of high-end talents who fell due to signability and injury concerns.
On the day, the Sox took 19 high school players, two junior college players and nine college players. By comparison, they took 15 high schoolers in the same range last year, but signed only four of them. Of the 30 picks the club made today, 13 were ranked in Baseball America's top 500 draft prospects, including two in the top 100. Among the draftees were 11 pitchers, four catchers, 10 infielders and five outfielders.
For the entire draft, the numbers break down as follows: age -- 22 high schoolers, three junior college players, 15 college players; position -- 18 pitchers, five catchers, 10 infielders, seven outfielders.
[+] Enlarge
AP Photo/Larry Goren//Four Seam ImagesRyan Boldt has serious potential, but he fell to the Sox in the 22nd round in part because he reportedly wants $2 million to sign.
The biggest names picked as the club made its selections in Rounds 11-40 on Saturday were two high schoolers: Minnesota outfielder Ryan Boldt and Florida right-hander Jordan Sheffield. Boldt, from Red Wing High School, was ranked as the 58th-best player in the draft by Baseball America and 45th by Perfect Game. He is a potential five-tool player and was named MVP of the Perfect Game All-American Classic, going 2-for-3 with a triple.
The 18-year-old Boldt, listed at 6-foot-2, 185 pounds, missed nearly his entire senior year with a partially torn meniscus in his right knee, getting hurt in the second game of an already weather-delayed season. He had minor surgery on the knee that found no major damage, and began a rehab program this week, according to the Minneapolis Star Tribune. However, scouts from the Red Sox and other clubs saw plenty of Boldt last summer, when he lead off for a U-18 Team USA squad that won a gold medal at the IBAF World Championships.
Boldt has signed to play with Rochester of the Northwoods League this summer, and one option, if he is healthy enough, would be for him to go play for a month before the MLB signing deadline on July 12.
Sheffield, who turned 18 a week ago and is Gary Sheffield's nephew, is a 5-11, 162-pound righty with a big arm, throwing a fastball clocked last summer as high as 97-98 mph. He also showed aptitude with a slider and changeup. Unfortunately, his spring season was cut short by injury as well, as he threw just three innings before suffering from a sore elbow. Eventually, he had Tommy John surgery in early April. Despite the injury, Baseball America had him ranked as the draft's 88th-best prospect, while Perfect Game dropped him all the way down to 217th. Also complicating matters is Sheffield's commitment to Vanderbilt, a school with a reputation for getting its commits to bypass signing and attend school.
Both players will take large bonuses to sign -- Boldt reportedly was asking for at least $2 million before the draft, and Sheffield will likely take no less than half of that to sign and likely more. Thus, whether the Sox can meet those demands and sign one or both will come down to how much less than the allotted bonus total for the first 10 rounds the club spends.
Although the Sox figure to go below slot on several players drafted in the first 10 rounds, they will need to spend a lot of that extra money to sign third-round pick Jon Denney, a high school catcher. To be honest, the most likely scenario in which either Boldt or Sheffield signs would be if Boston is unable to sign Denney, and even still, Boldt would need to come down from his pre-draft demands.
Here is the full list of Boston's Day 3 selections:
June, 7, 2013
6/07/13
9:00
PM ET
By
Christopher Hatfield, SoxProspects.com
| ESPNBoston.com
On Day 2 of the 2013 MLB draft, the Red Sox dropped the other shoe on the strategy their second-round selection had hinted at the night before.
The club's selection of right-hander Teddy Stankiewicz on Thursday night was a slight disappointment to some prospect watchers. Although a consensus top 100 prospect, Stankiewicz was a slight overdraft at No. 45 overall.
We at SoxProspects speculated
that the Sox might try to sign him for less than the $1,229,600 slot value for that pick in hopes of spending the money saved on a high-ceiling, signability pick elsewhere.
On Friday, it did not take long for the club to make such speculation seem well-founded. With the eighth pick of the third round, No. 81 overall, the Red Sox selected catcher Jonathan Denney out of Yukon High School in Yukon, Okla. Denney, a 6-foot-2, 205-pound right-handed hitter, was projected as a mid-to-late first-round talent, ranked 25th in the draft class by Baseball America and 23rd by Perfect Game.
[+] Enlarge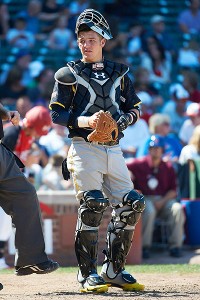 Mike Janes/Four Seam Images/AP ImagesKnown more for his offense than his defense, Jonathan Denney was considered by most to be the top player available on Day 2.
Denney's calling card is his offense, as he possesses good power for a high school hitter, but there are questions about his ability to stay behind the plate. Earlier this spring, he was projected to be drafted as high as the top 10 picks, but fell because of some questions that arose as more scouts saw him play, as well as potential signability issues as an Arkansas commit. Still, he was considered by most to be the top player available entering the day.
Despite the slight fall, Denney still was one of the top catchers in the draft and likely will demand a bonus commensurate with his status. The $1.3 million the Red Sox gave to their fourth-round pick in 2012, high school pitcher Ty Buttrey (who coincidentally also was committed to Arkansas), might be a good starting point for an estimate of Denney's bonus. At the least, the Red Sox will need to spend much more than the allotted $671,200 slot value for the 81st pick in order to sign Denney, making the Stankiewicz pick look even better in hindsight. Assuming Stankiewicz signs for below slot, Boston could take any money saved there and use it to help go over slot for the 18-year-old Denney.
Overall on the day, the Sox drafted eight players. Five were pitchers, two were outfielders and one was a catcher. Two were high schoolers, while six were drafted out of college. Of those six, the Sox took three college seniors, two with no remaining eligibility, as well as one junior from Division II and another from the NAIA. Like last year, the Sox drafted players in Rounds 7 through 10 that may sign for nominal bonuses, allowing the club to reapportion the slot value of those picks to sign players such as Denney or any potential players in the next 30 rounds who may demand a bonus greater than $100,000.
Going pick-by-pick, here are today's draftees:
Round 3 (81st overall): C Jonathan Denney, Yukon HS (OK)
In addition to what we've already said about this pick, it's worth noting that Denney was the club's second pick out of Oklahoma, joining Seminole State JC's Stankiewicz, which shows the club's faith in scout Chris Mears. Mears's past signees include current Houston Astros pitcher Kyle Weiland and current Sox minor leaguers Cody Kukuk and Kyle Stroup.
Round 4 (113th overall): RHP Myles Smith, JR, Lee University
Smith played for one year each at Missouri and Miami Dade College. He transferred to the University of Miami but was declared academically ineligible, leading to his landing at Lee University in Tennessee, one of the top teams in the NAIA. Once a two-way player, he led the Lee staff in innings (84 1/3) and strikeouts (94) this year. He was drafted in the 16th round by the Mets last year but did not sign. Baseball America ranked him 108th in the draft; Perfect Game 105th. Perfect Game notes that his fastball was 93-97 mph this year, which he complements with a great changeup, his best pitch. He throws a slider as well, but John Manuel of BA noted that the improvement of his cutter this spring gave him a better third pitch. Smith is listed at 6-1, 175 pounds and is the highest Sox draft pick who is likely to go to Short-Season A Lowell upon signing, although Stankiewicz has an outside shot of landing there as well.
Round 5 (143rd overall): LHP Corey Littrell, JR, Kentucky
Littrell fits the "crafty lefty" mold, throwing four pitches while lacking top velocity. Both BA and PG noted that his fastball sat about 89-91 this year, also throwing a changeup, slider/cutter and curve. The 6-3, 195-pound 21-year-old's calling card is his pitchability -- even his Twitter profile espouses the virtues of the "2 seam at the knees with action." He was ranked 97th in the draft by PG, while BA had him at 130th.
Round 6 (173rd overall): CF Jordon Austin, Forest HS (FL)
Austin, 18, joins Denney as the only high school players drafted by the Red Sox on Day 2, after the club drafted high school left-hander Trey Ball and JuCo freshman Stankiewicz on Day 1. Austin played both baseball and football at Forest, reportedly drawing Division I interest as a cornerback. PG noted his strong arm from the outfield, as well as a short, hard swing with good bat speed. At 5-11, 195 pounds, he has an athletic build. He is committed to Seminole State College, a Florida JuCo, to play baseball.
Round 7 (203rd overall): LHP Mike Adams, SR, University of Tampa
Although Adams, 22, is a senior and has completed his degree at Tampa, he redshirted his freshman year and has a year of eligibility left, so he has a bit more negotiating leverage than the three college seniors that follow here. BA ranked the 6-3, 215-pound left-hander at No. 351 in its top 500. He has very little mileage on his arm, having thrown just 16 innings his first three years at Tampa, and likely represents the kind of player the Sox hope they can mold upon getting him into the system. MLB.com's scouting report lists Adams's best pitch as his plus curveball, while he also throws a high-80s fastball and a changeup.
Round 8 (233rd overall): CF Forrestt Allday, SR, Central Arkansas
For one thing, Allday immediately will earn the title of best name in the system when he signs. Allday, a 5-11, 190-pound center fielder, led off for Central Arkansas and led the Southland Conference and was fifth in the NCAA with a .503 on-base percentage, continuing a pattern throughout his college career of showing a knack for getting on base. He was also 15-for-18 in steal attempts. Like Adams and the next two picks, he is 22.
Round 9 (263rd overall): RHP Kyle Martin, SR, Texas A&M
The 6-7, 235-pound Martin has added an inch and 50 pounds since arriving in College Station as a freshman. According to BA, he switched from throwing sidearm the past two years to throwing over-the-top this year, improving his fastball velocity from 85-88 mph to as high as 94 this year. He also throws a changeup and slider. He notably played his high school ball at St. Michael's Catholic Academy, where his coach was former Red Sox reliever Calvin Schiraldi.
Round 10 (293rd overall): RHP Taylor Grover, JR, South Carolina Aiken
Grover was Division II USC Aiken's closer this year, recording 11 saves in 31 appearances and posting a 0.92 ERA. The 6-3, 195-pound right-hander struck out 37 batters in 29 1/3 innings. A reliever all three years of college, he has thus thrown just 64 1/3 innings in his collegiate career, making him another low-mileage arm.
June, 7, 2012
6/07/12
7:04
AM ET
By
Brendan Hall
| ESPNBoston.com
Pat Delano recalled his first experience at Fenway Park as a six-year-old, sitting along the third base line as his beloved Red Sox took on the Yankees. And like everyone else around these parts, it became a way of life for the Braintree resident, now an 18-year-old righthanded pitcher for Braintree High.

But now, like only a few dozen other hometown kids have gotten the chance to, the burly 6-foot-7 fireballer has the option to experience that way of life first-hand. Delano was just coming home from his job doing landscaping and construction when he got the phone call from the Sox letting him know he'd been taken with their 35th round pick in the third and final day of the Major League Baseball Draft.

"I was speechless," Delano said. "I didn't know what was going on, but it's such a good feeling. I can't even really put it into words. You watch the Red Sox so much, and you go to so many games at Fenway, and to hear you get picked...I don't know how to explain it. It's surreal."

He is now the 12th high school player from Massachusetts since 1999 to get drafted by the Red Sox, joining John Gorman (Catholic Memorial, 2011), Dan Kemp (2009, Tantasqua), Mike Yastrzemski (2009, St. John's Prep), Jason Smith (2003, Bourne), Chris Farley (2001, Mahar), Antonio Gonzalez (2001, Framingham), Manny Delcarmen (2000, West Roxbury), and the famed 1999 foursome of Rick Asadoorian (Northbridge), Brad Baker (Pioneer), Jordan Remy (Weston) and Rich Hill (Milton).

Delano was clocked in the low-90's on his fastball as a sophomore with the Wamps, before an arm injury in the Division 1 South playoffs sidetracked his career. He underwent Tommy John surgery from world-renowned orthopedic surgeon Dr. James Andrews that offseason.

Now, nearly two years out from the injury, Delano appears to have his velocity back. He routinely topped out in the 87-89 range in his last start last week, a D1 South first-round loss to Taunton. Braintree head coach Bill O'Connell said two weeks ago Delano topped out at 91.

After an OK start to the season, Delano hit his groove during the second half, capped with being named the MVP of the Bay State Conference's Carey Division. For 2012, he struck out 50 batters in 57 innings, with four wins and a 1.21 ERA, and also belted four home runs from the plate. Delano gave credit to his pitching coach, Jim Mann of the Marshfield-based Atlantic Baseball Club, for his turnaround.

"It's funny, me and my coach [Bill O'Connell] were talking about it the other day, my first two starts I wasn't really where I wanted to be," Delano said. "But after that third start against Mansfield, everything started to come together for me, fell into place with me.

"I think [my fastball] is back to where it was as a sophomore. It's definitely my best pitch. My changeup has been pretty solid, but my curve came back at the end of the season. I was spiking it into the ground the first five or six starts."

Delano now has until the August 15 deadline to decide whether he will honor his commitment to Vanderbilt or sign with the Red Sox. The new draft rules this year are a little confusing, but basically there is a penalty if a team pays a player drafted from Rounds 11-40 more than $100,000. Any amount over $100,000 will come out of the Red Sox pool to sign their picks in Rounds 1-10 (their pool for those 10 rounds is $6,884,800). But it does mean that kids drafted in the later rounds can get bonuses of more than $100,000, as long as the Red Sox have slot money left after they sign their picks in the first 10 rounds.

Asked what his decision will be, Delano said, "I'm not completely sure, I've just got to look things over and see what the best decision is." He added that he doesn't expect a decision to come right at the end, but sometime over the summer.
June, 5, 2012
6/05/12
1:11
AM ET
By
Matt Huegel, SoxProspects.com
| ESPNBoston.com
On Day 1 of the 2012 draft, the Red Sox selected three college players. This is the first draft under the new rules of the collective bargaining agreement so many analysts were unsure of what to expect. This may have played into Boston steering clear of high school players as the CBA makes it harder to entice players away from going to college by offering large bonuses.
Here's a closer look at the players taken by the Red Sox in the first and supplemental round of the draft:
24th overall: Deven Marrero, SS, Arizona State
[+] Enlarge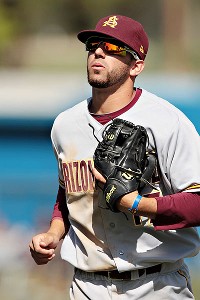 Larry Goren/AP ImagesDeven Marrero had been projected to go as high as No. 8.
Deven Marrero of Arizona State -- Dustin Pedroia's alma mater -- fell to the Red Sox with their first pick in the draft at 24th overall. He was considered by some to be among the top college position players in the draft and projected to go as high as eighth overall, so it was a bit of a surprise that he was still on the board when the Red Sox selected.
"We were happy that he got there," Red Sox general manager Ben Cherington said in a conference call Monday night. "Look forward to trying to get him into the Red Sox organization. He's a talented shortstop who's a good player at a major program and a good player at Team USA and a guy we liked a lot coming into this spring."
Ranked as the 13th overall player by ESPN's Keith Law, Marrero is best known for his defensive ability and is expected to have no problem sticking at shortstop. His former coach in the Cape Cod League, Mike Roberts, called him the best defensive shortstop he has ever seen at his age.
Standing at 6-foot-1, the 21-year-old has great range and hands and a strong arm, all of them complemented by strong baseball instincts. Those instincts also help him excel on the base paths with slightly above-average speed.
Though Marrero had a down year offensively in his junior season and had trouble adjusting to the composite bats introduced a couple of seasons ago in college ball, scouts believe he has the tools to be a line-drive hitter who can develop some power at the major league level. The two-time All Pac-12 selection hit .284/.340/.346 with four home runs for the Sun Devils this season, a year after hitting .313/.340/.434 as a sophomore. Some scouts questioned his effort level this season, but last season he was lauded for his great makeup, so the jury is still out in that regard.
With Jose Iglesias, Xander Bogaerts and Jose Vinicio as high-ranking prospects at shortstop for the Red Sox, the team clearly went for the best available player on their board. In addition, teams always covet players who can stick at an up-the-middle position. It has become a bit of a pattern for the Red Sox to select a player who fell due to a down junior season, as they also picked up Jackie Bradley Jr., Anthony Ranuado and Bryce Brentz in this fashion in recent years.
31st overall: Brian Johnson, SP, University of Florida
[+] Enlarge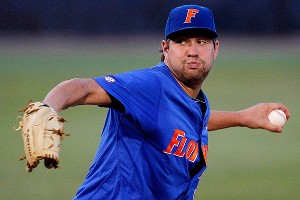 AP Photo/Dave MartinA two-way standout at Florida, Brian Johnson will focus on pitching with the Red Sox.
Johnson is an athletic left-handed pitcher from the University of Florida who emerged as one of the top two-way players in the nation. In addition to pitching, he was a power-hitting first-base prospect who could have been drafted on that side of the ball as well. The 6-foot-3 21-year-old went 8-4 last season with a 3.56 ERA and 68 strikeouts in 86 innings. Johnson also pitched for the Yarmouth-Dennis Red Sox in the Cape Cod League last summer, striking out 19 batters and walking four in 14.2 innings to go along with a 4.30 ERA.
Featuring an 88-92 m.p.h. fastball and a solid four-pitch mix, he is considered a potential back of the rotation starter and a safer pick. Johnson also throws a slider, curveball and changeup, all of which he can throw for strikes and have potential to be quality pitches.
Johnson's best attributes are his mound presence and willingness to go right after hitters. The hope is that focusing solely on pitching will allow his stuff to progress quickly in professional ball.
"He's a pitcher first for us," Red Sox amateur scouting director Amiel Sawdaye said in a conference call Monday. "Definitely very intriguing as a first baseman and part of that plays in our evaluation. We think there's some upside there. But he'll be going at it as a left-handed pitcher for us."
37th overall: Pat Light, SP, Monmouth University
Light is a big right-handed pitcher who dominated competition this season with Monmouth University to the tune of a 2.40 ERA and 102 strikeouts over 101.1 innings. Attending high school in New Jersey, he's one of the better prospects to come out of the Northeast this year.
Light's best pitch is his fastball, which sits around 92-93 m.p.h. and hits up to 96. He was able to throw a ton of strikes with the pitch and only walked 16 batters this season. The fastball shows solid movement and Light is able to throw it on a downward plane consistently.
His slider and changeup both have potential, but need a little work. The slider developed well this season, which helped lead to his success, but can be slurvy at times and needs to be tightened up. If the changeup in particular shows progress, he could round into form as a strong starting pitching prospect, but if not, he should be able to blow people away with the fastball in a relief role.
June, 4, 2012
6/04/12
11:24
PM ET
With their last pick of Day 1 of the MLB draft, the Red Sox chose Monmouth right-hander Pat Light (compensatory round, 37th overall).
Here's an assessment of Light from ESPN Scouts Inc.:
Light came into the year seen as primarily an arm-strength guy, but the development of his slider has pushed him into sandwich-round or even late first-round consideration who at least has a chance to start.

He sits at 90-96 as a starter, pitching mostly in the lower half of that range, with a little arm-side life on the pitch. The slider is plus, 76-80 mph with very good tilt, although its break is so big I'm not sure he'll be able to throw it consistently for a strike when he needs to do so in pro ball. He has a show-me changeup right now in the upper 70s but the slider is a better weapon even against left-handed hitters. Light drifts forward off the rubber with a short arm path and finishes very well out over his front side. His slot is low, below three-quarters (comparable to Daniel Hudson's), which could lead to a wider platoon split down the road.

The most likely outcome, given his arm slot and lack of a clear third pitch, is that he goes to the pen, but he should at least get several years of starting to prove that he can do it before he goes to relief.
June, 4, 2012
6/04/12
10:24
PM ET
The Red Sox picked University of Florida left-hander (and first baseman) Brian Johnson with their second pick, No. 31 overall.
Here's an assessment of Johnson by ESPN Insider Kiley McDaniel:
McDaniel: Johnson is a lower-ceiling, higher-probability college starter who doesn't get scouts excited with his upside but has a very good chance to reach his ceiling of a No. 3/4 starter. Johnson works with a four pitch mix, including an average fastball with two-seam life that he commands well at 88-92 mph. He backs it up with a curveball that's consistently above-average and is plus at times, along with an above-average slider and changeup. His command is also solid, with some scouts calling it above-average as well. He's a pitchability lefty with above-average stuff and command along the lines of Mark Buehrle and also has average raw power from the left side as a solid 1B prospect. Johnson isn't the greatest athlete and is a little stiff, but he makes his delivery work for him and could help the Red Sox as a quick-moving savvy lefty.
June, 4, 2012
6/04/12
9:47
PM ET
The Red Sox picked Arizona State shortstop Deven Marrero with their first pick of the 2012 MLB draft (No. 24 overall).
Of course, the last time the Sox picked an Arizona State shortstop (Dustin Pedroia, second round, 2004), things turned out fine.
Here's a breakdown of Marrero by ESPN.com Insider Jason A. Churchill:
Marrero entered the season as a potential top-10 pick, but struggled at the plate this spring. He can really play shortstop, however, and makes good contact with enough strength and bat speed to expect enough offense for him to profile at the big-league level. The Red Sox, who have Jose Iglesias on the brink of big-league readiness, add another middle defender to their system, continuing their trend that landed them Jacoby Ellsbury and Reymond Fuentes in years past.
June, 7, 2011
6/07/11
11:49
PM ET
By
Chris Hatfield, SoxProspects.com
| ESPNBoston.com
After working the "diversify your portfolio" draft strategy to the letter on the first day of the MLB First-Year Player Draft, taking a college right-handed pitcher, high school catcher, high school left-handed pitcher and college outfielder, the Red Sox drafted in streaks on Day 2. In Rounds 2-8, the Sox took five high school players (four of them position players), one junior college pitcher and one college pitcher. For the next 10 rounds, the Sox switched gears, selecting college players with eight picks (three hitters, five pitchers) and two high school pitchers. Overall, the numbers look pretty balanced for the Sox's 29 selections on Day 2:
HS hitters: 7
HS pitchers: 7
College hitters: 5
College pitchers: 8
Junior college pitchers: 2
The highest-rated picks of the day were New York high school center fielder Williams Jerez (2nd round), Cal State Fullerton pitcher Noe Ramirez (4th round), Mississippi high school center fielder Senquez Golson (8th round) and Kansas high school pitcher Cody Kukuk (7th round).
Here's the scoop on the Sox's top Day 2 draftees, as well as some noteworthy late picks:
2nd Round: Williams Jerez, CF, Grand Street Campus HS (NY)
Jerez generated buzz playing for Hank's Yanks, a showcase team funded by New York Yankees owner Hank Steinbrenner for high schoolers from underprivileged families who would not be able to play on the draft showcase circuit otherwise. The 6-foot-4, 190-pound lefty comes with some controversy: Jerez emigrated from the Dominican Republic with his father two years ago and has faced questions about his true age and background. Some scouts love his great athleticism and raw tools, but others don't rate him as highly, wondering if his bat will catch up to good velocity. Has a plus arm and plus speed, and hit .692 with 26 steals in 52 at-bats this spring.
3rd Round: Jordan Weems, C, Columbus HS (GA)
Weems is the son of former Cardinals draft pick Rick Weems and the brother of former Yankees pick and current Reds minor leaguer Chase Weems. Committed to Georgia State, Weems is something of a string bean at 6-foot-3, 180 pounds, but he possesses an above-average arm behind the plate and scouts like his swing. Much of his projection rides on his adding size and strength. Weems led Columbus to a repeat state championship by hitting .443 with six home runs and 26 RBIs in 39 games.
4th Round: Noe Ramirez, RHP, Cal State-Fullerton
Ramirez,
who grew up in a rough East Los Angeles neighborhood
, has both started and relieved for the Titans. This year, he went 8-4 with a 1.69 ERA, striking out 103 batters and walking just 20 in 90 2/3 innings. For his career at Fullerton, he went 29-5. Commands his fastball well and works at 88-91 m.p.h., topping out at 92-93. Learned his plus changeup, his best pitch, from Ricky Romero; it sits at 83-84 m.p.h. Also throws a developing slider. Pitched for Team USA last summer, recording five saves in nine appearances. Was viewed as a potential second-round pick as recently as late May.
5th Round: Markus "Mookie" Betts, SS, John Overton HS (TN)
Betts was the first multi-sport athlete picked by the Sox. He was also all-state in basketball and -- get this -- named the state's best bowler as a junior during high school. He is committed to Tennessee, noteworthy because the Vols just fired head coach Todd Raleigh in May. He played shortstop in high school, but was going to move to second base in college. The 5-foot-9, 160-pounder has plus bat speed and is very athletic.
6th Round: Miguel Pena, LHP, San Jacinto College North (TX)
Pena has been drafted twice before, in the fifth round by the Nationals out of high school and in the 13th round last year by the Padres, from whom he reportedly turned down between $150,000 and $200,000. He went 10-3 this year for San Jacinto with a 1.91 ERA, 93 strikeouts and 24 walks in 85 innings. He throws a low-90s fastball with a sharp mid-70s curve, as well as a slider and changeup, and has outstanding command of his pitches. Pena was reportedly sent home from the Cape Cod League last summer for disciplinary reasons. He is headed to Lubbock Christian if he does not sign.
7th Round: Cody Kukuk, LHP, Lawrence Free State HS (KS)
The big, 6-foot-4 lefty sits about 88-91 and can work into the low-90s with his fastball, and has a 76-78 m.p.h. breaking ball that could be a very good pitch. He does have some work to do on his mechanics, as his release point is inconsistent, but he is the classic high-risk, high-reward type. He is committed to play at Kansas. This spring, he went 7-1 with 103 strikeouts in 53 innings, but walked 43 batters. He spent some time working on a more compact motion during the year.
8th Round: Senquez Golson, CF, Pascagoula HS (MS)
Golson is committed to the University of Mississippi to play both football, at cornerback, and baseball, and could prove to be a very difficult player to sign. Golson possesses great speed (4.0 seconds to first base) and was considered one of the best athletes in the entire draft. He is no project though, as he has great bat speed and raw power potential. He hit .345 this spring for Pascagoula with 3 home runs and 16 stolen bases.
9th Round: Travis Shaw, 3B, Kent State
Shaw was drafted by the Red Sox out of high school in the 32nd round in 2008 and is the son of former major leaguer Jeff Shaw. He hit .330 this spring for the Golden Flashes with 22 doubles, 15 home runs and 60 RBIs, and led the conference in walks. He is rough at third base, and the consensus is that he will have to move to first at some point. However, at 6-foot-4, 220 pounds, he has legitimate power, hitting .260/.378/.402 with wood in the Cape Cod League in 2010.
10th Round: Cody Koback, CF, Wisconsin-Stevens Point
Another speedy outfielder who has been clocked at 4.0 seconds to first base, Koback hit .424/.401/.553 for UWSP this spring with 16 steals. He also pitched and has good arm strength in the outfield.
11th Round: Kevin Brahney, LHP, Cal St. Chico
Transferred twice during college. Led Wildcats in strikeouts with 74 in 65 1/3 IP.
12th Round: Deshorn Lake, RHP, Menchville HS (VA)
Committed to East Carolina and could be a tough sign. Low-90s fastball, but his other pitches and command need work. Originally from Virgin Islands.
13th Round: Matt Ott, RHP, LSU
Has experience with pressure situations as he was the Tigers' closer as a freshman when LSU won the national championship
14th Round: Mike McCarthy, RHP, Cal State-Bakersfield
Shut out then-No. 19 Fresno State and two-hit then-No. 13 UCLA this season.
15th Round: Braden Kapteyn, 1B, Kentucky
Two-way star for the Wildcats was drafted as a first baseman.
16th Round: Daniel Gossett, RHP, James F. Byrnes HS (SC)
Committed to Clemson. 5-0, 0.14 ERA, 96 Ks in 49 IP this spring.
17th Round: Blake Forslund, RHP, Liberty
Transferred to Liberty from Virginia. Draft-eligible sophomore as a result. Can get fastball into mid-90s.
18th Round: Andrew Jones, RHP, Samford
Set Samford record with 15 saves this year.
19th Round: Sikes Orvis, 1B, Freedom HS (FL)
Committed to Ole Miss
20th Round: Zach Good, LHP, Grayson County College
Had Tommy John surgery in high school. 90-91 m.p.h. fastball and feel for a curve.
21st Round: Austin Davidson, IF, Oxnard HS (CA)
Committed to Pepperdine.
22nd Round: Joe Holtmeyer, RHP, Nebraska-Omaha
Led Division II in strikeouts with 152 in 2010, but changed his mechanics, causing a drop in velocity and slower curve. Began using a changeup more this year to get his strikeouts. Interesting project if he signs.
23rd Round: Jarrett Brown, LHP, Salem HS (GA)
Committed to Georgia. Great athlete played football and basketball in high school as well.
24th Round: Drew Turocy, CF, Akron
Led Zips in every offensive category in 2011, hitting .347/.409/.563 with 12 doubles, 5 triples and 7 home runs, plus 10 steals.
25th Round: Taylor Ard, 1B, Washington State
Sixth Washington State player to be drafted by the Sox, along with Aaron Sele and Scott Hatteberg.
26th Round: Cody Dill, RHP, Los Osos HS (CA)
Committed to UC Riverside.
27th Round: Alex Massey, RHP, Catholic HS (LA)
Committed to Tulane.
28th Round: Brenden Shepard, RHP, Stonehill
Masconomet grad from Boxford, Mass. played with brother Kyle at Stonehill.
29th Round: Matt Spalding, RHP, St. Xavier HS (KY)
Committed to Western Kentucky. Sits 91-93 m.p.h.
30th Round: Nick Moore, 3B, Brookwood HS (GA)
Committed to Kennesaw State, also received attention from schools for football at defensive back.
June, 7, 2011
6/07/11
12:46
PM ET
With the No. 81 pick in the MLB draft, the Red Sox selected OF Williams Jerez from Grand Street HS in Brooklyn, N.Y. Check back here for all of the Sox's Day 2 picks:

Round 2, No. 81: OF Williams Jerez, Grand Street HS, Brooklyn, N.Y.
Baseball America on Jerez: Jerez moved from the Dominican Republic with his father two years ago. He originally drew interest as a lefthander, but he has more potential as a center fielder and has generated a lot of buzz this spring after playing in Florida for Hank's Yanks, a team sponsored by Yankees owner Hank Steinbrenner. Jerez's 6-foot-4, 190-pound frame is what one scout described as "about as good a body as you could imagine." He has a wiry strong build and should add bulk as he matures. He has average raw power, with loft and leverage in his swing, which has a tendency to get long. Some scouts worry how he will fare against premium velocity, but his bat speed has improved even since March. Jerez has a plus arm and plus speed, but it doesn't play down the line because he's slow out of the batter's box. There's no consensus on Jerez: Some scouts question his background and age and don't like his bat, while others project on his raw tools and athleticism.

Round 3, No. 111: C Jordan Weems, Columbus HS (Ga.)
Baseball America: Weems has taken advantage of his bloodlines, his own improved play, the down year in Georgia and the dearth of catching to jump up draft boards. He helped lead Columbus High to a state championship in 2010, and he helped the team reach the state 3-A semifinals this season. ... Weems is tall and lanky at a listed 6-foot-3, 180 pounds, and lacks present strength. Scouts have to project his hitting ability and power because of his lack of physicality. His arm gets easy above-average grades, and he posts sub-2.0-second pop times. He's a decent receiver now who projects to be average with more strength. Weems is committed to Georgia State.

Round 4, No. 142: RHP Noe Ramirez, Cal State Fullerton
Baseball America: Ramirez was lightly recruited and undrafted out of Alhambra (Calif.) High in 2008, but he developed into a top-two-rounds candidate during three stellar seasons at Cal State Fullerton. ... Lean and wiry at 6-foot-3, 180 pounds, Ramirez has gotten stronger since high school, increasing his fastball velocity from the 86-88 mph range to the 88-91 range now, peaking at 92-93 early in games. He generally commands his fastball well, but his bread-and-butter is his offspeed stuff. ... Ramirez is a fearless competitor with outstanding feel for pitching and one of the best track records in the draft. He has the stuff and makeup to become a mid- to late-rotation starter in the big leagues.

Round 5, No. 172: SS Markus Betts, John Overton HS (Tenn.)

Round 6, No. 202: LHP Miguel Pena, San Jacinto JC (Texas)
Baseball America: Lefthander Miguel Pena is essentially the same pitcher he was when the Nationals made him a surprise fifth-round pick out of high school two years ago. He's still 6-foot-2 and 160 pounds, and he still has an 88-91 mph fastball, a sharp curveball and a solid changeup. He repeats his clean delivery well, allowing him to throw strikes with ease. He won 25 games in two years at San Jacinto, though getting sent home from the Cape Cod League last summer for disciplinary reasons hurts his cause. A 13th-round pick of the Padres in 2010, he should go in roughly the same area of the 2011 draft. If he doesn't sign, he'll attend Lubbock Christian.

Round 7, No. 232: LHP Cody Kukuk, Lawrence Free State HS (Kan.)
Keith Law/Jason Churchill: Kukuk is a big, broad-shouldered lefty with arm strength and the makings of a very good breaking ball. He offers lots of projection for teams drafting after the polished high school arms are gone.

He will sit 90-93 with some heavy life on the pitch, and his curveball at 76-78 has good shape and depth when he finishes the pitch. He's doing this despite a tendency to lean forward as he drifts off the rubber and a lack of real hip rotation, so his size and strong legs are kind of going to waste. He's a player development project, but pitching coaches love to see a 6-foot-4 left-hander who's already in the low 90s walk in the door, and you can see a huge talent here if you dream on him a little.

Round 8, No. 262: CF Senquez Golson, Pascagoula HS (MS)
Keith Law/Jason Churchill: Golson is a tooled-up, fast-twitch player who's very crude on the baseball field but is attracting attention because of his outstanding athleticism. (He also plays cornerback in football and signed a letter of intent to play at Ole Miss.)

He has great bat speed, accelerating his hands very quickly from the set position, but the swing is very flat and slappy, with any power potential remaining untapped until that changes. He's a plus runner with arm strength who might learn centerfield in time but whose feel for the game (such as reads on fly balls) needs work. The history of Mississippi position players drafted (and signed) high out of high school is not pretty, from Wendell Fairley to David Renfroe to ? well, you get the picture. But Golson's broad mix of plus tools is hard enough to find that some team will look to buck history and grab that raw material.

Round 9, No. 292: 3B Travis Shaw, Kent State (OH)
Baseball America: Has the size (6-foot-4, 215 pounds) and lefthanded power that scouts want in a third baseman, plus good bloodlines. His father Jeff made two all-star teams and saved 203 games in a 12-year major league career. ... To his credit, he batted a solid .260/.378/.402 in the Cape Cod League last summer. Though Shaw has the hands and arm strength for the hot corner, he lacks quickness and agility, so he'll probably have to move to first base as a pro.

Round 10, No. 322: CF Cody Koback, Wisconsin-Stevens Point
Baseball America: Koback is more toolsy than the typical Wisconsin position prospect. The 6-foot, 185-pounder has well above-average speed, though he's still learning to make the most of it on the bases and in center field. He makes consistent contact and has gap power from the right side of the plate, and his arm is solid.

Round 11, No. 352: LHP Kevin Brahney, Chico State (Calif.)

Round 12, No. 382: RHP Deshorn Lake, Menchville HS, Newport News (Vir.)

Round 13, No. 412: RHP Matthew Ott, LSU

Round 14, No. 442: RHP Michael McCarthy, Cal State-Bakersfield

15th Round: Braden Kapteyn, 1B, Kentucky

16th Round: Daniel Gossett, RHP, James F. Byrnes HS (SC)

17th Round: Blake Forslund, RHP, Liberty

18th Round: Andrew Jones, RHP, Samford

19th Round: Sikes Orvis, 1B, Freedom HS (FL)

20th Round: Zach Good, LHP, Grayson County College

21st Round: Austin Davidson, IF, Oxnard HS (CA)

22nd Round: Joe Holtmeyer, RHP, Nebraska-Omaha

23rd Round: Jarrett Brown, LHP, Salem HS (GA)

24th Round: Drew Turocy, CF, Akron

25th Round: Taylor Ard, 1B, Washington State

26th Round: Cody Dill, RHP, Los Osos HS (CA)

27th Round: Alex Massey, RHP, Catholic HS (LA)

28th Round: Brenden Shepard, RHP, Stonehill

29th Round: Matt Spalding, RHP, St. Xavier HS (KY)

30th Round: Nick Moore, 3B, Brookwood HS (GA)
June, 6, 2011
6/06/11
10:38
PM ET
With the No. 40 pick, the Red Sox selected CF Jackie Bradley Jr. from University of South Carolina.

Here's a scouting report from ESPN.com's Keith Law:

Bradley came into the year as a likely first-round pick, perhaps in the middle of the round, but poor performance plus injury have substantially hurt his draft stock.

When healthy, Bradley is a solid whole-field hitter with good hand acceleration and a balanced swing. He can get pull-happy and sink his batting average by trying too hard to hit for power. He's a fringe-average runner but covers ground in centerfield with solid reads along with a plus arm.

Bradley's season is probably over due to torn ligaments in his wrist, meaning he won't get a chance to improve on his disappointing spring or show something new to scouts; I wouldn't be surprised to see him drafted by a team with extra picks, only to go play in the Cape Cod League this summer in an attempt to re-establish his value once he's healthy again. His upside is that of a plus glove in center who hits for average and probably 15-homer power.
June, 6, 2011
6/06/11
10:24
PM ET
With the No. 36 pick, the Red Sox selected LHP Henry Owens from Edison H.S. in Huntington Beach, Calif.

Here's a scouting report for ESPN.com's Keith Law:

Owens won't show premium stuff today, but will show average stuff with an extremely projectable body and great deception that has been producing results in high school and at showcases for several years.

A native of Huntington Beach, Calif., Owens' fastball currently sits at 89-93 with a big, slow, upper-60s curveball that has good shape but needs better arm speed. His changeup is less consistent -- I've seen it 78-80 and effective, and I've seen it 76-78 and easier to pick up out of his hand.

Owens is long and very lean, and drifts through the balance point as he moves off the rubber, getting over his front side well but releasing the ball a little earlier than you'd expect given his height.

I'd like to see more present stuff from Owens given what else is in this draft, but the projection and deception are good enough to make him a first-round consideration.


Boston has one more pick tonight:

No. 40

June, 6, 2011
6/06/11
9:34
PM ET
With the No. 26 pick, the Red Sox selected Blake Swihart, catcher from Rio Rancho, New Mexico.

Analysis from ESPN.com's Jason Churchill:

The Red Sox get perhaps the top catcher in the class in Swihart, though there are some questions about his defense. The tools are there and his bat may play in a corner outfield spot if he can't cut it behind the plate. The Red Sox farm system now has a little bit of everything by adding Swihart, a switch-hitting catcher.

Here's a scouting report from ESPN.com's Keith Law:

Swihart is one of the best high school position players in this draft, but it's more about projection of his skills than about present abilities.

He's an athletic kid with bat speed and arm strength who plays all over the diamond and hasn't had a chance to develop much as a catcher, but I think that's his ultimate position in pro ball. His arm is plus, but he's currently not quick to release the ball, and while his hands are fine his receiving needs work.

As a hitter, he has bat speed and his hips start to rotate properly, but he gets out on his front foot early and doesn't finish that hip rotation at all, producing weaker contact and cutting off his chance not just to hit for power but to hit. If he keeps his weight back better and lets his hands follow his hips, he's got a chance to be plus in both hitting tools, which is all the more reason he needs to sign now and get into pro ball rather than go to the University of Texas.

Boston has two more picks tonight:

No. 36
No. 40

June, 6, 2011
6/06/11
8:53
PM ET
With their first pick in the first round (No. 19 overall), the Red Sox selected Matt Barnes, a right-handed pitcher from UConn. Barnes is from Bethel, Conn. The pick was compensation for losing Victor Martinez to the Tigers.

Analysis from ESPN.com's Jason Churchill:

The Red Sox getting Barnes here is a coup. He's a potential No. 1 or 2 starter and already possesses a 93-97 mph fastball and potentially plus curveball. He holds his velocity late into games and could get to the majors quickly, especially if he gets his feet wet out of the bullpen. Boston has more picks coming on later this evening, but this is a tremendous start as most didn't believe Barnes would get this far.

Here's a scouting report for ESPN.com's Keith Law:

Barnes had a chance to establish himself as a top-10 or top-5 pick coming off an impressive summer with Team USA, but command problems have pushed him below a half-dozen other college arms who've come out throwing more and better strikes.

Barnes has a plus fastball at 93-95 and holds his velocity pretty well, mixing in an occasional low-90s two-seamer. His curveball is the eye-opener, 75-78 with depth and two-plane break, but he's been throwing a well below-average slider this spring, 79-81, flat and hittable.

Barnes doesn't command the fastball and tends to miss up with the pitch, the worst place to leave your fastball. He also doesn't repeat his delivery well, with many aspects varying from pitch to pitch -- his stride length (usually moderate, occasionally long), his movement off the mound (he's usually drifting off as he starts, but occasionally stays over it longer), and the timing of his elbow pronation. In that last area he can let his pitching elbow drift up fairly high, putting some stress on his shoulder and lengthening his arm action more.

Barnes' combination of size, velocity, and a strong second offering all make him a likely top-20 pick, but those delivery and command issues will probably steer a few teams up top in another direction.


Boston has three more picks tonight:

No. 26
No. 36
No. 40