Boston Red Sox:

Spring training questions
February, 28, 2013
2/28/13
6:07
PM ET
BRADENTON, Fla. -- Takeaways from McKechnie Field, the splendidly refurbished spring home of the
Pittsburgh Pirates
, who have had 20 consecutive losing seasons and offered little evidence in a 16-6 loss to the Red Sox on Thursday that that streak will end anytime soon.
If this had been a regular-season game, we would have been reaching for the record books. Since we had nothing better to do -- and with Pirates pitchers walking batters at a rate that left us plenty of time to do so -- we went to the spanking-new 2013 Red Sox media guide just to see if more Red Sox batters had ever walked in a nine-inning game than they did here Thursday afternoon.
[+] Enlarge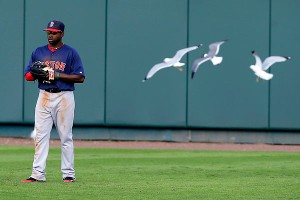 AP Photo/Charlie NeibergallJust another day at the office for Jackie Bradley, who had three hits, a steal, scored three runs and continued his stellar defense.
The answer? No. Eight Pirates pitchers walked 15 Red Sox batters in nine innings, tying the Sox record for walks in a nine-inning game in the regular season. The Sox have drawn 15 walks five times in their history. The last time it happened was May 7, 1992, when Butch Hobson's team walked 15 times and had 6 hits but still managed to lose, 7-6, to the White Sox.
Sox pitchers have walked 14 or more three times in their history, a record 18 on May 20, 1948, when starter Mickey Harris walked 7 in 1 1/3 innings and reliever Mickey McDermott walked 11 more in the next 6 2/3 innings -- manager Joe McCarthy evidently deciding to save his bullpen. Somehow, that game was completed in 2 hours and 33 minutes, more than a full hour quicker than the 3:34 it took this one to be completed.
Pirates pitchers walked four batters with the bases loaded, three in the fourth inning, and also hit two batters and threw a wild pitch.
* Great plate discipline by the Sox? Hey, we can always ask.
"It continued as we went to the 'B' squad," manager John Farrell said. "A lot of patience. What did they throw, 230 pitches? We saw a lot of 'em."
Drew Sutton
, the former Pirate who played third base here Thursday, walked four times to lead the Free Pass-palooza.
David Ross
and
Lyle Overbay
drew two walks apiece.
* The Sox also banged out 14 hits, 3 by Jackie Bradley -- who also had a hit taken away by a diving stop in the first, scored three runs, played his usual stellar defense and is batting .571 this spring. Oh, he also stole his first base.
"It's becoming a recurring theme as we talk," said Farrell, whose nonstop praise of Bradley is undoubtedly filling up one of Scott Boras' binders.
* Another former Pirate, second baseman
Brock Holt
, had a couple of hits, and Lyle Overbay, Juan Carlos Linares and
Jose Iglesias
drove in two runs apiece.
*
John Lackey
gave up a three-run home run to non-roster invitee Jared Goedert on a hanging curveball but otherwise chalked up his two innings as another step in the right direction.
"I thought he had much better fastball command than he did five days ago," Farrell said, echoing Lackey's self-assessment. "He mixed three pitches in for strikes, he left one breaking ball that stayed up in the middle of the plate. I thought today was another impressive step."
February, 4, 2011
2/04/11
9:27
PM ET
Part 10 of a 10-day series on Red Sox questions that will be answered during spring training.
BOSTON -- The final question of our spring training countdown would be a great one to pose to Sox owner John W. Henry in an unguarded moment, of which he has very few these days.
You might be inclined to word it a bit differently, though, as in: "John (or Mr. Henry, depending on your level of politesse), last year, you committed $160 million or so to
Josh Beckett
and
John Lackey
and basically got a tuna fish sandwich back in return.
"You're on the hook to those guys for $130 million for the next four seasons. What if they still stink in 2014? Do heads roll?''
The message coming from Yawkey Way this winter is that isn't going to happen. In Beckett's case, the Sox comfort themselves by harking back to the renewed purpose Beckett showed after the last time he struggled, in 2006, roaring back to win 20 games and pitching the Sox to a World Series title in '07. He has a similar chip on his shoulder this go-round, the company line goes, and he's dedicated himself to another return to past glory.
[+] Enlarge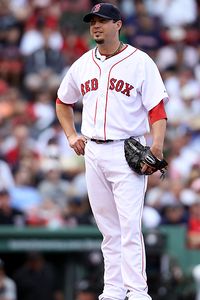 Elsa/Getty ImagesWill Josh Beckett (above) and John Lackey pull their weight in 2011?
As for Lackey, who spent most of last summer (when he wasn't glaring into the dugout after someone messed up behind him) claiming he wasn't that bad at all, the theme is: Hey, this isn't the AL West, Lackey needed some time to settle in, and with better defense behind him in 2011, he'll prove to be a worthwhile addition to the rotation.
And they may well be proven right this summer.
But there are nagging doubts. As in:
Beckett is four years older than he was in 2007, and for all his Texas grit, his body continues to show an alarming tendency to betray him. Not to mention all the additional mileage he's put on a shoulder that has thrown a lot of bullets over the past decade.
With Lackey, meanwhile, there is the specter of
A.J. Burnett
, who set the market for Lackey the year before when the Yankees gave him the exact same money Henry and the Sox agreed to give Lackey. Burnett deserves some modest credit for helping the Yankees win a World Series in 2009, but he was awful in 2010 -- a 15-game loser with an ERA over 5 -- and the Yankees have no idea what to expect going forward.
That's a position similar to where the Sox are with Lackey. Yes, he gave them innings (215) and surprisingly, his WAR (wins above replacement) was actually a tick higher than it was his last season with the Angels (4.0 to 3.9), even though his strikeouts were down and his walks up. But he had a terrible time against left-handed hitters (.298 /.364/.438/.802) and was whacked around by winning teams (a 5.15 ERA against teams with a record above .500). His performance last season certainly did not have the Angels second-guessing their decision not to pay him an ace's salary to keep him.
The opposite was true. It merely reinforced the surprise of those who thought it was out of character for Sox general manager Theo Epstein to bestow a contract of that heft and length to a pitcher already in his 30s (Lackey is 32).
The saving grace for the Sox is that, with the emergence of
Jon Lester
and
Clay Buchholz
, the Sox don't need Beckett and Lackey to carry them. Beckett has to offer more than the six wins he gave last season, which if he stays healthy is a virtual certainty. Lackey has to remain an innings-eater who resembles more the guy who pitched well in September, giving up three runs or fewer in five of his last six starts, than the guy who gave up five or more runs in 10 starts.
Henry signed up for much more than that, of course. The question for him will persist well beyond 2011.
February, 3, 2011
2/03/11
5:41
PM ET
Part 9 of a 10-day series on Red Sox questions that will be answered during spring training.
BOSTON -- If you have any doubts about why the Red Sox held on to
Daisuke Matsuzaka
, you need only look at the Yankees, where GM Brian Cashman appears to have assembled a starting rotation by the pound.
Uncertain of
Andy Pettitte
's intentions before he officially scheduled his retirement announcement for Friday, Cashman is scrambling to fill out the back end of his rotation. In recent days, he has signed damaged heavyweights
Bartolo Colon
and
Freddy Garcia
, former prime-timers whose belt lines have expanded dramatically along with their ERAs.
One Twitter user wondered if Cashman had signed Colon -- who in 2008 rolled into Red Sox camp and made a total of seven starts before breaking down -- or harpooned him. Garcia, who won a World Series with the White Sox in 2005, is listed at 6-foot-4, 250 pounds, which means he's still spotting incumbent ace
CC Sabathia
about 50 pounds.
Joba Chamberlain
, meanwhile, falls somewhere in between, which matches his role on the Yankees' staff at the moment.
[+] Enlarge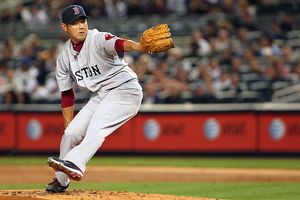 Anthony Gruppuso/US PresswireThe Sox would love to see 30 starts and 180-plus innings from Daisuke Matsuzaka, but the team's success doesn't hinge on it.
So having Matsuzaka, even if he has not proven to be the transformative pitcher the Sox envisioned when they signed him prior to the 2007 season, still has value, given the shortage of quality arms around. No one, least of all Matsuzaka, imagined a fall this precipitous, from Japanese megastar to Boston bit player. That characterization may sound harsh, but think about it: Red Sox hopes of winning another World Series are far more dependent on the continued excellence of
Jon Lester
and
Clay Buchholz
, and bounce-back years from
Josh Beckett
and
John Lackey
, than they are on Matsuzaka, who comes into camp as no better than the team's No. 5 starter.
It was telling this week that manager Terry Francona said new pitching coach Curt Young had not yet made contact with Matsuzaka. Even if the disconnect was for logistical reasons, as Francona said, that's a drastic change from the heady days when former pitching coach John Farrell was studying Japanese to prepare for Matsuzaka's arrival.
Matsuzaka is only 30, and he's coming into camp without his conditioning being an issue, which was not the case the last two seasons. The Sox became so fed up in 2009 that they exiled him to Fort Myers in midseason for what in essence became a second round of spring training, then compelled him to undergo a rigorous conditioning program last winter.
Matsuzaka complied, only to hurt his back before camp opened. He was so far behind the other starters that the Sox had no choice but to put him on the DL for a chance to build up arm strength (the official reason given was a neck strain). He missed the first 23 games, then went back on the DL in June with a strained forearm. He missed one more start in late August with a sore back.
In the midst of all the injuries, his performance remained as maddening as ever. At his best, he was unhittable, as he demonstrated by taking a no-hitter into the eighth inning against the Phillies on May 22. More often, there were too many walks (74 in just 153 2/3 innings), too many high pitch counts, too many abbreviated outings. Matsuzaka won just 9 games, a 6.31 ERA in his last six starts preventing him from reaching double figures in wins.
"I thought last year was the first year he pitched better than his numbers indicated," Sox GM Theo Epstein said this week. "His stuff was better than his numbers indicated. That gives us a little reason for optimism going forward. If he can approximate next year what he did either of his first two years, we'll be quite happy."
According to FanGraphs, Matsuzaka's fastball did bump up back over 92 mph on average, where it hadn't been since his first season. And he held opposing batters to a .235 batting average. And his pride has clearly been challenged the last two years, leaving him plenty of incentive.
But even if Matsuzaka falters, the Sox have options.
Tim Wakefield
is back for a last hurrah, and
Felix Doubront
is waiting in the wings. The Sox would love to see 30 starts and 180-plus innings from Daisuke. But the success of their season doesn't hinge on how he pitches.
How important a part of the rotation is Matsuzaka, in your opinion?
Coming Friday:
With the emergence of Jon Lester/Clay Buchholz, how much bounce-back do the Sox need from John Lackey/Josh Beckett?
February, 2, 2011
2/02/11
9:13
PM ET
Part 8 of a 10-day series on Red Sox questions that will be answered during spring training.
BOSTON -- It would have been a perfect storm for
Jonathan Papelbon
, to become a free agent just as Mariano Rivera's unparalleled career as Yankees closer came to an end.
And had he gone to the Bombers, it would have represented the most jarring defection to pinstripes since
Johnny Damon
/Demon, although Papelbon would have been forced to update his choice of music: "Shipping Up to Boston" just wouldn't have sounded right when the bullpen door opened in the Bronx.
But Papelbon, eligible for free agency after the season, can probably delete that scenario from his iPad. Rivera, at age 41, signed a two-year contract to remain with the Yankees, who would have preferred to tack on just a year but were left little choice when the Red Sox made a surprise offer. And then, last month, Brian Cashman put a potential replacement for Rivera in place when he signed former Rays closer
Rafael Soriano
to a three-year, $35 million deal.
[+] Enlarge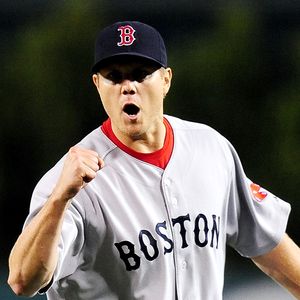 Gary A. Vasquez/US PresswireWill Papelbon even get to free agency in a Red Sox uniform, or will the Sox trade him before then?
Suddenly, whatever road Papelbon was planning to take out of town, if it came to that, won't be the Deegan Expressway.
The assumption that Papelbon will be headed elsewhere persists, for the following reasons:
* At $12.5 million, Papelbon has reached what many believe is the ceiling for what the Sox are willing to pay for a closer.
*
Daniel Bard
, whose 97.5 mph average velocity for his fastball was the highest in the big leagues last season, showed all the signs of an elite closer in the making, one who would come at a much lower rate than Papelbon would command.
* And then, the clincher: When the White Sox nontendered
Bobby Jenks
, the Red Sox pounced, signing the 29-year-old right-hander to a two-year, $12 million deal. Not only did the Sox have a closer-in-waiting in Bard, they had a fallback plan in place.
A corollary question has now been raised: Will Papelbon even get to free agency in a Red Sox uniform, or will the Sox trade him before then? Especially since to get draft choices back for him if he signs elsewhere as a free agent, they would have to offer him arbitration, and risk the possibility of pushing his salary even higher.
Here's why a Papelbon trade doesn't make sense. He is still just 30 and has saved 35 or more games in each of the last five seasons, including 37 in 2010, an otherwise down year for him. His shoulder is strong, his velocity has hardly diminished, and he can still throw his splitter with devastating effectiveness. He's still striking out better than a batter per inning, and the line separating a spectacular season from a subpar one came down to, essentially, a handful of pitches over a few nights. Anticipating him to come back with a vengeance is hardly a reach.
Bard, for all his upside, is still untested as a closer, the greatest unknown not how he performs when he is at his best, but how he will cope with failure, still the acid test for the great closers.
And Jenks, despite back-to-back 40-save seasons, has shown much more slippage than Papelbon, and has had elbow issues that raise a red flag.
The Red Sox enter the season as strong contenders in the AL East; it's hard to imagine they would deal their closer at the trading deadline unless he stumbles badly. And if that happens, there are likely to be fewer teams willing to take on what would be an expensive rental.
The prediction here is that come September, Papelbon will still be closing, although he is the most obvious candidate to get the
David Ortiz
treatment this season: A bad game or two, and he'll be hearing the calls for Bard or Jenks.
What do you think? What's your prediction for who will be closing games for the Red Sox come September? Leave your thoughts in the comments section.
Coming Thursday:
How important is
Daisuke Matsuzaka
to the Red Sox rotation depth?
February, 1, 2011
2/01/11
5:38
PM ET
Part 7 of a 10-day series on Red Sox questions that will be answered during spring training.
BOSTON -- Can we, for the moment, talk about how much
fun
it should be to watch the Red Sox bullpen this season?
[+] Enlarge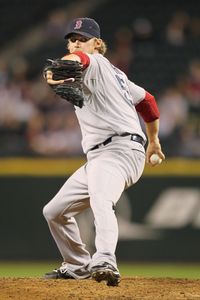 Otto Greule Jr/Getty ImagesDaniel Bard's 100-mph fastball sets him apart from other young relievers in the game.
First there is
Daniel Bard
, the kid who is a dead ringer for Charles Kelley, lead singer for one of country music's biggest hitmakers,
Lady Antebellum
. Bard acknowledges he hears the comparison all the time, and actually had a buddy who worked on the group's tour and was told by Kelley he hears the same thing in reverse. The difference being, of course, that Bard last summer threw a baseball 49 times at 100 mph or more in a game, and overall averaged 97.9 mph on his fastball, which made him the game's most consistent speed king in 2010.
Then there is
Jonathan Papelbon
, who has often inspired watchers to wonder which side of mentally balanced he falls on, with his wild celebratory jigs, eye-bulging stares and rebel yells. Papelbon's potent brew of fearless, reckless and how-crazy-is-he worked wonders until the Angels pierced his aura of invincibility in ousting the Red Sox from the 2009 playoffs, then turned sour last summer, when he put up the worst performance of his career.
And now there is the newcomer,
Bobby Jenks
, who comes in XXL, wears a whisk-broom beard straight out of "O Brother, Where Art Thou?" and arrives with a back story as raw and rough as that of
David Wells
and his Hell's Angels upbringing. Oh, and did we mention Jenks averaged 95 mph on
his
fastball last season and has back-to-back 40-save seasons to his credit?
These are the three pitchers to whom Terry Francona will most often turn over the back end of games, the Sox manager granted the rare luxury of having three power arms eminently capable of closing. Papelbon and Jenks have both won World Series rings as closers, while experience in the role is the only element missing from Bard's dance card.
Papelbon has never been faced with the circumstances he will encounter this season. He is in his last season before he is eligible to become a free agent, which brings its own pressure to perform. He has another proven closer as a teammate, one who is signed for another year and remains wired to be a closer, regardless of what he might say about being satisfied to serve in a subordinate role. And he has an immensely talented young gun waiting in the wings.
The economics bring their own form of pressure. Papelbon, who elected to go year-to-year rather than sign a long-term contract, won his gamble, his salary for 2011 at a heady $12.5 million. But for all the assurances the Red Sox have given Papelbon that he is their closer, they offered a two-year deal to
Mariano Rivera
before he re-signed with the Yankees. And even if Papelbon returns to form this season, the Sox may not be willing to offer him salary arbitration this winter, the only way they are assured of getting draft picks if he signs as a free agent elsewhere. Are the Sox prepared to let Papelbon walk without getting anything in return, or will they shop him? A fair question.
As for the rest of the pen, it's highly unlikely there will be a repeat of the open auditions the Sox held for their bullpen in the last week of spring training in 2010, when
Scott Schoeneweis
and
Alan Embree
parachuted in. GM Theo Epstein has stockpiled arms -- veteran
Dan Wheeler
from the Rays is another lock from the right side, with the three other spots inviting a free-for-all.
Tim Wakefield
, more accepting of a return to the pen then he was a year ago, would like a chance for a last hurrah, but he'll be competing with holdover
Scott Atchison
and
Matt Albers
, late of the Orioles.
There are a slew of lefties, and while two lefties are typically a preference, it's not a necessity when you have a right-hander (Bard) who last season held left-handed hitters to a .141 average.
Hideki Okajima
will be given a chance to win his way back into Francona's graces, but the most intriguing lefty candidate is
Andrew Miller
, who was Bard's teammate at North Carolina. Miller was drafted ahead of Bard and made it to the big leagues the same season, and is still young enough to be rescued from the oblivion he is headed toward after failed trials with the Tigers and Marlins. Then there is the in-house candidate,
Felix Doubront
, who may open the season in Pawtucket only because the Sox prefer his future as a starter.
Had the Sox bullpen remained effective last season, the team might have made the playoffs despite its crippling series of injuries. Instead, it was a mess, with Papelbon blowing 8 saves (while saving 37), Okajima losing all semblance of reliability, and the Sox jettisoning right-handers
Manny Delcarmen
and
Ramon Ramirez
in midseason. On paper, Epstein has made major repairs. It remains to be seen how it holds together.
What do you think of the Red Sox bullpen? In the comments section of this blog entry, give us your list of arms you think will comprise the Boston relief corps this season.
Coming Wednesday:
Who will be closing games for the Red Sox come September?
January, 31, 2011
1/31/11
11:05
AM ET
Part 6 of a 10-day series on Red Sox questions that will be answered during spring training.
BOSTON -- There is a guaranteed stumper to this question: Name the Red Sox Opening Day shortstops since 2000, a list that includes 8 names in 11 seasons, and doesn't include
Orlando Cabrera
, the trading-deadline catalyst who never made it past the end of the 2004 season.
Many fans will be able to rattle off these names:
Nomar Garciaparra
(2000, 2002-03),
Pokey Reese
(2004),
Edgar Renteria
(2005),
Alex Gonzalez
(2006),
Julio Lugo
(2007-08),
Jed Lowrie
(2009),
Marco Scutaro
(2010).
[+] Enlarge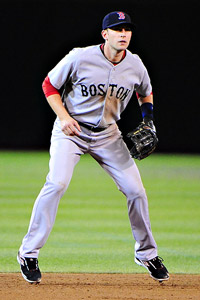 Kyle Terada/US PresswireIf Marco Scutaro is healthy, Jed Lowrie likely won't see much time at shortstop; but that doesn't necessarily mean he won't get many at bats.
But who started the opener at short in 2001, when Nomar was a no-go because of wrist surgery? While
Lou Merloni
is a good guess, you'd be wrong. Just as you would be if you mentioned
Mike Lansing
, though Framingham Lou and Miserable Mike both played short later that season.
Hint: He has the lowest batting average of any Sox shortstop ever with at least 40 at-bats in a season: .049, which translates to 2 hits in 41 at-bats.
Answer: This is your life,
Craig Grebeck
, a 36-year-old journeyman who was shorter (5-foot-7) than
Dustin Pedroia
and called it a career after not cutting it with the Sox.
Grebeck was an emergency response, of course, but ranks as the extreme example of how little stability the Red Sox have had at the position, which mostly has resisted Theo Epstein's efforts to upgrade since becoming Red Sox GM. Nomar became disgruntled and was traded away, Pokey got hurt, Renteria forgot how to field, Gonzalez didn't get on base enough, Lugo was an embarrassment, Lowrie hurt his wrist and Scutaro mostly survived a season in which he battled a pinched nerve in his neck and a strained rotator cuff in his throwing shoulder.
Who plays short in 2011? Scutaro has been declared the starter coming into camp by manager Terry Francona, though it's understandable why Lowrie would like to be considered in the mix. The first-round sandwich pick (45th overall) in the 2005 draft -- the same draft that produced fellow Oregonian
Jacoby Ellsbury
and pitcher
Clay Buchholz
-- might have settled into an everyday role if he hadn't essentially lost two seasons to the wrist and half of the 2010 season to mononucleosis.
Healthy, Lowrie put up some impressive numbers in the second half of 2010, posting a .287/.381/.526/.907 line and hitting 9 home runs in just 171 at-bats. That would seem to be a performance worthy of sparking competition in a camp noticeably absent much, but Francona made it clear that he envisions the switch-hitting Lowrie playing all four infield positions.
Lowrie "gives us something not a lot of teams can say they have, a switch-hitter that can play first, second, third or short and play a lot,'' Francona said at the Boston baseball writers' dinner. "He can play for a week, he can play it for a day, he can play it for two weeks. That, at some point, is probably going to save us. How many times have you seen where everybody stays healthy?"
It's likely that the Red Sox are looking at the long view for Lowrie, whose future with the team might well depend on his versatility, with Jose Iglesias, the Cuban defector with the magic hands, perhaps a year away from claiming the shortstop position.
Lowrie said he doesn't see himself as a "utility player," which conjures the image of something a team pulls out of the drawer when it needs some duct tape in a pinch. But with all four Sox infielders coming off injuries -- first baseman
Adrian Gonzalez
(shoulder), second baseman Dustin Pedroia (foot), shortstop Scutaro and third baseman
Kevin Youkilis
(thumb) -- and DH
David Ortiz
turning 35, it's eminently reasonable to expect that Lowrie will see considerable playing time.
In an earlier time, Minnesota jack-of-all-trades Cesar Tovar led the AL in games played and plate appearances in 1967, yet didn't play more than 60 games at any one position, splitting time between six. The following season, Tovar played all nine positions on the field, including pitcher. Tony Phillips didn't start more than 100 games at any position until he was 37, but played 12 seasons in which he had enough plate appearances for a batting title.
Placido Polanco
and
Craig Counsell
are more recent examples of valued players who have moved around the diamond.
A club official has said the team will not know how healthy Scutaro is until he reports to camp, but if he can hold up physically, shortstop appears to be his. But Lowrie should plan on seeing his name on Francona's lineup card, early and often.
What do you think Lowrie's role on the Red Sox should be? Share your thoughts in the comments section of this blog post.
Coming Tuesday:
How strong is the Red Sox bullpen?
January, 28, 2011
1/28/11
5:04
PM ET
Part 5 of a 10-day series on Red Sox questions that will be answered during spring training.
BOSTON -- David Ortiz's checklist of things to pack for spring training:
-- Bling
-- Shades
-- More bling
-- His son D'Angelo
-- Advil. Lots of Advil
Ortiz had hoped to leave the pills at home. It's the reason he gave for lobbying so vigorously for a contract extension last summer, saying he wanted to avoid the headaches of coming into this season having to deal with constant speculation that this would be his last year in a Red Sox uniform, like he did in 2010.
No such luck. The Sox never offered an extension, though they did pick up his $12.5 million option for 2011, which, given the market conditions for aging designated hitters, could be viewed as an act of exceeding generosity.
[+] Enlarge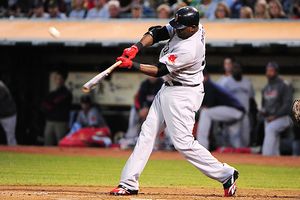 Kyle Terada/US PresswireDavid Ortiz faces another season of answering questions about his future with the Red Sox.
So Ortiz, who turned 35 on Nov. 18, will see no lessening in the questions about his future with the ballclub. If anything, the questions will increase, in a world in which
Vladimir Guerrero
, who was selected ahead of Ortiz as the American League's top DH, remains unemployed (even though Ortiz "guaranteed" Guerrero would re-sign with Texas) and
Manny Ramirez
, Ortiz's former partner in mutual destruction, just signed a modest $2 million contract with the
Tampa Bay Rays
.
Red Sox GM Theo Epstein said at the time the club renewed Ortiz's option that he'd spoken with Ortiz directly and that the player told him he was "cool" about not receiving an extension. Ortiz delivered a similar message to ESPN Boston's Jackie MacMullan.
"I can't go back to 27 again, but I just came out of a good year,'' he said. "You can't blame me for asking for something I felt I deserved. It's not like I came out of a terrible season and asked for a lot of money.
"I came out of a good season. I hit for power, knocked in runs. I did what I was supposed to do. People want to say I'm declining. I don't feel that way."
Ortiz hit 32 home runs last season, his most since 2007 and his sixth season with 30 or more home runs as a DH, extending his own record. His OPS of .899 was 105 percentage points higher than the year before, and from May 1 on, only two AL players hit more home runs than Ortiz (31): Toronto's
Jose Bautista
(50) and Detroit's
Miguel Cabrera
(32).
So he is justified in his assertion that he remains a productive hitter in the Sox lineup. But a second consecutive miserable start -- he batted just .143 last April, with a home run and 4 RBIs -- led to widespread opining that he was a shadow of his former self. And when manager Terry Francona sent
Mike Lowell
to pinch hit for him twice against left-handers and sat Ortiz against other lefties, it was clear the Sox had doubts of their own regarding his continuing effectiveness.
Francona has said that if he could do it all over again, there are things he would handle differently, and even Lowell said he probably would not have pulled Ortiz against left-handers. But with right-handed-hitting
Mike Cameron
and
Darnell McDonald
and switch-hitting
Jed Lowrie
all available options, Francona could again be tempted to sit Ortiz, at least against certain lefties.
Ortiz batted .222 with 2 home runs and 24 RBIs against lefties last season, striking out 57 times in 185 at-bats. Against lefty relievers, he was just 3 for 33 (.091). Ortiz says playing against lefties helps his overall timing at the plate, but Francona may decide otherwise. But you can be certain that if he elects not to use Ortiz against lefties, that discussion will be held long before the April 1 opener.
With another contract at stake, Ortiz has terrific incentive to put up big numbers again, although that probably wouldn't assure him of a return to Boston or a similar salary to what he's getting this season.
Adam Dunn
signed a four-year, $56 million contract with the White Sox, demonstrating that at least some clubs still place a premium on a slugging DH, though at 31 Dunn is considerably younger than Big Papi.
ESPN's Tim Kurkjian recently noted that in the last 12 years there hasn't been a single season in which half of the AL teams employed a DH that played in 100 or more games. Last season, there were five -- Ortiz, Guerrero,
Travis Hafner
(Indians),
Adam Lind
(Jays) and
Hideki Matsui
(Angels). Tigers manager Jim Leyland said that with most teams carrying 12 pitchers, many teams prefer to select their DHs on matchups, and on resting their other regulars.
But if Ortiz is indeed becoming a dinosaur, there can be little debate: For the Red Sox, he has been T. Rex.
Coming Monday:
Will Jed Lowrie have a chance to compete with Scutaro at shortstop?
January, 27, 2011
1/27/11
5:53
PM ET
Part 4 of a 10-day series on Red Sox questions that will be answered during spring training.
BOSTON -- As a two-for-one promotion, this is one the Red Sox prefer they hadn't given their fans last season: Go to a Sox game, see the PawSox, too.
Twenty-one of Pawtucket's players appeared in the big leagues for the Red Sox last season, as that I-95 shuttle between McCoy Stadium and Fenway Park was as popular last summer as the Provincetown Ferry.
Fifteen rookies played for the Sox last season, second behind Detroit (16) among AL teams. On Sept. 13 in Seattle, the Sox had an all-rookie starting outfield --
Daniel Nava
,
Ryan Kalish
and
Josh Reddick
-- their first since 1987 (Mike Greenwell,
Ellis Burks
, Todd Benzinger). A week earlier, the Sox started three players under the age of 23 --
Lars Anderson
, Kalish, and
Yamaico Navarro
-- for the first time since 1980 (Glenn Hoffman, Reid Nichols and Chico Walker).
[+] Enlarge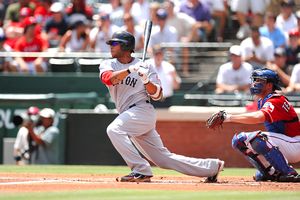 John Williamson/Getty ImagesDarnell McDonald, who surprisingly played in 117 games last season, comes to camp as the favorite to be retained as the team's fifth outfielder.
Manager Terry Francona wrote the names of 25 different players as starters in the No. 9 hole on his lineup card. That includes pitchers in interleague games, so we'll cite the 8-spot, too: 14 different players.
All of which serves as introduction to a discussion of the Sox bench entering this season, as part of our 10-part countdown to spring training, as well as the importance of organizational depth. in a season in which injuries ravage a team's 25-man roster.
A year ago at this time,
Darnell McDonald
was just another journeyman minor leaguer with an invitation to big-league camp. Even after his spectacular Sox debut last April, in which he hit a game-tying pinch-hit home run and then delivered a walk-off single an inning later to beat the Rangers, the Sox were prepared to cut ties with McDonald, informing him during a May trip to play Tampa Bay that he was being designated for assignment.
Instead, the Sox discovered
Jacoby Ellsbury
had not recovered from his fractured ribs, they held on to McDonald, and he wound up playing in a career-high 117 games. He was the only player to appear in at least 30 games (with 10 or more starts) at all three outfield positions, and led the AL with a .429 average as a pinch hitter (6 for 14).
After a dozen years in the minors, McDonald may hardly feel he has job security, but this spring he comes to camp as the favorite to be retained as the team's fifth outfielder. And it's possible he could take on added importance if another team shows interest in
Mike Cameron
, who is being paid like a starter ($7.25 million) and may have value elsewhere as one, even at age age 38, especially if he proves he's fully recovered from a torn abdominal muscle.
Cameron and McDonald both can play all three outfield positions -- Cameron as a three-time Gold Glove Award winner and McDonald with average skills and a throwing arm that accounted for a team-leading nine assists last season -- and also can serve as right-handed bats off the bench. Cameron hit .357 (15 for 42) with 3 home runs against lefties, while McDonald hit .294 (45 for 153) with 4 home runs. Their presence virtually assures a return to the minor leagues for more seasoning for Ryan Kalish and Josh Reddick, who potentially will be competing in 2012 for the right-field spot likely to be vacated by
J.D. Drew
, whose contract expires after this season. It also leaves no room here for Daniel Nava, who hit a storybook home run -- a grand slam on the first big-league pitch he saw -- then did not hit another homer in 160 more big-league at-bats.
With
Jason Varitek
re-signed for a 14th season to split time at catcher with
Jarrod Saltalamacchia
, that leaves prospects like Mark Wagner, Luis Exposito and Ryan Lavarnway in a holding pattern in their trek to the big leagues. Wagner missed considerable time last season with a fractured bone in his left hand and subsequent wrist problems.
The other player expected to start the season on the bench could have the biggest role of all:
Jed Lowrie
, who after losing nearly two full seasons to wrist woes and the first half of last season to mononucleosis displayed all the skills that had him once pegged as the Sox shortstop of the future.
Francona attempted to cut off any brewing controversy by declaring
Marco Scutaro
will start at short this season. With defensive whiz Jose Iglesias no more than a year away, Lowrie's greatest value to the club may well be in the role they envision for him: as a super-utility guy who can play all four infield positions. He posted a .907 OPS last season, hitting a career-best 9 home runs in just 171 at-bats. Being a switch-hitter only heightens his appeal in that role, and with Scutaro needing to show he's over a pinched nerve in his neck and strained rotator cuff in his shoulder, and
Dustin Pedroia
coming off a fractured left foot, Lowrie could receive plenty of playing time.
January, 26, 2011
1/26/11
5:26
PM ET
Part 3 of a 10-day series on Red Sox questions that will be answered during spring training.
BOSTON -- In 110 seasons of playing baseball in Boston, do you know how many 39-year-olds have served as Red Sox catcher, for even a single game?
Try one: Elston Howard, the former Yankee star who came to the Sox during the Impossible Dream season of 1967 (after breaking up Billy Rohr's no-hitter while still with the Yanks) and a year later was 39 when he split time at catcher with Russ Gibson.
Jason Varitek
turns 39 on April 11. He will make two.
How much will Varitek catch?
a) A lot more than it appeared on the final day of the 2010 season, when the Sox pulled him off the field to give fans a chance to bid what looked like a final goodbye.
b) That depends in good part on
Jarrod Saltalamacchia
, who is beginning his first full season with the Red Sox at the same age (26 on May 2) that another switch-hitting catcher did 13 years ago: Jason Varitek. And that worked out OK.
[+] Enlarge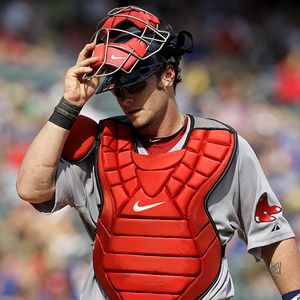 AP Photo/Tony GutierrezJarrod Saltalamacchia started just five games for the Red Sox last season before needing surgery on his thumb.
The Sox, after making a measured attempt to keep
Victor Martinez
, who signed with Detroit, ended up re-signing Varitek for a bargain-basement $2 million after finding the other free-agent options at catcher wanting. They had interest in
John Buck
, but not for the three-year, $18 million deal that he received from the Marlins. They passed on the rest of the field -- which included, among others,
Rod Barajas
,
Ramon Hernandez
,
Gerald Laird
,
Yorvit Torrealba
,
Dioner Navarro
,
A.J. Pierzynski
,
Miguel Olivo
and
Gregg Zaun
-- to bring back their longtime captain.
They were committed, it was clear, to grooming Saltalamacchia as Varitek's successor, and were keeping the veteran around as mentor and backup. Then it wasn't quite so clear, as the Sox took a run at catcher
Russell Martin
after he was nontendered by the Dodgers. Martin's agent termed the Sox interest as "serious," but Martin wound up signing a one-year, $4 million deal with the Yankees while the Sox reportedly offered no more than a minor-league contract.
Still, the flirtation with Martin raised some questions about how much confidence the Sox have in Saltalamacchia, who started just five games at catcher for Boston before requiring surgery to repair a torn ligament in his left thumb.
Like Varitek at a similar stage in his career, Saltalamacchia is seen as something of an underachiever, for different reasons. Varitek was a former No. 1 draft pick whose career got sidetracked at the start when he elected to sit out a year rather than sign with the
Minnesota Twins
, the team that originally drafted him, then waited almost another full year before finally signing with the
Seattle Mariners
. Saltalamacchia is another first-round pick, in 2003 by the Braves, who was viewed as the biggest prize in the package of prospects Texas received from Atlanta in the 2007 trade for
Mark Teixeira
.
But it didn't work out that way, even though Saltalamacchia immediately was inserted in the Rangers' starting lineup after the trade and was the team's Opening Day catcher in each of the last two seasons. While two other ex-Brave minor leaguers, shortstop
Elvis Andrus
and closer
Neftali Feliz
, played huge roles in the Rangers' road to an American League pennant in 2010, Saltalamacchia was gone by the time the champagne was spilled.
As eager as the Rangers were to install him as their No. 1 catcher, he unexpectedly struggled at bat and behind the plate, and had injury issues, a bad back knocking him out after the 2010 opener. That would be the only game he would catch for the Rangers last season, as he went to the minor leagues and suddenly developed a problem throwing the ball accurately back to the mound.
By the time the Red Sox traded three lower-level minor leaguers for him last July, the throwing issue had been resolved but Saltalamacchia no longer figured in the Rangers' plans, Texas signing veteran
Bengie Molina
in the interim.
Saltalamacchia's resume to date raises questions for a team that appears to have assembled all the other necessary components to compete for the World Series this fall. The Sox maintain they are confident Saltalamacchia is up to the challenge, and dispatched bullpen coach Gary Tuck to Florida to work with him in the offseason.
Still, it remains to be seen how Saltalamacchia responds to the pressure and if he's truly ready to inherit the everyday job. That's where Varitek comes in. He appeared in just 39 games last season, his fewest since becoming a Sox regular, and made just 27 starts before his season was cut short by a fractured right foot.
There may be an unintended consequence of his light workload: Varitek told an associate recently that he feels better than he has in the last five years, not surprising when you consider his body didn't absorb the usual beating last season.
Varitek's bat has noticeably slowed -- he struck out roughly once every three at-bats last season (35 in 112). But before he was hurt, he actually put up some good offensive numbers -- .263/.324/.547/.871 -- and did particularly well at home (.283/.323/.567/.890) as opposed to the road (.173/.259/.365/.624). And after opponents stole an American League-high 108 bases when he caught in 2009 (only 16 caught stealing, a 13 percent success rate), Varitek threw out 9 of 43 base-runners last season, a 21 percent success rate.
At the end of the season, Varitek said he felt like he was moving as well as he had in the previous few seasons, and reiterated his desire to play into his 40s. So, while the Red Sox come into camp hoping that Saltalamacchia stakes out the everyday job, don't be surprised if the workload is shared, especially at the beginning of the season (Varitek hit all seven of his home runs last year in the first two months). That would give Saltalamacchia more time to learn the pitching staff, and take some of the pressure off.
So what do you think, how much would you like to see Saltalamacchia behind the plate and how many games would you like to see Varitek play in? Share your thoughts in the comments section of this blog entry.
Coming Thursday:
Who are the contenders to comprise the Red Sox bench?
January, 25, 2011
1/25/11
3:44
PM ET
Part 2 of a 10-day series on Red Sox questions that will be answered during spring training.
BOSTON -- OK, so what do
Boof Bonser
, who pitched twice for the Red Sox last season before being released, and infielder
Jed Lowrie
have in common?
Answer: They were the first two players placed on the disabled list by the Sox last season -- Bonser with a groin strain, Lowrie with mononucleosis. That was on March 31. Before the season opener, two more players went on the DL: pitchers
Daisuke Matsuzaka
(neck strain) and
Junichi Tazawa
(elbow surgery).
It was the start of a season-killing trend. Before it was over, the Sox had placed 19 players on the DL, used the DL 24 times, and lost 1,018 games to players on the list. Six players that were on Terry Francona's Opening Day lineup card wound up on the DL: the starting battery, pitcher
Josh Beckett
and catcher
Victor Martinez
; the leadoff man,
Jacoby Ellsbury
; the 2008 MVP,
Dustin Pedroia
; the cleanup hitter,
Kevin Youkilis
; and the new center fielder,
Mike Cameron
. And we're not talking garden-variety, 15-day stints, either. Martinez missed the least time, 22 games. Everybody else named missed at least 40 games, Ellsbury holding the dubious distinction of missing the most time among the first-day starters, 140 games in three different stints on the DL.
[+] Enlarge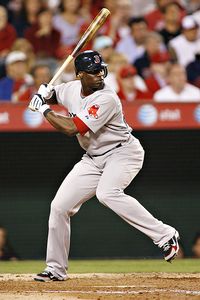 Rob Leiter/Getty ImagesMike Cameron, who missed 93 games last season and had surgery on a torn abdominal muscle, is expected to be restriction-free when he reports to spring training.
So, a note of caution amidst the giddiness as spring training approaches: Health, in all its unpredictability, always is a threat to wreck the best-laid plans. In the second of our 10-day countdown to camp, here are the players coming back from injuries that the Sox will be watching most closely this spring:
• Adrian Gonzalez.
The newly acquired first baseman underwent surgery last October to repair a torn labrum in his right (non-throwing) shoulder, began rehabbing a couple of weeks later, and reports a significant improvement in his range of motion. He has begun playing catch, but says he doesn't expect to be swinging a bat until the beginning of March. If he is able to play games by March 20, he said, he should be ready for the season opener April 1 in Texas. But everyone will exercise prudence here -- Gonzalez has a long-term contract extension dependent on his recovery.
• Josh Beckett.
Beckett has had back issues that caused him to miss time in each of the last three seasons, including 56 games after slipping on a wet Yankee Stadium mound last May. Concerns about his health did not preclude the Sox from signing him to a four-year, $68 million contract extension last April, and GM Theo Epstein repeatedly has said he expects Beckett to be highly motivated and reporting to camp in prime condition. Beckett turns 31 on May 15 and is beginning his 11th season in the big leagues, so staying in good shape takes on added importance.
• Jacoby Ellsbury.
A maddening situation for both the player and the team's medical staff, Ellsbury went on the DL three times after an April 11 collision with third baseman Adrian Beltre left him with fractured ribs. Ellsbury expressed considerable frustration with his diagnosis and care, putting the medical staff in a position of having to defend itself, which it didn't appreciate. Epstein, however, never wavered in his public support of the player and quickly settled his arbitration case, and all indications are that Ellsbury is ready to reclaim his spot at the top of the order. The Sox training staff visited him in Arizona, where he is working out, and gave him a clean bill of health. He is already swinging a bat, throwing and doing other baseball activities, a close associate said, adding, "He's feeling great.''
• Dustin Pedroia and Kevin Youkilis.
Pedroia (fractured left foot) and Youkilis (torn adductor muscle in his right thumb) are both on schedule for camp; Youkilis believes he could have played if the Sox had made the playoffs and advanced deep into October.
• Mike Cameron.
The center fielder passed a kidney stone days into the season, then was discovered shortly thereafter to have a torn abdominal muscle that ultimately required surgery and caused him to miss 93 games over two DL stints. Cameron will be restriction-free when he reports to camp, according to his agent, Mike Nicotera.
"Mike was just in Boston where he worked out for [the Red Sox],'' Nicotera wrote in an e-mail. "He ran 17 100-yard sprints, and felt great. And he said he feels "free" again swinging the bat. He's anxious to get to spring training. There will be no restrictions on him.''
Still, Cameron turned 38 on Jan. 8, so the Sox will be eager to see how much he has left physically.
• Marco Scutaro.
One of Scutaro's most remarkable achievements in his first season with the Red Sox was avoiding going on the DL. He was bothered all season with a pinched nerve in his neck that caused numbness in his left elbow and required multiple cortisone injections. He also had an irritated rotator cuff muscle in his throwing shoulder. Scutaro was placed on a rehab program for his shoulder, and the Sox hoped that rest would help alleviate the nerve condition, but, like Cameron, Scutaro is older (35) so the cumulative effect of his injuries takes its toll. The Red Sox won't know until Scutaro undergoes his physical at the start of camp whether they will be an issue this season, according to a club source.
• Bobby Jenks.
A free-agent addition to the Red Sox bullpen, Jenks missed the better part of a month near the end of last season with inflammation of the ulnar nerve in his throwing elbow (ulnar neuritis). He had surgery on the elbow in 2004 (a pin was inserted) but nothing major since. The Sox found nothing abnormal during his physical prior to his signing with the club.
There's always a chance, a club source said, that the club will elect to take it slowly with one or more of these players (besides the obvious constraints for Gonzalez), but as of now, there are no plans to do so.
Coming Wednesday:
Will Jarrod Saltalamacchia be the team's No. 1 catcher, or will it be a Jason Varitek/Salty split?
January, 24, 2011
1/24/11
11:44
PM ET
Part 1 of a 10-day series on Red Sox questions that will be answered during spring training.
BOSTON -- Spring training aggravations for Red Sox manager Terry Francona, ranked in no particular order:
• Taking the nearly three-hour bus ride across the Sunshine Skyway to Dunedin.
• Getting addressed by an overeager autograph-seeker (or addled reporter) as "Tony".
• Being asked about his Opening Day batting order before he's ready to announce it, which is between, say, every single day in February and March and when the team is packing up to break camp in Florida.
But as the Red Sox ready to return to Fort Myers to prepare for the 2011 season, there is no more tantalizing topic to ponder than how Francona plans to integrate newcomers
Carl Crawford
and
Adrian Gonzalez
into his lineup.
[+] Enlarge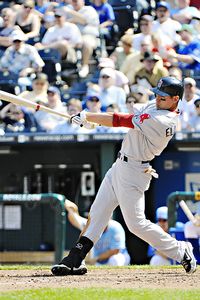 G. Newman Lowrance/Getty ImagesWill Jacoby Ellsbury be at the top of the Boston lineup or the bottom?
So that's the first in our daily series of 10 questions that will be answered in spring training: Who will bat where in what is potentially the most explosive Sox lineup since
Johnny Damon
was the table-setter,
Manny Ramirez
and
David Ortiz
were a 21st-century Gehrig and Ruth, and an AL batting champion,
Bill Mueller
, hit ninth?
We'll pose a different question here every day for the next 10 days to warm you up for Fort Myers.
As to the lineup query, there have been a couple of hints. Francona has mentioned since the acquisition of Crawford that the Sox are at their best when
Jacoby Ellsbury
bats leadoff, which dovetails nicely with Crawford's stated aversion to that spot when he was with Tampa Bay. Gonzalez said he hadn't spoken with anyone in an official capacity about where he'd hit, but last month said he expected to hit cleanup, behind Ellsbury, Crawford and
Dustin Pedroia
, although he imagined Francona would experiment with other combinations in camp.
Last week, Francona put to rest, at least for the time being, any notion that
Marco Scutaro
would have to fight off a challenge from
Jed Lowrie
at shortstop, stating that Scutaro will return at the position while Lowrie will play all over the diamond.
Media types have weighed in. ESPN colleague
Buster Olney this week proposed
that Boston's best lineup would have Pedroia leading off and Ellsbury hitting ninth, especially with Ellsbury having missed most of last season.
Me? After
an initial first stab
that 1) ignored Crawford's dislike for the No. 1 spot and 2) gave short shrift to lefty-righty balance by stacking three left-handed hitters in a row (Ellsbury, Crawford, Gonzalez), which totally goes against how the Sox operate, I've come to lean toward the Gonzalez model, with Ellsbury and Crawford hitting 1-2, followed by Pedroia in the 3-spot, Gonzalez batting cleanup and
Kevin Youkilis
dropping down a spot to fifth, followed by David Ortiz. Francona may also be leaning that way, according to one club source, but good luck getting that admission from the manager himself.
We also asked for your opinions, and will continue to do so throughout this series. We
received nearly 200 suggestions for a Sox lineup from you
; here's a sampling, beginning with my (latest) best guess:
Ellsbury, CF
Crawford LF
Pedroia, 2B
Gonzalez, 1B
Youkilis, 3B
Ortiz, DH
Drew/Cameron, RF
Saltalamacchia/Varitek, C
Scutaro, SS