Boston Red Sox:

Toronto Blue Jays
August, 15, 2013
8/15/13
10:07
PM ET
By
Mark Polishuk, Special to ESPNBoston.com
TORONTO -- A lack of situational hitting doomed the Red Sox as they wasted a quality
Jake Peavy
start in a 2-1 loss to the Blue Jays on Thursday night.
The Boston lineup seemingly had Toronto starter
Mark Buehrle
on the ropes, as the Sox racked up 10 hits and two walks and put at least one runner in scoring position in five of Buehrle's seven innings. Despite all this pressure, however, the Red Sox could plate only one run.
Daniel Nava
scored on a
Jacoby Ellsbury
fielder's choice in the fourth that could've been an inning-ending double play were it not for a high throw from second baseman
Munenori Kawasaki
.


Dustin Pedroia
was thrown out at the plate trying to score on a
Jonny Gomes
line-drive single to left in the first inning. The throw from rookie left fielder Kevin Pillar arrived at home at the same time as Pedroia, who was blocked off the plate by catcher
J.P. Arencibia
and was tagged out after missing the plate while trying to score standing up.
The Red Sox stranded a total of 12 batters in the game and were 2-for-11 with runners in scoring position. It was an unusual performance for a club that hasn't had much trouble delivering clutch hits this season. The Sox entered Thursday leading the majors with 471 runs scored with runners in scoring position, and were tied with the Tigers for the league lead in runs scored (539) with men on base.
Peavy was almost untouchable through his first six innings, allowing just two hits and no walks. He ran into trouble in the seventh, however, giving up consecutive line-drive singles to
Jose Bautista
,
Edwin Encarnacion
and
Brett Lawrie
. Bautista scored on Lawrie's hit and Encarnacion later scored on a
Mark DeRosa
sacrifice fly. Peavy allowed two runs (both earned) on five hits and four strikeouts in his six-plus innings, a hard-luck loss for the veteran righty, who at the least rebounded well from a rough previous start in Kansas City.
May, 11, 2013
5/11/13
7:54
PM ET
By
Tony Lee, Special to ESPNBoston.com
BOSTON -- When
Clay Buchholz
and
Mark Buehrle
squared off May 1 in Toronto, it was a mismatch. Buchholz, before accusations of doctoring the baseball temporarily clouded his early success, was on an absolute roll. The veteran Buehrle was at the top of the list of the big-name additions that were either hurt or struggling mightily for the Jays.
A 10-1 Red Sox win simply reinforced that separation. But so much has changed in the past 10 days.
[+] Enlarge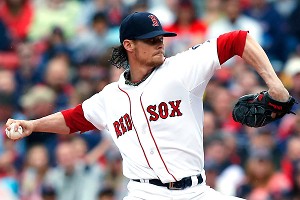 AP Photo/Michael DwyerClay Buchholz was solid through eight innings but regretted a couple of early RBI singles.
While Buchholz was solid in a no-decision Saturday against Toronto, Buehrle -- who has often struggled at Fenway Park -- sparkled, allowing just one run in seven-plus innings to provide a sellout crowd with a bit of an unexpected pitcher's duel and to further support the assertion that the Red Sox offense is not what it was in April.
It is actually a shame that the bullpens figured so prominently in the final result.
Darren Oliver
took over for Buehrle with a man on in the eighth and almost immediately blew a 2-0 lead, and Boston closer
Junichi Tazawa
served up a go-ahead solo shot to
Adam Lind
in the top of the ninth. This one really should have been all about Buchholz and Buehrle.
"Both guys settled in and pitched extremely well on both sides," Boston manager John Farrell said. "Seemed after the second inning Buehrle really settled into a very good rhythm. As we know, he works fast. Lived on the edge the whole game."
On the other side, John Gibbons has been waiting for more positive results from guys like Buehrle, although he seemed to sense this kind of performance was coming.
"He was changing spots, changing speeds, had everything going," Gibbons said. "There were no mistakes. They say Mark's always been a slow starter but kicks it in when May gets rolling. Buchholz was good. It was one of those ballgames where it was unfortunate it got away."
Indeed, May has traditionally been a strong month for Buehrle. He sports a 3.35 ERA in 68 career starts during the month. Buchholz has also been a better pitcher as the season wears on (9-1 with a 2.49 ERA in June), and Saturday served as a nice recovery from his first nonquality start Monday against Minnesota. But unlike the last time he opposed Buehrle, there was no margin for error, and RBI singles in the third and fourth left Buchholz with a bit of regret.
"Felt pretty good about it but left a couple of pitches up early with runners in scoring position," he said. "They were able to put the bat on it. I've got to make better pitches at that part of the game."
Buchholz did begin to make better pitches, and the duel really took off once he got a 4-6-3 double play to escape the fourth. He would allow only a walk and a single over his final four frames, keeping the Sox in it long enough to rally in the eighth.
Buehrle, meanwhile, retired 13 straight until walking
David Ross
to begin the rally.
"It was one of those days I had the majority of my pitches working," Buehrle said. "Down in the zone and when I did miss they didn't make me pay for it. A big part of this game is luck, and I had that on my side today."
Luck, and 10 days of rather dramatic changes in Boston. The Sox have averaged just over three runs a game since that 10-1 pounding of Buehrle and the Jays. They are hitting .179 with runners in scoring position in that stretch. Several big bats have hit the skids. Meanwhile, the veteran lefty in Toronto seems to have found his form.
It all adds up to Buehrle ever-so-slightly outdueling Buchholz, a scenario that seemed impossible earlier this month when the former was a poster boy for Toronto's struggles and the latter was the symbol of Boston's phenomenal start.
May, 11, 2013
5/11/13
5:46
PM ET
By
Tony Lee, Special to ESPNBoston.com
BOSTON -- Buried beneath everything that has gone into the
Toronto Blue Jays
' misery is the life and times of
Adam Lind
, an extremely talented batter who has fallen off in a big way in the last two years. If he could ever rediscover the form he had in 2009 (.305, 35 homers, 114 RBIs), this Blue Jays lineup would take on a very different look.
While Toronto managed just three runs Saturday, Lind showed he still has the ability to carry the order from time to time, going 3-for-4 with the tiebreaking home run in the top of the ninth inning off Red Sox closer (for now)
Junichi Tazawa
, keying a 3-2 win over Boston. It is the seventh loss in nine games for the Sox.


Boston rallied for two runs in the bottom of the eighth after Jays manager John Gibbons elected to yank starter
Mark Buehrle
, but Tazawa's sixth pitch to Lind to begin the ninth was a slider that didn't, well, slide, and Lind hammered it into the bleachers in center, setting up a rubber game Sunday afternoon at Fenway Park.
Tazawa's troubles:
In the end, the bullpens disappointed after Buehrle and
Clay Buchholz
put forth a solid duel. On the day the Red Sox learned that onetime closer
Joel Hanrahan
will have season-ending surgery and closer No. 2
Andrew Bailey
was still days away from returning to the mound, Tazawa's performance put more questions on the back end of the Boston bullpen.
A marvel of efficiency earlier this season, Tazawa has given up four runs in his last 4 2/3 innings. It may simply be a quick market correction for a guy who has outstanding stuff, but the fact that Tazawa has been scored upon in his first two outings since being named the new closer -- albeit both in non-save situations -- speaks to the uncertainty of the ninth inning.
That's why they play the games:
Strictly from a numbers standpoint, the meeting between Buchholz and Buehrle was a complete mismatch. Buchholz entered with a 2.42 ERA in his career against the Blue Jays. The Toronto starters were a combined 24-for-130 (.185) against him. He absolutely dominated the Jays in the Rogers Centre on May 1 en route to a 6-0 start.
Meanwhile, Buehrle was winless with a 5.50 ERA in his last six starts against Boston and had a 5.60 mark in his career at Fenway Park. He entered with a 7.02 ERA this season, and the Red Sox starting lineup was 55-for-159 (.346) against Buehrle. The lefty was thoroughly outpitched by Buchholz 10 days ago.
Then the game began. While Buchholz was good, he was not quite on par with Buehrle, who stymied the dormant Boston bats, leaving with a 2-0 lead in the bottom of the eighth. Buehrle allowed five hits and struck out five, retiring 13 straight at one point.
[+] Enlarge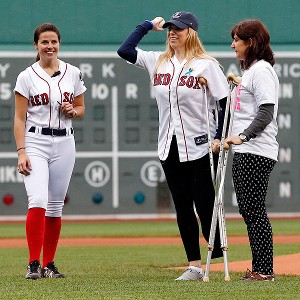 AP Photo/Michael DwyerBoston Marathon bombing victim Heather Abbott, center, throws out the ceremonial first pitch.
We'll make up for it:
A rain delay of 51 minutes before the first pitch lengthened the afternoon, but Buchholz and Buehrle more than made up for it. Buehrle is widely recognized as one of the fastest workers in the game, and Buchholz has made efforts to pick up the pace quite a bit this year. Throw in some efficient outs early on and the two were able to turn what could have been a long afternoon into a rather tidy one.
The game lasted two hours, 42 minutes, tied for the fourth-shortest Red Sox game of the year.
Where's the offense?
Aside from eight runs in a blowout loss to Minnesota on Wednesday, the Sox's attack has been quiet. While attention has been given to
David Ortiz
's recent slide and
Mike Napoli
's swoon, the struggles of
Jacoby Ellsbury
have been just as severe.
Entering his at-bat in the bottom of the eighth, Ellsbury was in a 3-for-29 stretch. He had just one extra-base hit in his last 14 games, had scored only one run in May and had one steal, while being caught stealing twice, in a span of 13 contests.
Then came an absolute bomb on the second pitch of
Darren Oliver
's appearance that resulted in an RBI triple for Ellsbury. There was a quick thought that the big hit could serve as a catalyst for the breakout everyone seems to be waiting for. Then came a first-pitch tapper to the mound to end the game with the tying run on second. Back to the drawing board for one of Boston's struggling stars.
Get away from me!
When
Will Middlebrooks
and
David Ross
pass by each other, they must flinch. The two seem to have a knack for meeting up. Four days after they pounded into each other chasing a foul popup, the two nearly came together on a
Munenori Kawasaki
bunt in the third. The result was a pretty nice play on both ends.
The ball rolled off Kawasaki's bat and just to the left of the mound. As Middlebrooks charged hard, Ross circled around the ball preparing to scoop and fire to first. When Ross grabbed the ball, Middlebrooks was right on him and had to go into a slide to avoid losing his noggin on the throw to first.
The two shared a few words after the out, likely planning for the next encounter.
Early efficiency:
This is nothing more than one of those quirky things that baseball often produces, but here goes. On Wednesday,
Allen Webster
and
Felix Doubront
combined to face 19 hitters in the first two innings against Minnesota.
John Lackey
,
Jon Lester
and Buchholz have combined to face the minimum of 18 hitters in the first two frames since.
Sunday is big:
Mother's Day brings with it a small dose of urgency for the Sox to snap out of their funk. After a day off Monday, Boston begins a stretch of 20 games in 20 days with just six of those games at home. One cannot discount the value of taking a little momentum into such a span.
Rhode Island Strong:
While celebrating Rhode Island Day at the park, the Red Sox continued their emotional tributes to victims of the Boston Marathon bombings by honoring Heather Abbott, a native of the Ocean State who lost a leg in the tragic events. David Ortiz said hello to Heather before the pitch,
Jarrod Saltalamacchia
caught it, and the crowd rose as one in appreciation of her bravery and spirit.
April, 30, 2013
4/30/13
10:30
PM ET
TORONTO -- How many bleeping cities can one man claim to have?
David Ortiz
tried Tuesday night to add Toronto to his list, hitting his third home run in nine games and clearing the bases with a three-run double that gave the Sox their only lead of the night.


But the Blue Jays, who have had as wretched a month as the Red Sox have had a great one, rallied for a 9-7 win that kept the Sox from setting a club record for wins in April.
Edwin Encarnacion
hit a two-run home run off Sox reliever
Junichi Tazawa
in the seventh, his second deep drive of the night, and the Jays tacked on another run in the eighth on a single, sacrifice bunt and single off
Joel Hanrahan
, who was making his first appearance since coming off the disabled list.
The Sox finish April with an 18-8 record, while the Blue Jays are now 10-17. Ortiz lined out to center for the final out against Jays closer
Casey Janssen
.
Papi-meter:
With his third home run and three-run double in the seventh, Ortiz raised his RBI total to 15 in just nine games. He has hit safely in all nine, and 21 straight dating back to last season.
K-cups:
Mike Napoli
came into the game within four of
Manny Ramirez
's club record for RBIs in April, 31. Instead, the Sox first baseman struck out four times. This was the second four-K game of Napoli's career; the first time came on June 11, 2010, when he was with the Angels.
Napoli finished the month with 40 strikeouts, the second player to reach that number in April.
Chris Carter
of Houston was the first.
Knock, knock:
You can watch a ballgame from your hotel room here, and on rare occasions, you might even get room service. In the fifth inning, Edwin Encarnacion hit one off
Jon Lester
into the fifth deck of the Rogers Centre, just inside the left-field foul pole and about 20 rows shy of a hotel room overlooking the field. That's the same place Manny Ramirez hit one for the Sox in another lifetime (2001). ESPN's home run tracker estimated the Encarnacion home run at 427 feet. Manny's, incidentally, was measured at 491 feet.
Lester lacking:
After shutting out the Jays for seven innings here three weeks ago, Jon Lester fared much worse on his second go-round, allowing six runs on six hits and two walks in six innings. A walk and
Jose Bautista
's double in the first scored Toronto's first run, and Lester loaded the bases on a single, walk and hit batsman in the third. Catcher
Jarrod Saltalamacchia
tried to bail him out but instead threw the ball into right field for a two-run error on an errant pickoff attempt.
J.P. Arencibia
's double made it 4-0. Lester, who was looking to run his record to 5-0, instead wound up with a no-decision.
Speed kills:
At least in this instance.
Jacoby Ellsbury
reached base four times Tuesday night (two walks, two singles), but in the fifth, with two on and Mike Napoli at the plate, Ellsbury was picked off at second base by Jays starter
Brandon Morrow
.
Omens, anyone?
Even with the loss, the Sox finished the month with the majors' best record for April, the 11th time they've done so. The past two times, 2004 and 2007, the Sox won the World Series.
April, 6, 2013
4/06/13
3:44
PM ET
TORONTO --
John Lackey
's return to pitching 17 months after undergoing reconstructive elbow surgery took an awful turn Saturday afternoon, when he re-injured his right arm and immediately left the game in the fifth inning of a 5-0 loss to the
Toronto Blue Jays
.
The team announced that Lackey had a strained right biceps, which connotes a muscle tear. There was no word during the game on the severity of the injury.


Lackey clutched his arm in agony after throwing a 2-and-2 pitch in the dirt to
Jose Reyes
, who skipped over the pitch as it skittered to the backstop. Second baseman
Dustin Pedroia
immediately came to Lackey's side as manager John Farrell and team trainer Rick Jameyson sprinted to the mound. Lackey walked off the mound to the dugout, his arm hanging at his side.
The 34-year-old right-hander, who had last pitched on Sept. 25, 2011, in New York, had been impressive Saturday afternoon, with a fastball that touched 94 miles an hour and an assortment of breaking balls and two-seamers that kept the Jays off-balance. He struck out
Emilio Bonifacio
to open the fifth, his eighth strikeout of the game, but on a 2-and-2 curveball that Reyes fouled off, Lackey shook his arm in apparent discomfort. He then tried to break off a slider, with a gruesome result.
Lackey left trailing, 2-0, having given up a two-run home run to
J.P. Arencibia
.
Alfredo Aceves
replaced Lackey, and in the sixth walked two batters and gave up a three-run home run to
Colby Rasmus
that caromed off the facade of the second deck in right-center field. Aceves has given up home runs in each of his first two appearances;
Vernon Wells
hit a two-run home run off him in the second game of the season.
Aceves figures to be manager John Farrell's choice to replace Lackey in the rotation, although highly regarded prospect Allen Webster, who was so impressive in spring training, threw five scoreless innings in his Triple-A Pawtucket debut Friday night. Until the severity of Lackey's injury is determined, it is unknown how much time he will miss.
The Red Sox did not have a hit in the first eight innings after
Jacoby Ellsbury
's double to lead off the game against left-hander
J.A. Happ
. They managed just three more baserunners against Happ and two relievers,
Steve Delabar
and
Aaron Loup
. Boston's only other hit was an infield single by Dustin Pedroia off closer
Sergio Santos
with two out in the ninth. Rasmus went crashing into the wall to catch
Mike Napoli
's drive to center to end it.
April, 5, 2013
4/05/13
7:19
PM ET
TORONTO -- If Harold Ballard was still alive, he would have suggested that John Farrell show up with a paper bag over his head Friday night in Rogers Centre.
Old hockey fans remember the story. Ballard, the former Toronto Maple Leafs owner who was as bombastic and impulsive as Steinbrenner, once fired his coach, Roger Neilson, but when that decision was met with outrage by everyone, including his players, Ballard relented, but not without making a bizarre request of his reinstated coach. He wanted Neilson to show up at the next game with a paper bag over his head, as the "mystery" coach. Neilson got his job back, but balked at the bag.
The circumstances surrounding Farrell's departure from Toronto as manager of the Blue Jays were far different from that 1979 episode, of course. He wasn't fired. He had a year left on his contract when the Sox asked for permission last October to hire him, and the Jays eventually let him go, with the Sox giving up infielder
Mike Aviles
as compensation.
[+] Enlarge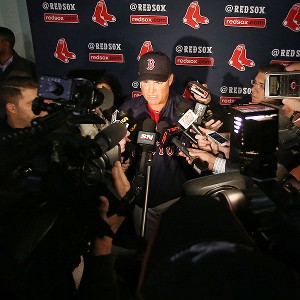 Tom Szczerbowski/USA TODAY SportsRed Sox manager John Farrell's return to Toronto on Friday was not a quiet affair.
Farrell's defection to the Red Sox was widely seen as an act ranging between blatant disloyalty and treason in Jays circles, where some interpreted Farrell's two years as manager in Toronto as little more than an apprenticeship for the Sox position. That interpretation was reinforced when Farrell referred to Boston as a "dream job."
That's why the TV cameras were lined up three deep outside the visitors' clubhouse, where Farrell spent 10 minutes addressing his return to the scene of the crime, as it were. The session fell short of being a Canadian inquisition; Farrell didn't break a sweat during the 10 minutes of questioning. Nothing like this tweet from a Toronto sportscaster named Sid Seixeiro, who wrote:
"In honour of 'John Farrell Day' banks in Ontario will now allow you to break a previously agreed to mortgage after only two years."
(As if it was novel for a coach or manager in sports to get out of a contract.)
"It's good to be back," Farrell said. "I fully expected this [media attention], as it has been reported by a number of people leading up to this. It's good to be back in Toronto, for sure."
When asked what message he had for Jays fans regarding his departure, he said: "This is a great city. Unfortunately, some things the past couple of years didn't play out the way we hoped, we planned, we intended, but I will say when I walked in today from the hotel, a 45-minute walk, I had a chance to meet up and talk to people on the streets coming in here, and you know what? Surprisingly, a number of people welcomed me back, and to have pleasant conversations on the way in was a good way to come to the ballpark."
Shocked by that?
"Not really, no," he said. "Again I can fully respect and understand the sentiment, the questions and what might transpire here tonight."
Judging by the response he got this spring in Dunedin, the Florida home of the Jays, Farrell could expect to be booed any time he popped his head out of the dugout this weekend. He was when he was introduced, and the boos grew even louder when he brought the lineup card to home plate. Farrell tipped his cap on the way back to the dugout.
Reporters covering the Jays said there was more ballpark security than usual during batting practice, although the place remained partially filled until just before game time.
"That to me shows that there's a lot of passion here for baseball," Farrell said of the anticipated reaction. "And certainly, I fully respect all the changes that have gone on this offseason with the Blue Jays. I thoroughly enjoyed my time. To work with Alex [Anthopoulos, the GM] and Paul Beeston [CEO] was a great opportunity."
The "dream job" comment was then resurrected, attached to an inquiry of how it had measured up to date. Farrell was at his diplomatic smoothest in his response.
"I think if you were to ask anybody who's got an ambition to manage in the big leagues, they'd probably give you the same response," Farrell said. "How honored and fortunate you are to have one of these positions, to work towards achieving that professional goal.
"So this is a rare opportunity, and a unique set of circumstances."
Would Farrell have done anything differently?
"That question came up repeatedly throughout the second half of last year," he said, "and to look back, I know I can look myself in the mirror and know that I gave this organization, the Blue Jays organization, everything I had on a given day. To work as diligently, as thoroughly as possible, to win the game on a given night, and we had to deal with a lot of things along the way."
The Blue Jays regressed slightly in 2011, Farrell's first season in Toronto, going 81-81 after finishing 85-77 the year before under Cito Gaston. Beset by a plague of injuries reminiscent of what Bobby Valentine endured last season in Boston, the Jays under Farrell in 2012 went 73-89, and Farrell heard griping about sloppy play and a less than fully invested group of players. There was the embarrassing episode in which shortstop
Yunel Escobar
, since traded away, took the field with an anti-gay slur written on his face in eye black.
The Jays went back to the future and replaced Farrell with John Gibbons, who managed the team with 50 games left in 2004 (replacing Carlos Tosca), until he was fired and replaced by Gaston in midseason 2008.
"I'm sure there are going to be some boos tonight," Farrell said. "I think that goes back to how much people care. That's a good thing. It's a good thing for the Blue Jays, and they have a lot to be excited about. This is a darn good team that we're going up against, and we've got our hands full."
March, 22, 2013
3/22/13
12:28
PM ET
By
Chris Girandola, Special to ESPNBoston.com
DUNEDIN, Fla. -- Starting lineups for today's Grapefruit League game between the Red Sox and Blue Jays (1 p.m.):
Red Sox
1.
Brock Holt
, 2B
2.
Drew Sutton
, 3B
3. Jackie Bradley Jr., CF
4.
Ryan Lavarnway
, C
5.
Lyle Overbay
, 1B
6.
Mauro Gomez
, DH
7.
Mike Carp
, LF
8. Bryce Brentz, CF
9. Xander Bogaerts, SS
SP --
Alfredo Aceves
, RHP
* Also expected to pitch: RHP Jose De La Torre
Blue Jays
1.
Jose Reyes
, SS
2.
Emilio Bonifacio
, 2B
3.
Melky Cabrera
, LF
4.
Jose Bautista
, RF
5.
Adam Lind
, DH
6.
J.P. Arencibia
, C
7.
Colby Rasmus
, CF
8.
Mark DeRosa
, 1B
9. Maicer Itzuris, 3B
SP --
J.A. Happ
, LHP
* Also expected to pitch: RHP
Sergio Santos
, RHP
Esmil Rogers
February, 25, 2013
2/25/13
2:20
PM ET
By
Chris Girandola, Special to ESPNBoston.com
DUNEDIN, Fla. -- Red Sox manager John Farrell spoke with the media for about 15 minutes prior to Monday's contest against the Blue Jays, with whom he spent the past two seasons as skipper. The Toronto press joined the Boston corps to see what he had to say about facing his former team for the first time.
While Farrell offered a few gracious comments about his time with the Toronto organization, the former Blue Jays manager was firmly focused on the Red Sox.
"April will get here when it does," said Farrell, who was booed by Jays fans here. "We've got a lot of work to do right now. I'm certainly not looking too far ahead. How that (facing the Blue Jays) unfolds -- we'll see. I fully respect that team. They've got a darn good team, and I look forward to competing against them."
Here are some other notable highlights:
* Red Sox righthander
Steven Wright
matched up against Cy Young Award winner
R.A. Dickey
in Monday's game, a battle of two knuckleballers. Farrell said it was just a coincidence that two knuckleballers started against each other.
"We didn't call Toronto and ask if Dickey was going to pitch so we would match him Wright, so it's just coincidental," Farrell said when asked if the Red Sox planned on having Wright face Dickey. "It falls on the same day. So this is one of the rarities and really a unique opportunity to see two knuckleballers, one which obviously is a reigning Cy Young Award winner and one who is developing to hopefully become a big league pitcher."
Farrell was excited about Wright being able to gain some insight from former Red Sox knuckleballer
Tim Wakefield
, who was on hand in Dunedin to begin his stint as a mentor to Wright.
"To have him in person, not only here in today's game to watch how these two innings will go, but also be with him in uniform when he throws his side, those interactions are invaluable," Farrell said. "I'm sure R.A. can probably speak to some of those interactions that Wake had when he was out in Seattle. It's such a tight-knit fraternity, to have a guy with him that's blazed a long successful trail ahead of him, I'm sure he'll take advantage of it."
Wakefield said it is the first time he has seen Wright pitch, either live or on video.
"I know he throws it hard, which is fine," Wakefield said. "I wish I could have thrown mine harder, but I couldn't. I wasn't blessed with the arm speed. R.A. throws his just as hard and he won the Cy Young. I told him, I don't care how hard you throw it, I don't care you hold it. The big key is regaining your delivery and taking the spin off it consistently."
* Offseason acquisition
Mike Napoli
(hip) will hit against Boston right-hander
Clay Buchholz
in a simulated game on Tuesday. Farrell projects that Napoli will be able to get some plate appearances in a spring training contest starting on Friday.
"We'll increase the intensity on the basepaths between now and then, but everything looks in order for Friday," Farrell said.
Farrell said Napoli will play first and probably get a couple at-bats against the Pirates on Friday.
"Increased intensity on the field in the agility work," Farrell said. "He's still according to his protocol. Still making progress there."
Buchholz will throw 35 pitches, essentially two innings, in the simulated game.
Buchholz, who strained his hamstring nearly two weeks ago, will be ready to start Saturday against the
Minnesota Twins
in Fort Myers.
Farrell said Buchholz will still be able to get six starts this spring.
*
Craig Breslow
, who has experienced shoulder discomfort throughout the early part of spring training, did not throw today, but Farrell said the pain has begun to subside.
"He continues to go through strengthening," Farrell said. "The discomfort he was feeling has really cleared up, but through the manual resistance tests, we're still working to build that before we initiate the throwing program."
*
Felix Doubront
, who has also experienced shoulder discomfort this spring, is on schedule to throw live batting practice Monday and Wednesday and is projected to pitch in his first game next Monday.
Farrell said Doubront will have the opportunity to make six spring training starts.
February, 25, 2013
2/25/13
10:46
AM ET
By
Chris Girandola, Special to ESPNBoston.com
December, 20, 2012
12/20/12
12:53
PM ET
In sizing up the major league landscape at the offseason's midway point, ESPN.com senior baseball writer
Jayson Stark polled executives around the league
, asking them to identify the five teams that improved themselves most and the five that have done the least to help their chances in 2013.

Not surprisingly, the Blue Jays topped the first list after trading for three starting pitchers who averaged 209 innings apiece last season (
R.A. Dickey
,
Mark Buehrle
,
Josh Johnson
), a dynamic leadoff man (
Jose Reyes
), a guy who hit .346/.390/.516 (
Melky Cabrera
) before testing positive for a banned substance and two players (
Emilio Bonifacio
and
Maicer Izturis
) who give them the depth and versatility they lacked in 2012.
"I give them a lot of credit," one NL executive told Stark. "They recognized that right now, the Red Sox and Yankees aren't the Red Sox and Yankees. The AL East isn't the AL East like it used to be. They saw a window of opportunity, and they're going for it. A lot of teams never take that swing. At least they took it."
Perhaps more surprising was the team that executives think improved itself the second-most in baseball: The
Boston Red Sox
.

The Sox have added eight free agents (assuming they come to terms with
Mike Napoli
), for the most part because they had more holes to fill than almost any other team in baseball after their worst season in more than four decades.
Nevertheless, executives on the whole were bullish on Boston's acquisitions, though there were divided opinions as to how much better the Red Sox would be in 2013. This from Stark:
They're deeper. Our panel agreed on that. Their clubhouse should be much more harmonious. They've added more of Keith Law's top 50 free agents (six) than any other team in either league. And "they've brought in a bunch of guys who can play in Boston," said one AL executive. But on the other hand ...

"They've added a lot," said one AL exec. "But remember, they had to add a lot, because they had so many holes."

And another AL exec gave this scathing review: "To me, they've spent a lot of money to be mediocre."
On the other end of the spectrum are the Orioles, who executives ranked fourth among the teams that have improved the least this offseason.

So far this offseason, the wild-card Orioles have added
Trayvon Robinson
,
Danny Valencia
and
Alexi Casilla
(plus Rule 5 draft pick T.J. McFarland).
Eh.
"I'm really surprised by what they've done, or haven't done," one AL executive told Stark. "With the momentum they had going into the offseason and the resources I thought they had financially, I don't think anybody would have been surprised if they'd gotten in on something big."
Missing from either list are the
New York Yankees
, who re-signed
Hiroki Kuroda
,
Andy Pettitte
,
Mariano Rivera
and
Ichiro Suzuki
and added
Kevin Youkilis
to help shore up the left side of the infield in Alex Rodriguez's absence.
Your turn:
Which AL East team do you think has improved itself most? Which has improved itself least? And remember, there's still nearly two months before pitchers and catchers report, so there is still work to be done. Vote in the polls above and share your thoughts in the comments section.