Boston Red Sox:

Will Middlebrooks diary
August, 2, 2013
8/02/13
5:50
PM ET
By
Will Middlebrooks
| ESPNBoston.com
Red Sox 3B Will Middlebrooks has been keeping a diary for ESPNBoston.com this season. As he continues playing in Pawtucket, he goes over how the trade deadline affected him and how he handles not getting called back up yet, addresses rumors, and gives his thoughts on all those Boston walk-off wins. -- as told to Louise K. Cornetta

In the week leading up to the trade deadline on Wednesday, I knew there were a lot of rumors where my name was mentioned. Honestly, I tried not to read that stuff because you don't want it on your mind. It's something that was going to be out of my control anyway. I've been staying away from Twitter for the most part, but I would hear about it from my teammates and agent even though I tried to keep my nose out of it. The biggest thing for me is I didn't want to be traded. I feel like if you're looking forward to being traded and it's something that you want, then you'd be more into it hoping something would happen.
I want to be with Boston. I want to play my career here. So I was playing it like nothing was going to happen. I took it as a normal day. The locker room wasn't too tense on Wednesday because the only other person who would have been involved in a big trade would be Jackie [Bradley, Jr.]. Jackie is one of the most laidback people that I've ever been around. He's the same way, not reading into rumors. He wants to be with Boston too. He takes everything a day at a time. On Tuesday night, he came out of the game with a minor tweak. Since he was OK, we made a joke about it in the dugout. As soon as that happened, we said Twitter is about to blow apart because people will think he's being traded. I'm not sure whether you'd say this was bad or good timing on his part.
Once the deadline passed, it was a little bit of relief for just the little bit I've been thinking about it. Again, I didn't want to be traded. At the same time, it wasn't a big deal because I wasn't really paying attention to it. But the Red Sox obviously did make a big trade with the three way deal that sent
Jake Peavy
here and
Jose Iglesias
to Detroit. That is a good trade for us and also a really good trade for Detroit because we got someone with a really good resume like Peavy has and then Detroit gets a really good shortstop in Jose. I think both teams came out well.
Wednesday afternoon I was ejected from the game for arguing balls and strikes with the umpire. A few previous at-bats I felt I had some pitches called against me that weren't strikes and that's part of the game. Just like we mess up and swing and miss and make errors, umpires are human too and they're going to miss some calls. I guess my frustration boiled over so-to-say. I had a 3-1 count after taking some really good pitches to get myself into that count. I took a pitch that was a good way off the plate for what I thought was ball four and started heading to first base. Then it was called a strike. So I had some words and ended up striking out in an at-bat that I felt I earned a walk. That's part of the consistency I've been trying to gain more at the plate is walking more and striking out less. I just got frustrated and let it get the best of me. That's not the player or person I am and is not something that is going to happen very much.
Baseball is a very humbling and negative game. If you're 3-for-10 that means you failed seven times out of 10 times but would be considered one of the best in the game. It's really about who can fail the least. It's a really negative game that can frustrate you quickly.
For any rumor out there that I was ejected because of the pressure around the trade deadline, it's just not true. As I mentioned before, I wasn't worried about being traded. I know the faith that the ownership, the coaches and my teammates in Boston have in me and I wasn't worried about being traded. I really wasn't worried about it.
Another rumor out there is why I didn't play on Thursday. It was a scheduled day off. I had played 18 games in a row. Honestly, if I had gone 4-for-4 the day before, I would have had that day off. DiSar [Pawtucket manager Gary DiSarcina] told me before Wednesday's game that I was going to have Thursday off.
One last rumor you may have heard is whether I've been asked to play first base at all. Recently I heard chatter on the rumor mill about that, but I haven't had a discussion with anyone about it. Earlier in the season I took some ground balls over there when
Mike Napoli
was sick.
Mike Carp
was the only backup at the time. So I took some ground balls over there during BP just as an emergency thing. Other than that, I haven't heard anything about it.
As for how I've been doing here in Pawtucket, I'm fine and on the road to getting healthy again. I feel like I'm getting there and it's starting to show with some results. I had the back problem and while I wouldn't say it's still hurting, I'm not in pain or anything terrible, but the tightness is there. Basically, it's just not all the way normal yet. When I'm on the field I don't think about it, it's more off the field I notice. The trainers and coaches here do everything in their power to get my back loose and ready to go. I'm fine during the games. It's just about getting it out of the back of my mind and moving forward.
The consistency of performance is just not where I want it to be. I'm still hitting around .250. I know people will say it's not enough numbers. When you do things right and your body is feeling good, you'll get more results. Like I said, things have been going better and I've been feeling better. Things like that seem to go hand in hand. I'm just going to continue to do what I am doing and try and get back to the player I was.
I've mentioned consistency. For me, consistency is the difference between big-leaguers and minor-leaguers. While you have certain guys who stand apart, for the most part Double-A to most average big-league players have the same physical ability. It's the mental side of the game that people can be inconsistent with and that can hold them down. Then there is taking care of your body. It's kind of a trial-and-error thing that you learn as you go. That's why it's good to have older veteran players on a team because they help you learn those things quicker.
There are some new faces in Pawtucket as
Jose Contreras
and Brandon Lyons have joined us. Jose is probably one of the nicest people I've met in baseball. He's like a big teddy bear. He's a huge human being physically. He's just a big, intimidating person on the mound, but off the field is so nice. Brandon Lyons is hilarious. He's got 11, almost 12 years in the big leagues. He's a good teammate and a fun guy to be around.
Since I've been here I've seen a lot of my teammates get called up to Boston. How have I dealt with not getting the call? Well, of course I want it to be me. Who doesn't want to get called up to the big leagues? It's what you work for your whole life and play for, but I've had to put that frustration aside. I've realized when I'm frustrated or worried about that, I'm not focused on the right things to get me back to the big leagues. The first couple of times it happened, yes, I was frustrated. I wanted it to be me, of course. The last couple of times, I tried to look at the big picture. I know if I'm not focused on the right things, I'm not going to get back there.
It's not like Xander [Bogaerts] and I sit around talking about which one of us will get called up to play third base. We don't discuss those things. He's 20 years old. He's not going to be 21 until October. He's going to be a big-leaguer for a long time whether it's third base, shortstop or wherever they put him he's going to be a good player, that's just his mentality. Like DiSar said the other day, that Xander would play on the moon. If we said we're taking a trip to the moon to play baseball, he wouldn't question you one time. He'd just say, "Alright, let's go," and be the first one on the bus. He's just a kid, that's all he is. He's a kid with an extraordinary ability to play baseball.
Some of my Pawtucket pitching teammates that you've seen lately up in Boston are
Rubby De La Rosa
,
Brandon Workman
and
Drake Britton
. Rubby is a good pitcher. He's got some of the best stuff I've seen. His fastball is between 93 to 97 mph. A good sinker, a really good changeup that he uses not only against lefties but against righties as well. His ability to change speed and throw strikes is really going to help him out a lot. Brandon Workman, what a powerful presence on the mound. He's a big guy who throws hard and changes speed. The biggest thing is he throws strikes. He's a guy you could start and he'd give you a good six or seven good innings or you can put him in the pen and he'll give you a really good one or two. He's a really versatile guy who will do anything to help the team win.
Drake is another guy who has a really good presence on the mound and who has really good stuff. He's a lefty, which is really good for our pen. Any bullpen that can have a good left-handed power arm is important. He's been up and throwing strikes. He's had a long road through the minor leagues. He was in my draft class in `07 and he had Tommy John and struggled coming off the surgery to throw strikes. It's hard to really get that feel back. Now he's gotten it back and gained even more and it couldn't happen to a better guy.
I've been watching what's been happening up in Boston. I've seen the walk-offs the last couple of nights. That's the mentality of that team in that they'll work hard and do anything they can to win. You can never give up on this team. I also saw
Dustin Pedroia
got a nice contract extension. I admire everything about Pedy: his work ethic and the teammate he is. He's helped me out. He helps everyone out. He's a real upbeat guy at the field, which is something you need. You go up there every day and do the same thing for six or seven months. To have a teammate like him who is constantly there working hard is something to admire. He's made plenty of money and knows he's set for life. He could easily cash in and be fine, but that's not his mentality. He would play for 10 bucks a day honestly.
Something I enjoyed recently was during the All-Star break, I had the most relaxing time. I have friends whose parents have a place in Westport, Mass. It was me, my sister and a couple of my friends back home. We went out and stayed a couple of nights. I turned my phone off and got away from everything. It couldn't have been better. I just relaxed and had a good time with some good people. Speaking of my sister, she was a ballgirl with the Red Sox while she was working in Boston but she just accepted an offer to be the pitching coach at the University of Buffalo. At 22 years old, how great for her to not even be a graduate assistant but to get her own coaching job at a Division I school. She's very excited about that and we're really looking forward to it.
Finally, as for me, I just want to be the player that everyone has seen. When I can get my body back to normal, I feel like everything will fall into place. It's not an excuse because there have been plenty of other factors, like my approach at the plate, that snowballed on me. I just want to get back and help us win a World Series.
July, 1, 2013
7/01/13
1:10
PM ET
By
Will Middlebrooks
| ESPNBoston.com
Red Sox 3B Will Middlebrooks had been keeping a diary for ESPNBoston.com this season. In the most recent entry, he talks about how he felt being sent down to Pawtucket last Tuesday (June 25), his relationship with Jose Iglesias who has taken over third base in Boston, and what the goal is now. -- as told to Louise K. Cornetta

Last week I tweeted "in the middle of difficulty lies opportunity." To put what that means to me in baseball terms: You're not always thrown a fastball. You don't always know what's coming. The situation you're put in isn't always what's expected or what you wanted. You just have to take the positives out of everything and learn from it. This has just been a really good time for me to grow up.
I'm doing well now. The first couple of days [after being sent down] were hard to swallow. It's never a good feeling to be told you're being optioned or you're going down because you work so hard to get to the big leagues. It's tough. I know it's temporary, it's not a permanent thing. I have to go to Pawtucket and get my work in, get better, and stay positive. We'll see where it goes from there. A lot of it is out of my hands.
Physically coming off my lower back strain, I'm feeling much better. I finally feel like I have my regular swing back. When your back is bugging you, even if it's not hurting too badly, it's in the back of your mind and you're not swinging your normal swing. It's a lot better now. I feel like myself again.
[+] Enlarge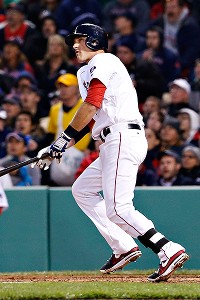 David Butler II/USA TODAY SportsWill Middlebrooks was hitting .192 in 53 games in Boston this season before being sent down to Pawtucket on June 25.
Lately, I feel if I were to choose one word to describe how I've been playing since I got down here is consistent. I've had good consistent at-bats. I'm getting myself in good counts and with that, you get good pitches to hit. It's a lot easier to be a good hitter then when you are getting fastballs. [Editor's note: On Sunday, Middlebrooks had two homers and 4 RBI.]
When I was up in Boston, there were a lot of things with my approach and plan at the plate that I needed to tweak. I'm not a person to make excuses about how I was hitting. A lot of it goes to how my body was and I was playing through a lot of stuff physically. But that is just a part of it, the other part is what I said about being consistent with my approach at the plate, which is something I am working on now.
I've been asked a lot questions about what was going on with me. How do I feel? How are the injuries? I hate being asked about struggling because it's embarrassing to me. I don't like to struggle. If I struggled it was always for a short period of time. I was able to fix it. There were just a few things that snowballed on me this year. I've learned from all if it and think it will make me a better player. Why is it embarrassing? Because no one wants to struggle, no one [wants to] let the team down or not do well. That's not the person I am, I'm a competitive person. I want to do well.
When John Farrell told me I was going down to Pawtucket, I have to say, it was a very positive meeting. For it to be such a negative thing, it was a very positive meeting between us. He just said that we still have faith in you. Obviously Iggy [Jose Iglesias] is playing very well and I don't want to just sit on the bench. If I'm going to get out of this and I'm going to get better, then I need to play. The only option is to go down to get consistent at-bats until the situation changes. It was a very positive meeting of go down, get your stuff done, and get to feeling better then we will see where things go from there.
With Iggy, he is someone I've been around a long time. He's worked really hard to get where he is which is playing third base in Boston. I'll admit, it's tough. I mean it really is tough and hard to swallow that it isn't me, but I can't fault him for that. I can fault myself for putting myself in that position. But I can't fault him for doing his job, that's like someone being mad at me for playing well. I looked at it from that perspective. If I started to get jealous or be mad about it, I just thought, 'Well what if that was me?' And that was me last year. I just looked at it from that vantage point. I'm happy for Iggy. I love the kid. He's a good player and he's just doing what he needs to do. He can't worry about anything else but that.
All my teammates have been there for me. They've all been through struggles like this. It's a part of growing up as not only a ballplayer but a person. I talk to Pedy [
Dustin Pedroia
] a lot, who had struggled early in his career. David [Ortiz] has been through it. Just about everyone, like [Mike] Napoli has been through it. It's a part of baseball. I've had a lot of support from my teammates and family. I've learned a lot from it.
In Pawtucket, Gary DiSarcina is our manager. He's like family to me. He was my first pro ball coach I ever had. He's someone who is very very close to me. I've talked with him through the last years of the minor leagues. It's good to be here with him because he knows me. He knows what pushes my buttons and what gets me going. It's a good person to help me turn things around.
Our hitting coach is Davie Joppie. He's been awesome. He's really good at building confidence. He lets you know what you do well. He's good at physically working on what you need to. He's a really good hitting coach that I've learned a lot from over the years.
I know just about all the guys on this team. One of my best friends is Alex Hassan. It's good to see him. It's good to see how these guys have grown over the past couple of years since I played with them. I've been helping Xander Bogaerts at third base while I've been here. He's a really good athlete. He's going to be a really good ballplayer whether at shortstop or third base or outfielder or wherever, he's that athletic. I'm just trying to teach him the angles when he takes groundballs at third base, pretty simple stuff, but unfamiliar to him. I'm just trying to help out the best I can.
As I mentioned, the first couple of days being in Pawtucket after being in Boston … they were tough. Things are completely different. It would be really easy to be negative. So I'm just trying to be as positive as I can and help guys out. I know when I was there and guys would come down, we would look up to them and look for help and advice. I'm trying to be that guy. This time around I don't have to buy the postgame meal. I did when I was on rehab, but not now.
My goal is to be in the big leagues and win a world series. Short term, I feel like I'm doing my part. I've always worked hard. I'm on time -- that's a big deal to be there and get your work done. I don't know with this situation if my time here is going to be quick. A lot of it is out of my hands. So I try not to even worry about it. I just take it day by day and try to get better every day where I'm at.
Being back here reminds me of many minor league stories of bad hotels or long bus rides. The one that really stands out is we were in the playoffs in low A ball. We had to drive all the way from Greenville, South Carolina to Lakewood, New Jersey which is about a 14 hour trip. Because it was the playoffs, we had to drive all that way for one game. We won that game then they came down to our place and we ended up losing. On the way back, we were maybe 20 minutes outside of the city after driving all night and the bus broke down. There are so many stories like that when you play in the minors.
I know the Bruins were the team on everyone's mind the past month. A lot of their games were going on the same time as ours. So it was tough to watch but I tried to as much as I could because it was a lot of fun. It was amazing to see how much the city of Boston embraced the Bruins. Anywhere you would go, the grocery store or a restaurant, that's all people were talking about. I loved seeing how much the city enjoyed the Bruins and I'd love to be up here and be a part of experiencing for myself going to the playoffs with the Red Sox and have that be us.
May, 12, 2013
5/12/13
12:01
AM ET
By
Will Middlebrooks
| ESPNBoston.com
Boston Red Sox third baseman Will Middlebrooks has been keeping a diary for ESPNBoston.com this season. In his fourth installment, he discusses the loss of Joel Hanrahan for the season, how he and the team are handling their recent struggles, allegations against teammates, and how his mother has influenced him. (--As told to Louise K. Cornetta)

I'll start with the news we got Saturday about Joel Hanrahan needing season-ending surgery [
to repair the flexor tendon in his right forearm
]. It's tough. You don't want to lose anyone. We're all family here. We pull for each other and we don't want to see anyone go down, especially for the whole season. This situation certainly is no fun, but we're behind him and he's certainly in our prayers.
I've been able to dodge serious injury this year -- first in spring training with my wrist and this past week with my ribs when I collided on a foul ball with
David Ross
. It's my job to go get the ball and take the pressure off the catcher, but that play was on the border of what I take and what he can get. It was a tough ball for either one of us to get. It was a good situation in the game to go for it, and he did also. I probably should have chosen a smaller guy to collide with. Right now I'm sore. I'm bruised up a little bit, but I'm fine.
[+] Enlarge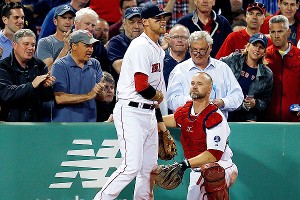 Jim Rogash/Getty ImagesWill Middlebrooks is playing through rib pain suffered in this May 7 collision with catcher David Ross. Middlebrooks made the catch.
I want you all to know that there is zero panic here. As much as people think there is, we're 30-something games into a 162-game season. If five or six games go bad, who cares -- that's going to happen. We'll be happy that it was just five or six. Other teams are good. There are other good pitchers and other good hitters. You're going to lose some games. You're playing against other big leaguers. You aren't playing college teams. So it's just part of the game.
For myself, I've definitely gotten a lot of advice via Twitter. I try my best not to read into that stuff. It gets frustrating because no one wants to not do well, especially when you're used to doing well. My teammates have helped me. Pedey [
Dustin Pedroia
] and
David [Ortiz]
have told me to stay myself, it won't last, and don't fret over it. I haven't gotten down. I know it's tough, but we've all been through it. It's good to hear good players like that say, "We've gone through that exact same thing." It's going to happen and it's going to happen again. David told me in 2009 he started the year pretty tough. He said, "Dude, it doesn't matter. If you have 20-30 bad games, you have 130 to make up for it. The second half of the season is the most important part anyway." It's refreshing to hear that everything is going to be OK. Like I said, I've gotten frustrated sometimes, but I know the player I am. I know I'm going to come out of it.
The only changes I made during all of this? I got a haircut and I grew a beard. But really, I only grew the beard because I got sick of shaving. I'm not superstitious whatsoever. I don't really have a routine. I get up. I have breakfast. I like to have breakfast because it makes me feel good, but it's not the same thing every day. I like to switch it up. I'm at Fenway by 12:30 or 1 p.m. for a night game, just getting my body ready to play every day to make it through a long season.
On Friday night I stuck with a game plan. Not that I didn't know, but I'm starting to really get a grasp of how guys are going to attack me. Now I'm starting to see that. I can have a plan against guys and not just wonder what they're going to do. Over the last month, teams have been back and forth working me in or working me away. Now guys are staying away. So I can really stick to that plan and give them the inner half of the plate.
This has been a tough time for me. Something that helped me was an ESPN piece called
"The Only Disability in Life is a Bad Attitude."
I loved it. At the time, it was a tough patch for the team. I decided to tweet that and put it out there. Not only is it for me, but I don't know what other people are going through. So maybe that will help somebody else, too.
[+] Enlarge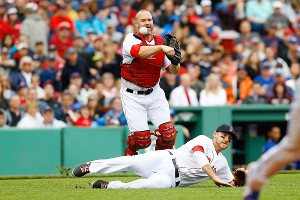 Jared Wickerham/Getty ImagesA bunt in fair territory Saturday brought Ross and Middlebrooks in close proximity once again, but Will slid to avoid getting hit by Ross' throw.
Looking back over the last month, I should definitely spotlight some of my teammates:
* When
Mike Napoli
gets going like he did in April, he's an RBI machine. It's pretty unbelievable to watch. He can easily be one of the best run-producers in the game. When he's hot, it's something to see.
* We have David Ortiz back in our lineup. He is a leader on and off the field for us. For a young guy, he helps me out a lot. He keeps my head in the right place. We talk about hitting and everything you can think of. I'm sure by now you've seen the article by Dan Shaughnessy on Ortiz that questioned his hot start to the season. The reaction from all of us in the clubhouse is we don't like to hear anything negative about teammates, especially when it's not true and especially when there was nothing negative to be written; instead, someone just decided to write it. That's really all I can say about it other than that we have his back and we know the person he is.
* Another teammate who got off to a great start is
Clay Buchholz
. He was the AL Pitcher of the Month for April and another story I'm sure you all heard about is the allegations made by Toronto broadcasters that he was supposedly doctoring the ball when he pitched. In a way, that brought this team even closer together. It showed us that we have each other's backs. No one is cheating around here. It's rosin. They put that on the mound for everyone to use. It's there for that. A lot of guys put that on their arms so they don't have to go back to the actual bag every pitch. The guys with their sweat, it will stay on their arm. They put it there so they don't have to go to the back of the mound every time. They can just touch it and it will dry out their fingers.
* Right after our Toronto trip we went to Texas, and when we arrived inside, that night's starting pitcher's locker was filled with Vaseline and baby oil and items like that. Who was behind that? I want to say it was Demp [
Ryan Dempster
], since it was his locker. I believe it was him. It was pretty fun. It was a way to make light of the situation.
* Something else that was funny was a friendly home-run competition between Pedey and Vic [
Shane Victorino
]. Now, I don't know anything about a home-run contest for the season between Pedey and Vic, but what I do know is a few days ago both had zero home runs. Vic hit a homer. Then a couple innings later Pedey hit one. They got to enjoy it for a couple of innings with Pedey being the one without one.
[+] Enlarge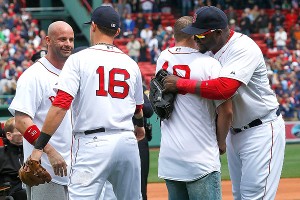 Jim Rogash/Getty ImagesWill Middlebrooks (16) talks with Boston Marathon bombing victim Steven Byrne, while David Ortiz embraces Matt Paterson, who aided the wounded in the aftermath of the April 15 attack.
I haven't had a chance to reflect in this diary yet on the tragedy that occurred here in Boston with the bombings. I learned a lot about the city of Boston through all of that. I learned how strong this city is, obviously Boston Strong. It was really nice to see the city come together. Even in the moment of the crisis, there were just random people pulling guardrails off of people to help. A lot of people would run from that and people were running to it -- that really says a lot about the people of this city.
It was nice to be able to go to the hospitals and bring a smile to these people's faces who have been pretty down, and you really can't blame them. I mean, you're losing a leg or an arm or a family member, even. I can't imagine what they are going through. I really can't. I just want to do my part to help out as much as I can.
Clay was on the mound Saturday against the Blue Jays again. Was that extra incentive to want to win? Absolutely, but you know what? We don't need any extra incentive because we want to win every day. I was hoping we'd carry over a little momentum coming off of the day before, with
Jon [Lester]
throwing so well [
he pitched a one-hitter
], but we came up a little short. I thought Jon had a real shot at a perfect game. I stretched as far as I could to catch that ball. I got a couple feet from it. It wasn't that close.
While we have the Blue Jays in town this weekend, we aren't the only Boston team playing Toronto. The Bruins are playing the Toronto Maple Leafs in the playoffs. Hopefully the B's can close things out. I know it's a big deal for our city. We'd love to see them win it all.
Sunday is Mother's Day. My mom is a teacher. She is back home and I won't be able to be with her, but she will definitely get a call and there will be something delivered to her. I wish I had the words to express how she has been more than influential in my life. She's a great friend. She has helped me through some tough times. She has a strong mind and is a strong person. The more she can rub off on me, the better and happier my life will be.
April, 14, 2013
4/14/13
12:27
AM ET
By
Will Middlebrooks
| ESPNBoston.com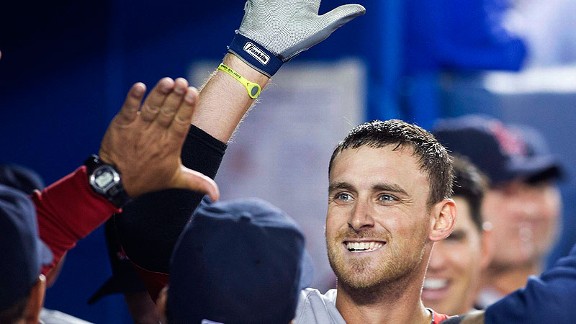 AP Photo/Canadian Press/Chris YoungWill Middlebrooks had himself quite a Sunday on April 7, blasting three home runs in Toronto.
Red Sox third baseman Will Middlebrooks is keeping a diary for ESPNBoston.com. In his third entry, he talks about an interesting trip to Toronto, why Red Sox fans should come out to Fenway, and life on the road. (As told to Louise K. Cornetta)

We may have gotten rained out on Friday, but a lot happened in sports. While I sat home on my couch watching everything after a nice dinner at home, we had people thinking Tiger Woods might get disqualified from the Masters because of a bad drop [he ended up with a 2-shot penalty], Kobe Bryant is out for the season with a torn Achilles, and the Blue Jays'
Jose Reyes
hurts his ankle and could be out 1-3 months. All not good things to happen. But the worst probably would be what happened to Kobe because it ended his season just as they were making a run for the playoffs, which will hurt them.
The season started for us on the road. We had a successful road trip, going 4-2. The highlight for me would be the three-homer game in Toronto. The words I would use to describe that game are easy and fun. It's one of those times like in a basketball game when everything you throw up goes in. I felt like everything I swung at, I put good wood on and hit it hard. I've yet to experience what people say sometimes how the ball looks as big as a beach ball when the pitcher is throwing it. It looked the same. I just felt like I got good pitches to hit every at-bat. When I am not swinging the bat well, it feels like everything is on the corners and you're not getting good calls. This time it felt like everything was in the middle.
What will stand out from that trip to Toronto, which was John Farrell's return, is my three home runs, paper airplanes being thrown by fans and a couple of streakers. The paper airlines were coming from the upper decks. They'd be in the air for like 15-20 seconds. So ones that made it all the way down, you would hear the crowd going nuts. You'd look up and see one coming that would take a couple of pitches to get all the way down. They were taking pages out of programs to make them. Though some used their ticket stubs, which wasn't the best move since security would then know who did it. It's a rare breed up there. They are very passionate about their team. It was a fun atmosphere. I was definitely glad we could put together a good couple of games to win them for John.
[+] Enlarge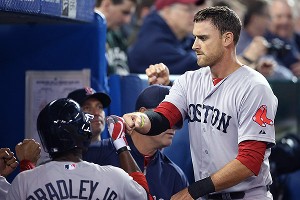 Tom Szczerbowski/Getty ImagesWill Middlebrooks enjoyed success at the plate and appreciated the rowdy fans at Rogers Centre.
The winning was the good part of Toronto. The bad part was seeing
John Lackey
get hurt. We got really lucky that it wasn't as serious as we first thought. Initially it scared all of us. His arm was just kind of hanging. We all thought it was his elbow all over again. It was a big scare. But to find out it is just a biceps strain is a huge relief for us.
Then we came home and I got to experience my first Fenway Opening Day. It was unbelievable and on top of everything we got the win with
Daniel Nava
's three-run homer. It was probably one of the loudest games I've ever been a part of with a packed house here. Our sellout streak did end on Wednesday. Why should you come out to see the Red Sox? As people are getting to know, we are a different group who is fun to watch. We play hard and we are here to win every game.
Something else that fans can look for when they watch is we've been implementing the infield shift more this season. The shift is probably the biggest change from what we were doing last year. We're just playing to guys' tendencies. If a guy is more likely to, say, hit a ball hard to the right side then we're going to play that. We're not going to shift for like a broken bat or flares or soft-hit balls because we'll probably be able to make a play on those anyway. So we're going to play to guys' tendencies. If the Orioles'
Chris Davis
is up there, he's obviously a big pull guy, a power guy who is not going to hit a lot to the left side. So we'll put an extra guy on the right side to take away a hit.
Someone who knows about having the shift used on him is
David Ortiz
. David will hopefully be back soon as he is doing a rehab stint right now. It will mean a lot to have him back. On and off the field he is a leader for us. He is a guy who has taught a lot of us the ins and outs of the big leagues as we've come up. It is always nice to have him around. On top of everything else, he's a good bat in the lineup.
We have started off the season facing three of our AL division opponents. I actually like facing them so soon in the season. You get a preview of what you are going to get all season and what to expect. Our division is really good. It helps to see those pitchers and lineups right away. As I said, it lets us know what to expect.
[+] Enlarge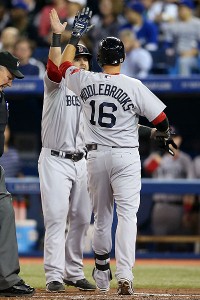 Tom Szczerbowski/Getty ImagesWill Middlebrooks bats behind Mike Napoli and frequently joins him for lunch on the road.
We have a lot of home games in April. I see it as an advantage because we are playing at Fenway. Just the way the ballpark is built, this is a place that if you aren't used to playing here, it would be tough. We know how to play the balls off the Monster. We know how to play the right-field corner. A lot of teams aren't used to that. We use knowing this park to our advantage. I have my first Patriots' Day game on Monday. I have played in the morning hours before. In the minor leagues, we'd have 10:30 a.m. or 11 a.m. games for kids' days.
If you see some camera shots of our locker rooms you may see some giant-size heads of us in here. These were left around town for Red Sox fans to try to find. We put a bunch up. Nap [
Mike Napoli
] had his in here and Jonny [Gomes] got his. So I got mine and we put ours up. Salty [
Jarrod Saltalamacchia
] has his in here, too.
This team is really a close group. We have team dinners and things like that off the field, but that's not really why you hear us saying we are close. Baseball-wise, I just feel that if someone falls or someone fails that someone is always there to pick them up. There is no ragging really going on. Everyone does have each other's back. It's nice to come in and have your teammates cheering and pulling for you. They want you to do well.
Something I am looking forward to is having my sister Lacey here. She is about to graduate from the University of Tulsa in May. She will be coming to Boston and will be a Red Sox PR intern. She will be the ball girl from time to time. She was in Pawtucket last year. She'll live with me. We were more competitive when we were growing up. Now it's not really like that anymore. She pulls for me and I pull for her. She's finishing up her last year of college softball, which has been fun to watch.
I thought I'd end with some questions about life on the road since we travel so much:
March, 28, 2013
3/28/13
12:09
PM ET
By
Will Middlebrooks
| ESPNBoston.com
Red Sox third baseman Will Middlebrooks is keeping a diary for ESPNBoston.com this season. In his second installment, he talks about getting swept up in FGCU basketball, the new faces on the team, and why he loves opening the season against the Yankees. (As told to Louise K. Cornetta)

How's your bracket doing? I think if you ask anyone how theirs is doing the answer is not good. Around here, Florida Gulf Coast University has definitely been what people are talking about. Their intensity and swag have been fun to watch. It's always fun watching a higher seed beat up on the good teams. I was at Blu Sushi here in Fort Myers with Nap [
Mike Napoli
] and
[Jonny] Gomes
watching when they beat San Diego State. The place was going nuts. But Bar Louie across the way had a feed that was two seconds ahead of us, so we always knew when they were going to score. We just would listen for the roar.
With spring training winding to an end, I'm looking around and I have to say that I love everything about this team. Everyone is already best friends and gets along. While we have fun, we still push each other to be better. I wouldn't say there is one particular area we need to work on but rather continuing to become closer and play together. We have a new coaching staff. So we are learning a lot of new signs and coaching philosophies. We're trying to get used to that and make it a habit. I know having the public perception of this team as underdogs seems the complete opposite of what it should be. I want us to be feared. I want us to be a team that everyone marks on their schedule, not because they think they are going to beat us but because they are worried about getting beat. I think the perception will change pretty soon.
[+] Enlarge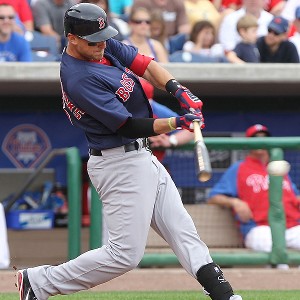 Kim Klement/US PresswireWill Middlebrooks feels locked in at the plate and says he's fully recovered after an early scare with his wrist.
Numbers-wise, I've had a pretty solid spring. I hope everything carries over into the regular season, especially my mentality right now. This being my second year, I'm more comfortable. I know everyone. I actually have a say-so. I feel I can be a good part of this team. I want to be able to help us win games, that's the most important thing. After my first diary, I had a momentary scare with my wrist that I had injured last year. It took about a week or two before I could get past worrying about it. The first week of games when I irritated it, I was worried and didn't trust it. I'm past that now. I just had to get to the point where I didn't worry about hurting it or getting hit there. It took time and reps and it's gone now.
Without
David Ortiz
in the lineup while he gets better from his heel injury, do I feel more pressure hitting in the middle of the lineup without him? No, I feel zero pressure. There are so many guys around me who are going to help also that there is no added pressure. There is not a whole lot I can do to help replace one of the best hitters of the game. I go over to his locker and mess with him to try and keep his spirits up, but he's a guy who is going to be pretty consistent with his emotions. He doesn't really ride the roller coaster. He's still David. Nothing has really changed about him, though I know he's ready to get back out there.
As you know, we have quite a few new faces on the team. I thought I'd take a look at them:
* Jonny Gomes. He is a linebacker playing left-field. He's awesome and fun to watch. He pushes me to play hard every day. He's a leader on this team already.
*
Shane Victorino
is the Flying Hawaiian. He's a fun guy, a high-energy guy who brings a lot of speed to our lineup.
*
Ryan Dempster
is one of the funniest guys on the team. Really a good guy who has been nothing but great to me so far. I think he's going to be a really good addition to the pitching staff.
*
Joel Hanrahan
is one of my really good buddies. We worked out the last couple offseasons together in Dallas. A great addition, a great pitcher who is going to come in and shut guys down from the bullpen. On top of that, he is a great teammate.
*
David Ross
is another funny guy. He's probably the most genuine guy on the team. He knows his stuff. He's one of those guys that if you need anything, you go to him.
*
Stephen Drew
is my locker-mate. It's been a tough spring for Stephen. He started out well but then he got hit in the head, which is hard to come back from. Concussions are tough and you need to pass a lot of tests before you can come back. I know it's been tough for him to come in here and not be able to play, but he is back on the practice field now and will hopefully be back soon.
* Mike Napoli, I call him Nap. He is probably one of my closer friends of the new guys. We hang out a lot. He lives close to me. So we'll grab dinner. A good guy, who will be fun to watch because he's going to hit 500-foot homers.
"

I am really hoping Jackie makes the team so I won't have to be the young guy anymore.

"

-- Will Middlebrooks, on Jackie Bradley Jr., who turns 23 on April 19
* Jackie Bradley Jr. While he is not one of the new faces we brought in from a different team, he may be a new name to some Red Sox fans. I'm very impressed with him. What is he, 22? This is his first spring training and I think about my own and I was not anywhere near as comfortable as he is. It looks like he belongs. He is playing well, is comfortable, and fits in well with the guys. I'm excited to see how he is going to help us win some games this year. I am really hoping Jackie makes the team so I won't have to be the young guy anymore.
I love that we are opening the season against the Yankees in New York. There's no better way to start the season. Those games against the Yankees are different. I obviously haven't played in the postseason but they feel like what I guess the atmosphere is like. They just feel different than everything else. It should be emotional with the Newtown police and firefighters as part of the pregame ceremony. I hope some of those families can be there for that with Newtown not being very far away. I also hope we can make somebody smile.
After New York, we head to Toronto. It sure seems like they took the entire Marlins roster from last year. They have some good additions. The front office is doing everything that they can do to put together a team that is there to win. They are going to be a force, but so is everyone in this division. We'll be ready. John Farrell managed there last year, but for us, we won't be holding any special meaning to those games. As I said, it's almost a completely different team from when he was there. They still have their core guys like
Brett Lawrie
,
Jose Bautista
,
Adam Lind
, and a young guy
Anthony Gose
, but there aren't a lot of guys leftover there. This is a tough division and we just have to be ready to play every night.
When I look back on spring training in 2013, there isn't one specific memory that stands out but something I've really enjoyed are the road trips. Now road trips are normally pretty tough for the older guys and starters who don't love going on the long ones. But towards the end here, we have all started going on them so we can play consistently. We sit in the back of bus and mess with each other and tell jokes. It's fun and relaxed. No pranks yet, but those will come. I know they will. I'd say those moments where we are messing around have been the best parts for me.
February, 26, 2013
2/26/13
5:12
PM ET
By
Will Middlebrooks
| ESPNBoston.com
Red Sox third baseman Will Middlebrooks will be keeping a season-long diary with ESPNBoston.com. In his first edition, he talks about the changes from last season, how studying a shortstop has helped his game, and why he likes to interact so much with Red Sox Nation. He also reveals something you may not know about him. (As told to Louise K. Cornetta)

The biggest difference to me between spring training last year and this year is, for one, I'm no longer stuck in the corner of the locker room scared to open my mouth. I'm not sure if you'd say I have a voice or not in here, but I know I won't get thrown into a trash can if I speak now.
This spring training has been a lot of fun. We have some great personalities in here and so far it's been a blast. As you know, John Farrell is our manager this season. His style is he is very, very confident. He's a confident guy and that rubs off on the coaches and us. I think a confident team is a good team.
I learned a lot in my rookie season. If I were to break down the three biggest lessons I learned from last year they would be: No. 1, to stick with your routine. I don't mean to eat the same thing every day, not like that. It's more about getting to the park around the same time every day, going about your business in the batting cage the same way, and just having consistencies. As we all know, baseball is a very inconsistent game. Secondly, I really learned how to talk to the media -- that was a big deal, especially in Boston. So that was important. Third was just to take care of my body. I really never dealt with too many injuries before my broken wrist and some tightness with the hamstring. I'm not 18 anymore. I can't just run out there and play. I have to prep myself and also postgame have a routine for my body.
[+] Enlarge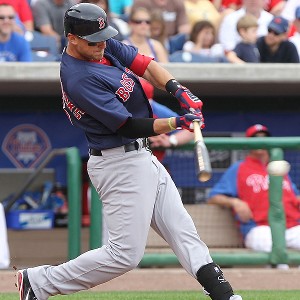 Kim Klement/US PresswireWill Middlebrooks feels locked in at the plate and says he's fully recovered after an early scare with his wrist.
When I was out last year, I would sit on the bench and study the players out on the field as they played. The one that really stood out wasn't even a third baseman. To tell you the truth, the guy I watched the most was a shortstop:
J.J. Hardy
from Baltimore. He's very underrated as a defensive player. He makes only a handful of errors a year. [Editor's note: In 2011 and 2012, Hardy had six errors each season.] He's very solid and that's hard to do with as many balls as he gets over there. I just watched his pre-pitch routine and the way he went about things during BP taking his ground balls and all that.
Someone on this team who was a help to me was
David Ortiz
. He literally took me under his wing as he'd see me sitting on the bench and put his arm around me. We would go and watch video and find my weaknesses to fix those and learn how to magnify my strengths.
I've definitely been asked if I am worried about a sophomore slump. It's baseball. It's another year and I can't be worried about that. I'm working on, well, you name it. I'm working on everything. I'm trying to get better in all aspects. Once work stops and you stop trying to get better is when you should stop playing.
I've also been asked if the hamstring has limited me at all. No it hasn't. The hamstring is something I worked on a lot during the offseason. I had a couple of tears in there for the past four or five years. There was a lot of scar tissue in there and that causes other pulls. We just tried to get in there and break all that up. Let's just say it wasn't really fun.
Now that I'm healthy and completely back from my wrist injury, the only goal I've set for myself is to play 150 games, that and win a World Series, of course. I don't really set numerical goals other than I want to play a lot of games. The team goal is the same as it is every year and that is to get a ring. I feel like we have a target on our back, and as cliché as this is, we have a chip on our shoulder. We have a lot to prove and I think we can do it.
I like interacting with our fans. I think the fans are a huge part of the game. If you like Twitter then you may have noticed I am very active on there. My Twitter handle is @middlebrooks. I like talking to the fans on Twitter. I think people view us as superhuman and not real people. I just want to get the point across that we are real people. We're not here to show anyone up or ignore you. Red Sox Nation is a passionate group. I've never been with any other organization, but I can't see the support or passion with any other club. I think we should use that to our advantage and really enjoy it. I also became co-captain of the Jimmy Fund with Salty [
Jarrod Saltalamacchia
]. The Jimmy Fund and Dana-Farber are such a huge part of the Red Sox. There is a lot more to the Red Sox than just baseball and I wanted to be a part of that.
I figured since this is my first diary of the season, I'd come up with some things you may not know about me. First and foremost, I'm a huge family guy. I have two younger sisters that I'm probably a little overprotective of, but all big brothers probably are. One is 20 and the other is 22 and about to graduate college at Tulsa. My dad is actually coming down to his first spring training in a couple of weeks. He's been a football and baseball coach for high school his whole life, so he's never had time to come to spring training. I'm really excited for him to get down here.