Takeaways: Looking at Aviles as leadoff
March, 27, 2012
3/27/12
5:39
PM ET
FORT MYERS, Fla. -- Takeaways from the Fort, where owners John W. Henry and Tom Werner slipped into town to observe their juggernaut, winner of back-to-back shutouts after an 8-0 takedown of the
Tampa Bay Rays
and 12-10 in Florida with five games left here before a final tuneup April 3 in Washington:
*
Josh Beckett
was not quite as sharp as the overpowering
Jon Lester
on Monday against the Phillies, but the right-hander pitched five scoreless innings, allowing just one hit, walking three and whiffing five. He threw 83 pitches, 49 for strikes.
"I pitched out of a big jam today,'' said Beckett, who walked the first two batters in the second but got out of it unscathed, striking out
Sean Rodriguez
swinging and
Jose Lobaton
looking. "Nice to refresh yourself that you can do it.''
[+] Enlarge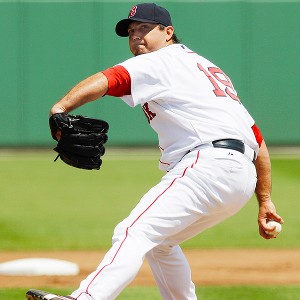 AP Photo/Charles KrupaJosh Beckett struck out five over five scoreless innings in his last real tuneup of the spring.
His view of the Sox rotation? "I think it's good. You've got to be that guy that day. We're going to score some runs. We proved that last year.''
On the team as a whole? "I think we have a really good group of guys. I'm pretty excited about it. We're a pretty good team. Everything that happened is in the past; everybody is ready to go play some baseball.''
Beckett has one more start before he pitches the second game of the regular season, scheduled for April 7 in Detroit. He'll gear back in that one, so this was his last significant tuneup. He has an 0.95 ERA (2 ERs in 19 innings) in five appearances, which doesn't mean a ton but is a pretty good barometer of his all-business approach this spring.
*
Mike Aviles
, on what
Jose Iglesias
being optioned to Pawtucket meant to him: "The same. It's not like it changes my work habits or my goal to help the team win. I think I put more pressure on myself than anybody else. In all honesty, I push myself to the limit every day that I come to the ballpark, regardless of whether I'm going to be a starter or not. It doesn't change anything for me."
Aviles lined out hard in his first at-bat and went hitless in three trips but is batting .313.
"I came prepared, tried to get better, and fortunately that's the way it's been going every day, getting better,'' he said.
* Manager Bobby Valentine has hit Aviles leadoff in each of his past three starts and seven times this spring. Is he considering him for that spot?
"Kind of trying to warm up to it,'' said Valentine, sounding less than entirely convinced, "seeing if I can see it. He quickly strikes fear in a pitcher's heart, I'll tell you that. The ball he led off the game with today, gets a guy doubting his stuff in a hurry. We'll see.''
One thing that works against Aviles: He has yet to draw a walk this spring, a talent customarily valued in a leadoff hitter, and his career high in walks is 20.
"It's not like he swings at the first pitch all the time,'' Valentine said. "And I'm not sure [Jacoby] Ellsbury is that kind of grind-it guy, other than he fakes that bunt a lot to get one pitch into the count.''
Aviles hit leadoff 15 times last season for the Royals and batted just .203, drawing four walks in 76 plate appearances. But in 2008, his rookie season, he led off in 30 games and raked, posting a .379/.399/.492/.891 line.
*
Jacoby Ellsbury
had a hit in three trips and had extra bases taken away from him by a terrific running catch by Rays right fielder
Matt Joyce
. Ellsbury has yet to go deep this spring, which Valentine said is of no consequence.
"He's hitting the ball hard,'' Valentine said. "In the last five games, he's hit at least one ball right on the button. He's coming.''
* Outfielder
Cody Ross
hit his fourth home run of the spring, a blast off Monster South, and continues to showcase a swing that looks designed to do damage to Landsdowne Street.
* Reliever
Mark Melancon
had a strong outing, recording four outs and striking out two. "He's getting real close,'' Valentine said. "The ball is coming off the head of the bat the way we hoped it would. He's working in and out, up and down like he does. And his velocity is about where he wants it to be.''
* The Red Sox have a scheduled day off Wednesday, but Valentine and pitching coach Bob McClure will be here, as both
Clay Buchholz
and
Aaron Cook
are scheduled to pitch in minor league games Wednesday afternoon. First pitch at 1 ET.