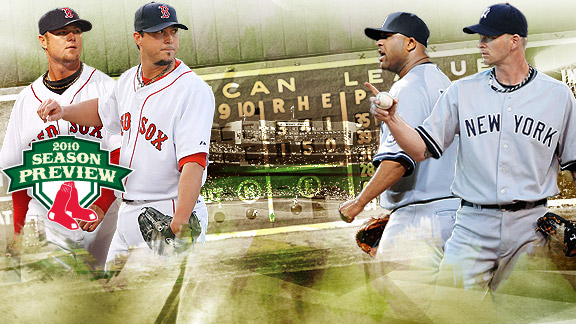 ESPN.com Illustration
Day 4 of our Red Sox season preview features Gordon Edes' scouting report on the Red Sox rotation, with quotes from pitching coach John Farrell on each member of the five-man staff and a scout's take as well. He also breaks down the Yankees' rotation in what sets up as an arms race for the AL East title.
Here are three of the most interesting notes from the story:
1. A scout's take on Jon Lester: "Lester passed Beckett last year, to where he is one of the top 10 starting pitchers in the American League. Lester or Sabathia? Lester is younger and cheaper. If you're a GM and have a choice, you probably take Lester."
2. Farrell thinks Josh Beckett looks like he did in 2007, a season in which he won 20 games, had a 3.27 ERA and was unhittable in the postseason. Here's a quote from Farrell:
"When Josh is throwing the baseball the way he is now, the way he did in '07, and the way he did for the vast majority of '09, he's a guy who can dominate the bottom part of the strike zone. For him, it becomes very simple. When he's in the bottom of the zone, and this makes it sound simple, but when you harness the intensity, the competitiveness and power that he has, and he is able to throw the ball down in the zone, he is that 20-win-caliber pitcher. He's doing that right now in spring training. We feel very similar to the way we did the start of last year and the start of 2007. Now it's a matter of going out and maintaining that consistency."
3. A scout says the velocity on Wakefield's knuckleball is down: "Wakefield's knuckleball is now good, not great. He's lost some stuff. You don't talk about velocity with a knuckleballer, but velocity is still a factor for him. He used to be 67-68 with the knuckleball; now it's more 66-65. His knuckleball is still good, but if you rated it an 80 before [on a 20-80 scale], you might give it a 70 now."
Also today, we ask you to rank the Red Sox and Yankees starters, 1-11 (we included Daisuke Matsuzaka as well).
Here's a recap at our Red Sox season preview features so far and a look at what's coming up from Edes, Joe McDonald and ESPN.com's baseball reporters for the rest of the week:
* Monday:
-- Jeremy Lundblad: For Red Sox, a run saved is a run earned
-- Stark: What truly makes a winner win
-- Rank 'em: Where would rank the Red Sox among all teams in baseball?
* Tuesday:
-- Joe McDonald: Red Sox success rides on Big Papi
-- AL East capsules: Yankees | Red Sox | Orioles | Rays | Blue Jays
-- Vote: Which team is tops in AL East?
-- Olney video: Options if Ortiz struggles
-- How Red Sox won 122 games in a sim season

-- Sim season: AL East preview

-- Video: Baseball Tonight's AL East picks
-- Video: Schilling on Sox pitching, AL East
* Wednesday:
-- Gordon Edes: Why Adrian Gonzalez is Boston's Most Wanted
-- Four reasons for offensive optimism for Sox
-- Joe McDonald's player-by-player Red Sox scouting report
* Thursday:
-- Gordon Edes: Get ready for an AL East arms race
-- Rank 'Em: Red Sox vs. Yankees rotation
-- Predictions: 10 burning questions with Edes and McDonald
-- Bill Simmons podcast: Red Sox-Yankees talk
* Friday: Complete Red Sox-Yankees preview, plus season predictions.