Brentz follows Middlebrooks' lead
September, 3, 2012
9/03/12
3:12
PM ET
PAWTUCKET, R.I. -- A season ago, then-third base prospect
Will Middlebrooks
finished the 2011 season at Triple-A Pawtucket, and struggled offensively in the 16 games he played for the PawSox. He hit just .161 with two homers and eight RBIs in the final few weeks of the season.
[+] Enlarge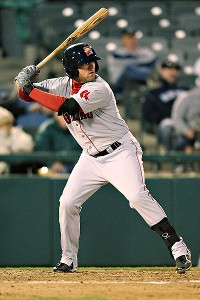 AP Photo/Mike JanesBryce Brentz, who was promoted to Pawtucket on Aug. 30, is struggling offensively so far -- but Will Middlebrooks went through the same growing pains last September.
It was quite different from the 96 games he played at Double-A Portland, where he posted a .302 average with 18 homers and 80 RBIs.
Despite the numbers, the Red Sox organization knew exactly the type of player Middlebrooks was, and the possible impact he would soon have at the big-league level. That came to fruition this season.
Now playing the role of Middlebrooks for the PawSox is former first-round pick Bryce Brentz.
The Red Sox selected Brentz in the first round (36th overall) in 2010 and the 23-year-old outfielder has played well in his third pro season. Prior to getting promoted to Pawtucket on Aug. 30, he hit .296 with 17 homers, 30 doubles and 76 RBIs for the Sea Dogs.
He was hitless in his first four games with the PawSox and finally collected his first Triple-A hit when he legged out a grounder to third base in the bottom of the third inning against the Scranton/Wilkes-Barre Yankees on Monday at McCoy Stadium.
Prior to the game, PawSox manager Arnie Beyeler was asked for his early impression of Brentz.
"I'm waiting," Beyeler said with a smile. "It's funny, the first game we saw I thought this is going to be like Middlebrooks last year. He's a free-swinging kid with a ton of power. He's had a big year and he's been on base a lot, he's probably a little worn out and tired. Going to another level, there's higher expectations and [opposing pitchers] are going to find his holes and exploit him a little bit.
Beyeler explained that the rookie has been seeing a lot of sliders and changeups from the more experienced pitchers at this level, and not too many fastballs.
"He's going to have to make that adjustment and it's not going to come real quick, but he'll be OK. Will went through that last year and we're seeing the same kind of deal with Bryce," Beyeler said. "It doesn't mean he's not going to perform up here. It's going to take some time for him to adjust, and when he figures it out he'll relax a little bit.
"He'll get it going. It's player development. Bryce is a confident kid and the adversity factor is good for these guys. I'd rather have him do what he's doing here than do it when he goes up to the big leagues. It'll be a good development experience for him, he'll get through it and he's got a lot of ability. He's going to be a fun kid.
"He's going to run into one and it's going to go a long ways," Beyeler said.