Sox to honor '04 champs, All-Fenway team
September, 14, 2012
9/14/12
1:11
PM ET
Despite a less-than-celebratory 2012 campaign, the Red Sox will try to close out their season-long 100th anniversary celebration of Fenway Park on a high note -- by saluting the 2004 World Champions and presenting the All-Fenway Team.
Fenway's Century Club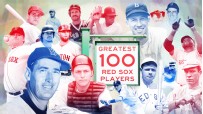 Our look back at 100 years of Fenway includes a ranking of the 100 Greatest Red Sox Players.
Top 50

| 51-100 | Your Rankings 100 Greatest Moments at Fenway
The events are scheduled for the last two home games of the regular season, Sept. 25 and 26, against the Tampa Bay Rays.
The players and coaches from the 2004 team have been invited to be honored before the 7:10 p.m. game on the 25th. The following day, members of the All Fenway Team -- as determined by fan voting, historians, staff and the club's historical and archival consultants -- will be presented before the game.
According to the Red Sox, fans cast more than 120,000 votes in balloting this season.
ABOUT THIS BLOG

Gordon Edes
Gordon Edes, who joined ESPNBoston.com in Nov. 2009, has covered MLB for more than 25 years. He spent 12 years covering the Sox for the Globe. Ask a question for his next mailbag. Follow him on Twitter here.

Joe McDonald
Joe McDonald, a native Rhode Islander, joined ESPNBoston.com as a Bruins and Red Sox reporter in February 2010. He worked at the Providence Journal for 18 years and covered the Red Sox, Bruins, Patriots, PawSox and Providence Bruins. He's a three-time winner of the National Sportscasters and Sportswriters Association's state Sportswriter of the Year for Rhode Island. Follow him on Twitter here.

Mike Andrews
Mike Andrews is the founder and managing editor of SoxProspects.com.
2014 AMERICAN LEAGUE EAST STANDINGS
UPCOMING GAMES
| | W-L | HM | AW | STK | L10 |
| --- | --- | --- | --- | --- | --- |
| CHW | 44-48 | 24-21 | 20-27 | L1 | |
| BOS | 40-51 | 22-26 | 18-25 | W1 | |
| | W-L | HM | AW | STK | L10 |
| --- | --- | --- | --- | --- | --- |
| BOS | 40-51 | 22-26 | 18-25 | W1 | |
| HOU | 39-54 | 20-26 | 19-28 | W3 | |
| | W-L | HM | AW | STK | L10 |
| --- | --- | --- | --- | --- | --- |
| BOS | 40-51 | 22-26 | 18-25 | W1 | |
| HOU | 39-54 | 20-26 | 19-28 | W3 | |
BLOG ARCHIVE:
CATEGORIES:
JULY 2014
AUGUST 2014
SEPTEMBER 2014
Sun
Mon
Tue
Wed
Thu
Fri
Sat

1

CHC
L 1 - 2

2

CHC
L 9 - 16

3

4

BAL
0 - 0

5

BAL
W 3 - 2

6

BAL
L 6 - 7

7

CHW
L 0 - 4

8

CHW
L 3 - 8

9

CHW
W 5 - 4

10

CHW
0 - 1

11

@HOU
8:10 PM ET

12

@HOU
4:10 PM ET

13

@HOU
2:10 PM ET

14

15

16

17

18

KC
7:10 PM ET

19

KC
7:10 PM ET

20

KC
1:35 PM ET

21

@TOR
7:07 PM ET

22

@TOR
7:07 PM ET

23

@TOR
7:07 PM ET

24

@TOR
12:37 PM ET

25

@TB
7:10 PM ET

26

@TB
7:10 PM ET

27

@TB
1:40 PM ET

28

TOR
7:10 PM ET

29

TOR
7:10 PM ET

30

TOR
7:10 PM ET

31

Sun
Mon
Tue
Wed
Thu
Fri
Sat

1

NYY
7:10 PM ET

2

NYY
4:05 PM ET

3

NYY
8:00 PM ET

4

5

@STL
8:15 PM ET

6

@STL
8:15 PM ET

7

@STL
7:15 PM ET

8

@LAA
10:05 PM ET

9

@LAA
9:05 PM ET

10

@LAA


11

12

@CIN
7:10 PM ET

13

@CIN
12:35 PM ET

14

HOU
7:10 PM ET

15

HOU
7:10 PM ET

16

HOU
7:10 PM ET

17

HOU
1:35 PM ET

18

LAA
7:10 PM ET

19

LAA
7:10 PM ET

20

LAA
7:10 PM ET

21

LAA
7:10 PM ET

22

SEA
7:10 PM ET

23

SEA
1:35 PM ET

24

SEA
1:35 PM ET

25

@TOR
7:07 PM ET

26

@TOR
7:07 PM ET

27

@TOR
7:07 PM ET

28

29

@TB
7:10 PM ET

30

@TB
7:10 PM ET

31

@TB
1:40 PM ET

Sun
Mon
Tue
Wed
Thu
Fri
Sat

1

@TB
1:10 PM ET

2

@NYY
7:05 PM ET

3

@NYY
7:05 PM ET

4

@NYY
7:05 PM ET

5

TOR
7:10 PM ET

6

TOR
7:10 PM ET

7

TOR
1:35 PM ET

8

BAL
7:10 PM ET

9

BAL
7:10 PM ET

10

BAL
1:35 PM ET

11

@KC
8:10 PM ET

12

@KC
8:10 PM ET

13

@KC
7:10 PM ET

14

@KC
2:10 PM ET

15

16

@PIT
7:05 PM ET

17

@PIT
7:05 PM ET

18

@PIT
7:05 PM ET

19

@BAL
7:05 PM ET

20

@BAL
7:05 PM ET

21

@BAL
1:35 PM ET

22

23

TB
7:10 PM ET

24

TB
7:10 PM ET

25

TB
7:10 PM ET

26

NYY
7:10 PM ET

27

NYY


28

NYY
1:35 PM ET

29

30
Forever Collectibles Women's Boston Red Sox Glitter Flip Flop Shop »