Victorino's five-RBI night powers Sox
June, 22, 2013
6/22/13
12:13
AM ET
By
Chuck Pleiness, Special to ESPNBoston.com
DETROIT --
Shane Victorino
just had a day of it at the plate Friday night at Comerica Park.
The
Boston Red Sox
right fielder matched a career high with five RBIs and had four hits, one of which was a solo homer, to help lead his squad over the
Detroit Tigers
10-6.
"I didn't even know what my career high was," Victorino said. "It's great. Anytime you get four hits and five RBI, especially for a guy like me, you always get excited about it."
Victorino had reached the five-RBI mark twice earlier in his career, both times with the
Philadelphia Phillies
.
He's had nine four-RBI games in his career.
"It's just one of those things when the ball's rolling in the right direction -- you try and keep it rolling there," Victorino, who has 16 RBIs on the season, said. "It's just a matter of going out there and having consistent at-bats and having my body feel good."
[+] Enlarge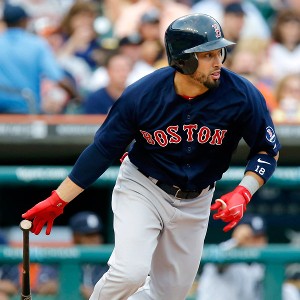 AP Photo/Duane BurlesonShane Victorino connects on a two-run single in the fourth inning.
Victorino totaled four hits for the 12th time in his career. He's had two five-hit games.
Things started off really well for Victorino on his first at-bat in the first inning. He clubbed a 3-1 pitch over the right-field wall for his third homer of the season.
"He threw kind of the same pitch 3-0, so I kind of had an idea of what he was doing," said Victorino, who watched video before the game of Detroit starter
Doug Fister
because he had never faced him before. "He didn't have his A-game. I've seen where his sinker was working, and he gets a lot of ground balls. I was able to lift the ball, get it a little elevated a little bit and get him out early."
Next, Victorino blooped a single in the third inning for hit No. 2.
The very next inning, Victorino belted a two-run single.
In the sixth, Victorino reached the four-hit mark with another RBI single.
Victorino had a chance to do more damage in the top of the eighth.
With Victorino in the on-deck circle, the Tigers intentionally walked
Jacoby Ellsbury
to load up the bases to have a chance at a double-play ball.
The Tigers played their infield at double-play depth and Victorino hit a high chopper that shortstop
Jhonny Peralta
came in to field on a short hop. Peralta's throw to home plate was not in time as
Jarrod Saltalamacchia
slid in just before.
The play was ruled a fielder's choice, which kept Victorino on four hits for the night.
"Yes and no," Victorino said when asked if he thought he had a fifth hit. "It's a tough decision, but watching the replay it's kind of like a ball that's hit in the six-hole and you beat it to second base. But hey, the [win] is the most important to me. Individual stuff we'll worry about later."
It did raise his RBI total to five for the game.
Victorino has been battling nagging injuries all season long, mainly with his back and left hamstring.
He missed 17 games earlier this season with a hamstring strain.
"I'm consistently feeling better now. John [Farrell] and I spoke about it, and I told him my body is feeling good," Victorino said. "I want to continuously go out there, knock on wood, and continue to help this ballclub win."
"I feel good," Victorino said. "It's about the body feeling good, going out there and staying after it."
In the seventh, Victorino tried to nab
Miguel Cabrera
on his way to first base after his liner to right field. Victorino came up throwing to
Mike Napoli
at first, but Cabrera got to the bag just ahead of the throw.
"I don't think it was that close," Victorino said with a smile. "Going into the series early in BP [batting practice], we were giggling a little bit, and he told me he saw me trying to throw guys out at first base. I told him he better run."
Both players chuckled toward each other and exchanged words after the play, grinning the entire time.
"He was obviously safe, but I looked at him and he looked at me and I'm like, 'yeah, you better run,'" Victorino said. "We've played against each other all these years, and we've got a friendship. He's a great player."
Victorino said trying to get baserunners out at first base from right field is something he'll continue to do.
"I'm not going to get gung-ho and start throwing it all over the place, but when I get my opportunity, I'm going to stay aggressive," Victorino said.
Victorino is ready to put this game behind him and prepare to face
Max Scherzer
, who's 10-0 this season.
"He's got a good chance at being the Cy Young [award winner]. I plan on hopefully ruining it and scoring as many runs as we can," Victorino said. "But it's going to be tough."