Cherington satisfied with deadline haul
July, 31, 2013
7/31/13
7:08
PM ET
BOSTON -- Red Sox general manager Ben Cherington, looking surprisingly fresh despite having logged scores of hours communicating with his counterparts prior to the trading deadline, met with the media in the Sox dugout after the deadline passed without the team making any further moves.
The Sox made two moves of consequence before the trading deadline, the bigger coming Tuesday night when they acquired pitcher
Jake Peavy
from the White Sox in a three-team, seven-player deal in which they sent infielder
Jose Iglesias
to the Tigers and three lower-level minor-league prospects to the White Sox. They also received right-handed reliever
Brayan Villarreal
from the Tigers, assigning him to Pawtucket.
On July 12, the Red Sox acquired left-handed reliever
Matt Thornton
plus cash from the White Sox for minor league outfielder Brandon Jacobs.
Happy with the outcome of his labors, especially on the Peavy deal?
"Yeah,'' Cherington said. "We came in really wanting mostly to add a starting pitcher if we could. We felt like that was the most important thing to do to protect the team going down the stretch and we were able to add a guy we wanted. We felt like Peavy was the best fit for us and we were able to get that done last night. Worked on some other stuff, but never really got close to anything else today."
The Sox had engaged a number of teams in discussions about the bullpen, but did not add another reliever from outside the organization. Manager John Farrell announced Wednesday that he was moving rookie
Brandon Workman
out of the rotation into the pen, with Peavy inheriting his spot in the rotation.
"I think adding Peavy helps [the bullpen] too, a little bit,'' Cherington said. "We've still got some guys in Pawtucket who we think can help and I think the minor league guys that are out there now are doing a good job.
"We talked to teams about bullpen arms but we weren't motivated quite enough to pay the prices it would take and more so confident in the guys we have here."
Cherington addressed a few other topics as well.
* On not adding infield depth:
"We had some talks but nothing really of substance. We really feel like we can figure that out within the organization. Right now obviously [Brandon] Snyder and [Brock] Holt are here and both those guys have done a good job for us. We've got some other guys in Pawtucket that could help us as time goes on, so we'll just see how it plays out."
* His overall view of the team:
"We like the team. We liked our team before we made any moves, but we felt like getting the starting pitching in particular was an area that we were trying to bolster. We're confident with Clay [Buchholz] coming back, that can hopefully be a strength for us the rest of the way, no matter what happens. As we know from past experience here, if you don't have that starting pitching depth late in the year, it can come back to get you. So hopefully we've protected ourselves enough. That was our goal so we're happy to be able to add a guy like Peavy."
* What Cherington likes about Peavy:
[+] Enlarge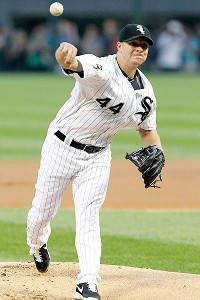 AP Photo/Charles Rex ArbogastBen Cherington thinks Jake Peavy's competitiveness will make him a good fit with the Red Sox.
"He's been a really good pitcher for a long time. He's a competitor, he likes to pitch, he loves baseball. I think he'll respond to this environment and the fans and will fit pretty seamlessly with us. We have history with him over a long period of time and although he's never been a Red Sox, we kind of feel like we know him pretty well. We look forward to having him here and watching him pitch.''
* His appraisal of the AL East:
"We knew it was going to be competitive this winter and in the spring we knew it and we've known it last week and everyone knows that it's going to be tight all year and it will continue to be that way. There are very good teams, it's the strongest division in baseball, but we're as strong as any of those teams and, most importantly, I think the guys in the clubhouse, the players, the coaches, the manager, they believe when they hit the field every night they're going to win. That's more important than what anybody else believes and we have the talent to do that.
"But it'll be a dogfight the rest of the way, we know that. Again, usually it comes back to pitching and health, and hopefully we've helped ourselves build a little bit more protection in the pitching area and we've got to stay healthy and play the game to see what happens."
* Whether the current alignment of Holt and Snyder is only a stopgap solution at third:
"We'll see. Guys are on this team, I don't want to call it a stopgap, they're here for a reason, they're major league players. Both Snyder and Holt have helped us win games this year. We feel very good about the team we have there now, but [there are] probably going to be more changes between now and the end of the year in different areas. I'm just saying we have more guys in Pawtucket that can help us if we need to go that route. There's nothing planned."
* On Xander Bogaerts:
"He's a good young player. We've got a number of guys in Pawtucket, and as I've said before, I think when you get to Triple-A, there's no such thing as a prospect. You're part of the major league depth, you're part of the major league roster. Just depends on opportunity. So anybody down there could be up here the next day if anything happens. We have a number of guys that we're going to count on the rest of the way that are in Pawtucket right now.
"Xander's a very talented young player still developing. Obviously very young for his level. And he's part of a group in Pawtucket that includes a number of guys that we think we probably will need to rely on the rest of the year. So I'm not going to single him out over anybody else. Again, once you get to Pawtucket, it's not about who the best prospect is, it's about who the best player is to come up here and help us win."
* On whether the trade sent a message to the clubhouse:

"I don't think they were looking for a message. I think they were pretty confident in themselves to begin with. And we're still really confident in them. I don't think they needed a message, but we certainly wanted to try and help if we could in a way that made sense, short and long term. We just felt that starting pitching was the area that was most important to focus on. I think the guys will be happy to see Jake Peavy, but it wasn't us sending a message to them, just about trying to build the best team we can."
* On how he would characterize Will Middlebrooks' progression:
"He's doing very well. He's doing everything we've asked him to do. He's a very talented player who got to the big leagues pretty quick, had some success. And like a lot of talented players who play in the big leagues a long time, he got a little bit of a speed bump this year. But he'll get past it and he's going to be a very good major league player for a long time. He's done exactly what we've asked him to do and he knows what he needs to do. He'll be back in the big leagues when the time is right. We don't know when that is."
* On how tough it was to lose Iglesias:
"It's hard. He's obviously an incredible defensive player, developing hitter. He's grown up a lot, helped us win this year. He's going to be a good player in the big leagues for a long time. We felt like of all the options we had to add to the rotation, this one made the most sense because we were dealing from what we think is an area of strength and we were staying away from giving up multiples of our best guys. We were able to do something that addresses what we need without really fundamentally changing the long-term planning. It's really sad to see him go. He's a guy that's fun to watch because of what he does defensively. People in Detroit will have a lot of fun watching him."
* On trading an everyday contributor such as Iglesias at the deadline:
"Atypical, not what we expected to do coming into July. That's where we've got to be open-minded and adjust our sights a little bit. By the end of the day yesterday, after going through hundreds of scenarios, the returns we were getting, Peavy was the best starting pitcher we could get, and this was the package we were most comfortable with.''
* Concerns about the downgrade defensively:
"We're not really concerned defensively at shortstop.
Stephen Drew
has done a terrific job and played very well defensively. Iglesias played very well at third. We have to make up for that, but we're confident we can do that with the guys we have in the organization, factoring in the offensive part.''
* Unusual aspect of dealing with another contender:
"I talked to Dave [Domrbowski] about that. We both recognized that both teams have to get there first. Any time you make a trade, you hope it works for everyone. You hope the trade works for all three teams.''
* On making moves during the August waiver period:
"There's stuff that happens in August. We'll definitely stay up on who's out there, who's available. I didn't keep count, but it seems there were fewer trades in July. That may mean more activity in August. We feel pretty good about the group here and the additional depth in Pawtucket. We'll keep an open mind and see what happens.''