Tito tops Farrell for Manager of the Year
November, 12, 2013
11/12/13
9:12
PM ET
ORLANDO -- In the eight seasons in which Terry Francona managed the Red Sox, he never received a single first-place vote for Manager of the Year from the members of the Baseball Writers' Association of America who cast ballots. That includes the two seasons in which the Red Sox won the World Series, 2004 and 2007.
[+] Enlarge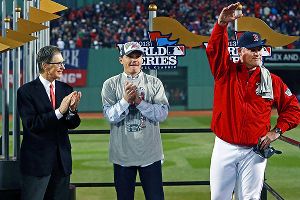 Jim Davis/The Boston Globe/Getty ImagesRed Sox owner John Henry and GM Ben Cherington applaud manager John Farrell after Boston's World Series-clinching Game 6 win.
In 2004, Francona finished fifth in the voting, far behind winner Buck Showalter, then manager of the
Texas Rangers
. In 2007, Eric Wedge, then manager of the Indians, won, with Francona a distant fourth.
So, of course, in the year in which John Farrell's Red Sox won the World Series and went from worst to first in the process, Francona, in his first season in Cleveland,
took home the manager's award
. That came as a considerable surprise to the Boston writers who framed questions to general manager Ben Cherington Tuesday afternoon -- before the voting was announced -- assuming that Farrell would win.
Cherington, named Sporting News Executive of the Year on Monday night, also anticipated Farrell would be in the award-collecting lane.
"We were honestly not expecting the news [of Executive of the Year] yesterday," Cherington said, "but fully expecting the news today. It shouldn't go, in my mind, any other way. He did a terrific job this year, definitely proud of what he did and the team did."

Not so fast, Sparky. Francona received 16 first-place votes to Farrell's dozen, with Francona outpointing Farrell 112-96 under a system which awarded five points for a first-place vote, three for second-place and one for third. Two voters from the writers' chapter in each American League city cast ballots; Oakland's Bob Melvin received the other two first-place votes.
Sean McAdam of Comcast Sports New England and Brian MacPherson of the Providence Journal represented the Boston chapter of the BBWAA in the voting. Both of their ballots had Farrell first, Francona second and Joe Girardi of the Yankees third.
Both Farrell and Francona were left off two ballots altogether. Christina Kahrl of ESPN.com, representing the Chicago chapter, and Asuka Iinuma Brown of Jiji Press, representing Seattle, did not vote for Farrell; Brown and George King of the New York Post, representing the New York chapter, did not vote for Francona.
Kahrl offered an explanation of her ballot
here
.
If you want to give the election the Chuck Todd, red-state, blue-state treatment, Farrell lost this election in the West, where he received only two of the 10 first-place ballots cast by chapters in AL West cities. Francona received six first-place votes, Farrell and Melvin two apiece. And one of those Farrell votes was cast by Bill Madden of the New York Daily News, voting as an at-large member chosen to represent the undermanned Houston chapter.
Otherwise, Farrell and Francona pretty much carried their own voting constituencies. In the AL East, Farrell received seven first-place votes to three for Francona (both Toronto writers chose Tito over the former Blue Jays manager), while in the AL Central, the reverse held true, with Francona netting seven first-place votes and Farrell three, with Chicago, Detroit and Kansas City splitting their votes, Cleveland and Minnesota holding firm for Tito.
Only two Red Sox managers have been elected manager of the year since the award was instituted in 1983: John McNamara in 1986 and Jimy Williams in 1999.
Should Farrell have won? With all due respect to my colleagues who cast dissenting votes, as good a job as Francona did in turning the Indians around, an overwhelming case can be made that Farrell did a better one in Boston after a calamitous 2012 in which the Sox not only lost 93 games but the respect of their fan base, turned off by Bobby Valentine and the climate of dissonance and discontent that made for a ruinous summer.
Yes, Farrell still had a core group of stars that included
David Ortiz
,
Dustin Pedroia
,
Jacoby Ellsbury
,
Jon Lester
and
Clay Buchholz
, which led Orioles manager Buck Showalter, for one, to warn as early as last December that the Red Sox would pose a formidable challenge. But no one envisioned the Red Sox would finish the season with the best regular-season record in baseball, then run the table in October for their third World Series title in the span of 10 seasons.
Farrell, who posed a drastic contrast in style to his predecessor, won wide praise for the role he played in setting the right tone of commitment and accountability. Yes, he profited greatly from the addition of players whose DNA already contained those elements, like
Shane Victorino
,
Jonny Gomes
,
David Ross
,
Ryan Dempster
,
Mike Carp
and ultimately,
Jake Peavy
. But he also had to overcome the loss of starter Buchholz for three months, the absence of Ortiz in the season's first month and season-ending injuries to his top two closers and left-handed setup man.
If the voting had been held after the postseason, instead of at the conclusion of the regular season, the outcome likely would have been different. Farrell will just have to find solace in the same place Francona did when he was an also-ran in previous voting: his World Series ring.