Examining some Sox lineup possibilities
December, 26, 2013
12/26/13
3:35
PM ET
By
Tony Lee
| ESPNBoston.com
The
Boston Red Sox
led the majors in runs scored by a comfortable margin last season, combining some vintage Boston power with loads of speed, aggressiveness on the bases and a remarkable penchant for big hits in late innings.
The lineup figures to produce runs in bunches again in 2014 (
Buster Olney has the Sox lineup ranked second in the majors
), but the manner in which it goes about its business will be different without
Jacoby Ellsbury
at the top. Each season brings with it various factors. However, it is not coincidence that the Red Sox averaged 5.32 runs per game in Ellsbury's four full seasons with the club and 4.79 in the two years, 2010 and 2012, in which he was extremely limited by injury.
With the primary catalyst now toiling in New York, Boston manager John Farrell will have a few decisions to make about the top of his lineup. Here is a quick look at five possibilities for the batting order with a focus on the leadoff spot (through additional transactions, injuries and varying levels of production, many more will surface) and some of the reasoning behind each lineup.
1. Throw Bradley into the fire
[+] Enlarge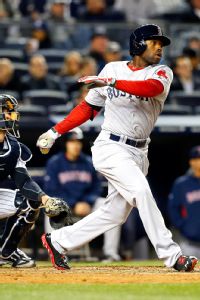 Jim McIsaac/Getty ImagesThe Red Sox have high hopes for Jackie Bradley Jr., but is he ready to take Jacoby Ellsbury's spot at the top of the lineup?
1.
Jackie Bradley Jr.
, CF
2.
Shane Victorino
, RF
3.
Dustin Pedroia
, 2B
4.
David Ortiz
, DH
5.
Mike Napoli
, 1B
6.
Jonny Gomes
/
Daniel Nava
, LF
7.
Xander Bogaerts
, SS
8.
A.J. Pierzynski
, C
9.
Will Middlebrooks
, 3B
For all that Ellsbury brought to the table, he was never one to draw walks in bunches. Ellsbury could work the count OK (ranked 36th in the American League in pitches per plate appearance last year and 53rd in walks), but Bradley has already made that one of his calling cards. He has drawn 132 walks in 218 games in the minors.
Not that watching four balls go by guarantees success in the leadoff spot. It certainly doesn't hurt, however. If you think back to Bradley's much-anticipated debut against
CC Sabathia
in the Bronx in April, you might recall the seven-pitch walk he drew in his first career plate appearance, a base on balls that ignited a four-run rally. He drew rave reviews -- after just one game as a major leaguer -- as a disciplined hitter who would fit right in with the organizational approach.
However, Bradley had just three hits in 31 April at bats before Ortiz was activated and took his roster spot and hit just .189 overall in a limited capacity, so he still might not be ready to be an every-day center fielder and leadoff hitter.
But assuming he proves himself ready for the majors, putting Bradley atop the lineup might help the Sox benefit from that patient approach and will keep the rest of the crew somewhat settled in its customary roles, although there is plenty of flexibility at the bottom of the order.
2. Bump up the X-Man
[+] Enlarge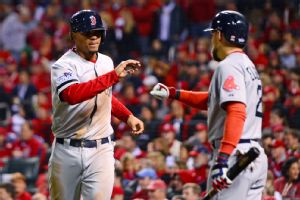 Michael Ivins/Boston Red Sox/Getty ImagesXander Bogaerts could be called upon to help fill the production void near the top of the Red Sox lineup left by Jacoby Ellsbury's departure.
1. Shane Victorino, RF
2. Xander Bogaerts, SS
3. Dustin Pedroia, 2B
4. David Ortiz, DH
5. Mike Napoli, 1B
6. Jonny Gomes/Daniel Nava, LF
7. A.J. Pierzynski, C
8. Will Middlebrooks, 3B
9. Jackie Bradley Jr., CF
If Bradley is slow to get going and Bogaerts builds upon an exceptional October (.412 OBP and .893 OPS in the postseason), Farrell may wish to give the latter a boost. Projections for Bogaerts' 2014 season, already high, skyrocketed with the manner in which he handled some of the best pitching in the game on the biggest stage this fall. He is only 21, but many youngsters have vaulted to elite levels in a hurry in recent seasons in the majors.
Farrell may even be inclined to swap Bogaerts and Pedroia, especially given the second baseman's standout numbers in the two-hole (.839 career OPS).
One potential issue is Victorino's lackluster results in the leadoff spot through the course of his career (.249/.317/.408 slash line in a solid sample of 216 games). However, it is hard to imagine anyone within the organization having a lack of confidence with Victorino in such a spot.
Glancing at this order, you get a sense of just how much slower the Sox could be without Ellsbury, who spearheaded the team's 123-steal effort last season. Bogaerts is not a burner, and after Pedroia you have five relative clodhoppers before Bradley arrives, if in fact he hits ninth. Farrell's aggressiveness will be reined in a bit.
3. Southpaw scenario
1. Shane Victorino, RF
2. Xander Bogaerts, SS
3. Dustin Pedroia, 2B
4. David Ortiz, DH
5. Mike Napoli, 1B
6. Jonny Gomes, LF
7. Will Middlebrooks, 3B
8.
David Ross
, C
9. Jackie Bradley Jr., CF
That Bradley-Sabathia matchup also exhibited the center fielder's ability to hang in there against tough lefties, and he displayed that in his minor league career. However, there were some bumps in the road against southpaws later on in Bradley's limited 2013 action, and Farrell may elect to go with the more proven Victorino -- who has raked against left-handers in his career -- or someone like Pedroia in the top spot.
Ross takes over for Pierzynski against lefties, although there will be many times when Ross hits against a righty and Pierzynski against a lefty. That's just the nature of managing veteran catchers in a demanding schedule.
Gomes actually didn't perform as well in these situations last season, but Farrell in October showed his desire to stick with the veteran regardless of the numbers. If Middlebrooks is still around (more on that in a moment), this is an opportunity to get him up the order, maybe even as high as sixth, as he has hammered southpaws and could author a bounce-back year with continued success in such situations.
4. Mr. OBP Nava at the top

1. Daniel Nava, LF
2. Shane Victorino, RF
3. Dustin Pedroia, 2B
4. David Ortiz, DH
5. Mike Napoli, 1B
6. Xander Bogaerts, SS
7. A.J. Pierzynski, C
8. Will Middlebrooks, 3B
9. Jackie Bradley Jr. CF
Nava's breakout 2013 campaign gives him a say in the leadoff debate. He ranked fifth in the AL (second on the team to Ortiz) in on-base percentage at .385, and his .303 average was good enough for eighth and was five points higher than Ellsbury. This scenario could play out when the Sox face right-handers, against whom Nava posted an .895 OPS.
Batting Bogaerts sixth keeps him in somewhat of a run-producing spot while moving him out of the high-profile spots atop the order. Nothing indicates he needs to be treated with kid gloves, but this is one way to help him settle in.
In this scenario, three of the final four spots in the Red Sox order are filled with players 25 or younger.
5. What if the Red Sox re-sign Drew?
1. Jackie Bradley Jr., CF
2. Shane Victorino, RF
3. Dustin Pedroia, 2B
4. David Ortiz, DH
5. Mike Napoli, 1B
6. Xander Bogaerts, 3B
7. Jonny Gomes/Daniel Nava, LF
8. A.J. Pierzynski, C
9.
Stephen Drew
, SS
All other scenarios have been drawn up under the assumption that Stephen Drew will sign elsewhere and Bogaerts will succeed him at shortstop. That remains an assumption, and the shrinking market for Drew -- coupled with Farrell's admiration for the veteran -- could further delay a parting between the team and player.
This would make Middlebrooks even more of a prime trade candidate and moves Bogaerts to a position at which he has played only a handful of times. Third base may ultimately be the better position for the youngster, and all those who thought Ben Cherington was crazy for blocking
Jose Iglesias
' progress at shortstop by signing Drew last year should consider the flexibility this provides.
And because this is the season of giving, here's a bonus lineup to think about:
6. Let's get nuts
1. Dustin Pedroia, 2B
2. Shane Victorino, RF
3. Xander Bogaerts, SS
4. David Ortiz, DH
5. Mike Napoli, 1B
6. Jonny Gomes/Daniel Nava, LF
7. A.J. Pierzynski, C
8. Will Middlebrooks, 3B
9. Jackie Bradley Jr. CF
If there is a catalyst other than Ellsbury, it is Pedroia. While he had some struggles in his limited leadoff duties in the past, he has shown no shyness (surprise, surprise) about tackling the role. Such a maneuver is incumbent upon Bogaerts hitting the ground running, but you could do a lot worse than having Pedroia setting the table.