Vazquez gives Sox special weapon
February, 26, 2014
2/26/14
12:20
PM ET
By
Rick Weber, Special to ESPNBoston.com
FORT MYERS, Fla. -- The Red Sox thought they had something special in catcher Christian Vazquez going into last year's camp. But after he spectacularly snuffed out the base-stealing attempt of Trevor Pflouffe in a game against the Twins on March 8, they
knew
they had something special.
Vazquez's home-to-second pop time was measured at 1.77 -- the best time that any Red Sox front-office members had ever seen, and well below the time of 1.95 that is considered the major-league average.
In 15 appearances during camp, he threw out all five baserunners who attempted to steal. But the Pflouffe punchout remains No. 1 on his hit list.
"That's the one I remember the most," he said Tuesday. "I was proud of that. For me, that's as good as I can do it."
[+] Enlarge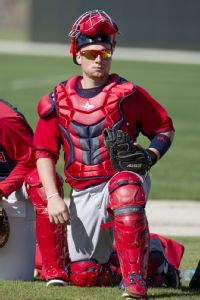 Michael Ivins/Boston Red Sox/Getty ImagesChristian Vazquez, who was promoted to Pawtucket last season, has forged a reputation as an assassin behind the plate. "If he gets the opportunity to fill in, everybody's comfortable with that possibility," said veteran catcher David Ross.
Vazquez continued to be a terror for would-be base stealers, throwing out 47 percent of them at Double-A Portland before he was promoted to Pawtucket. And then, in 33 games for Santurce in the Puerto Rican winter league, he nailed 63 percent of them.
Vazquez credits his father, Rafael, for teaching him the basics and Rays catcher
Jose Molina
for refining them. Molina, who lives near Vazquez in Puerto Rico, worked out with Vazquez three times a week during the offseason. It doesn't hurt to get some tips from a catcher who twice has led the American League in caught-stealing percentage.
Now the 23-year-old Vazquez, a ninth-round pick by the Red Sox in 2008, is imparting wisdom to Blake Swihart, who's making his first appearance in big-league camp.
"He welcomed me in," Swihart said. "He's always been a great guy. I've learned from him, 'Let the ball come to you, and relax back there. You can't rush anything.' One thing you find out is everybody is really close-knit here. There's no bitter taste in people's mouths. Everyone's working together.
"He's a great defensive catcher -- one of the best. Great arm, great feet. He's quick back there," he added.
Both Swihart and Vazquez are scheduled to play in Thursday's game against Boston College.
Pitcher
Andrew Miller
first ran into Vazquez on a rehab assignment in Greenville in 2012. He was impressed, but said no one could have expected to see what they saw last year during spring training.
"Most guys didn't know who he was yet," Miller said. "It doesn't sound like he surprised himself. It's all been part of the process. When you come into your first camp, guys may have heard whispers here and there, but in reality they don't know much about you.
"He threw out a bunch of guys in spring training," he added. "That goes a long way. Our guys at the big-league level did a great job with him.
David Ross
carries one of highest percentages of throwing out runners at the major-league level. There's value in that. A lot of times when you give up a hit and the catcher throws the guy out, that makes the inning a heck of a lot easier. It gets you out of a jam. The ability to do that is a special trait and something that certainly has a lot of value.
"He certainly has seemed to progress and get better every year. His star seems to keep getting brighter and brighter. His reputation is impressive. If he gets the opportunity to fill in, everybody's comfortable with that possibility."