Snapshots from Sox White House visit
April, 1, 2014
4/01/14
2:16
PM ET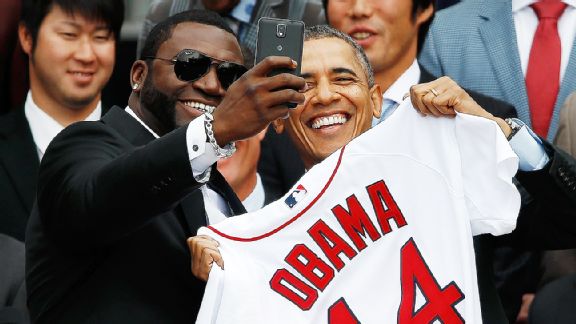 Win McNamee/Getty ImagesDavid Ortiz posed for a selfie with President Barack Obama.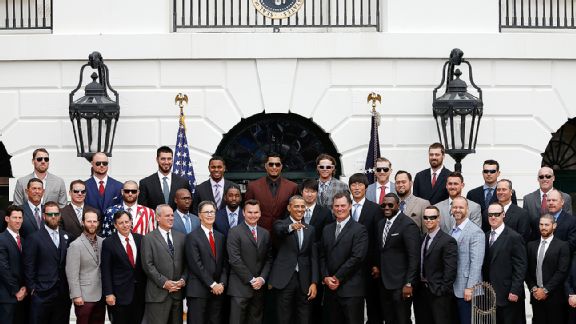 Win McNamee/Getty ImagesThe Red Sox posed with President Obama after their White House ceremony.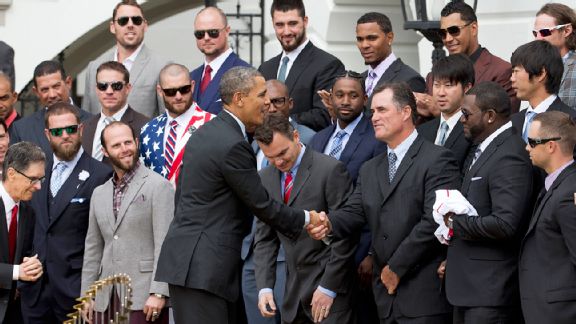 AP Photo/Manuel Balce CenetaPresident Obama shakes Red Sox manager John Farrell's hand at the start of the ceremony.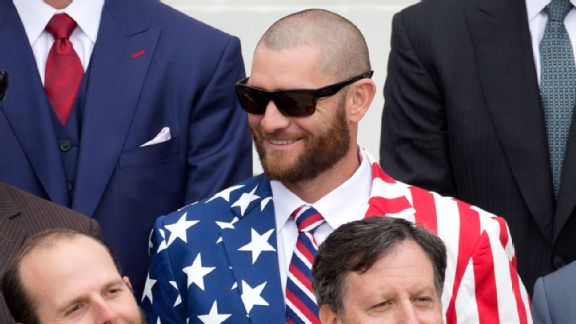 AP Photo/Carolyn KasterJonny Gomes wore his star-spangled blazer to Tuesday's ceremony at the White House.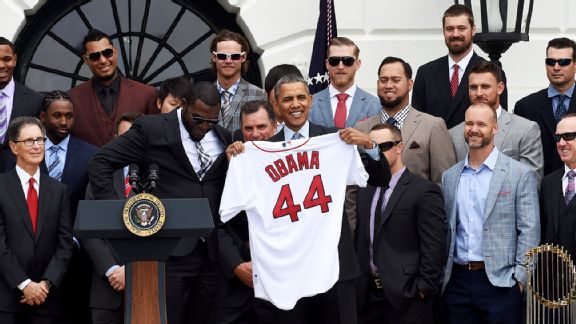 Jewel Samad/AFP/Getty ImagesDavid Ortiz presented a Red Sox jersey to President Obama.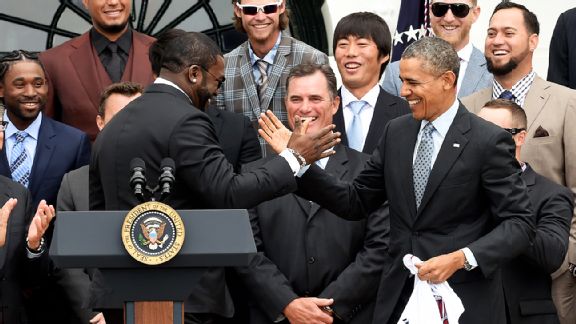 Jewel Samad/AFP/Getty Images
ABOUT THIS BLOG

Gordon Edes
Gordon Edes, who joined ESPNBoston.com in Nov. 2009, has covered MLB for more than 25 years. He spent 12 years covering the Sox for the Globe. Ask a question for his next mailbag. Follow him on Twitter here.

Joe McDonald
Joe McDonald, a native Rhode Islander, joined ESPNBoston.com as a Bruins and Red Sox reporter in February 2010. He worked at the Providence Journal for 18 years and covered the Red Sox, Bruins, Patriots, PawSox and Providence Bruins. He's a three-time winner of the National Sportscasters and Sportswriters Association's state Sportswriter of the Year for Rhode Island. Follow him on Twitter here.
2015 GRAPEFRUIT LEAGUE STANDINGS
UPCOMING GAMES
| | W-L | HM | AW | STK | L10 |
| --- | --- | --- | --- | --- | --- |
| BOS | 0-0 | 0-0 | 0-0 | W0 | |
| MIN | 0-0 | 0-0 | 0-0 | W0 | |
| | W-L | HM | AW | STK | L10 |
| --- | --- | --- | --- | --- | --- |
| MIA | 0-0 | 0-0 | 0-0 | W0 | |
| BOS | 0-0 | 0-0 | 0-0 | W0 | |
| | W-L | HM | AW | STK | L10 |
| --- | --- | --- | --- | --- | --- |
| BOS | 0-0 | 0-0 | 0-0 | W0 | |
| BAL | 0-1 | 0-0 | 0-1 | L1 | |
BLOG ARCHIVE:
CATEGORIES:
MARCH 2015
APRIL 2015
MAY 2015
Sun
Mon
Tue
Wed
Thu
Fri
Sat

1

2

3

NE
W 2 - 1

4

5

@MIN
7:05 PM ET

6

MIA
1:05 PM ET

7

@BAL
1:05 PM ET

8

@NYM
1:10 PM ET

9

@STL
1:05 PM ET

10

TB
1:05 PM ET

11

@NYY
1:05 PM ET

12

@PIT
1:05 PM ET

13

NYY
7:05 PM ET

14

PIT
1:05 PM ET

15

@PHI
1:05 PM ET

16

NYM
1:05 PM ET

17

ATL
1:05 PM ET

18

MIN
1:05 PM ET

19

@TOR
1:07 PM ET

20

BAL
1:05 PM ET

21

@PIT
1:05 PM ET

22

PHI
1:05 PM ET

23

STL
1:05 PM ET

24

@MIA
1:05 PM ET

25

26

MIN
1:05 PM ET

27

@ATL
1:00 PM ET

28

@TB
1:05 PM ET

29

TB
1:05 PM ET

30

MIN
7:05 PM ET

31

@TB
1:05 PM ET

Sun
Mon
Tue
Wed
Thu
Fri
Sat

1

TOR
1:05 PM ET

2

@MIN
7:05 PM ET

3

MIN
7:05 PM ET

4

@MIN
1:05 PM ET

5

6

7

8

9

10

11

12

13

14

15

16

17

18

19

20

21

22

23

24

25

26

27

28

29

30

Sun
Mon
Tue
Wed
Thu
Fri
Sat

1

2

3

4

5

6

7

8

9

10

11

12

13

14

15

16

17

18

19

20

21

22

23

24

25

26

27

28

29

30

31