Did Ortiz break up Yu's no-hit bid twice?
May, 10, 2014
5/10/14
2:33
AM ET
By
Travis L. Brown | Special to ESPNBoston.com
ARLINGTON, Texas -- Yes,
Boston Red Sox
designated hitter
David Ortiz
hit a two-out single in the top of the ninth to officially end
Texas Rangers
starter
Yu Darvish
's bid at a no-hitter.
Officially, it was the only hit in the game, the first one-hitter against the Red Sox since Game 1 of the 2013 ALCS by the
Detroit Tigers
.
But when Ortiz came to the plate in the top of the ninth, the no-hitter had already been broken up in his opinion.
[+] Enlarge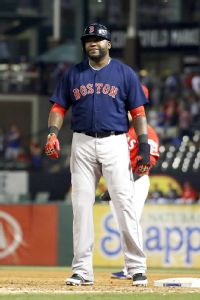 AP Photo/Tony GutierrezDavid Ortiz stands on first base after singling off Yu Darvish with two outs in the ninth inning Friday.
In his previous at-bat in the top of the seventh, Ortiz sent a pop fly into shallow right field, right between Rangers right fielder
Alex Rios
and second baseman
Rougned Odor
, who was playing well into the right-field grass in a shift.
After several minutes of deliberation, it was ruled an error by official scorer Steve Weller.
"I know I hit a ball that was supposed to be caught," Ortiz said. "The guy is throwing a no-hitter. We all understand, but when it comes down to the rules of the game, that's a hit. That's the rule that we all know, and that's the rules that the game had for more than 100 years."
Red Sox catcher
A.J. Pierzynski
, who was teammates with Darvish last year, agreed with Ortiz's assessment of the play after the game.
"That ball David hit should have been a hit, I think," he said. "So it should have been over a lot earlier, but David ended up getting a hit in the ninth anyways."
Weller, who is in his 20th season scoring major league baseball games, said by the letter of the law it was a judgment call, and either Rios or Odor could have caught the ball with a normal effort.
However, before Weller inked in his take on the play, he called the Elias Sports Bureau and got a second opinion on the ruling.
After reviewing the play, the Bureau agreed with Weller's assessment.
"I felt like Alex Rios at one point raised his hand to call him off and the second baseman basically stopped at that point," Weller said in a statement. "Then -- these guys are very perceptive, they can see around them -- he felt like there's no way Rios is going to get to the ball and he lunged for it and that's when the ball landed."

In Weller's judgment, Rios waved his hand and could have made the play within reasonable effort; therefore, he was the perpetrator of the error.
"I know what it looks like some people thinking [I'm] being a hometown scorer and trying to protect the pitcher," Weller said. "I looked at the replay a dozen times and it has not changed my opinion. From my perspective, the perfect game was more coincidental to the call than getting the call right."
Ortiz, however, said he believes the league will overturn the ruling, giving him the only two hits in Friday's game.
Interestingly enough, though, he said he wouldn't have been so outspoken about it had that play been the only differential between a no-hitter or not.
"They have to [overturn the call], otherwise they are going to have to fix some s--- up," Ortiz said. "I wouldn't have minded if the guy was throwing a no-hitter. I wouldn't have minded, to be honest with you."
However, when it came down to that final-inning at-bat, the scoreboard read one error, and Ortiz needed a hit to keep the Red Sox from being no-hit for the first time since 1993, when Mariners pitcher Chris Bosio blanked the Red Sox in Seattle.
Again, what did Darvish in was the shift, which pulled Odor deep in the outfield and unable to reach what would have been a normal ground ball to second.
In the end, Darvish struck out 12 in 8 2/3 innings of shutout ball. He utilized his fastball with more control than ever, according to Pierzynski.
"Maybe he finally listened to somebody that he needs to throw more fastballs because last year we tried to get on him about that and he never did it," he said. "Tonight, he threw a lot of fastballs. He had confidence in his fastball ,and that was good to see. Like I said, he threw the ball well."