What a difference a win streak makes
June, 1, 2014
6/01/14
12:52
AM ET
BOSTON -- When asked about the difference a week or so has made for the
Boston Red Sox
, catcher
A.J. Pierzynski
approximated it to be "about six wins."
After dragging themselves from the doldrums of a 10-game skid, the Red Sox have now amassed a six-game winning streak, following Saturday night's 7-1 victory over the
Tampa Bay Rays
. With it, they become the first Major League team since the 2004
Baltimore Orioles
to have won six straight after a losing streak of 10-or-more games, according to the Elias Sports Bureau.
The last time the Red Sox had a losing streak of more than 10 games, followed by a five-game winning streak, was in 1994 -- the same year Butch Hobson was fired as manager.
[+] Enlarge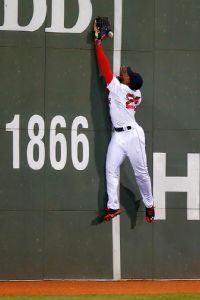 Jared Wickerham/Getty ImagesJackie Bradley Jr. was hit in the nose with the ball and slammed his face into the wall while trying to catch a Kevin Kiermaier blast in the eighth inning.
Through the whirlwind upswing, the Red Sox have intertwined a mix of anxiety and exhilaration -- chalking up back-to-back walk-off wins, including Friday night's extra-inning victory over the Rays. Perhaps more importantly, the Red Sox didn't allow emotions to get the best of them entering Saturday's affair. After seeing their managerial depth chart challenged by the ejections of three coaches in Friday's contentious duel with Rays ace
David Price
, things settled down.
Granted, Saturday's game was still a black-and-blue affair. There were two hit-by-pitches --
Mike Carp
again was plunked (albeit on an errant 72 mile-per-hour curveball) and Tampa catcher
Ali Solis
took one off the nose (after a
Rubby De La Rosa
wild pitch in the dirt).
Jackie Bradley Jr
. bore the biggest lick of the night, taking a ball to the nose after crashing head-first into the left-center field wall trying to corral a
Kevin Kiermaier
blast -- which went for an inside-the-park home run.
But, like Bradley Jr., the Red Sox emerged no worse for the wear.
"I asked them how close I was to [the ball]," Bradley Jr. said of his close encounter with the Green Monster. "That was the first thing I thought of."
Entering Saturday's action, the biggest question surrounding first pitch was the specter of retaliation and whether the umpiring crew would fire the opening salvo, warning the teams before a pitch was even thrown.
The war of words continued before the game, as Price criticized David Ortiz's edict of "war" against the Rays -- comparing it to when NFL tight end Kellen Winslow infamously proclaimed he was a solider while at the University of Miami in 2003. Also, Farrell again voiced his belief that Price should have been ejected during Friday night's game.
Despite that hot air, it was business as usual at the ballpark. No warnings were needed by the umpires, and everyone behaved.
"We met with the umpiring crew before the game, just with the chance to talk about a couple of things and that was it," Red Sox manager John Farrell said.
[+] Enlarge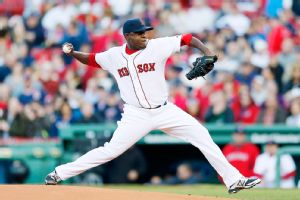 AP Photo/Michael DwyerIn his first Major League start since 2011, Rubby De La Rosa was in command throughout, striking out eight and walking none in seven shut-out innings.
The Red Sox moved on and continued to stockpile the W's, as De La Rosa turned in an impressive performance, taking the turn of
Clay Buchholz
(now on the disabled list). In his first Major League start since 2011, De La Rosa was in command throughout, striking out eight and walking none in seven shut-out innings.
Brock Holt
and Bradley hit their first home runs of the season (Holt's first career) and even the bottom of the order produced.
Jonathan Herrera
was 3-for-4 with two runs scored and an RBI while making a spot start in place of
Dustin Pedroia
at second base.
"I don't think we ever lost sight of the team we could be," said Holt, who's reached base safely in 10 of the last 12 games. "I know nobody obviously wants to lose 10 in a row. To come out, I think that
David Ortiz
home run in Atlanta put a little jolt in us and kind of told us we can come back and win this game. And when he did that, kept rolling from there."
Pierzynski insists it's still the same ballclub, however.
"I wouldn't say there's a magic potion or a formula," he said. "Nothing's changed. Guys have been going about it the same way, the difference has been winning games. We've been pitching better and getting hits when we need them."