Sox hit low point after being swept by Cubs
July, 3, 2014
Jul 3
1:55
AM ET
BOSTON -- It does not fall within the parameters of his buttoned-down personality to do so. But after the Red Sox were swept at home by that colossus of the National League, the Chicago Almighty Cubs (CAC), including a 16-9 demolition Wednesday night, John Farrell should have been sorely tempted to reprise
Jim Mora's immortal
"Playoffs, we're talking about playoffs?" riff.
[Larry Lucchino? Now that's a different story. Never mind how much you've heard he's mellowed. Cowering dogs could be seen crossing the street as Lucchino exited onto Yawkey Way.]
This has been a tough three nights for those counseling patience (present company included) for the Sox, arguing that they had a month before the trading deadline to restore order to their dysfunctional universe. After the Sox came within four outs of being no-hit on Monday night, fell in the ninth behind their bulletproof closer Tuesday night, and then were humiliated by the CAC on Wednesday night, it may be only a matter of time before the souvenir shops on Yawkey Way swap out their pennant orders for white flags.


After Wednesday night's loss to the Cubs, completing a three-game capitulation in which they were out-pitched, out-fielded and out-bashed by the Sons of Theo Epstein [who could be seen smirking from a thousand miles away], the Sox are 8 1/2 games behind the first-place
Toronto Blue Jays
in the American League East, and nine games under .500, matching their low-water point this season.
If you're going to argue that the Red Sox are still in the hunt for a postseason spot, then you have to accept the premise that 14 of the 15 teams in the American League are still in contention. The Sox are only a game ahead of the
Tampa Bay Rays
, who have won five straight, and just 2 ½ games ahead of the
Houston Astros
, who have the league's worst record.
The Sox have a worse record than the last-place team in the AL Central, the
Minnesota Twins
, and have virtually the same record as the Cubs (37-46), who last won a World Series in 1908.
This just in from the Elias Sports Bureau: No team in the wild-card era has ever been nine games under .500 beyond the midpoint of the season and qualified for the postseason. That puts Sox aspirations to play again in October on a par with Bobby Valentine's wish to manage again.
[+] Enlarge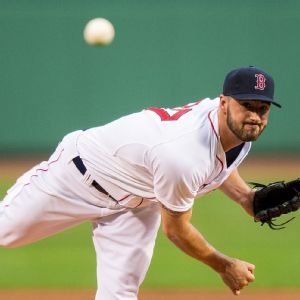 Michael Ivins/Boston Red Sox/Getty ImagesBrandon Workman gave up six of Boston's 16 earned runs and five of the Cubs' 19 hits.
The playoff probabilities as calculated by Baseball Prospectus on Wednesday night give the Sox an 8 percent chance of qualifying for the tournament. This keeps up, they'll have a better chance of winning the MegaMillions drawing, or becoming the first team to go from worst to first to worst again.
"The bigger picture is, still confident in our guys," Farrell said, refusing to deviate from a theme he has struck from the first sign of trouble this season.
"This is a one-game situation where, from the mound, this one got away from us. At the same time, I still have confidence in the guys in our clubhouse. I feel like we have done a very good job overall from the mound. From a bigger-picture aspect, I feel like there is very solid pitching, very good defense inside our building right now, and yet we've got to continue to lengthen out our lineup."

This was the longest night of the season -- the game time of 4 hours and 19 minutes was the longest nine-inning game in the majors in 2014 -- in more ways than one. One Fenway denizen muttered to an acquaintance that these two teams should have been playing in front of seven bystanders in Cleveland Circle, instead of before 37,055 paying customers on Yawkey Way.
The Sox have already been swept six times this season, including four times at home. They were swept just twice in 2013.
"On an unforgiving night, this one got away from us," Farrell said.
The way this misbegotten season has gone, it was inevitable that on the night the Sox snapped their streak of seven home games in which they scored two or fewer runs, their pitching would go south after 14 straight home games of holding the opposition to three or fewer runs.
Mookie Betts
hit one into the Monster seats for his first Fenway hit and first big league home run, and the Sox collected 16 hits in all, including three apiece by
Brock Holt
and
Dustin Pedroia
, and two apiece by
David Ortiz
,
Mike Napoli
and Betts.
[+] Enlarge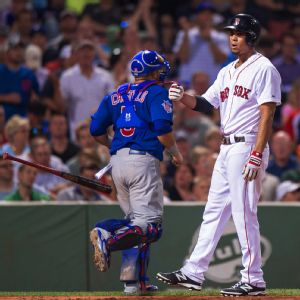 Michael Ivins/Boston Red Sox/Getty ImagesXander Bogaerts went 0-for-4 Wednesday, extending his hitless streak to 23 at-bats.
But the night turned into another painful exercise for prized rookie
Xander Bogaerts
, who went hitless in four at-bats and is 0 for his last 23. Bogaerts, who looked microwave-ready when he starred in the postseason last October, is drowning at the moment, hitless in his first eight at-bats in July after a .135 June (13 for 96, 27 K's). Bogaerts was the only player who batted in the game for either team that did not get at least one hit.
After the game, while Workman described his outing and Betts basked in the attention befitting his first home run, GM Ben Cherington and assistant GM Mike Hazen kept Farrell company in the manager's office. Nothing unusual in that. The Cherington/Farrell partnership has maintained a united front in good times and bad, and it is not unlike Cherington to share the manager's pain at such a time.
But while it is not in the team's DNA to sound retreat even when things are at their bleakest, you have to wonder how long it will be before the men operating the Sox decide the future is no longer now. The future is the future. World Series heroes, it seems, can have a very short shelf life.