FORT MYERS, Fla. -- Without a game on the schedule Wednesday, Boston Red Sox president of baseball operations Dave Dombrowski has the rare opportunity to kick back, put his feet up and catch a few rays on another sun-splashed day in southwest Florida.
Or, you know, to watch right-hander Rick Porcello throw five innings against minor leaguers.
The job of building the Red Sox roster never ends, and with 12 days until Opening Day in Cleveland, there are still cuts to be made and questions to answer for a team that can ill afford another rotten April.
Here, then, are the Sox's five most pressing issues, and informed guesses as to how they will be resolved.
1. Who's on third?
It will be either $17 million incumbent Pablo Sandoval or $515,000 upstart Travis Shaw. And the fact that this is even up for debate illustrates how differently the Red Sox are being run in the Dombrowski era.
For as much urgency as the organization feels to start strongly, manager John Farrell's job depends on it. A World Series-winning manager in 2013, he has steered the Sox to back-to-back last-place finishes and watched after being diagnosed with Stage 1 non-Hodgkin's Burkitt lymphoma last August as the team played well under bench coach Torey Lovullo.
If the leash on Farrell is short, it stands to reason he has little tolerance for underachievers. And with Dombrowski wielding more influence over principal owner John Henry than former general manager Ben Cherington ever did (and having no connection to the five-year, $95 million signing of Sandoval), Farrell is empowered to not simply hand a position to the player with the largest contract.
Don't believe it? You're not alone. Even Shaw was surprised when Farrell declared third base up for grabs.
"I would like to think that I am [competing with Sandoval]," Shaw said. "I don't really know. I've never been in this situation. But I'm just going to continue to let my at-bats do the talking, and hopefully they'll speak for themselves."
Actually, it might be Shaw's defense that puts him over the top. Sandoval made two diving plays Tuesday against the Marlins but otherwise hasn't looked much more agile than last year, when he had the worst defensive season of his career. He does seem to have responded to Farrell's challenge, homering Saturday, picking up two hits Monday and playing with more purpose.
The guess here is Sandoval starts Opening Day, even though Farrell sounds like he prefers Shaw. But with the Red Sox likely to face three right-handed starters in Cleveland (Corey Kluber, Carlos Carrasco and Danny Salazar), Sandoval and Shaw both figure to get at-bats in the season-opening series.
After that, Farrell could simply ride the hot hand. Refreshing, isn't it?
2. After ace David Price, is the rotation good enough?
It doesn't help that lefty Eduardo Rodriguez will open the season on the disabled list after being slowed by a dislocated right knee. In a perfect world, he misses only two or three starts, taking most of the drama out of the duel between fill-in candidates Roenis Elias and knuckleballer Steven Wright.
And while there is uncertainty surrounding oft-injured Clay Buchholz, inconsistent Joe Kelly and Porcello, who is coming off the worst season of his career as his four-year, $82.5 million extension kicks in, Red Sox officials say they're content to stick with what they have rather than seeking upgrades now.
"I'd have some concerns in the immediate," said one AL talent evaluator, who nevertheless doesn't put much stock in the mixed spring training results of the Red Sox's rotation. "Look for that crispness in their last outings. If it's lacking, then there can be the danger of a slow start."
3. How will reliever Carson Smith be replaced?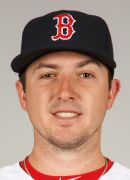 Thus far, it appears Smith will avoid surgery. But there also isn't a timetable for when he will resume throwing after straining the flexor mass muscle in his right forearm.
The Sox can get by without him for a while. But setup man Koji Uehara will turn 41 next month and Junichi Tazawa has been overworked for three years running, making Smith an important addition and a significant loss.
Right-hander Matt Barnes figures to be the first choice to fill that void. The hard-throwing former first-round pick allowed nine homers in only 43 innings last season but has been dominant this spring, striking out nine batters and walking only one in 8 1/3 scoreless innings.
4. Is catcher Christian Vazquez ready to return to the big leagues?
There isn't any denying Vazquez, a week shy of his one-year anniversary of having Tommy John elbow surgery, is ahead of schedule. And Red Sox pitchers are positively giddy at the thought of having his rocket arm and pitch-framing skills back behind the plate.
But there also isn't any need to rush Vazquez. The list of catchers who have survived Tommy John surgery isn't particularly long, and the news last week that Baltimore's Matt Wieters is dealing with elbow soreness was a sobering reminder of the perils of going too fast.
There's always the possibility the Red Sox could trade veteran backup Ryan Hanigan to a catching-needy team and go with Blake Swihart and Vazquez. But it makes too much sense not to preserve the catching depth and start Vazquez in Triple-A, even if he doesn't remain there for long.
5. When it comes to Hanley Ramirez at first base, should we believe our eyes?
They don't award Gold Gloves in spring training, but boy, if they did. For someone who never played first base before, Ramirez looks, well, almost natural, scooping low throws, stretching for others, diving and leaping to snare line drives, even executing a cutoff play last week against the Twins.
But let's pump the brakes.
Ramirez remains a novice, and there are any number of situations (3-6-3 double plays, for instance) he has not yet encountered in games. As sure as he has surprised his legion of doubters, the growing pains will still be present and, occasionally, acute.
At least Ramirez is trying, though, which couldn't be said of his approach to learning left field last year. The Sox created that monster by directing him to play conservatively to avoid injury. By staying on top of him this winter (player-development staffer Laz Gutierrez even went to Ramirez's house to hit him grounders), they made clear the importance of being at least passable at his newest new position.
Ramirez even seems to be having fun with it.
"Honestly, every time somebody is up there, I want it to be a ground ball," Ramirez said. "It's unbelievable. Every day is getting better and better and better and better. I feel like everybody is looking at me like, he's going to make a great play right here. That's what I expect from myself. Get ready to dive right here, catch everything."
As long as the Red Sox can keep Ramirez so engaged, this experiment might actually work.
Imagine that.