October, 3, 2013
10/03/13
9:17
PM ET
In the days leading up to the ALDS, we asked five people -- our four Red Sox pundits and one reader -- to answer five questions about this surprisingly successful Red Sox team.
Today's question: What's your prediction on how far the Red Sox will go?
• Gordon Edes: Red Sox will win the World Series

The hardest test may be the first one -- the
Tampa Bay Rays
come in having won three straight elimination games in three different cities, which does wonders for a team's backbone -- but the Red Sox will return to the World Series for the first time since 2007. And they will win.
The chemistry? Great. The beards? A rallying symbol. The fun? Infectious. But this team will win the World Series because of talent and resilience, strong starting pitching and a shutdown closer. They have star power, they have a terrific supporting cast, and they are at their best when the situation demands their best.
October baseball is capricious, often unfair, and always unforgiving. The Sox could stumble; many great teams do. But this team has yet to run out of answers, and it won't now. Fire up the duck boats.
• Joe McDonald: Red Sox will win the World Series
Based on the way this team played so consistently throughout the 2013 season, and given the fact the players have remained relatively healthy, the Red Sox are poised for a deep postseason run, one I think will end with a World Series title. It starts with pitching and the Red Sox have the horses. Motivation and experience are big factors, too.
David Ortiz
wants to add to his legendary status in Boston.
Dustin Pedroia
simply hates to lose more than any other player on the field, so he'll be pumped. The once so-called, short-term complementary players --
Jonny Gomes
,
Mike Napoli
,
Shane Victorino
and
David Ross
-- also have something to prove.
Believe it or not, I think having such a disastrous 2012 season is one of the reasons why this Red Sox team has been so good in 2013. So, at least something good came from the Bobby Valentine era in Boston.
• Tony Lee: Red Sox will beat Braves in World Series

When I think of the best baseball teams I've seen over the years, one quality stands out: relentlessness. The 2004 and 2007 Red Sox teams had it, that ability to never let the losing last and to squeeze everything out of every hot streak, every lead, every single at-bat to the point where it wears down opponents. That is a wonderful quality come October, and it, among other reasons, is why Boston will win the World Series.
While grinding out at-bats better than anyone, Boston never lost more than three games in a row. The other nine teams that qualified for postseason had season-high losing streaks that averaged nearly six games, with three suffering through slides of seven or more. You hit the skids in October and your season is over in a heartbeat. Boston is healthy, motivated, playing well entering the month and has shown time and again that it can sustain quality baseball and recover from rare bouts of poor play better than anyone in the game. My World Series prediction? Boston over Atlanta in six games.
• Kyle Brasseur: Red Sox will lose to A's in ALCS
As tough as it is to bet against the team with the best record in the American League, I can't see the Red Sox making it past the ALCS. A team's pitching carries it through the postseason and as good a starting four of
Jon Lester
,
John Lackey
,
Clay Buchholz
and
Jake Peavy
is, the Red Sox have far too many question marks in the late-innings leading up to closer
Koji Uehara
to feel safe heading into a seven game series against Detroit or Oakland. I see the Athletics beating Detroit in the ALDS and sending the Red Sox home in the Championship Series. The Athletics were second in starter's ERA and third in bullpen ERA during the regular season, giving them the most all-around balanced pitching staff among AL playoff teams. They may not have any star players, but this Oakland team has proven it's for real and is primed for a deep playoff run.
• Reader Mike O. from Plainfield, Ill.: Red Sox will lose to Dodgers in World Series
I think personally the Red Sox will make it to the World Series but lose. They will get past the Rays in the ALDS in 4 games. Then they will host the Oakland A's in the ALCS. After getting past the A's in six games, with a go-ahead home run by Mike Napoli in the eighth inning of Game 6.
The Red Sox will meet the
Los Angeles Dodgers
in the World Series. The Dodgers' pitching proves too much, as the Red Sox lose three games by two runs or fewer. Ultimately, the Dodgers will win in Game 7, with
Clayton Kershaw
pitching 8 innings of 2-run ball, and the Red Sox lose 5-3.
October, 3, 2013
10/03/13
2:20
PM ET
In the days leading to the ALDS, we're asking five people -- our four Red Sox pundits and one reader -- to answer five questions about this surprisingly successful Red Sox team.
Today's question: Which Red Sox player will we be talking about after the ALDS?
• Gordon Edes: Koji Uehara
Uehara
How likely is this series to be low scoring? Tampa Bay pitchers held the Sox to 3 runs or fewer a dozen times in their 19 meetings. Sox pitchers held the Rays to 3 runs or fewer 13 times. Five games were decided by one run, three by two runs.
So the ball will almost certainly end up in the hands of closer Koji Uehara multiple times in this series, which is why, for better or worse, he could become the dominant story line of this series. Based on regular-season results, that's good news for the Sox: Rays hitters had 36 plate appearances against Uehara this season. They went 2 for 34 -- a double by
Matt Joyce
, a single by
Evan Longoria
-- and batted .059. He walked 2 and struck out 13. He treated the Rays, in other words, the way he treated everyone else he faced this season. He faltered in the postseason for the Rangers in 2011; that is unlikely to happen here.
• Joe McDonald: John Lackey
Lackey
Not only will everyone be talking about John Lackey's pitching performance in the ALDS, the right-hander will make all Red Sox fans forget about his contentious past. When he was rehabbing from Tommy John surgery, he told me the only thing he wanted to do was stand on the mound in Game 7 of the World Series and win it for Boston. That image has kept him motivated, and even though he's not an everyday player, his pitching performances in the postseason will be unforgettable.
• Tony Lee: Will Middlebrooks
Middlebrooks
Call this one a hunch, as Middlebrooks slumped down the stretch. Simply put, he has the power stroke and the streaky nature that can alter series in October if he gets hot at the right time.
When he's on, Middlebrooks can carry a lineup, as was the case for six straight games in early September in which he was 12 for 25 with four home runs and nine RBIs, or just last week in Colorado, where he hammered two homers and drove in seven in a rout of the Rockies.
If that was any indication of another hot streak, Middlebrooks could be a big factor at the bottom of the lineup. He had eight homers in his last 34 games and has had success against likely Rays Game 2 starter
David Price
(5 for 13, home run and a double).
• Kyle Brasseur: Quintin Berry
Berry
Berry has gone 23 for 23 in stolen base attempts at the major league level, providing the Red Sox with a late inning pinch-run option that always proves valuable in the postseason. Consider that the Rays caught stealing percentage of .217 had them ranked 27th in the league and you have the perfect stage for Berry to steal the show if a close game calls for such. Do I even need to make the obvious
Dave Roberts
comparison at this point?
• Nick S. from Plymouth, Mass.: Jarrod Saltalamacchia
Salty
We're going to be talking about Salty because we won't need to be talking about the possibility of signing
Brian McCann
any longer. He's having the best offensive season of his career and is showing no signs of slowing down. After he hits two home runs in the ALDS we'll be able to ignore the fact that he only hit 14 this season.
Click HERE to submit your question for consideration for Friday's installment of our #5for5 series.
October, 2, 2013
10/02/13
4:09
PM ET
In the days leading to the ALDS, we'll ask five people -- our four Red Sox pundits and one reader -- to answer five questions about this surprisingly successful Red Sox team.
Today's question: Who is the unsung hero of this Red Sox team?
• Gordon Edes: Stephen Drew
Drew
When rookie
Jose Iglesias
opened the season at short red hot, batting .450 in the first week, it became fashionable to question why the Sox spent $9 million on Stephen Drew, who was coming off a serious ankle injury and a down season in 2012. That judgment grew louder when Drew, who missed much of spring training after a concussion, batted just .152 in his first 16 games and was still batting just .211 at the end of May.
But since then, despite another trip to the DL with a strained hamstring, Drew has been a dependable left-handed bat in the Sox lineup (.273/.340/.483/.824) and has performed at a high level defensively, committing just 8 errors all season. The credit has come grudgingly, but it is more than deserved.
• Joe McDonald: Daniel Nava
Nava
Daniel Nava has played every outfield position. He's played first base. He's served as the DH when needed. For a guy who most thought would never make an impact in the majors, never mind in Boston, the 30-year-old role player hovered around .300 for the majority of the season, played more than 130 games and drove in more than 60 runs with double-digit homers. His .385 OBP ranked fifth in the American League. Nava fits perfectly into what the Red Sox need from a player like him and has a flare for the dramatic. He's calm on and off the field and could prove crucial in the postseason.
• Tony Lee: Craig Breslow
Breslow
The 2013 Red Sox were a relatively healthy team, with the exception of the back end of the bullpen, which lost two closers and a quality late-inning option in
Andrew Miller
.
Koji Uehara
's ability to embrace the closer's role was massive, but the bridge to the back end was forced to endure a shockwave from all the movement.
Craig Breslow did all he could to solidify that bridge.
The clean-shaven, soft-spoken Breslow is as understated as anyone on the team. However, the one run he has allowed in his last 28 appearances spanning 25 2/3 innings speaks volumes about his value down the stretch. Breslow held opponents to a measly .568 OPS in high-leverage situations and his ERA in the eighth and ninth innings combined is 0.85. Also, Breslow's ability to dominate righties (.581 OPS against) while still stifling lefties (.704) makes him a great option in virtually any situation.
• Kyle Brasseur: Mike Carp
Carp
Acquired by the Red Sox from the
Seattle Mariners
for nearly nothing at the end of spring training, Carp has provided both valuable versatility and steady offense in a tough role for Boston this season. Playing in only 86 games, Carp produced career highs in batting average (.296) and on-base percentage (.362) as well as making a career low number of errors (2) split between first base and both corner outfield spots. A go-ahead grand slam in extra innings Sept. 11 against the Rays and the game-winning RBIs to clinch the AL East Sept. 20 against Toronto are nothing to scoff at either.
• Kevin W. from Glendale, Ariz.: Jonny Gomes
Gomes
Gomes solidifies this team in terms of chemistry. The iconic muscles flexed, "Boston Strong" on second base symbolizes the season. He doesn't complain about his limited role and he plays it well. His overall numbers aren't great, but I feel very comfortable with him in the clutch and pinch-hit situations. Before he played for the Red Sox, I was always terrified of him -- it seemed he would always crush a ball when it was needed most.
Click HERE to submit your question for consideration for our #5for5 series the rest of the week.
October, 1, 2013
10/01/13
11:15
AM ET
In the days leading to the ALDS, we'll ask five people -- our four Red Sox pundits and one reader -- to answer five questions about this surprisingly successful Red Sox team.
Today's question: Which team would you rather see the Red Sox face in the ALDS, the Rays or Indians?
• Gordon Edes: Indians

Terry Francona's Indians lost 6 of 7 to the Red Sox in the regular season, were 36-52 against teams .500 or better, and have a closer crisis. Who wouldn't want to face them instead of the Rays, who have formidable starting pitching and a more productive lineup than in the past? The Tito magic has to run out eventually ... doesn't it?
• Joe McDonald: Rays

Both the Indians and the Rays are dangerous teams. Let's start with Cleveland. Like the Red Sox, the Indians are built on character and talent. They're feeling good about their game right now, finishing the season with 10 straight wins. The Rays, on the other hand, have always found a way to play well against the Red Sox. In the 2008 ALCS, for example, Boston had a better team but Tampa won that series in seven games. This season, Boston posted a 12-7 record against its AL East rival. If forced to choose, I think the Red Sox have a better chance of advancing to the ALCS if they play the Rays.
• Tony Lee: Rays

The general consensus suggests that avoiding the
Tampa Bay Rays
and their quality starting pitching would be the best-case scenario for the Red Sox.
However, even with
David Price
,
Matt Moore
and
Alex Cobb
, it is a team that has played .500 ball for two months and possesses a marginal offense that averaged 3.0 runs per game in going 7-12 against the Sox.

Also, Price used up 118 more bullets Monday night at Texas, Cobb will be used Wednesday in a do-or-die start in Cleveland and Moore, your Game 1 starter in an ALDS, limped to the finish line with a run of short starts filled with control problems that belie an otherwise solid ERA (20 walks and 26 hits in 29 innings since returning from an elbow injury last month).
The vibe is unique with Terry Francona's bunch and Boston has not seen the Indians since May, when Cleveland was struggling to stay above .500.
In Maddon's crew the Red Sox would find a familiar opponent playing in its fourth city in six days on the tail end of an up-and-down stretch run.
Given all that, I'd take my chances with Tampa Bay.
• Kyle Brasseur: Rays

As dangerous as we all know the Rays to be, they have several things going against them already heading into this week. First is a brutal schedule that, with a win over Cleveland on Wednesday, would take the team from Toronto to Texas to Cleveland to Boston in a span of five days.
Then you have the offensive woes of the past two postseason trips for the Rays, which saw them hit .236 as a team in 2011 and .215 in 2010, both the lowest totals among American League postseason teams in their respective years. Their .215 batting average in 2010 was the lowest for an AL postseason team that played five or more games since the
Oakland Athletics
in 2003 (.213).
And finally, there's the reality of playing the Indians who, at 21-6, had the best record in the league for the month of September. Fun fact: The last four teams to have the best record in September (the
San Francisco Giants
in 2012,
Detroit Tigers
in 2011,
Philadelphia Phillies
in 2010 and
New York Yankees
in 2009) at least made it to their league's Championship Series in their respective years.
Of course, Cleveland also has some guy named Tito at the helm. Francona's 28-17 postseason record is second-best in MLB history among managers with a minimum of 25 postseason games (Joe McCarthy, 30-13).
• Reader Joe M. from Norwood, Mass.: Indians

To me, this is an easy one. It has to be the Indians, and it's really not even close. The Rays' pitching, although not as strong as it has been in past years, is still somewhat frightening. Cobb and Moore have been outstanding, and although Price has underperformed, I don't think there's anyone that sits up at night hoping they get to face him.
The Indians are talented, no doubt. But they lack any semblance of a major threat in the middle of their order and their rotation isn't deep enough to win a five-game series, especially without ace
Justin Masterson
. There could be some added motivation given Francona's history in Boston, but the Sox have too much talent for that to be an overriding factor.
September, 30, 2013
9/30/13
3:12
PM ET
In the days leading to the ALDS, we'll ask five people -- our four Red Sox pundits and one reader -- to answer five questions about this surprisingly successful Red Sox team.
Today's question: What's the biggest reason for the Red Sox's worst-to-first transformation? And how much stock do you put in the character/chemistry argument?
• Gordon Edes: Sox made the most of their do-over
It all changed for the Red Sox on Aug. 25, 2012, when through a fortuitous set of circumstances the Sox were able to execute a transformative trade with the
Los Angeles Dodgers
, unloading the players they thought would be their foundational pieces for the rest of the decade --
Carl Crawford
and
Adrian Gonzalez
, along with
Josh Beckett
and
Nick Punto
-- and freeing up $262 million in the process.

No one gets to hit the reset button the way the Sox did when they found a willing buyer in the Dodgers, who had just gone through an ownership change that left them flush with cash and a desire to make a huge impression on a fan base turned off by the greed of bankrupt owner Frank McCourt. The trade required a coordinated effort from ownership and GM Ben Cherington to execute, and a mutual acknowledgment that the previous master plan was an abject failure.
Given the chance to do it differently, Cherington and new manager John Farrell proceeded to reshape the roster, with the added focus of identifying good players who wanted to play in Boston and would thrive there. That may not be the textbook definition of "character," but the Sox obviously found the right characters for this market.
• Joe McDonald: The right guys at the right time
This transformation has everything to do with the changes Cherington made during the offseason. Hiring Farrell gave the manager instant credibility in the clubhouse. Once he was in place, Cherington and Farrell built the roster from the clubhouse out, stressing both character and talent. Cherington complemented the core with well-respected guys like
Jonny Gomes
,
Shane Victorino
,
David Ross
,
Mike Napoli
and
Mike Carp
.
The chemistry this team had was evident as early as spring training, and it never waned throughout the summer and now into fall.
• Tony Lee: Holdovers had something to prove
The impact of imports Victorino, Napoli, Gomes,
Koji Uehara
and others was massive. However, what has elevated the Red Sox has been the return to form of the holdovers, the very ones who languished through 2012, either healthy or not.
[+] Enlarge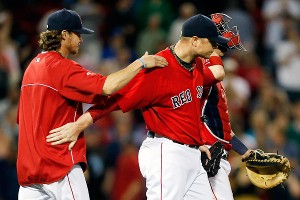 AP Photo/Michael DwyerClay Buchholz (12-1, 1.74 ERA) and Jon Lester (15-8, 3.75 ERA) played a major part in the Red Sox's turnaround.
John Lackey
transitioned from a sidelined malcontent (in the eyes of some) to a cap-doffing workhorse.
Jon Lester
and
Clay Buchholz
saw their combined ERAs drop from 4.70 to 3.08.
Jacoby Ellsbury
and
David Ortiz
played in the same game 12 times in 2012. They were lineup linchpins this year alongside
Dustin Pedroia
, who saw upticks at the plate and produced perhaps the best defensive year ever for a Red Sox second baseman.
It is impossible to quantify the effect of improved chemistry, but Victorino & Co. could not have an impact until they were welcomed to the fold by revitalized remnants.
• Kyle Brasseur: Forget chemistry, it's consistency
This Red Sox team never fell below .500 at any point this season, never lost four or more games consecutively and was swept only once all season. Meanwhile, last year's Red Sox team was swept in their first series of the year and had lost four games in a row 13 games into the season. There's a lot of stock to put into the character/chemistry argument; the players and coaching staff on this team picked each other up after tough losses and never let things spiral out of control. Here they are, in the postseason 97 wins later.
• Reader Mike P. from Mystic, Conn.: Sox earned my respect back
A well-respected manager and healthy, talented players get you lots of wins, and I think those factors probably account for the great chemistry, more so than the other way around. But those factors don't
guarantee
the chemistry either. IMO, the great chemistry and character of this team, while maybe not the
major
factor in a successful season, certainly adds the icing on the cake and maybe, just maybe, provides the extra little edge that could propel this team to a championship. At a minimum, it accounts for the feeling on the part of lots of Red Sox fans that this team, that we were so disappointed in last year, has done all the right things to regain our respect and loyalty. And, since I watch almost every Red Sox game on TV (and go to a few at Fenway, as well), I can honestly say that the chemistry and character of this team has made watching the Red Sox fun again.
Click HERE to submit your question for consideration for our #5for5 series the rest of the week.