Boston Red Sox:

Alex Wilson
August, 31, 2013
8/31/13
8:39
PM ET
BOSTON -- The Red Sox have acquired veteran infielder
John McDonald
and cash considerations from the
Philadelphia Phillies
in exchange for minor league pitcher Nefi Ogando.
McDonald, 38, will join the Red Sox on Sunday, when rosters expand from 25 to up to 40 players. To make room on the 40-man roster for McDonald, RHP
Alex Wilson
was transferred to the 60-day DL.
McDonald, a native of New London, Conn., current Scituate, Mass., resident and former Providence College standout, is a 15-year MLB veteran and considered one of the best utility players in the game.
"A New England kid getting a chance to be a part of this franchise, this group of players and staff, with everything that has happened this year, I get to live out what we all wanted as kids. Pretty amazing feeling," McDonald told ESPNBoston.com via text message.
He has played a total of 45 games this season between the
Pittsburgh Pirates
,
Cleveland Indians
and Phillies. He's hitting a combined .098 with one double, one home run and four RBIs, but the Red Sox didn't acquire him for his bat. He can still play defense and will add another veteran presence in the clubhouse.
"He's a premium defender at all three [infield] positions and he'll serve as depth, particularly in the middle of the infield," manager John Farrell said. "He can obviously also play third base but we felt like even though we put Will [Middlebrooks] at second base a couple of times, if something were to happen unforeseen we've got someone who's not only tested but very seasoned at second base as well."
Ogando, a 24-year-old left-hander, spent the season at Single-A Salem. In 33 relief appearances, he went 2-3 with three saves, a 4.09 ERA and 44 strikeouts.
August, 8, 2013
8/08/13
9:02
PM ET
KANSAS CITY, Mo. -- Left-handed pitcher
Franklin Morales
, who made his fifth rehab appearance for Pawtucket Wednesday night, is on deck to be called up, said Red Sox manager John Farrell, implying that his promotion could come sometime this weekend.
Morales' return would give the Red Sox a third lefty again in their bullpen, the number Farrell had at his disposal until
Matt Thornton
strained an oblique muscle Sunday and went on the disabled list. With rookie
Drake Britton
pitching as well as he has and
Craig Breslow
considered an integral part of the bullpen mix, a healthy Morales could give the Sox a potential piece to move during the August waiver period.
It has been a difficult season for Morales, who was shut down early in spring training with a bulging disc in his back, returned in late May, then strained his left pectoral muscle, which put him back on the DL on June 25 (retroactive to June 23). He has missed 92 games while making just six appearances (one start), in which he has posted a 2-0 record with a 7.30 ERA. In five rehab appearances, four with Pawtucket, he has allowed one run in 5 1/3 innings, striking out 6.
--Right-handed reliever
Alex Wilson
has had his rehab stint placed on hold after experiencing discomfort in his sprained right thumb. Farrell said Wilson will be re-examined. He had made four appearances, the last on Monday.
--Knuckleballer
Steven Wright
was optioned back to Pawtucket with
Daniel Nava
back from paternity leave.
--The Sox came into Thursday's game with 25 home runs since the All-Star break, second in the majors to Toronto (26).
February, 8, 2013
2/08/13
2:18
AM ET
The final installment of a five-part series looking at the biggest questions facing the Red Sox leading into spring training:
5: Which young players will help this season?
FORT MYERS, Fla. -- The Red Sox begin camp next week with what appears to be few open roster spots and little competition for jobs. One injury could change all that, of course, but at the moment, the bullpen and a backup reserve spot or two would appear to be the only jobs up for grabs in February.

Still, there are a number of young players who may not break camp with the club on Opening Day but almost certainly will make an impact before the end of the season, some for years to come.
Here are seven to watch:
Ryan Lavarnway:
Lavarnway's immediate future took a detour when the Red Sox signed veteran
David Ross
as a backup catcher to
Jarrod Saltalamacchia
, leaving Lavarnway looking at a return to Pawtucket, where he certainly has little left to prove, especially at the plate. Coaching guru Gary Tuck praised the strides Lavarnway made behind the plate, although that still remains a matter of debate in some circles. Lavarnway batted just .157 in 153 at-bats in 2012, far too small a sample size to draw any conclusions, and with Saltalamacchia just a year away from free agency, a trade is not out of the question.
Jose Iglesias:
2013 was the year the Red Sox had projected for Iglesias to arrive, but his light bat and this winter's signing of
Stephen Drew
have postponed any coming-out party for the gifted shortstop, whose defensive skills may have no equal. Yes, that's saying a lot, but it may all be for naught if Iglesias, who has looked woefully overmatched at the plate in two big league exposures, doesn't pick up his offense. It's much too soon to quit on him -- he is still just 23 -- but Xander Bogaerts, the player regarded as the best prospect in the system, is closing fast.
Allen Webster, Rubby De La Rosa:
They're served as a parlay here because they came together from the Dodgers in the Gonzo/CC/Beckett deal, and both have legitimate shots at cracking the rotation at some point this season. De La Rosa has the more spectacular assets, including a 100 mph fastball and a changeup inherited from
Pedro Martinez
, but he also has had Tommy John surgery. Webster, who turns 23 on Sunday, may actually be the more polished pitcher, and has outstanding sink action on his fastball that should play well in the big leagues. They may be in Pawtucket in April, but check back at midseason, if not sooner.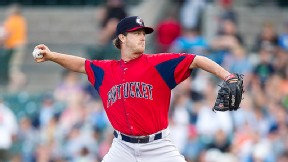 AP Photo/Mike Janes/Four Seam ImagesCould Steven Wright succeed Tim Wakefield as Boston's resident knuckleballer?
Jackie Bradley Jr.:
We all may be getting just a little ahead of ourselves here. Bradley, after all, began last season in high Class A and has just half a season of Double-A experience. Don't be surprised if he opens 2013 back in Portland, although a promotion should not be long in coming. Bradley is an above-average defender with a strong arm who has not only been productive at the plate but also disciplined, which accounts for his rapid rise. He projects as the team's center fielder of the future if
Jacoby Ellsbury
leaves as a free agent, but it's no certainty that he'll contribute to the big club this season. Still, I wouldn't bet against it.
Steven Wright:
The knuckleballer with the comedian's name is 28 -- old for a rookie but equivalent to puberty for the practitioner of the pitch that made
Tim Wakefield
famous. Wright came to the Sox from Cleveland, and if any organization is inclined to give a fair hearing to a knuckler, it should be this one.
Alex Wilson:
He may have a tough time cracking what looks to be a crowded bullpen, but the former Texas A&M star successfully made the transition to the 'pen in Pawtucket last season and could receive a summons at some point.
April, 29, 2012
4/29/12
3:00
PM ET
By
Matt Huegel, SoxProspects.com
| ESPNBoston.com
It has been obvious to Red Sox followers this season that the bullpen has been one of the team's biggest weaknesses, as Boston relievers' 6.55 ERA entering this weekend was nearly half a run higher than that of any other team. However, help could soon be on the way. Earlier this week the club moved its 2011 minor league pitcher of the year, Alex Wilson, to the bullpen, setting him on a track to possibly help in the majors quite soon.
Until the move was actually made, the Red Sox gave no indication that such a transition was imminent. But hours before Wilson's scheduled start Tuesday for Triple-A Pawtucket, word came down that he was being replaced by veteran
Brandon Duckworth
. This led to natural questions about whether Wilson, the 14th-ranked prospect at SoxProspects.com, was injured. Those were quickly put to rest. Instead, hopes of a quick elevation to the big league club for the righty emerged.
"I was told [Monday] night," Wilson said. "I sat down and [they] said they were going to make the switch. The front office came to the decision to go ahead and slide me back there, and [told me] not to look at it as a demotion, but as an opportunity. I'm going to take that and run with it."
It is an opportunity that could yield quick results for the 25-year-old if the Red Sox bullpen continues to struggle. The organization made a similar switch with
Junichi Tazawa
in spring training, and he has been one of the better relievers in Boston since his promotion on April 18.
[+] Enlarge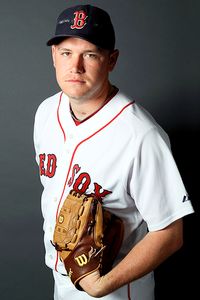 Elsa/Getty ImagesAlex Wilson, viewed by many scouts as a natural for the bullpen when in college, is making the transition back to a relief role.
A reliever in his final season at Texas A&M after undergoing Tommy John surgery the year before, many scouts viewed Wilson's fastball-slider combination as tailor made for a bullpen role at the big league level.
"I'm lucky enough to have done it before, so I know what it's going to be like coming into it," Wilson said. "The biggest thing for me, it's not the training, but the mindset of being ready every day. I've been used to having four days off, not having to worry about game action or anything like that. For me to be ready day in and day out will be the biggest adjustment.
"I've always been a guy that comes right at you -- fastball, slider, changeup if I need it -- kind of deal. I think it'll play well into my game actually."
Wilson made his first relief appearance on Tuesday to mixed results. While he struck out a batter in his inning of work, he also allowed an earned run on two hits. An adjustment period is to be expected as he settles into the role, but Wilson expressed confidence following the outing and had little negative to say about the experience.
"I felt great today," the 6-foot-1 right-hander said. "I had no problem whatsoever. It's always nice to start with a clean inning. I had the whole half inning -- I knew about it ahead of time. It was smooth sailing really."
PawSox manager Arnie Beyeler echoed that sentiment, saying, "We talked [to him] earlier about his routine and he seemed to get up and wait, and do what he's supposed to do. He didn't get up early and throw down there forever. He just got up, went in, and did what he does."
SoxProspects.com director of scouting Chris Mellen was in attendance at Pawtucket for the appearance and commented afterward that Wilson appeared to be rushing his delivery and generally looked a bit out of sync. As a result, he wasn't able to keep his fastball down and the pitch sat around 91-93 m.p.h., topping out at 94, similar velocity to what he showed as a starter. But Mellen believes that in short bursts the righty's fastball will be able to touch as high as 97 m.p.h. as he settles into the role.
"I thought he did a nice job of getting the ball down [the] further in the outing he went," said Beyeler. "As he went on, his fastball got down in the zone much better. That's where he's going to have to be to have some success and that's where he hasn't been consistently so far this season."
In general, the Red Sox prefer to let pitching prospects work as starters for as long as possible to give them more opportunity to hone their craft and develop their pitches, so Wilson had started exclusively as a professional since signing as a second-round pick in 2009.
With a 3.05 ERA in 21 Double-A starts last season, followed by a solid four-game stint in Pawtucket in which he had 24 strikeouts in 21 innings, Wilson had handled the role well. This season with the PawSox, he had a 1.80 ERA up until a rough start on April 19 in which he allowed six earned runs at Syracuse. So rather than being based on performance, the move is likely a sign that the Red Sox are content with their other starting depth options at this time, and see this as an opportunity to improve one of their biggest areas of weakness at the big league level.
Since Wilson spent those years starting, there are still many nuances of relieving for him to adapt to, such as coming into games mid-inning and making back-to-back appearances. Beyeler said that there are no immediate plans to pitch Wilson in a back-to-back situation, but that will be worked into the mix before long.
"I'm sure I'll get different kind of looks -- be brought in the middle of an inning," Wilson said. "It's just getting acclimated to that whole world. It's totally different and it's a different mindset. It'll take some time to get used to, but hopefully we'll make it quick.
"It's just going to take a couple of outings to kind of get the feel back and really learn my body again for this kind of situation."
The Red Sox can only hope Wilson is correct in that assessment of how long the transition will take. If true, it may not be long before he receives the call he's been waiting for since signing with the organization.
Matt Huegel is a senior editor and columnist for SoxProspects.com. Kevin Pereira contributed to this report.