Boston Red Sox:

Anthony Ranaudo
August, 1, 2014
8/01/14
6:42
PM ET
BOSTON -- One of Anthony Ranaudo's fondest wishes comes true Friday night.
This goes beyond making his major-league debut for the Red Sox at Fenway Park.
Ranaudo grew up in Jackson, N.J., in a family of Yankee fans. He was 7 years old when he went to his first big-league baseball game at Yankee Stadium. It was the Yankees' home opener, they were playing Oakland, and it was the first time he laid eyes on his baseball hero,
Derek Jeter
.
Seventeen years later, the 24-year-old Ranaudo said in spring training that Jeter remains his favorite Yankee. How cool it would be, he said back in Fort Myers, if he got the chance to face his idol in his final season.
"Jeter was my guy all the way," Ranaudo said. "It's kind of weird, thinking I might get a chance to face him in his last year."
On Friday night, the second batter Ranaudo is scheduled to face in his big-league career is Derek Jeter. Presumably, he'll wait until after the game to ask for an autograph.
Ranaudo was born in Freehold, the Jersey shore town more famously known as the place in which Bruce Springsteen grew up and 30 minutes from where Sox manager John Farrell was raised. Ranaudo went to high school at St. Rose in another Jersey town, Belmar.
"I spent a lot of time in Belmar growing up," said Farrell, the son of a lobster fisherman. "That's where my dad kept his boat."
Ranaudo becomes the ninth pitcher to make a start for the Sox this season, and third pitcher to make his big-league debut as a starter with the Sox in the last four seasons, joining
Kyle Weiland
(2011) and
Allen Webster
(2013).
Brandon Workman
made his debut as a reliever and
Rubby De La Rosa
had already debuted with the Dodgers.
In 21 starts this season for Triple-A Pawtucket, Ranaudo was 12-4 with a 2.41 ERA, striking out 99 and walking 49 in 119 1/3 innings.
In his last six starts with the PawSox, the 6-foot-7, 230-pound Ranaudo was 5-0 with a 2.02 ERA, holding opponents to a .195 average in that span.
"The one thing he's done seemingly all year while in Pawtucket is he's gotten a high percentage of his outs with fastballs," Farrell said Friday. "He's gotten some swing and misses. He's been able to tighten up his breaking ball a little more than a year ago.
"I think that's just part of his overall progression. The ability to throw the breaking ball behind in the count has been more readily available to him and he has pitched with a lot of confidence throughout the course of the year."
July, 4, 2014
7/04/14
7:15
PM ET
By
Matt Huegel
and
Ian Cundall | SoxProspects.com
| ESPNBoston.com
PAWTUCKET, Rhode Island -- Among the pitchers in Pawtucket's loaded, all-prospect rotation earlier this season,
Brandon Workman
now appears to have solidified a spot in Boston's rotation,
Rubby De La Rosa
impressed in his time in the majors, and
Allen Webster
has pitched well enough to earn another shot at the big leagues. But it is another member of the PawSox rotation who is having perhaps the best season of them all to this point: Right-hander Anthony Ranaudo continues to quietly shut down opposing offenses, and he showed why with seven scoreless innings on Monday night in Pawtucket.
"The fastball was explosive out of his hand, and he was able to utilize a mix," Pawtucket manager Kevin Boles said after the outing. "He left some pitches up, but then he was able to execute. When he was behind in the count, he showed some good execution and was able to get back into the count. He threw some decent breaking balls. I thought the hand speed with the changeup was good. [He was] aggressive. He's really come a long way."
[+] Enlarge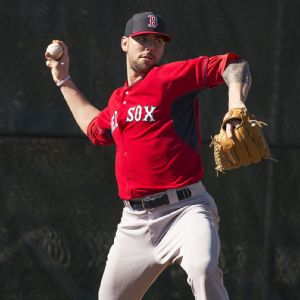 Michael Ivins/Boston Red Sox/Getty ImagesAnthony Ranaudo has been named an International League All-Star after amassing a 2.35 ERA in 17 starts for Pawtucket.
The 24-year-old Ranaudo was recently named to the International League All-Star Team and now owns a 2.35 ERA in 17 starts this season, good for sixth among qualifying Triple-A starters. He has also held batters to a .202 average and struck out 81 over 95 2/3 innings of work. The tall righty began the season at seventh on the SoxProspects.com rankings and now resides at fifth.
In Monday's outing, Ranaudo had success pounding fastballs early and didn't give up his first hit until there were two outs in the fourth. In all, he allowed three hits over seven innings with five strikeouts and two walks.
Ranaudo's fastball sat between 92 and 94 mph and topped out at 95 mph. He was effective when he kept the pitch down in the zone, minimized hard contact and showed finish on the pitch in that area. He recorded three strikeouts with it -- two swinging and one looking. When up in the zone, the pitch was straight and hittable, but he got away with it in this outing. He threw the pitch consistently for strikes and showed solid command, something that has eluded him in other outings.
It helped that the Pawtucket offense scored 10 runs in the first five innings. Ranaudo said the score dictated his ability to pound the zone.
"I had pretty good command of [my fastball], and I thought my command [of it] got better as the game went on," Ranaudo said. "It was easy for me to go and be aggressive with the fastball and just attack guys when we had the big lead. I was just trying to get out there and throw strikes and get back in the dugout because they were swinging the bats so well."
The curveball has been Ranaudo's best secondary offering throughout his minor league career, and he has shown plus potential with tight rotation, excellent depth through the zone and the ability to miss bats at the major league level when it is on. In this outing, the pitch was effective and accounted for two strikeouts, both looking. Ranaudo showed confidence to throw the curve in any count, but unlike previous looks, it did not generate any swings and misses.
Ranaudo didn't use the curve as often as in other outings, with the score dictating his fastball-heavy approach to some extent. The pitch did show its typical tight rotation and depth and was effective in keeping hitters off-balance and off his fastball.
The secondary offering Ranaudo featured most heavily in this outing was the changeup, and it's a pitch he says he has been getting more comfortable throwing.
"[The changeup] is something that I've gained a lot of confidence in," the 6-foot-7 LSU product said. "I shake to it a lot now. I throw it against righties and everything like that. It's definitely a true third pitch for me, and I feel really good about it."
Although the pitch has improved since Ranaudo joined the organization, he still needs to work on his consistency with the offering. He throws the pitch in the 81 to 84 mph range, and it shows late drop when it is down in the zone. At times, however, he seems to slow his arm on the pitch. Even with those improvements, the pitch still lags behind his curveball, but even if it grades as only an average pitch, it will be important to his ability to remain a starter because it will allow him to give hitters a different look the second and third time through a lineup.
Over his past few outings, Ranaudo has been incorporating a fourth pitch -- a slider -- into the mix for the first time. At this point, it's in the very early stages of development, but Ranaudo and coaches like the possibilities it presents for him.
"He's mixing [the slider] in every once in a while," Boles said. "It's good to see. He's going to have to make it move eventually. I think sometimes he gets around the ball a little bit, but there are other times we see some extension and finish."
Ranaudo said he threw it three or four times in Monday's outing. "It's coming, [but] it's not where I want it to be. It's just something that I need to get confidence with. It's a feel pitch for me. It seems like I've been throwing it really well on the four days between my starts, and then I get out on the mound and something changes, so I just have to find that release point and comfort with it, but I think that will come with time. I've seen improvements since I first started throwing it."
It was clear Ranaudo lacked feel for the slider, with the pitch showing short, vertical break sometimes and shorter, horizontal break other times. The pitch is a work in progress, but with continued repetition and refinement, even if it only turns into a fringe-average offering, it could provide another look to keep hitters off-balance and be a valuable part of his arsenal.
"For me, it's just the second breaking ball," the 2010 supplemental first-rounder said. "Sometimes when you climb up the ladder, the better hitters can see a curveball out of the hand, and it's a pitch that they can [lay off]. Especially with two strikes, they see it in a certain area, and if they see it in that area, they are going to take it. Hopefully, this just becomes another breaking ball I can have. If I don't have my best curveball, I can go to it as something I can throw early in counts to get some weak contact."
The slider and changeup still show room for improvement, but even while working on incorporating a new pitch, Ranaudo continues to post sparkling results. A few more starts like Monday, and he might elbow himself to the front of the line of Pawtucket starters looking to get the call-up.
Matt Huegel is managing editor for SoxProspects.com. Follow him on Twitter @MattHuegelSP. Ian Cundall is director of scouting for SoxProspects.com. Follow him on Twitter @IanCundall.
August, 17, 2013
8/17/13
9:33
PM ET
By
Matt Huegel, SoxProspects.com
| ESPNBoston.com
PAWTUCKET, R.I. -- In his McCoy Stadium debut Thursday night, Anthony Ranaudo hardly blew hitters away. He gave up nine hits in his 5⅔ innings of work, including a triple to lead off the game to speedster Billy Hamilton, who later scored.
Perhaps more significantly, though, that was the only run to score all night against Ranaudo, who found a way to grind through the outing without his best stuff.
"You have to find a way to get outs," Pawtucket manager Gary DiSarcina said. "I know to give up nine hits, he's probably not happy with that, but he got to five-plus innings, and he did what he's supposed to do."
[+] Enlarge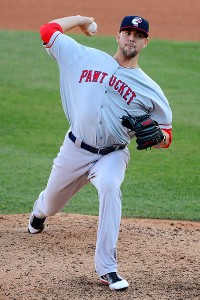 Mike Janes/Four Seam Images/AP ImagesAnthony Ranaudo made his Triple-A debut Aug. 4 in an 8-1 PawSox win in Buffalo.
"He was grinding that whole game today," elaborated catcher Dan Butler, who has been behind the dish for all of Ranaudo's Triple-A starts. "He made his adjustments as the game went on. His breaking ball got better and it was more down in the zone."
Thursday marked Ranaudo's third start with the PawSox since being promoted from Double-A Portland, with which he had a 2.95 ERA in 19 starts. This one was more of a struggle for him than the first two, though he gave up four runs in the start prior.
"Other than that he didn't have his curveball command tonight, they've all been similar in that his first inning is up with his fastball, and as he progresses it comes down in the zone," DiSarcina said. "And that's really his out pitch -- the fastball down, especially to lefties down and away. He threw a couple good ones tonight to get some guys out with, but it was inconsistent. His first two outings were very similar. Out of all of his outings, I thought tonight was maybe the one he could have been more consistent."
The curveball command and effectiveness went in and out throughout the game for the 2010 first-round draft pick. Ranaudo said that he was feeling the pitch well in the bullpen before the game, then threw some OK ones in the first and second before losing it completely in the middle innings. However, DiSarcina said the most impressive part of the outing was that Ranaudo kept trying to throw it and didn't give up, and it paid off as the pitcher felt he threw his best breaking balls in the final two innings.
"I felt like I made some really good adjustments and bounced back with [the curveball]," Ranaudo said.
Though his first start with the team was statistically the best one so far -- he went six scoreless innings with more strikeouts (five) than hits and walks allowed (four) -- Ranaudo feels like he is beginning to understand the differences in facing Triple-A hitters and adapting.
"[The hitters here are] not going to bail you out too often," he said. "Like in the stretch of the game tonight where I didn't have my curveball, you could tell that they weren't going to swing at any curveballs. They were just going to wait for me to throw the fastball, and that's it. And they swung at it when I did [throw it], and they made some good contact on it throughout the game."
Before earning the promotion to Pawtucket, Ranaudo had dominated for most of the season in Double-A Portland, a far cry from his disastrous 2012 season with the Sea Dogs. After pitching just 37⅔ innings last season due to multiple injuries, he repeated the level to begin the season. But after a trip to the Futures Game and Double-A All-Star Game, it's safe to say this has been a bounce-back season for him.
"Overall, the first thing is my health," the 23-year-old righty said about the differences for him this season. "I'm not dealing with nagging injuries or any little things in between starts. Now I can focus on in-game situations. Like tonight, when I had a guy on third with less than two outs, I know what I have to do and what pitches I have to make, and I can do them aggressively without having to worry about anything else.
"The command of my fastball is back. The life on my fastball is back. And being able to throw the curveball for strikes as an out pitch has been key, too."
Though he feels the command of his fastball has been a strength for him this season, in his outing Thursday it lacked the typical low-to-mid 90s velocity it has at its best, sitting more in the 89-91 mph range. Having already pitched close to 100 more innings this season than last, it is natural to wonder if the tall righty is beginning to feel fatigued.
"Honestly, I feel really good out there. When I have the ball in my hand every fifth day, I feel strong," he said.
"I've tried not to pay attention to it the last month, but I think my velocity might have ticked down a little bit from where it was at the beginning of the year," he continued. "But coming off of 35 innings or whatever it was last year, I think that's understandable. Even though my velocity might be dropping right now a little bit, I think my command's picked up. I feel so much more confident being able to throw the ball where I want right now. I'm out there pitching right now: throwing all my pitches, mixing speeds and using my location to my advantage."
Although it seems unlikely that Ranaudo will make it to the majors this season, he knows he's just one stop away. Next season, he will likely start with Pawtucket again, but if he continues to perform as he did in Portland for most of this summer, Boston will soon want to find a spot for him on its roster.
August, 15, 2013
8/15/13
11:57
PM ET
PAWTUCKET, R.I. -- Red Sox pitching prospect Anthony Ranaudo wasn't completely satisfied with his third start at Triple-A, but he was happy with the fact the Pawtucket Red Sox won their fifth in a row with a 4-2 victory over the Louisville Bats on Thursday night at McCoy Stadium.

"I felt I was in control a good portion of the game," he said. "There were definitely spurts where I didn't have my best command. I struggled throwing some pitches and repeating my delivery. For the most part, I felt like I made the pitches when I needed to and my defense bailed me out."

The 23-year-old right-hander had to settle for a no-decision after working 5 2/3 innings, allowing one earned run with no walks and three strikeouts. He tossed 105 pitches (68 for strikes).

"I don't think he had his best stuff from the very beginning," said PawSox manager Gary DiSarcina. "He got to two strikes a lot with some hitters. We counted four or five hitters early in the first two or three innings he had two strikes on guys but didn't finish them. He left some fastballs down the middle of the plate. It was almost like he was throwing too many strikes and that's where he ran into some trouble."

Ranaudo is 1-1 with a 2.70 ERA in three starts for the PawSox since he was promoted from Double-A Portland on Aug. 4.

Stepping onto the bump Thursday for the first time at McCoy, Ranaudo surrendered a leadoff triple to the Bats' Billy Hamilton, who later scored on an infield single to give Louisville a 1-0 lead. It was the only run Ranaudo allowed.

Even when he did pitch himself into a jam, he worked his way out of it. Hamilton added his second triple of the game with one out in the top of the fifth, but was left stranded.

In the sixth, Ranaudo quickly recorded the first two outs of the inning before he allowed an infield single. DiSarcina emerged from the dugout and Ranaudo was done for the night. As the pitching prospect walked off the field, he received a nice ovation from the 5,513 in attendance.

After posting an 8-4 record with a 2.95 ERA in 19 starts for Double-A Portland, Ranaudo was promoted to Pawtucket and made a solid debut for the PawSox on Aug. 4 at Buffalo. He worked six scoreless innings and allowed only four hits with no walks and five strikeouts to earn his first win at Triple-A. His second outing on Aug. 9 at Syracuse, Ranaudo suffered the loss after he worked five innings and allowed five runs (four earned) with two walks and three strikeouts.]

Despite the no-decision Thursday night, he's been happy with the way he's thrown the ball in his outings at this level.

"I feel really good about them, honestly," Ranaudo said. "I've had mixed results but as far as the way I felt, I felt really good. I feel like my command is really where I want it to be with my fastball. There were some parts tonight where I didn't command the ball very well, but overall my command has been really good. I've been able to go in and out, and up and down when I want it to and I've had good success with it so far."
July, 14, 2013
7/14/13
12:04
AM ET
OAKLAND -- The Red Sox will be represented by three players at Sunday's All-Star Futures Game in New York's Citi Field: much heralded shortstop Xander Bogaerts on the World team and 6-foot-7 right-handed pitcher Anthony Ranaudo and third baseman Garin Cecchini on the U.S. team. Cecchini, who like Ranaudo is playing for Double-A Portland after a promotion last month from Class A Greenville, was a late addition, replacing Joey Gallo of the Rangers.
Bogaerts, who is batting .260 in 29 games for Pawtucket, is starting at short and batting third for the World Team in a game that will be televised by ESPN2 beginning at 2. It also can be seen on MLB.com. The 20-year-old Bogaerts, who batted .311 in 56 games in Portland before being promoted, already has more home runs for the PawSox (7) than he did for the Sea Dogs (6), in slightly more than half the number of games.
"

They're going to be nervous, there's going to be a lot of people watching, it's going to be their first time on national TV in a lot of cases. Good. You have to go and perform. For 162 games in Boston, you're on TV, and people are watching. Start getting used to it.

"

-- Mike Hazen, Red Sox vice president/assistant GM
ESPN analyst Keith Law ranks Bogaerts as the fifth best prospect in the big leagues, with three of the players listed ahead of him -- infielder
Jurickson Profar
of the Rangers (No. 1), pitcher
Dylan Bundy
of the Orioles (No. 3) and outfielder
Wil Myers
of the Rays (No. 4) -- already promoted to the majors.
Law ranked Bogaerts as being one of the top two power-hitting prospects in the Futures game.
"Bogaerts doesn't have that enormous, grade-80 power yet, but the ball comes off his bat well and he has 30-homer potential down the road," Law wrote.
Ranaudo, who took a step backward last season when he fought a series of injuries, has had a terrific bounce-back season this year, going 8-2 with a 2.67 ERA in 16 starts. Cecchini, meanwhile, is batting .361 in 19 games with the Sea Dogs after batting .350 in 63 games for Salem. Ranaudo is 23, Cecchini 22.
Sox vice president/assistant GM Mike Hazen extols the benefits of playing in the Futures game for Sox prospects.
"Very valuable," he said. "Being around really good players is important for these guys to watch how -- we talk about this a lot, and you've seen it up here. These guys a lot of times don't believe it until they see it.
Dustin Pedroia
is the hardest-working player on this team, and Dustin Pedroia may be the best player on this team. And the minor-league guys don't get that all the time. They don't understand that. They know, yeah, he's the best player. But he's the best player because he's also the hardest-working player. And yeah, he's supremely talented, but while you can be good without the work, you can't be elite without the work.
"And I think when they go see these other players, these elite-type players (at the Futures Game), they do that, too. I think they see that: 'Man, that guy is ridiculously talented, and look how hard he works.' I think that's one.
"And I think playing on that stage. They're going to be nervous, there's going to be a lot of people watching, it's going to be their first time on national TV in a lot of cases. Good. You have to go and perform. For 162 games in Boston, you're on TV, and people are watching. Start getting used to it. You might be unsettled, you might stink, you know? You might lay an egg. OK. You know what? In the big leagues, the key is coming out the next day and making that adjustment.
"Everybody lays an egg, but you have to be able to come back the next day and be good. That doesn't necessarily meaning getting hits, doesn't necessarily mean throwing a shutout, it means, be good. That's the mark of a big leaguer who gets to stay up here. So I think when they get on that stage, and development is so hard, because we talk about the prospects, and wins and losses at the minor league level -- we want to win, we try to win, but everybody knows what the ultimate goal is. These guys want to climb the ladder.
"So they know, 'OK, if I got two hits, I'm still on the path I need to go.' Yeah, but you made that crucial error that lost the game. At the major league level, that gets you sent down. On the minor league level, we don't do that. You get to go out and play the next day.
"So that's why the minor league playoffs are so important. That's when they play for keeps. Take the focus off development. And that's what the Futures game will be about. It's not about development. It's about performing and succeeding. That's why it's such a great stage for those kids."
July, 12, 2013
7/12/13
11:05
AM ET
ESPN.com caught up with Red Sox prospect Anthony Ranaudo at the Doulbe-A All-Star game in New Britain, CT. Ranaudo, ranked the No. 6 Sox prospect by
Soxprospects.com
, talks about growing up a Yankees fan in New Jersey, what he's looking forward to in the Futures Game (Sunday at 2 ET on ESPN2), and how Pedro Martinez has helped him along the way.
January, 29, 2013
1/29/13
11:03
AM ET
By
Matthew Huegel
| ESPNBoston.com
BOSTON, Mass. -- It is tough to imagine how 2012 could have gone worse for Anthony Ranaudo. His season started late and ended early due to injuries, and in between was nothing to write home about either. However, speaking recently at the New Stars for Young Stars fundraiser in Boston, the 23-year-old right-hander is optimistic and feeling completely healthy heading into next season.
After achieving relative success in his first season with the Red Sox in A-Ball, Ranaudo strained his groin in spring training heading into 2012 and did not make his first start until May 15. It was anything but smooth sailing once he arrived at Double-A Portland though, as he posted a 6.69 ERA in just nine starts. The former first-round pick gave up exactly as many walks as he had strikeouts, and allowed more hits than he had innings pitched. He made his final start on July 3 before being shut down with shoulder fatigue after tossing just 37 2/3 innings.
[+] Enlarge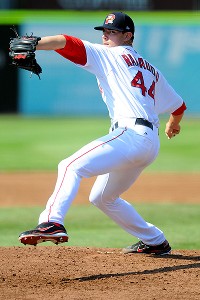 Ken Babbitt/Four Seam/AP PhotoAnthony Ranaudo made just nine starts for Portland in 2012.
"I don't even know if frustrating is the right word," Ranaudo said. "That's just the beginning of how I felt."
Ranaudo began the year as the second-highest ranked prospect in the system on
SoxProspects.com
, which can be attributed to the significant bonus of $2.55 million he received out of the draft along with the promising results and raw stuff he showed in 2011. He now sits at 17 in the rankings after a nightmare season. It is not out of the question though that he quickly rise back into the top 10 this season if he shows good health and a return to form.
SoxProspects.com scouts who watched many of his Portland starts last season saw inconsistency with his mechanics leading to inconsistent results. Even inning-to-inning he would look different. In the same game his fastball would sit 91-93 mph, touching as high as 95, then in other innings be 89-91. The curveball, which can be a devastating strikeout-pitch for him, would suddenly lose effectiveness. When his stuff lost crispness, our scouts saw him having problems repeating his delivery, including his front side flying open early at times.
The jump from A-Ball to Double-A is among the biggest of a prospect's journey to the majors, so that may be one reason for the decline in Ranaudo's results. But there was also a regression in his pure stuff due to the mechanical issues, which can be at least partially attributed to the shoulder fatigue he experienced. Also, tall pitchers like the 6-foot-7 Ranaudo can sometimes take longer to develop because longer arms and legs make repetition of mechanics harder. He did not necessarily see this as a major factor though.
"It is what it is and I can't really do anything about [my height], whether it's negative or positive," said the LSU product. "I just try to use my advantage as best as I can. I try to throw downhill strikes and attack the zone that way."
Since injuries derailed his 2012 season and caused him to pitch so few innings, this offseason Ranaudo had the opportunity to throw for Caguas in the Roberto Clemente Baseball League, Puerto Rico's winter league. The fatigued shoulder felt strong heading into it for him.
"It was a lot of fun," he said on his time in Puerto Rico. "I had a great team out there and a great set-up. I was healthy, my shoulder and arm felt great. I bounced back well and I had a lot of confidence in my stuff. So it was a good trip for me."
The trip seemed far less positive to the casual observer from afar though. He posted a 6.75 ERA and headed home after 9 1/3 innings over four starts because of a re-aggravation of his strained groin. When looking more closely at his numbers, they are skewed by one start in which he gave up six earned runs. He gave up no runs in his other two full starts and finished with seven strikeouts to just two walks.
The injury, which might be a red flag otherwise, is not something that has Ranaudo worrying.
"I kind of re-aggravated my groin at the end, a little bit," he said. "It was not nearly as severe as it was in the spring. I've been doing physical therapy and everything, and learning some things that hopefully can knock it out so it really won't bother me ever again."
Ranaudo is not anticipating getting a late start to spring. He's expecting to follow the Red Sox normal spring program for pitchers and be ready to start this season on time, likely again with the Portland Sea Dogs. He did not hesitate before saying the only goal he's focused on this season is staying healthy.
"Try to make all the starts that they ask me to make," he said, expounding on his 2013 goals. "Let my results dictate how the rest of the season goes as far as where I [pitch]. Hopefully just keep getting better every time I go out there.
"I'm hoping I can put [2012] behind me and just focus on 2013. I learned a lot from 2012, things I can do along my career to keep me healthy and on the field."
For more prospect coverage go to SoxProspects.com
December, 2, 2012
12/02/12
2:27
PM ET
Red Sox pitching prospect Anthony Ranaudo, whose 2012 season was limited to nine outings and 37 2/3 innings because of injury, suffered a groin injury last week while pitching in Puerto Rico and has been sent home.

Alex Speier of WEEI.com reports that a Red Sox source said the injury is not considered as serious as one Ranaudo suffered last spring, but that the team didn't want to take any chances.

Ranaudo was injured in the first inning of his start on Nov. 28. Ranaudo's other three starts were inconsistent: He was very good in his first and third, tossing seven scoreless innings, but he got shelled in his second start, lasting just 1 2/3 innings and allowing six runs on six hits.

Ranaudo suffered problems with his throwing arm last summer and was placed on the disabled list after experiencing shoulder fatigue, which helped limit him to nine starts with the Double-A Portland Sea Dogs, for whom he posted a 1-3 record and a 6.69 ERA.

While the groin injury is a setback, Ranaudo told ESPN Desportes that his shoulder feels great.

"I was able to train without any problems, and the relationship with the staff and the coaches has been very good. Everything is going very well up to now," Ranaudo said.
June, 16, 2012
6/16/12
7:31
PM ET
By
Jon Meoli, SoxProspects.com
| ESPNBoston.com
In a tough three-inning start Wednesday night in Bowie, Portland right-hander Anthony Ranaudo demonstrated both why he was considered one of the top college pitchers of his class and how far he has to go before fulfilling his big-league potential.
"I feel like I've been putting together some good strings of innings," Ranaudo said after allowing four earned runs in three innings of Portland's 7-0 loss. "It's just a matter of putting it together for longer periods of time, being more consistent with it, and being able to keep going when I'm pitching well.
"Whether it's two outs in an inning or three innings out of a six-inning start, whatever it is, I just need to make sure I close innings out and do a better job of that."
In the first two innings Wednesday, Ranaudo was every bit the pitcher who Boston paid $2.55 million out of LSU. Ranaudo stayed on top of his fastball and commanded it low in the zone, and showed confidence in his off-speed pitches in all counts.
[+] Enlarge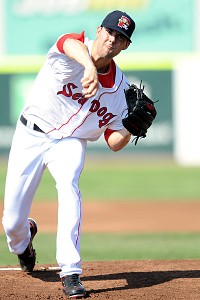 Ken Babbitt/Four Seam Images/AP ImagesIn his last start, Anthony Ranaudo was lights out for two innings, but struggled with his command in the third.
For example, Ranaudo brought the count to 0-2 with a pair of fastballs at the knees to leadoff batter Antoan Richardson, who worked the count full before looking at a 92-m.p.h. fastball on the inside corner for strike three. Left fielder Buck Britton grounded a 94-m.p.h. fastball to shortstop Ryan Dent for the second out of the inning, and Ranaudo picked up his second strikeout of the game when first baseman Rhyne Hughes fanned on a sharp 1-2 curveball in the dirt.
The second inning was even smoother for Ranaudo. He needed just 10 pitches to set the BaySox down in order, mixing in a tight curveball that sat in the low 80s to keep hitters off balance.
"I felt great," Ranaudo said after the game. "I was attacking the zone, able to command both sides of the plate with my fastball and throw my changeup and my curveball for strikes. I had some pretty good success."
Pitching coach Bob Kipper said the frames were "as clean and efficient" as he has seen since Ranaudo arrived in Portland on May 15, and an American League scout in attendance said he liked what he saw in the first and second.
But in the third, Ranaudo struggled badly. Catcher Brian Ward hit a 2-1 fastball to Dent's left, and Dent made a nice pick before losing the ball on the transition. The next batter bunted to first base, but Reynaldo Rodriguez missed Ranaudo with the throw, and the runners advanced to second and third.
The scout commented that Ranaudo "completely lost" his command once he had to pitch from the stretch, and with men on second and third, Ranaudo went to the first of five straight three-ball counts before coaxing a pop-up to second base.
Even then, it was clear that Ranaudo had lost his mechanics. Where in the first, he pounded his fastball low in the zone, Ranaudo was missing high to his arm side, a symptom of his shoulder flying open. He ultimately walked three straight batters -- plating two runs -- before recording the second out of the inning. Ranaudo had the next batter, Orioles top prospect Manny Machado, down 0-2 before Machado lined a single into right to score a pair. Ranaudo threw 42 of his 66 pitches in the inning, and ultimately took the loss.
"After that (bunt), I didn't do a very good job of mentally staying focused and in the game," Ranaudo said. "I didn't battle hard enough, and I didn't compete hard enough. That's just the way it was. I didn't do my job."
After the game, Kipper suggested Ranaudo was still trying to settle into Double-A, a process made difficult by Ranaudo's spring training groin injury. Ranaudo said the injury is behind him, and that he is handling the transition "very well."
"This one is all on me, pretty much," he said of the loss. "Just commanding the zone and doing a better job commanding my fastball. My off-speed has been pretty good for me so far this year, so I really have to make sure I command my fastball better, which I haven't been doing. I just have to get that down."
In the first two innings, 12 of Ranaudo's 14 fastballs, which sat between 91 and 94 m.p.h., went for strikes. In his last inning, 18 of 30 were strikes. As he battled his mechanics, Ranaudo also lost command of his off-speed pitches.
Having seen Ranaudo in earlier games, SoxProspects.com director of scouting Chris Mellen saw something similar. He said Ranaudo's delivery gets less fluid out of the stretch, and he gets into stretches where his shoulder opens early and he lands stiffly and off-center. All of that affects his fastball command, especially with men on base.
His curveball, which sat in the low 80s, was harder than last year. Though it wasn't a conscious change, Ranaudo said he feels confident with the pitch. Early on, he threw it in all counts, as was the case with his mid-80s changeup.
"Overall, I say my change is really coming along for me," he said. "I threw it in a lot of even counts tonight, got some bad swings on it. I've just got to keep going, building on those, and building on the positives of my starts. Once I do that, everything's going to come together. I feel like things are starting to come together. I've just got to take the positives from this one and roll with it."
August, 17, 2010
8/17/10
12:15
AM ET
The Red Sox took care of business Monday night, agreeing to terms with right-hander Anthony Ranaudo just before before the midnight deadline to sign their draft picks, according to multiple reports.
Renaudo, a sandwich pick chosen No. 39 overall, shined for Brewster this summer in the Cape Cod League. He will receive $2.55 million, according to reports.
Alex Speier of WEEI.com was the first to report the signing via Twitter.
According to
Baseball America
, the Sox earlier reached agreements with right-hander Brandon Workman (2nd round, 57th overall); infielder Sean Coyle (3rd round, 110th overall); and infielder Garin Cecchini (4th round, 143rd overall).
Baseball America reports Workman's deal is worth $800,000, Coyle's is for $1.3 million, and Cecchini's is worth $1.31 million.