Boston Red Sox:

Anthony Renaudo
March, 23, 2011
3/23/11
1:00
PM ET
Despite never throwing an inning in the professional ranks, 21-year-old Anthony Ranaudo is widely considered the top pitching prospect in the Red Sox system. An imposing mound presence at 6-foot-7, 230 pounds, one can see the big righthander's vast potential from merely watching him pitch a bullpen session -- the size, the stuff, and the presence of an ace pitcher are all there. But getting to this point has not been easy for Ranaudo, as his young career has already been a roller-coaster ride of extraordinary success and well-publicized struggles on the mound.
[+] Enlarge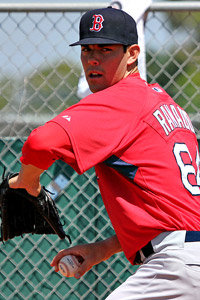 Kelly O'Connor Anthony Ranaudo, who was considered a future ace when he was drafted by Boston in 2010, still needs some work in order to reach that ceiling.
His rise to prominence began at St. Rose High School in Belmar, N.J., where he posted a 21-4 record with a 1.44 ERA, 240 strikeouts, and three no-hitters. He also took home a state championship and All-American honors in the process, while grabbing the attention of college coaches and professional scouts alike.
"After my junior year of high school, I started talking to a bunch of schools," said Ranaudo. "After the summer, I had it narrowed down to Alabama, Virginia, LSU and Vanderbilt. I visited all of them except Vanderbilt, because once I went to LSU, I committed right away. I just loved it. They had a new stadium on the way, new coaches, all new recruits, so I was going to be part of the next wave -- a new generation at LSU. All that really appealed to me. We had such a great team coming up, and I felt like it would be fun to play a part in turning that team around."
Following his senior year in high school, during which he received constant attention from professional scouts, Ranaudo was drafted by Texas in the 11th round of the MLB Draft, but when faced with the decision of honoring his commitment to LSU or joining the professional ranks at the age of 17, he did not take long to make up his mind.
"It was an interesting spring with all of the scouts following me," he said. "It gave me some good experience, but in the end I was dedicated to LSU, and it wasn't a tough decision to go to school."
In his freshman season, Ranaudo pitched just 12 innings over seven relief appearances and one start due to elbow tendinitis and a cautious approach by the LSU staff. In those few innings, he didn't allow an earned run, striking out 13 batters and allowing only 5 hits. He also worked a scoreless inning in the opening round of the College World Series, but the team bowed out in the second round against North Carolina.
Ultimately, it was Ranaudo's sophomore campaign that made him one of the top professional prospects in collegiate baseball. Despite having only 12 innings under his belt, the righthander went into the 2008-2009 school year with aspirations of being the team's Friday night starter -- the ace of the staff.
"Since we lost all of our weekend starters, I wanted to be the Friday guy." said Ranaudo. "I worked really hard, had a good fall, and a good preseason, and wound up getting the job."
At the age of 19, he spent the entire season as LSU's No. 1 starter, with good reason. He had a 12-3 record with a 3.04 ERA in 124.1 innings over 19 starts, striking out 159 batters -- third-best in the nation. Due largely to the contributions of Ranaudo and starter Louis Coleman, LSU earned the No. 3 seed in the 2009 College World Series. The two pitchers pushed LSU through an impressive postseason run to Omaha, where, in the national semifinals, Ranaudo held Arkansas to 0 runs, 0 walks, and only 4 hits in 6.0 innings, leading LSU to a 14-6 victory and entry into the best-of-three final round against Texas.
In the finals, Texas and LSU split the first two games, setting Ranaudo up to start the winner-take-all Game 3. While Ranaudo's performance in the rubber match was less-than-brilliant, allowing 4 runs on 8 hits and 5 walks over 5.1 innings, it was enough to earn the win, with the Tigers posting an 11-4 victory to take home the National Championship. Ironically, his fellow 2010 Red Sox draftee Brandon Workman took the loss for Texas in the game.
August, 16, 2010
8/16/10
8:42
PM ET
With the midnight deadline for MLB teams to sign their draft picks approaching, the Red Sox reportedly signed a number of their top selections and were working toward finalizing a deal with right-hander Anthony Renaudo (1st round supplemental, No. 39 overall), who shined for Brewster this summer in the Cape Cod League.
According to
Baseball America
, the Sox reached agreements with right-hander Brandon Workman (2nd round, 57th overall); infielder Sean Coyle (3rd round, 110th overall); and infielder Garin Cecchini (4th round, 143rd overall).
Baseball America reports Workman's deal is worth $800,000, Coyle's is for $1.3 million, and Cecchini's is worth $1.31 million.
We'll have a full report later.
More from Baseball America:
A shortstop from Germantown Academy in Fort Washington, Pa., Coyle is a 5-foot-8, 175-pounder who plays bigger than his size and projects as a second baseman in the mold of Brian Roberts. He has plus speed and good instincts on the bases, as well as surprising power and a competitive makeup. He had committed to North Carolina, where his brother Tommy is the starting second baseman.

A shortstop at Barbe High in Lake Charles, La., Cecchini was one of the top high school hitters in the draft and a potential first-rounder until he tore the anterior cruciate ligament in his right knee and required reconstructive surgery in mid-March. He led the U.S. 18U national team–which also featured Bryce Harper–in slugging (.708) and on-base percentage (.529) en route to its first-ever gold medal at the Pan American Junior Championship last summer in Venezuela. A Louisiana State recruit, Cecchini has a fluid lefthanded stroke, good pull power, soft hands and a strong arm. He profiles best as a third baseman.