Boston Red Sox:

Ben Mondor
June, 22, 2012
6/22/12
10:22
PM ET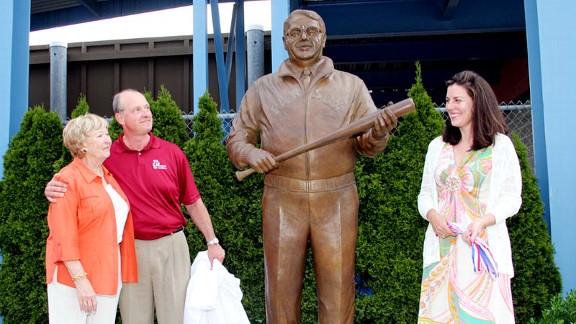 Mardo-Zayat/Pawtucket Red Sox
PAWTUCKET, R.I. -- The Pawtucket Red Sox unveiled an impressive bronze statue of team owner Ben Mondor, who passed away on Oct. 3, 2010.
PawSox team president Mike Tamburro, Mondor's widow, Madeleine, and artist Carol "Tayo" Heuser were on hand Friday at McCoy Stadium to introduce the newest addition to Mondor Gardens.
"He was a special guy. He had a special impact on this state and touched a lot of lives and we wanted to honor that forever," Tamburro said.
Former PawSox and Red Sox players, along with local politicians and many close friends and family, attended the ceremony.
"He was one of my dearest friends and a close mentor of mine," said Heuser. "I consider it an honor to bring him to life like this and think it's one of the most wonderful things I think I've ever done."
Mondor had just completed his 34th year as PawSox owner when he passed away at age 85. He purchased the bankrupt franchise in 1977 and brought it to national prominence.
October, 7, 2010
10/07/10
2:46
AM ET
The outpouring of support continues for the Pawtucket Red Sox family on the recent passing of their owner, Ben Mondor.
Many
Boston Red Sox
players -- past, present and future -- honed their skills with the PawSox at the Triple-A level and had a chance to become friends with Mondor.
Former Red Sox pitcher
Bronson Arroyo
has a special connection with the PawSox during his only season in Pawtucket. On Aug. 10, 2003, the right-hander tossed a perfect game for the PawSox against the Buffalo Bisons at McCoy Stadium. By the time Arroyo and his teammates continued their celebration in the clubhouse, the grounds crew were in the midst of removing the pitching rubber from the mound.
Mondor had the rubber personalized and every member of the PawSox team signed it. A few days later, it was presented to Arroyo as a keepsake.
Arroyo gave it right back to Mondor.
See, Mondor collected all sorts of PawSox, Red Sox and baseball memorabilia during his three decades as owner. There's literally a Hall of Fame in the hallway outside the clubhouses and executives offices at McCoy. Arroyo knew Mondor's passion for the history of the game, and he wanted Pawtucket's owner to own the rubber.
It hangs on the wall right outside the PawSox clubhouse.
"There was a history and richness to the ballpark," Arroyo said. "You could tell by the things they had in the trophy cases there, and the players who had come through with murals all over the stadium, you knew if anyone deserved to have something back at that stadium, it was that organization and Ben.
"I wanted to leave it there as a memory of that day, and I thought fans could appreciate it, and Ben could appreciated more than I ever could."
When Arroyo learned Mondor had passed away on Sunday at the age of 85, the current
Cincinnati Reds
pitcher wanted to pay tribute.
"When I threw that perfect game, he was sitting there with Dominic DiMaggio, and it was a pretty special thing. Ben was a generous man and the ballclub was his life. You've got to respect someone for doing the right thing, especially with a minor league ballclub, and taking it as seriously as he did."
Arroyo was not a homegrown talent in the Red Sox organization. Boston claimed him off waivers prior to the 2003 season and he would end up becoming an integral part of the rotation and in helping the Red Sox win the World Series in 2004.
When he first arrived at McCoy Stadium in the spring of 2003, it didn't take Arroyo long to realize Mondor and the PawSox did things first-class. There were no gimmicks; just baseball.
"The one thing that stuck out was he wanted to keep the riffraff down at the stadium," Arroyo remembers. "He wanted to keep it old school and about the game of baseball. It was definitely a ballpark in the minor leagues that was unique because of that."
Arroyo was one of the best pitchers in the International League that season; he was named to the All-Star team and participated in the Triple-A All-Star game in Memphis that summer.
"There was three or four of us who made the All-Star team, and Ben brought us in and gave us some extra money for whatever we needed for our families or travel money," Arroyo said. "He made sure we had enough tickets for our friends and family to come to the All-Star game.
"He was a real generous guy. As I got to know him throughout the year, it was a great experience having an owner of a minor league club who was that much a part of the team. Most owners of minor league ballclubs you never see them, or know who they are. Everybody knew Ben."