Boston Red Sox:

Bryce Brentz
March, 9, 2014
Mar 9
6:26
PM ET
By
Chris Girandola
| ESPNBoston.com
BRADENTON, Fla. -- Takeaways from McKechnie Field, where the Red Sox played in front of a sellout crowd in a renovated stadium that finally resembles something of a major league spring training park -- with covered bleachers beyond left field, an elevated boardwalk that stretches from the left-field to right-field stands, and a tiki bar in center field that makes visiting Bradenton worth it.
[+] Enlarge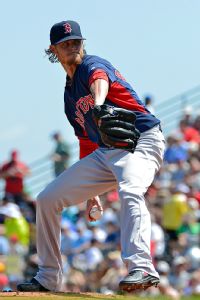 Tommy Gilligan/USA TODAY SportsClay Buchholz faced the minimum nine batters over three innings, allowing one walk.
The Red Sox had an ace on the mound and
Clay Buchholz
on the mound, with
David Ross
serving as his batterymate, responded in kind, helping the Sox snap a two-game losing streak in a 4-1 win over the
Andrew McCutchen
-less Pirates. After a dreary Saturday in which the roadsters lost 7-3 to the
Baltimore Orioles
in Sarasota in a matinee matchup and the A-team looked lost in a six-error, 13-2 defeat to the O's backups at JetBlue Park, a road victory will make for a better ride home to the Fort.
While manager John Farrell insinuated before Sunday's game that the spring record has no bearing on how he feels about the team, the Red Sox skipper was pleased following the win: "Even though it's spring, you want to put together a consistent effort."
Let's see if a winning streak can start Monday when the Sox host the
Tampa Bay Rays
at JetBlue Park.
The result:
The Sox are now 3-7-1 after Sunday's pleasantries. Buchholz looked in midseason form, facing the minimum number of batters across a three-inning outing. After he retired the first six batters on one fly out and five groundouts, Buchholz's only blemish came in his last frame, when he walked the first man he faced --
Jordy Mercer
. The Sox right-hander quickly finished his day with the help of Ross, who threw out Mercer attempting to steal second, and then by striking out
Robert Andino
and inducing
Chris Stewart
into a fly out to center.
Buchholz being Buchholz, with some salt-and-pepper mixed in:
Buchholz led a parade of pitchers who posted zeroes for the game until
Rubby De La Rosa
allowed the first Pittsburgh hit -- three hits in all -- and a run in the seventh inning. Before the game, manager John Farrell mentioned Buchholz's workload would be approximately 50 pitches over "three to four innings," but the 29-year-old righty masterfully did enough to please Farrell in three quick innings.
"Given that he's only gone one inning so far, it was more of the number of times he was up and down today," Farrell said. "He did such a very good job of establishing his two-seamer with some cutters in there, but he was extremely efficient. When we've seen Clay put the ball on the ground [by inducing groundouts], I think that's when he's most effective. I think the fact that it's his second time out, to pitch what looked like to be pretty comfortably on the mound, and physically, he's responding to the gradual ramping up we're doing with him. He's in a good place."
Buchholz, who has refined his two-seam fastball over the past two years, was somewhat pleased with the way it performed, using it primarily over the first two innings before testing the curveball in the latter stages of the second and often during the third. He "felt the direction and movement was there" with the two-seamer and got most of his ground-ball outs -- five of the nine outs -- with it.
"I tried to throw that comeback two-seamer a couple times, missed over the plate a couple times, but got some weak ground balls out of it," said Buchholz, who had one strikeout. "I rely on it to get the ground-ball outs in crucial situations and it was good to do so today."
Ross said the brilliance of Buchholz is that his sinker -- which results from the nasty way he throws the two-seam fastball -- has evolved over the past few years as the pitcher has matured as a major leaguer.
"He's a veteran and he's learned how to use the sinker where he can work on it early [in the spring]," said Ross, who caught Sunday after having a day off Saturday.
[+] Enlarge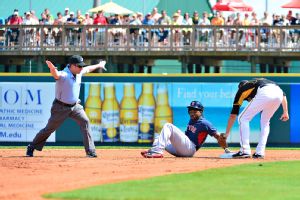 Tommy Gilligan/USA TODAY SportsJackie Bradley advanced to second on the throw home after singling in two runs in the second inning.
Ross also had a "dig me" type day, at least that's how he described it. The 36-year-old catcher threw a runner out at second, blocked a pitch in the dirt and had a 1-for-3 day at the plate (a hard-hit single to right) as the cleanup hitter -- the first time "since my Little League days."
"Had to make sure the old man's still got it," said Ross when asked about his throw down to second for the out.
For catchers, throwing down to second during spring games is perhaps the most critical thing in terms of preparation for the regular season.
"Each person is different, of course, but throwing for me is a rhythm thing," Ross said. "You're constantly trying to find the rhythm. It's easy to do the drills, but it's hard to find the rhythm with the pitcher, the timing. That's why it's good to have happen in games."
Brentz still bashing away:
Entering Sunday's contest,
Bryce Brentz
had a .333 batting average and an .833 slugging percentage in 18 at-bats with three homers and six RBIs. He added two more hits to his stellar spring, albeit just two singles, and raised his average to .400.
"He's been very impressive," Farrell said. "We all recognize he's got well-above-average power, but when he's able to get into deeper counts and make some contact, like his two-strike, opposite-field hit in Sarasota yesterday, that was as encouraging as any ball he's squared up all swing.
"It's a matter of managing the count and putting a two-strike approach when called for. That's what we're looking for."
With
Shane Victorino
,
Daniel Nava
and
Jonny Gomes
established as outfielders, and with
Mike Carp
as an option, the debate for the rest of spring boils down to
Grady Sizemore
,
Jackie Bradley Jr
. and Brentz. In terms of where Brentz can play, Farrell believes the 25-year-old can play either corner spot.
"He profiles with his arm strength as a right fielder, but he can play both left and right."
JBJ report:
Jackie Bradley Jr. went 1-for 4 with two RBIs and made a couple of good running catches as the center fielder. He is now batting .190 for the spring.
X files:
Xander Bogaerts
did not make the trip to Bradenton.
Dot, dot, dots:
Carp went 2-for-3 with a solo home run as the designated hitter. The other hit was a squib single, which Carp said he used as a setup for his homer. "Both hits came on inside fastballs, which [Pirates right-handed starter
Charlie Morton
] was trying to clearly establish and work on," Carp said. "He kind of got me on the first one and I nubbed it, but I was ready on it the next time. It was good to learn from it and use an inside-out swing to make contact and get it out." Carp raised his average to .222 for the spring. ...
Francisco Cordero
, who took a year off from baseball last season after not receiving any substantial offers, continued to impress, notching another scoreless frame with a strikeout. The 38-year-old right-handed reliever walked his first batter this spring, but did not allow a run for the fourth time in spring training for the Sox. ...
Andrew Miller
struck out the side in the fourth inning and tossed his second straight scoreless inning this spring. "You're starting to see the timing and the delivery click for him," Farrell said. "Much more consistent strike-throwing." ... Sunday was infield coach Brian Butterfield's 56th birthday.
March, 5, 2014
Mar 5
11:21
PM ET
JUPITER, Fla. -- "My brother got all the size,"
Bryce Brentz
says. "I'm the runt of the family."
Six-foot-four Jared Brentz has at least four inches over his twin brother, and a build that bears a greater resemblance to Charlie Brentz, their father who played football both ways for the Mississippi State Bulldogs.
[+] Enlarge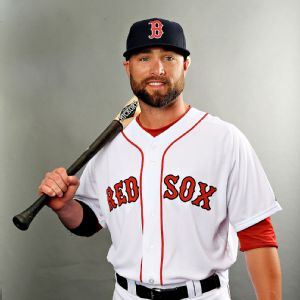 Elsa/Getty ImagesBryce Brentz boasts good power but needs to develop more plate discipline.
Both Bryce and Jared can hit a round ball a long way. Jared is a long-drive champion in golf. Bryce hits baseballs for a living, and after putting up monster numbers in college at Middle Tennessee State, he's looking to find permanent employment with the Red Sox, who don't have an outfield job open at the moment but could be looking for help later this summer. Two home runs in the first week of exhibition play is a fine way of getting yourself noticed, and on Tuesday in Jupiter, Bryce also threw a runner out at third base from right field.
Last spring, no one was expecting
Jackie Bradley Jr
. to win a job out of camp, either, so Brentz said he and fellow outfielder
Alex Hassan
, who figure to continue their apprenticeship in Pawtucket, know that they might be one injury away from a big league call-up.
"Yeah, you get to this point, we know it's there," Brentz said the other day. "Jackie had a great spring training, and boom, he's up there. Guys like Hass and I are working hard. We've got to be ready if our name is called."
There's something else, by the way, you should probably know about the Brentz twins, which might shed some insight into how competitive they are. Jared had both of his feet amputated as a child. He was born with a rare disease called arthrogryposis, which left him with club feet. Bryce was delivered first. Jared, as he has described it, was tucked in under his mother Cyndi's ribs.
"Basically his knees were up in his chest," Bryce said.
By the age of 9, Jared had undergone three surgeries. When he was 12, he elected amputation, which in his mind was better than the alternatives, winding up in a wheelchair or walking freakishly.
Now, with prosthetics, he's hitting drives 350 yards and longer and winning national amputee long drive competitions. He's also working for a security firm while pursuing a degree in criminal justice with a concentration in homeland security at Middle Tennessee State.
He and Bryce give each other no quarter, which is about the way it's always been.
"I never saw my brother as handicapped," Bryce said. "Four months after his [amputation] surgery, he was still rehabbing, and had a cast on his feet up to his knees. He was in a wheelchair, and he threw me a ball.
"I had to kind of jump for it, and I got mad. I threw it at him kind of hard and it hit him in the chest. We always competed. Sometimes we wanted to kill each other, like most brothers. I never treated him as handicapped, and he doesn't want to be treated that way. Most of the time you can't tell he's a double amputee."
[+] Enlarge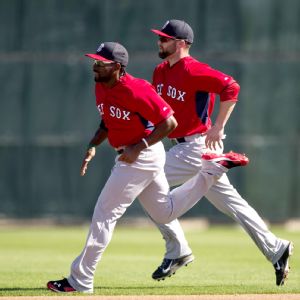 Michael Ivins/Boston Red Sox/Getty ImagesBrentz hopes to follow good friend Jackie Bradley's Jr.'s path to the big leagues.
Does anyone doubt that Jared Brentz was among those who gave Bryce an earful about what happened last February when Brentz, a first-round sandwich pick in 2010 who had been invited to his first big league camp, shot himself in the thigh with a handgun? It happened, Bryce said, while he was cleaning the gun.
It was only a minor wound, but the Red Sox rescinded their invitation. Brentz remained in the minor league clubhouse, except for the odd summons to be an extra player in an exhibition game.
"Everyone killed me," he said. "I killed myself. We kind of joked about it, too, just to get over it. The jokes were worse than the experience.
"It's done, it's in the past. I'm glad nothing bad happened. I have to laugh at myself. The Red Sox had to make their decision and I respected it, I understood it. It was my mistake, and I had to take responsibility, own up to it."
Mistake acknowledged, career resumed. Brentz's summer was interrupted by an injury to his right knee that required surgery to repair a torn meniscus, but despite playing just 88 games, he hit 19 home runs (including two he hit while rehabbing in the Gulf Coast League), tied for most in the Sox minor league system.
In four minor league seasons, the right-handed hitting Brentz is averaging one home run per every 21.6 at-bats. Compare that to
Will Middlebrooks
, who is valued for his right-handed power. In the minors, Middlebrooks averaged a home run every 27.88 at-bats.
What remains to be seen is whether Brentz can harness his aggressiveness into greater plate discipline. Last season, in 349 plate appearances in Pawtucket, he struck out 86 times while drawing just 20 walks. He's aware of what he needs to do. It was what he tried to do playing for Escogido in the Dominican winter league, though he ran into a problem not uncommon for a first-time visitor.
"I was sick the first couple of weeks, getting used to the food and water," he said. "I was out of my element.
"But I worked on my defense and I worked on seeing a lot of pitches, which is not my nature. I didn't have results hitting-wise, but I got to do some work that helped."
That work continues in the Sox clubhouse, where he sits next to Bradley Jr., with whom he has forged a close relationship as they came up in the minors.
"Me and him, we have that type of bond, we're almost like brothers," Bradley Jr., says. "We can bicker and argue -- we don't really argue, but we're so comfortable with each other we can talk to each other about anything. We joke around about this and that; other people might take offense to it but that's just how close we've become.
"And as a ballplayer, he has raw talent, extreme power. The ball sounds different coming off his bat. Him and [Xander] Bogaerts, it literally sounds different off his bat."
It's a sound yet to be heard off Brentz's bat in Boston. But keep your ear to the ground. It's getting closer.
February, 28, 2014
Feb 28
8:07
PM ET
FORT MYERS, Fla. -- Takeaways from the Fort, where the Red Sox demonstrated you can have pomp and circumstance even in spring training, as every uniformed member of the team was introduced before Friday's 8-2 loss to the
Minnesota Twins
in front of an announced crowd of 9,538 in JetBlue Park.
ESPN Boston did not count noses, but if everyone in camp showed up, that means 57 players were introduced (40 on the big league roster, 17 nonroster invitees). Take a bow,
Jose Mijares
.
The last player introduced was the only one who has played for all three of Boston's World Series winners since 2004,
David Ortiz
.
Jon Lester
and
Dustin Pedroia
can lay claim to having played on two.
Pedro Martinez
made a cameo appearance, teaming up with a child to utter, "Play Ball."
And then the game began. And after a sharp, two-inning stint by rookie
Anthony Ranaudo
, who struck out four of the six batters he faced, the Sox were soundly beaten by the Twins, who scored three runs apiece in the fourth and fifth innings and coasted to victory.
Highlights:
A short list. Rookie outfielder
Bryce Brentz
hit a home run just to the right of the light pole in left-center in the sixth for Boston's first run. Brentz unloaded on an 0-and-2 pitch from Twins reliever
Casey Fien
, one of 29 pitchers Minnesota has in camp. Until that point, Boston's only hits of the game were two singles by
Mike Napoli
.
Jonathan Herrera
and
Brandon Snyder
would later add singles. ... Closer
Francisco Cordero
, who got no offers last season after flaming out with the Jays and being released by the Astros in 2012, pitched a scoreless inning, striking out one and giving up a couple of hits, one an infield dribbler he couldn't handle.
Lesser lights:
Cuban right-hander Dalier Hinojosa, who defected last February and did not pitch in an organized league last season, pitched a scoreless third but couldn't get out of the fourth when he gave up four hits and three runs. ...
Andrew Miller
, who missed the last half of the 2013 season after undergoing foot surgery on July 15, struck out one and walked the bases loaded. One run scored on a sacrifice fly by
Oswaldo Arcia
, Miller's last batter. Mike McCarthy, added to the day's roster from minor league camp, replaced Miller and gave up a two-run double to
Chris Colabello
, the runs charged to Miller. ... Brentz and second baseman
Brock Holt
were charged with errors.
Hinojosa and Miller need some time to get reacquainted with the mound, manager John Farrell said. He'll reserve judgment on Hinojosa, in particular, until he sees what he does later in camp.
The Sox used nine pitchers in the game, six added from minor league camp. Farrell is skipping over his regular starters the first turn through exhibition season.
JBJ report:
Jackie Bradley Jr
. grounded out and struck out Friday after drawing a walk and singling in two plate appearances against Northeastern on Thursday. It seems as if last spring the rookie center fielder never went more than a day without a hit. And according to Brian Mullen, JetBlue Park pressbox attendant and master of all matters pertaining to spring training, past or present, last spring Bradley did not go consecutive games without a hit in which he had at least two at-bats in each game. Bradley hit .419 (26-for-62) in 28 games last spring.
X File:
Xander Bogaerts
grounded into a double play and flied out in his two at-bats. What was notable Friday is that Bogaerts played in the same game as Twins rookie center-fielder Byron Buxton, meaning the top two prospects as selected by Baseball America and Baseball Prospectus appeared in a game at the same time for the first time. Buxton, at 20 a year younger than Bogaerts, played for Class-A Fort Myers last season.
Looking ahead:
The Twins and Sox play again Saturday, this time in Hammond Stadium, which has undergone extensive renovations, with more to come.
Allen Webster
starts for the Sox.
Daniel Nava
, who has been out because of a pinched nerve in his neck, is scheduled to start in left field,
Grady Sizemore
in center. Lefty
Scott Diamond
is the scheduled starter for the Twins.
March, 15, 2013
3/15/13
5:01
PM ET
By
Chris Girandola, Special to ESPNBoston.com
SARASOTA, Fla. -- Before Friday's 3-3 tie against the Orioles, Bryce Brentz wouldn't mention names but he admitted being the source of plenty of jokes this spring. Considering the alternative, he doesn't mind the ribbing.
In January, the
Boston Red Sox
outfield prospect was just weeks away from beginning his first big-league camp when he accidentally shot himself. The bullet went through his left hip without significantly injuring him.
"Lucky, to say the least," said Brentz, who was the starting right fielder Friday in Boston's split-squad game against the
Baltimore Orioles
. "My teammates have had a whole lot of fun with it, though. As players, we all have fun with it. A couple handshakes going on with it now, names for it, all kinds of stuff. Of course, the players are going to have a lot of fun with it. I know I got lucky, though."
Brentz understands what type of opportunity he had this spring, but he doesn't consider the missed time completely lost. He was called up from minor league camp for a start in Friday's contest and, according to Red Sox manager John Farrell, he will make another appearance on Saturday against the
Tampa Bay Rays
.
"Of course, you want to make a good impression in your first big-league camp and you have something like this happen," said Brentz, who hit a combined .290 with 17 home runs and 76 RBIs last season in Double-A and Triple-A. "I just want to do what I came to do now. Hopefully, I can impress them today."
In his second at-bat Friday, facing
Luis Ayala
, a pitcher with eight years experience in the Majors who has allowed 52 home runs in 521 1/3 innings, the 24-year-old Brentz did just that, ripping a solo shot over the wall in left-center. With an 0-2 count, no less.
"He's a sinker guy and he threw a slider, then he threw a split, then a guy like that you just have to stick with one location and I was looking for the sinker and it didn't really sink that much, left it up and I just put a good swing on it," said Brentz, who was drafted by Boston in the first round of the 2010 draft.
Brentz will most likely start the season in Pawtucket, but the Tennessee native appreciates where is now.
"It's a good chance to be up and to be able to play, and to make an impact is a great thing," Brentz said. "It feels like I'm on track. Everything feels good."
*
Clayton Mortensen
pitched three scoreless innings in his first spring start. Mortensen tossed 46 pitches, 27 for strikes, giving up two hits and striking out one.
"It was interesting going back to an old routine considering it was my first start in over a year," said Mortensen, whose last start came in 2011 with the
Colorado Rockies
. "But it was good to get out there and stretch myself. My particular role this year could involve many things, possibly a spot start in the future. It was good to get out there and do well."
Mortensen went 1-1 with a 3.21 ERA in 26 relief appearances last season with the Red Sox. He walked 19 and struck out 41 over 42.0 innings.
"He pitches to get outs and he's not afraid to attack the zone," Farrell said. "He has a chance to get into the rhythm of the game, which is very good for him and us."
*
Mitch Maier
, who started in left field, made an impressive diving catch on a line drive by
J.J. Hardy
in the second inning. In doing so, the right-handed-throwing Maier rolled on his glove hand, prompting Farrell and the Red Sox trainer to hustle out to inspect him. Maier stayed in the game and singled to lead off the third, but was replaced by Juan Carlos Linares when the frame ended.
"I feel like I jammed it and kind of rolled it under me," said Maier, 30, who appeared in 360 games over six seasons with the
Kansas City Royals
before being signed to a minor league deal with Boston in the offseason. "It didn't feel great (in the at-bat) because I got jammed. I wanted to give it a go, but since it was spring training, they didn't want me to keep going out there."
Farrell said Maier will have X-rays performed when he returns to Fort Myers.
* Linares hit his second homer of the spring, a solo shot off Orioles minor league pitching prospect Clayton Schrader to break up a 1-1 tie in the ninth inning.
* Left-handed pitching prospect Chris Hernandez looked impressive with 3 1/3 perfect innings and one strikeout.
* Red Sox catching prospect
Christian Vazquez
was at it again, throwing out another runner trying to steal base. The put-out makes him 5-for-5 this spring.
*
Ryan Lavarnway
went 0-for-5 with one strikeout as the designated hitter.
* The Orioles have traded minor league infielder Michael Flacco, (brother of Joe) to the Red Sox for cash considerations or a player to be named later. Flacco is 26 and hit .218 last year for Class-A Frederick.
"The Orioles have more corner players than spots in our system and the Sox had interest in Mike Flacco so we thought it was a match," said Orioles GM Dan Duquette.
* The Red Sox helped the Orioles produce a sellout crowd of 8,100 at Ed White Stadium in Sarasota.
March, 13, 2013
3/13/13
11:01
PM ET
By
David Dorsey, Special to ESPNBoston.com
FORT MYERS, Fla. -- Bryce Brentz didn't begin this season quite like he wanted to.
The
Boston Red Sox
right field prospect accidentally shot himself with a handgun in the upper left leg Jan. 17 at his home in Knoxville, Tenn.
Brentz, named the Double-A Portland Sea Dogs Most Valuable Player last season, had been slated to report to big league camp in mid-February. The accident relegated Brentz, 24, to reporting to minor league camp in early March instead.
[+] Enlarge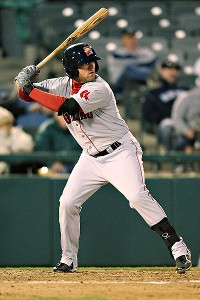 AP Photo/Mike JanesBryce Brentz played most of 2012 with the Double-A Portland Sea Dogs before a late promotion to Triple-A Pawtucket.
"I can't take it back," said Brentz, who started in right field Wednesday afternoon for the Triple-A Pawtucket Red Sox against the Rochester Red Wings, Triple-A affiliate of the
Minnesota Twins
. "It's done, and it's done. I have to move on and get back to baseball."
The good news: Other than some minimal bleeding and a bruise that took three weeks to heal, Brentz missed no baseball time this spring training with his fellow minor leaguers. Brentz described how he hurt himself.
"There was a little miscommunication between me and my brother," said Brentz, who was going to clean the gun in the evening time. "I thought it was unloaded. He had actually just chambered it. It accidentally discharged on me."
Brentz called for an ambulance, not knowing the severity of the wound.
"I just wanted to make sure I wasn't bleeding bad," he said. "If I had hit that femoral artery, I could have been in trouble. I also wanted to make sure it wasn't that big, that I hadn't hit the bone. It ended up not being that big of a deal. I could walk.
"I had no problems as far as flexibility and strength. Agility-wise, everything's 100 percent."
While riding to the hospital, the paramedic had Brentz roll over.
"She asked me if it was a nine," Brentz said, meaning a nine-millimeter bullet. It turned out to be a .40 caliber bullet, slightly bigger than the nine. Brentz then removed the bullet himself.
"It's at home," he said.
On a scale of 1 to 10, with 10 being the highest amount of pain, Brentz said he rated the gunshot wound a 6 or 7.
Brentz said he has put the accident behind him. His 2012 manager said Wednesday it has showed.
"I've only been around him for a couple of days of camp, and he looks good to me," said Portland Sea Dogs manager Kevin Boles, who worked with the Triple-A group on Wednesday. "He has a lot of upside. He has raw power. He has the chance to be a quality hitter. He has the chance to be a quality defender. He was solid for us last year in Portland."
Brentz hit .296 with 30 doubles, 17 home runs and 76 RBIs in 122 games last season for the Sea Dogs. He earned a promotion to Triple-A Pawtucket on Aug. 30 and hit .118 (2-for-17) in five games.
"I enjoyed it," Brentz said of last season. "It was a good learning experience. I had to overcome some obstacles early on in the season."
The Red Sox selected Brentz with the 36th overall pick in the 2010 draft out of Middle Tennessee State.
"Being from the south, I had never played up in the north before," Brentz said. "I had never played up in that cold weather before. It was a better quality of pitching. At the lower levels, the pitching was a lot more predictable. Just taking a different approach day in and day out was the biggest change for me. But I felt like it was a special season. Getting a call up to Triple-A was a good experience."
The Red Sox will spend the next two weeks deciding upon the rosters at all levels of the minor leagues. Boles said he wouldn't be surprised if Brentz began this season in Triple-A.
"He was one of the better offensive performers," Boles said. "The turnaround that he made, he had a little bit of a struggle earlier in the season. He made some adjustments. There's cold, and then there's Portland cold. It's a different animal."
Midway through last season, Boles said he sensed a turning point in Brentz.
"One thing that stood out, we were playing against Reading (Penn.) and there was nobody on, and they threw him a 3-0 breaking ball to walk him," Boles said. "It showed the respect that they had for him, because he can do damage. He has learned to work the count. He put together some quality at-bats.
"He's really strong. He's ridiculously strong. It's incredible. His strength is off the charts."
Asked how far away he felt from the big leagues, a serious expression spread across the 6-foot, 190-pounder's face.
"My opinion and what the front office thinks might be two different ones," Brentz said. "It's out of my hands. I try not to think about that. I do think I need to get a little more experience and get some at-bats at Triple-A. But I think we both agree I'm not that far away."
Boles said Brentz had a few things he needed to clean up before making his way to the big leagues, a destination Boles did not doubt for Brentz.
"Game management, understanding what the situations are and making the right decisions to take care of the baseball," Boles said. "Keeping the runners off second base. The higher you move up, you've got to keep runners out of scoring position. He's starting to get that understanding."
February, 9, 2013
2/09/13
1:52
PM ET
FORT MYERS, Fla. --
Boston Red Sox
outfield prospect Bryce Brentz accidentally shot himself in the leg while cleaning a handgun, general manager Ben Cherington said Saturday morning.
The incident occurred a couple of weeks ago, Cherington told a group of reporters here Saturday morning. The outfield prospect, who is here in town and was to have been a nonroster invitee to big league camp, was "lucky," Cherington said.
"He was at home cleaning a gun and it accidentally went off,'' Cherington said. "Fortunately for him, it's something he's going to recover from and be fine, and it won't affect his baseball career.
"He was cleaning a gun and it accidentally went off. The bullet went into his leg and out the other side. I guess you could say he got lucky relative to what happened. I think he understands he got lucky. It's a serious thing and he has to be careful. He's here in Fort Myers and he's recovering and it's not going to get in the way of his future, but he won't be in big league camp."
Brentz, 24, could play in a game before the end of spring training, Cherington said.
July, 10, 2011
7/10/11
3:55
PM ET
Despite being the Red Sox' 36th overall selection in the 2010 draft, the first of the club's two supplemental first-round picks, Bryce Brentz, has spent his 2011 campaign re-establishing himself as one of the most promising power hitters in the organization's farm system. Brentz' stock fell precipitously after a debut with the short season-A Lowell Spinners in which he hit just .198 with a .598 OPS in 69 games, failing to show the promise that led to his early selection.
[+] Enlarge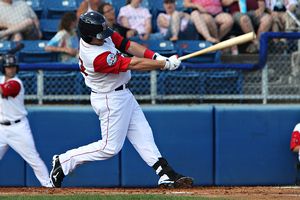 Courtesy of Salem Red Sox Bryce Brentz is currently playing for Salem.
His fortunes have changed entirely this year. Brentz is tied for the system lead with 19 home runs, and he leads all Sox minor leaguers with at least 100 plate appearances with a 1.023 OPS. Before earning a promotion to high-A Salem on May 21, Brentz hit .359 with 11 home runs, 36 RBIs and a 1.061 OPS in 40 games for low-A Greenville. After homering in each of his first two games for Salem, Brentz suffered a wrist injury and missed three weeks of action, but the 6-foot-1 outfielder is slowly rounding back into the form that saw him string together a minor-league-best 26-game hitting streak earlier this season. He had a nine-game hitting streak snapped Thursday night in a loss to Wilmington, but his five home runs in that nine-game span match his total number of long balls for Lowell in 2010.
Brentz credits much of his success at the plate this year to lessons he learned in Lowell. He found out quickly how different professional pitchers were from their collegiate counterparts.
"The biggest thing I learned was how many fastballs they throw," Brentz said. "In college, they throw a lot of off-speed stuff. I used to sit more on the off-speed stuff, but instead of getting a curveball, it was an 0-2 fastball right by me."
Brentz also has tried to control his effort levels this year, a problem that plagued him throughout his first season in Lowell. He admits to getting anxious at the plate and trying to hit home runs that would live up to the "light tower power" designation that Red Sox director of amateur scouting Amiel Sawdaye gave him after the 2010 draft.
"I get too anxious and try to hit the ball 900 feet," Brentz said. "I just need to take a smooth swing."
That was a common refrain for first-year Greenville manager
Billy McMillon
, who spent the first two months of the season insisting that Brentz control those effort levels and keep his swing under control.
"Getting him to constantly put a good swing on the ball and consistently look for his pitch, that was his goal," McMillon said. "It became important for him to be under control and get better pitches to hit."
With his coach's advice and what he learned in Lowell in mind, Brentz began the season on a tear for the Drive. He had hits in his first nine games, and after seeing that streak snapped, tore off on a 26-game hitting streak.
While he admitted that a lot of luck was involved in the streak, Brentz said that he was able to apply some of the adjustments he had made in his approach to extend the streak. In several games, the streak-extending hit came in his last at-bat; knowing what he had learned about professional pitching, Brentz sat on the fastball that he knew was coming.
"I'm going to try my best not to miss a fastball, and if it's anything else, I'm going to adjust to it," Brentz said.
The streak ended on May 16, and four days later, after his eighth three-hit game and 15th multi-hit game for the Drive, Brentz was promoted to Salem.
Salem manager Bruce Crabbe, who also managed Brentz in Lowell last season, said there's "absolutely" a difference between the player who arrived from Middle Tennessee State last June and the one promoted from Greenville six weeks ago.
"He's worked on his pitch recognition, staying through balls, and swinging at strikes," Crabbe said. "He did some damage last year, it was just inconsistent. That's typical of a first-year guy trying to impress. I think he got his legs underneath him, he's comfortable in his situation, and he has a better plan of attack as a player."
While his damage may have come in fits and starts for the Spinners, Brentz consistently dominated opponents at Middle Tennessee State, both on the mound and at the plate. Brentz led the team in ERA as a freshman before being shut down with an arm injury, and was the team's Friday night starter in his sophomore year.
Still, he was more effective at the plate. After hitting .329/.404/.671 with a team-leading 18 home runs as a freshman in 2008, Brentz led the NCAA in batting average (.465), home runs (28), slugging percentage (.930), and total bases (214) on his way to being named a consensus All-American in his sophomore season. His performance also earned him a spot on the USA Baseball Collegiate National Team and propelled him into the mix as a potential first-round pick the following year.
It was trying to repeat that performance that led to Brentz' 2010 struggles, both in college and at Lowell. He missed three weeks with a foot injury at Middle Tennessee State, and no matter the reason, his stat line -- a .348 batting average with 15 home runs and 49 RBIs -- was modest in comparison to his previous season. Though still considered one of the top power hitters in the draft, Brentz slipped to the Red Sox, who selected him at No. 36 and handed him an $891,000 signing bonus.
In Lowell, Brentz didn't do much to assuage concerns that what he called his "career year" at Middle Tennessee State was a fluke. He went hitless in six of his first nine games, collecting just one extra-base hit in that span. It took six strong weeks to close the season for Brentz to raise his average to .206 on Aug. 26 before he finished the year batting .198 with 5 home runs and 39 RBIs.
For the Spinners, scouts saw a player that was slow starting his hands, indicating that fastballs were catching him off-guard. Though he has good bat speed, he was slow through the strike zone because he did not start his swing early enough. He also took a while to adjust to wood bats.
This year in Greenville, Brentz did a better job keeping his weight back during his stride and not getting his hands too far out in front of him. Scouts believe his power potential is his calling card going forward, and that he has 25-home-run potential if he can continue to polish his swing and refine his approach, which is seen as his biggest need going forward.
Despite a combined line of .329 with 19 homers and 52 RBIs in 60 games between Greenville and Salem, Brentz has only slightly cut down on his strikeout rate (from 26.6 percent in 2010 to 23.5 percent in 2011). His walk rate, however, is slightly worse in 2011, as he has drawn walks in 5.9 percent of his plate appearances, down from 7.3 percent with Lowell.
Even so, McMillon said he believes Brentz is developing his approach at a rate that will continue to carry him up through the minor leagues.
"I saw a young man who looked for pitches he could handle and drive," McMillon said. "Nothing he did gave me any cause for concern when you look at it as a whole. I saw a very good approach that led you to believe that if he continues on that path, he has a high ceiling."
SoxProspects.com director of scouting Chris Mellen contributed to this article.
June, 16, 2010
6/16/10
8:34
PM ET
BOSTON -- The Red Sox have announced the signings of their top two draft selections.

Infielder Kolbrin Vitek and outfielder Bryce Brentz were chosen by Boston as its 20th and 36th picks respectively in last week's first-year player draft. Both have been assigned to Class A Lowell.

Vitek was named the 2010 Mid-American Conference Player of the Year out of Ball State. The 6-foot-3, 195-pound second baseman led the league with 73 runs, tied for second with 17 homers and ranked third with 68 RBIs and 161 total bases. He was a finalist for the 2010 Golden Spikes Award and was rated by Baseball America as the top second baseman in this year's draft and the third-best pure hitter among college players.

Brentz hit .348 with 51 runs, 8 doubles, 15 homers and 49 RBIs this season as a junior for Middle Tennessee State University. The 6-foot, 200-pound outfielder was rated by Baseball America as the third-best power hitter among college players in this year's draft.

Also agreeing to terms with the club were right-handed pitcher Garrett Rau from California Baptist University (12th round); right-handed pitcher Keith Couch from Adelphi University (13th); right-handed pitcher Michael Gleason from California State University-Chico (34th); shortstop Nick Robinson from North Central College (39th); outfielder Luke Yoder from Cal Poly-San Luis Obispo (40th); catcher Jayson Hernandez from Rutgers University (41st); shortstop James Kang from Pomona-Pitzer College (45th); and first baseman Trygg Larsson-Danforth from Yale University (49th).

Rau, Couch, Robinson and Hernandez have been assigned to Lowell while Gleason, Yoder, Kang and Larsson-Danforth have been assigned to the rookie-level Gulf Coast League Red Sox.

The Red Sox now have 10 selections from this year's draft under contract.