Boston Red Sox:

Chicago White Sox
April, 29, 2012
4/29/12
12:14
AM ET
By
Sahadev Sharma
| ESPNBoston.com
CHICAGO -- Prior to Saturday night's 1-0 victory over the
Chicago White Sox
,
Boston Red Sox
starter
Jon Lester
asked his manager what he needed from him.
"Pitch like an ace, like Jon Lester is," Bobby Valentine said he told Lester. "And he pitched like an ace. He had both sides of the plate, (he was) very competitive, he was terrific."
[+] Enlarge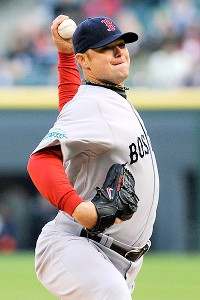 David Banks/Getty ImagesJon Lester picked up his first win of 2012 on Saturday.
Lester threw seven shutout innings, striking out seven and walking only one as he dominated an anemic White Sox offense and led Boston to its sixth consecutive victory. It was Lester's first victory since Sept. 6 last season over the
Toronto Blue Jays
.
However, Lester said he was unaware of his long winless streak, adding that it was never really a concern of his.
His counterpart on the mound,
Jake Peavy
, was nearly Lester's equal on the day. Peavy went nine innings and was almost flawless. However, almost flawless wasn't enough as the Red Sox managed to scrape across the lone run of the game when
Adrian Gonzalez
singled in
Ryan Sweeney
in the fourth inning. Lester said he relishes his opportunities to go toe-to-toe with the best pitchers in the game.
"Any win is satisfying, but those games are fun, it's just a battle," Lester said. "I've been on the other end of those and you feel like you do everything you can to put your team in a position to win, but the other guy just does a little bit more. That was big tonight, grinding it out."
Lester wasn't the only story of the night. The much-maligned Boston bullpen continued its strong performance of late with two shutout innings. During the Red Sox's six-game winning streak the 'pen has allowed only one run in 15 2/3 innings of work.
"I don't think anybody in this clubhouse was too worried about (the bullpen)," Lester said. "This game, sometimes it takes you a little bit to feel comfortable, get confidence and get in that rhythm. Everybody is kind of different, so it's just nice that those guys are kind of fitting in down there and doing good."
The biggest turnaround may be from closer
Alfredo Aceves
, who struggled in the season's first series in Detroit when he was on the mound for two walk-off victories for the Tigers. Aceves seemingly hit rock bottom when he took the loss in a 15-9 defeat to the
New York Yankees
, a game the Red Sox once led 9-0.
Catcher
Jarrod Saltalamacchia
said mechanics were an issue for Aceves early on in the season, pointing out that he was lowering his arm slot and losing location on his pitches. Aceves has since corrected the problem, and the results have been clear as he hasn't allowed a run in his last three save opportunities.
"I think he's always had that arm; in the closer role you get amped up and can use a little extra," Saltalamacchia said of Aceves, who was pumping in 97 mph heat on Saturday. "Tonight was the best I've seen him, lights out and just hitting his spots. I think he's definitely getting more comfortable. I think the more times he goes out and gets in that situation and has success, the more confidence he builds. Tonight it showed."
Valentine has been thrilled of late with his bullpen and his starters, who have delivered quality starts in four of their last five outings. All of it culminated in Lester's brilliant performance on Saturday night.
"That's how you start building a real foundation of the team," Valentine said. "Those other little things are just parts of the team, the foundation is what the starters can do day in and day out. They're pretty good, I'll take those five that we're running out there right now."
Valentine admitted that he's still learning the ins and outs of the players on his team. The first 14 games he witnessed were undoubtedly not what he had hoped to see. However, as the team hopefully has turned a corner, Valentine is starting to get more comfortable in his new digs and is finally enjoying what his team is doing on the field.
April, 28, 2012
4/28/12
10:07
PM ET
By
Sahadev Sharma
| ESPNBoston.com
CHICAGO -- The
Boston Red Sox
reached .500 for the first time this season as they got their sixth victory in a row with a 1-0 win over the
Chicago White Sox
.


How it happened:
Jon Lester
and
Jake Peavy
were both dominant, but the Red Sox touched Peavy up for the lone run of the game in the fourth when
Adrian Gonzalez
singled in
Ryan Sweeney
. Sweeney went 2-for-4 with a double and a run scored on the night. Lester had struggled in his previous two outings, giving up 12 runs and walking eight in a combined nine innings. However, on Saturday, Lester performed like the ace he's expected to be for the Red Sox, dominating in his seven innings of work. Lester allowed no runs and five hits, while striking out seven and walking one. The bullpen did the rest, as
Franklin Morales
,
Vicente Padilla
and
Alfredo Aceves
combined to toss two shutout innings to finish out the game. The pen has given up only one run in the 15 2/3 innings Boston relievers have worked since their implosion against the
New York Yankees
on April 21.
What it means:
The Red Sox are obviously playing their best ball of the young 2012 season as they get to the break-even point for the first time all year at 10-10. During their six-game winning streak, they've been doing most of their damage with the bats, but on Saturday they relied on the arm of Lester, as the offense failed to put up at least six runs for the first time in seven games.
Outside the box:
Saturday marked the first time the Red Sox held an opponent scoreless since Sept. 6 last season. Lester was on the mound for that game as well.
Up next:
Josh Beckett
(2-2, 4.56) tries to lead the Red Sox to a four-game sweep over the White Sox.
Gavin Floyd
(1-3, 3.60) toes the rubber for Chicago at U.S. Cellular Field on Sunday at 2:10 p.m. ET.
April, 28, 2012
4/28/12
7:01
PM ET
By
Sahadev Sharma
| ESPNBoston.com
CHICAGO -- When the
Boston Red Sox
acquired
Marlon Byrd
from the
Chicago Cubs
, no one expected from the veteran outfielder. Byrd had started the season off in a horrible slump, amassing only three singles for a .070 batting average for the Cubs. But with injuries to star outfielders
Carl Crawford
and
Jacoby Ellsbury
and with fourth outfielder
Jason Repko
heading to the DL, the Sox were a team in desperate need of another outfielder who could play center field.
Since joining the Red Sox, Byrd is hardly lighting the world on fire (.318 BA/.318 OBP/ .318 SLG), but he's already more than doubled the amount of hits he had in Chicago, with seven, and he's playing solid defense in center. Red Sox manager Bobby Valentine believes Byrd brings more to the table than just what he does on the field.
"I just like his attitude, he's got a bounce in his step," Valentine said. "He's ready to go, I don't want to say it's contagious, but it was a great added feature to our group. He's getting hits and that's all that matters. Great trade, the exact pickup we needed."
Valentine said in the small sample that he's seen of Byrd, he's been pleased with his defense, as Byrd has gotten good reads and jumps while patrolling center. Byrd is still without an extra-base hit on the season and hasn't taken a walk while with the Red Sox, something that's counter to the Red Sox's philosophy of plate discipline and patience. But clearly Valentine wasn't concerned with Byrd's approach. The manager is just happy that his new center fielder is starting to turn things around after an awful start in Chicago.
April, 28, 2012
4/28/12
12:49
AM ET
By
Sahadev Sharma
| ESPNBoston.com
CHICAGO -- If
Boston Red Sox
manager Bobby Valentine were to nitpick, he could find some issues with
Daniel Bard
's start against the
Chicago White Sox
on Friday night. There was the changeup he threw to
A.J. Pierzynski
in the first that went for an RBI double and gave the White Sox an early 1-0 lead. Bard also threw a meatball on a 3-0 count to
Paul Konerko
, who deposited the offering into the left-field bullpen and gave the White Sox a short-lived 3-2 lead.
[+] Enlarge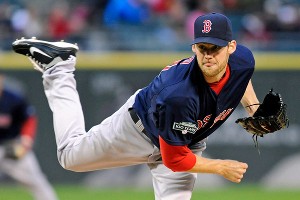 David Banks/Getty ImagesDaniel Bard was sharp Friday against the White Sox, picking up his second win of the week but his first ever as a starter.
But Valentine focused on the good and was especially impressed with Bard's ability to brush off a mistake-filled third inning -- an inning in which the Red Sox made multiple defensive miscues, including a passed ball that led to a run.
"He had the adversity inning there in the third, we didn't catch one on a bloop, he came back, made very good pitches and wasn't distracted by it," Valentine said. "We had two 20-minute innings where he had to sit in the dugout with a six-pitch inning of his own in between. Then went right back out and threw strikes, there was a lot to like from what I saw tonight."
In his previous start, Bard had walked seven batters in 6 2/3 innings, leading some to wonder if that lack of control would eventually come back to haunt him. However, Bard said his bout with wildness was due to some mechanical tics that he's since corrected.
That showed on Friday, as Bard allowed only two earned runs in a career-high seven innings, striking out six and walking only one in the Red Sox's 10-3 victory. It was the Red Sox's sixth straight win, but possibly of more importance is the progress Bard is making as he tries to make the conversion from a reliever to a starter.
"I do feel like I've gotten better with each outing going all the way back to the spring," Bard said. "I've gotten more comfortable with throwing off-speed in fastball counts. I'm more consistently throwing strike one with my fastball, which tonight was huge for me. The little nuances of starting, tonight was just another step in the right direction."
Valentine agreed, saying the Red Sox have seen an "evolution" over the past two months from Bard.
"The first time we looked at him we wondered if he could have a windup," Valentine said. "We got through the windup, then we were worried about the third pitch. He got the third pitch, then we were worried about his ability to go more than 60 pitches. He just keeps progressing, he's doing well."
He's doing so well that if it wasn't for the cold weather (39 degrees and dropping at first pitch), both Valentine and Bard agreed that he could have had a chance for a complete game.
Coming into the game, there was some concern that Bard may have some issues since Valentine had decided to skip his last start. Bard pitched 2/3 of an inning of relief on Monday, but hadn't made a start since April 16. Valentine felt vindicated that Bard's short relief stint and a 50-pitch side session on Wednesday was enough to get him ready for Friday night's start. For his part, Bard was never very concerned about his long layoff between starts.
"I hadn't thought about it much; as a reliever you kind of learn to be flexible," Bard said. "Sometimes you threw the day before, sometimes you haven't thrown in four or five days. Your arm's going to feel a little bit different every time out, so you learn to adjust. I guess that's the benefit I have of having that experience as a reliever. I felt good today physically."
The Red Sox already have a torrid offense that's averaging nearly nine runs a game over the past week, and the bullpen is finally showing some signs of consistency, allowing only one run in the relievers' last 13 2/3 innings pitched. As the team charges back toward the .500 mark and tries to pull itself out of the cellar in the AL East, more performances like the one Bard gave on Friday night would be a welcome addition.
April, 27, 2012
4/27/12
11:11
PM ET
By
Sahadev Sharma
| ESPNBoston.com
CHICAGO -- The
Boston Red Sox
extended their win streak to five as they continued to score in bunches, defeating the
Chicago White Sox
10-3.


How it happened:
Daniel Bard
, making his first start since April 16, gave the Red Sox his longest outing of his short career as a starter. In only his third career start, Bard went seven innings and gave up two earned runs while striking out six and walking one. White Sox starter
John Danks
, who seemed to be cruising along through the first five innings, was unable to hold down a white-hot Red Sox offense in the sixth. The Boston bats finally got to Danks as he allowed five runs in the sixth, the big blow coming with a three-run double off the bat of
Darnell McDonald
. McDonald added a solo home run in the ninth to cap off a two-hit and career-high four-RBI night.
What it means:
The bad news is that the Red Sox still remain in last place in the AL East with a 9-10 record. On the flip side, they've won their fifth game in a row, are averaging 8.7 runs in their past six games and have gotten quality starts from their starting pitchers in three of their past four.
Outside the box:
Since blowing a 9-0 lead to the
New York Yankees
on April 21, the Red Sox bullpen has been lights-out. In their last 13 2/3 innings, Boston relievers have allowed only one run while striking out 11 and walking two.
Up next:
Jon Lester
(0-2) tries to get Boston to the .500 mark for the first time all season.
Jake Peavy
(not
Chris Sale
, as we initially reported) takes the mound for Chicago as the Red Sox try to win the first three of a four-game set against the White Sox at U.S. Cellular Field on Saturday at 7:10 p.m. ET.