Boston Red Sox:

Cleveland Indians
October, 3, 2013
10/03/13
12:02
AM ET

BOSTON -- There will be no Tito-palooza in the American League playoffs.
The
Tampa Bay Rays
eliminated Terry Francona and his
Cleveland Indians
4-0 in Wednesday night's
play-in game
, to advance to the American League Division Series that opens Friday afternoon in Fenway Park.
John Farrell has frequently said in recent days, a sentiment echoed in many corners of the Sox clubhouse, that the team playing the best entering the playoffs is the most dangerous in October. If that is the case, the Sox have reason to be concerned about the Rays, who finished six games behind them in the AL East and lost 12 of 19 meetings head-to-head with the Sox.

With their win over the Indians on Wednesday night, the Rays have won three elimination games in three different cities: They beat the Jays in Toronto on Sunday to finish the regular season in a tie with Texas for the second wild-card spot; they beat the Rangers on Monday night in Arlington to advance to Wednesday's play-in game; and they shut out the Indians in Progressive Field to win a trip to Boston.
The Rays have not been home since Sept. 23, but they won 15 of their last 20 games, including Wednesday night's blanking of the Indians, who had won 10 in a row before succumbing to
Alex Cobb
and a succession of relievers Wednesday.
The Rays have an ERA of 2.81 in that stretch, and are expected to send 17-game winner
Matt Moore
against
Jon Lester
, already named by Farrell as the Game 1 starter. Left-hander
David Price
, who pitched a complete game to beat the Rangers on Monday, figures to pitch Game 2 against right-hander
John Lackey
.
May, 26, 2013
5/26/13
7:47
PM ET
By
Tony Lee, Special to ESPNBoston.com
BOSTON -- When
Jacoby Ellsbury
grounded a single to right in the sixth inning Sunday, there seemed to be a mock cheer from Red Sox fans who have watched the speedy center fielder endure a slow month at the plate.
There was no such sarcasm after Ellsbury's at-bat three innings later, which culminated in a walk-off two-run double that finished Boston's second straight come-from-behind victory, a 6-5 triumph over the
Cleveland Indians
.
The hit, which came after Indians closer
Chris Perez
was lifted three pitches into the at-bat with a shoulder injury and
Joe Smith
came on to throw one meaty fastball, accomplished one thing and might serve as the impetus for another.
First, it reinforced the never-say-die attitude of this edition of the Red Sox, who scored four runs in the eighth to win Saturday and rallied from a 5-2 deficit against Perez and Smith in the series finale. This was the first time Boston had scored at least four runs in a walk-off rally since the Mother's Day Miracle more than six years ago.
[+] Enlarge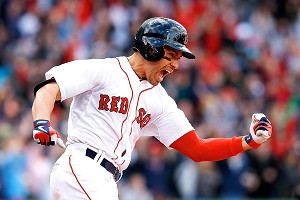 Jim Rogash/Getty ImagesDespite having just two extra-base hits in 27 games, Jacoby Ellsbury says his confidence is strong.
Ellsbury's hit, a laser to the gap in left center that plated
Jonny Gomes
and
Stephen Drew
, might also serve as a catalyst for the leadoff man. If he can utilize the positive vibes from one clutch swing, perhaps fans will be less sarcastic when he simply grounds one through the hole.
"You've just got to stay confident, stay with the approach, and good things will happen," Ellsbury said when asked if the game-winning hit could turn things around for him.
Ellsbury entered Sunday hitting .200 in May and had just two extra-base hits in his past 27 games.
"Hopefully, it gives him a boost of confidence," manager John Farrell said. "He gets the base hit in the previous at-bat, and we've seen his on-base frequency start to pick up over the last week, either by walk or some base hits. So he gets obviously the key hit of the day with the game winner, so I would certainly hope that this would have a carryover effect for him."
Critics will continue to point to Ellsbury's one home run, but one good swing can lead to many more, and the fact that Ellsbury had to see three pitches from one guy and one from another in the same at-bat created an increased level of difficulty.
Ellsbury had seen Smith before. In fact, he homered off him to give the Sox a walk-off win over Cleveland in 2011. But he was ahead of Perez 2-1 and locked into that duel before Indians manager Terry Francona and the team's trainer came out to check on Perez, who threw a warm-up toss to the backstop and was immediately removed. Per protocol, the side-arming Smith was given all the time he needed to warm up while Ellsbury had to ruminate for several minutes in the on-deck circle.
Then again, perhaps the change helped Ellsbury.
"I've never really been in that situation, but I know coming in his mindset is to throw a strike and try to make it 2-2," Ellsbury, who has produced three of his four walk-off hits against Cleveland, said. "I figured I'd be aggressive, if I got my pitch.
"They're very different pitchers. You have a few less pitches to make the adjustment, work the count. So, yeah, it's a different scenario, makes it harder. But I figured he would throw a strike, and I'd try to hit something hard."
Ellsbury showed plenty of emotion rounding first as the tying and winning runs came across. There also seemed to be a tinge of relief in his body language. Maybe he felt as if he was one big hit away from breaking out, and Sunday's game winner was about as big as they come.
Even if the double doesn't immediately vault Ellsbury to his 2011 levels, it gives him, and his teammates, the knowledge that he's a big part of something much bigger, the formation of a unit that has the attitude to pull off such feats. Boston already has 12 come-from-behind wins and four walk-off victories, one more than it had all of last season, when the club seemed to peter out in the late innings.
The incredible highs are key in galvanizing the group. So, too, are the lows, or at least how they handle them.
"Tell you the truth, I think it's more on the other end: tough losses that kind of just create a valley and then you kind of stay in it," Gomes, who drew a two-out walk and eventually scored the tying run, said. "It's hard to play well in the big leagues. It's hard to play well throughout the course of a season, but the telling thing at the end is if you come out of the valley. I think it's just how teams deal with adversity that separates the good from the bad."
The skipper has seen his team crawl out of the valley often.
"I think we've seen it many times over," Farrell said. "Whether it was the game down in Tampa against [Rays closer
Fernando Rodney
] where we came back on the double by [
Will Middlebrooks
] in that game. Today, once again. This team loves to compete. *#133; Until that 27th out is recorded, this team doesn't roll over, by any means."
The attitude already has extended to replacement third baseman
Jose Iglesias
, who drew a big two-out walk to load the bases for Ellsbury. It qualified as the biggest plate appearance of Iglesias' young major league career, and he did well to keep the line moving.
And by keeping the line moving, he gave Ellsbury a chance to squelch the sarcasm.
May, 23, 2013
5/23/13
5:54
PM ET
BOSTON -- The Cleveland Indians' charter flight from Detroit landed in Boston at 5 a.m. After a few hours of sleep, Terry Francona woke up at 8 a.m. and began his day. Of course, it wasn't just another game day for the former Red Sox manager, who was about to face his former club for the first time in Boston.
Despite being bleary-eyed and worn down by travel, muscle memory took over for Francona when stepping into Fenway Park. His manner of arrival at the ballpark was slightly off, piling into the back of a taxi cab instead of driving in, but once there, it was all too familiar.
"Whether you go left or right, the people are still the same," Francona said before Thursday night's game.
Mobbed by reporters in the visitors' dugout before the Indians' batting practice session, Francona reflected on his time in Boston.
"I don't know if it will be difficult, maybe emotional," he said.
It's not the first time the Red Sox and Indians have met this season, but Thursday marked Francona's return to Fenway. The much-anticipated first meeting between Francona and the Red Sox took on a much different tone, as it was one day after the April 15 attack on the Boston Marathon. In a difficult time in Boston history, Francona sought to detach himself from the storyline.
"When Boston was playing us in Cleveland, the city was going through the Marathon thing, and I was trying to be very respectful," he said. "It's different coming here for sure."
When asked to gauge what the fan reaction would be to his return, Francona balked at each turn, separating emotion from the business of the day.
"I don't spend any time thinking about things like that. It's just not the way I'm built," he said. "These were some very special years [in Boston], but sometimes they were tough."
Francona did acknowledge having a conversation with longtime friend -- and now adversary -- John Farrell. He had not talked to any members of the Red Sox ownership group, adding that he was unaware if they were in town.
Still, many things remained the same -- except, perhaps, for the less-than-spacious confines of Fenway's visitors' clubhouse.
"It's a lot smaller than I remembered," chuckled Francona, who last was there while managing the
Philadelphia Phillies
.
Throughout Francona's carwash tour of Boston media in the lead up to the series opener, he talked about the rigors of managing in a baseball-mad environment such as Boston. But, all things considered, he was happy to be back.
"If you like baseball, this is a good place to be," he said.
August, 11, 2012
8/11/12
11:05
PM ET
By
Bob Finnan
| ESPNBoston.com
CLEVELAND -- When things aren't going well -- and, if you haven't noticed, the Red Sox are quickly going belly-up -- sometimes players try to do too much.
Twice on Saturday in their 5-2 loss to the Indians, Red Sox baserunners were cut down.
Red Sox second baseman
Dustin Pedroia
was thrown out at the plate in the fourth inning trying to score on a double by
Adrian Gonzalez
. Gonzalez came about 5 feet from hitting a grand slam on the towering drive. Instead, it caromed off the left-field wall for a two-run double.
Jacoby Ellsbury
and
Carl Crawford
scored easily on the play. Pedroia was right on Crawford's heels. The relay throw from third baseman
Brent Lillibridge
to catcher
Lou Marson
was perfect.
The Red Sox blew a chance at another run in the fifth. Leadoff batter Ellsbury doubled to left-center but was thrown out trying to stretch it into a triple.
"Aggressive baserunning cost us tonight," Red Sox manager Bobby Valentine said. "If [Ellsbury] had to do it again, he wouldn't do it.
"They are aggressive mistakes. You have to play aggressive."
When Pedroia was trying to score, he put third-base coach Jerry Royster in a tough predicament.
"That's the toughest play a third-base coach can have," Valentine said. "It's a very, very, very difficult play."
The baserunning mistakes contributed to a losing effort by
Franklin Morales
(3-3, 3.29 ERA). The left-hander allowed just two hits and three earned runs in his 5 1/3 innings. He gave up four walks and struck out six in his 108-pitch outing.
He committed a balk in the fifth inning, which allowed
Michael Brantley
to advance from first to second. Brantley eventually scored on Lillibridge's single, which knotted the score at 2-2.
Lillibridge, who spent one month in Boston this year, was traded to the Indians on July 24. He was 3-for-4 on the night, with a home run, double and two RBIs.
"I missed on one ball today," Morales said of Lillibridge's solo homer in the third. "I tried to throw my fastball. That's my best pitch. He got me."
Valentine thought the balk was a key play in the fifth.
"The balk cost him," he said. "We hadn't seen that called this year where the pitcher doesn't stop. I think it was the right call."
Valentine said he thought Morales pitched well enough to win.
"In the other games, he had good control of his off-speed stuff and got them called for strikes," he said. "He didn't have his curveball called for strikes tonight. He went to his changeup and was just missing with that. He pitched well enough to win. There's no doubt about that."
Besides his double, Gonzalez made two loud outs. The last one came on the final play of the game when the Indians'
Ezequiel Carrera
made the catch, banged into the wall and fell down, but still hung onto the ball.
Gonzalez came into the game leading the majors with a .409 batting average with runners in scoring position.
"[Morales] pitched well," Gonzalez said. "We should have done a better job scoring runs."
Third baseman
Will Middlebrooks
is likely lost for the year after breaking a bone in his right hand. He was placed on the 15-day disabled list before the game.
"He's our third baseman of the future," Gonzalez said. "He was off to a great year. We all have to pick up the slack."
May, 13, 2012
5/13/12
4:24
PM ET
BOSTON – Make that three wins in a row for the
Boston Red Sox
.
The cellar dwellers of the A.L. East bombarded the
Cleveland Indians
12-1 in a Mother's Day matinee on Sunday at Fenway Park.


The Red Sox banged out 12 hits, with catcher
Jarrod Saltalamacchia
leading the charge with a 3-for-4 performance, including a home run and five RBIs.
Daniel Nava
chipped in with a pair of doubles and three RBIs.
For the third consecutive game, Boston received a solid starting pitching performance, with
Daniel Bard
getting the win.
Bard worked six innings and allowed one run on six hits with four walks and two strikeouts. He tossed a total of 97 pitches (58 strikes). After the top of the sixth, Red Sox manager Bobby Valentine walked down the end of the dugout and informed the right-hander he was done for the day.
Lefty reliever
Rich Hill
retired the side in order in the top of the seventh inning.
After Boston scored six runs in the bottom of the seventh off former Red Sox pitcher,
Dan Wheeler
, the Sox held a 12-1 lead leading Valentine to make some defensive substitutions that included the major league debut of Mauro Gomez, who was called up from Pawtucket before the game. The 27-year-old career minor leaguer replaced
Adrian Gonzalez
at first base.
Gomez made his offensive debut in the bottom of the eighth and he struck out while swinging for the fences.
EXTENSION:
With a double to lead off the bottom of the seventh, Red Sox second baseman
Dustin Pedroia
extended his hitting streak to 14 games. The streak is the longest active in the majors.
HIT ME HARDER:
Red Sox rookie third baseman
Will Middlebrooks
has hit safely in eight of his first 10 games in the majors. After going 0-for-4 on Saturday, Middlebrooks went 2-for-3 on Sunday, including a solo home run in the bottom of the third. He has four homers since making his major league debut on May 2.
DOUBLE THE PLEASURE:
After retiring six of the first seven batters he faced, Bard pitched his way into a bit of a jam in the top of the third. The Sox held a 4-0 lead when Bard loaded the bases with one out. The right-hander walked in Cleveland's first run of the game, but thanks to a 4-6-3 double play, Bard got out of it relatively unscathed.
The twin killings didn't end there.
With one out and a runner on first in the top of the fifth, the Indians'
Asdrubal Cabrera
drilled a hard line drive just to the left of the second-base bag. Red Sox shortstop
Mike Aviles
snared the hot shot and threw a bullet across the diamond to double up the Indians'
Jason Kipnis
at first to end the inning.
SUN SCREEN:
Red Sox center fielder
Ryan Sweeney
nearly produced a baseball bloopers video in the top of the second. With no outs and a runner on first, the Indians'
Carlos Santana
lifted a high, fly ball to center. It was a clear and sunny day at the park and even with sunglasses on, Sweeney had no idea where the ball was. At the last second he saw it and made the catch.
NOT SO FAST:
With the Indians threatening in the top of the fourth with a pair of runners in scoring position, Cleveland's
Casey Kotchman
lifted a high, fly ball to right field. Santana stood on the third-base bag ready to tag up, but
Cody Ross
had other thoughts. After making the catch, he threw a one-hop bullet to the plate to keep Santana stranded at third for the rest of the inning.
ABOUT TIME:
At long last, former Red Sox outfielder
Johnny Damon
was shown some love at Fenway Park. Ever since he left Boston after the 2005 season, it didn't matter if he was playing for the
New York Yankees
, the
Detroit Tigers
or the
Tampa Bay Rays
, Damon, a key member of the 2004 Red Sox World Series team, would hear plenty of boos. Now with the Indians, he was given a tribute on the video board between innings with a montage of his six RBIs in Game 7 of the 2004 ALCS against the Yankees in New York. He was then shown in the dugout and received a standing ovation. He stepped onto the top step of the dugout and waved his helmet in appreciation.
UP NEXT:
The
Seattle Mariners
come to town for a quick two-game set, beginning Monday night. Boston will send left-hander
Jon Lester
(1-3, 4.29 ERA) to the mound, while the Mariners will counter with southpaw
Jason Vargas
(4-2, 2.79).
May, 25, 2011
5/25/11
6:09
PM ET
By
Bob Finnan
| ESPNBoston.com
CLEVELAND -- When the
Boston Red Sox
signed
Carl Crawford
to a seven-year, $142 million deal last Dec. 8, they were expecting big things. Crawford came into Wednesday's game against the
Cleveland Indians
batting .212, which isn't what they had in mind.
Slowly but surely, though, Crawford is starting to round into form. He went 4-for-4 on Wednesday in the Red Sox's 14-2 victory over the Indians at Progressive Field.
[+] Enlarge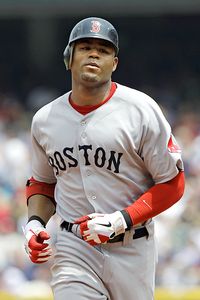 AP Photo/Mark DuncanCarl Crawford raised his average to .229 Wednesday with four hits, including a solo home run.
The lefty came close to batting for the cycle, with a single, two doubles and a home run. He scored three runs and had two RBIs on the day.
"I thought about [a cycle] in my last at-bat, not early on in the game," Crawford said.
"It feels nice to contribute," he added.
Admittedly it's been a difficult start for the four-time American League All-Star, who has a .294 lifetime batting average.
"I feel a little bit better [at the plate]," he said. "I don't like to dissect it too much because that's what got me in trouble early on, trying to give every little detail about my swing."
The Sox have a potent offensive attack with table setters
Jacoby Ellsbury
and Dustin Pedroia and mashers
Adrian Gonzalez
,
Kevin Youkilis
and
David Ortiz
. If (when?) Crawford straightens himself out, things will only get better.
"Obviously, he cares so much," Red Sox manager Terry Francona said. "I don't know if it's pats on the back as much as it is trying to be consistent. Sometimes you pat them too much they get scared.
"We all believe in him and I know he believes in himself. It's nice to see him swing the bat like he did, that's for sure."
Crawford, who raised his batting average to .229, said that being dropped to the lower part of the batting order didn't necessarily ease the pressure.
"Wherever they put me, that's where I'll bat," he said. "I've been playing with pressure my whole career. I can't really say it helped me."
Pedroia, Ortiz and
Jarrod Saltalamacchia
also homered in the Red Sox's 20-hit assault. For Saltalamacchia, it was his fourth home run in six games.
Pedroia missed Tuesday's game after tweaking his left foot while base running Monday night -- the same foot that was surgically repaired last season. But any concerns were quickly dashed when he smashed a ball over the wall in left-center field.
"It felt better today," he said of his foot. "It was a little sore yesterday.
Like Crawford, Pedroia has been struggling at the plate, so his homer was a much-needed boost.
"I'm not a home-run hitter," he said. "I hit a few by accident. I feel like I'm getting better.
Pedroia was 2-for-6 on the day to raise his average to .249.
"Over a 162-game schedule, some of those are going to fall," he said. "It's a long year.
"I go through something like this every year."
The Red Sox got nine hits and seven runs in the first inning off Indians starter
Mitch Talbot
(1-1, 5.87), who was making his first start since April 11 because of a right elbow strain. Judging by the way he pitched, he should have stayed on the disabled list.
"It was a snowball effect," said
Drew Sutton
, who played third base for the Sox in place of Kevin Youkilis, who has a sore hand from a diving play on Tuesday night. "Twelve runs and 20 hits later, it was a good day. Getting hits are fun."
Left-hander
Jon Lester
(7-1, 3.36) was outstanding, as were all three Red Sox starters in the series. He allowed just three hits in six scoreless innings, and struck out seven.
It's never a bad thing to have a 7-0 lead before making a pitch.
"Obviously, it's good," Lester said. "It takes a lot of pressure off me and the defense. You don't have to be perfect.
"I was executing and keeping the ball down. Every game is important for me to go out there and do well."
August, 2, 2010
8/02/10
10:03
PM ET
BOSTON --
Cleveland Indians
rookie catcher
Carlos Santana
, considered one of the top prospects in baseball, was carted off the field here Monday after a seventh-inning collision at the plate with Red Sox rookie Ryan Kalish.
Kalish was attempting to score on a single to right field by a third rookie, pinch hitter
Daniel Nava
, when he slid full-bore into Santana's left leg, which was planted to block the plate. The catcher applied the tag as he was knocked down by Kalish, but with his leg collapsing at a freakish angle, remained motionless on the ground.
An inflatable orange cast was placed around the leg, and after being assisted into a sitting position, Santana was helped to his feet and placed on a cart. He gave a small wave to the Red Sox dugout, where players were standing on the top step applauding, as the cart drove past.
Santana, who came to the Indians from the Dodgers in a 2008 trade-deadline deal for third baseman
Casey Blake
, was rated Cleveland's No. 1 prospect entering this season by trade publication Baseball America. He was the MVP of the Eastern League last season, hitting 23 home runs for Akron while leading the league in slugging percentage (.530) and OPS (.943).
Promoted to Triple-A Columbus, Santana was batting .316 with 13 home runs and 51 RBIs in 57 games when he was promoted to the Indians on June 11. The switch-hitter came into Monday night's game batting .265 in 45 games with Cleveland and his six home runs since his debut are tied with
Jorge Posada
for most by an AL catcher in that timeframe.
Santana wears No. 41 for the Indians, in tribute to his idol, former Cleveland catcher
Victor Martinez
, who is now with Boston and was among the onlookers Monday night. Martinez was on the top step of the dugout and said something to Santana as he was driven off.
June, 9, 2010
6/09/10
6:31
PM ET
CLEVELAND -- The warm, wide smile is the same, someone mentioned to
Justin Masterson
in the Cleveland Indians' clubhouse the other day.
"That's all I've got,'' he said, flashing the whites.
Masterson, who is starting for the Indians Wednesday night against the Red Sox, was traded to Cleveland last July along with minor-league pitchers Nick Hagadone and Bryan Price, two No. 1 sandwich picks, for catcher
Victor Martinez
. So far, the deal is a lopsided one in favor of the Sox.
Hagadone, a power left-hander who had reconstructive elbow surgery while with the Sox, was recently promoted to Double-A Akron and has 57 strikeouts in 46 2/3 innings, though he was battling control issues in Class A Kinston. Price also is in Akron, pitching out of the bullpen.
Masterson, meanwhile, was immediately thrust into the Indians' rotation after serving as a swingman for the Sox, and the results have not been pretty. Last season the 25-year-old sidearmer was 1-7 in 10 starts with a 4.80 ERA.
His only win for the Indians last season came on Aug. 25, and when he went winless in his first 10 starts this season, that stretched his string of starts without a win to 17, the longest such streak in club history. He also lost 11 straight decisions, a streak that finally ended when he beat the White Sox 10-1 in his last start on June 4, a game in which he went 5 2/3 innings and allowed five hits, though he walked a season-high six.
"I've had three terrible outings,'' Masterson said. "The rest have either been a couple of errors turn two earned runs into five runs scored. We have a good team, but we find ways to lose.
"My last start I felt really good. Things are definitely breaking in the right direction. Things continue to help build me as far as who I am. It lets me know there's a little more than just baseball and just because you have skill that doesn't mean it always works out for you.''
The cause of Masterson's problems is readily detected, and is one reason manager Terry Francona stacked the Sox lineup with five left-handed hitters Wednesday night.
Masterson can dominate right-handed hitters with a sinker that ties them up inside complemented by a slider that he throws away, with his delivery making it that much harder for right-handers to pick up his pitches. When he's not getting ground-ball outs, he's averaging an impressive 10.98 Ks per nine innings against righties, while walking batters at a 3.26-per-9 rate and holding righties to a .246 average.
Left-handed hitters have no such trouble picking up Masterson's pitches, and so far he has not developed an off-speed pitch with which he can get lefties out. They're batting .370 against him, striking out far less (5.59) and walking a lot more (6.83).
His future may well be in the bullpen, but the Indians, having lost
CC Sabathia
and
Cliff Lee
in back-to-back seasons, don't have the luxury of putting him there for now.
His presence is missed in the Sox's bullpen, not the least for his part in orchestrating the bullpen's percussion band. "Manny's going to have to pick it up,'' said Masterson, who says he stays in touch with
Manny Delcarmen
and
Daniel Bard
.
"How can you be a nicer kid than him?'' Francona said. "He's as solid a kid as you're ever going to find. That will never change.''
That said, Francona added: "I hope we beat his brains out.''
June, 7, 2010
6/07/10
8:03
PM ET
CLEVELAND --
Mike Redmond
, the 39-year-old backup catcher for the
Cleveland Indians
, made his 16th start of the season Monday night, which matches the number of starts his good friend
Mike Lowell
has made for the Red Sox this season.
"It's one of the few times in our career where we serve the same role,'' Redmond said Monday night. "It's kind of funny.''
The difference, of course, is that Redmond has never played in more than 89 games in a season, and that was in 2002. Lowell has been an everyday player his entire career until this season, when his career detoured into baseball purgatory: an extra player on a team that doesn't have a place for him to play, unless someone gets hurt.
"It's hard, man,'' Redmond said of watching what Lowell is going through. "I know he cares so much about playing and loves to compete. He worked his butt off to become the player that he was and that he is.
"It's not easy to see a friend go through tough times and not have things work out the way you want them to for him.''
Redmond and Lowell became friends while playing together for the Marlins. Every off-season, Redmond said, their families take a trip together. "We went to Miami for a few days and hung out with them,'' Redmond said, "then we all went to the Bahamas.
"We went through a lot together, man. We're best friends. I love him, man.
"For him to feel as good as he is now and not be able to play, that's frustrating. I think he's been around the game long enough, he understands what's going on. He's got to make the most of his opportunities and go out there and do the best job he can. I know he takes a lot of pride in his game. I know he'll go out there and compete in whatever role.
"You're in a no-win situation. The only exit is to be moved on to another team. I don't know what's going on over there. I just want the best for him. I know he doesn't want to become a distraction.''
June, 7, 2010
6/07/10
7:15
PM ET
CLEVELAND -- A tale of three lineups:
Indians starting lineup Game 5, 1999 ALDS, vs.
Boston Red Sox
:
Lofton CF
Vizquel SS
R. Alomar 2B
Ramirez RF
Thome 1B
Baines DH
Cordero LF
Fryman 3B
S. Alomar C
Indians starting lineup, Game 7, 2007 ALCS, vs. Boston Red Sox:
Sizemore CF
Cabrera 2B
Hafner DH
Martinez C
Garko 1B
Peralta SS
Lofton LF
Gutierrez RF
Blake 3B
Indians starting lineup, June 7, 2010, vs. Boston Red Sox:
Crowe CF
Choo RF
Kearns LF
Branyan 1B
Peralta 3B
Hafner DH
Valbuena 2B
Redmond C
Donald SS
Who are these guys?
It's no mystery why the Indians rank last in the majors in attendance, averaging 15,565 a night, which is even less than Florida (16,267). At this rate, the Indians will finish the season with 1.26 million fans. In 2007, they drew 2.275 million. In 1999, the attendance was 3.468 million.
A couple of other Tribe tidbits:
Grady Sizemore
, their biggest name left, is on the 60-day disabled list (knee). They are last in the AL in ERA (4.84) and are giving up 5.18 runs a game. They're 11th in runs scored, averaging just over 4 per game.
They're just back from a 4-6 trip, one in which their bullpen gave up better than a run an inning, a staggering 33 runs in 26 2/3 innings.