Boston Red Sox:

Coco Crisp
June, 21, 2014
Jun 21
7:27
PM ET
By
Eric Gilmore | Special to ESPNBoston.com
OAKLAND, California -- Right-hander
Rubby De La Rosa
allowed just one run and four hits over seven innings, but the Red Sox wasted his gem and fell 2-1 to the Oakland Athletics in 10 innings on Saturday afternoon at the O.co Coliseum.
The Red Sox lost their third straight game to Oakland, baseball's winningest team at 47-28, and will try to avoid a sweep Sunday in the series finale.
The Red Sox scored a combined 13 runs in seven games before facing Oakland on Saturday. Now, make that 14 runs in eight games.


A's center fielder
Coco Crisp
hit a walk-off single against Red Sox closer
Koji Uehara
with one out in the 10th and scored
Alberto Callaspo
from second. Callaspo had walked against
Edward Mujica
and moved to second on a sacrifice bunt. Crisp lined Uehara's first pitch to right for his seventh walk-off hit of hsi career and second this season.
Controversial call:
The Red Sox caught what appeared to be a huge break in the eighth inning when they pulled even at 1-1. With two outs,
Dustin Pedroia
on third and
David Ortiz
on first, first baseman
Mike Napoli
faced a 2-2 count against right-handed reliever
Luke Gregerson
. Napoli appeared to strike out, but home plate umpire Quinn Wolcott ruled that he foul-tipped the ball and that it hit the dirt before catcher
Stephen Vogt
caught it. Video replay showed that the ball went directly into Vogt's glove, but the play was not reviewable under baseball's replay rules. Gregerson bounced his next pitch off of Vogt, and as the ball rolled toward the mound, Pedroia raced home to score on the wild pitch -- and scored easily. After Napoli flied out to right, an irate Bob Melvin continued arguing with Wolcott, and the Oakland manager was tossed.
Wasted opportunity:
In the top of the 10th,
Jackie Bradley Jr
. grounded a one-out single to center off A's reliever
Dan Otero
and moved to second on
Brock Holt
's sharp single. But Otero retired Pedroia on a fly ball to right field, then struck out Ortiz.
Road warrior:
Entering the game, De La Rosa was 2-0 with a 0.00 ERA in two starts at Fenway Park and 0-2 with a 6.35 ERA on the road. On Saturday, he proved that his good stuff travels. He handcuffed the A's with his mid- to high-90s heat and nasty changeup. De La Rosa struck out seven, walked one and threw 100 pitches but got a no-decision.
Costly first hit:
De La Rosa didn't allow a hit until the third inning, but it was big and costly. Leading off, A's right fielder Stephen Vogt launched a triple that hit near the top of the high fence in right-center. Vogt, who hit a 2-1 changeup, scored on Callaspo's sacrifice fly and gave the A's a 1-0 lead. That snapped De La Rosa's streak of 10 2/3 scoreless innings
No answer for Chavez:
A's right-hander
Jesse Chavez
became the latest opposing pitcher to have his way with the slumping Red Sox. Chavez had a no-hitter through five innings and blanked the Red Sox for seven innings on four hits. Chavez came into the game with a 6-4 record and 2.93 ERA, but he looked like a Cy Young Award lock against Boston.
Missed opportunity:
Right fielder Holt broke up Chavez's no-hit bid in the sixth, when he sliced a leadoff single to left field. Pedroia lined a single to right, which moved Holt to second and brought Ortiz to the plate. Ortiz grounded into a 3-6-1 double-play, and Napoli struck out looking at an 0-2 fastball on the outside corner.
Crime watch:
Holt is making a habit of robbing Callaspo with diving catches in right field. He stole a likely extra base hit Friday night by racing far to his left in the sixth inning. On Saturday, Holt went to his right and made a diving catch in the second inning of Callaspo's liner. But Callaspo didn't come away empty; he was credited with a sacrifice fly and RBI for driving in Vogt.
June, 20, 2014
Jun 20
2:49
AM ET
By
Eric Gilmore | Special to ESPNBoston.com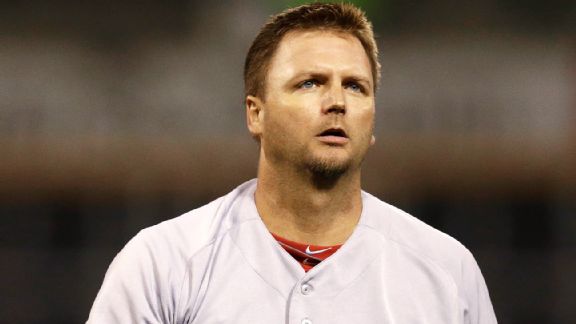 AP Photo/Ben Margot
OAKLAND, Calif. --
Dustin Pedroia
was on second base after a one-out double, and the
Boston Red Sox
, trailing Oakland 4-2, were down to their last out Thursday night when
A.J. Pierzynski
came to the plate.
A's reliever
Dan Otero
threw a first-pitch changeup, and Pierzynski ripped it on a line to center field. Pierzynski thought he hit it out, but former Red Sox center fielder
Coco Crisp
made a catch at the wall.
"I hit that ball good," Pierzynski said. "The guy jumped up at the top of the wall and caught it. What can you do? Just frustrating, you know?"
The Red Sox used back-to-back home runs by
David Ortiz
and
Mike Napoli
in the bottom of the 10th inning Wednesday to beat the Twins 2-1 and sweep that three-game series.
Those timely blasts didn't signal an end to Boston's offensive slump. The Sox scored five runs in those three wins against Minnesota and have now scored a combined seven runs in their past four games. The Red Sox came into the game batting .244, tied for 11th in the American League.
[+] Enlarge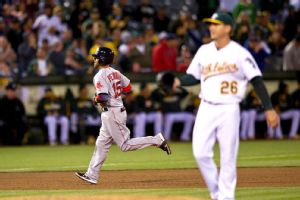 Jason O. Watson/Getty ImagesDustin Pedroia circles the bases after hitting a two-run homer off Scott Kazmir.
Pedroia had two of Boston's five hits against Oakland, a two-run homer off left-hander
Scott Kazmir
in the sixth and the double off Otero.
Kazmir struck out eight, walked none and gave up just two runs on four hits, improving to 9-2.
"We faced a tough pitcher," Pedroia said. "To be honest with you, I think our at-bats weren't that bad. We had some guys hit some balls at people. We got to find a way to have a big inning and get some momentum."
Red Sox manager John Farrell said he thought he was watching some more ninth-inning magic when the ball left Pierzynski's bat in the ninth.
"Off the bat I thought it was gone," Farrell said. "It could have been off the wall. Coco runs it down, and he's in that spot right where if it had a little more elevation it's a tie game."
Red Sox right-hander
Jake Peavy
had a decent start, allowing four runs, just three of them earned, over 6 1/3 innings while striking out four and walking three. He gave up a solo home run to A's left fielder
Yoenis Cespedes
in the third inning. Then in the fourth, former Red Sox shortstop
Jed Lowrie
hit a one-out double and scored on
Stephen Vogt
's bloop single with two outs.
The way the Red Sox are hitting, Peavy needed to be much better to avoid losing his fifth straight decision. He fell to 1-5 and hasn't won a game since April 25 at Toronto.
"We know the situation we've been in as a team," Peavy said. "Going out there you can't put your team too far behind. I certainly try not to do that. Kazmir was good."
[+] Enlarge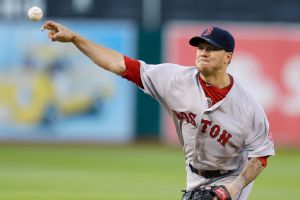 AP Photo/Ben MargotJake Peavy gave the Sox a chance Thursday night but fell to 1-5.
Peavy said he "physically didn't feel very good" in the early innings but found a better rhythm later in the game.
"I thought Jake battled, kept multi-runs off the board in any given inning," Farrell said. "He pitched around some trouble at times. Once again, we're in the ballgame going into the seventh inning. We didn't have too many opportunities. Kazmir has got a year started, halfway through. You see what he's put up not just against us but throughout the season so far. Once again, we're scrambling to create some opportunities."
And once again, Peavy came away with a loss.
"I don't feel sorry for myself one bit," Peavy said. "I got to get better and got to find a way to win."
Peavy blamed himself for a defensive mistake in the second inning that led to an unearned A's run. He gave up a leadoff single to
Josh Donaldson
, who lined a ball off the left-field fence, a foot from going out, then walked Lowrie.
Catcher
Derek Norris
then hit a hard ground ball back to Peavy. But instead of throwing to second to start a likely double play, he threw to third for the force. Third baseman
Xander Bogaerts
caught Peavy's throw on the run then made an off-balance throw to first for an error. Both runners advanced, and Lowrie scored on a ground out.
"If I go to second base on the ground ball, we probably don't give up a run on that unearned run," Peavy said.
May, 2, 2014
May 2
5:51
PM ET
BOSTON -- Greetings from the Fens, where we begin with an inquiry that suspiciously looks like a trick question:
Who has more harder-hit balls this season, Oakland's
Jed Lowrie
, who last week was described by Houston pitcher
Paul Clemens
as "not an imposing guy" after Clemens threw at him three times, or
David Ortiz
, the Big Papi of legend and subject of a new movie from MLB Productions?
We'll spare you the suspense: The answer is Lowrie, the switch-hitting former Red Sox shortstop who brings a .423 on-base percentage into this weekend's series against the Red Sox. His WHAV -- percentage of at-bats ending with a hard-hit ball is .250, which ranks third in the major leagues, behind
Troy Tulowitzki
of the Rockies (.277) and
Jayson Werth
of the Nationals (.260). The averages are compiled from a video review of every ball hit in a game by a game-tracking service.
Lowrie also drew 20 walks in April, his most-ever in a month.
A couple more tidbits about what former Sox players are doing for Oakland, which has made a cottage industry of employing ex-Sox talent:
•
First baseman Brandon Moss
comes in batting .484 (15 for 31) against the Red Sox, with 3 home runs, 11 RBIs, and 11 runs in 11 games against Boston. By contrast,
utilityman Nick Punto
has a .167 average (19 for 114) at Fenway, his lowest average in any ballpark still standing.
•
Outfielder Josh Reddick
started the season batting .098 (4 for 41) in his first 11 games, and was hearing speculation that he might be optioned to the minors. Since then, Reddick is batting .381 (16 for 42), with a .435 on-base percentage and .571 slugging percentage.
•
Center fielder Coco Crisp
hit his third home run of the season Wednesday and since last Aug. 21 has 15 home runs, tied with Moss for most in the AL since that date. Only
Giancarlo Stanton
of the Marlins (17) has more. Crisp also has stolen seven bases without being caught.
The Athletics, as you have already heard, come in with the best record in the AL at 18-10 and at 12-4 also have the league's best road record. They've already had 11 games decided in a game's last at-bat, most in the majors, and have won six of them. They've won four games despite trailing after seven innings, the most in the majors and matching their total in 2013. The Red Sox, by contrast, are 1-12 in games in which they've trailed after seven innings; they were 11-48 in such games in 2013.
Some other items of some interest emanating from the Fens and beyond:
• Remember that embarrassing five-error game against the Yankees on April 24? Well, through the magic of the commissioner's office reviewing scorer's decisions, that has now become a four-error game. An error was taken away from rookie
Jackie Bradley Jr
., who initially was charged with a misplay allowing
Jacoby Ellsbury
to advance to second on a single. Ellsbury has now been credited with a double.
That error had been the only one charged this season to Bradley, whose 3.11 range factor in the early going is tied with Colby Rasmus of the Jays for best in the American League.
• According to the Elias Sports Bureau, it has been nearly 80 years since the Red Sox lost both ends of a doubleheader at Fenway park by one run, after having a lead in each game. The last time that happened was Aug. 25, 1934, when they lost 3-2 and 8-7 to the White Sox. Yes, that's a bit arcane, we agree, but underscores what a lousy day it was.
•
Former Sox closer Joel Hanrahan
, whose Boston career was cut short by Tommy John surgery, has signed a
one-year deal
with the
Detroit Tigers
.
•
About the Ortiz movie:
The Sox passed along a release announcing, "David Ortiz in the Moment," described as an original documentary from the entertainment network Epix. The film was produced by Relativity Sports, whose president, Fernando Cuza, is Ortiz's longtime agent, in conjunction with Major League Baseball Productions. It is scheduled to air on Epix on July 17 at 8 p.m.
•
The umps reach out:
Forget your frustration with the replay system for a moment, and consider assisting MLB umpires in performing some good works. The umps are offering more than 200 ticket packages, autographed sports memorabilia and one-of-a-kind VIP experiences during the 6th Annual UMPS CARE Charities Online Auction. The auction opened at 8 a.m. Friday at www.mlb.com/UmpsCare and closes at 10 p.m. on May 11.
Some of the items up for bid include a signed
Albert Pujols
St. Louis Cardinals
game worn cleat, a
Mariano Rivera
signed baseball, a bat signed by 2013 NL MVP
Andrew McCutchen
, a baseball signed by 2012 AL Rookie of the Year
Mike Trout
, opportunities to watch batting practice from the field at many MLB ballparks or have a meet and greet with a player; hotel stays with game tickets from the finest hotels in the country; opportunities to have lunch with a Major League Baseball umpire; and more than 50 suites or ticket blocks from Minor League Baseball clubs for fans to see some of baseball's rising stars up close.
There are signed jerseys, bats, baseballs and gloves from stars of yesterday and today , including
Paul Goldschmidt
,
Josh Hamilton
,
Matt Harvey
,
Bryce Harper
,
Felix Hernandez
,
Matt Holliday
,
Ryan Howard
,
Tim Hudson
,
Clayton Kershaw
, Tony LaRussa, Don Mattingly, Vin Scully,
Alfonso Soriano
, Joe Torre, Bob Uecker,
Chase Utley
,
David Wright
and so many more.
All proceeds from the Online Auction support UMPS CARE Charities youth programs to provide Major League Baseball experiences for children awaiting adoption, Build-A-Bear Workshop® experiences for hospitalized children coping with serious illnesses, college scholarships for deserving young adults who were adopted as children, and financial assistance for families in need. UMPS CARE Charities is the official charity of Major League Baseball umpires.
• And if you have a Sox jersey, this is
Red Sox Jersey night
, the Sox and Majestic encouraging you to wear the colors to the ballpark. And if you buy a new jersey, that would probably please them to no end. Just sayin'.
July, 21, 2010
7/21/10
9:45
PM ET
OAKLAND, Calif. –- With Red Sox general manager Theo Epstein actively seeking a catcher on the trade market,
Dusty Brown
wanted to prove his worth.
Epstein is on this West Coast trip with the club, and Brown, who was recalled from Triple-A Pawtucket on July 17, was in the lineup on Wednesday, serving as Clay Buchholz's batterymate.
Brown went 0-for-3, but he provided a couple of key defensive plays, sacrificing his body to block the plate twice, preventing a pair of runs for Oakland.
"He did a very good job," said Red Sox manager Terry Francona. "He's always been sturdy. He's not afraid to stand in there and those were huge plays."
Brown said he prides himself on making those type of plays.
"It's something we work on a lot," he said. "[Bullpen coach Gary] Tuck stresses it a lot, especially in spring training when we get a lot of drill work in, and I just try to get there early and take away the plate to try to give us a chance to get an out."
With a runner on third, Boston's infielders were playing in on the grass when Oakland's
Coco Crisp
hit a chopper to second base. The Sox's
Bill Hall
made the play and quickly made the throw home. Brown blocked the plate, forcing
Rajai Davis
to slide around him, but the runner never touched the plate. Brown tagged him for the out.
In the bottom of the eighth, the A's were holding on to a two-run lead when Crisp led off with a triple.
Cliff Pennington
followed and lifted a high fly ball to center field.
Mike Cameron
positioned himself perfectly, made the catch and unleashed a cannon to the plate.
The throw was a one-hopper and again Brown put his body in front of the plate and the tandem recorded an 8-2 double play.
"It was unbelievable," Brown said. "You couldn't ask for a better throw. It was a perfect one-hop right where I'm set up."
"It was good, man. He did a good job," Cameron said. "I had the wind in my face and I just tried to grunt and throw it as hard as I could. It was a good play, but we didn't make enough good plays on the field and it probably cost us the game."