Boston Red Sox:

Dan Wheeler
May, 17, 2011
5/17/11
9:28
PM ET
By
Steven Krasner
| ESPNBoston.com
While the Red Sox prepared to place their second starter on the disabled list this week, their bullpen is seemingly on the mend.
Right-hander
Bobby Jenks
, who has been on the DL since May 5 because of a right biceps strain, played catch from 60 feet Tuesday. It was his first such session since being shut down. All went well and he is expected to increase the distance Wednesday. Jenks likely will need a rehab stint.
Fellow reliever
Dan Wheeler
(calf) is eligible to come off the disabled list on Friday. He has been on a rehab assignment in Pawtucket.
The Sox are expected to add
Michael Bowden
to the 'pen on Wednesday when they place
Daisuke Matsuzaka
on the DL. Matsuzaka will join
John Lackey
on the shelf. Bowden likely will be sent back to Pawtucket when Wheeler is ready.
One more injury update: Infielder
Marco Scutaro
(left oblique) still hasn't been cleared to swing a bat and he won't be until he is pain free, manager Terry Francona said Tuesday.
April, 12, 2011
4/12/11
2:27
AM ET
BOSTON -- The mood inside the Red Sox clubhouse after Monday night's 16-5 blowout loss to the Rays was what one would expect -- uncomfortably quiet and with few players sticking around to dissect the damage.
As reporters began to circle around
Dustin Pedroia
, the stand-up second baseman simply said, "I got nothing."
This game needed little explanation.
Starting pitcher
Daisuke Matsuzaka
imploded, never giving the Red Sox a chance, and the club slipped to 2-8 as it was unable to build on the momentum of pitcher Josh Beckett's sensational Sunday night outing against the Yankees.
For whatever strides the Red Sox made Sunday night, they were right back where they started Monday, and the frustration was evident with the few players who stuck around the clubhouse.
"We really haven't jelled as a team," said relief pitcher
Dan Wheeler
, who was knocked around for four runs in the ninth inning. "That's the thing, we have such a great group in here, we're going to keep battling, coming in every day and grinding it out, and making sure we turn that corner."
The Red Sox turn to ace
Jon Lester
to get them back on track Tuesday.
"It's frustrating as a team," said catcher
Jarrod Saltalamacchia
, who felt Matsuzaka got into trouble in a six-run second inning by leaving his change-up too high in the strike zone. "We took the series from the Yankees and we wanted to keep that going. We're going to have to forget about [this loss], come back [Tuesday], and have Johnny pitch a good game."
Still, Saltalamacchia acknowledged that giving up 16 runs to a Rays team that scored 20 in its first eight games was a surprise.
"We know there are going to be nights like that [but] at the same time, we were feeling good about the Yankees series, and we weren't expecting that," he said.
First baseman
Adrian Gonzalez
said the focus is on taking the next two games from the Rays.
"If we win tomorrow and Wednesday, we can still win the series," he said, before focusing on the big picture. "We're four, five games back in the division, and last I remember there were a lot of teams that have came back in September being four, five games back. We're still in April."
April, 11, 2011
4/11/11
5:44
PM ET
BOSTON -- Red Sox left fielder
Carl Crawford
sat alone in the home dugout at Fenway Park on Monday afternoon and kiddingly said he might have to perform some sort of séance to the baseball gods to get him out of his current 5-for-38 slump.
Crawford's start in Boston hasn't been the best, but he said he's not worried, because he has been hitting the ball hard the last couple of games.
"I'm not really disappointed because I know it's just the beginning. Let's hope it gets better," he said.
Maybe facing the club he grew up in as a professional will help. The Red Sox host Crawford's former team, the
Tampa Bay Rays
, in a three-game set, beginning tonight.
"It's going to be fun, seeing my old teammates," Crawford said. "I had a chance in spring to do that, but it should be fun."
Crawford is not the only former Ray set to face his old employer.
Red Sox reliever
Dan Wheeler
played seven seasons with Tampa during two separate stints. This is the first time he's faced a former club, and he said he'll treat it just like any other series.
"It's just another game," said Wheeler, a native of Warwick, R.I. "I know it's hard to believe, but that's how I'm treating it. There are a lot of different faces over there, but some familiar faces. At the same time, I need to go out and there's a job that needs to be done. They're going to try to get a hit, and I'm going to try to get them out."
Red Sox manager Terry Francona was asked about Crawford playing against his former team, and if it would help or hurt his confidence.
"I thought we did that in spring training," Francona said. "That's why I sent him up to Port Charlotte the first night just so he could talk to everybody and get everything out of the way. I guess it has to be the regular season too. He's been through the American League East and I don't think answering a couple of questions will effect whether he gets hits or not."
The managerial styles of Francona and Rays skipper Joe Maddon are completely different. While Crawford said with a laugh that he would pass on a request to compare the two, Wheeler talked about what it's like to play for each manager.
"Tito's a little more traditional and Joe is a little more out there," Wheeler said. "That works for [Tampa], it really does. I really enjoy both aspects of it. Joe thinks outside the box and it's good. He's good, he really is. I don't know how else to describe it, but he's a little out there -- in a good way."
Wheeler also said he can't believe the records of the respective clubs at this point. The Sox are 2-7, the Rays 1-8.
"No, absolutely not. I think there's way too much talent in both clubhouses."
February, 24, 2011
2/24/11
10:24
AM ET
FORT MYERS, Fla. -- The
Tampa Bay Rays
have been getting record crowds at their spring training facility in Port Charlotte, likely because of the additions of
Manny Ramirez
and
Johnny Damon
.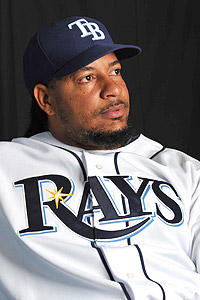 Steve Mitchell/US PresswireCan Manny Ramirez do for the Rays what he did for the Red Sox all those years?
The Rays organization has been based on homegrown talent, but Ramirez and Damon bring a certain veteran star power that Tampa has lacked.
"There is some star power there," said current Red Sox reliever and former Rays pitcher
Dan Wheeler
. "When I was there we always had some guys, but a lot of our guys were young and coming up. We didn't have the track records that Ramirez and Damon have. It's good. It gives them something to be excited about. I know a lot of the fans were definitely disappointed with what happened this offseason."
The Rays were stripped of talent during the offseason when Wheeler and
Carl Crawford
signed with the
Boston Red Sox
. Both know firsthand how well Ramirez and Damon will fit in with Tampa.
Ramirez returns to the AL East for the first time since leaving Boston as part of a three-team trade during the 2008 season.
"He's going to add that fear factor," Crawford said. "He's going to give [Evan] Longoria all the protection he needs. Having a guy like Manny, look what he did when he went over to the L.A. Dodgers, he helped
Matt Kemp
and turned those guys into superstars. I don't see why he wouldn't have the same effect in Tampa."
For all his talents on the field, Ramirez can sometimes be a major distraction in the clubhouse, and that's one reason the Red Sox traded him in '08. Crawford said he believes Ramirez will have no trouble fitting in with the Rays.
"He's going to fit right in over there. Trust me," Crawford said with a laugh. "That's why he's there. If he's healthy, he's still a dangerous right-handed hitter. If he's out there on the field playing, you can't ever take him for granted. He can do some damage."
Wheeler concurs. "He has a lot of personality, and that's what that team has is a lot of personality, so I think he'll be OK," he said. "He's still Manny Ramirez and anything can happen with that guy. He has unbelievable talent and he's one of the greatest players to play the game. He's fun to watch."
Red Sox slugger
David Ortiz
spent the majority of his career in Boston as the No. 3 hitter in front of Ramirez. The two made a dangerous combination for opposing pitchers, and now that Ramirez is back in the east, Ortiz made a prediction.
"He's going to kick ass," Ortiz said.
"He knows how to do it, man. The one thing that you always have to keep in mind is what you have done, and what you have never done. This guy has done it a bunch of times and he's in good shape now. If he can stay healthy, he's going to do very well."
Ortiz said he recently spoke with Ramirez and the newest Ray told his former teammate that he's healthy and feeling good.
Ortiz said having Ramirez back in the same division will be a lot of fun for the fans.
"Definitely, Manny always comes out with a new character," Ortiz said.
February, 14, 2011
2/14/11
9:27
PM ET
FORT MYERS, Fla. -- Granted,
Dan Wheeler
said, no one is about to confuse Rays-Red Sox with Yankees-Red Sox when recalling the game's biggest rivalries.
Wheeler's connection to the Rays goes back to the team's very first draft, when they were still the Devil Rays and took him in the 34th round in 1996, two years before they began playing in the American League. He moved around quite a bit since then, but was back for the Rays' emergence as a power in the AL East.
The native Rhode Islander was at Fenway Park and in the scrum touched off by the
James Shields
-
Coco Crisp
brawl in 2008. He was the winning pitcher the September night in Fenway when
Dan Johnson
, called up from the minors that day, hit a ninth-inning home run off
Jonathan Papelbon
. He was the pitcher who threw Crisp 10 straight fastballs before Crisp lined the last one for a game-tying base hit in Game 5 of the '08 ALCS, when the Sox staged one of the greatest comebacks in postseason history, rallying from a 7-1 deficit to win 8-7.
[+] Enlarge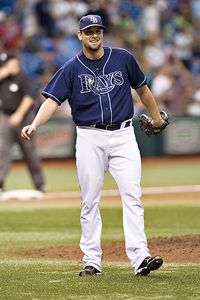 AP Photo/Steve NesiusDan Wheeler says at this point in his career, winning is the most important thing and that's a big reason he signed with the Red Sox.
And he helped hold the Red Sox scoreless in the eighth inning of Game 7, when the Rays won the biggest game in franchise history to go to the World Series.
History? There's plenty there, said Wheeler, who even after leaving the Rays as a free agent to sign with the Red Sox has not exactly cut all ties with Tampa Bay -- his father-in-law is DeWayne Staats, the team's longtime TV play-by-play man.
And make no mistake about it, Wheeler said: The Rays were stoked when they played the Sox.
"It grew a lot in '08,'' Wheeler said of the rivalry, "especially at the end of the year when we went to Game 7. That was real exciting. That was something that definitely helped the Rays organization, to have that team to go up against.
"It was exciting. There was a feeling in the clubhouse that when you're a Ray you didn't want to lose to the Red Sox. That was something that drove us to play our best.''