Boston Red Sox:

David Price
October, 6, 2013
10/06/13
3:07
AM ET
By
Kyle Brasseur, Special to ESPNBoston.com
BOSTON -- No pitcher of recent vintage has been more dominant against the Boston Red Sox than
David Price
, who was back on the mound Saturday night for his first postseason appearance against Boston since 2008.
Back then, he was a Tampa Bay Rays rookie phenom, coming out of the bullpen to close out the Sox in Game 7 of the American League Championship Series for his first and only career save.
Price drew the start Saturday night in Game 2 of the American League Division Series, having gone 10-6 with a 2.93 ERA in 20 career regular-season starts against Boston.
[+] Enlarge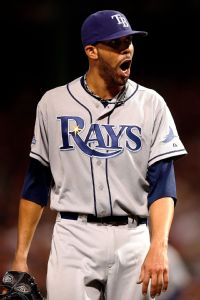 Jared Wickerham/Getty ImagesDavid Price could only watch as things fell apart in his Game 2 loss.
"I can't give you all my secrets," Price said Friday before Game 1 when asked why he has been so successful against the Red Sox. "Pitching in this ballpark, pitching against that team, it makes you want it just a little bit more."
But the secret was out on Saturday as the Red Sox battered Price to the tune of seven earned runs in seven-plus innings in their 7-4 win over Tampa Bay, sending the 28-year-old ace to 0-4 in four career postseason starts. The Red Sox had never managed to score more than four runs off Price in a single game before Saturday.
"Absolutely, I'm disappointed," Price said. "I don't know what my stat line was, but I know I gave up quite a few earned runs. It stinks, especially in the postseason when you want to go out there and pitch your best."
The Red Sox had Price's number from the get-go. Leadoff hitter
Jacoby Ellsbury
blooped a single to right on Price's second pitch of the game before stealing second and advancing to third on a throwing error by Rays catcher
Jose Molina
. Ellsbury would score on a
Dustin Pedroia
sacrifice fly, which was followed by a
David Ortiz
solo home run, his first off Price in 42 plate appearances.
The Red Sox tacked on two runs in the third and one apiece in the fourth and fifth to open things up against the 2012 AL Cy Young winner. After a flawless sixth and seventh innings, Price came back out for the eighth with the Rays trailing 6-4. Two pitches later, Ortiz went deep again for the first multi-home-run game a left-handed batter has had against Price.
"I thought David [Price] had really good stuff right up to the last pitch," Rays manager Joe Maddon said. "He had just had a really good seventh inning and then all of a sudden hangs a fastball to Ortiz, who hits another home run.
"He did not throw the ball badly at all. It was kind of a weird night the way everything set up for them and against us."
Price agreed with that assessment.
"They had some broken-bat singles and broken-bat doubles and 305-foot fly balls go for doubles and triples," he said. "That's part of pitching in this park. They played extremely well and tonight just wasn't my night."
As Maddon put it, the Rays were "out Fenway'd" on Saturday night, victims of several perfectly placed hits and quirky caroms. They find themselves facing elimination as they head back to Tampa for the first time since Sept. 23, a 10-game, five-city span.
It's a tough task to be sure, but a comeback isn't out of the realm of possibility.
"We just went through a week of backs against the wall, so it's not going to be new to us," Maddon said. "It's going to be difficult, there's no question about it. … But I don't think it's impossible by any means. We've been in this boat in the past and we've forced Game 5s in those situations also."
The Rays must win two games at home to force a winner-take-all Game 5 back at Fenway.
"We've been playing Game 7s for the last three games," Price said. "Our game in Toronto was a Game 7. Our game in Texas was a Game 7. Our game in Cleveland was a Game 7. This is nothing we're not used to."
Speaking in his office attached to a desolate clubhouse, all lockers emptied, Maddon said that Price would be back on the mound for a potential Game 5 at Fenway, no ifs about it.
July, 25, 2013
7/25/13
1:50
AM ET
By
Kyle Brasseur
| ESPNBoston.com
BOSTON --
David Price
offered a scary thought Wednesday night: Since returning from a triceps strain that sidelined him for 47 days, he might be pitching better than he did last season.
All he did last season was win 20 games, lead the American League with a 2.56 ERA and win the Cy Young Award.
Better than
that
?
"Absolutely," the 27-year-old left-hander said after needing just 97 pitches to dispose of the Red Sox 5-1 Wednesday night, drawing the Rays to within a half-game of the first-place Sox in the AL East.
[+] Enlarge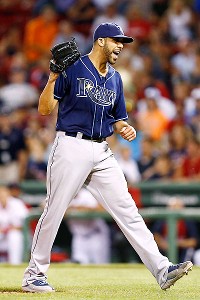 Mark L. Baer/USA TODAY SportsDavid Price won the Cy Young Award last season, but thinks he's pitching even better this year.
"Last year I felt like I had complete control of two pitches," Price explained. "Right now I honestly feel like I have four pitches I can throw at any time, and they've definitely gotten better."
Since returning from the disabled list July 2, Price has won four of his five starts, three of which have been complete games of fewer than 100 pitches.
"It's just hard to imagine a guy pitching better than he is right now," Tampa Bay manager Joe Maddon said. "I don't think I've seen it regarding quality of pitches, stuff, location, good-hitting ballclub. He's been on top of his game -- that's an understatement."
The Rays have been on top of their game, as well, going a major league-best 17-3 in July. They've taken two of three from the Sox here after losing nine of their first 12 meetings this season.
"We're playing good baseball and that's the thing I'm most pleased with," Maddon said. "Regardless of what it says on the other jersey, we're playing well."
It isn't just Price. Second-year starter
Matt Moore
, fresh off a two-hit shutout of the Sox on Monday night, has turned in a Cy Young-caliber season of his own so far, going 14-3 with a 3.17 ERA and 112 strikeouts in 116 1/3 innings. Meanwhile, the team's pitching as a whole has combined to post a tidy 2.31 ERA this month, also tops in the majors.
"We've got a good groove, however long it's been, and it's been fun," Price said. "We feel like we have five guys that can go out there and win at any time."
Teammates concur.
"Price is pitching unbelievable right now, but you've got to give credit to Moore,
[Jeremy] Hellickson
,
[Chris] Archer
. They're all pitching really well," Cuban-born shortstop
Yunel Escobar
said through an interpreter.
The pitching hasn't been alone in carrying this Tampa team within reach of the top. The defense has been stellar, with Escobar making what Maddon called the team's best defensive play of the year in the fourth inning, a behind-the-back throw with his glove to second baseman
Ben Zobrist
to turn a flashy double play.
Escobar played for Red Sox manager John Farrell in Toronto the past two seasons.
"It's definitely one of the better plays I've ever made," Escobar said. "To help us win, playing Boston, was a great feeling."
The Sox have held first place in the division since May 27. The Rays hope to end that run Thursday night in the series finale.
"It's always nice to be in first place," Maddon said. "It would be significant regarding how we've been able to do something like that. But again, it's about [Thursday's game]."
August, 27, 2010
8/27/10
10:32
PM ET
ST. PETERSBURG, Fla. -- The
Boston Red Sox
accomplished exactly what they needed to in the first of a three-game set against the
Tampa Bay Rays
on Friday night at Tropicana Field.
Red Sox starter
Jon Lester
rebounded from a career-worst performance in his last outing to completely dominate the Rays en route to a 3-1 victory. The southpaw worked seven innings and allowed one unearned run on two hits with five walks and 10 strikeouts. He also tossed three wild pitches and hit a batter, and finished with 106 pitches (58 strikes).
The Sox's
Victor Martinez
hit a pair of solo home runs and
Jed Lowrie
provided an RBI single in the win.
"This was a big one for us and we needed it," said Lester. "We had some good at-bats and we battled. That's what we've been doing all season long, and if we continue to do that, it'll put us in a good position hopefully at the end of the year."
PLAY OF THE GAME:
The Red Sox held a 2-1 lead heading into the bottom of the sixth inning. Lester allowed a leadoff walk to the Rays'
B.J. Upton
. Tampa's speedster notched his 37th stolen base of the season when he swiped second. Teammate
Jason Bartlett
then lined a shot to center field and it appeared the Rays would tie the game.
Upton actually eased up around third a bit as Red Sox center fielder
Darnell McDonald
made a perfect one-hop throw home to Martinez, who blocked the plate and applied the tag for the out. Martinez whipped off his mask and pumped his fist.
"That was a great throw," Lester said. "It changed the momentum of that inning. These guys play off momentum and I think that helped get it back on our side."
GOING YARD:
Martinez had been held to only one home run since he was activated from the disabled list (fractured left thumb) on July 26. He produced a pair of solo homers Friday night off Rays' starter
David Price
. It was Martinez's fifth career multi-homer game and his second this season.
He gave Boston a spark in the top of the first inning Friday when he took Price deep to left field for a solo shot. The homer was Martinez's 11th of the season and only his second since Aug. 7 at New York. V-Mart crushed his second of the night in the top of the seventh with two outs and deposited it into the left-field seats to give Boston a 3-1 lead.
"I got two good pitches to hit," Martinez said. "Obviously, David Price has some great stuff and I have a lot of respect for him. Whenever he gives you a pitch to hit, you've got to make sure you don't miss it because you don't know if you're going to get another one."
SAVED:
Red Sox closer
Jonathan Papelbon
recorded his 33rd save of the season.
BILLIONS SERVED:
The last time the Red Sox visited Tropicana Field in early July, McDonald had been designated for assignment and didn't know what his future held. He was quickly reinstated before the official paperwork was sent to the league. D-Mac has been a major contributor this season. He posted his third triple of the season Friday night. Then, of course, he assisted on the play of the game when he threw out Upton.
STRIKES:
Lester got himself in a little bit of a jam in the bottom of the fourth when the Rays' Jason Bartlett and
Carlos Pena
reached base to lead off the inning by way of an error and a base hit, respectively. Even though Lester tossed a pair of wild pitches, allowing Tampa to score its first run of the game, the southpaw posted two big strikeouts, getting
Evan Longoria
and
Willy Aybar
to end the threat.
Lester accomplished the feat again the sixth inning when he struck out Longoria and got Aybar to ground out, stranding two runners.
Lester finished the game with 10 strikeouts.
"He was able to use his off-speed pitches when he was behind in the count and he was able to keep them off-balance," Martinez said of Lester. "He did a great job tonight."
NOW THAT'S HUSTLE:
With the Red Sox clinging onto a 2-1 lead to begin the fifth inning, Boston leadoff man
Marco Scutaro
hit a chopper up the middle that was snared by Rays second baseman
Sean Rodriguez
, who quickly made the accurate throw to first. Scutaro, however, never let up out of the box and slid head first to beat the throw. Unfortunately, he was left stranded.
SHIFTED:
If it weren't for the dreaded, yet successful, infield shift on
David Ortiz
, the Sox's slugger would finish each season with many more hits. He's been able to go to the opposite field more this season, but Friday was the perfect example how the shift can be successful.
With Boston leading 2-1 with two on and two outs in the top of the fifth inning, Ortiz lined a shot to shallow right field -- and if it had fallen, the Sox would have pushed across another run. However, due to the shift, Rays' second baseman Sean Rodriguez was positioned perfectly and made the easy catch. Ortiz was disgusted.
PICKED:
Lester has one of the best pickoff moves in the AL and he showcased it again Friday night. With two outs and the potential tying run on second base, the Rays' Sean Rodriguez attempted to swipe third, but Lester stepped off the rubber and picked the runner off to end the threat and the inning. It was Lester's sixth pickoff of the season.
UP NEXT:
Game 2 of this series won't disappoint, either. The Red Sox send
Clay Buchholz
(15-5, 2.26 ERA) to the hill against the Rays'
Matt Garza
(13-7, 3.62) at 7:10 p.m. on Saturday.
March, 10, 2010
3/10/10
2:17
PM ET
FORT MYERS, Fla. -- Tampa Bay starter David Price left the game in the second inning after the left-hander was struck by a piece of Adrian Beltre's shattered bat. Price left the field with a towel wrapped around his right (nonthrowing hand), which would suggest he was bleeding.

According to the Rays, Price has an abrasion on his right palm.